SpanishEnglishInterviews & Reviews - CD Review: Chuchito Valdes Live
Reseña del CD Live In Chicago de Chuchito Valdes
Music Roots Records 2012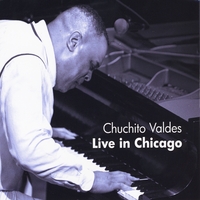 Hemos observado más de ua vez que las experiencias de conciertos en vivo suelen tener un nivel de energía que no se encuentra en mucho proyectos de estudio, y bien realizado grabaciones de conciertos en vivo suelen ayudar a probar el punto. Live in Chicago fue lanzado este año, pero es una grabación en 2 CDs de un 2009 concierto en lo que se llamó originalmente The Morse Theatre en Chicago. Ese Club sufrió un incendio, y despues de la remodelación, se convirtió en The Mayne Stage, que ahora es uno de los lugares más destacados de Chicago para la música cubana y el Jazz latino. Se trata de una actuación de un cuarteto con Chuchito Valdes, piano; Bryan Doherty, bajo; Ruben Alvarez, batería y Frankie Ocasio, congas. Chuchito es el hijo de Chucho Valdes y el nieto de Bebo Valdes, y se continúa con la dinastia de la familia de pianistas destacados.
Cuando el está tocando con combos pequeños, como lo hace aquí, los conciertos de Chuchito por lo general llevar al oyente a través de una amplia gama tanto de los Jazz "standards" y las canciones bien conocidas cubanas, y este álbum, que fue nominado a un GRAMMY Latino en la categoríá de Mejor Álbum de Jazz Latino, no es una excepción. Hay "standards" del Jazz incluso Take The "A" Train, Bye Bye Blackbird asi como exitos cubanos como Almendra y Besame Mucho (en este álbum, los oyentes cantan Besame Mucho juntos con el grupo). Hay también algunos descargas calientes. Bien que Chuchito ha grabado algunos selecciónes del Timbajazz en otros momentos de su carrera, el reperorio de esta excursión es más tradicional.
La lista de canciones es muy familiar, y lo que hace que este disco vale la pena escuchar es la ejecución de los músicos. Chuchito es un músico muy fisico - algunos criticos han argumentado recientemente acerca de si él podría ser demasiado fisico, y esto ha dado lugar a unas bromas sobre la seguridad de los pianos cuando él está en la ciudad - y con frecuencia, el trae su proprio "muro de sonido" a material que normalmente podría ser mundano. En esta grabación, por ejemplo, su versión de Take The "A" Train es memorable por las variaciones que se aplica a la pieza.
Es la esperanza de este escritor que Live in Chicago inspirará proyectos similares en vivo en Chicago y, para el caso, en otras ciudades. La energía agregada por un público en vivo más que compensa una pérdida leve de la perfección técnica de audio.
Pistas
Disco 1:
1. Son Montuno
2. La Comparsa
3. Somewheere Over the Rainbow
4. Capullito
5. Danzon de Nina
6. Bossa Para Ti
7. Bye Bye Blackbird
8. Guaguanco Montuno
Disco 2:

1. Almendra
2. Besame Mucho
3. Bebo Latin Jazz
4. Take the A Train
5. Africa
6. Descarga a la Cubana
domingo, 18 noviembre 2012, 11:42 am