Interviews & Reviews - Concert Review: Poncho Sanchez & His Latin Jazz Band Bring The Party To Rogers Park
Concert Review: Poncho Sanchez & His Latin Jazz Band Bring The Party To Rogers Park
(Photos and review by Bill Tilford, all rights reserved)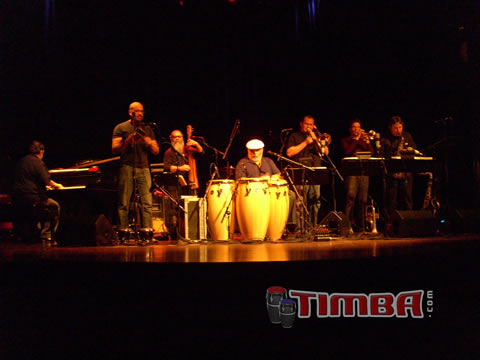 Poncho Sanchez at the Mayne Stage , March 13, 2011
Mongo Santamaria and Cal Tjader were both very important influences in Ponchez Sanchez's career, and like just Mongo did years ago, Poncho usually brings a mixed bag of music to his stage shows - some mambo jazz for dancing, some Afrocuban jazz for serious listening and even some soul just to mix things up a little. Throw in the band's sense of humor (they banter with the sound man and the audience), and the concerts usually turn into a dance party with some serious music included.
We caught the 7PM set at the Mayne Stage on Sunday, March 13, 2011. Poncho brought an 8-piece band with himself on congas and percussion, Ron Blake on trumpet, Rob Hart on reeds, Tony Banda on bass, Francisco Torres on Trombone, David Torres on keyboards, George Ortiz on drums/timbales and Joey De León on percussion. The set list included Con Sabor Latino, Ven pa' Bailar, Groovin HIgh, Conga Blue, Cosas del Alma, Coco Mai Mai, Raise Your Hand and Batiri Cha Cha.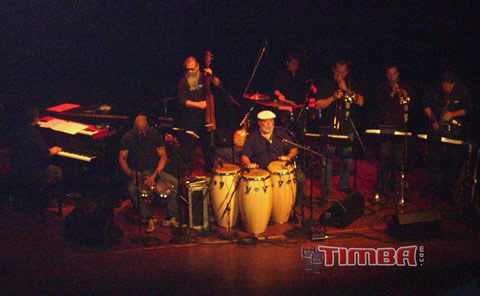 Poncho Sanchez at the Mayne Stage , March 13, 2011
Dancers were able to get a good workout with four mambos - Con Sabor Latino, Groovin' High, Coco Mai Mai and Batiri Cha Cha plus a cha cha, Ven Pa' Bailar. This rendition of the mambo is a slower, more laid-back groove than younger salsa dura or timba dancers are usually moving to these days, but it remains every bit as vital as it was in the 60s and 70s (as evidenced by the number of dancers on the floor and in the aisles), and the band has helped keep things fresh by extending the solo lines well beyond what one would normally have heard in similar songs in past decades. In lesser hands, these might have merely been pleasant dance numbers, but the solo work (the entire horn section earned its keep here) made this into music for both the mind and the body (and reminded us that real jazz musicians were at work).
From a musician's point of view, one of the real highlights of the evening was Conga Blue, a 6/8 Afrocuban jazz number in which Joey De León turned in what was probably the most impressive extended chekere solo that this writer has heard in his travels. It was also a treat to hear a beautiful bolero, Cosas del Alma. The bolero has virtually disappeared from most Chicago dance floors in favor of the bachata (the trend of movement away from couples dancing towards social dancing in the clubs may have rendered the bolero a little too romantic), but the song form remains a great way for musicians and singers to stretch out, and we were pleased to see that Poncho is still keeping the flame for it.
Groovin' High was done primarily as a salute to Dizzy Gillespie but segued into Miles Davis' Four at the end of the piece. This was the one piece in the entire set that was a little uneven. Excellent trombone and timbales solos ultimately redeemed what started out feeling like a less-than-smooth translation of Dizzy's original into a mambo.
The soul tune, Raise Your Hand, was a welcome reminder that there is not now, nor has there ever been, a law against mixing things up a bit. Younger musicians struggling with the notion of playing "crossover" tunes, take note: once upon a time, if the bands and the dancers wanted a little soul or funk in the mix here or there, they didn't fret about it - they just did it, and some of the best groups played it straight ahead without trying to "blend" it into something else. The trick is to play it well, and this band didn't disappoint.
Poncho Sanchez's website is Ponchosanchez.com
Monday, 16 January 2012, 06:49 AM