Indice - Table of contents
New Stuff
[hide]
Photos of the Day
[hide]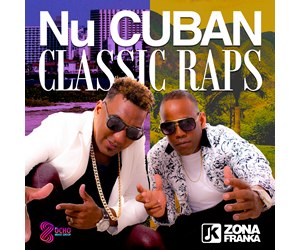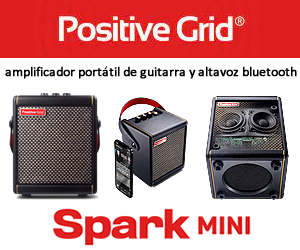 Interviews & Reviews - Interview and Review: Ricardo Lemvo
Interview and Review: Ricardo Lemvo & Makina Loca
(Photo by Jeannie Jalbert; Interview and Review by Bill Tilford, all rights reserved)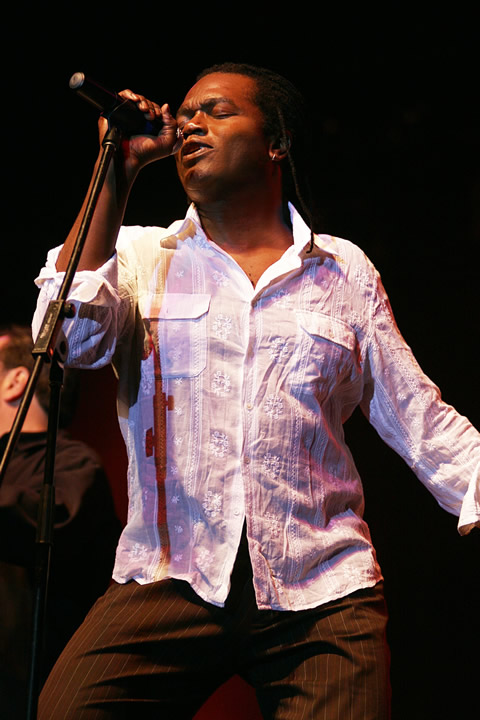 Makina Loca puts out an interesting mix of African and Afrocuban styles in high-energy shows fronted by its leader/lead singer, Ricardo Lemvo. Ricardo was raised in the Congo (his parents were Angolan) just outside of Kinshasa and came to the United States in his teens to go to school. In college, he studied political science and was considering law school, but his love of music got the better of him, and he went from having a pickup band in college to his earliest traveling gigs in Lafayette (Louisiana), San Francisco and New York to where the group is today with over 6 albums under their belt and international recognition. Ricardo graciously spoke with us before his upcoming March 6 concert at the Mayne Stage in Chicago, and we asked him some questions about how Cuban music affects what he does. Here are a few snippets from that conversation:
BT: Afro-Cuban music is one of the ingredients of what you do. We would like to learn more about how this works as part of your style. Let's start with when you were young. When you were young in the Congo, what were you listening to?
RL: The big Congolese bands, of course - Franco (TP OK Jazz), Kalle's African Jazz and the singer Tabu Ley Rochereau. But also the Cuban bands - Orquesta Aragon, Arsenio Rodriguez, Beny More and Johnny Pacheco.
BT: Johnny Pacheco was popular in the Congo then?
RL: Yes. Cuban music was very popular in the Congo from the '30's '40's and 50's. The Congolese Rumba actually sounds similar to the Cuban son montuno. For Congolese Rumba, the bands transposed the piano and horn lines from the Cuban music into electric guitar lines..... .....we were surrounded by the music on the radio, and we lived next to a bar where we were bombarded by the music. Some of us also used to go listen to African Jazz and Franco rehearse.
BT: Were any of the Congolese bands particular inspirations to you?
RL: Kalle's sound was both very Cuban and very African. And Rochereau also.
BT: How old were you when you knew that this was what you wanted to do?
RL: I was 7 or 8 years old when I already knew I wanted to be in music.
BT: Were your parents supportive?
RL: Oh, no. Especially not my mother, and I kept that from her. It really wasn't until I got to the United States that I could do what I wanted to do.
BT: Do you play any instruments like piano as well as sing?
RL: No, except I do play some percussion like maracas. I am a singer, and I compose. I do about 90% of my own songs, and I do it by ear, starting with putting what I want to do with the melody on cassettes.
BT: Different people try to apply different labels to what you do. How would you like to label yourself?
RL: I think Tom Schnabel (a radio host in California) has the best label for us - either "African music with a Cuban twist" or "Cuban music with an African twist". I don't really like the "World Music" label that much.
BT: "World Music" is really too generic, isn't it?
RL: Yes.
BT: What are some of the key African musical ingredients in what you do besides the blend of Cuban and Congolese rhythms?
RL: One of the styles is an Angolan music called Kizomba. It sounds a little like Zouk, which you also find in Haiti. But I'm trying to put these things together to create something new.
We have a big hit in Angola now - Habari Yako - which means "How Are You" in Swahili. It is one of the most popular songs in Angola, and Angolans sing it even though many of them don't speak Swahili. I'm the "Habari Yako" man in Angola.
BT: Are there any countries in Central or South America where you are especially big?
RL: Colombia. Joe Arroyo covered our Mambo Yoyo. Colombians were inspired by the African diaspora, and they have a style called Champeta that is a serious interpretation of African styles.
BT: Do you have any recording projects under way right now?
RL: Yes, but it's actually a joint project with Sam Mangwana. It's in the middle of production now.
Makina Loca has its own website at makinaloca.com
For a review of the March 2011 concert at the Mayne Stage, see our Concert Review subpage.
Monday, 09 January 2012, 08:24 AM