Interviews & Reviews - CD Review - Rob Ryndak
CD Review - A Wonderful Thing by Rob Ryndak
(Pacific Coast Jazz 2012)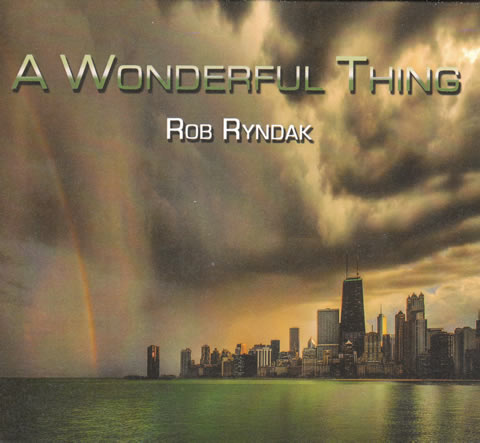 This is a little beyond the scope of what we normally write about in TIMBA.com, but Chicago-based pianist/composer Rob Ryndak's A Wonderful Thing may be of interest to both our Chicago readers and Latin Jazz listeners due to the presence of percussionists Victor Gonzalez Jr. and Rubén Alvarez (both of whom were part of Chuchito Valdes' Live in Chicago recording, which was nominated for a Latin GRAMMY this year) and trumpeter Tito Carrillo, a prominent member of Chicago's Latin Jazz scene.
A Wonderful Thing is not a Latin Jazz project per se - it features an variety of styles including Brazilian (Rhythmic Nature, Chisel), Latin Jazz ( Apophatic), ballads (A Wonderful Thing, T. D., Quietude, In My Arms), a little New Age and Fusion work (Purely Simple, Hard Not To Notice), some light Funk (Childlike), and some Reggae/Fusion (Chasing Dreams). Since the CD's own liner notes described the project as "Jazz-inspired", this writer had his fingers crossed when he popped it into the player. Fortunately, the quality of the musicians in the project and the caliber of their solo work made this fun to listen to. Rubén, Victor and Tito make the Brazilian and Latin Jazz tracks credible. Tito lays down some especially nice solos (along with saxophonist Geof Bradfield and guitarist Sasha Brusin) in the 7/4 Brazilian piece Rhythmic Nature, and Rubén and Victor help make "Apophatic:" swing as a Latin Jazz piece. One of the highlights of the recording is the ballad/Latin Jazz piece T.D. (in honor of the late Tara Davis), a quintet arrangement which features Rob on piano and Andrew Sole on drums with some beautiful saxophone (Geof Bradfield) and trumpet (Tito Carrillo) passages.
The ballad Hard Not To Notice is bassist Rob Kassinger's best contribution to the album as he converses with Geof Bradfield on sax. The closing track, In My Arms, features some lyrical flugelhorn (Tito Carrillo) passages. Chasing Dreams uses a Reggae rhythm for the foundation but has some nice extended solos by Sasha Brusin on guitar and Geof Bradfield on sax.
A growing number of artists are producing CDs that are hard to label, and after hearing this front to back, this writer now understands why the album's liner notes used the phrase "Jazz-inspired", since this is a mix of things rather than a full Jazz album per se. This writer normally doesn't recommend individual tracks since he believes that albums should be purchased as albums, but for those of you who want to focus specifically the tracks that are more Latin Jazz and Brazilian oriented, Rhythmic Nature, Chisel, Apophatic, T.D. and In My Arms, a bolero-inspired piece, would be the best places to start. If your listening range is broader, I would suggest getting the entire recording. It is available at iTunes and multiple other on-line outlets.
Tuesday, 18 December 2012, 01:49 PM