Interview and Review: Ricardo Lemvo - Concert Review: Ricardo Lemvo & Makina Loca
Concert Review: Makina Loca Gets Its Afrocuban On
Concert at the Mayne Stage , Chicago IL, 6 March 2011
(Review and photos by Bill Tilford, all rights reserved)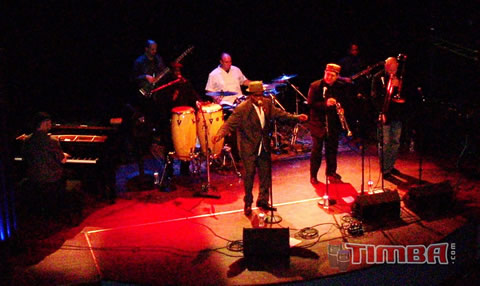 Q. Does Makina Loca sound more African or more Cuban? A. Yes. Actually, it has the chops to sound like whatever it wants to, and there's nothing we can do about it except get up and dance.
The last time this writer saw Makina Loca live was in LA in 2002, and although that was a fun set, the machine has really picked up more steam since then. It's a show band, and it has something in common with the best of the Cuban groups like Los Van Van - no matter how great the CD might sound, you're missing half of the experience until you see it live. Ricardo is a true showman (to appreciate the work involved here, think of a Van Van but with Pedrito Calvo taking lead vocals, directing the group and writing 90% of the songs, and you'll get the picture), and the trumpeter (Steve Geraldo) and trombonist (John Roberts) have to do much more than merely play well - they fill out the front line with vocals and dance moves as well.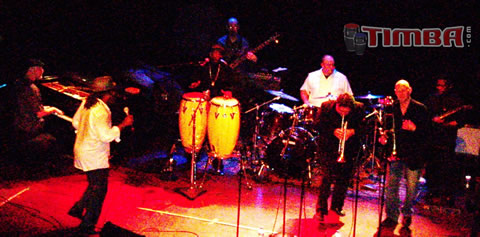 At Sunday night's concert at the Mayne Stage in Chicago, Makina Loca came right out of the gate with Samba Luku Samba , laying down a blistering Cuban groove that made it unmistakably clear that Timba.com came to the right place for the evening. To make it clear that they were serious, they followed with Tata Masamba , a solid son montuno sung in both Spanish and Lingala. The next number, Nono Femineh , wandered into La Habana Vieja. Yiri Yiri Bon , a nice Cumbia, pulled the remaining stragglers on to the dance floor, and by now more of the audience was dancing than sitting (this is definitely not music for sittling still or meditation). Mama Kiyelele , another fine son montuno (but with a feel of Congolese Rumba) showcased a nice trombone solo, and the conguero, Cuco Martinez, added some vocal solos to the mix. Amame Mama went back to the African side of the ledger, (soukous), but this lends itself to merengue dancing as well (a fact not lost on the dancers), and Ricardo helped whip the crowd into a frenzy by lobbing a couple of CDs into the audience. This was followed by a more laid-back Guajira, which gave pianist Serge Karimoff a chance to stretch out a bit. Steve Geraldo also put in a nice trumpet solo here. The 8th song, Rendevous, about a failed romance, could almost be considered a Timba song, and this gave drummer Kiko Cornejo an opening to unleash the timbales. (The timbales were part of a full trap set.) Boom Boom Tarara and Afrika followed, and the audience had a chance to taste some Angolan kizomba. Amor Matata brought up the guitarist, Huit Bimwela, and his guitar work illustrated how Congolese rumba and Cuban son montuno are related. Prima Donna started out with a call out to Chango and built into a tasty soukous number.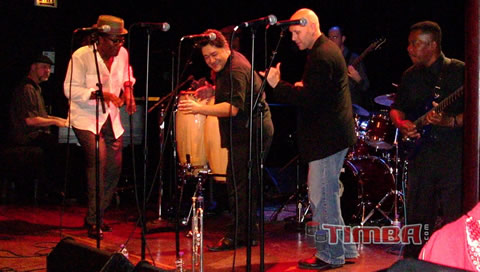 The regular set closed with Mambo Yo Yo , one of the group's international hits. The encore, Bilolo na Bitabe, helped prove that Loca does indeed belong in the group's name. "Quoting" other songs from other genres has been a feature of Afrocuban music for time immemorial, and trombonist John Roberts took a vocal turn quoting the C & W classic "I don't care if it rains or freezes, 'long as I have my plastic Jesus etc" in the middle of the song.
The rhythm section is a big part of what makes the machine run. Serge Karimoff (piano), Dante Pascuzzo (bass), Kiko Cornejo (drums), Huit Bimwela (guitar) and Cuco Martinez (conga) are equally at home with both Cuban and African rhythms, and this makes all of the difference between trying to cover different styles and actually being at home in them (which this group is).
We can't really call a band with international recognition and 6 CDs under its belt underexposed, but it probably is true that Ricardo Lemvo and Makina Loca don't always receive the attention they deserve from some of us with a deep focus on Cuban or African music precisely because they can't really be categorized as just either. The truth of the matter is, you could drop this group into a festival of either kind of music, and it would easily hold its own with the rest of the lineup.
We do have one criticism. It was 6 years between the last Chicago show and this one. Ricardo, don't let that happen again.
Monday, 09 January 2012, 06:25 AM