SpanishEnglishInterviews & Reviews - CD Review: La Noche Más Larga by Buika
CD Review: La Noche Más Larga by Buika
Warner Music Latina 2013
Review by Bill Tilford, All rights reserved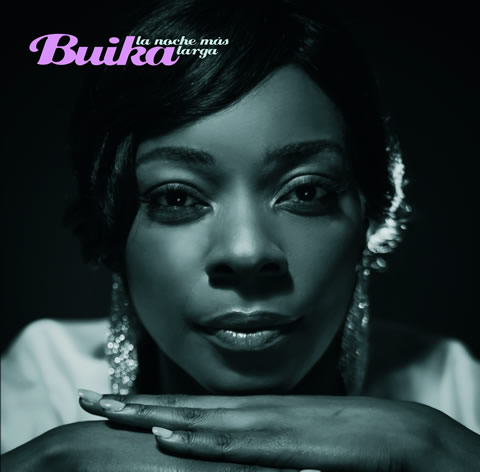 María Concepción Balboa Buika (aka Concha Buika or just Buika), born on the Spanish island of Mallorca, has worked closely with so many important Cuban artists including Chucho Valdés and Iván Melón Lewis that in addition to her already-impressive track record with recordings, film appearances (Almodovar's "The Skin I Live In") and concerts, we could, if we chose, make a case for her adoption as an honorary Cuban. Her newest release, La noche más larga, continues that collaboration with Iván Melón Lewis in a key role along with a raft of Cuban musicians including Alaín Pérez and Pedrito Martínez in supporting roles.
The album opens with one of Buika's own compositions, Sueño con ella, a beautiful piece which features some wonderful interplay between her vocals and Ivan Melón Lewis' piano lines. Lecuona's Siboney is presented with a part Conga, part Funk arrangement underneath Buika's soaring vocals, which in this piece reflect just a tinge of the Flamenco Jazz voice for which she is also well known. Ne Me Quitte Pas keeps Jacques Brel's original French lyrics and melody, but rhythmically, this is an intriguing 6/8 with heavy inflections of Flamenco Jazz. Yo vengo a ofrecer mi corazón is a slower, more Afrocuban 6/8. La nave del olvido is an intense number that brings in Carlos Sarduy on trumpet; this is the track that is most likely to make Timba.com's readers get up and dance. La noche más larga (the title track) is a soulful 6/8 ballad. Don't Explain is a swinging Flamenco Jazz rendition of Billie Holiday's original (with the English lyrics intact). No lo sé brings in guest guitarist Pat Metheny for a slow ballad. Santa Lucia and Los Solos are both in 6/8; Los Solos has a strong Afrocuban feel and features bata drums in the percussion section. Como Era begins as a slow ballad but picks up the pace to a more R and B feel in mid-song, and even with the Spanish lyrics, this could turn out to be a "crossover" hit if it reaches the right radio stations along with the closing track, Throw it away, an Abbey Lincoln song in English
Buika has a smoky, sensual voice with a formidable emotional range that can turn on a dime from pensive whisper to dominating shout. A very nice feature of the liner notes (and a reason to buy the physical CD if you can) is that it includes the lyrics to all of the songs.
La noche más larga is due for release on June 4, for those of you who do the digital download thing, it can be pre-ordered in I-Tunes. As we mentioned earlier, the liner notes include all of the lyrics, so it is worth going for the physical CD if you can.
Tracks:
Sueño con ella
Siboney
Ne me quitte pas
Yo vengo a ofrecer mi corazón
La nave del olvido
La noche más larga
Don't Explain
No lo sé
Santa Lucía
Los Solos
Cómo era
Throw It Away
Personnel in La noche más larga
| Role - Instrument | Name |
| --- | --- |
| Lead Vocals, Leader | Concha Buika |
| Piano, Keyboards, Percussion, Arrangements, Musical Direction | Iván Melón Lewis |
| Percussion, Background Vocals, Arrangements | Ramón Porrina |
| Bass | John Benítez |
| Electric Bass | Alaín Pérez |
| Flamenco Guitars | Juan José Suárez "El Paquete", Carlos de Motril |
| Percussion | Pedrito Martínez, Israel Suárez "El Piraña" |
| Trumpet | Carlos Sarduy |
| Drums | Dafnis Prieto |
| Background Vocals | Pedrito Martínez, Genara Cortés, Alicia Morales, Saray Muñoz |
| Executive Producers | Concha Buika, Iván Melón Lewis, Ramón Perrina |
| Guest appearance (Guitar) on No lo sé | Pat Metheny |
Thursday, 30 May 2013, 11:12 PM