Interviews & Reviews - Cd Review - No Pares
CD Review - No Pares by Leslie Cartaya
Review by Bill Tilford - All rights reserved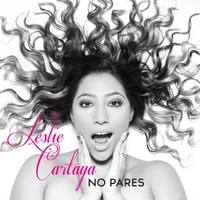 (Cover photo by Jose Ortega)
Fans of Miami's Afro-Cuban funk group Palo! know Leslie Cartaya's voice through her lead vocal work with that group. No Pares is her debut solo project that showcases her in a range of other musical styles. This is a two-disc set; the second disc includes some electronic, dance hall and radio remixes of the tracks from the first disc along with some additional songs. All of the songs were written either by Leslie or by her in collaboration with other musicians in the project. This recording deliberately avoids the Palo! vibe - the opening track of the first disc, No Pares, could best be described as Charanga rock - picture Santana with a female vocalist in Spanish and a wailing electric violin rather than a guitar, and you're getting warm. Abrazame is Miami-style Salsa, not Timba but with distinctly Cuban features. Ditto La Mejor de mis Locuras. La Candela is more of a traditional Son style, and Esa Es Mi Tierra (one of the tracks that we think might have "hit potential") is in that zone between pure Son and "Salsa". Si No Pudiera, which features Philbert Armenteros, is more in the style of a traditional Guaguancó with some modern touches.
Leslie has a very soulful voice, and this comes through most clearly in the ballads. There is an alternate ballad take of Abrazame, a Rock/cancion number, Olvidarte, that may also have "hit potential", a bolero in Spanish (Bolero Blue) and a Bolero/Canción in English, Set Fire To The Rain, which actually works better than most of the English-language versions of the music, largely due to the Rock-canción elements in the song.
The second disc includes some alternate takes of the first disc (although Baila, Dime Que Me Amas, Alone and Te Di Mi Corazon are only on the second disc). There are alternate takes of La Candela, Bolero Blue and two alternates of No Pares, both of which feature English lyrics and Spanish-language rap (our favorite of the three takes is on disc one.) The alternate of Bolero Blue may be the one that ends up on radio; there is a nice 78 rpm-style intro that helps make the take. Dime Que Me Amas has a kind of Miami Sound Machine, Juana La Cubana vibe to it that might appeal to MSM fans (and may also irritate those who did not care for that group.) The official closing track on the second disc, Alone, is also in English but has the kind of drum and bass hook that may actually catch on with the drum n' bass set. There is also a hidden track in a similar vein - an additional remake of No Pares. Some nice little solo violin breaks in the hidden track prevented us from becoming aggravated at the 4th take.
Listeners looking for more Palo!-oriented material are in the wrong place here, but the first disc is pretty solid with other styles (especially the Rock-canciónes where Leslie's voice really shines through). The Son, Salsa and Guaguancó are also credibly done. The second disc is a little more heavily invested in the No Pares track than we would have liked to see, but we are forced to concede that in this age where people are downloading individual tracks rather than purchasing full discs (when they actually purchase the music at all), we will probably be seeing more of these types of packages in the future from other artists. Fans of groups like Santana and the Miami Sound Machine will probably also like this disc. Although this admittedly isn't the sort of mix to which this writer normally listens, it was put together well, and we will be following its fortunes with interest.
You can find No Pares at some of the usual online outlets (CD Baby, Amazon.com); we scored our copy while visiting Miami from the Museo del Disco, one of Miami's few remaining fine brick and mortar CD stores.
This is one of those projects were there are enough personnel differences between tracks that we won't be posting the full listing here. We will note that a couple of the key personnel included Raymer Olalde and Philbert Armenteros on percussion as well as Yoel Perez on violin.
martes, 05 marzo 2013, 11:02 am