Interviews & Reviews - CD Review - This Is The Life
CD Review - THIS IS THE LIFE by GRUPO CHA CHA
Music by Lise, 2012
Review by Bill Tilford, All rights reserved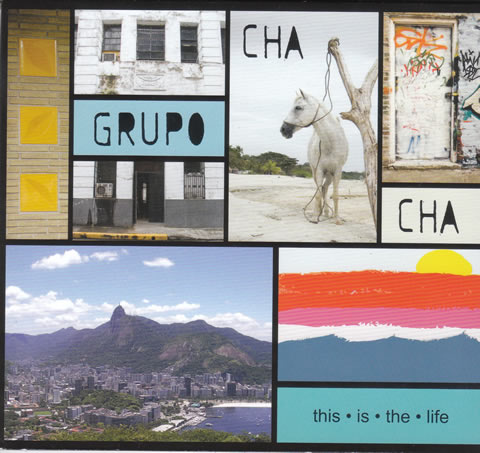 This Is The Life is the second CD by Chicago-based Grupo Cha Cha, an eclectic group that plays Latin Jazz as well as Salsa and Brasilian dance music. The band was named after the nickname of one of the original (and since-departed) co-leaders of the group, which is now led by Lise Gilly. The project was locally recorded in Chicago and Evanston and features many of the city's best Latin jazz musicians. The songs are a combination of covers and originals.
The opening track, Peruchin, is a Mambo Jazz number that features the percussion towards the end of the piece. Bedroom Eyes is a 60s/70s-style Latin Soul - Cha Cha number with English and Spanish lyrics. The title track, This Is The Life, is a Samba jazz composition by Lise, and it features some of the highlights of the recording with nice solos by Victor Garcia (trumpet), Adrian Ruiz (keyboards) and Lise (flute). Que Te Pedi opens as a beautiful, old-school bolero and later segues into a cha cha. Vamos a la Playa is the album's Salsa track and features some beautiful vocal harmonies. Danzon Para Pedro, another original, is a danzón dedicated to Tchaikovsky and is another of the recording's highlights with some excellent trumpet and flute work in the later movements. Haresah is a laid-back 6/8 Jazz piece that is one of our favorite tracks on the recording. Minorian features cameo appearances by Phillipe Vieux on clarinet and Rob Block (who also wrote the piece) on guitar. Pa' Gozar is an Afrocuban descarga by Aristides Soto that evokes the Cuban Jam Session recordings from decades ago with Walfredo de los Reyes, Fajardo, Cachao etc. The closing track, Elegua, begins with a standard Afrocuban percussion/vocal pattern and segues into an uptempo merengue.
Overall, when this recording settles into a groove, it does it really well, and a lot of the solo work is beautiful as are the solos and harmonies in the vocal tracks. It's laid-back without becoming boring, and I would especially recommend it to fans of groups like Bongo Logic or some of Art Webb's other projects as well as people who enjoy Mongo's or Poncho Sanchez's more eclectic, laid-back and less conga-focused projects (there is no Mongo or Poncho equivalent here, but the rhythm section still puts out in spite of that). I would also call this a must-buy for flautists and listeners who are really into flutes in this music (such as fans of charangas for example), because it's a great example of how to use that instrument effectively in front of this type of ensemble.
For details about purchasing the CD and more information about the band, see its website, http://grupochacha.com
Personnel
| Role - Instrument | Name |
| --- | --- |
| Flute, Sax, Director | Lise Gilly |
| Piano | Adrian Ruiz, Darwin Noguera |
| Percussion | Alberto Arroyo, Janet Cramer |
| Trumpet | Victor Garcia |
| Drums | Jean Leroy |
| Lead Vocals | Nythia Martinez, Diana Mosquera |
| Bass | Brett Benteler |
| Guest Clarinet | Phillipe Vieux |
| Guest Guitar | Rob Block |
| | |
Sunday, 11 August 2013, 08:33 AM