Interviews & Reviews - Event Review: Paquito D' Rivera at MIC
Event Review: Paquito D'Rivera and the Jazz Faculty of the Music Institute of Chicago
Workshop and Concert at the Music Institute of Chicago, 17 September 2011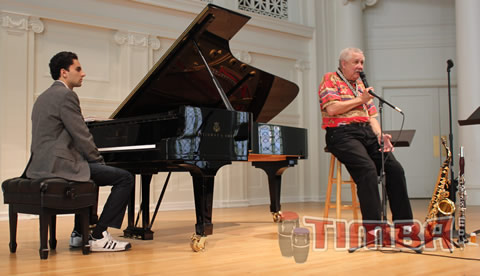 In the morning, we attended a workshop held by Paquito and a fine young pianist, Alexander Brown, who now plays with him in addition to Miguel Zenon and other groups. The workshop portion consisted of Paquito and Alexander playing a few pieces and explaining them interspersed with an informative Q and A with the audience in which Paquito covered various aspects of the pieces and music in general. One of the most important takeaways from that session was that not only were classical and jazz training not mutually exclusive, they complement each other well and should start at an early age. Paquito reminded the audience that in Mozart's day, classical musicians improvised in addition to playing written compositions. This only stopped in modern times. He also shared some history about the role of various Latin American musicians in the development of jazz. Three young students, Daniel Mills, Jake Landry and Riley Morgan, then had opportunities to play with Paquito and Alexander and receive critiques. All three of these students were talented, and we wish them the best in their future studies.
The evening concert paired Paquito and Alexander with the Jazz Faculty of the MIC (Pat Mallinger on saxophone, Victor Garcia on trumpet, Audrey Morrison on trombone, Jeremy Kahn on piano, Stewart Miller on bass, Ernie Adams on drums, Juan Picorelli on timbal and Victor Gonzalez on conga). The faculty members have impressive performance resumes of their own which are too extensive to list here, and that experience was reflected in the fine concert which included some of Paquito's compositions (Samba for Carmen and Song To My Son), Paquito's reimagining of Chucho Valdes' Mambo Influenciado (which he titled "Chucho" and joked about stealing), some compositions by the faculty (Be-Boppin' at MIC by Audrey Morrison, Izzy's Waltz by Victor Garcia, Home On Richmond by Pat Mallinger), Eddie Palmieri's You Dig, Billy Strayhorn's Raincheck, Ralph Irrizary's Mestizo, Bronislau Kaper's On Green Dolphin Street and a joint composition by Howard Levy and Manfredo Fest, Serenata. Paquito and Alexander also did some selections dedicated to Dizzy Gillespie that included quotes from Manteca, Night in Tunisia and a passage from Salt Peanuts in which the audience joined in the chant. A samba evoking Bach was played in trio with Victor Garcia. Paquito's involvement made the night special, but the first four numbers in the concert were played by faculty members only and demonstrated that they could also hold their own on their own.

Click here for the rest of the photo gallery for this event
In addition to the excellent music he creates, Paquito has a wicked sense of humor, and if, God forbid, he should ever lose the desire to play, he could probably do pretty well as a storyteller and raconteur. With an anecdote here and a one-liner there, he gave the audience a good laugh several times during both the workshop and the concert. He is also proving to be an excellent mentor for younger musicians.
Even more impressive than the music itself was the fact that a lot of young children and families were engaged in both the workshop and the concert, and we didn't detect the visible signs of discontent that one sometimes notices when children are "dragged" to a cultural event against their will. This early engagement is the best way to keep the music alive and thriving over the long run, and we salute the MIC for what it is accomplishing on that front. Although the MIC has been present since 1931, the jazz program is in its second year, and we wish it success over time. We also applaud the parents for taking their young children to this.
Paquito's latest recorded projects are Tango Jazz, a live recording with the Pablo Aslan Ensemble, and Paquito D'Rivera Presents Alex Brown, Pianist. As we are typing these lines, we haven't had time to give either a serious listen yet, but both are on our desk and in our queue.
Paquito's website is paquitodrivera.com
The Music Institute of Chicago's website is musicinst.org. It's worth getting to know more about the MIC, especially if you have children that are music students.
domingo, 18 septiembre 2011, 08:39 am