Indice - Table of contents
Lo Nuevo
[hide]
Fotos Del Día
[hide]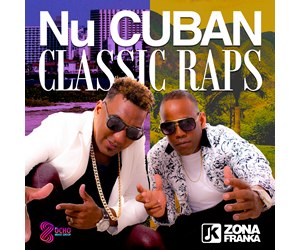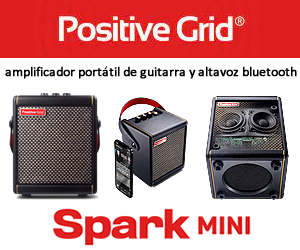 SpanishEnglishInterviews & Reviews - CD Reviews: A Tale of Two Dizzys

Reseñas: Un Cuento de Dos Dizzys

Reseñas por Bill Tilford
Derechos Reservados
1. Dear Diz (Every Day I Think of You) por Arturo Sandoval (Concord 2012)
2. Poncho Sanchez and Terence Blanchard = Chano Y Dizzy! por Poncho Sanchez & Terence Blanchard (Concord 2011)
Hace 75 años (más o menos), en 1947, Dizzy Gillespie y Chano Pozo se introdujeron el uno al otro por Mario Bauzá, y el breve período que Dizzy y Chano jugaron juntos (Chano murió en 1948 a la edad de 33) ayudado a cambiar el curso de Jazz Latino en los Estados Unidos. Lo que pasa alrededor viene alrededor - la música de Dizzy tarde tuvo una profunda influencia tanto en la vida y la música del trompetista Arturo Sandoval en Cuba (en la actualidad en los Estados Unidos). Aunque ninguna de las dos grabaciones de esta reseña se anuncia como una conmemoración oficial de ese período histórico, tal vez sea conveniente que ambos se salen 75 años después de esa fecha.
En cierto modo, sería erróneo comparar las dos grabaciones porque ellas hacen dos cosas muy diferentes. Sin embargo, podemos señalar las diferencias. El proyecto de Arturo se centra en Dizzy Gillespie específicamente, y como un álbum de Jazz, esto es de lejos el más fuerte de los dos discos. También es un álbum "para escuchar" más que un album "para bailar". Hay una gran cantidad de excelente "straight ahead" Be Bop en el mismo, y establece más allá de toda duda razonable que Arturo realmente ha dominado el idioma de Be Bop. El proyecto de Poncho es más orientado al baile, y se pone más énfasis en el papel del Chano en la historia (incluyendo más percusión notable por Poncho). Los solos de los metales y los instrumentos de viento de madera nunca alcanzan el mismo nivel de los en la grabación de Arturo, pero siguen siendo unos pasos por encima de su grabación bailable típica, y este proyecto muestra cómo Jazz ha ayudado a levantar la música bailable a un nivel más alto de lo que hubiera alcanzado de otro modo . Si usted tiene estas distinciones en mente, las dos grabaciones valen la pena tener.
---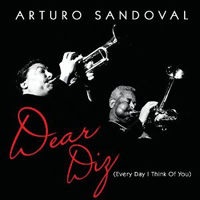 El lanzamiento de Arturo, Dear Diz (Every Day I Think of You) es un proyecto de "big band" absolutamente hermosa que es ahora uno de nuestros favoritos en la discografía extensa y variada de Arturo. Esta grabación captura lo mejor del espíritu de Dizzy sin tratar de imitarlo - muchos de los arreglos son reelaboraciones imaginativas de originales de Dizzy (Salt Peanuts, por ejemplo, comienza con un bonito 6/8 sección antes de romper abierto en "straight ahead" Be Bop, Tin Tin Deo y A Night In Tunisia son principalmente en 6/8 con algunos momentos de "straight ahead",y la cancion Bop Be tiene una primera mitad señorial antes de romperse suelta a toda velocidad.)
Además de su legión de fans, Arturo ha tenido también un pequeño número de críticos en la comunidad del jazz en los últimos años que en ocasiones han planteado preguntas acerca de lo mucho que realmente se podía mover. No vamos a repetir aquí esos argumentos, vamos a decir que Dear Diz pondrá esa pregunta a descansar de una vez por todas, sobre todo con los "straight ahead" temas como Things To Come y Algo Bueno (Woody and Me). Si bien hay algunos pasajes afro-cubanos en la grabación, ésta es ante todo un proyecto de primera clase de Be Bop y baladas (con un poco música brasileña en Mojo Fiesta y And Then She Stopped). Hace un año, Arturo le dijo a este escritor que se seguía estudiando Be Bop, pero la evidencia presentada aquí demuestra que él ya ha dominado absolutamente la forma. Con Alma cambia las cosas con una hermosa balada que añade cuerdas, y la balada de cierre, Every Day I Think Of You, es un homenaje muy personal a Diz con la voz de Arturo. Birks Works funciona como un homenaje a Henry Mancini, vamos a dejar que la canción en sí explicar cómo cuando lo escuchas. El trompeta de Arturo en esta grabación es sublime, pero también comparte espacio libremente con varios otros solistas excelentes (estos son fielmente registrada en las notas, que son extensas y bien hecho). Esta grabación fue claramente un trabajo genuino de amor, y eso se nota tanto en la música y las notas.
Personal de Dear Diz (Every Day I Think of You)
| Role - Instrument | Name |
| --- | --- |
| Primera Trompeta, Voz, Director | Arturo Sandoval |
| Trumpetas/Fliscornos | Wayne Bergeron, Dan Fornero, Willie Murillo, Gary Grant |
| Instrumentos de Viento de Madera | Dan Higgins, Rusty Higgins, Bob Sheppard, Bob Mintzer, Rob Lockart, Brian Scanlon, Greg Huckins, Zane Musa, Eddie Daniels, Ed Calle, Plas Johnson |
| Trombones | Andy Martin, Bruce Otto, Steve Holtman, Craig Gosnell, Bob McChesney |
| Piano/Órgano/Vibes | Shelly Berg (piano), Willy Minko (piano), Joey DeFrancesco (Hammond B3 Órgano), Gary Burton (vibes) |
| Bajo | Carlitos Del Puerto, Check Berghofer |
| Percusión | Gregg Field, Joey De leon, Munyingo Jackson, Andy Garcia, |
| Cuerdas/Voz | Manolo Gimenez (voz), Ralph Morrison (primer violín), Sara Parkins (violín), Roland Kato (viola), Trevor Handy (chelo) |
| Productores: | Arturo Sandoval y Gregg Field |
| Productor Ejecutivo: | John Burk |
---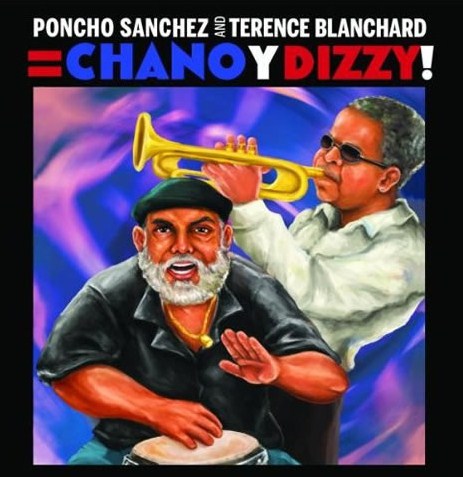 Poncho Sanchez y Terence Blanchard = Chano y Dizzy es un álbum principalmente orientado al baile grabado por un noneto que se abre con una mezcla de números incluyendo Tin Tin Deo, Manteca y Guachi Guaro. Esta versión de Con Alma, una composición de Gillespie, empieza en 6/8 y se cambia a mitad de la cancion a un cha cha. Wandering Wonder, una composición de Terence Blanchard, es un ejemplo de lo que llegó a ser llamado Cu-Bop - bailable pero con líneas melódicas de jazz. Groovin' High (una composición por Dizzy) y Promenade representan formas similares. Siboney (Lecuona) mueve un par de veces durante la pieza con cambios de ritmo interesantes. Dizzy's Dashiki es un bien arreglado cha-cha. Nocturna es un hermoso bolero, y en realidad es en las selecciónes más lento como ésta, donde el Sr. Blanchard se acerca más a parecido al estilo que Diz podría haber utilizado para acercarse a la música. Harris' Walk y Jack's Dilemma tiene un cierto sentido de "álbum de la fiesta" para que Poncho es tan conocido. El álbum se cierra con un bonito descarga de Ariñañara por Chano Pozo. La contribución más importante que este álbum hace (en opinión de este escritor) es que ayuda a demostrar cómo Jazz se incorporó a la música bailable de una manera que ha enriquecido a los oyentes, así como bailarines. Ni Poncho ni Terence es en realidad imitando Chano o Dizzy aquí, pero ambos dan actuaciones que sean acreditables vale la pena escuchar.
Personal de Poncho Sanchez and Terence Blanchard = Chano y Dizzy!
| Role - Instrument | Name |
| --- | --- |
| Percusión, Director | Poncho Sanchez |
| Trompetas | Terence Blanchard, Ron Francis Blake |
| Saxos (Alto y Tenor) | Rob Hardt |
| Trombón, Voz | Francisco Torres |
| Piano | David Torres |
| Bajo, Voz | Tony Banda |
| Percusión | Joey De Leon, Jr. |
| Timbales | George Ortiz |
| Productores: | Poncho Sanchez and Francisco Torres |
| Productores Ejecutivos: | John Burk and Ivory Daniel |
domingo, 28 octubre 2012, 05:36 am