Indice - Table of contents
New Stuff
[hide]
Photos of the Day
[hide]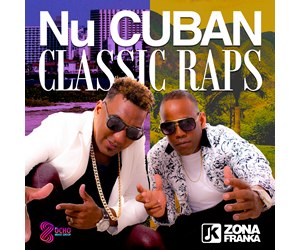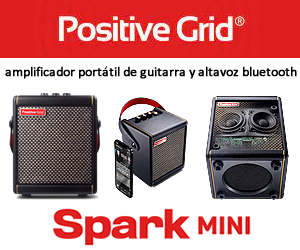 Tom Ehrlich - 11/26/2007 Harbor Big Band
LOUIE BAUZÓ AND THE HARBOR CONSERVATORY BIG BAND
HARBOR CONSERVATORY, NEW YORK CITY
NOVEMBER 26, 2007 AND DECEMBER 3, 2007
PHOTOS AND TEXT BY TOM EHRLICH © 2008
Louie Bauzó has been a key figure in the New York City latin music scene for over 30 years, and playing and recording with numerous groups including Tito Puente, Dizzy Gillespie, Machito, Mario Bauza, Eddie Palmieri, Mongo Santamaría, Johnny Pacheco, Celia Cruz and Cachao. He's currently the bongó, batá and small percussion player for Larry Harlow's Latin Legend's Band as well as being the co-musical director and percussionist for New York City salsa super group Grupo Caribe.
Louie is also employed by the Harbor Conservatory for the Performing Arts in "El Barrio" (Spanish Harlem) New York City. He is the director of the Latin Percussion Department, musical director and conductor of the Harbor Big Band and drummer and supervisor of a Afro-Caribbean dance class as well as being the co-founder and curator for a Latin Music archives called "Raíces Latin Music Collection". Louie is a recognized authroity of Afro-Caribbean music, dance and culture and has studied in Africa, Puerto Rico, Cuba and the Julliard School of Music. He is also the director of the Afro-Caribbean folkloric dance and drumming troupes "Carambu" and "Patakin". So in addition to being a performing artist, he is actively involved in teaching the rich Afro-Caribbean music tradition to others and trying to collect and preserve major artifacts of the New York City Latin Music scene.
Harbor Conservatory is a division of Boys and Girls Harbor, a non-profit, multiservice educational youth agency serving children and families of East and Central Harlem. The Conservatory's mission is "to provide students with a complete education in music, dance and theater in a challenging, caring and encouraging environment that fosters positive self-image, an appreciation of the arts and an understanding of cultural diversity." It has an international reputation for its excellent latin music programs and many of the top Afro-Caribbean musicians in this country either teach there, used to study there or come to the Conservatory to practice.
Raíces Latin Music Collection is a comprehensive, multi-media collection, describing and documenting the history and evolution of Latin Music in New York City. It has over 15,000 objects (instruments, music, photos, documents and more) and is currently looking for a permanent home. Its mission is "to research, preserve and promote the rich musical legacy of popular and folkoric Afro-Caribbean musical forms in New York City."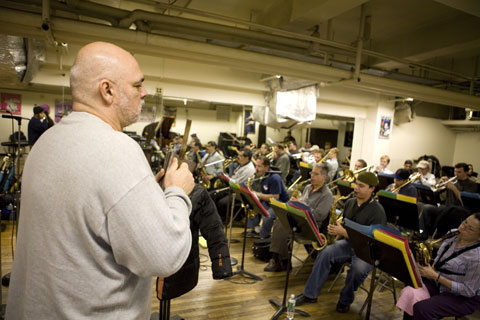 Louie Bauzó directing the Harbor Conservatory Big Band
During my recent visit to New York City, I attended numerous musical events, but some of my most enjoyable times were when I had the opportunity to hang out with Louie Bauzó at the Harbor Conservatory and attend two big band rehersals and one Afro-Cuban dance class. Mr. Bauzó insisted on perfection when working with the big band and the drummers for the dance class and knows how to get the most out of the musicians he directs. It is clear that Louie is motivated by his love of Afro-Caribbean music, not by the desire to be famous or rich. During the short time I spent with him, I have come to like and respect him very much. I also had the opportunity to meet Louie's very talented and beautiful daughter, Liza Bauzó, and see her practice with the big band. I'm certain we will be hearing a lot from her in the future. Liza currently performs with Grupo Caribe as well as the Harbor Conservatory Big Band. She also sings on Grupo Caribe's latest cd "Somos Caribeños". What follows is a photo report of the two big band rehersal I attended. There will also be a separate photo report on the Afro-Cuban dance class I also attended.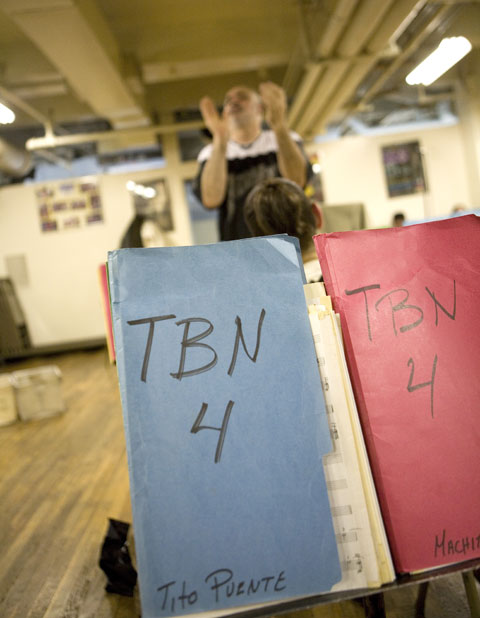 The big band specializes in the arrangements of Machito, Tito Puente, Tito Rodríguez and other major latin big bands of the 1950s and 1960s.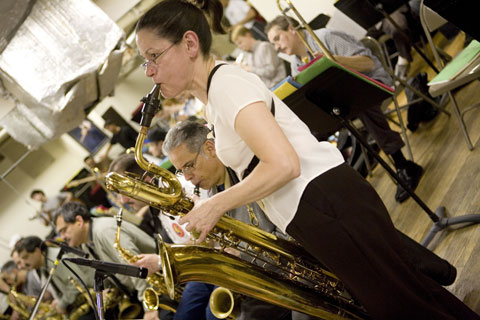 Baritone sax player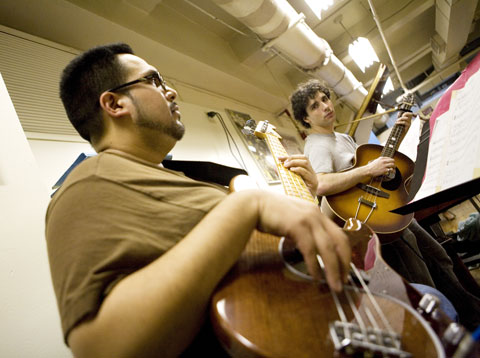 Bass and guitar players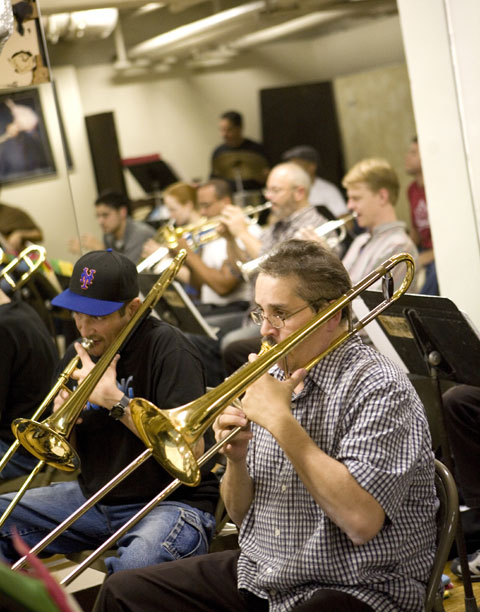 Trombones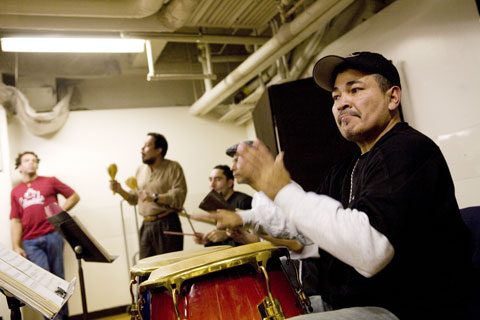 Percussion section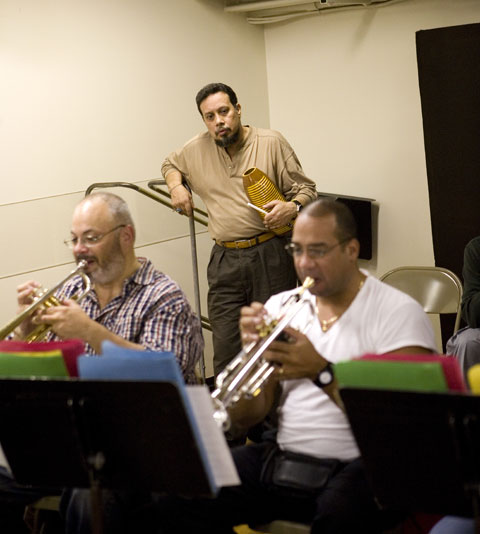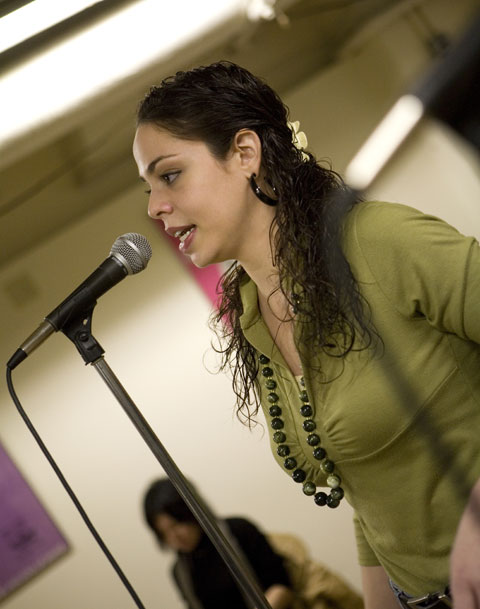 Vocalist Liza Bauzó is Louie's talented and beautiful daughter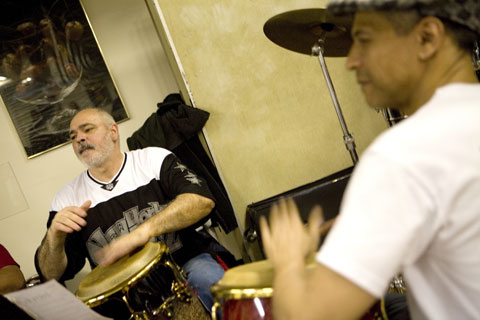 Louie on conga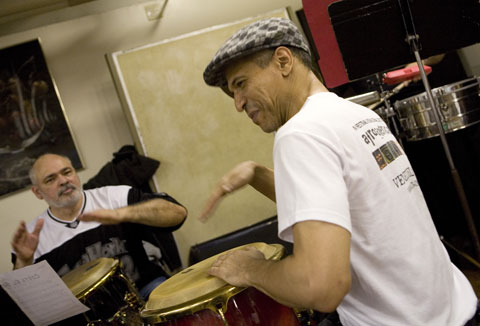 In addition to directing and conducting the big band, Louie sometimes jumps on the conga and bell and sings coro. He told me he takes the opportunity to keep up his chops while working with the big band. The big band is a combination of younger up and coming musicians and experienced professionals. The members of the band appreciate and enjoy the rare opportunity to play in a big band setting.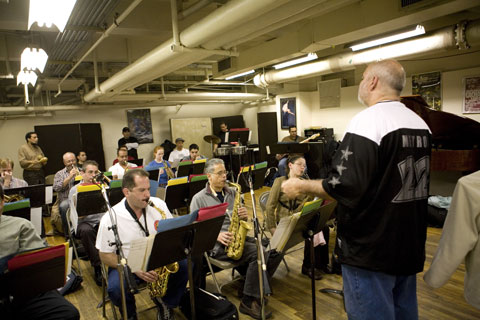 Louie directing the band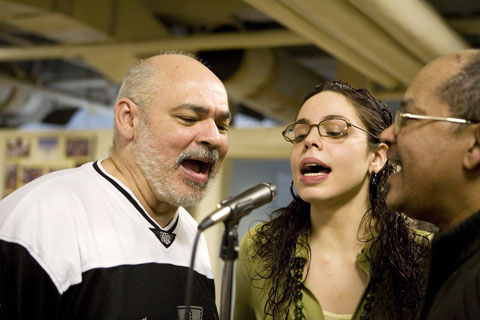 Louie and Liza Bauzó and other singer on coros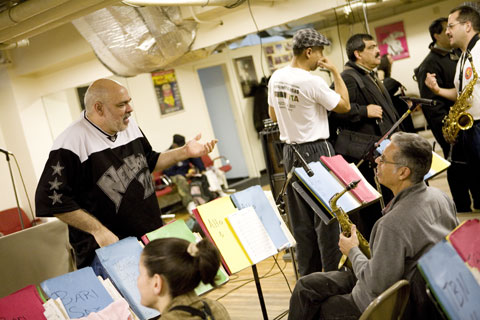 Louie talking to one of the sax players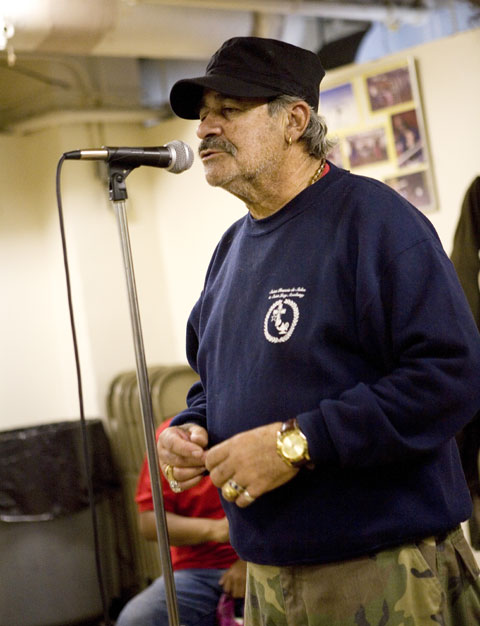 One of the singers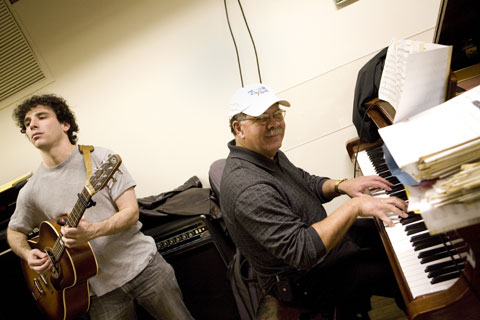 Sergio Rivera on piano and guitar player.
Sergio is the leader of Grupo Caribe, a great NYC based salsa group.
He and Louie are the co-musical directors and they recently released
their 4th CD"Somos Caribeños".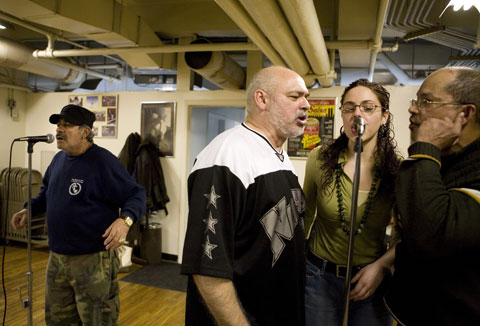 Louie, Liza and other singer on coro, while the singer on the left sings lead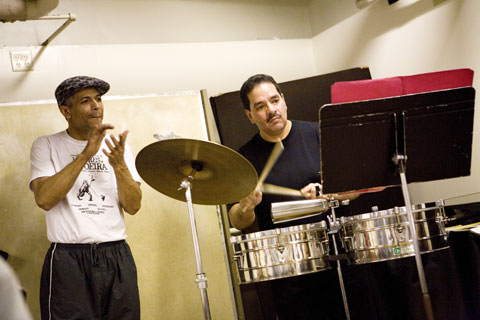 Working out the timbale part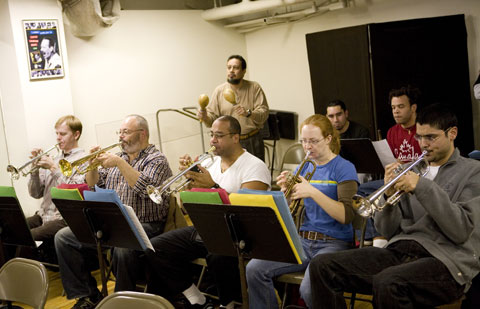 Trumpet section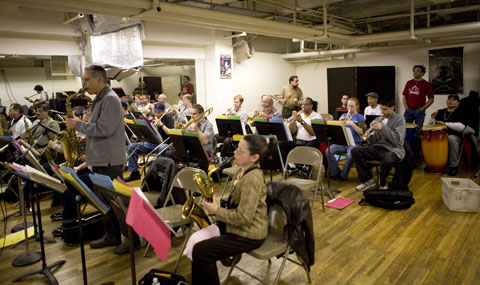 Band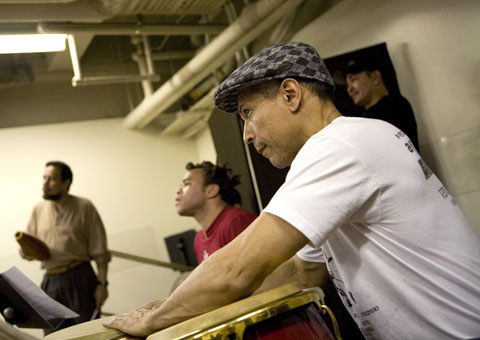 Conga player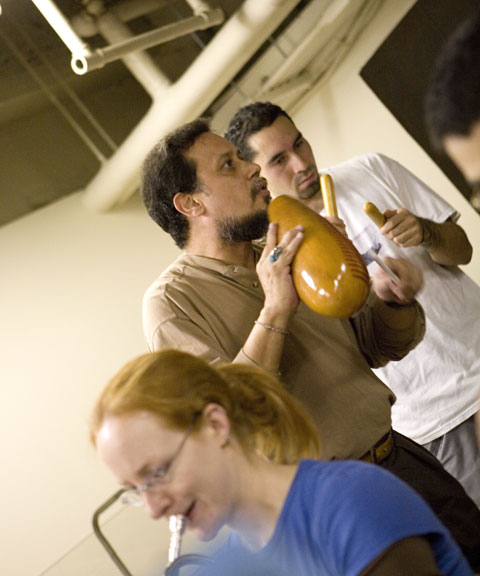 Güiro player
SERIES OF PHOTOS OF LIZA BAUZÓ SINGING LEAD AT THE 11/26/2007 REHEARSAL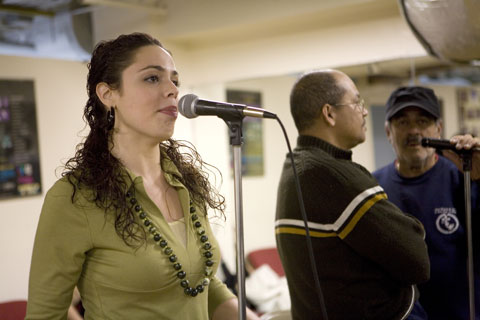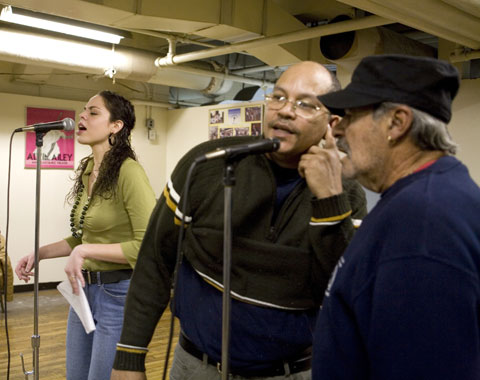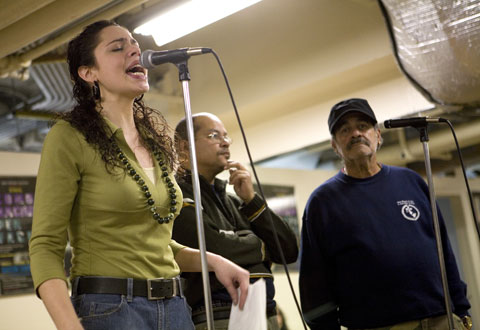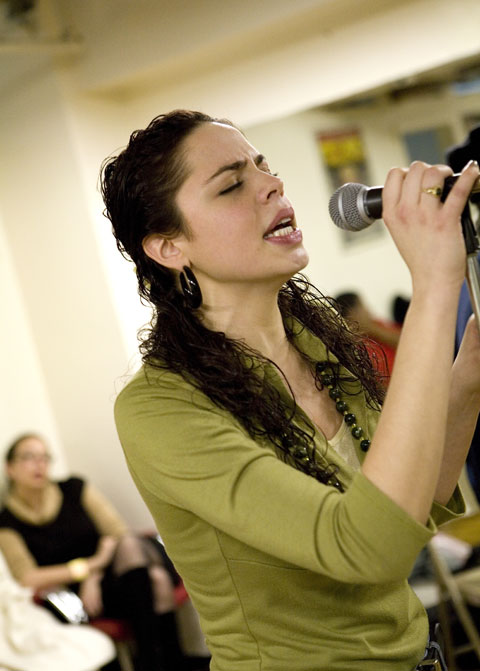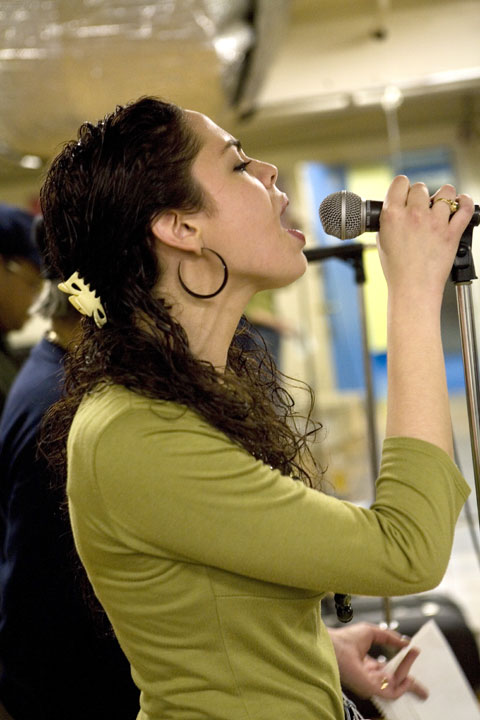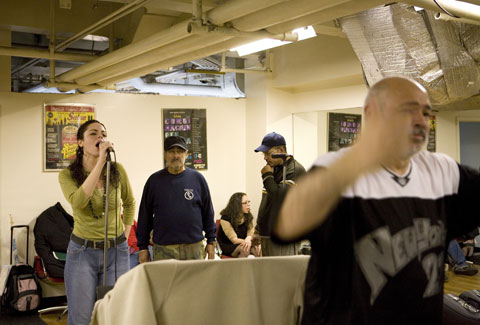 Louie directing in the foreground
SERIES OF PHOTOS OF LOUIE BAUZÓ DIRECTING THE BIG BAND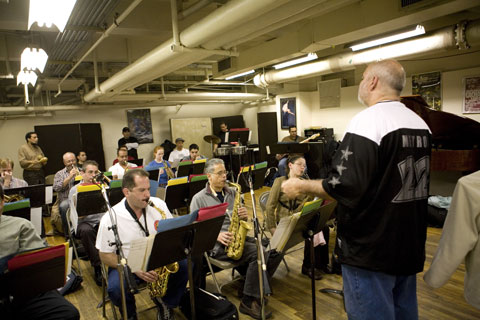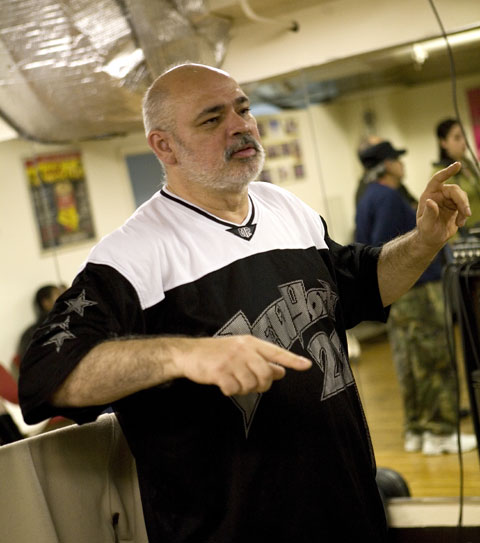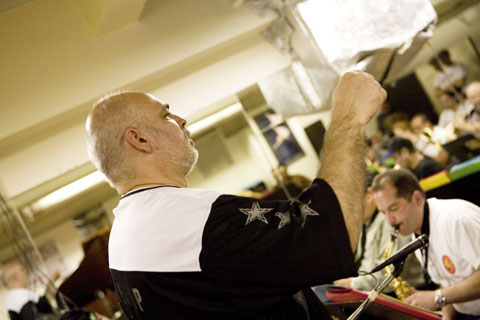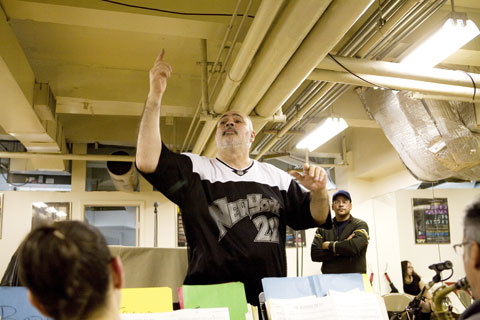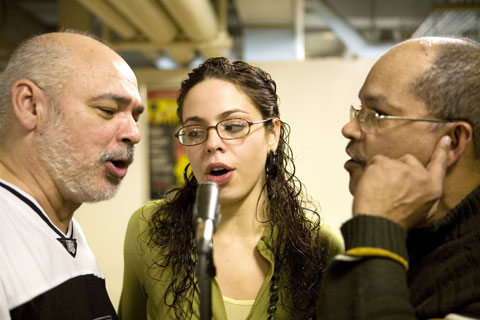 Louie, Liza and other singer on coro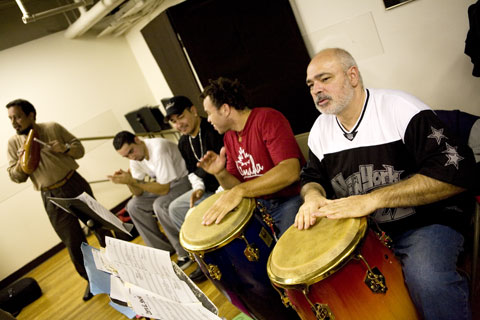 Louie on conga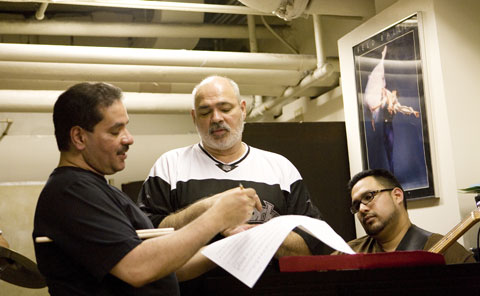 Louie coaching the timbalero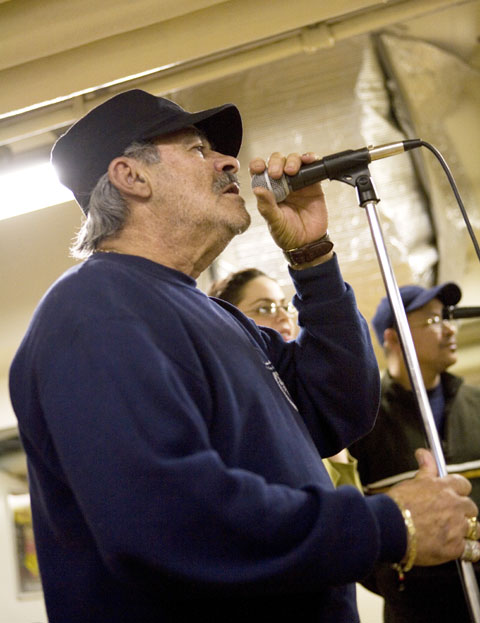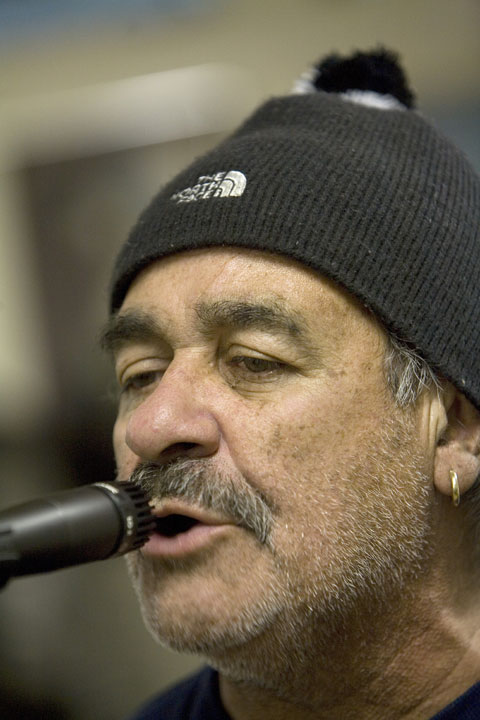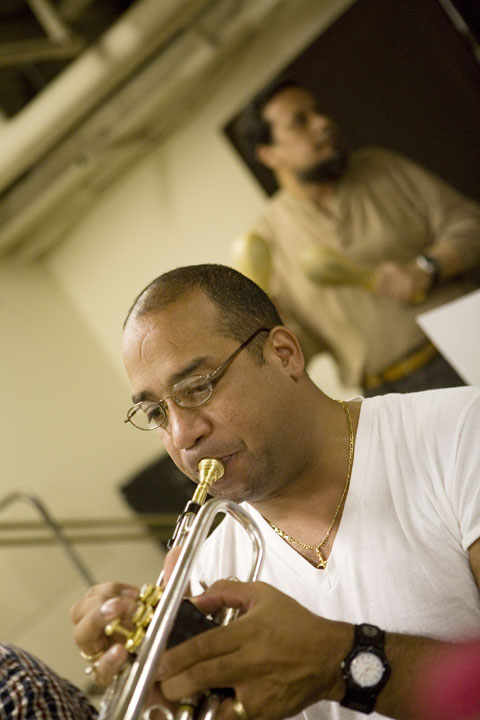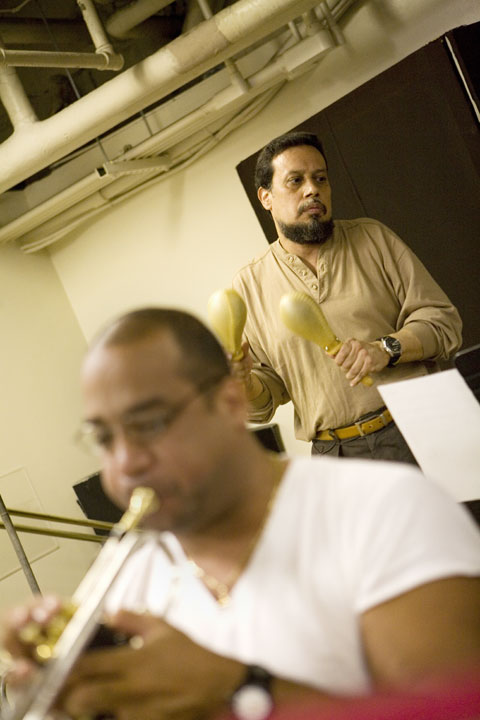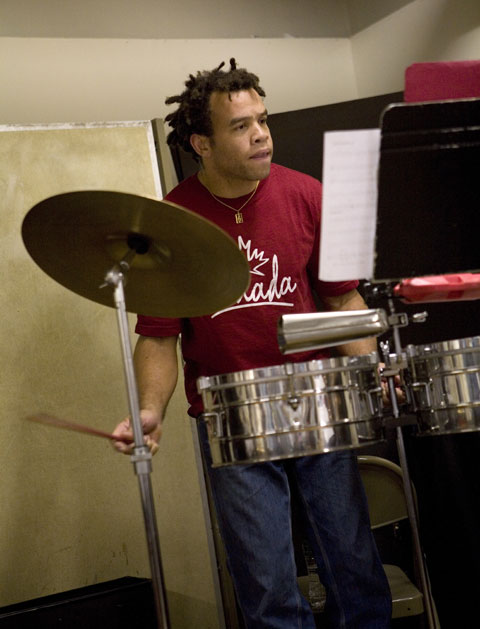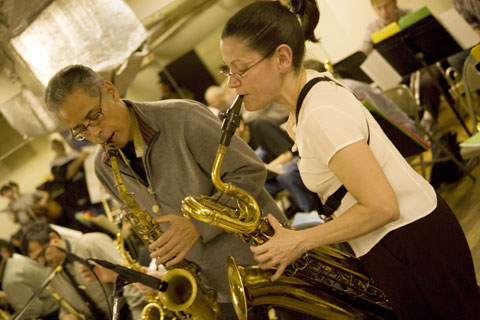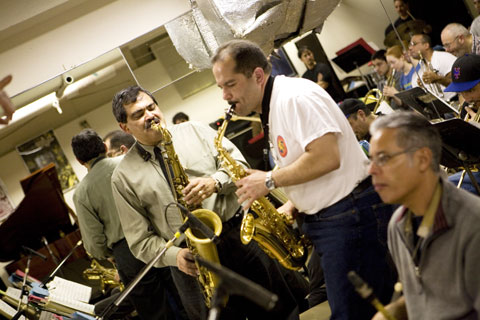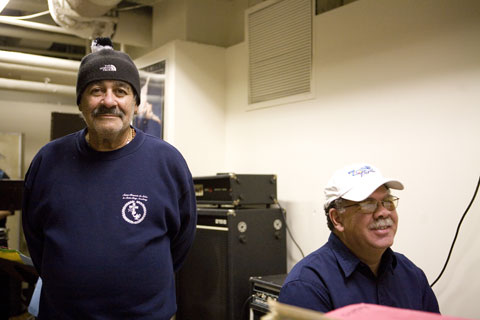 Singer with Sergio Rivera on piano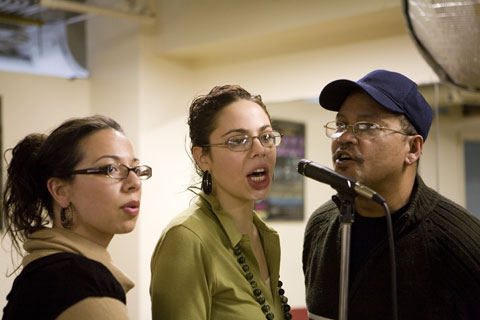 Liza and others singing coro

Timbalero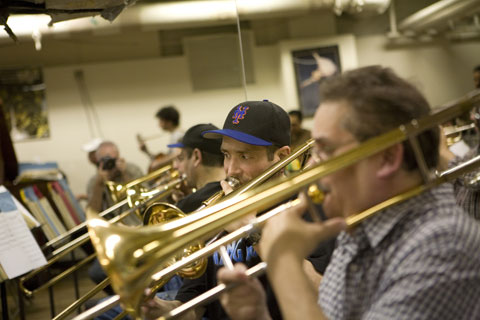 Trombones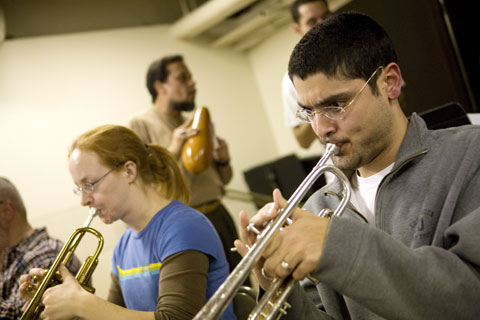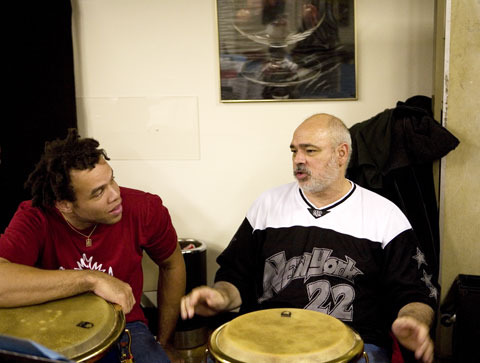 Louie explaining the conga part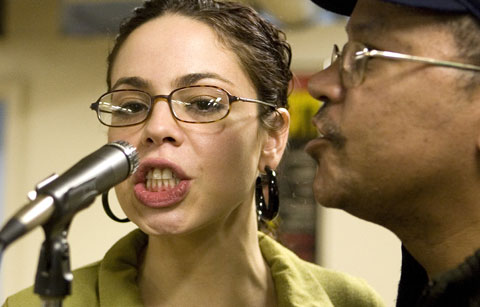 Liza and other on coro
SERIES OF PHOTOS OF LIZA BAUZÓ AT THE 12/3/2007 REHEARSAL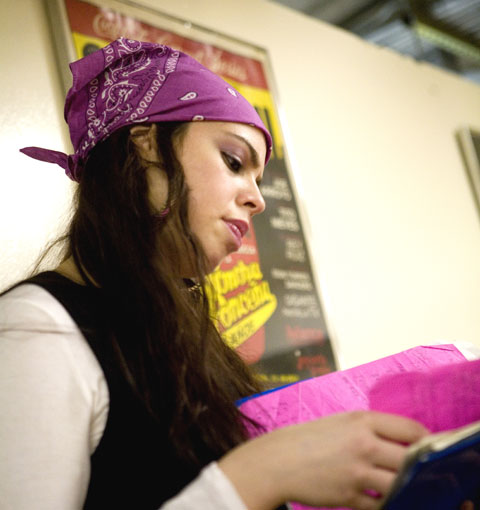 Liza studying the lyrics at 12/3/2007 rehersal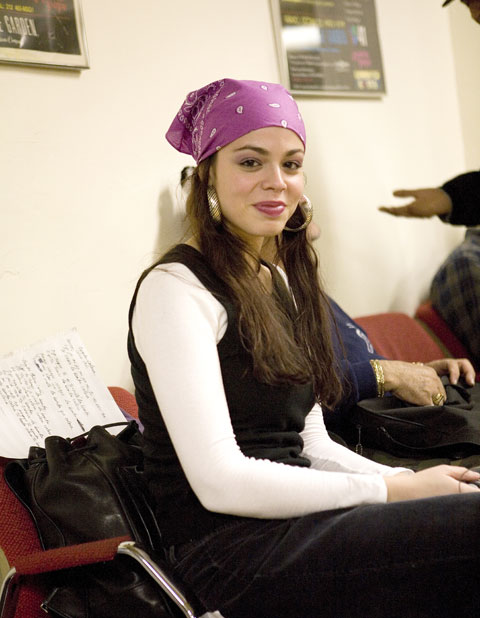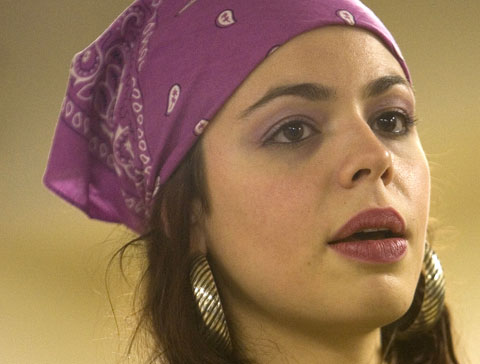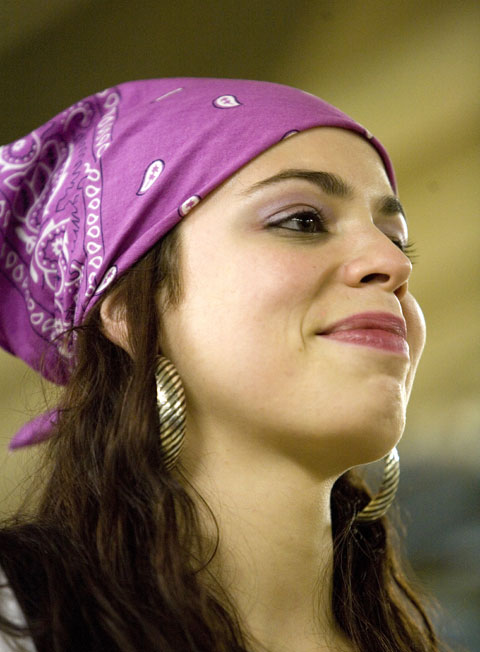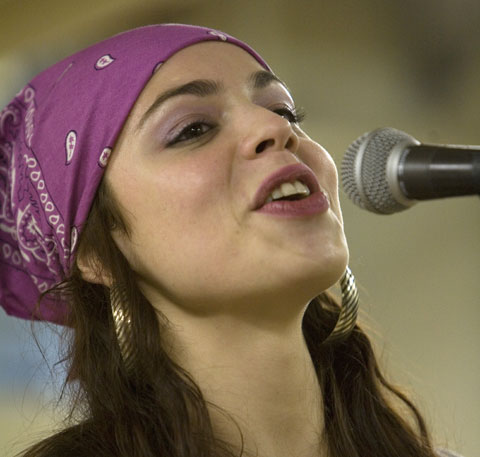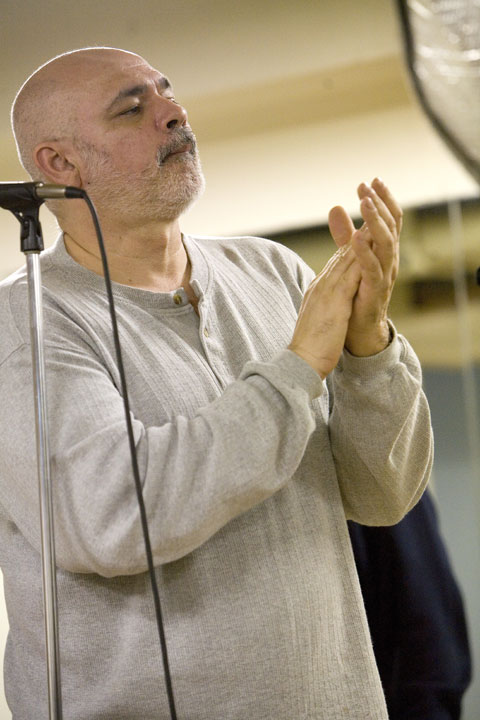 Louie clapping out rhythm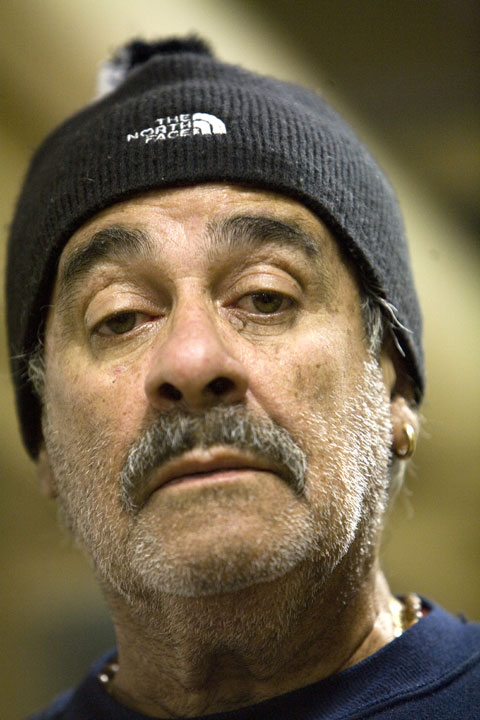 Singer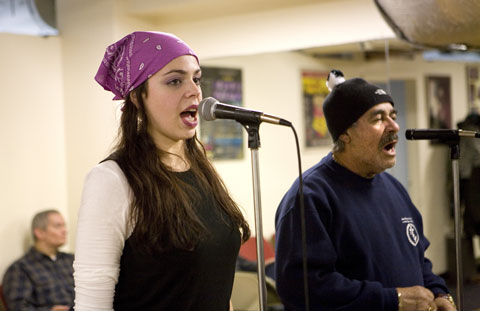 Liza singing lead
SERIES OF PHOTOS OF LOUIE AND LIZA SINGING CORO AT 12/3/2007 REHERSAL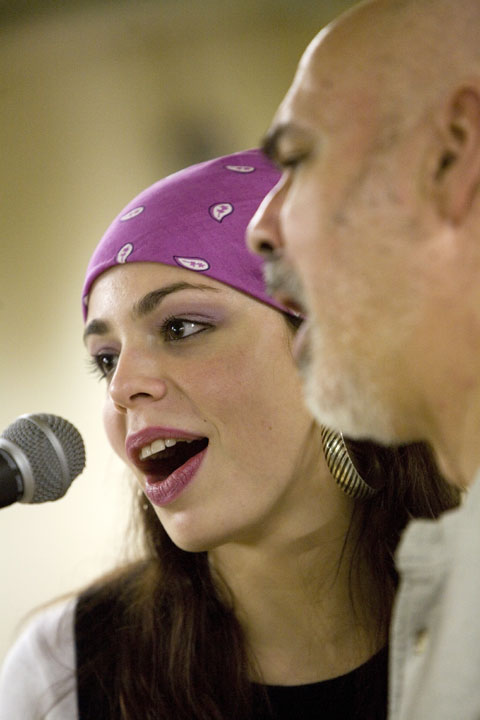 \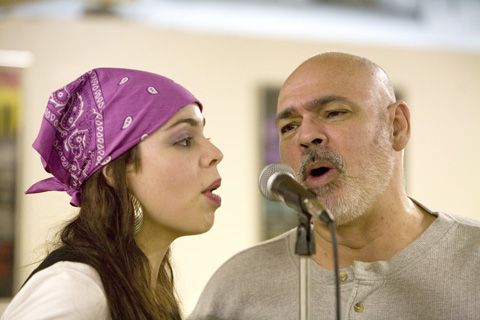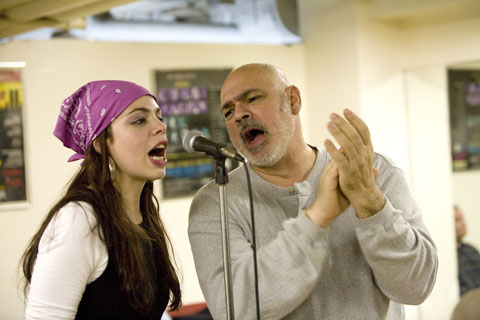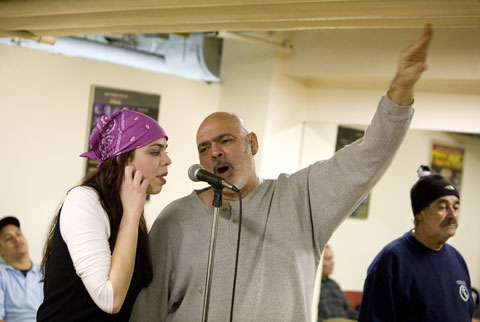 Monday, 24 December 2012, 01:42 AM