Tom Ehrlich - 2021 San Jose Summerfest-Friday
2021 SAN JOSE JAZZ SUMMERFEST FRIDAY
AUGUST 13, 2021
PHOTOS AND TEXT BY TOM EHRLICH © 2021
San Jose Jazz successfully had the Summerfest this year in spite of the pandemic with three outdoor stages and three indoor venues, a significant reduction trom the usual 9 or 10 stages. To access the indoor venues attendees had to have proof of vaccination and masks were enouraged for all who attended.
This report includes the following Friday night bands - Judith Hill, The Futurelics, Mimi Fox and Ozomatli.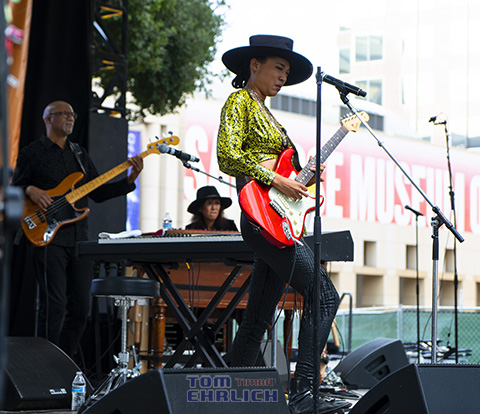 Judith Hill guitar, Robert Lee Hill bass and Michiko Hill keyboards
LA based singer, songwriter, multi instrumentalist leads a band which includes her father on bass and her mother on keyboards. She's a soulful vocalist and a dynamic guitarist.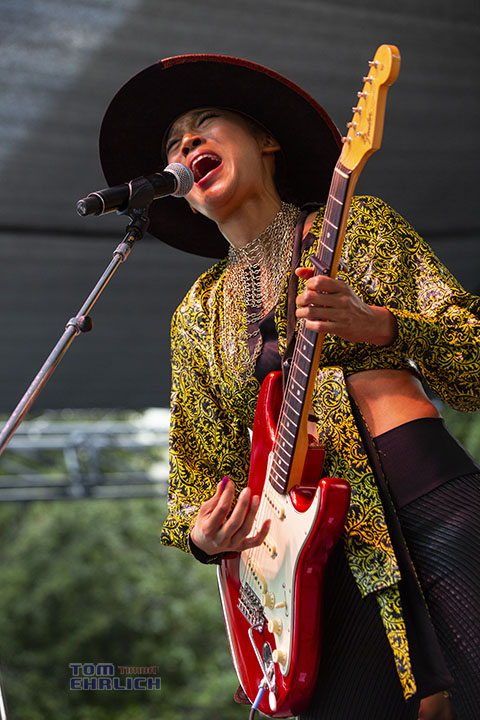 Judith Hill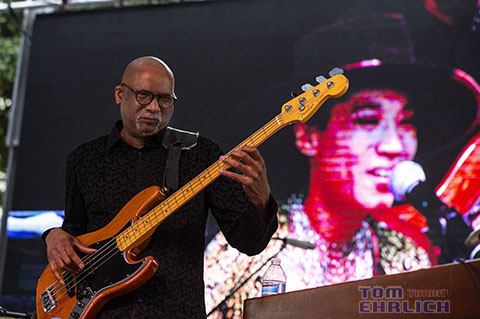 Robert Lee Hill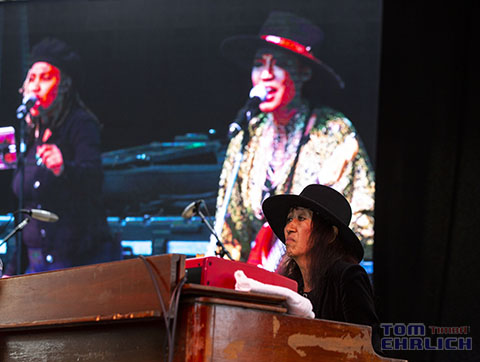 Michiko Hill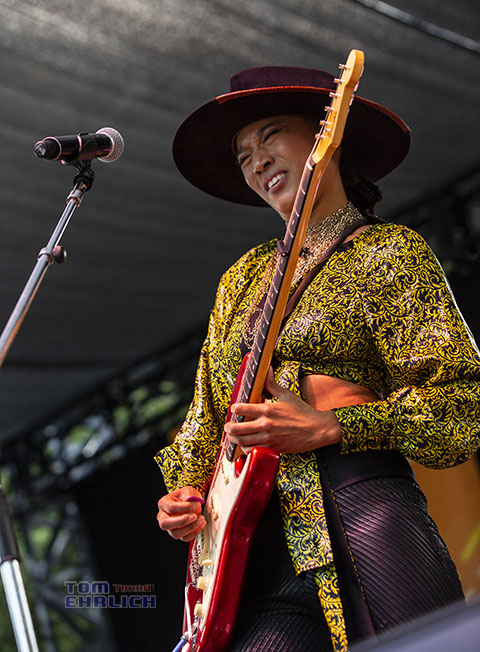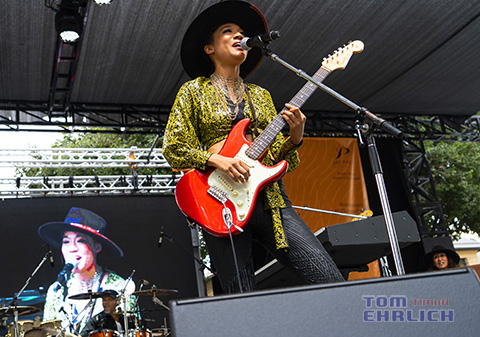 Judith Hill's music is described as soul fused with psychedelic funk.
Next group was The Futurelics, a band of excellent young musicians from Oakland, CA, who I never hear of before the festival. For me, they were the biggest surprise and one of my favoirite bands of this years festival.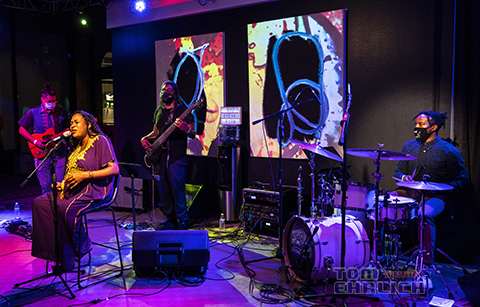 Camile Safiya vocals, Joshua Icban guitar, Anthony Mills Branch bass and Brandon Farmer drums
Camile Safiya, an Afro-Dominican, is the leader, vocalist, composer and arranger of the band, who was 9 months pregnant. She has a beautiful and powerful voice and their music is described as honoring funk, blues, house, jazz, Afro-Cuban and Afro-Dominican palo. Lyrics were in both Spanish and English and two of the songs they sang honored Yemaya. The music was a masterful fusion of the various styles of music described above and it generated an excitement more than most of the other groups I witnessed at this year's festival.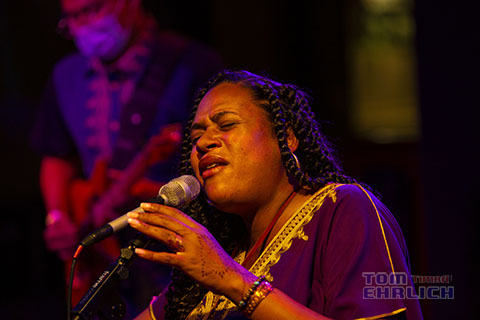 Camile Safiya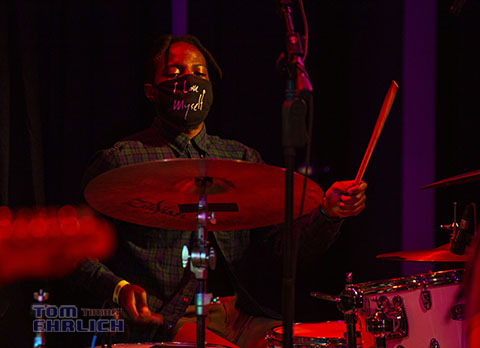 Brandon Farmer
Brandon Farmer is a funky drummer and his playing felt in clave which perfectly fit the music that was played.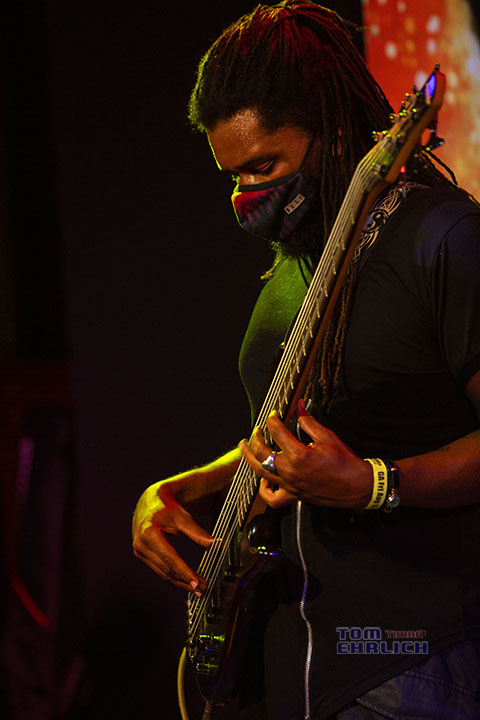 Anthony Mills Branch
Anthony Mills Branch held down some funky bass lines.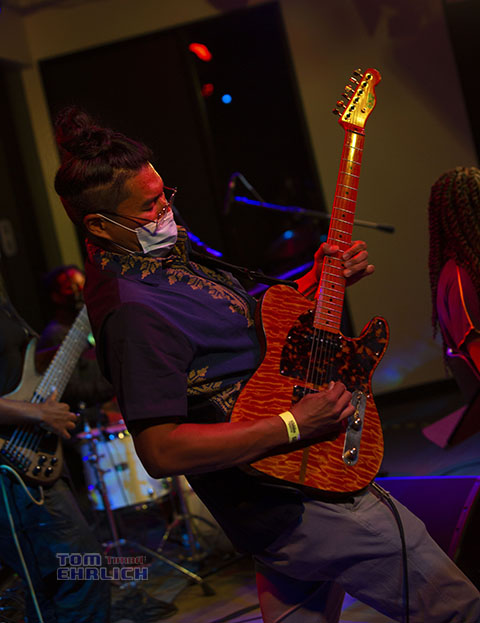 Joshua Icban
Joshua is an outstanding guitarist, who I met as I was parking to go to the festival. We struck up a conversation and he told me that he was contacted the evening before to play with the band and this was the first time he ever played with them, which he did without any rehearsals. That exchange with him was the reason I decided to listen to this band which I had never heard of. Joshua's playing sounded like he had performed with the band numerous times with wonderful solos, comping and fills.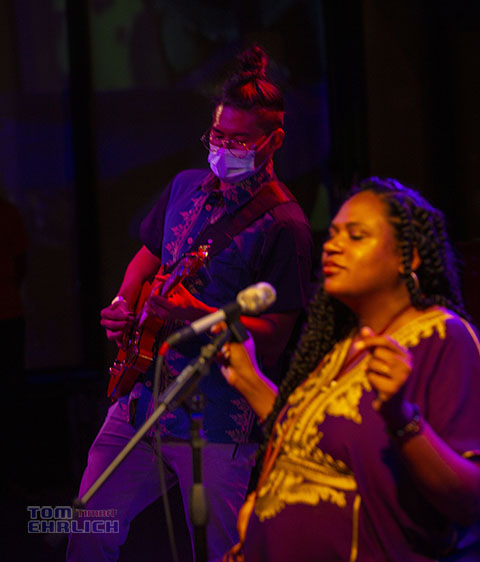 Joshua Icban and Camile Safiya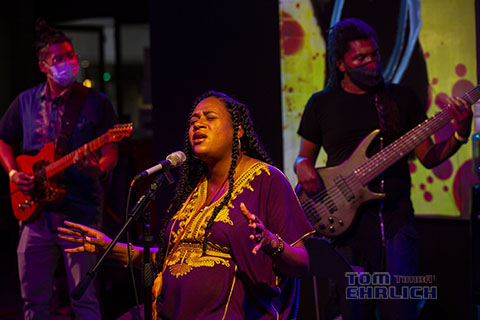 Camile Safiya, Joshua Icban guitar and Anthony Mills Branch bass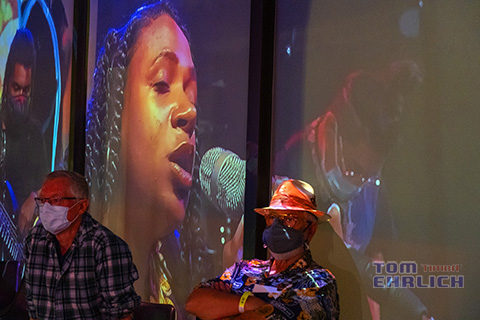 Video of the band performing projected on the wall with a couple of audience members
Futurelics was definitely one of the highlights of this years Summerfest.
Next witnessed Mimi Fox B3 Trio. (guitar, drums and B3 organ) Mimi is a veteran jazz guitarist who has a long impressive history.
Brian Ho organ, Mimi Fox guitar and Lorca Hart drums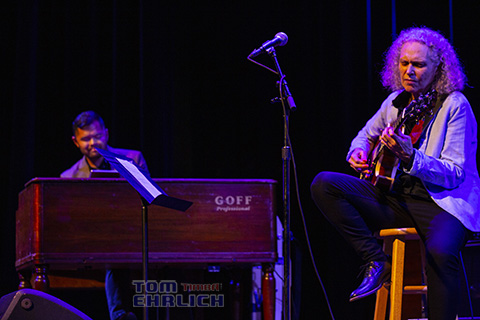 Brian Ho and Mimi Fox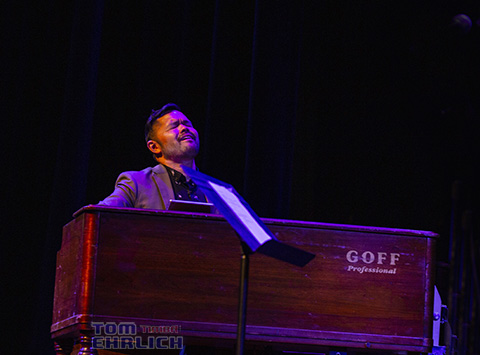 Brian Ho
Mimi Fox
Mimi Fox
Mimi's trio played an enjoyable variety of jazz styles. In an effort to attract a wider audience (I guess), the festival seems to have less and less jazz at the festival.
The final group for Friday night was the popular LA band Ozomatli. Their music is a "heady stew of hip-hop, and salsa, dancehall and cumbia; samba and funk, merengue and comparsa; East LA R&B and New Orleans second line; Jamaican ragga and Indian raga". They have been in existence for 25 years, starting out as musicain activists. I would describe their music as less serious than the past, now a party dance band. They have a large international fan base.
Unfortunately I was not able to obtain the names of the musicians.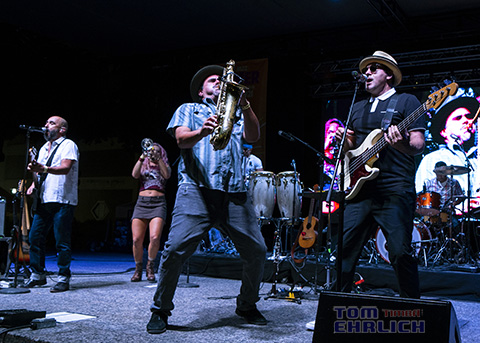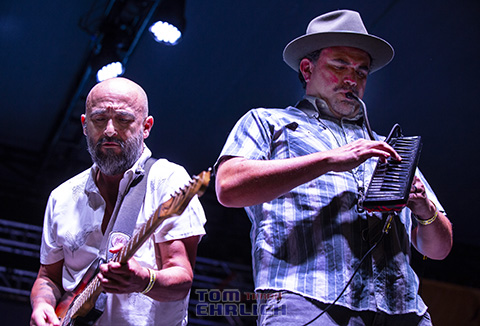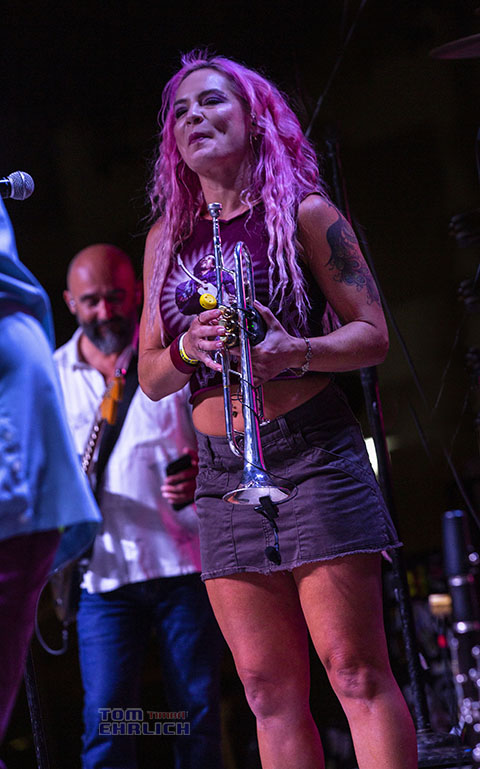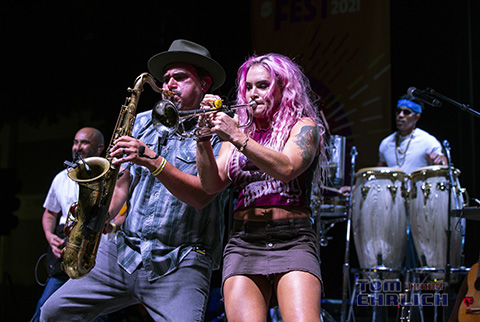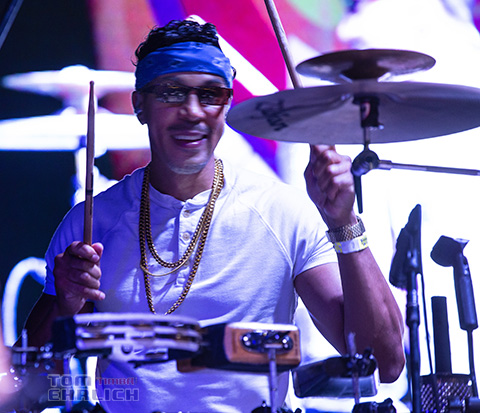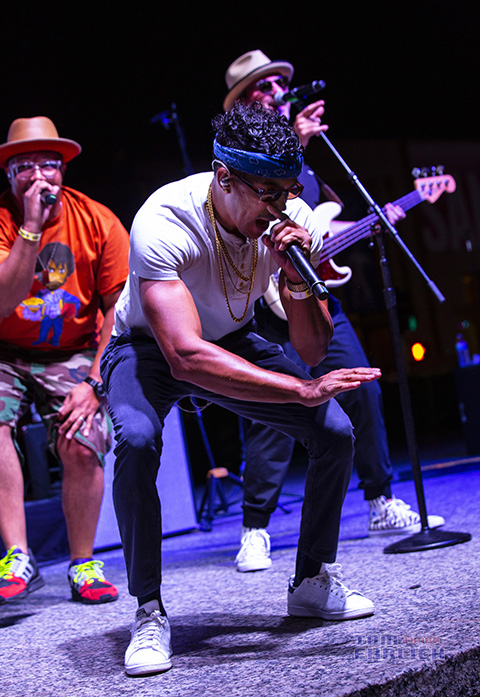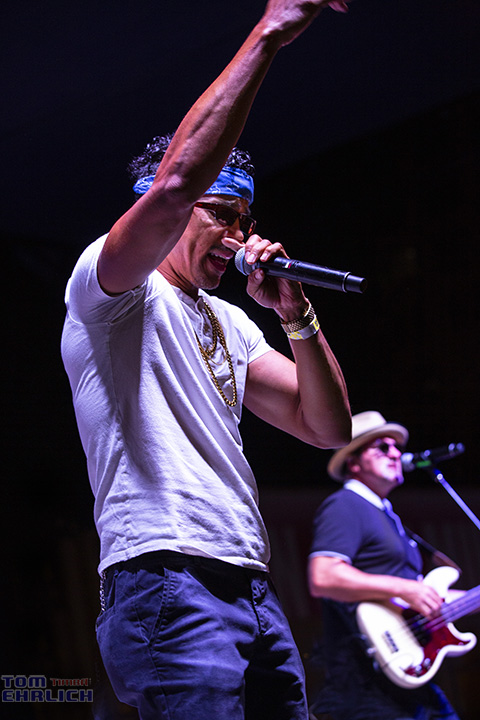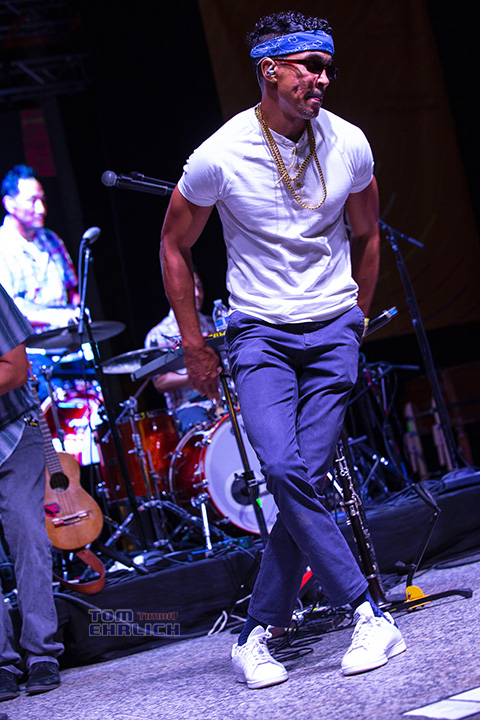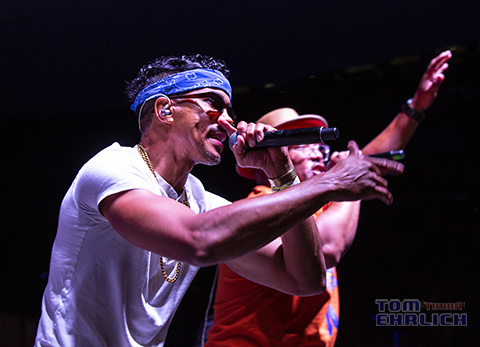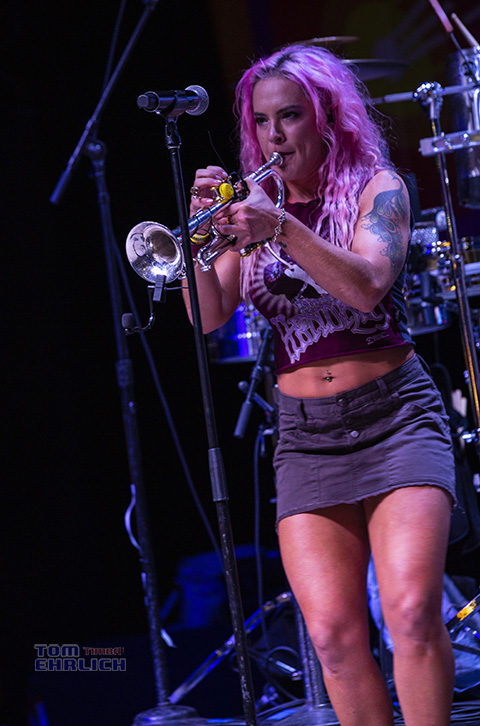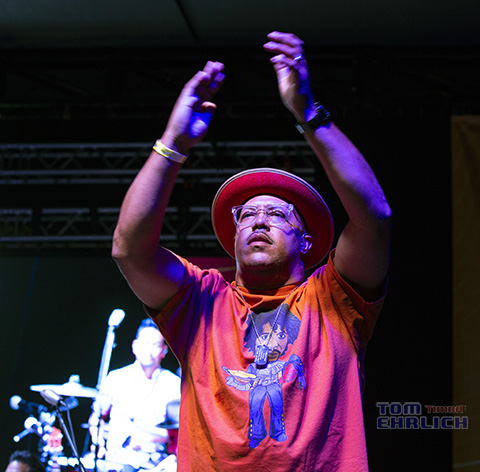 Ozomatli had the crowd dancing all through their performance. Fun way to end the evening.
Wednesday, 30 August 2023, 11:46 AM