Indice - Table of contents
Lo Nuevo
[hide]
Fotos Del Día
[hide]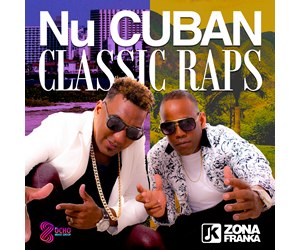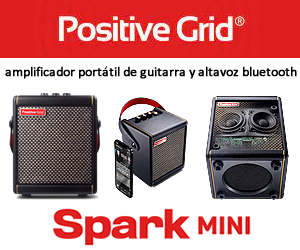 Tom Ehrlich - 2008 Monterey Jazz Festival Part 3
MONTEREY JAZZ FESTIVAL
MONTEREY, CALIFORNIA
SEPTEMBER 21, 2008

TEXT BY JOHN BENJAMIN AND TOM EHRLICH
PHOTOS BY TOM EHRLICH © 2008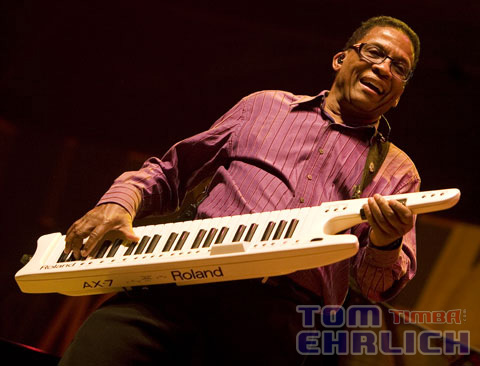 Herbie Hancock at the Main Stage
Although Sunday at the Monterey Jazz Festival had no Afro-Caribbean music, there were some great jazz music. We'll report on four of the groups that performed.
We started out at the Garden Stage to see Brian Blade & the Fellowship Band. Brian Blade may not be a household name, but he is clearly one of the premier drummers in the world today. The Shrieveport born, New Orleans raised drummer has been the drummer of choice for a wide range of artists including Emmylou Harris (country and western), Bob Dylan, Joni Mitchell, Wayne Shorter, Kenny Garrett and Joshua Redman. He has a unique style where he rarely takes a solo - or to describe it in another way, the whole song is a drum solo. Most of Brian's drumming can be described as melodic, where he varies the rhythms, styles and colors throughout each song, including increasing the intensity of his drumming especially when others are soloing, blending with the intensity of the solo but also at times pushing the soloist to increase the intensity. The interplay between Brian and the bassist Chris Thomas was exceptional and the rest of the group were all at the top of their game (including pianist Jon Cowherd who was not photographed - sorry Jon it was unintentional).
After performing with his own group, Brian Blade played with jazz legend Wayne Shorter at the main stage. Brian is a regular member of Wayne Shorter's great quartet.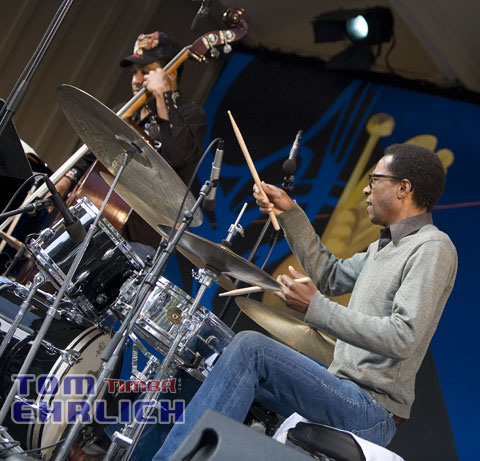 Brian Blade on drums and Chris Thomas on bass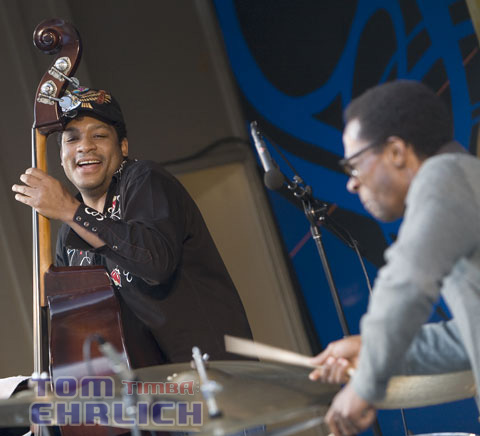 Chris Thomas on bass, Brian Blade on drums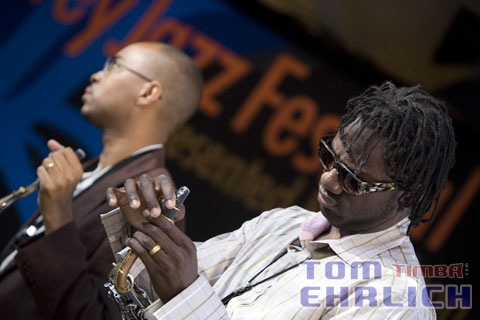 Melvin Butler and Myron Walden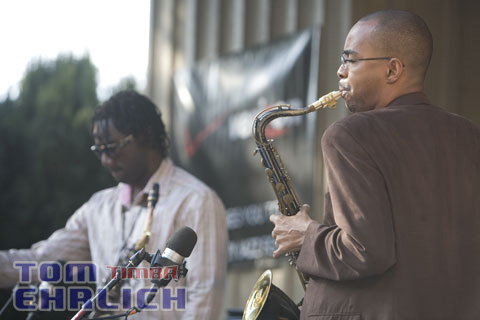 Myron Walden and Melvin Butler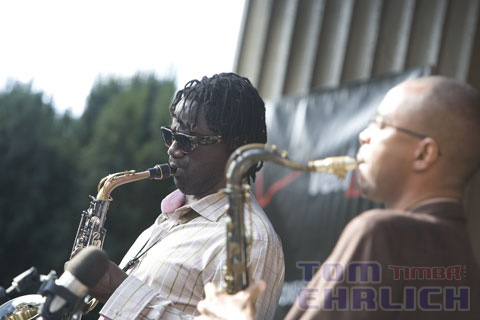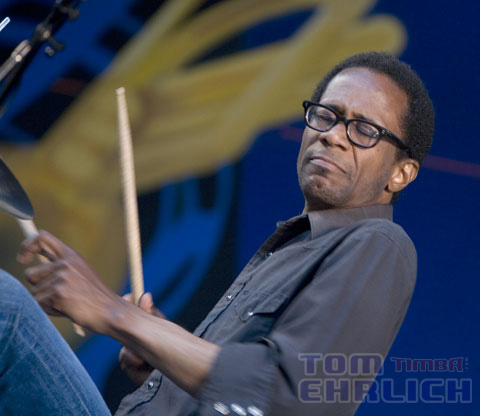 Brian Blade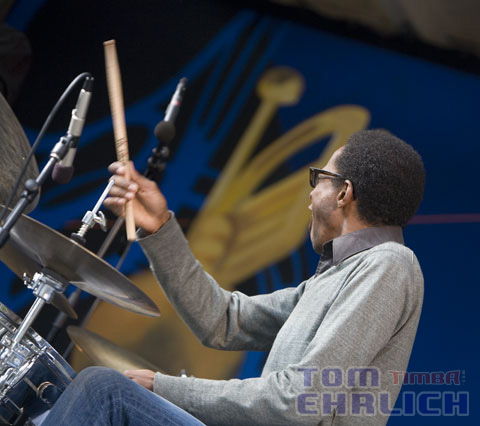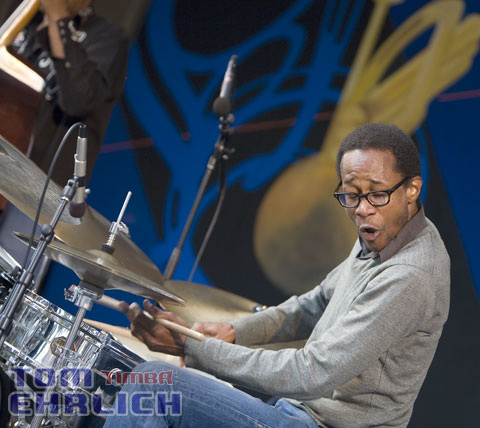 Brian Blade
Christian McBride, considered by many to be the best bassist of his generation, was the Monterey Jazz Festival's artist in residence this year. Christian is adept at many styles of music - he plays primarily an upright bass, but also excells at electric bass. He has played with a hugh number of jazz legends and a variety of groups, in addition to leading his own groups. At Monterey this year, his quintet played the main stage on Saturday evening and Dizzy's Den on Friday and Sunday nights. We caught the Sunday gig. It was an inspired performance, where all in the quintet worked up a sweat. The quintet included sax standout Steve Wilson, the fabulous Eric Reed on piano, veteran Carl Allen on drums and refreshing young player Warren Wolf in vibes.

From lef to right - Eric Reed, Steve Wilson, Christian McBride, Warren Wolf and Carl Allen

Christian McBride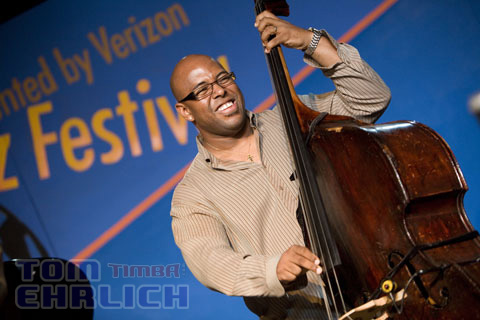 Christian McBride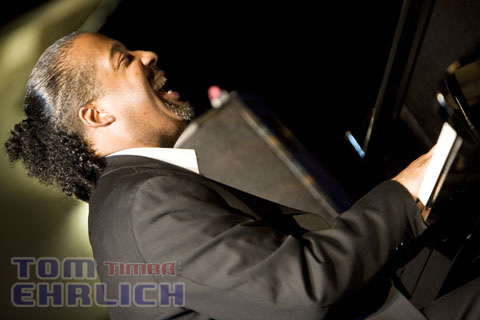 Eric Reed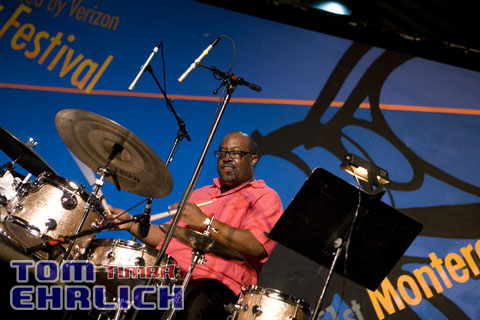 Carl Allen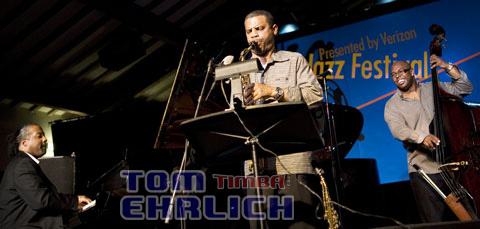 Eric Reed piano, Steve Wilson sax and Christian McBride bass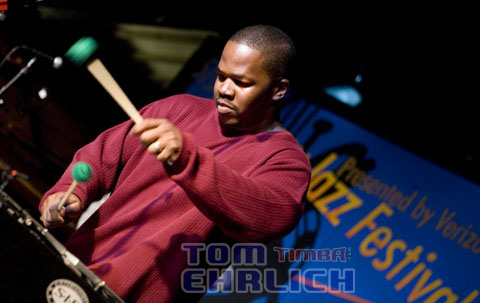 Warren Wolf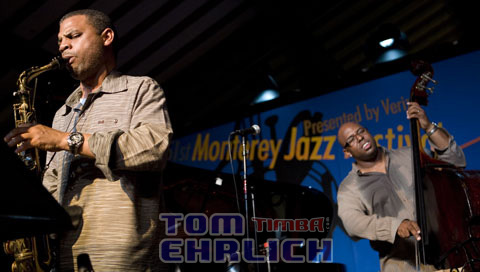 Steve Wilson and Christian McBride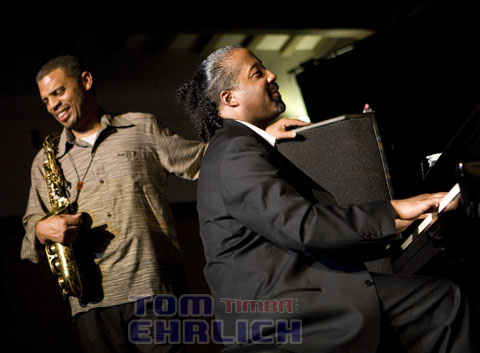 Steve Wilson and Eric Reed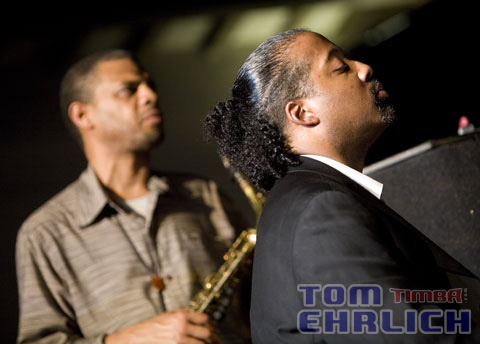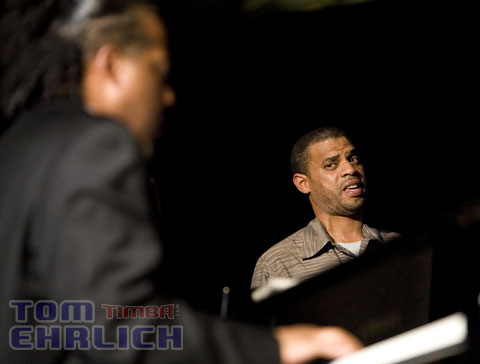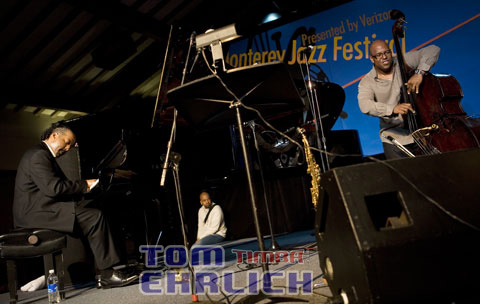 Eric Reed and Christian McBride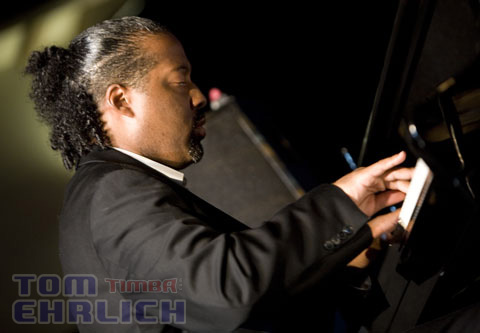 Eric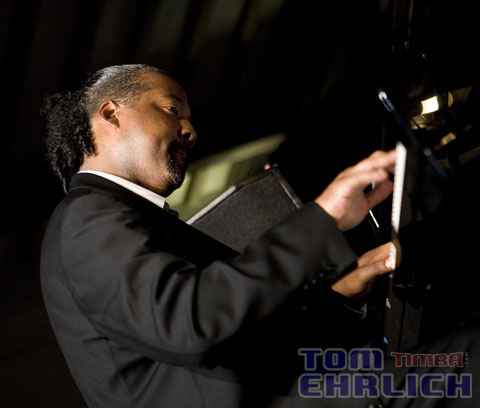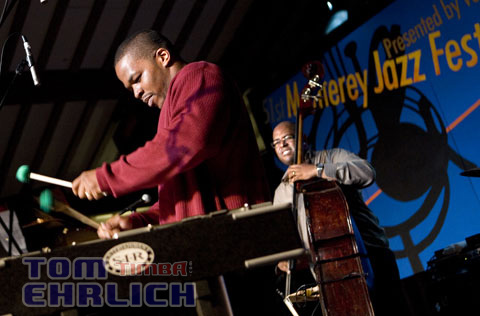 Warren Wolf vibes and Christian bass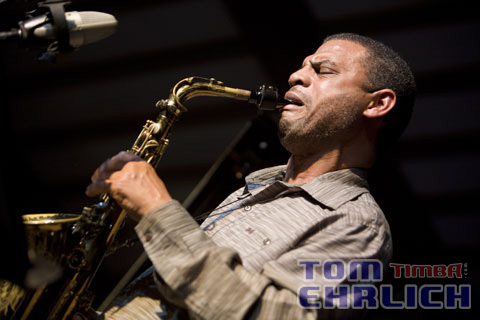 Steve Wilson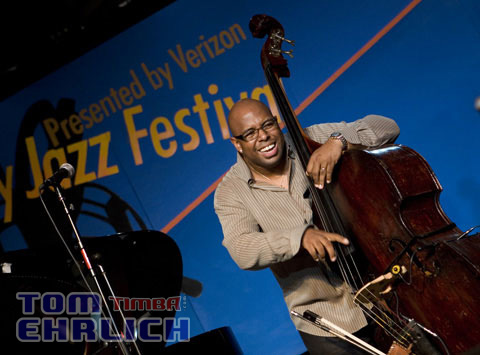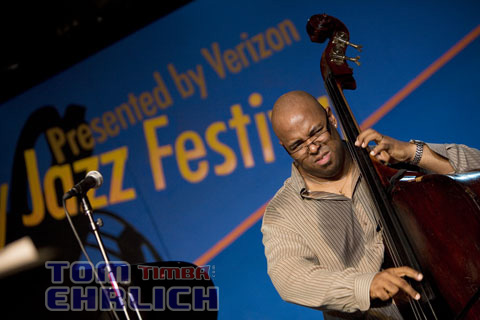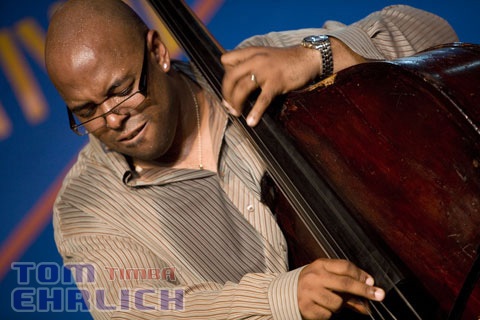 Next up at Dizzy's Den was one of the best male jazz singers on the scene today, Kurt Elling. Kurt's group included a special guest, the great saxophone player from Los Angeles, Ernie Watts (another musician you may have not heard of, but he's one of the best). Ernie is one of the most versatile and prolific sax players on the music scene. He has had a 40 year plus career where he is featured on over 500 recordings from pop stars such as the Rolling Stones and Aretha Franklin to famous jazz artists such as Charlie Hayden, Cannonball Adderly and Gerald Wilson as well as being on many TV shows and movies. He has his own jazz quartet with over 20 recodings with this group.
Kurt Elling has an idiosyncratic scat style combined with hip 1950's style poetry, an excellent voice and range and a bag full of facial expressions. . His rendition of "Resolution" by the late great John Coltrane brought the house down as did an original by his pianist Laurence Hobgood called "Motherland" dealing with the troubled state of this country. Kurt encouraged everyone to do the right thing on election day this November.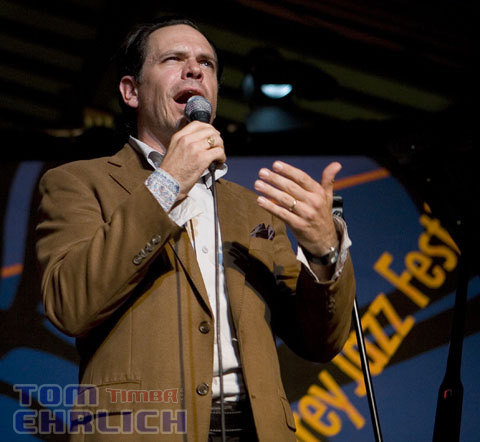 Kurt Elling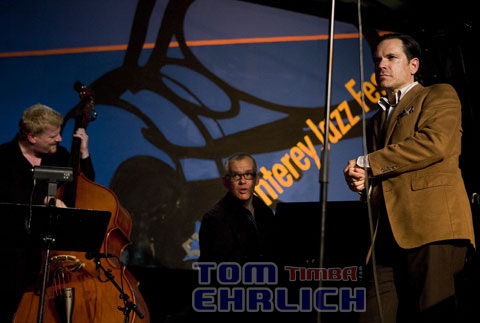 Bassist Robert Amster, pianist Laurence Hobgood and Kurt Elling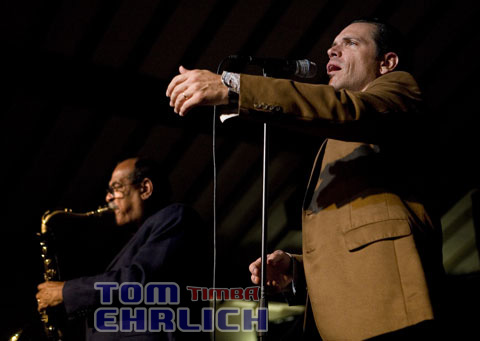 Ernie Watts sax and Kurt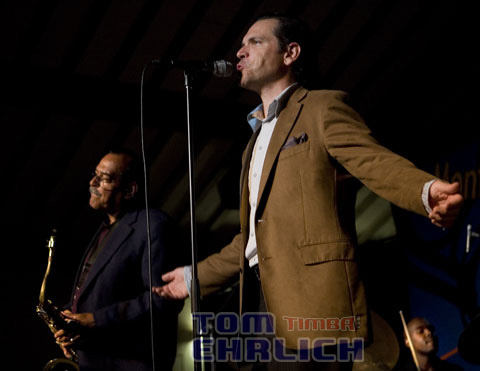 Ernie Watts and Kurt Elling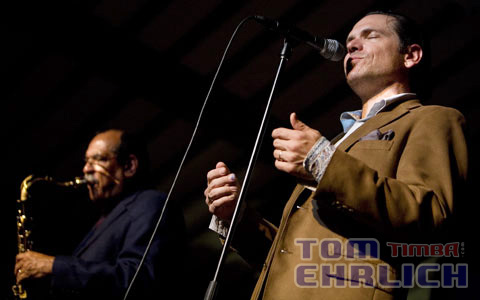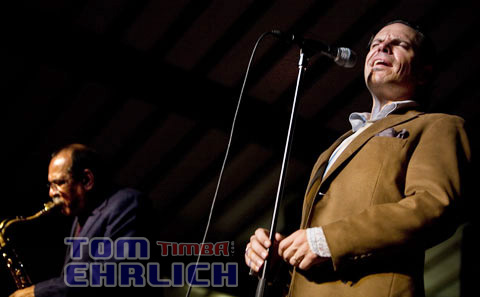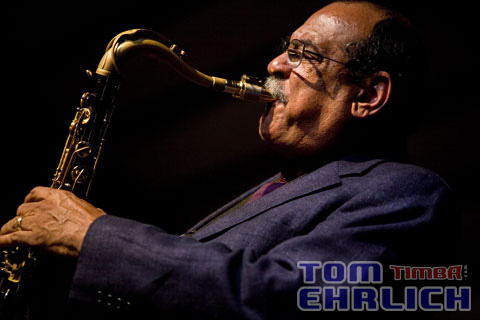 Ernie Watts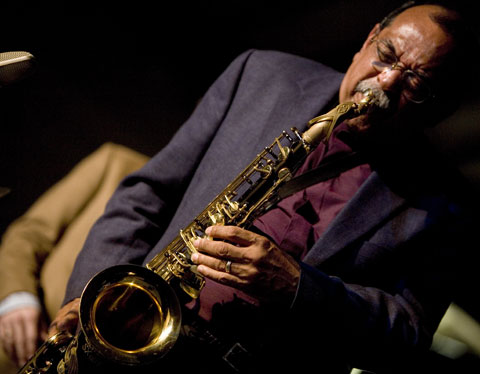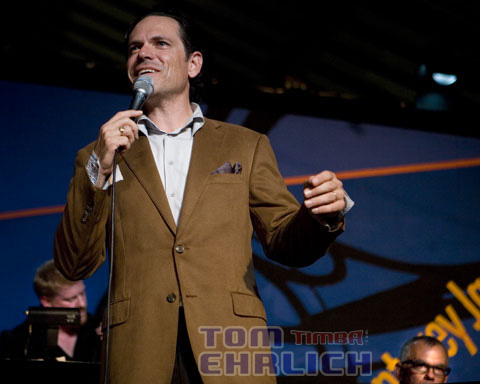 Kurt Elling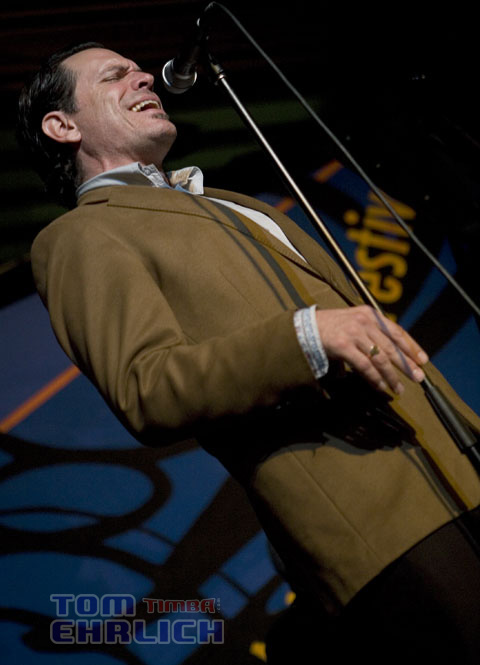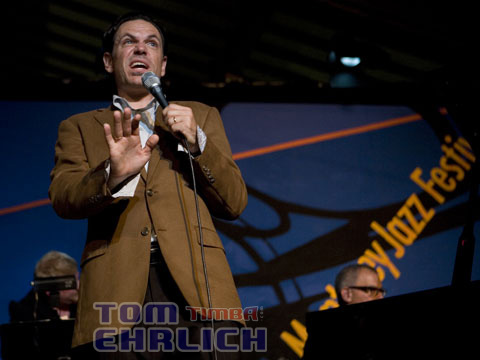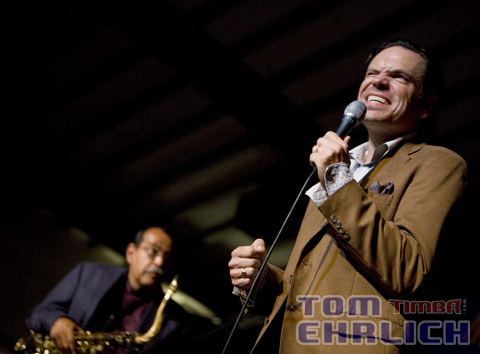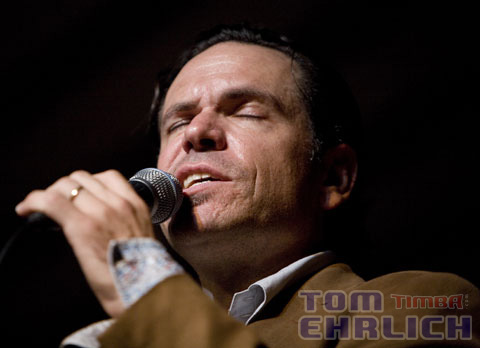 England's young pianist/singer phenom Jamie Cullum, joined Kurt Elling for a few numbers, trading witty and humorous exchanges as well as verses.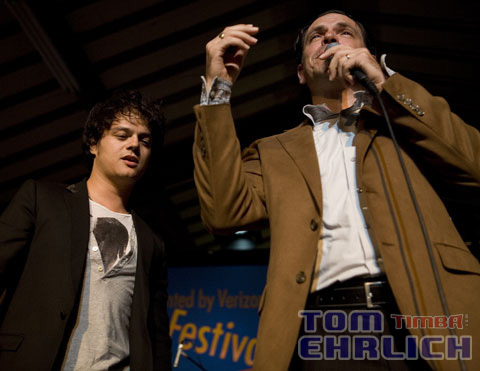 Jamie Cullum and Kurt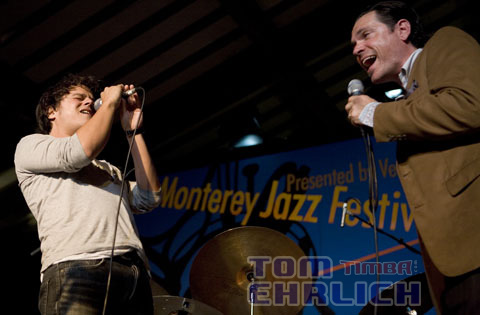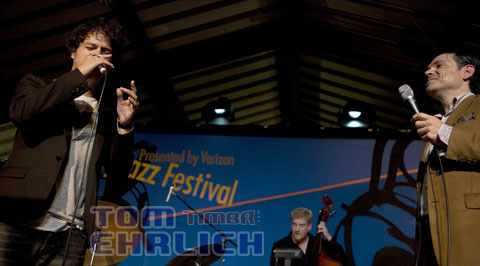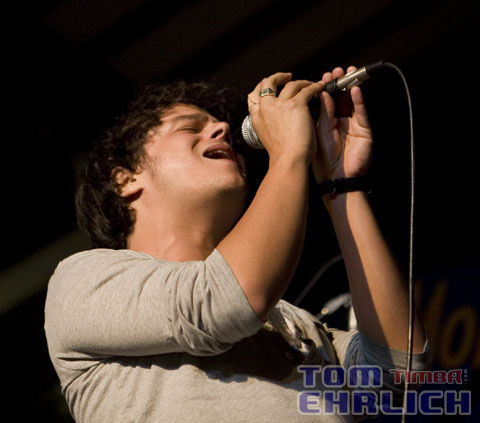 Jamie Cullum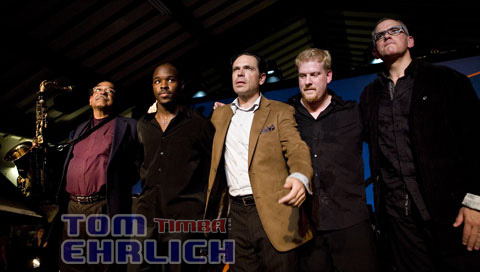 From left to right, Ernie Watts, drummer Ulysses Owens, Kurt Elling, bassist Robert Amster and
pianist Laurence Hobgood
As we started exiting the Monterey Fairgrounds, we stopped at the Main Stage to catch the end of the set of living legend and icon of modern music, Herbie Hancock. Mr. Hancock has been in the forefront of jazz since the 1960s, he helped redefine the role of the jazz rhythm section and was one of the primary architects of the "post-bop" sound. He was a member of Miles Davis's "second great quintet" and he later became one of the first jazz musicians to embrace synthesizers and funk. Herbie is a prolific composer and has written jazz standards such as Cantaloupe Island, Watermellon Man, Maiden Voyage and Chameleon. His 2007 tribute album, "River: The Joni Mitchell Letters" was only the second jazz album ever to win the Album of the Year Award at the 2008 Grammy's.
Mr. Hancock's group was an unusual quartet with Herbie on keyboards, bass (Nathan East), guitar (Lionel Louke) and drums (Vinnie Colaiuta) plus vocalist Amy Keys.
As Herbie finished the last song and started exiting, the crowd went wild, insisting on an encore (very unusual at the Monterey Festival). Mr. Hancock came out with guitar like electric keyboard - sometimes called a Dukey Stick and played Chameleon, made famous with the group called the Headhunters in the 1970s. The crowd reacted by storming the area in front of the stage and started dancing, allowing Tom Ehrlich to get to the front of the stage to take some photographs (normally not allowed at the main stage). A fitting end to a great jazz festival.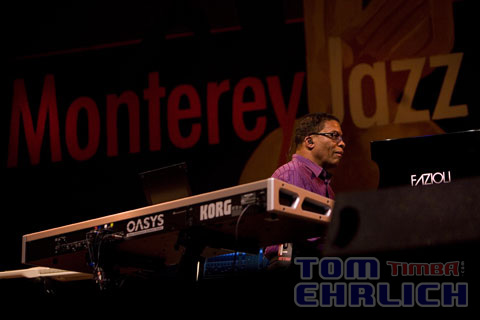 Herbie Hancock on acoustic piano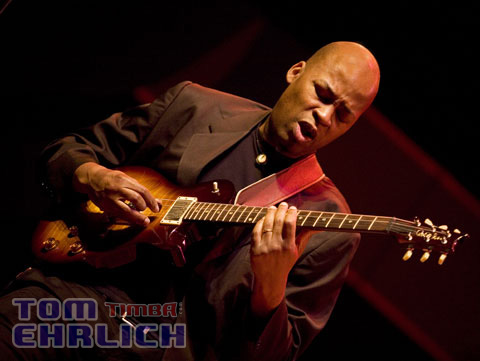 Lionel Loueke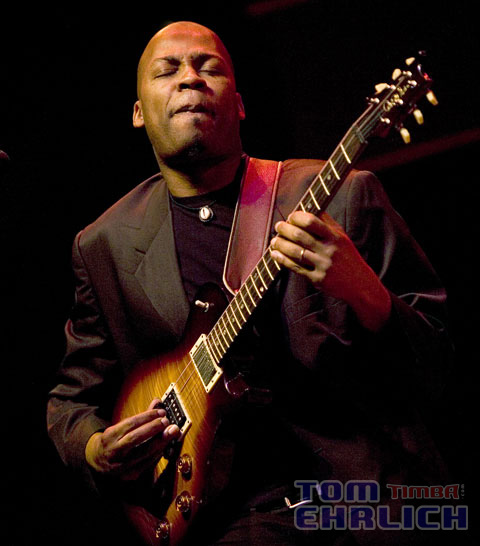 Lionel Loueke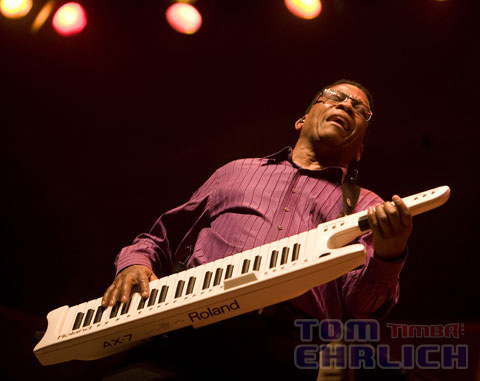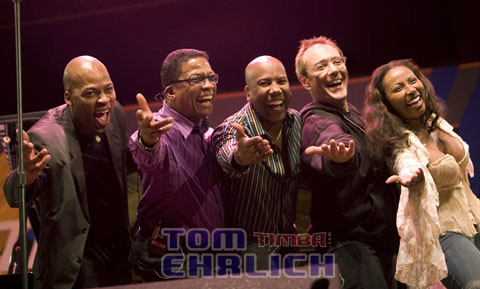 From left to right Lionel Loueke, Herbie Hancock, Nathan East, Vinnie Colaiuta and Amy Keys
miércoles, 27 septiembre 2023, 07:35 pm