Tom Ehrlich - 2016 Monterey Jazz Festival Part 3
59TH MONTEREY JAZZ FESTIVAL PART 3
SUNDAY SEPTEMBER 18, 2016
PHOTOS BY TOM EHRLICH © 2016
Part three of the 59th Monterey Jazz Festival report includes Claudia Villela With Vitor Goncalves, Elena Pinderhughes Group, Dave Stryker Organ Quartet, Tommy Igoe Groove Conspiracy, Donny McCaslin, Kamasi Washington, Dr. Lonnie Smith Trio and Gregory Porter.
CLAUDIA VILLELA WITH VITOR GONCALVES
Claudia Villela is a world class pianist, vocalist, composer, percussionist and improvisor. She teamed up with piano and accordion virtuoso Vitor Goncalves and treated the Monterey Jazz Festival audience to a great set of Brazilian jazz.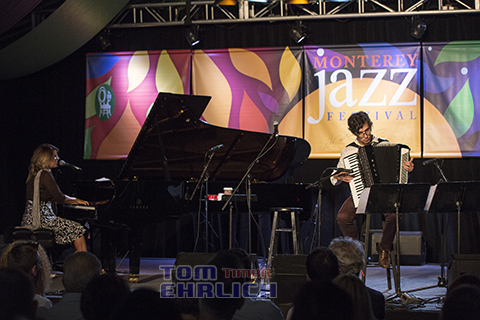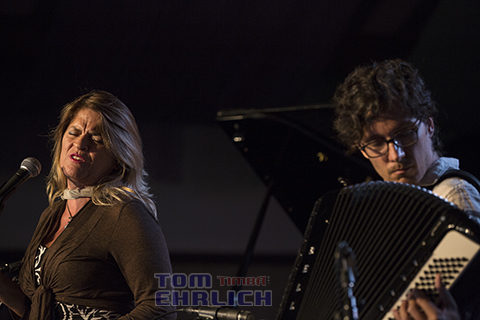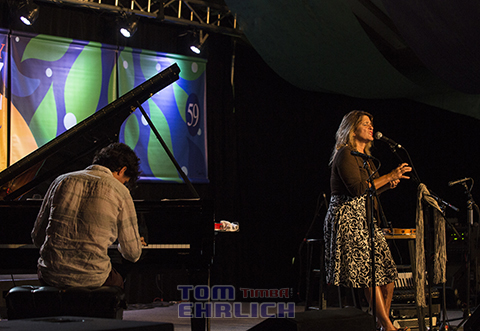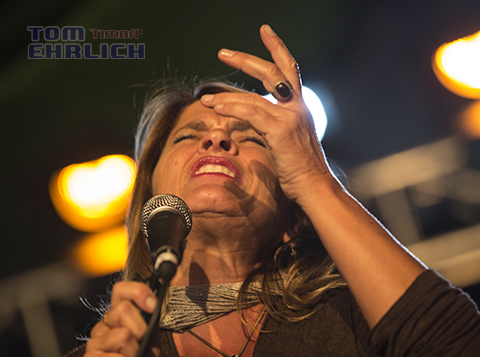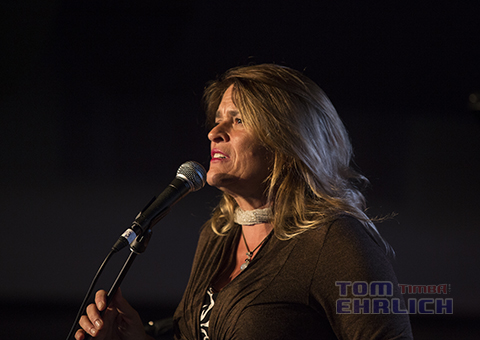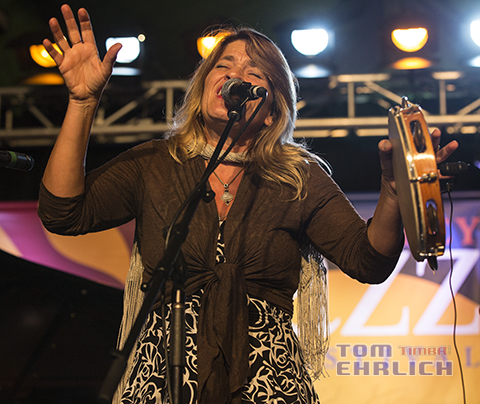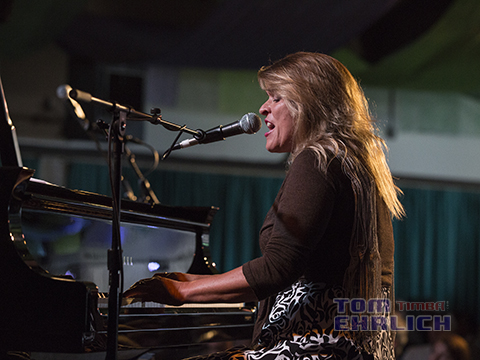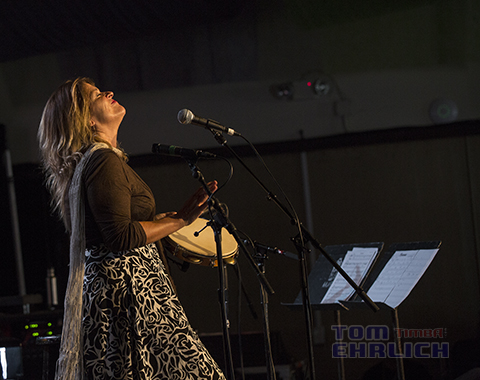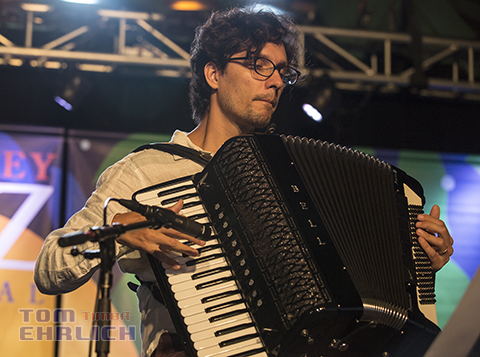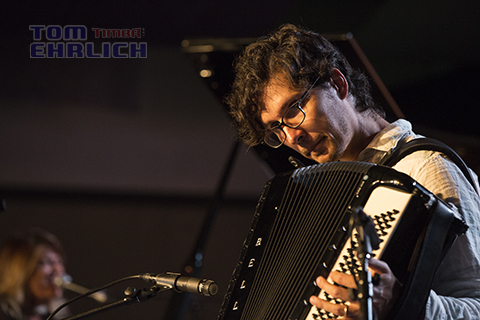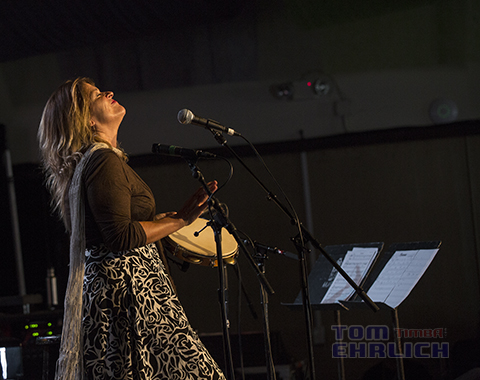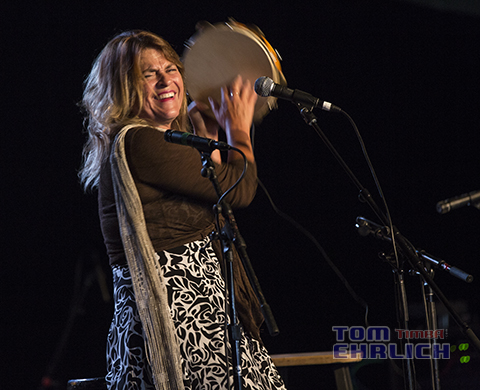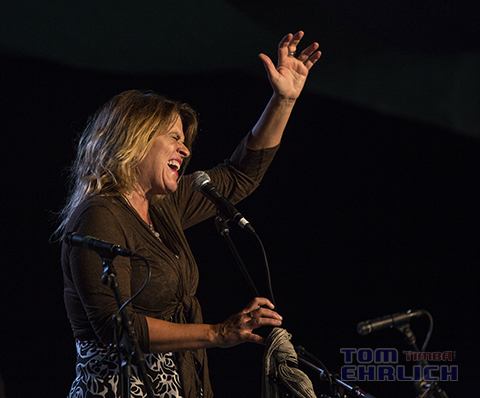 ELENA PINDERHUGHES GROUP
Former child prodigy flutist and vocalist Elena Pinderhughes, originally from Berkeley, California, now resides in the jazz capitol of the world (NYC). Elena and her brother pianist Samora Pinderhughes have formed a group of young outstanding musicians, including Elena on flute and vocals, Samora on piano, Gabe Schneider on guitar,Joshua Crumbly on bass and Corey Fontville on drums.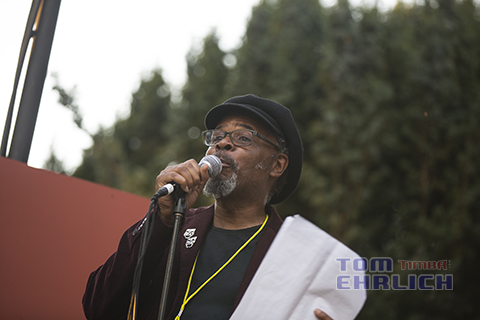 Greg Bridges, DJ on KCSM, Bay Area jazz station introducing the group. He, like me, has been following Elena's career since she was about 10 years old.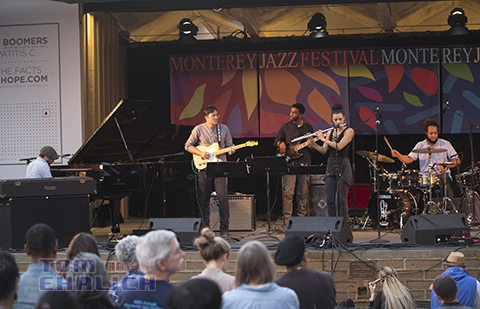 Samora Pinderhughes piano,Gabe Schneider guitar,Joshua Crumbly bass,Elena Pinderhughes flute,Corey Fontvillie drums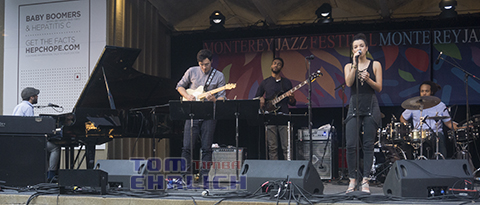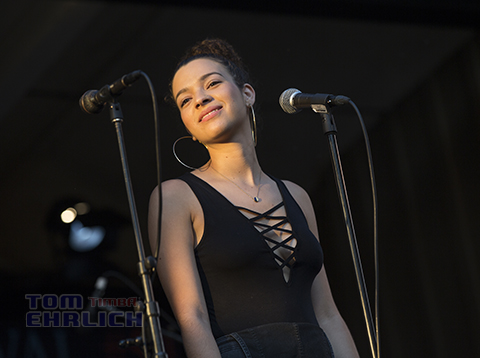 Elena Pinderhughes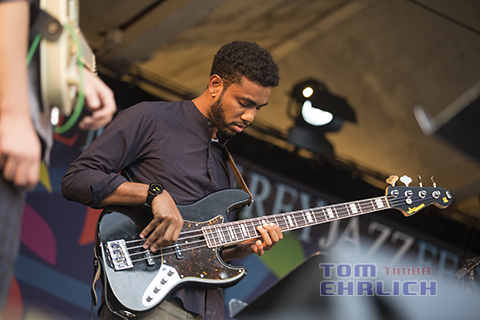 Corey Fontville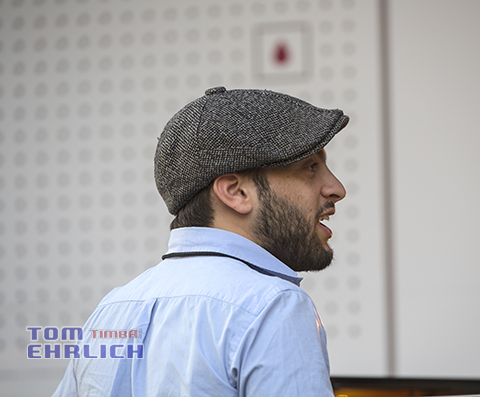 Samora Pinderhughes
Elena flute and Corey Fontville drums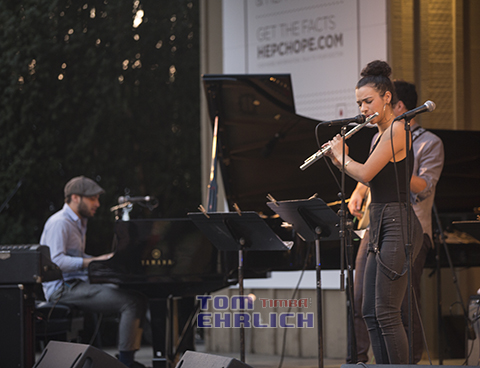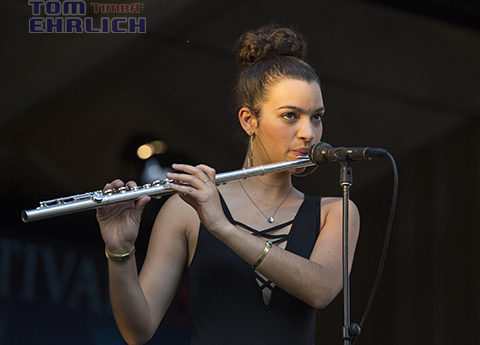 Besides her own group, Elena has played with numerous big name musicians such as Christian Scott, Kenny Baron, Maraca, Herbie Hancock and hip hop star Common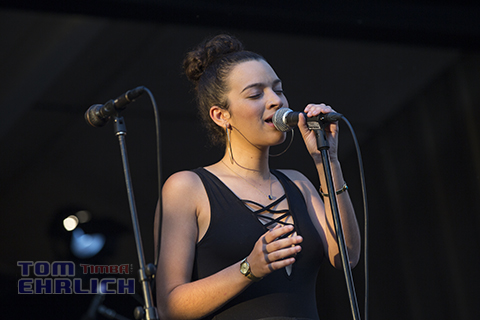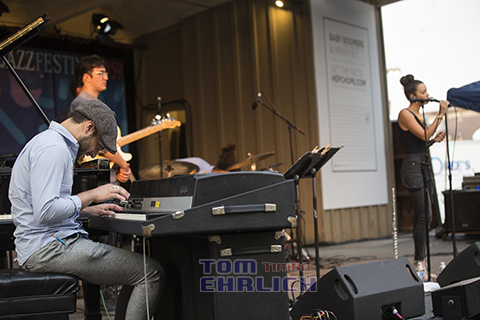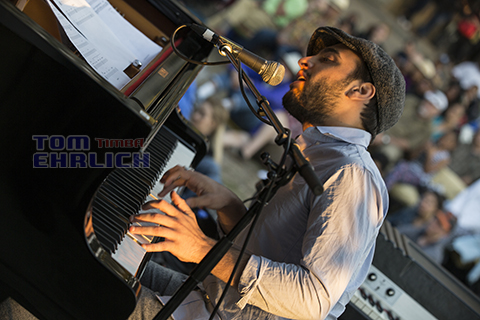 Samora Pinderhughes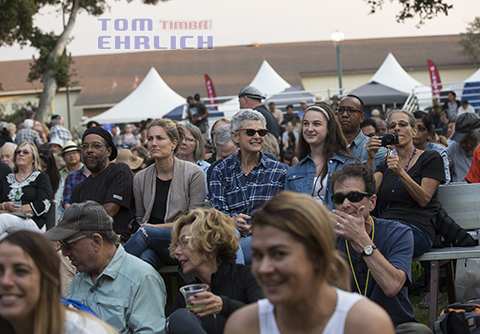 Elena and Samora's parents, mom shooting video in black top and dad also in black top and hat.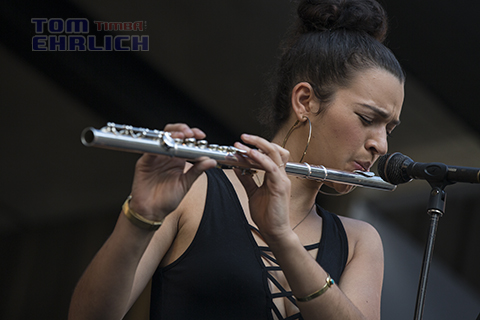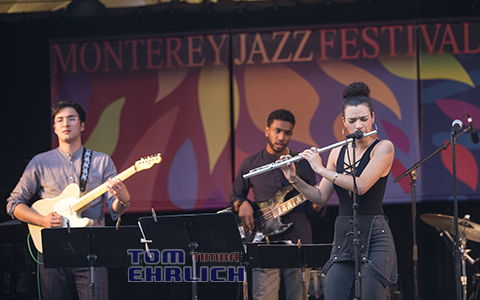 Elena flute,Gabe Schneider guitar and Joshua Crumbly bass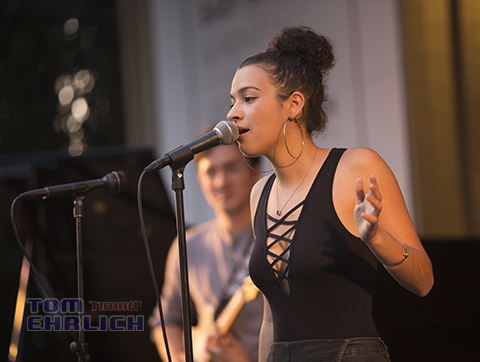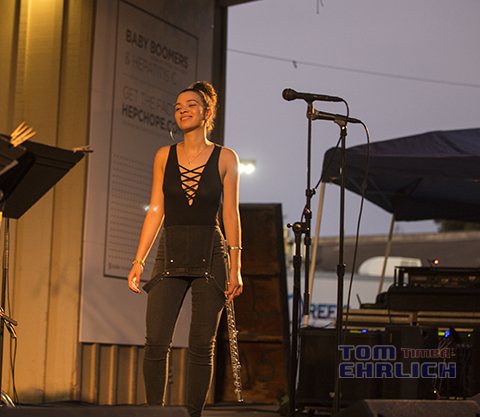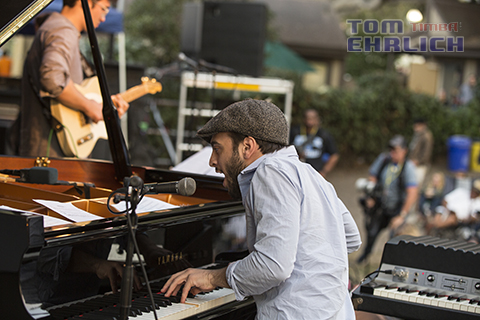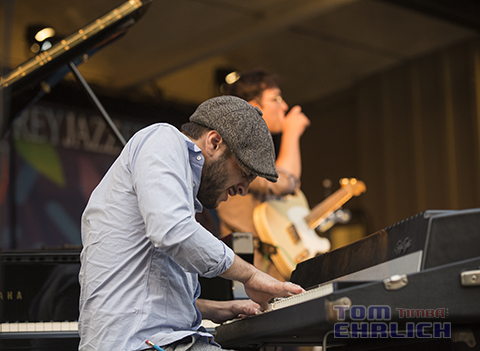 DAVE STRYKER ORGAN QUARTET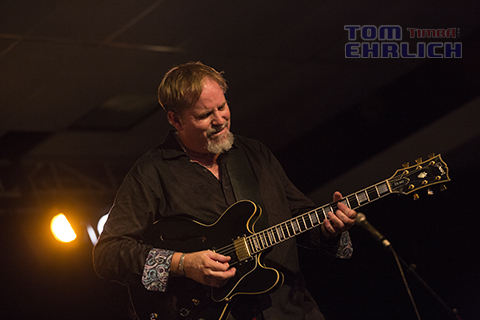 Dave Stryker is one of the top jazz guitarists in the world today. His quartet included Eric Alexander well known saxophonist, Jared Gold young up and coming organist and the young incredible drummer McClenty Hunter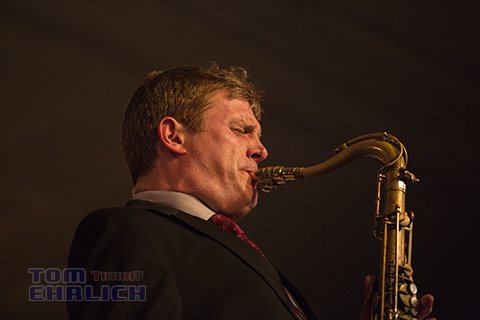 Eric Alexander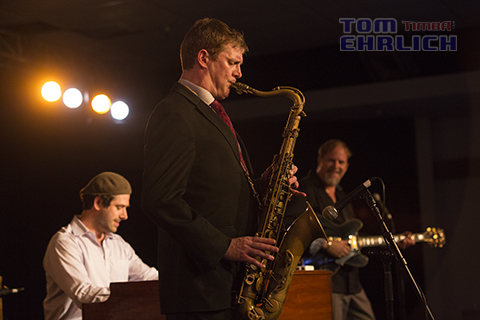 Jared Gold organ, Eric Alexander sax, Dave Stryker guitar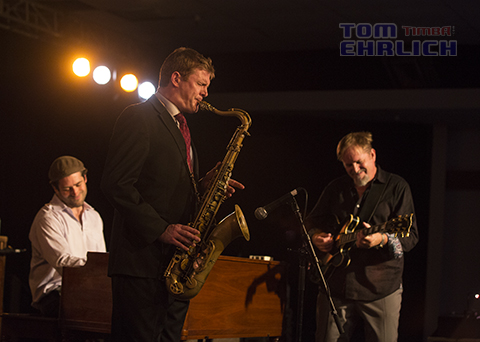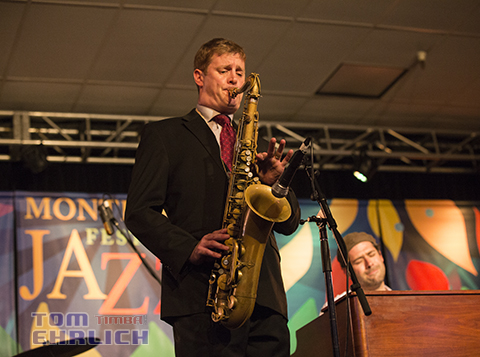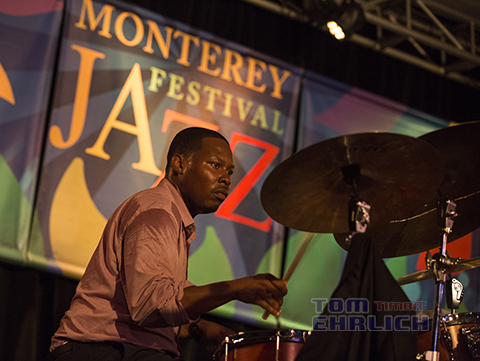 McClenty Hunter
TOMMY IGOE GROOVE CONSPIRACY
The Tommy Igoe Groove Conspiracy is a popular Bay Area big band .The band was joined by legendary tumpeter Randy Brecker.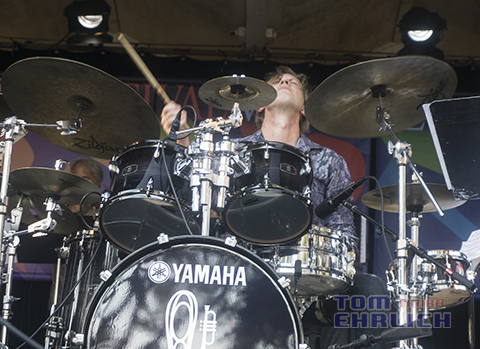 Tommy Igoe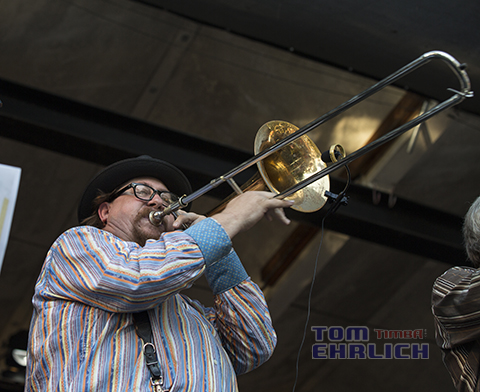 Mike Rinta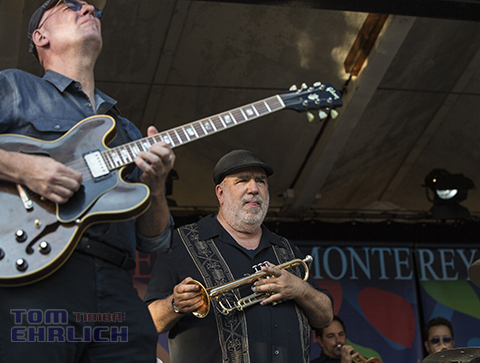 Randy Brecker trumpet and Drew Zingg guitar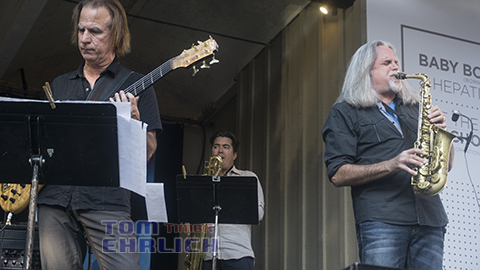 Dewayne Pate bass,Mark Russo alto sax and Aaron Lington Baritone sax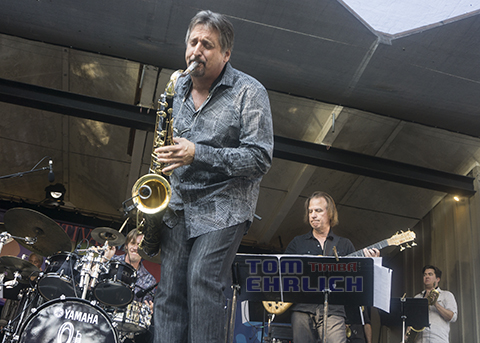 Tom Politzer tenor sax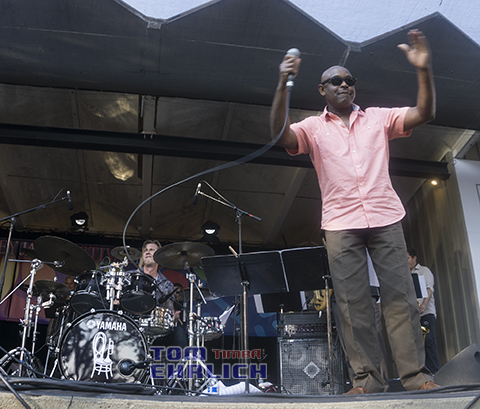 Tony Lindsay vocals (formerly vocalist with Santana)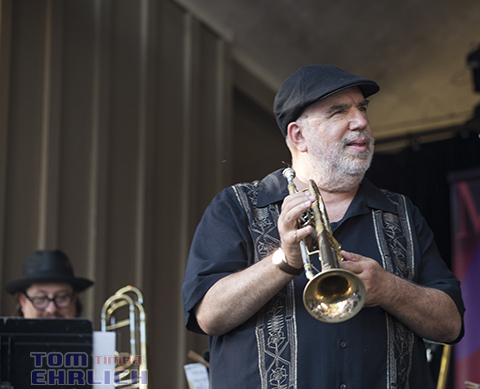 Randy Brecker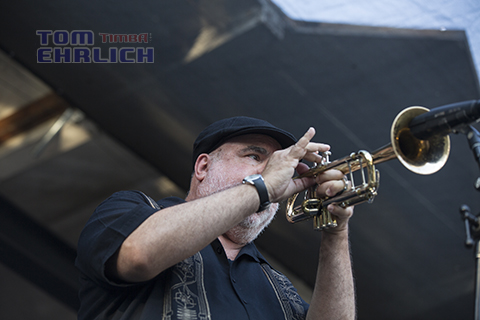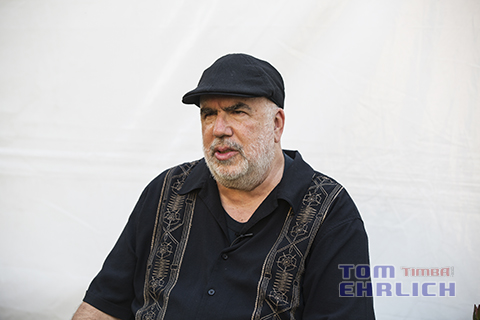 Randy Brecker being interviewed after the set of music for a vidoe being produced for the 60th Monterey Jazz Festival
DONNY MCCASLIN BEING INTERVIEWED ABOUT HIS CAREER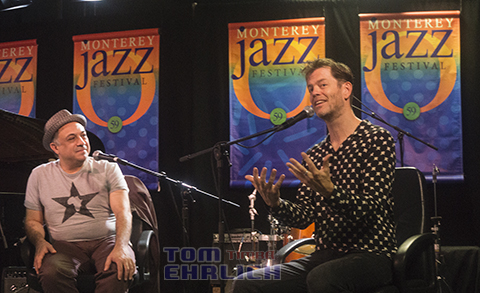 Donny McCaslin being interviewd by Ashley Kahn well known jazz writer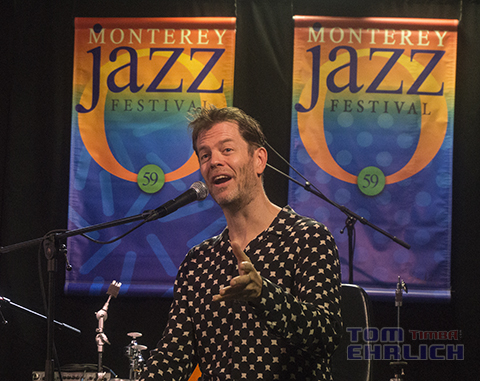 Donny McCaslin
Donny is a saxophonist who grew up in Santa Cruz, California and moved to New York City. He has become one of the better saxophonists of his generation.
KAMASI WASHINGTON GROUP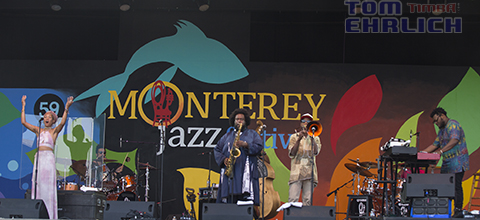 Kamasi Washington's career has taken off in the last few years. He combines heavy jazz with soul music, funk and hip hop and has exposed many young people to jazz through his music. Kamasi is an excellent sax player, His group includes two drummers (Tony Austin and Ronald Bruner, Jr.), vocalist Patrice Quinn, bassist Miles Mosley, his father Ricky Washington sax and flute, Ryan Porter trombone and Brandon Coleman keyboards.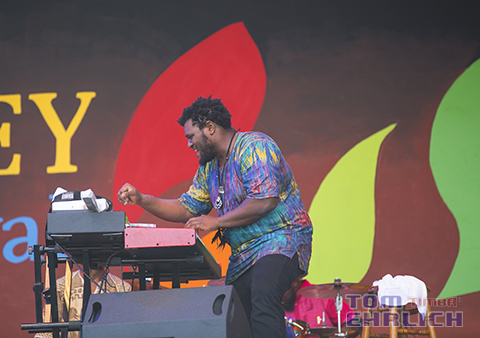 Brandon Coleman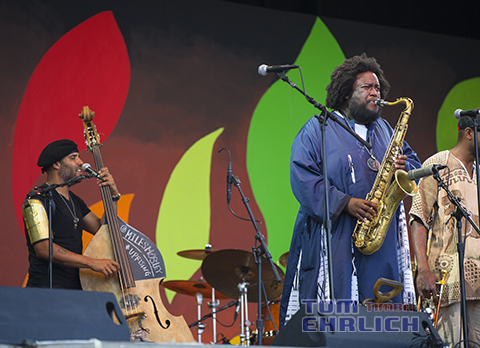 Miles Mosley bass and Kamasi Washington sax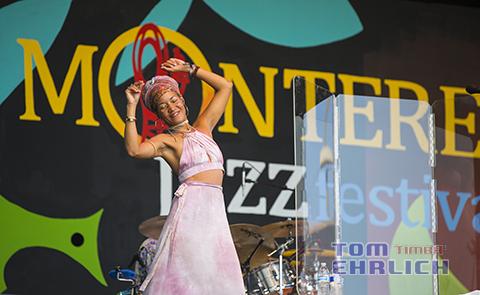 Patrice Quinn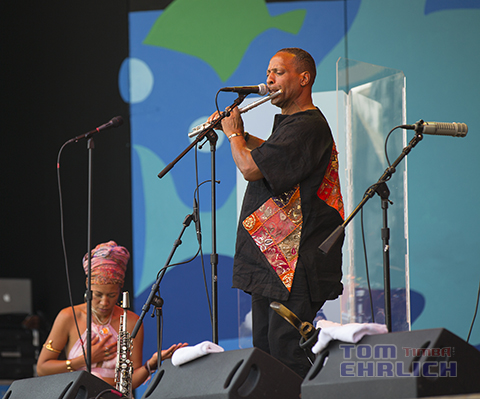 Ricky Washington flute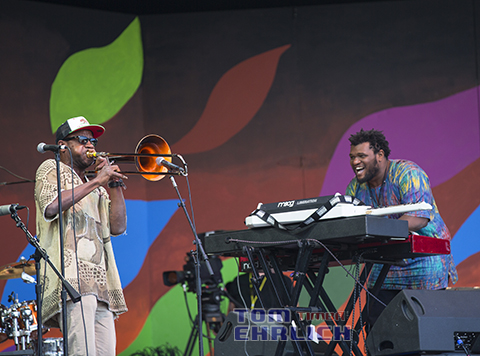 Ryan Porter trombone and Brandon Coleman keyboards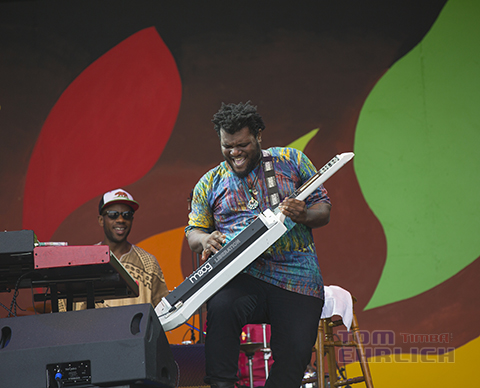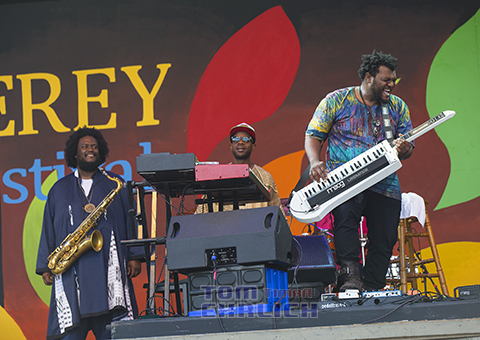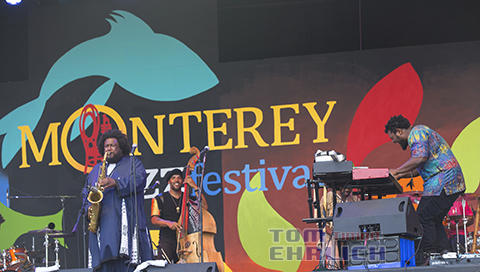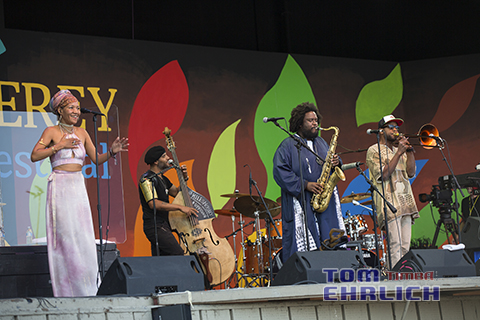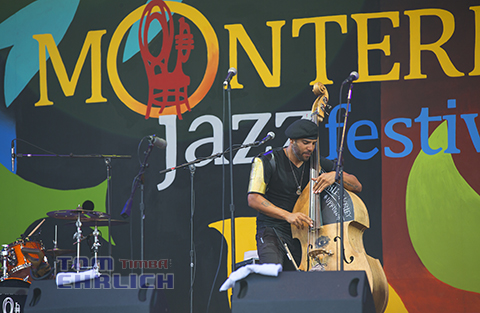 Miles Mosley
Patrice Quinn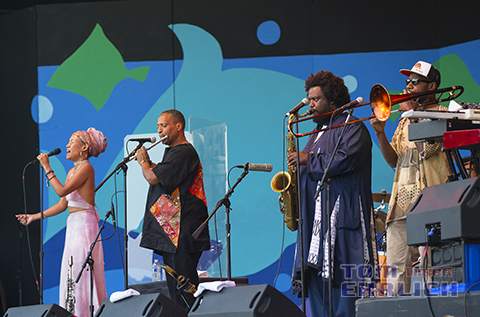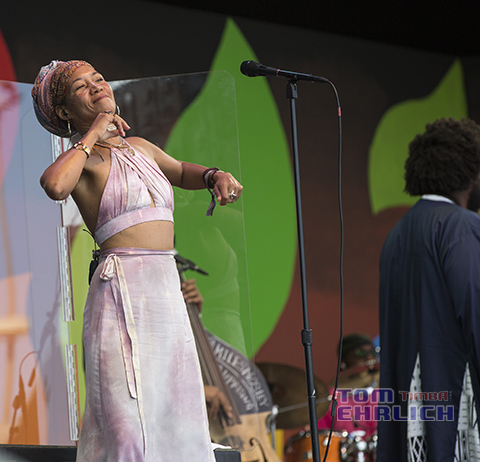 DR. LONNIE SMITH TRIO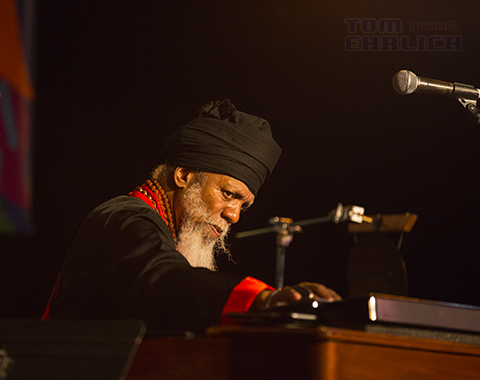 Dr. Lonnie Smith the greatest living jazz organist brought his talented trio with Jonathan Blake on drums and Jonathan Kreisberg on guitar. They rocked the house.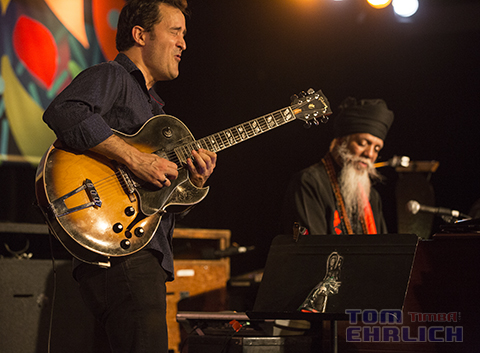 Jonathan Kresberg guitar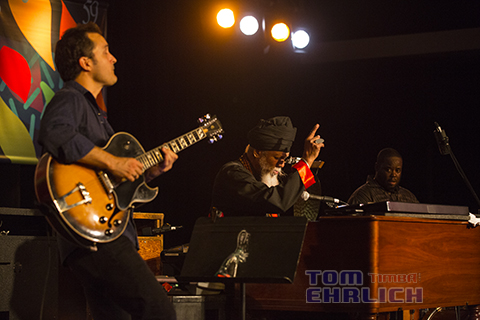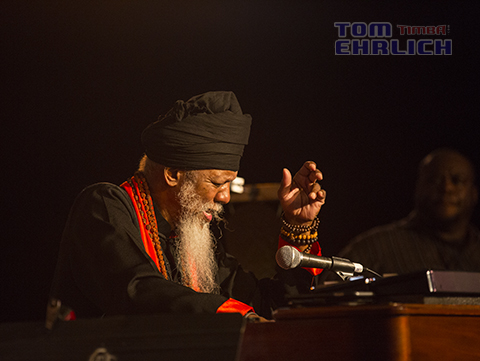 GREGORY PORTER
Gregory Porter is one of the most popular male jazz vocalists perfroming today. He's got a great gosple style voice and composes beautiful songs with poetic lyrics. He is one of those artists that I purchase all his recordings His group consisted of Chip Crawford piano, Jahmal Nichols bass,Emanuel Harrold drums and Lakesia Benjamin alto sax.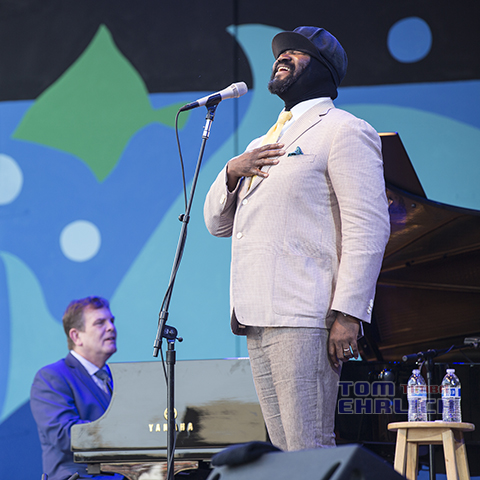 Gregory Porter and Chip Crawford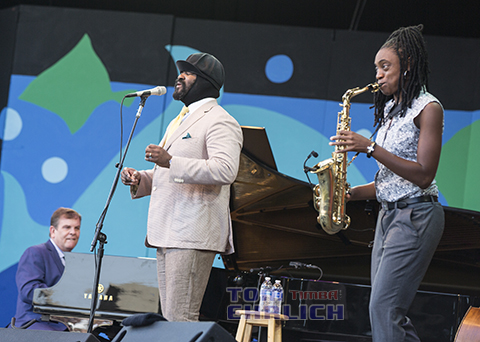 Lakecia Benjamin sax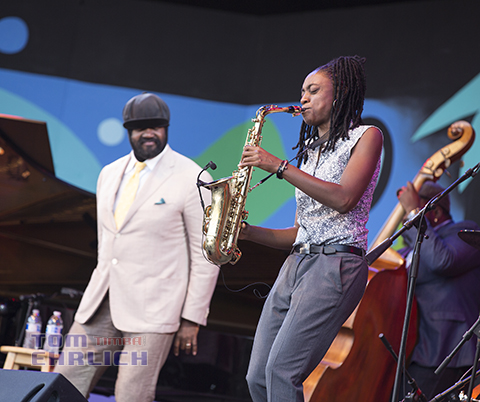 Emanuel Harrold drums
Wednesday, 27 September 2023, 07:35 PM