Indice - Table of contents
Lo Nuevo
[hide]
Fotos Del Día
[hide]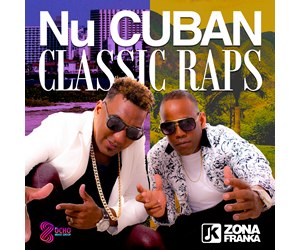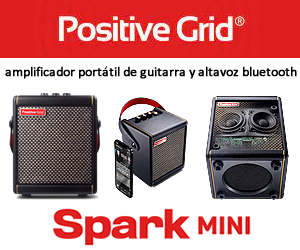 Tom Ehrlich - 2021 San Jose Summerfest-Sunday
SAN JOSÉ JAZZ SUMMERFEST SUNDAY
AUGUST 15, 2021
PHOTOS AND TEXT BY TOM EHRLICH ©2021
My final report for the 2021 San José Jazz Summerfest will include the following groups who perfomred on Sunday: Super Blue:Kurt Elling Featuring Charlie Hunter, Kandace Springs, Cabanijazz Project, The Motet, Claudia Villela, and Christain Sands.
Kurt Elling, one of the best and most popular living male jazz vocalist brought his new Super Blue project featuring Charlie Hunter on guitar with two young outstanding members of Butcher Brown keyboardist DJ Harrison and drummer Corey Fonville. Super Blue's music was funky blues based and very entertaining.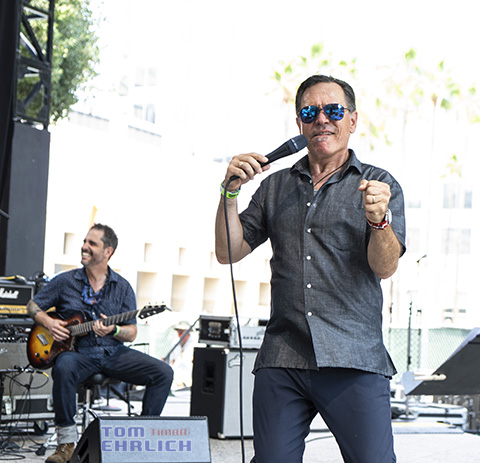 Kurt Elling and Charlie Hunter guitar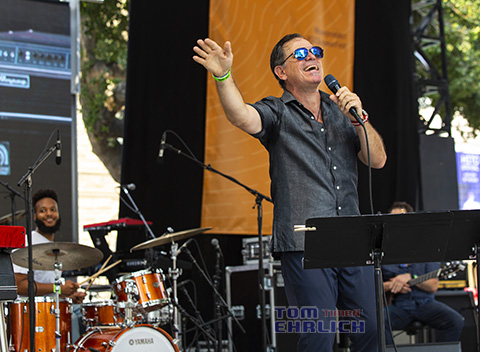 Kurt Elling and Corey Fonville drums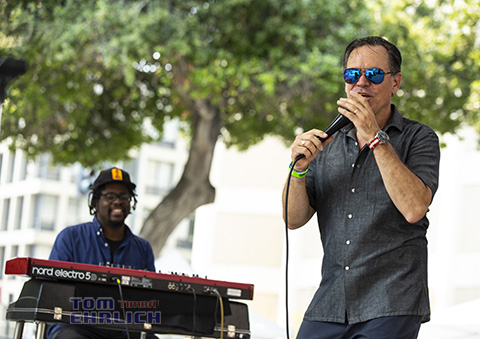 Kurt Elling and DJ Harrison keyboards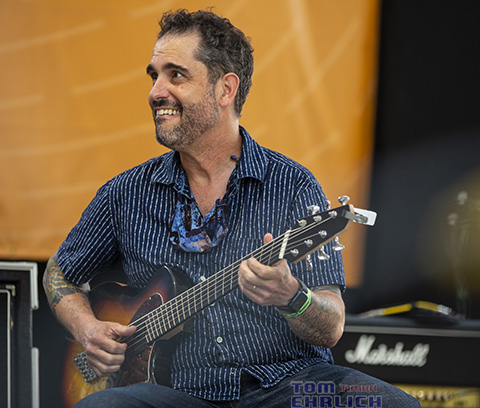 Charlie Hunter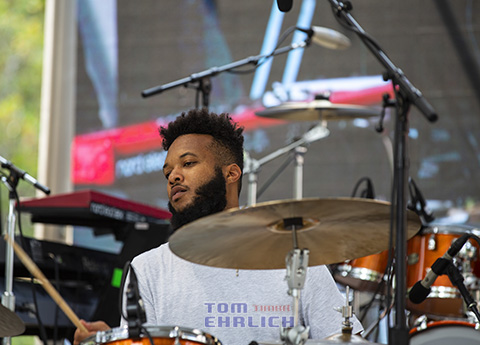 Corey Fonville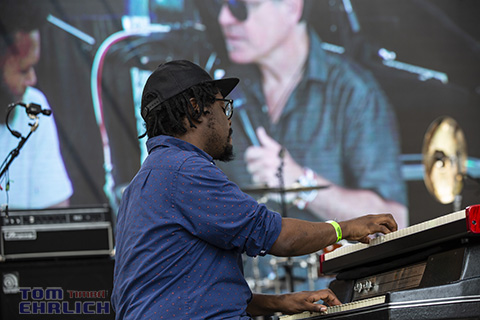 DJ Harrison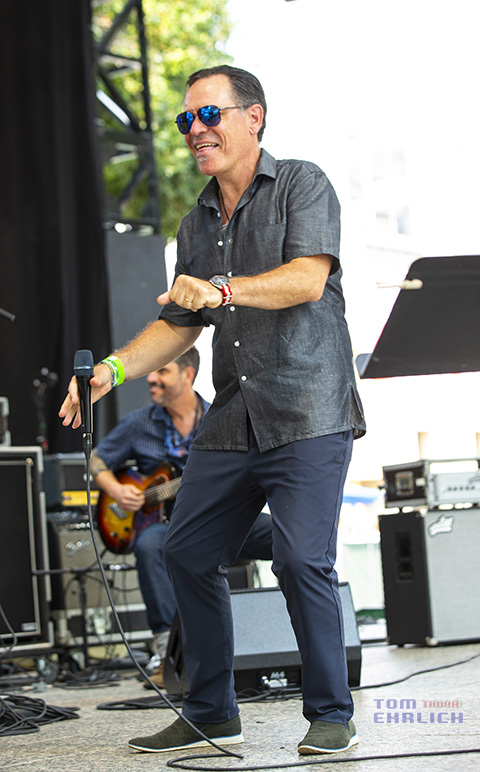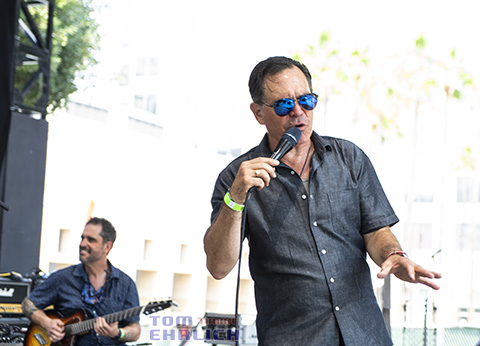 Kurt Elling and Charlie Hunter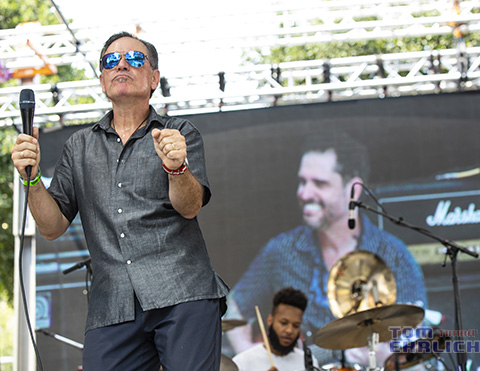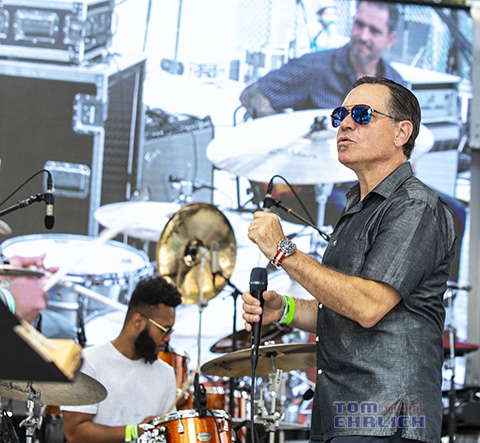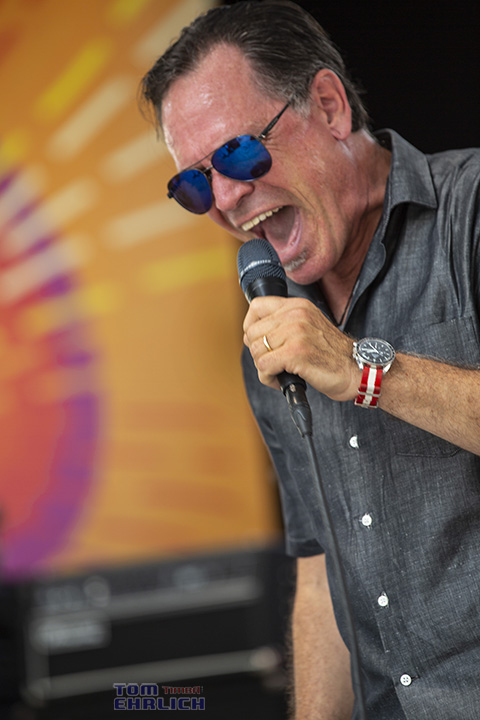 Great new project by this talented quartet. The band and audience were clearly having a good time.
Next over to the Hammer Theater Stage one of the indoor venues to catch Kandace Springs Trio.
Kandace Springs piano, Caylen Bryant bass and Taylor Moore drums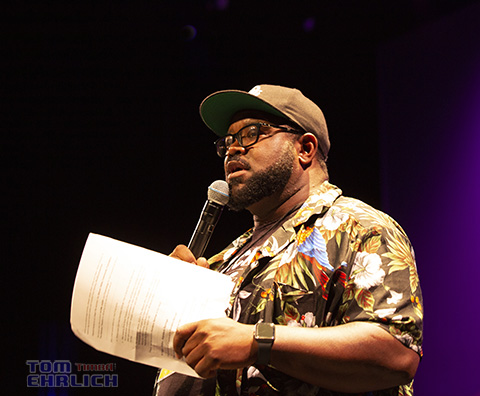 Comedian MC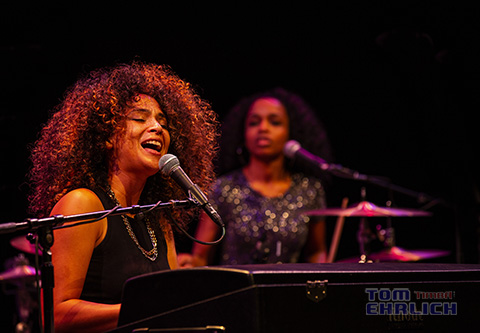 Kandace Springs vocals and piano, drummer Taylor Moore
Drummer Taylor Moore and Kandace Springs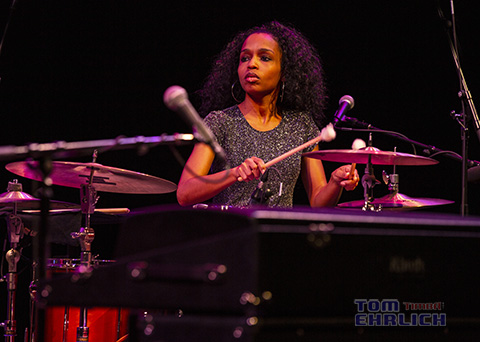 Taylor Moore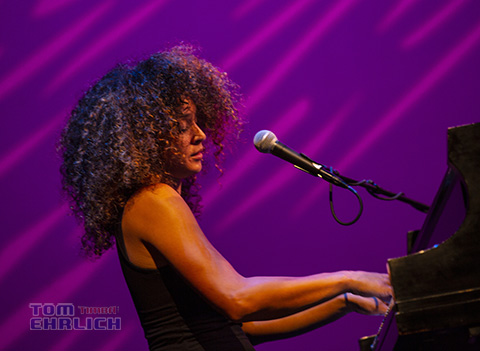 Kandace Springs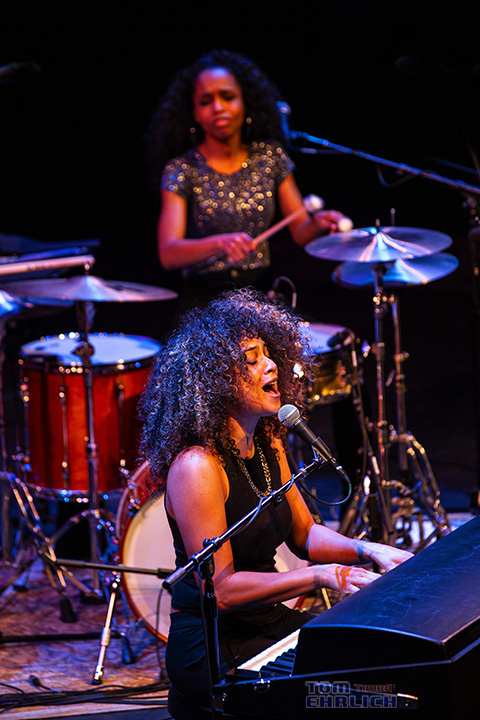 Kandace Springs and Taylor Moore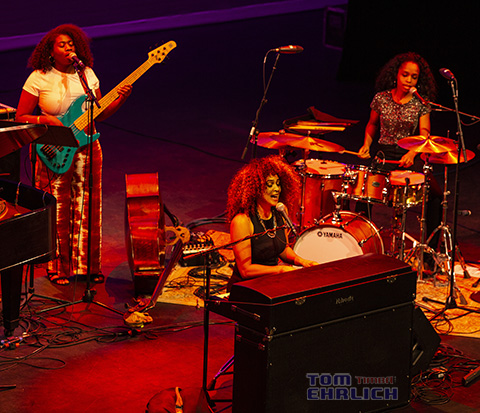 Caylen Bryant bass, Kandace Springs and Taylor Moore
Everyone in the trio provide vocals as well as play their respetive instruments. They were a tight group that successfully merged modern jazz with soul and R&B.
Stopped by the outdoor Main Stage and caught The Motet, a funk based jazz group from Denver. Their music is described as "boisterous badass funk, swaggering soul and thought provoking pop.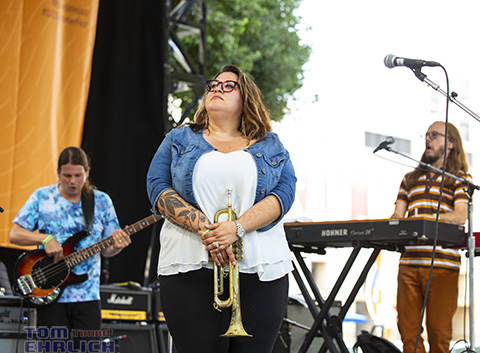 Jennifer Hartswick trumpet, Garrertt Sayers bass and Joey Porter keyboards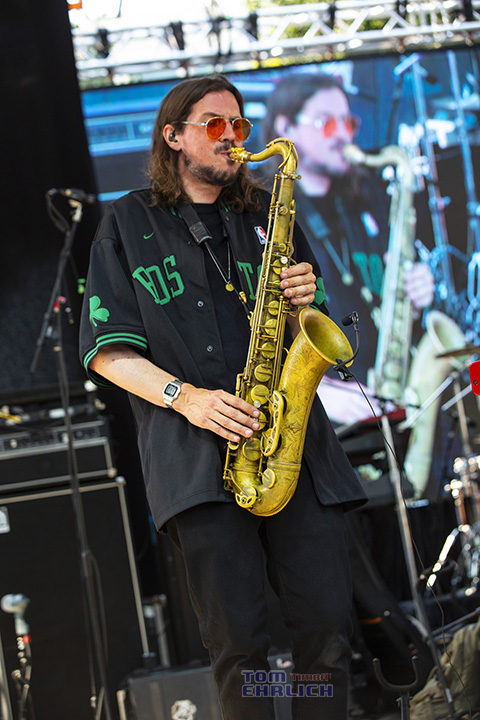 Drew Sayers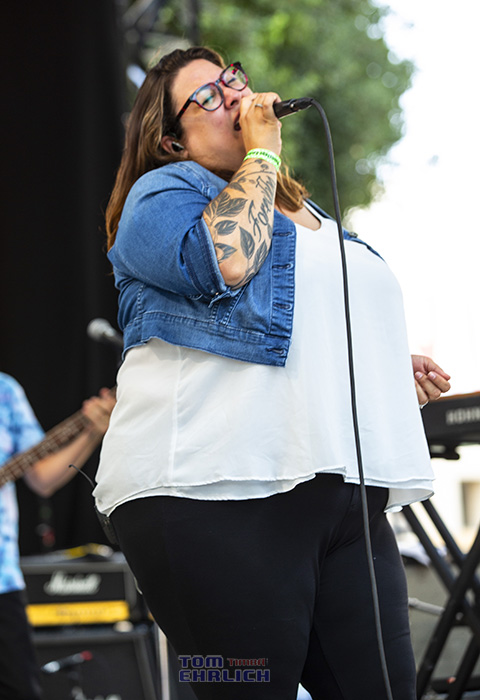 Jennifer Hartswick vocals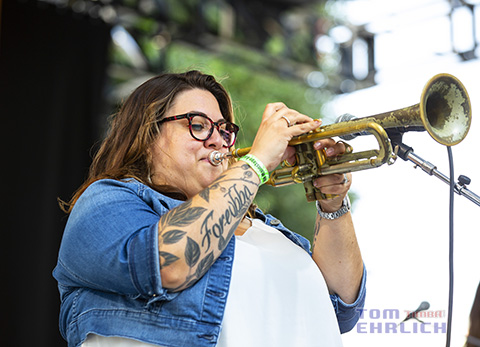 Jennifer Hartswick trumpet
For me the best part of this group was the powerful, soulful voice and trumpet playing of Jennifer hartswick.
Over to the Montgomery Theater another indoor venue for Claudia Vallela and Romero Lubambo duo of outstanding Brazilian jazz.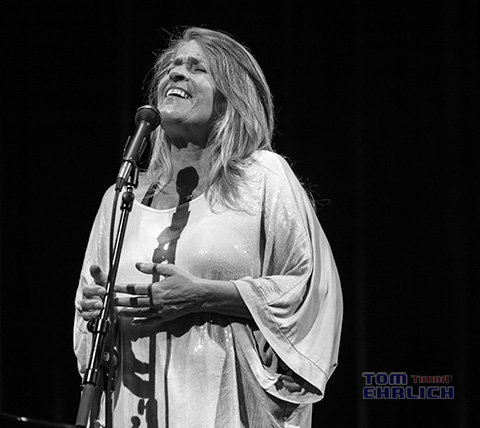 Claudia Villela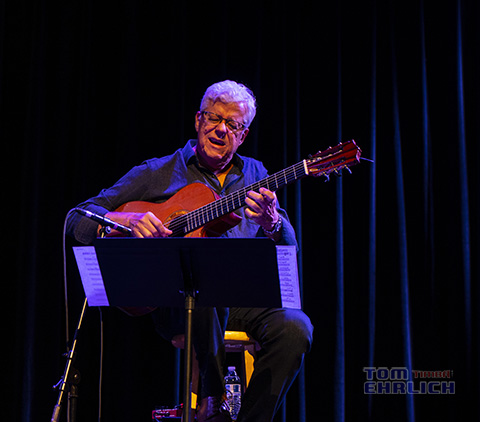 Romero Lubambo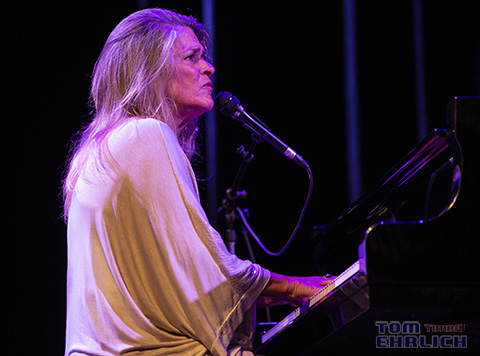 Claudia Villela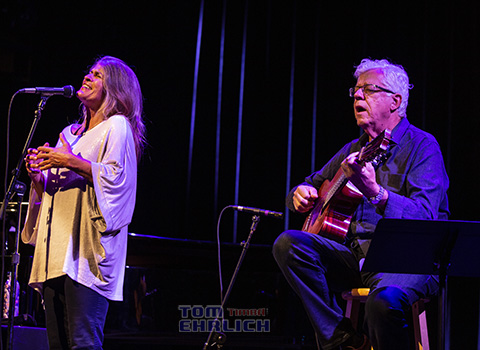 Claudia Villela and Romero Lubambo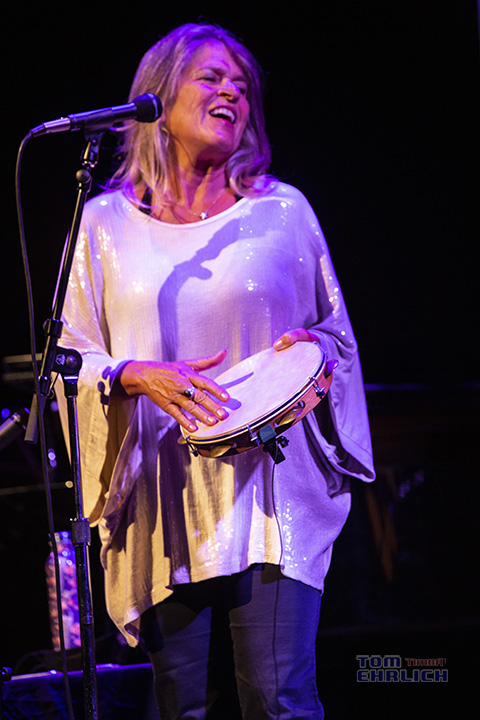 Claudia Villela
Claudia is an exceptional vocalist, pianist, percussionist, composer and arranger. Claudia has a 5 octave range. She is "a supremely inventive scat singer, she draws on a vast range of Brazilian traditions and interprets lyrics with keen emotional insight and supple rhythmic command." I consider her one of the most creative interpreters of Brazilian music. Her performances almost always sell out.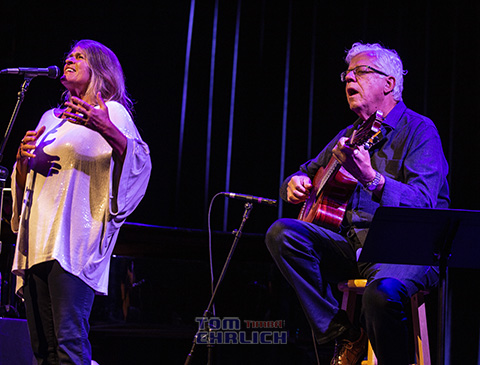 Claudia Villela and Romero Lubambo
Romero Lubambo is one of the great Brazilian guitarist in the world today and is a frequent collaborator of Claudia's. He is an in demand guitarist who plays regularly with Diane Reeves and many others.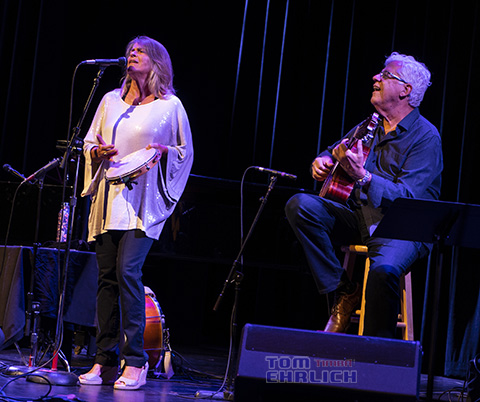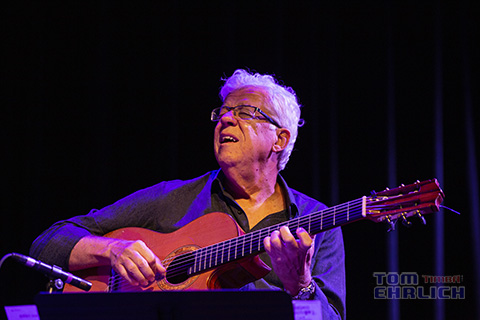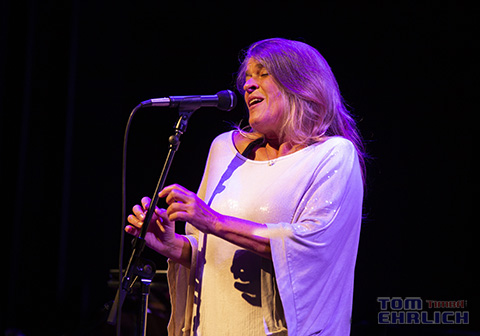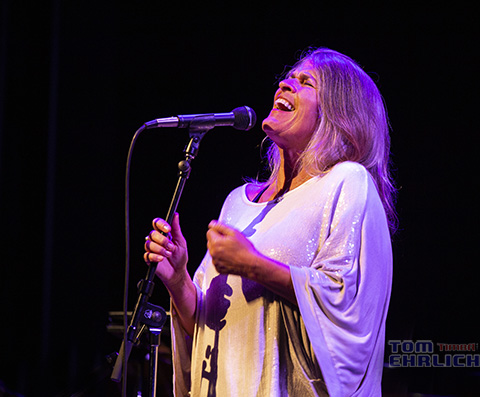 Next a trip to the salsa stage to see Cabanijazz Project. Cabanijazz Project was originally formed in Baja California by Javier Cabanillas in 2008. Javier moved to the Bay Area and re-launched the band with Bay Area musicians and is one of the better latin jazz/salsa bands performing in the Bay Area.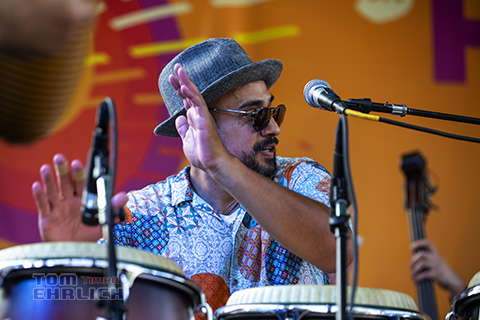 Javier Cabanillas
Javier is the band leader, composer, arranger and conguero for the group. He also is a regular member of he Pacific Mambo Orchestra.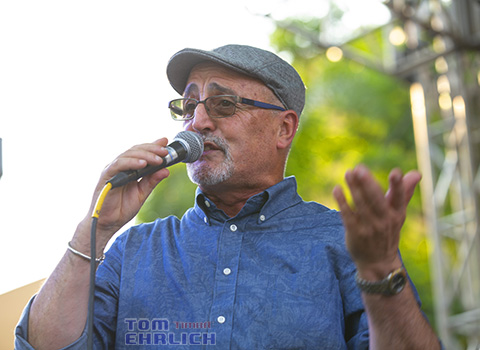 Edgardo Cambon
Edgardo Cambon has been an important part of the Bay Area latin music scene for many years. He is the leader, vocalist and percussionist for a number of groups. He was the lead vocalist for Cabanijazz Project at the festival.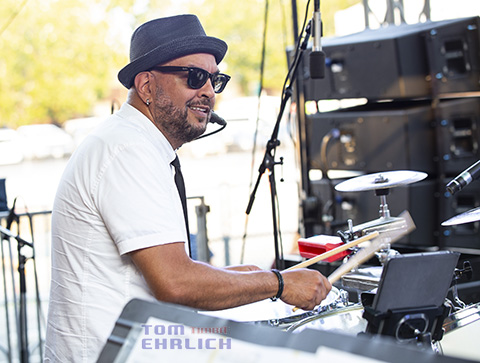 Omar Ledezma
Omar Ledezma has also been a major player in the Bay Area latin music scene as both a percussionist and vocalist. Omar is originally from Venezuela and received a significant part of his training as a musician in Cuba. When he moved to the US, he went to Berklee College of Music in Boston. He has performed and recorded with numerous well known musicians and bands including Paquito D'Rivera, Guaco, Gerardo Rosales, Timba Loca (later named La Clave Secreta) and many others. He performs regualrly with the Pacific Mambo Orchestra.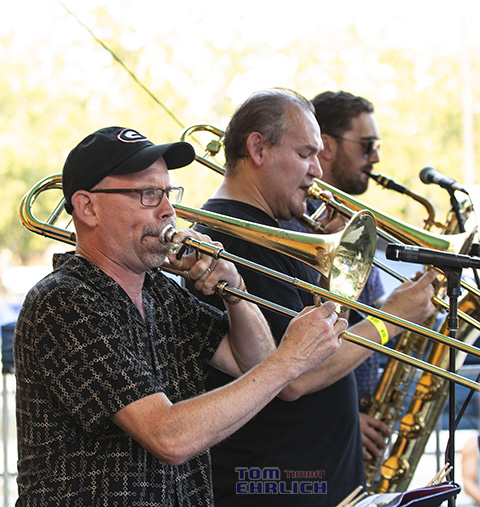 Jamie Dubberly, Francisco Torres and sax player (name not known).
Jamie Dubberly trombonist, composer and arranger who plays with numerous latin music bands in the Bay Area and leads his own group Orquesta Dharma. He has an impressive resume of projetcs and musciains he has collaborated with and is also a music college professor at the Univeristy of the Pacifi's Conservatory of Music and Cal State University - Stanislaus.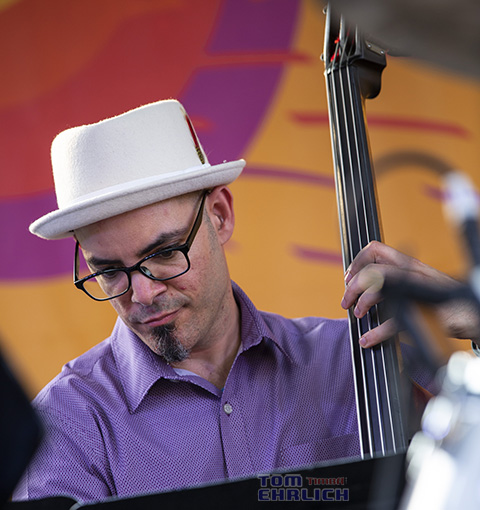 Bass player - name not known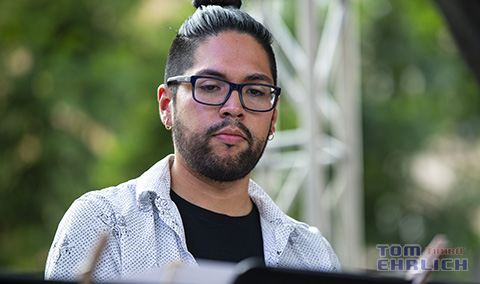 Keyboards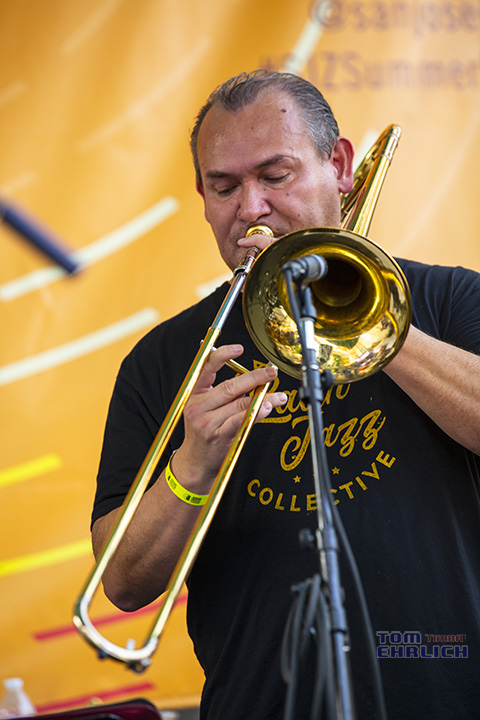 Francisco Torres
Francisco Torres originally from Sonora, Mexico, now living in LA is a trombonist, arranger, composer and educator. He is the musical director for Poncho Sanhez's band. His collaborations with others are too extensive to mention including performances, recordings, films and TV showsa.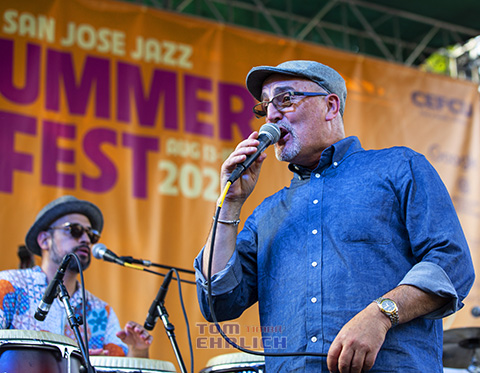 Edgardo Cambon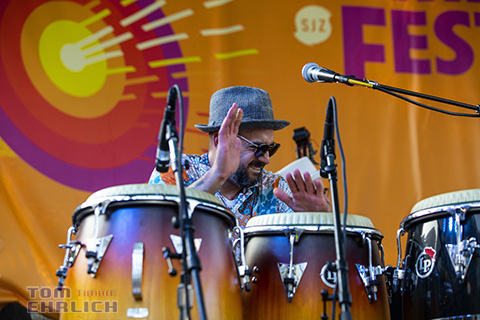 Javier Cabanillas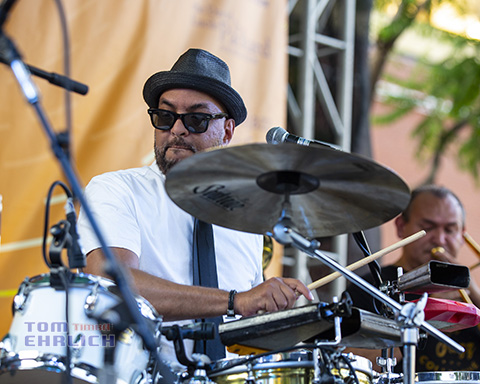 Omar Ledezma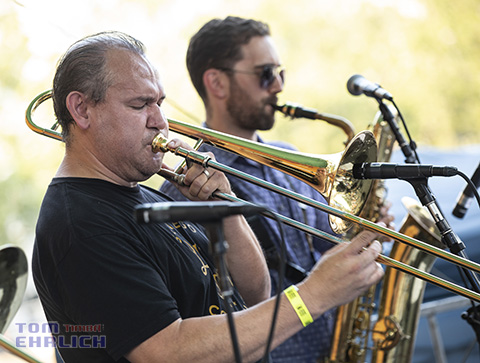 Francisco Torres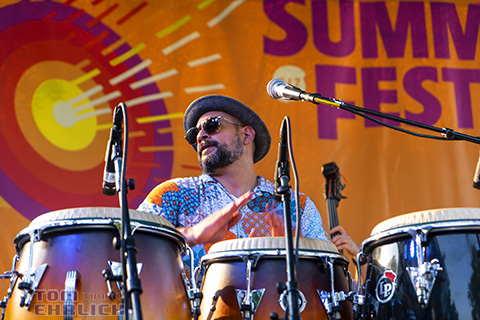 Javier Cabanillas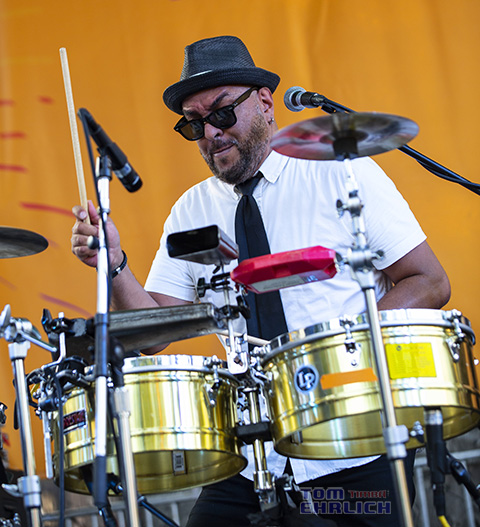 Omar Ledezma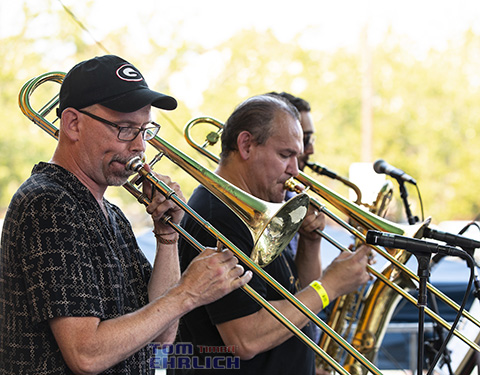 Jamie Dubberly and Francisco Torres
The Cabanijazz Project was the best band I saw perform at the Salsa Stage this year.
There were a number of outstanding performances at the festival this year, but for me without a doubt the best performance was the last band I saw perform - Christain Sands Trio.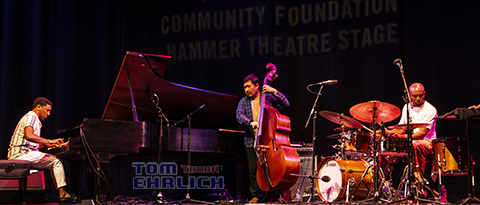 Christian Sands piano, Yasushi Nakamura bass and Clarence Penn drums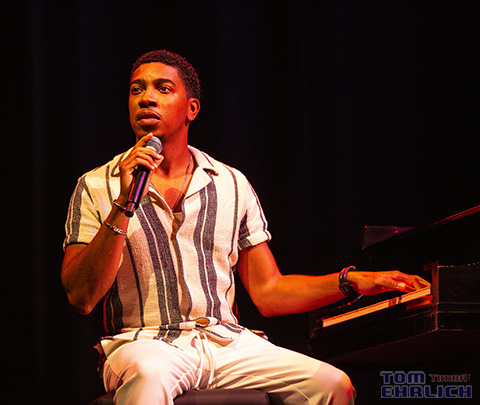 Christian Sands
32 year old Christian Sands is one of the finest pianists, composers and arrangers performing today. Christian's music is exciting, creative and accessible. I have seen him perform numerous times with Christian McBride as well as him own groups and never tire of hearing him. His trio's performance at this years festival was stunningly beautiful.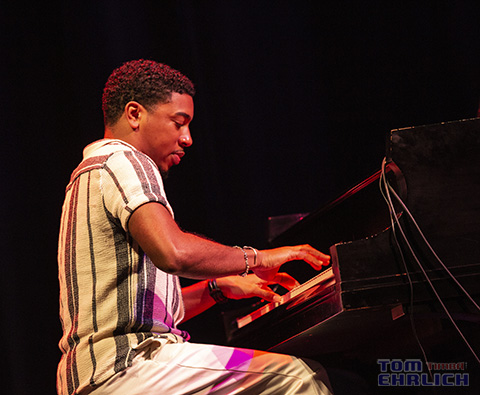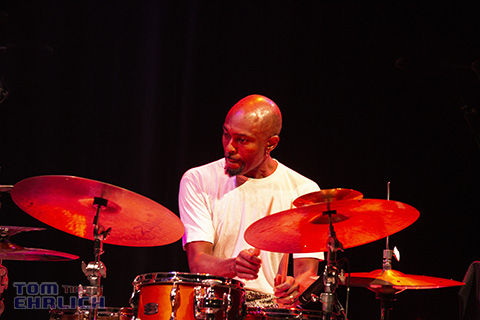 Clarence Penn
Clarence Penn is a veteran drummer, composer, arranger and educator and has an impressive history of collaborations, projects and compositions. Like others mentioned in my report he has played with numerous well known musicians and groups such as Wynton Marsalis, Betty Carter, Stanley Clarke, Steps Ahead and Michael Brecker and many others as well as playing on 100s of recordings.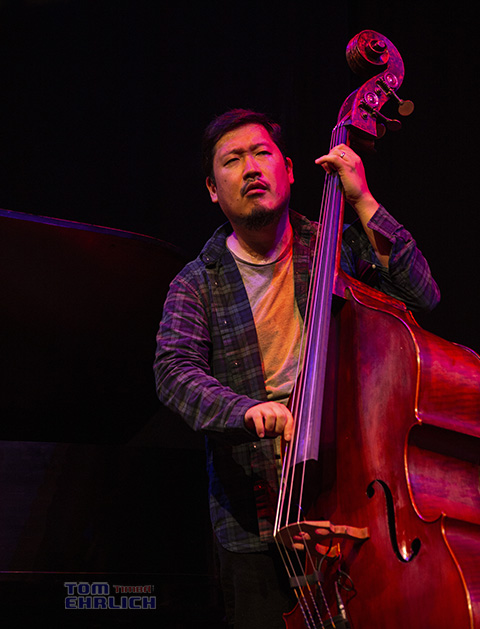 Yasushi Nakamura
Yasushi Nakamura is an incredible bassist and excells at devloping a deep groove as well as amazingly creative and beautiful solos. My favorite song for this bands performance was their version of Stevie Winwood's ."I Can't Find My Way Home", where Yasushi opened the song with one of the most incredible bass solos I have ever heard.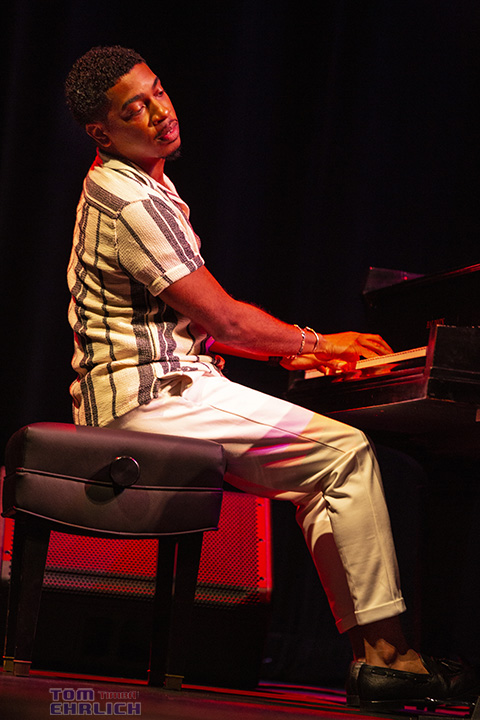 Christian Sands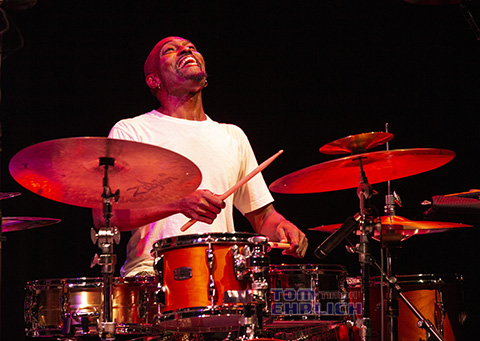 Clanrence Penn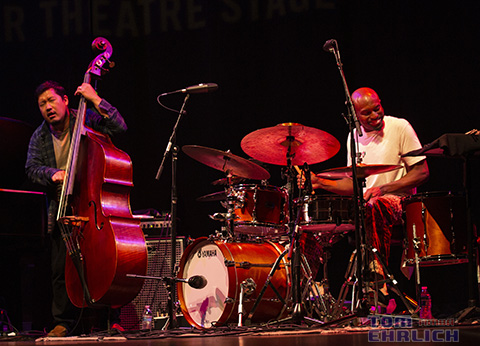 Yasushi Nakamura and Clarence Penn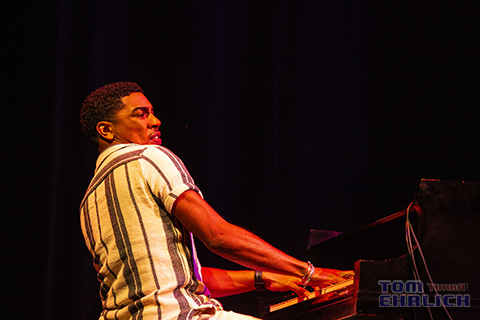 Christian Sands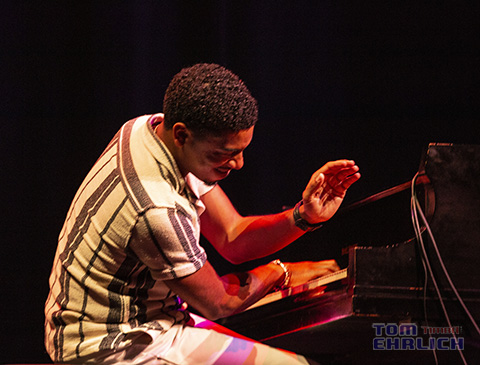 Christian Sands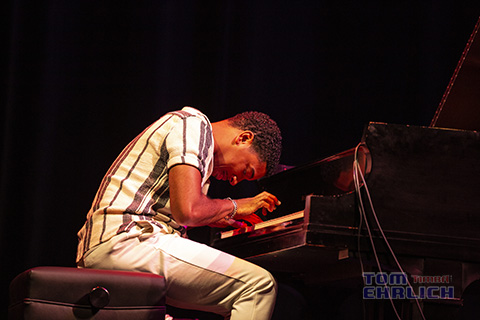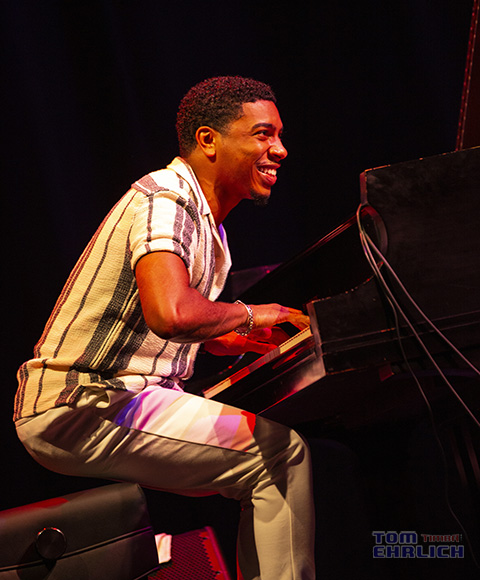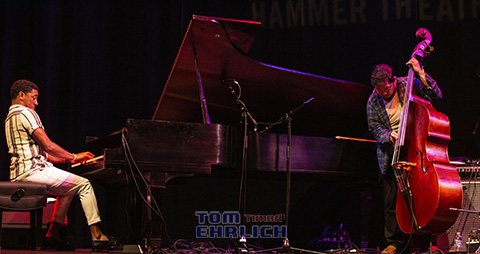 Christian Sands and Yasushi Nakamura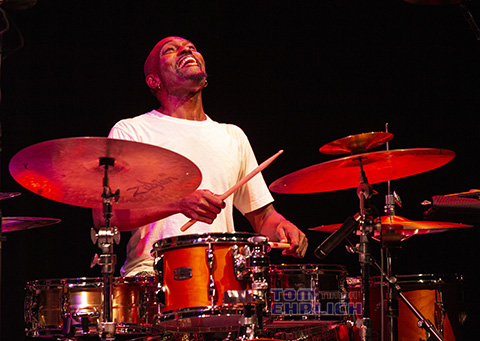 Clarence Penn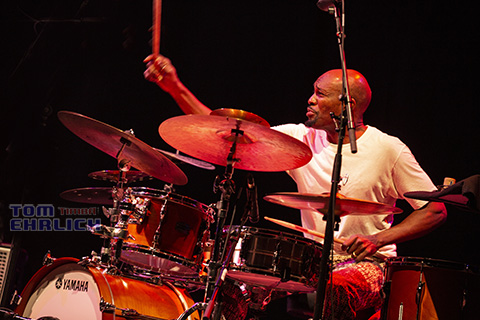 Clarnece Penn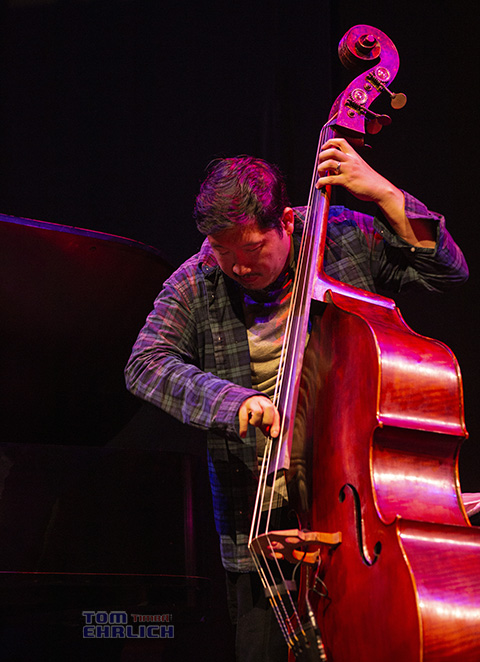 Yasushi Nakamura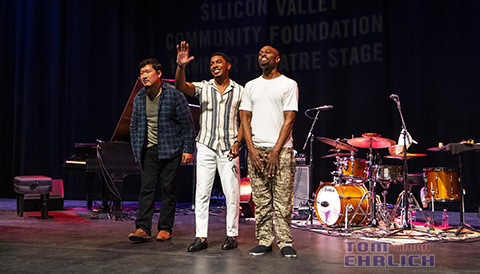 Yasushi Nakamura, Christian Sands, Clarence Penn
A perfect way to end the festival.
miércoles, 30 agosto 2023, 11:46 am