Indice - Table of contents
New Stuff
[hide]
Photos of the Day
[hide]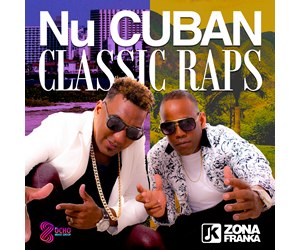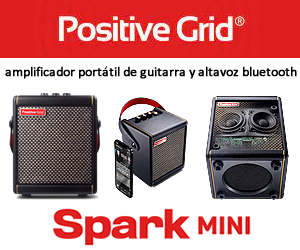 Tom Ehrlich - 2021 Monterey Jazz Fest Part 2
MONTEREY JAZZ FESTIVAL
SATURDAY, SEPTEMBER 25, 2021
PHOTOS AND TEXT BY TOM EHRLICH © 2021
Saturday groups included Giveton Gelin Quartet playing 4 sets at the Yamaha Courtyard Stage and Miho Hazama amd M_Unit, Gerald Clayton Experience (substituting for Las Cafeteras), Terri Lyne Carrington and Social Science and Ledisi at the JImmy Lyons Stage.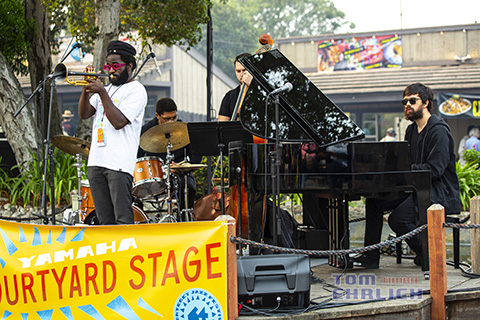 Giveton Gelin Quartet
Giveton Gelin Quartet was an outstanding band of young musicians, including Giveton Gelin trumpet-leader, Micah Thomas piano, Phillip Norris bass and Keyvon Gordon drums.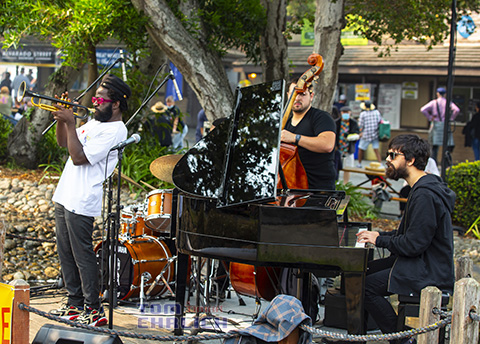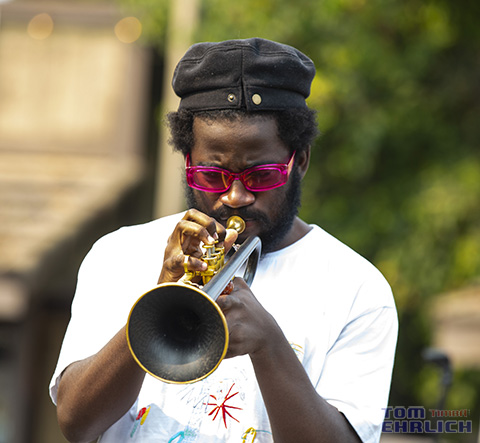 Giveton Gelin
Twenty-two year old Giveton Gelin was born and raised in the Bahamas, graduated from Julliard School of music and moved to NYC. He is considered one of the fastest rising stars in jazz. Giveton has won numerous awards including the 2020 Letterone Rising Stars Award. He is a protégé of the late great Roy Hargrove and spent a year at Oberlin College studying with the legendary jazz trumpeter Eddie Henderson before entering Julliard.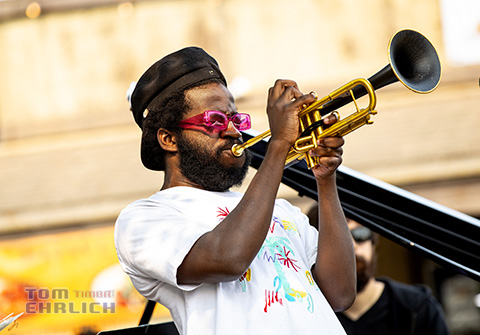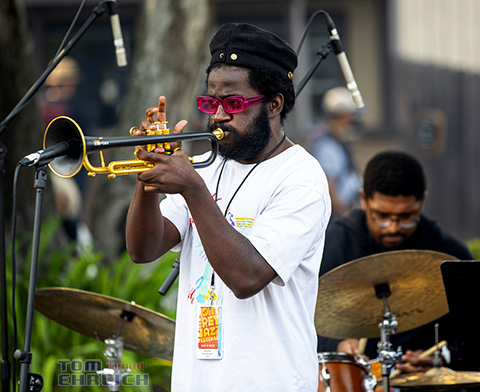 Giveton's first self released recording as a leader was entitled "True Design". When I asked him if he ever incorporated Afro-Caribbean rhythms and music in his playing, he told me his next project will be an album called "Island Dreams" which will include Afro-Caribbean music. Giveton Gelin's future looks bright.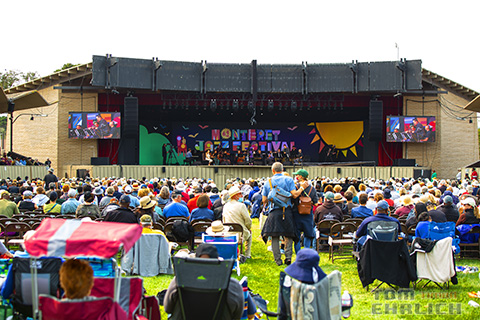 Miho Hazama and m_unit at the Jimmy Lyons Stage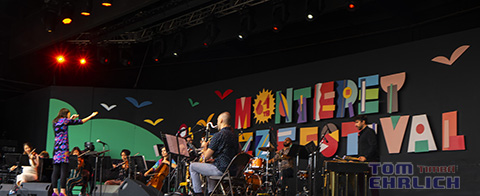 Miho Hazama and m_unit is a 13 piece jazz orchestra which includes a string quartet, rhythm section (piano, bass, drums), 3 saxophones, trumpet, French horn, and vibraphone. Miho was the Monterey Jazz Festival 2021 Commission Artist and the orchestra premiered her "Exoplanet Suite".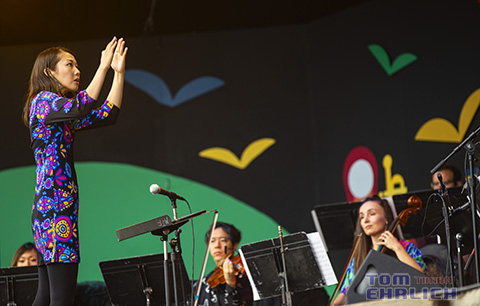 The "Exoplanet Suite" was a masterful combination of beautiful orchestration and wonderful solos.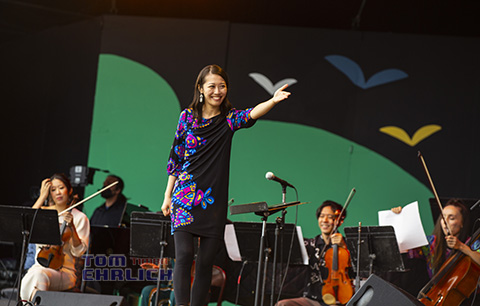 Miho acknowledging a soloist.
The next group for the large venue was scheduled to be be the only "latin music" group for this years festival, the East Los Angeles Chicano band "Las Cafeteras". Unfortunately a few of its members tested positive for Covid-19. As a substitution, the festival had Gerald Clayton put together a group called Gerald Clayton Expereince.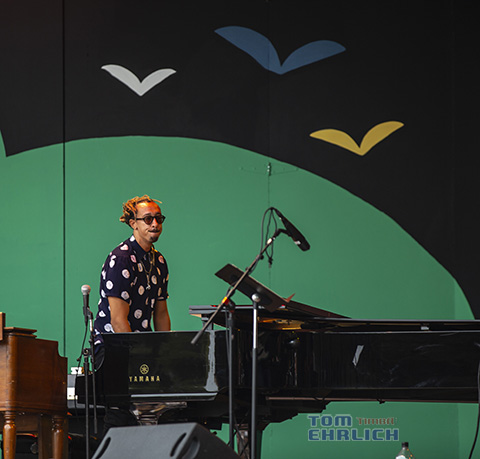 Gerald Clayton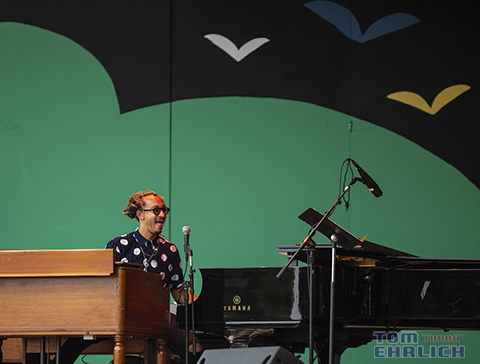 Gerald Clayton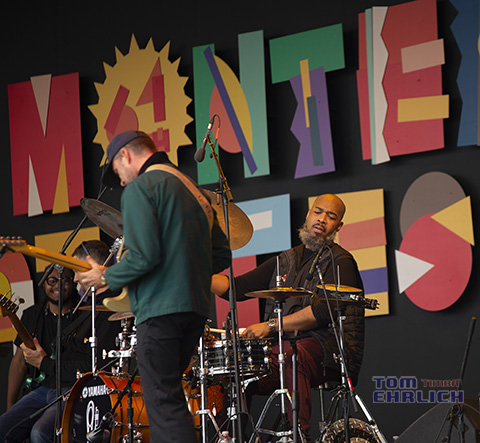 Eric Harland drums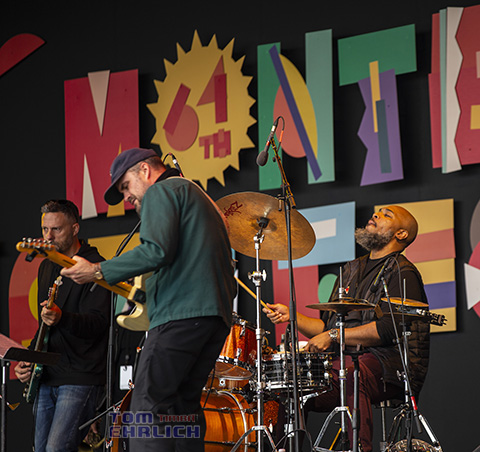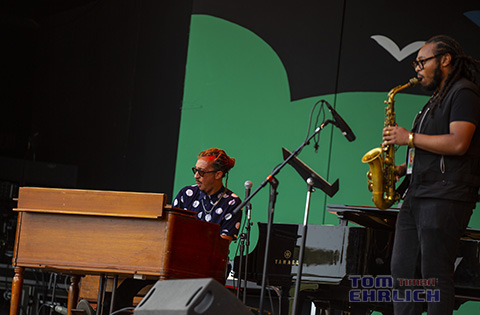 Gerald Clayton and Immanuel Wilkins
It was impressive that this band basically thrown together at the last minute played some exciting and engaging music.
Terri Lyne Carrington + Social Science
Terri Lyne Carrington is a veteran jazz drummer and band leader. Her latest project, "Social Science" which combines jazz, soul music and hip hop that deals with the need for change in the US - including issues such mass incarceration, police brutality, homophobia, Native American injustice, political imprisonment and other issues.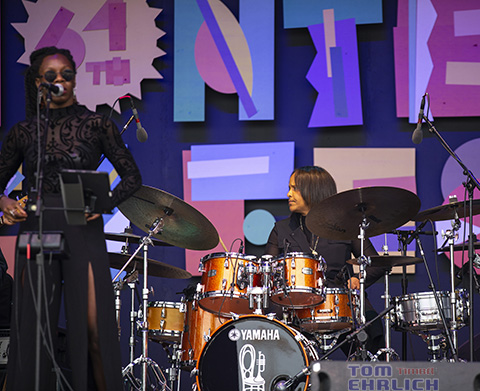 Terri Lyne Carrington drums and Debo Ray vocalist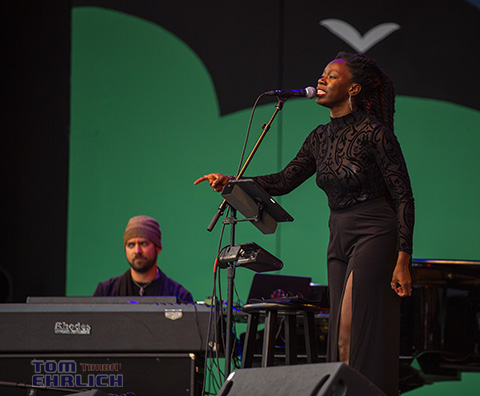 Aaron Parks piano and Debo Ray vocals
Debo Ray is an incredible vocalist, soulful and a great improviser and Aaron Parks is a well respected jazz pianist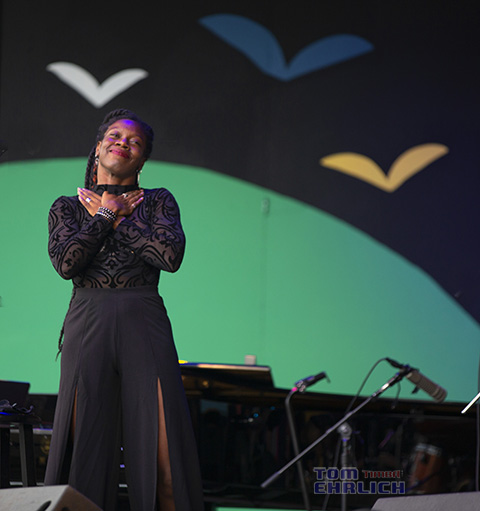 Debo Ray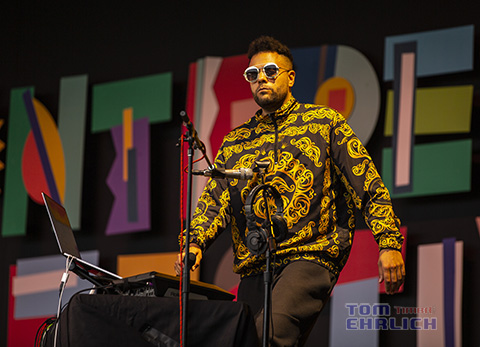 Kassa Overall
Kassa is a hip hop DJ and rapper, who also plays keyboards/electronics. His raps were very poetic and socially conscious.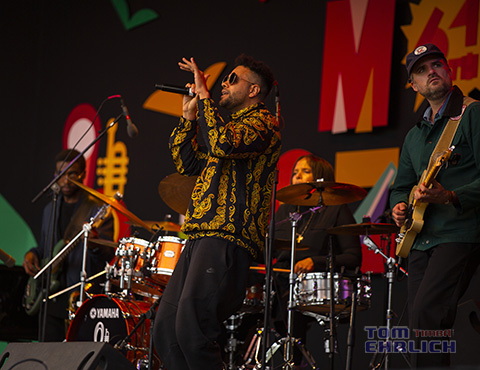 Morgan Guerin bass, Matthew Stephens guitar, Kassa Overal rapper and Terri Lyne Carrington drums
Angela Davis
Activist, scholar and author Angela Davis was in the audience and she is also on Social Science's recording "Waiting Game" where one of her speeches is sampled.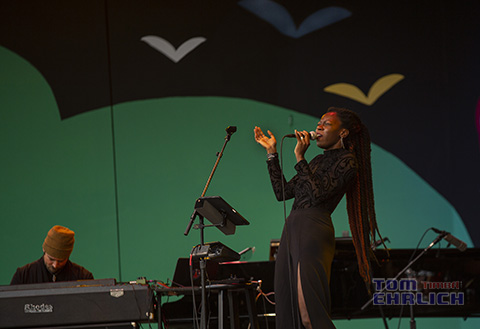 Debo Ray and Aaron Parks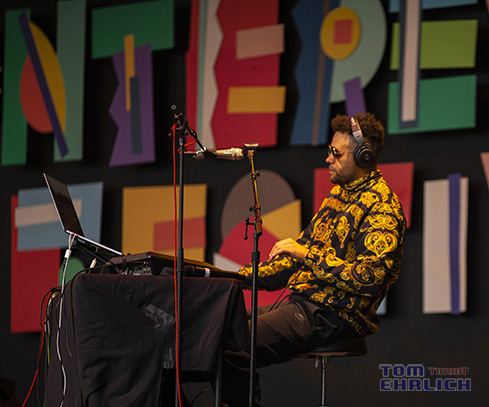 Kassa Overall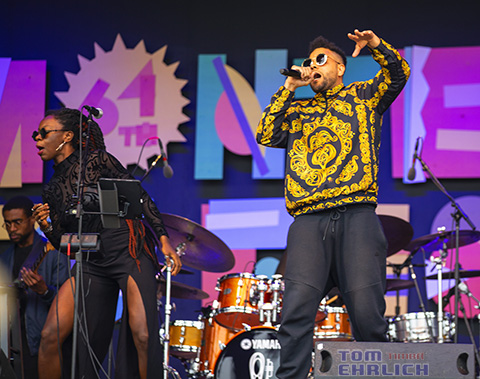 Debo Ray and Kassa Overall
Social Science was one of the most exciting and moving performance of this years festival.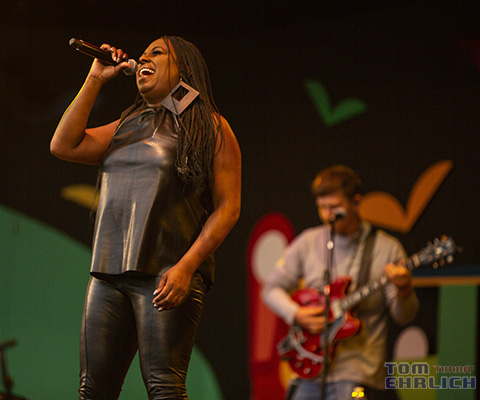 Ledisi and Xavier Lynn
The last group of the evening was the dynamic and exciting Ledisi. Originally from New Orleans and a long time Oakland, California resident, Ledisi's career is skyrocking, winning a Grammy after 13 nominations. She definitely was the most powerful performer at the festival this year. She deserves all her success.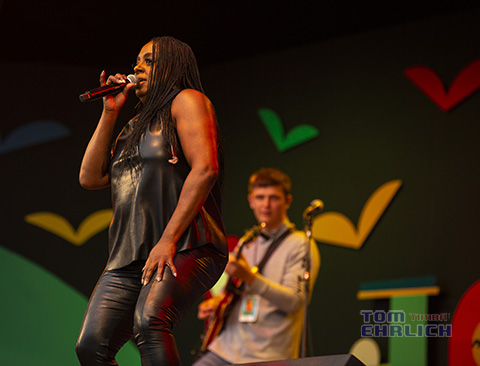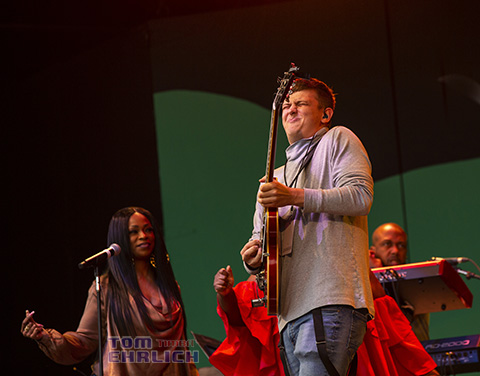 Xavier Lynn guitar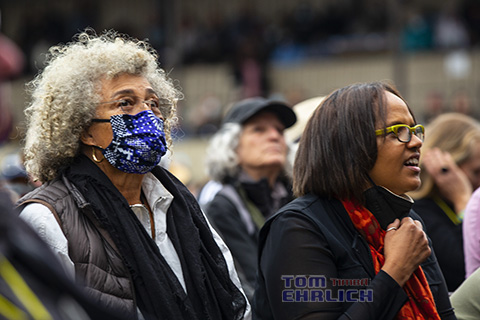 Angela Davis and Terri Lyne Carrington enjoying Ledisi's performance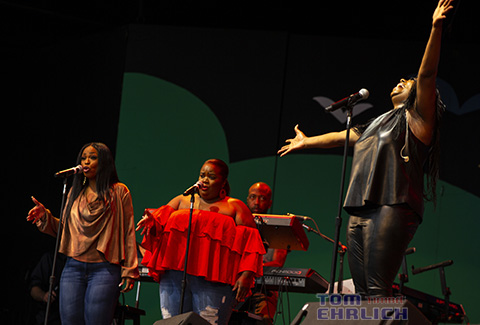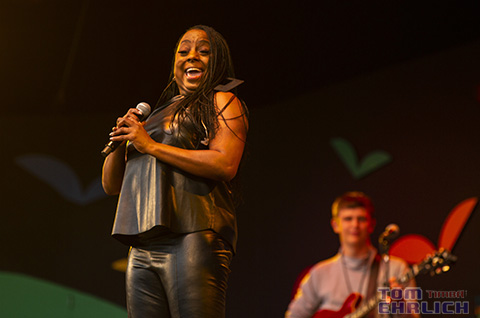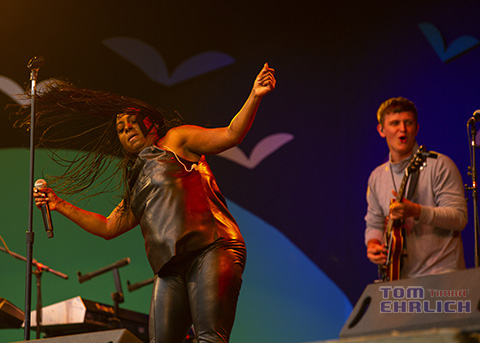 Great day of music. One more day to go.
Wednesday, 27 September 2023, 07:35 PM