Indice - Table of contents
New Stuff
[hide]
Photos of the Day
[hide]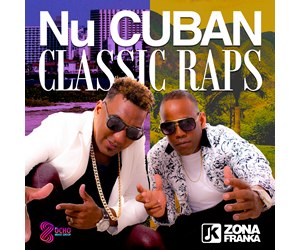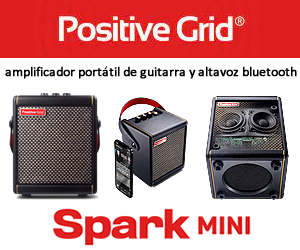 Tom Ehrlich - 2021 Monterey Jazz Fest Part 3
MONTEREY JAZZ FESTIVAL
SUNDAY SEPTEMBER 26, 2021
PHOTOS AND TEXT BY TOM EHRLICH ©2021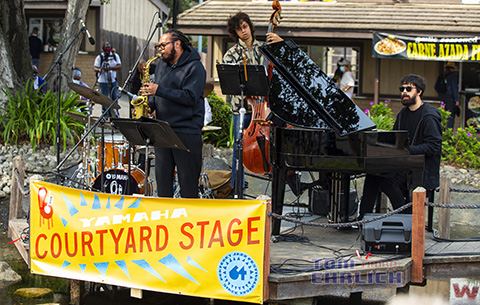 Immanuel Wilkins Quartet
2021 LetterOne Rising Stars Award Recipient Immanuel Wilkins and his talented young quartet, graced the Courtyard Stage with four sets of great exciting music.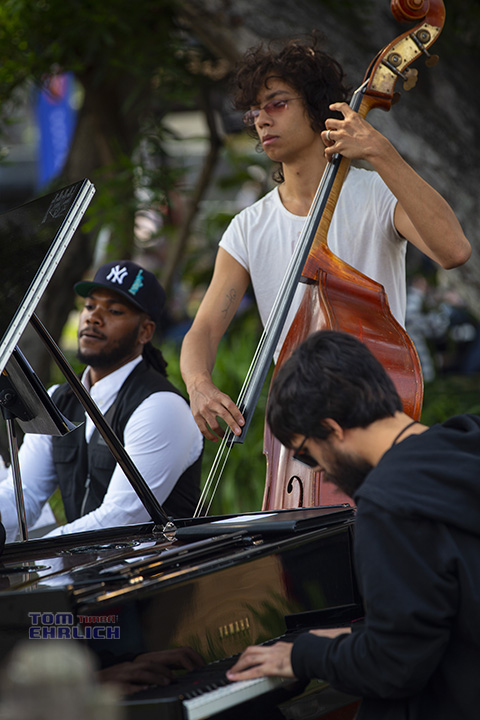 Micah Thomas piano, Daryl Johns bass, Kweku Sumbry drums
Bassist Daryl Johns, still in his 20's has an impressive resume playing with many of the best of todays jazz musicians as well as leading his own groups/projects. He is the son of two professional musicains, Steve Johns drummer and Debbie Kief Johns saxophonist. After watching this group and hearing Daryl's name, I realized I knew his father Steve Johns and photographed Daryl in 2010 in the NYC area when he sat in with his father, Jay Hoggard (vibes) and the great Puerto Rican percussionist Anthony Carrillo. Daryl is considered one of the best young bassists alive.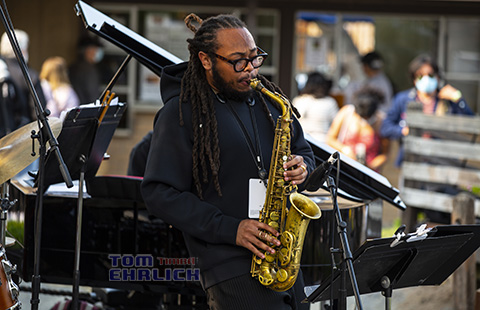 Immanuel Wilkins
Immanuel Wilkins was a member of Monterey Jazz Festival's youth orchestra Next Generation Orchestra in 2014 and 2015, graduated from Julliard School of Music in 2019 and now teaches at the New School in NYC. He collaborates often with another young fenom vibist Joel Ross and his first recording as a leader on Blue Note "Omega" landed on a few best jazz recording for 2020 lists. This young man is destined to have a great career. Besides leading his quartet thru 4 sets, he also sat in with the Next Generation Orchestra, Kandace Springs and Gerald Clayton Experience.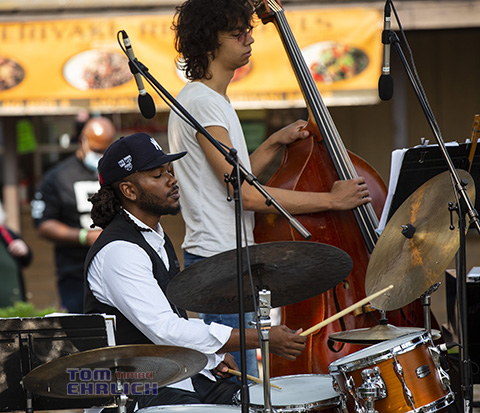 Kweku Sumbry drums and Daryl Johns bass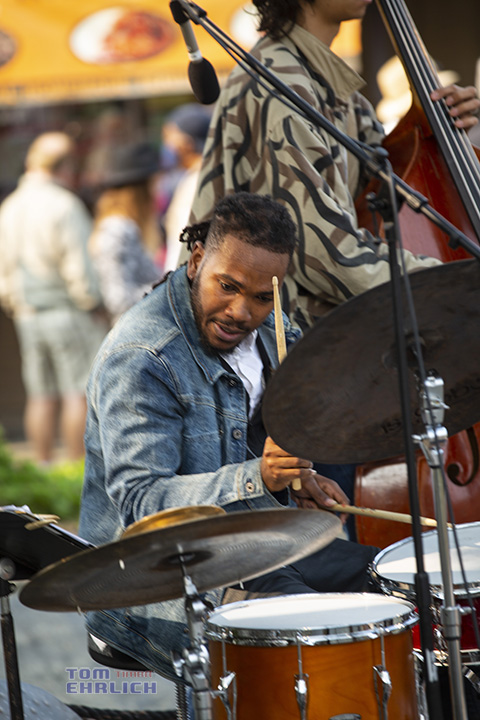 Kweku Sumbry
Kweku Sumbry has an interesting musical history. His family is originally from Ghana and some of his relatives are master drummers (djembes). Kweku goes to Africa (Ghana and Guinea) to study with djembe master drummers and he is a master djembe drummer himself. Although Kweku started his musical training as a hand drummer (started at 2 years of age), he has developed into an outstanding jazz drum set player.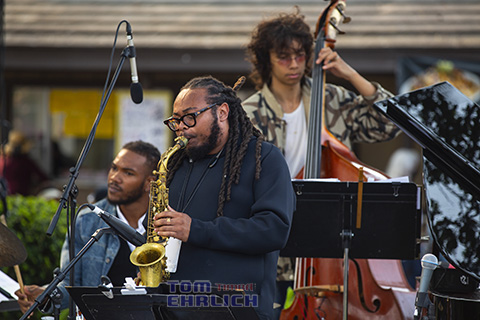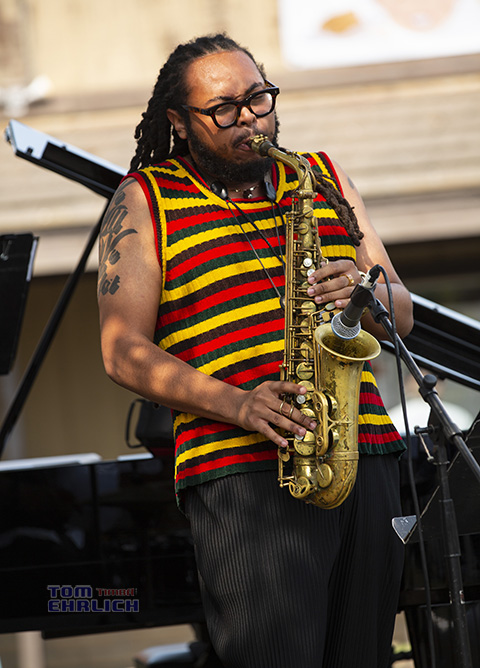 Immanuel Wilkins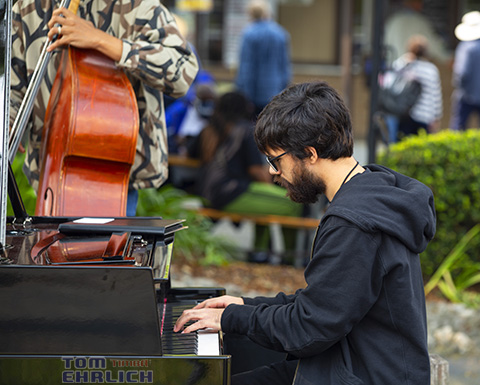 Micah Thomas
Micah Thomas graduated with a Masters Degree from Juliard School of music in 2020. He is a very well respected pianist who has played with numerous bands as well as leading his own group. His first recording as a leader "Tide" received positive reviews from a number of publications.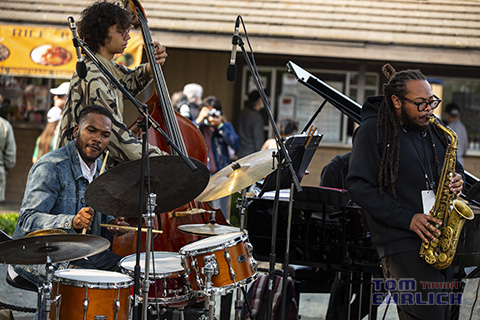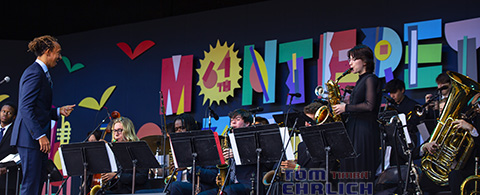 Next Generation Jazz Orchestra
The Next Generation Jazz Orchestra is comprised of 20 of some of the most accomplished high school jazz musicians from around the US. They normally gather in the summer for rehearsals and tour jazz festivals and their participation culminates in a performance on the main stage at the Monterey Jazz Festival. This year the orchestra was lead by Gerald Clayton.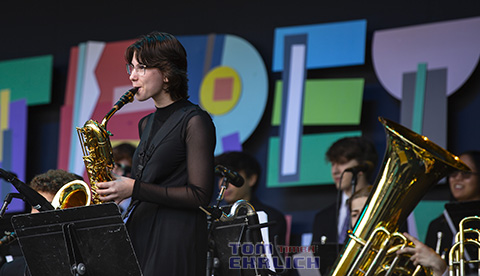 Noa Zebley Baritone Sax
This young lady was an amazing baritone sax player and a powerful soloist, in spite of the sax looking like it was too large for her to handle.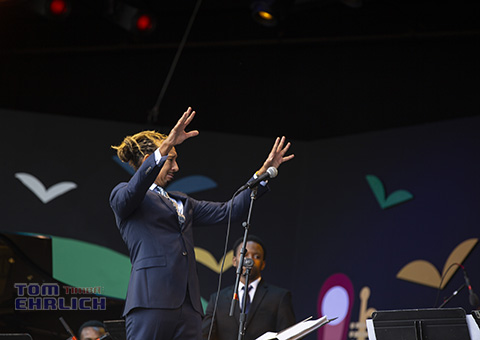 Gerald Clayton
Gerald Clayton was an excellent conductor and his style was animated expressing the mood he wanted.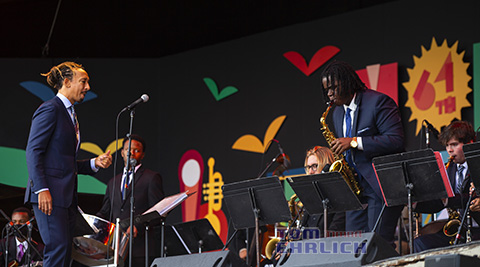 Gerald Clayton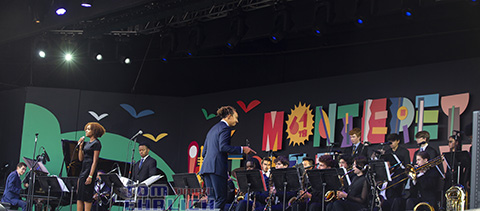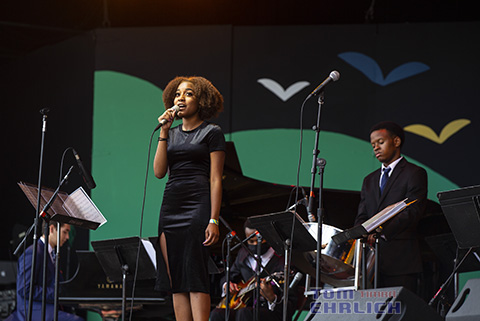 Ellah Brown vocals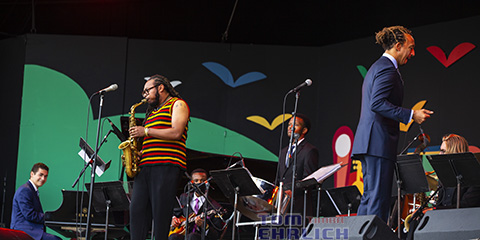 Immanuel Wilkins guest sax
The hardest working musician at the festival this year, Immanual sat in and added energy and beauty to the song.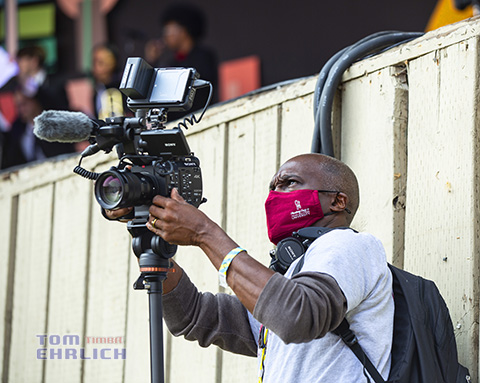 Student videographer from Texas Southern University
Texas Southern University (TSU) a Historically Black University in Houston, Texas has a joint project with Monterey Jazz Festival where students from TSU learn different aspects of the music business including videography, stage management and others. This is one of the ways that Monterey Jazz Festival is attempting to support more diversity in the music business.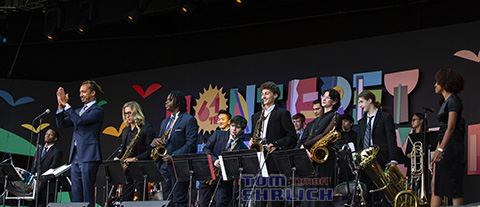 The band shows their appreciation for the enthusiastic response to their memorable performance.
The 2021 Next Generation Orchestra poses for a photo. This version of the orchestra is the most diverse that I can remember.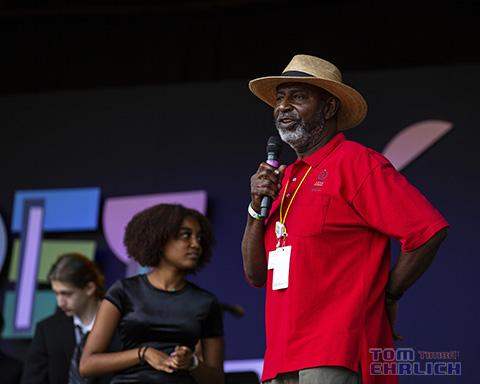 Carsbia Anderson on Education Committee of MJF Board of Directors
The Monterey Jazz Festival should be applauded for their efforts to create more diversity in the orchestra which has been traditionally mostly white and also for presenting a signficant number of woman lead groups. Carsbia Anderson on the Education Committee of MJF Board of Directors spoke of their efforts in creating more diversity.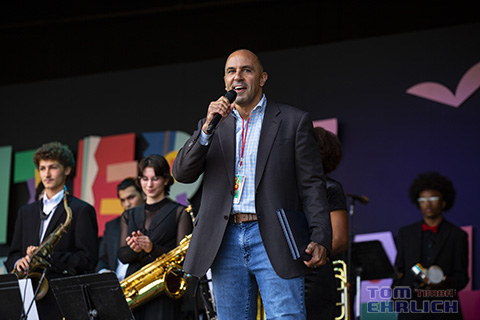 Jimmy Panetta US House of Representatives, CA 20th Congressional Disctrict
Congressman Jimmy Panetta presented recognition awards to Gerald Clayton, director of the Next Generation Orchestra and Katie Thiroux director of the Next Generation Women in Jazz Combo.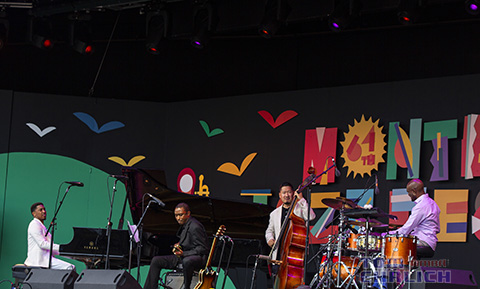 Christian Sands Group
Ever since I witnessed Christian Sands play with the Christian McBride Trio, it was clear that he was destined for greatness. At 32, he was the artist in residence for the Monterey Jazz Festival this year and is clearly one of the top jazz pianists in the world today. His music is exciting, innovative and accessible without being too commercial.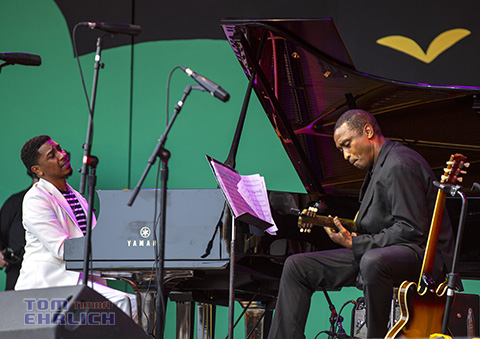 Christian Sands piano and Marvin Sewell guitar
Christian lately usually plays with a trio, but he added Marvin Sewell on guitar for the festival this year. Alhthough Marvin Sewell is an excellent guitarist, I prefer the music with his trio where the three musicians get to stretch out and solo. With Marivn in the group, the amazing, outstanding bassist Yasushi Nakamura stayed in the background most of the set. I saw the trio at San Jose Jazz Summerfest and Yasushi played some of the most beautiful bass lines and solos I have ever heard.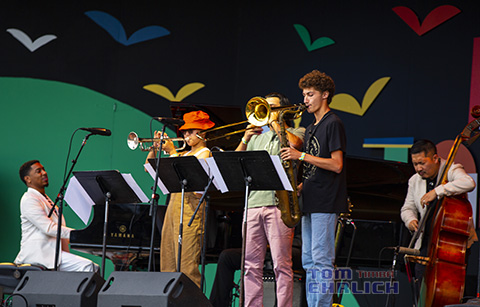 Christian Sands piano, Next Gen horns and Yasushi Nakamura bass
Three horn players from the Next Generation Orchestra sat in with Christian and played exquisitely.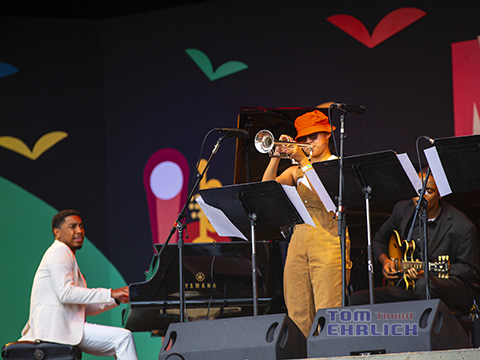 Christian Sands piano and Skylar Tang trumpet
Skylar Tang played an outstanding solo, as did Zeb J-A.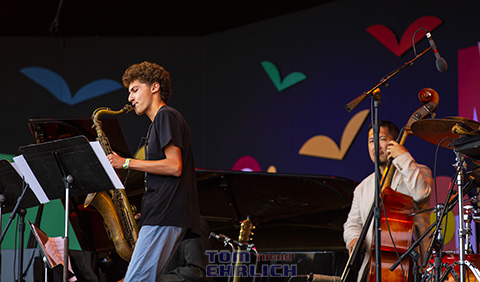 Zeb J-A tenor sax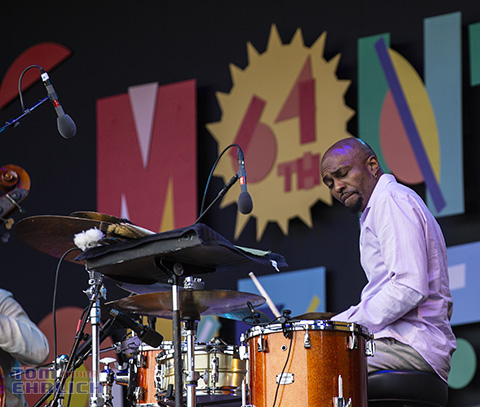 Clarence Penn
Clarence Penn is a top of the line veteran drummer, excellent composer, producer and educator. Maria Schneider describes him as "a charismatic player, with great dynamic range and drama and musicality. He's an intricate and heady drummer who thinks compositionally, but uses his gut and instincts ...... making something exciting, that feels alive, and is full of energy and passion". I agree.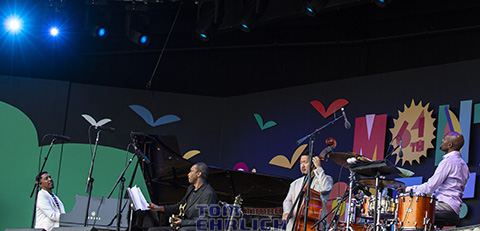 Christian Sands piano, Marvin Sewell guitar, Yasushi Nakamura bass and Clarence Penn drums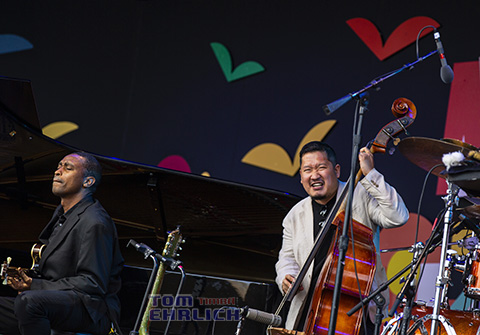 Marvin Sewell guitar and Yasushi Nakamura bass
Yasushi Nakamura is one of the most imaginative and soulful bass players I have ever heard. He brings excitement and beauty to the music whether he is creating and holding a groove or soloing.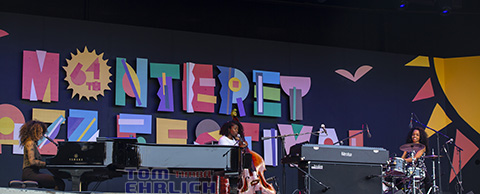 Kandace Springs Group - Caylen Bryant bass and Taylor Moore drums
Kandace Springs is a pianist/vocalist from Nashville, who has a soulful, jazzy, beautiful voice. Baaasist Caylem Bryant and drummer Taylor Moore are both excellent musicians and vocalists.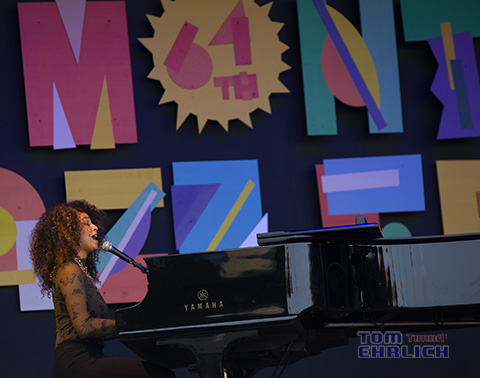 Kandace Springs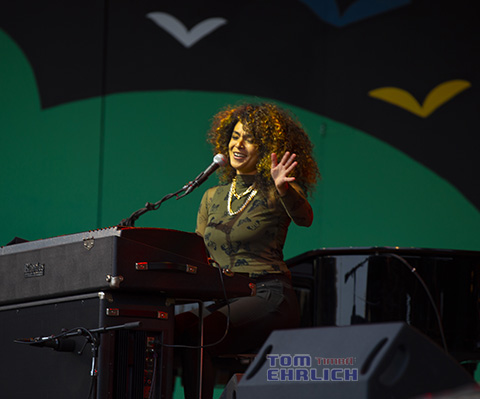 Kandace Springs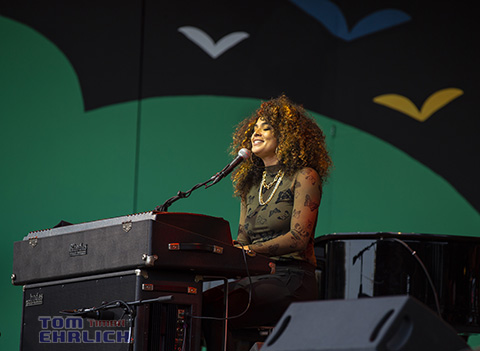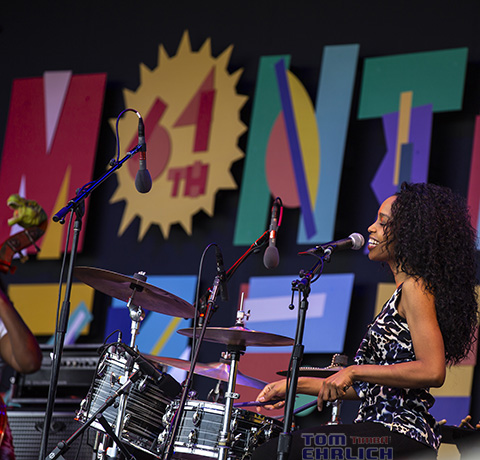 Taylor Moore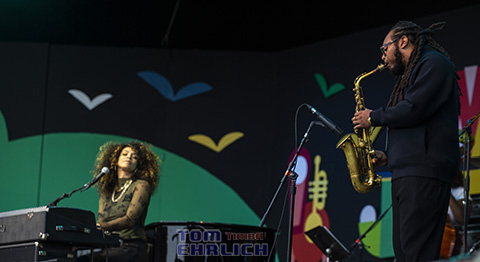 Kandace Springs on piano and guest Immanuel Wilkins on sax
Immanual Wilkins sat in and showed he is adept at playing background for a vocalist as well as playing a tasty solo.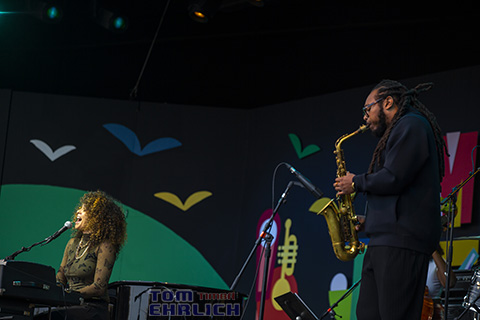 Legendary vocalist/guitarist George Benson closed the festival this year, playing many of his well known danceable hits. 78 year old Benson played all his songs flawlessly.
George Benson guitar and Michael O'Neill guitar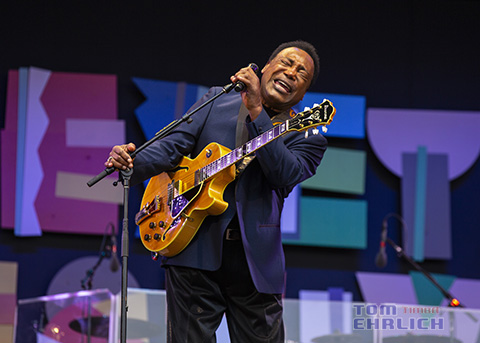 George Benson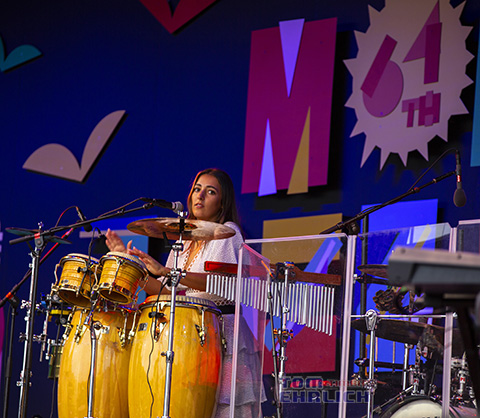 Lilliana De Los Reyes
Lilliana De lLos Reyes played percussion and sang a couple of songs. I did not realize who she was until I researched her after the festival. Lilliana is the granddaughter of the legendary Cuban drummer Walfredo De Los Reyes, who I know personally.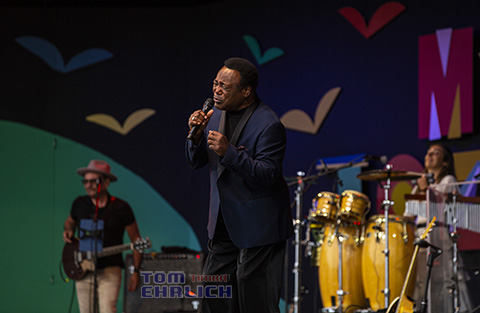 George Benson vocals, Michael O'Neill guitar and Lilliana de los Reyes percussion
George Benson vocals, Randy Waldman piano and Michael O'Neill guitar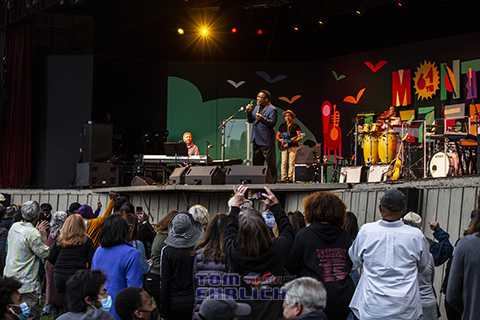 It wasn't long before George Benson and company had the crowd up and dancing. It was a fun and festive way to end the festival.
Congratulations to the Monterey Jazz Festival for having a successful event inspite of all the limitations that the pandemic caused.
Wednesday, 27 September 2023, 07:35 PM