Tom Ehrlich - 2018 San Jose Jazz Festival Part 1
SAN JOSÉ JAZZ SUMMERFEST 2018
FRIDAY NIGHT, AUGUST 10, 2018
PHOTOS AND TEXT BY TOM EHRLICH © 2018
The 29th Annual San José Jazz Summerfest began on Friday, August 10, 2018. Friday night was a little light on music but I caught some great performances and watched a very interesting documentary movie about legendary DJ, Babbito García, as well as his DJing at the end of the night.
Photos and commnets follow.
For me the evening started out by attending a reception for press. Brendan Rawson, Executive Director of San José Jazz, welcomed us to the festival and introdcued a new staff member, Beto Arcos Latin and World Music Coordinator, who is responsible for continuing the San José Jazz's traditon of presenting a wealth of Afro-Caribbean music groups at the festival. I have always maintained that San José Jazz presents more Afro-Caribbean music than any other jazz festival in the United States that I am aware of and hopefully that will continue.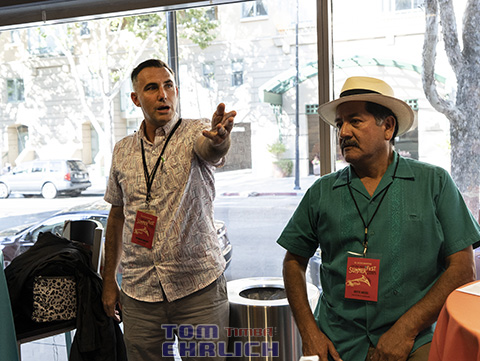 Brendan Rawson on left and Beto Arcos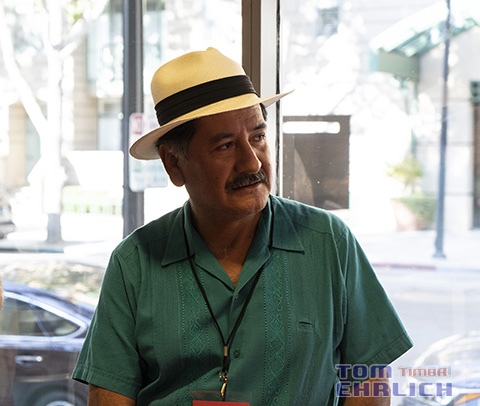 Beto Arcos, Latin and World Music Coordinator
There are 12 different stages at the festival, so its always a challenge to cover all the performances that I want. I passed on the main stage acts Friday night to watch a very interesting movie about Bobbito García.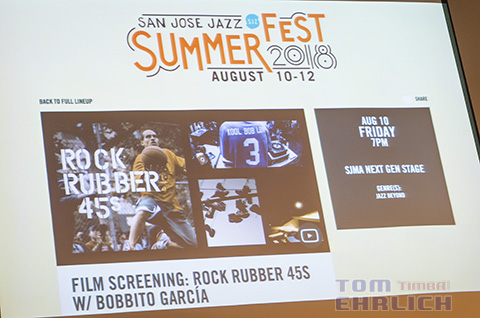 Bobbito grew up in a Puerto Rican section of the lower east side of NYC. He had a difficult childhood and was an outstanding playground basketball player. Although he made his high school and college basketball teams, he was never given the opportunity to play much. The movie had numerous clips of Bobbito's basketball career as well as childhood clips and photos.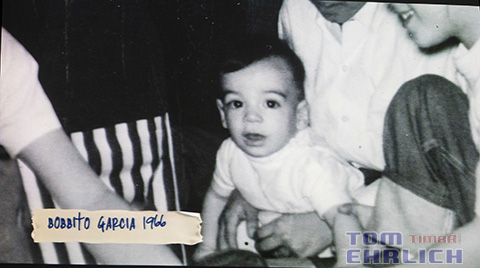 Bobbito as an infant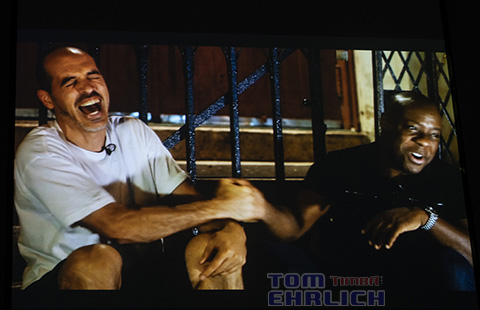 Bobbito is credited with starting designer basketball shoes and later became a world-renouned DJ, playing a unique mix of sounds from popular music, soul, afro-carribbean and jazz. I did attend part of his DJing set at a local bar, photos and more on that later.
The first music I witnessed was the great trumpet player and band leader Eddie Gale with his American Spiritual Jazz Unit. Eddie was perfroming for the first time since he was injured in a serious trip and fall accident a few years ago.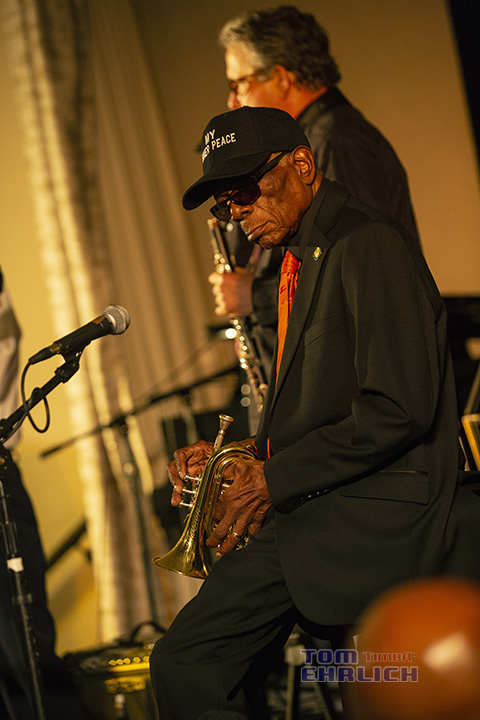 Eddie Gale
Eddie came to San Jose before there was a San José Jazz and was proclaimed San José's jazz ambassador in 1974 by mayor Norman Y. Mineta and has been the jazz ambassador ever since. He is credited with having a lot to do with bringing jazz to San José and the creation of San José Jazz as an organization. Eddie also founded the non-profit Evergreen Youth/Adult Jazz Society in San Jose which produced jazz festivals and created opportunities for young musicians to perform with professional musicians in venues other than school assenblies. In his earlier years in New York City he played with some of the best including John Coltrane and had some noteworthy recordings on Blue Note Records including "Ghetto Music." Eddie was celebrating his 50th year as a recording artist.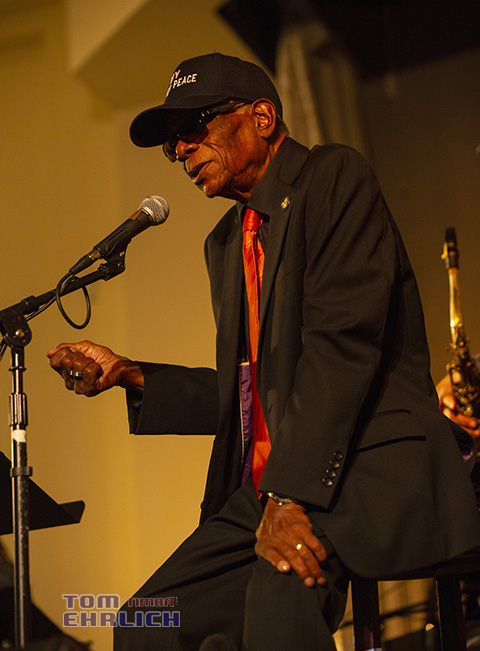 Eddie talking about this illustrious career in jazz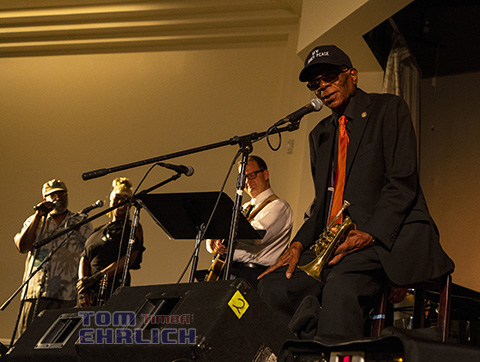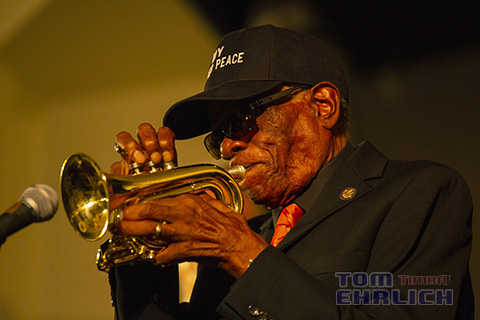 Eddie on pocket trumpet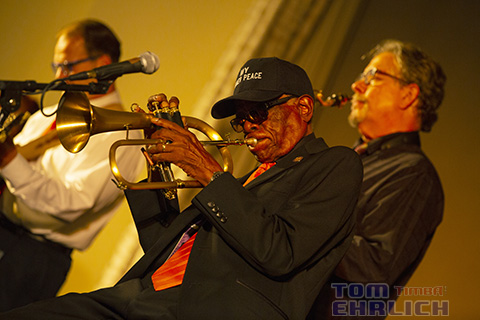 Eddie on fugelhorn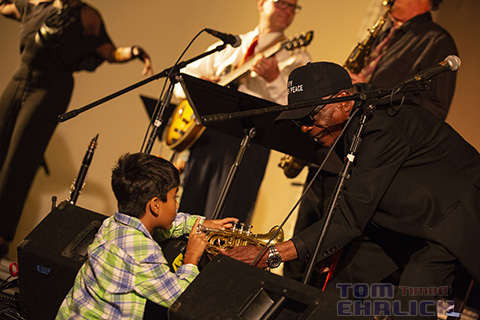 Eddie taking time during his performance to show a young boy how to play the trumpet
Eddie Gale has a long history of working with youth in the community.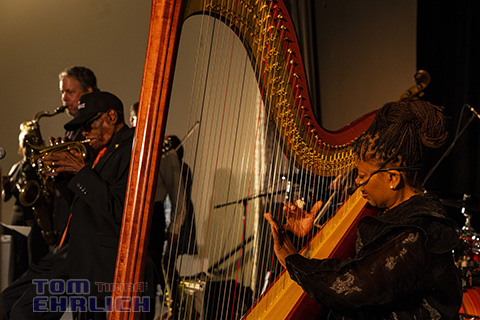 Destiny Muhammad on vocals and harp, Eddie Gale and Peter Kyne on sax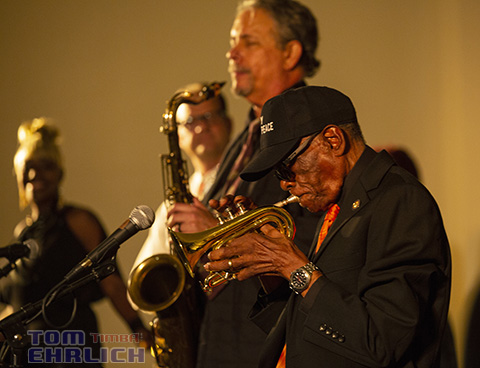 Eddie on pocket trumpet and Peter Kyne on sax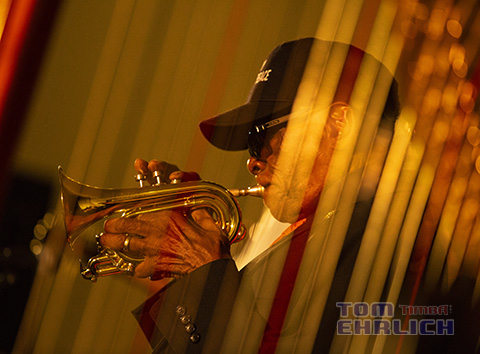 Eddie through harp strings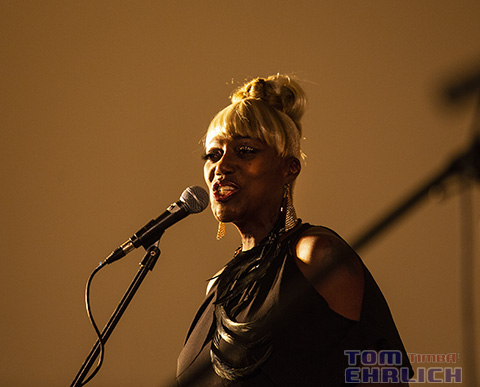 Quen Mejía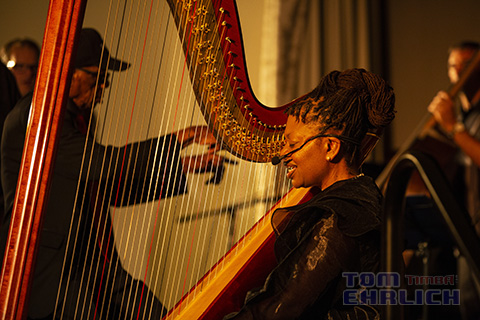 Destiny Muhammed vocals and harp and Eddie leading the band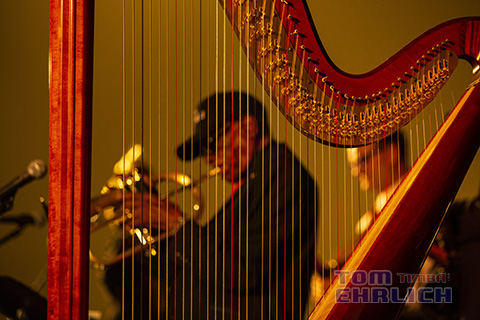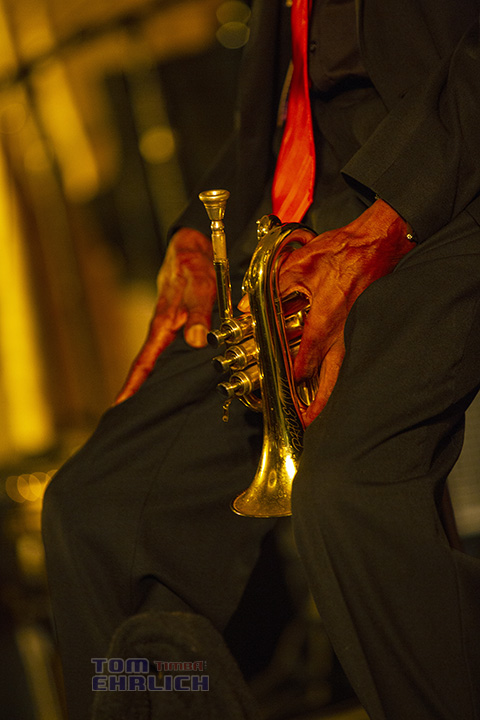 Eddie's hands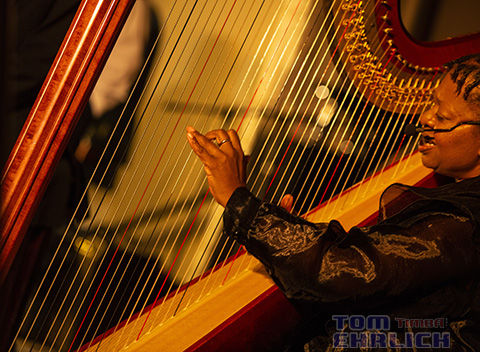 Destiny Muhammed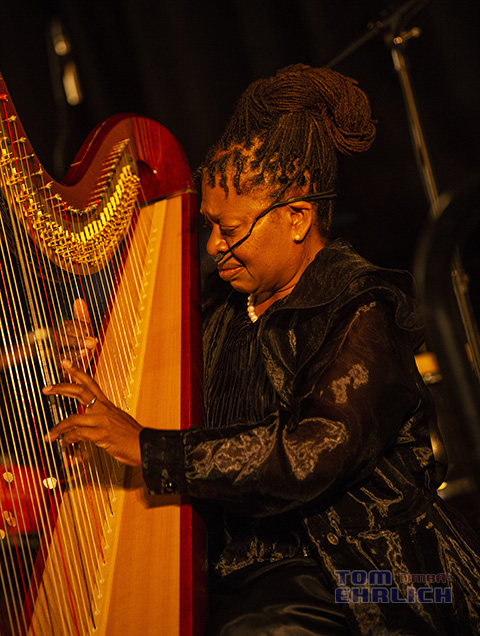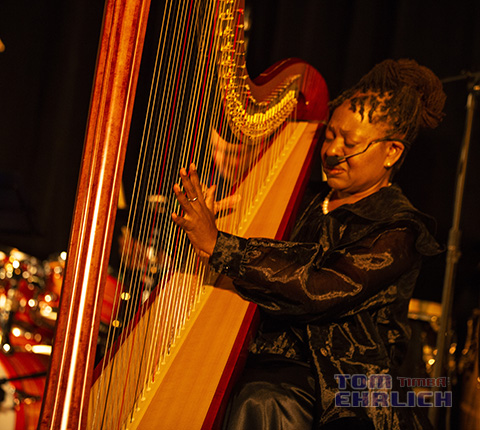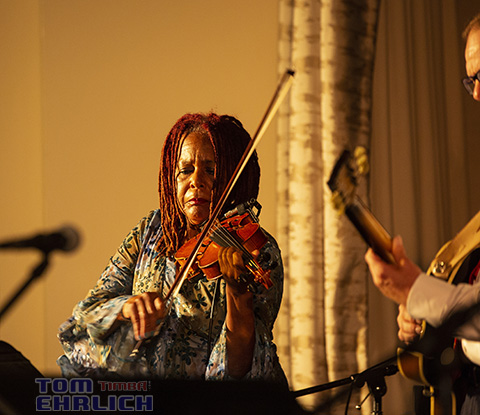 Sandy Poindexter
Next group I saw in two different contexts - during a video taping and performing in the outstanding San Jose jazz club Cafe Stritch. The group was Aaron Abernathy Trio, with Aaron on piano and vocals, Malik Hunter on bass and vocals and Jason Edwards on drums and vocals.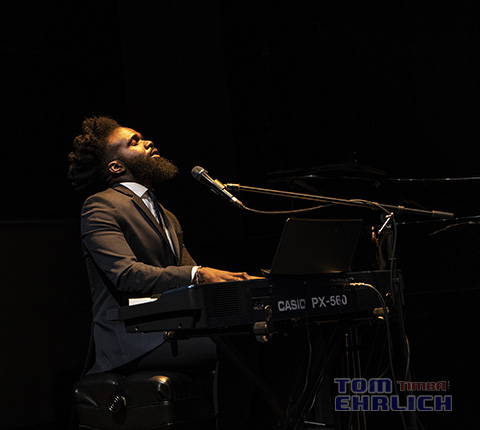 Aaron Abernathy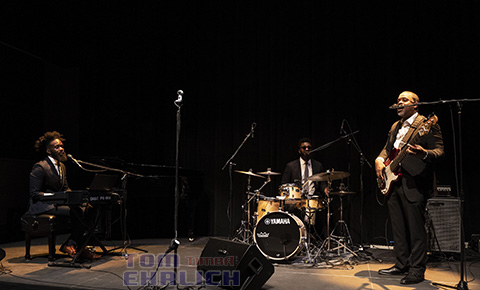 Aaron Abernathy - piano, Jason Edwards - drums and Malik Hunter - bass
The above two photos were taken during a video shoot.
Aaron Abernathy is related to the great civil rights leader Rev. Ralph David Abernathy. Much of his music has themes related to social justice issues. The music the trio played at the festival consisted of modern, creative, jazzy covers of 1970s soul music. What made this trio stand out for me was the incredible three part harmony vocals sung by the members of the group. Each member of the trio had beautiful, soulful voices, generating groove and excitement in each of their songs.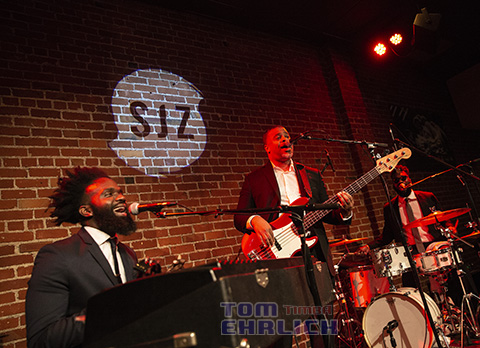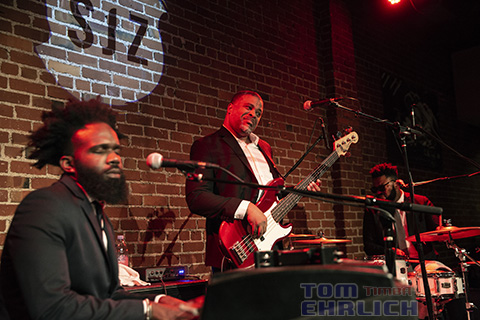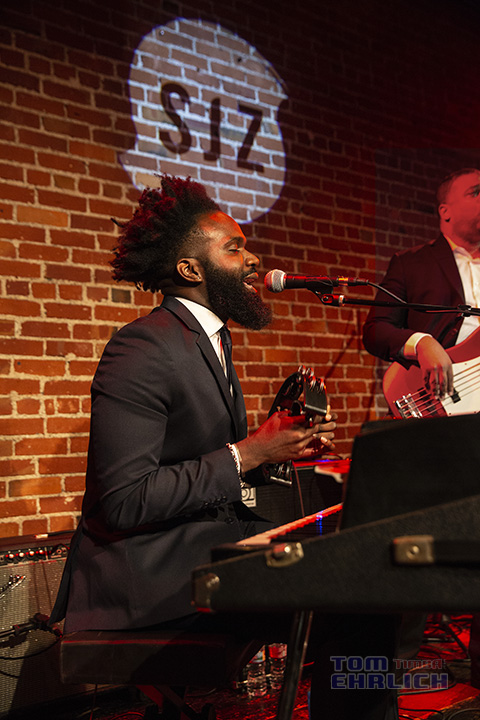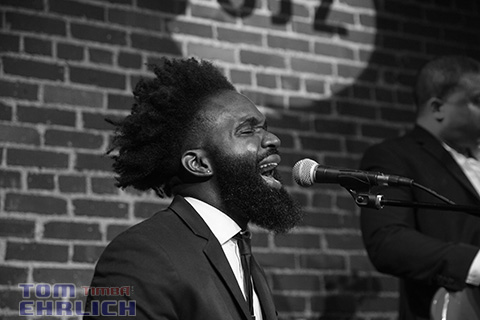 Closing out the first day of the festival for me was a trip to the Continental Bar to catch Bobbito García spinning vinyl 45s and he had the place jumping.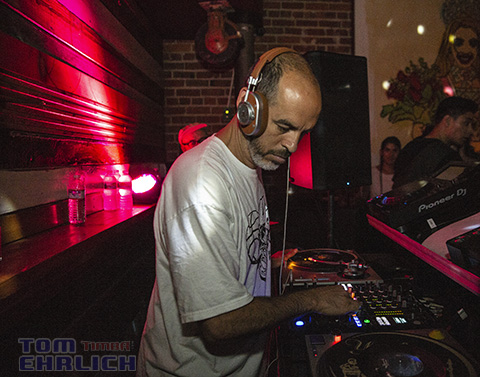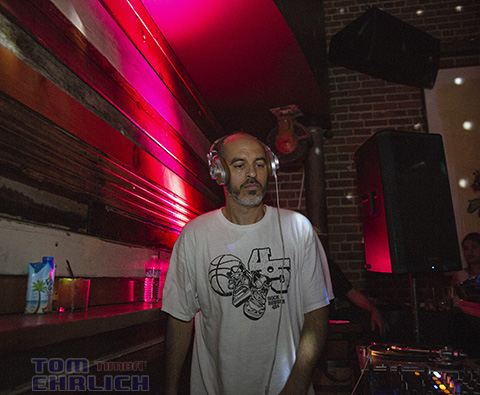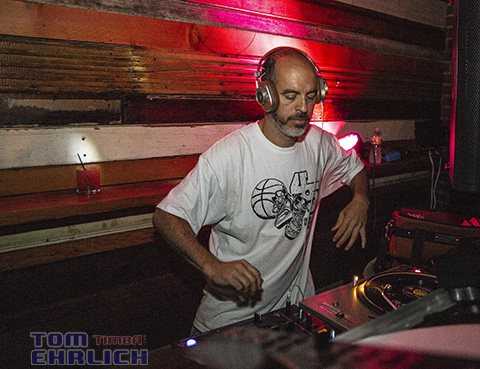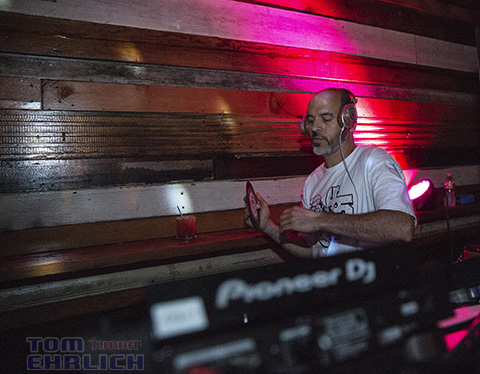 NEXT UP WILL BE DAY 2 OF THE FESTIVAL FEATURING YISSY GARCIA, RUMANKETE (TIMBA GROUP FROM LA), SYLVIA CUENCA QUARTET, WAYNE WALLACE LATIN JAZZ SEPTET AND OTHERS.
Wednesday, 30 August 2023, 11:46 AM