Indice - Table of contents
Lo Nuevo
[hide]
Fotos Del Día
[hide]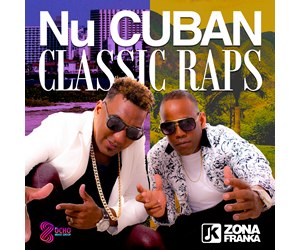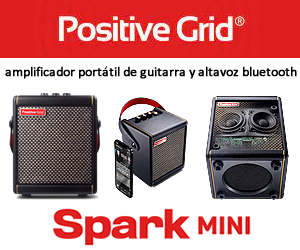 Tom Ehrlich - Don Pancho Terry
ELADIO SEVERINO TERRY GONZALÉZ
JANUARY 8, 1940 - JULY 23, 2018
PHOTOS AND TEXT BY TOM EHRLICH © 2018
YOSVANY TERRY, YUNIOR TERRY, BILL TILFORD AND
KEVIN MOORE CONTRIBUTED TO THIS ARTICLE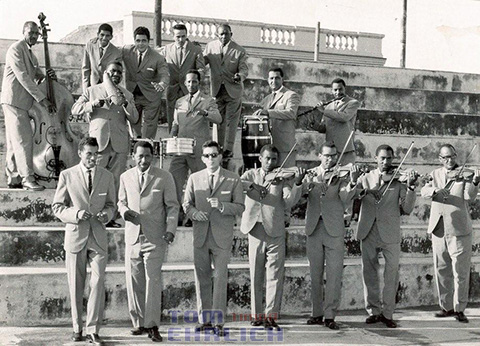 Publicity photo of Maravilla de Florida, Don Pancho Terry is violinist second from the right
Eladio Severino Terry González, commonly known as Don Pancho Terry, an icon in Cuban music, joined the ancestors on July 23, 2018. Don Pancho was born in Florida, Camagüey, Cuba on January 8, 1940 to a Cuban father with Jamaican heritage and a Cuban mother with heritage from the Canary Islands. Both parents were of African decent. According to Yosvany Terry, his father became known as Don Pancho because during his birth, one of the midwives assisting with his delivery announced he looks like a "Don Pancho" as he emerged from his mother's womb. Ever since then he has been known as Don Pancho Terry.
Don Pancho's father was a masonry contractor who specialized in building houses and chimneys for sugar mills. Don Pancho learned masonry from his father and became a masonry specialist who made cement trees that looked like they were made of wood.
He was a self taught percussionist, learning folkloric/spiritual music in the streets and at spiritual ceremonies, as well as popular music forms. Don Pancho learned to play the chékere from his uncle Dionisio Guzmán González, who was a head priest of the Lukumí tradition. He would play at spiritual ceremonies with güiro groups (consisting of 3 different size chékeres) and Bembé instrumentation. In the 1960s Don Pancho attended Alejandro García Caturla Conservatory in Havana where he studied violin.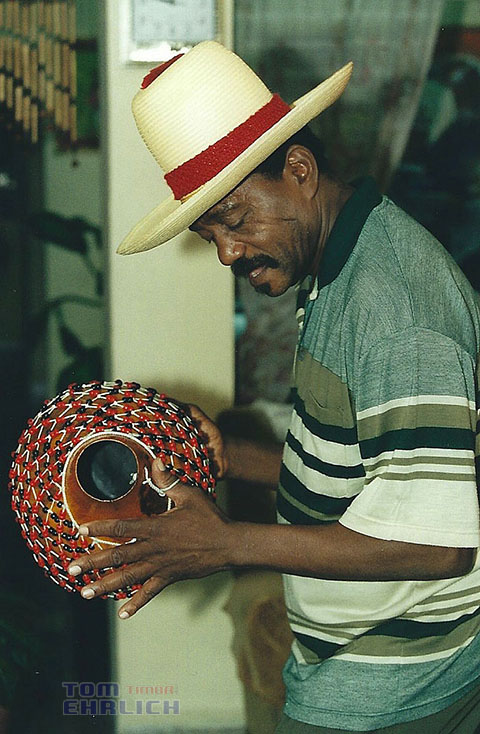 Demonstrating playing the chékere at his home in Cuba in 2000
Don Pancho became a master chékere player, considered the best chékere player in Cuba, and is credited with transforming the chékere in popular music and jazz from an accompanying percussion instrument to one which can be featured and used for soloing especially in Latin jazz as well as being the first to play chékere in charanga groups. Traditionally the chékere is used in the "Güiro" folkloric genre (güiro is one of the African names for chékere) on the African continent in spiritual ceremonies. This tradition came to Cuba with enslaved Africans and became part of Lukumí ceremonies in Cuba, where there are three different size chékeres that play patterns for the orishas, with the big chékere soloing at times. Don Pancho also created a new genre using chékeres called "Ritmo Güiro", where he developed new rhythmic patterns for chékeres, congas and other percussion instruments playing together. He played chékere on many recordings, two of which are historic "Mi Güiro Experimental" and "Y Pa' Qué" where he played extended creative solos, the first extended chékere solos to be recorded.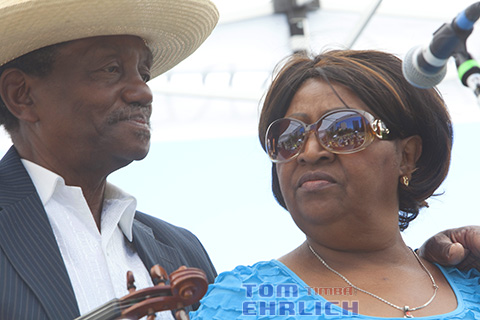 Don Pancho and his wife Lydia Cabrera from 2010 in San Francisco
Click here to hear Mi Güiro Experimental
Click here to hear to hear Y Pa' Qué
In addition, Don Pancho also became a virtuoso violinist and flutist as well as a prolific composer, arranger and accomplished vocalist. He composed over 300 songs. He also loved to teach people about Cuban music and how to play the chékere. He taught at La ENA (The National School of the Arts), Taller de la Música Popular (Cuban popular music workshop) several musical traditions from Cuba including Danzón, Son, Guaracha, Boleros and Cha-Cha-Cha. Don Pancho also taught chékere privately to a huge number of Cubans and foreign students interested in the instrument.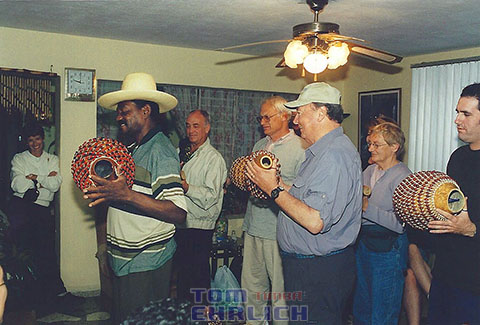 Teaching some Americans at his home in Cuba in 2000
Don Pancho was a founding member of the well known charanga group Orquesta Maravilla de Florida, which originated in the late 1950s. He contributed compositions, played chékere and violin, was the leader of the group from 1970 to 1979 and stayed with this group for over 30 years. After leaving Orquesta Maravilla de Florida, he played for the Camagüey Symphony Orchestra, started and led a charanga group Orquesta Tinina (the name of a river and a brand of beer in Camagüey) and led Orquesta Sensación when he moved to Havana. Most recently he was a member of La Charanga de Oro led by José Loyola.
Click here to hear Rafael y el Catarro, which is a good example of one of Don Pancho's charanga compositions recorded by Maravilla de Florida.
Don Pancho participated in numerous recordings including with Orquesta Maravilla de Florida, Los Van Van, Manolito Simonet, Bobby Carcasses, Ernán López Nussa's project called "Havana Report" which featured Tata Güines on congas and Changuito on timbales and drum set, Bebo Valdes y El Cígala on Grammy wining "Lágrimas Negras", "La Rumba Soy Yo" a Latin Grammy winner, Wynton Marsalis and the Lincoln Center Orchestra "Live in Havana", La Orquesta a Sinfónica in composer José Vitier's mass "Salmos de las Américas", recordings of Columna B, Roberto Carcasses and Interactivo, Rumberos de Cuba and many others. He also performed as a guest with many groups.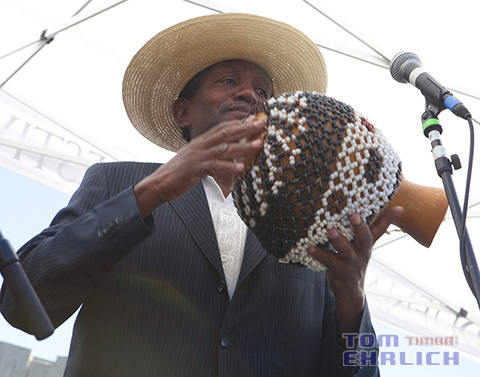 San Francisco 2010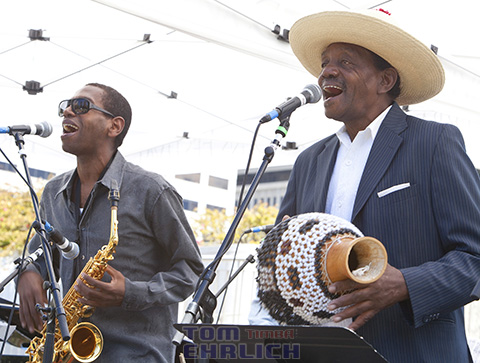 Yosvany and Don Pancho Terry San Francisoco 2010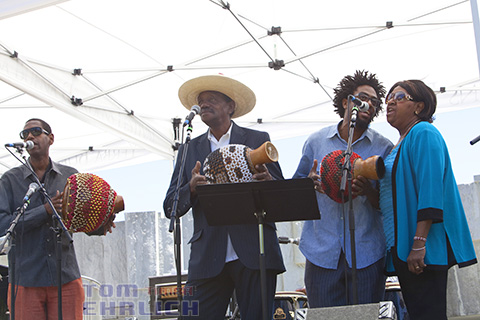 Left to right Yosvany Terry, Don Pancho Terry, Yunior Terry and Lydia Cabrera in San Francisco 2010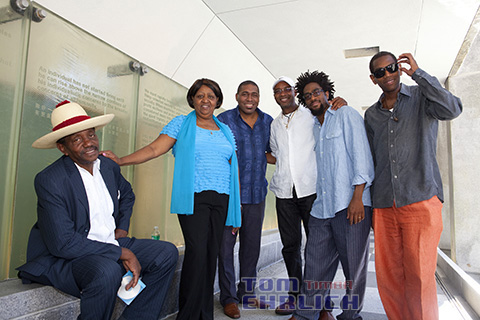 Left to right Don Pancho Terry, Lydia Cabrera, Osmany Paredes, Jesús Díaz, Yunior Terry and Yosvany Terry at San Francisco 2010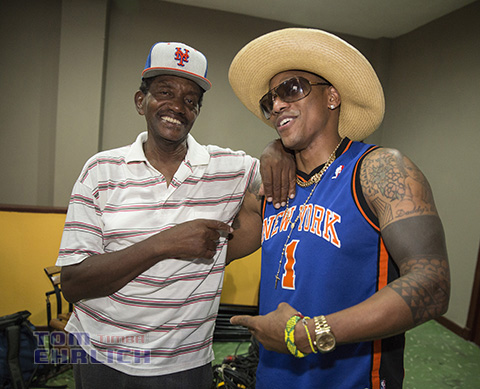 Don Pancho Terry and Pedrito Martínez at Egrem Studios, Havana 2015 exchanged hats
The Terry Family including Don Pancho, his wife Lydia Cabrera, sons Yosvany (sax and arrangements), Yunior (bass) and the late Yoel Terry (flute), recorded an album in 1996 with the group called Los Terry "From Africa to Camagüey" with an exceptional cast of other musicians on the Round World Record label. Described as a stunning mix of folkloric, charanga, other popular and jazz music, it is an exceptional recording from start to finish. Don Pancho's two surviving sons Yosvany and Yunior are both accomplished professional first call musicians, composers, arrangers and band leaders as well as college music professors. Yosvany teaches at Harvard University and Yunior at NYU in New York City.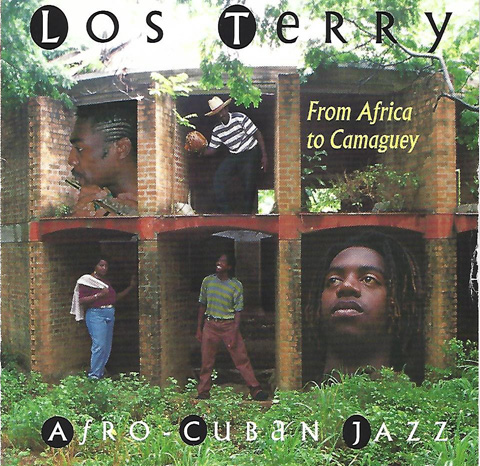 Listen to three recordings from "From Africa to Camaguey" two were composed by Don Pancho Terry. and Los Orishas was composed by Don Pancho and Yosvany Terry.
Click here to hear Los Orishas.
Click here to hear Que Tiene Esa Cintura.
Click here to hear Mi Son Wanbari.
The Terrys recorded another album a few years ago which has never been released. Yosvany and Yunior plan to release the recording sometime in 2018.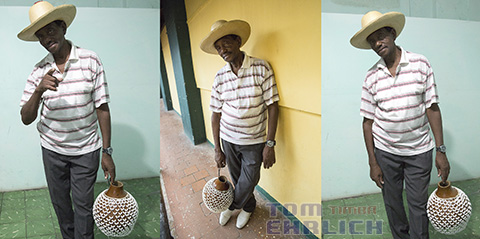 Don Pancho Terry at Egrem Studios, Havana 2015
jueves, 05 septiembre 2019, 11:50 pm