Tom Ehrlich - 2021 Monterey Jazz Fest Part 1
MONTEREY JAZZ FESTIVAL
FRIDAY SEPTEMBER 24, 2021
PHOTOS AND TEXT BY TOM EHRLICH © 2021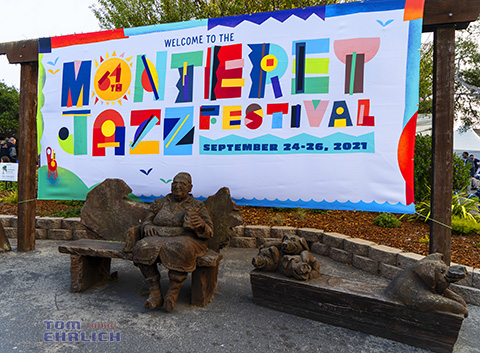 The pandemic version of the Monterey Jazz Festival started on Friday eveving September 24, 2021, with music on two outside stages, instead of the regular 6 outside and inside stages. Everyone was required to have been vaccinated for Covid - 19 to enter the well attended festival.
This report will cover the three groups who performed on Friday - Mimi Fox Organ Trio, Pat Metheny Side Eye and Herbie Hancock.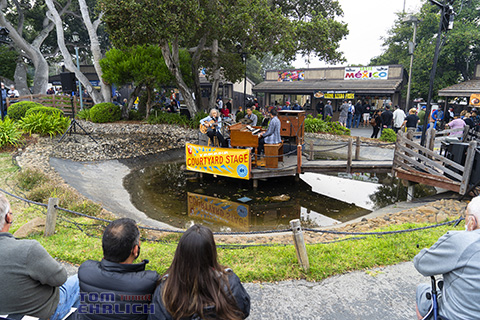 Mimi Fox Organ Trio
Mimi Fox Organ Trio perfomred at the Yamaha Courtyard Stage which is located in the middle of a small pond.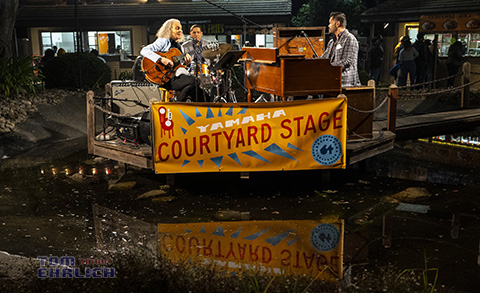 Mimi Fox, Lorca Hart and Brian Ho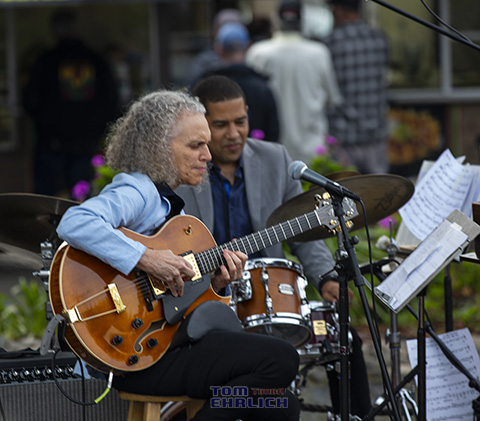 Mimi Fox is an outstanding veteran jazz guitarist. Her trio consisted of Lorca Hart on drums and Brian Ho on organ. They played three sets of great music.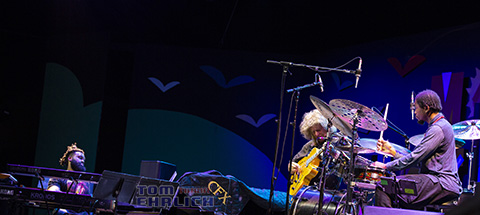 James Francies keyboards, Pat Metheny guitar and Joe Dyson drums
Pat Metheny Side-Eye was the first group to play at the Jimmy Lyons Stage, a large outdoor venue.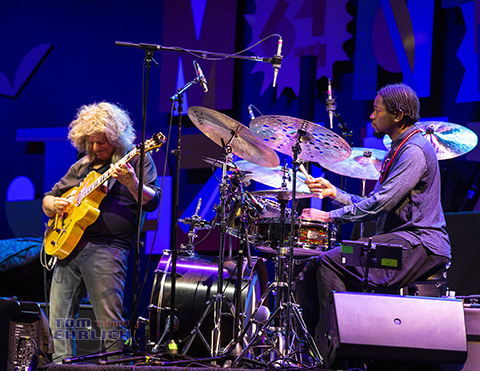 Pat Metheny and Joe Dyson
Pat Metheny is a superstar guitarist who has won 20 different Grammy awards, is an NEA Jazz Master and one of he most successful jazz artist alive. He is adept at many different styes of music.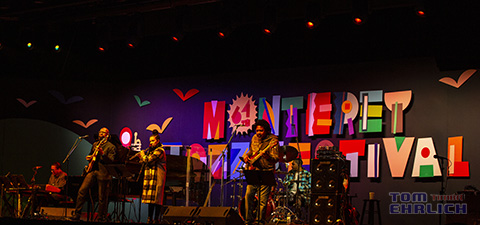 Herbie Hancock Quintet
The last group for Friday night was the living legend Herbie Hancock and his incredible band. He is now 81 years old still going strong and has been a professional musician for over 60 years. My opinion is that he is the greatest musician alive - bandleader, composer- arranger, 14 time Grammy winner, NEA Jazz Master and much more. Many of his compositions are jazz standards and his recordings and projects include a wide variety of musical styles and groups. He has also won an Oscar.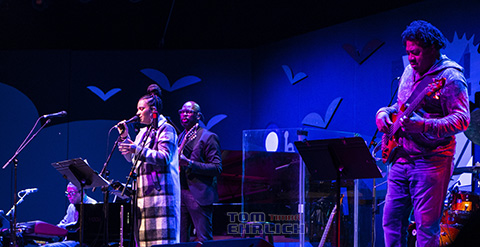 Herbie Hancock piano, Elena Pinderhughes vocals and flute, Lionel Loueke guitar, James Genus bass. and Justin Tyson drums (hidden behind James Genus).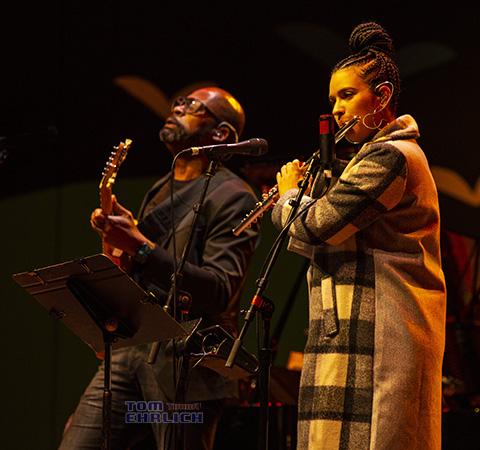 Lionel Loueke guitar amd Elena Pinderhughes flute
Lionel Loueke is originally from the African country Benin who has become one of the best jazz guitarists on the scene and is a bandleader and vocalist also. He excels as an accompaniest and soloist. Elena Pinderhughes is originally from Berkeley, Calfornia and currently resides in NYC. I have followed her musical career since she was 5 or 6 years old. Elena has developed into one of the most in demand flutists playing with a wife variety of jazz musicains and others including hip hop superstar Common and musicians who play Afro-Caribbean music. She is also a vocalist.
Herbie Hancock on acoustic piano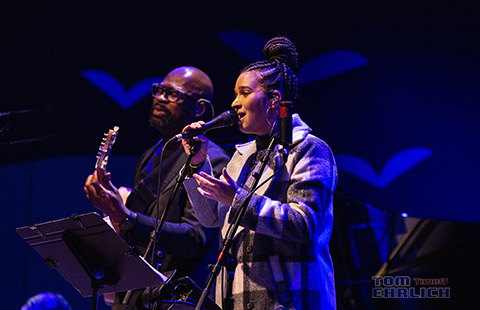 Elena Pinderhughes vocals and Lionel Loueke guitar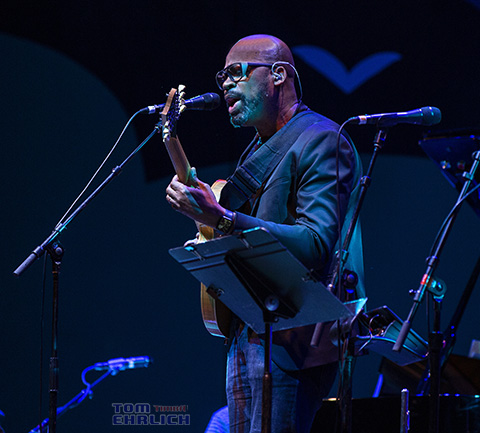 Lionel Loueke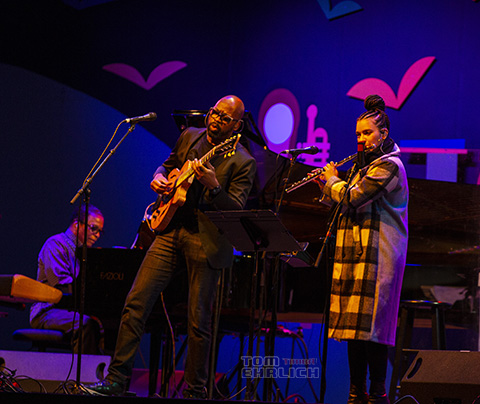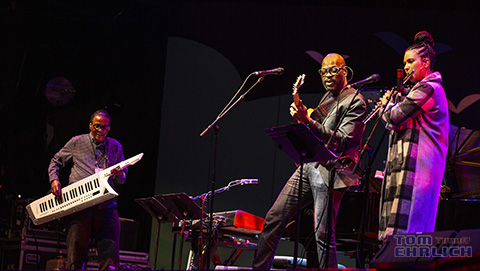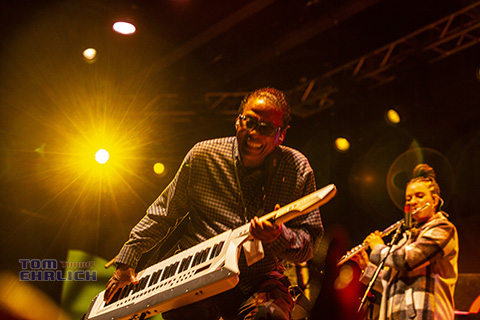 The crowd refused to allow Herbie and band to leave without an encore. They did a rocking version of Chameleon from his Head Hunters recording and had the large crowd dancing to end the night.
The festival always has a section where different quality items are sold. I will include one of these who has been selling his art at the festival for a long time.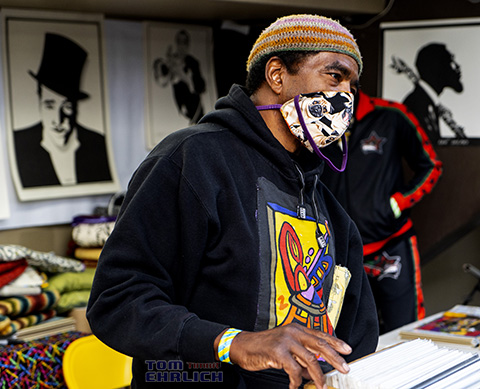 Kisasi Ramsess
Ramsess quilts
Ramsess is from Los Angeles and he has a wide variety of items for sale including prints, note cards, coloring books, quilts, calendars and clothing. He is one of my favorite jazz artists.
miércoles, 27 septiembre 2023, 07:35 pm