Indice - Table of contents
New Stuff
[hide]
Photos of the Day
[hide]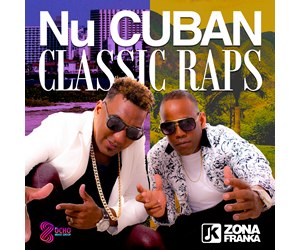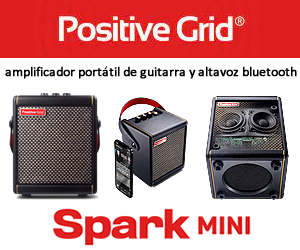 Tom Ehrlich - 2016 Chicago Jazz Festival
CHICAGO LATIN JAZZ FESTIVAL
HUMBOLDT PARK, CHICAGO
FEATURING JOHN SANTOS SEXTET
JULY 14 and 15, 2016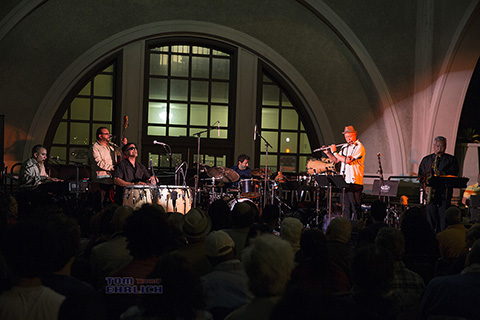 The 10th annual Chicago Latin Jazz Festival started on July 14, 2016 with a lecture by John Santos at the Segundo Ruiz Belvis Cultural Center entitled "My Music is What I Am". The cultural center offers programs and classes about Afro-Latin music and cultural. Its mission is "preserve and promote culture and the arts of Puerto Rico with a unique emphasis on its African heritage." The walls of the center are filled with beautiful art.
John presented an overview of Afro-Caribbean music to a mostly young audience. Here's some photos of the Center and John's lecture.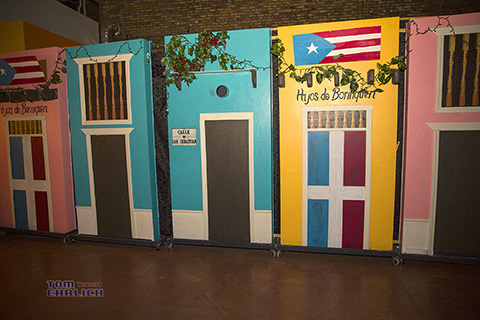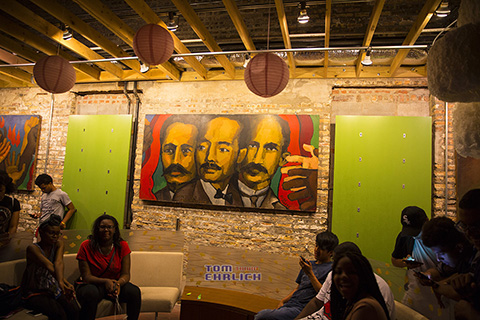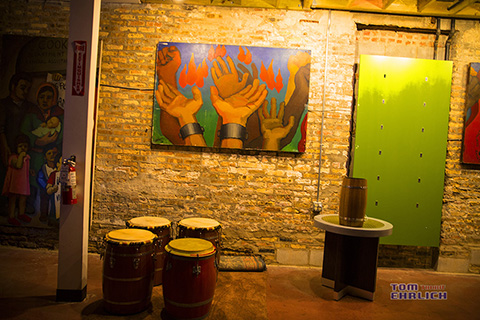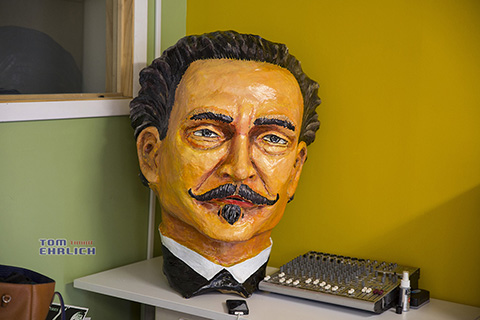 Bust of Segundo Ruiz Belvis, name sake of the center. Segundo was a Puerto Rican abolitionist (against slavery) and participated in emancipating 1000s of young black slaves in Puerto Rico.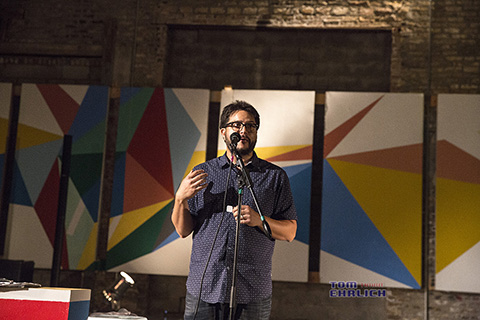 Omar Torres, executive director of the Cultural center introducing John Santos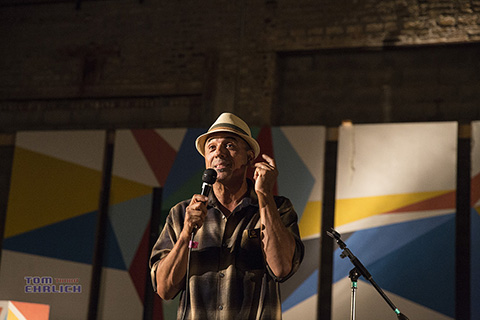 John Santos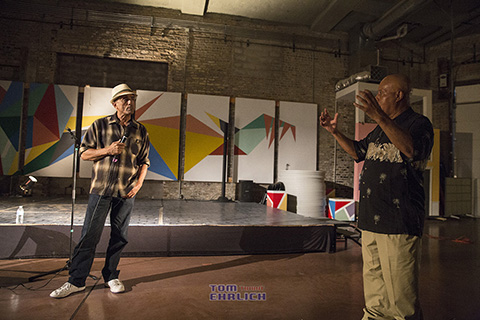 Carlos Flores, artisitic director of the Chicago Latin Jazz Festival asking John Santos a question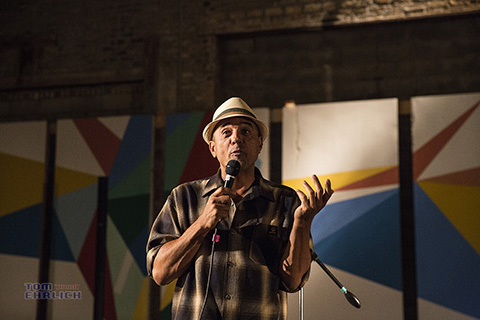 John Santos
Carlos Flores talking about the Latin Jazz Festival
Photos of John Santos Sextet Sound Check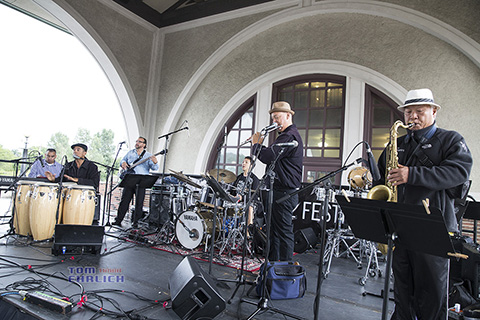 John Santos Sextet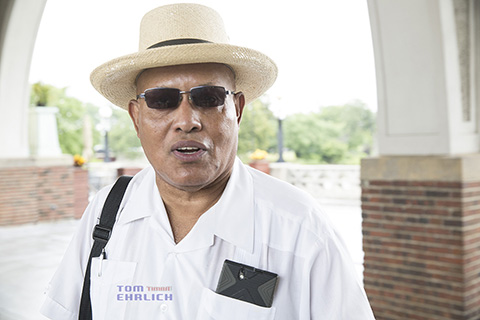 Carlos Flores, Artistic Director of the Chicago Latin Jazz Festival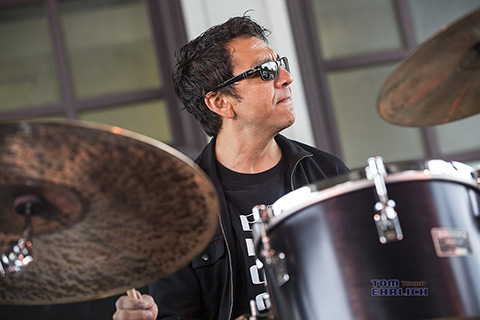 David Flores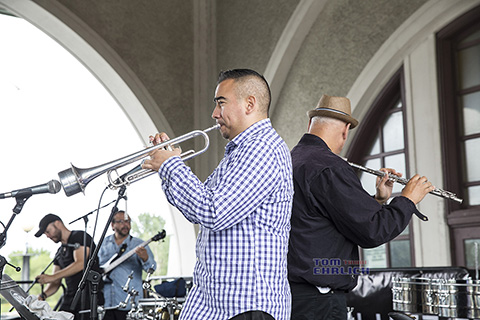 Marco Diaz trumpet and John Calloway flute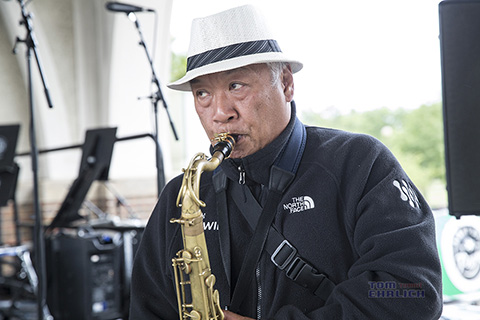 Melecio Magdaluyo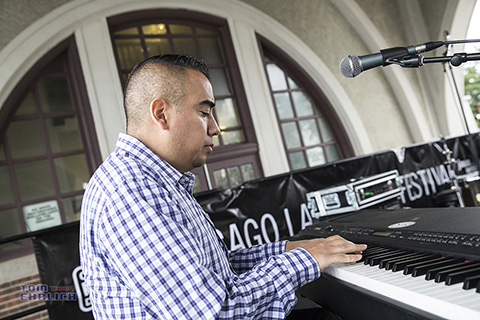 Marco Diaz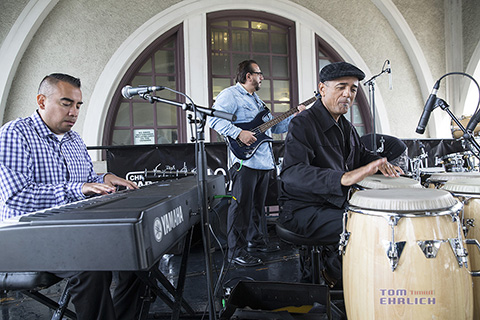 John Santos congas, Marco Diaz piano and Saul Sierra bass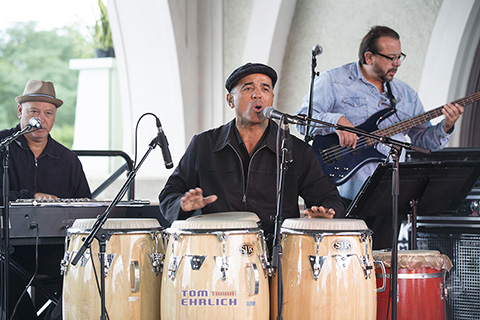 John Santos congas, Saul Sierra bass and John Calloway piano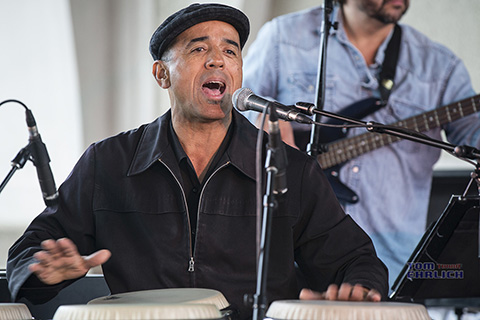 John Santos
Bay Area based John Santos is an internationally respected musicain, band leader, composer, recording and event producer, Smithsonian advisor and educator considered to be one of the most renouned experts of Afro-Caribbean music. John and his bands have been nominated five times for grammy awards. Santos' music reflect his many Afro-Caribbean influences as well as his belief in social and economic justice for all.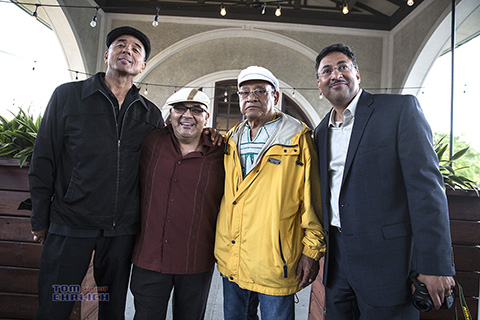 John Santos with some friends from left to right John Santos, Ruben Alvarez, Carlos Quinto Eguis Aguila and Michael Reyes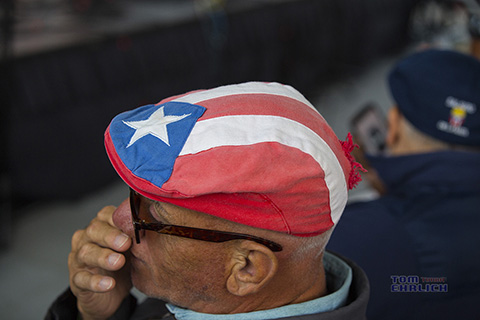 It was a chilly, windy, overcast night for the concert, but the music of all three groups heated up the concert with great sets of different styles of Latin Jazz.
Carlos Flores introducing the beginning of the concert
First group,Carlos Garcia and the Havana Kings, local latin Jazz Group in the tradition of Pancho Sanchez, pleased the crowd with their uptempo danceable style.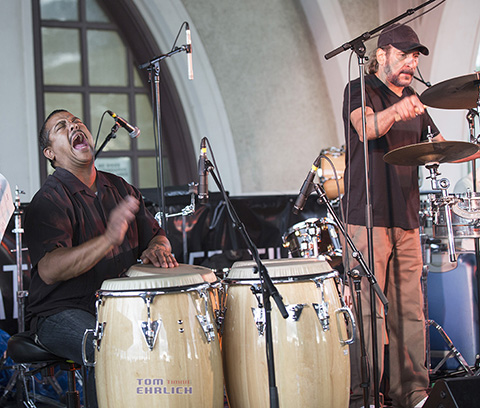 Carlos Garcia leader timbales and vocals and Osbalde "Ogie" Merced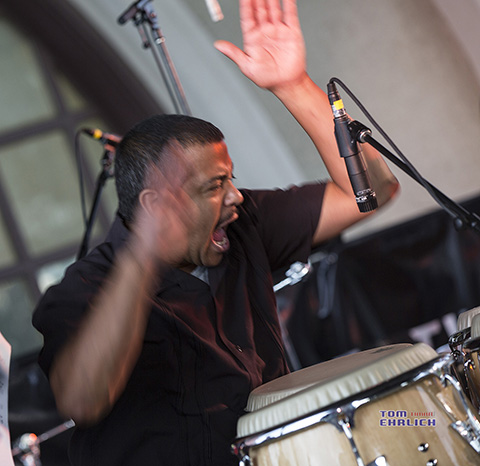 Ogie Merced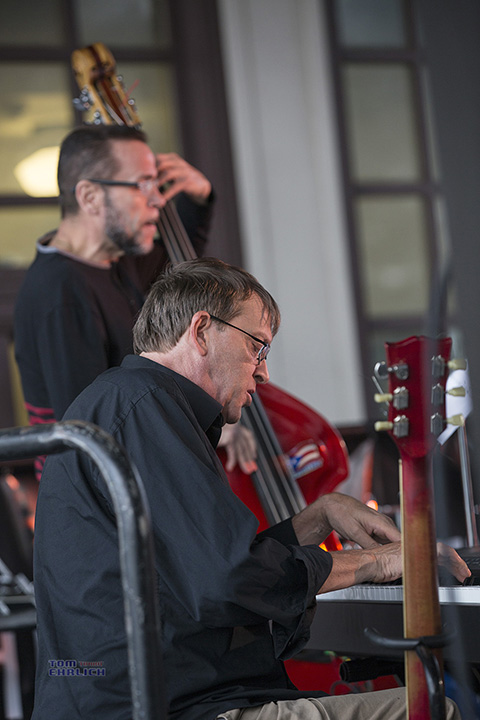 Rob Black piano and also guitar and Noel Jaime bass
The group also included Michael McMannis trumpet and Steve Eisen sax and flute
The second group was Juan Pastor's Chinchano another local group descibed as one of the hotest groups in the Chicago who had a unique style with great arrangements of original compositions and outstanding musicians.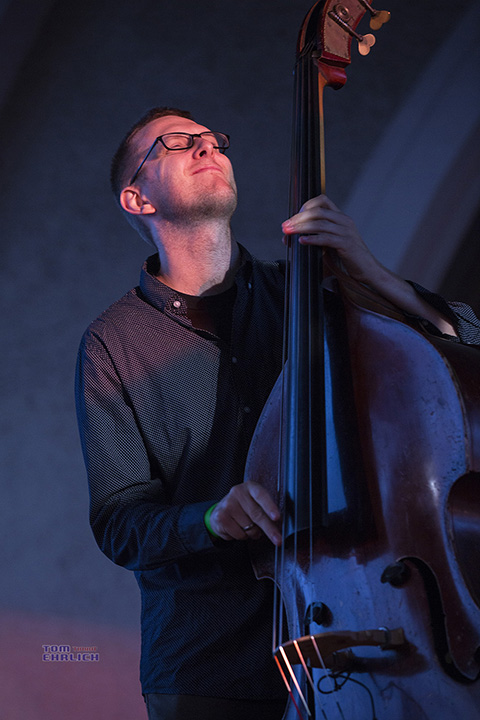 Patrick Mulcahy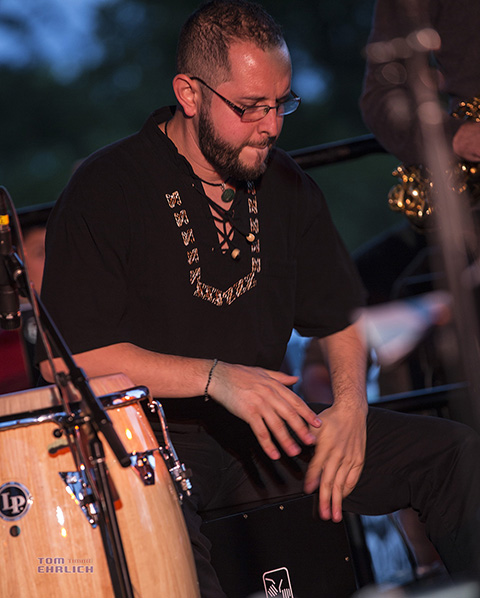 Juan Pastor leader percussionist and drum set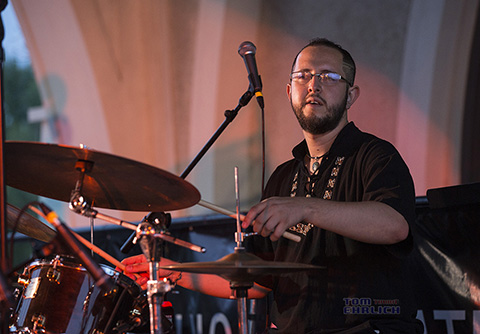 Juan Pastor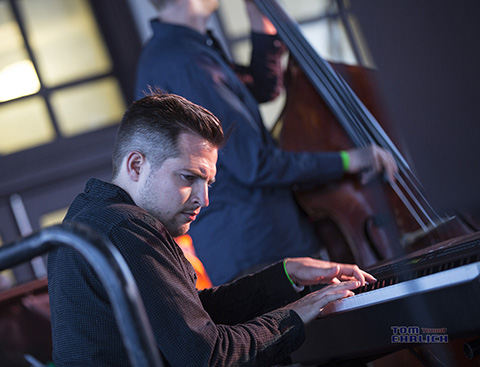 Stu Minderman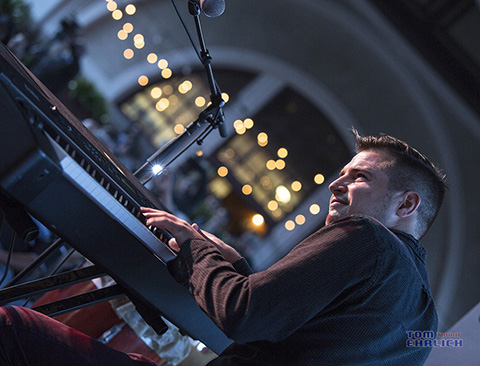 Stu Minderman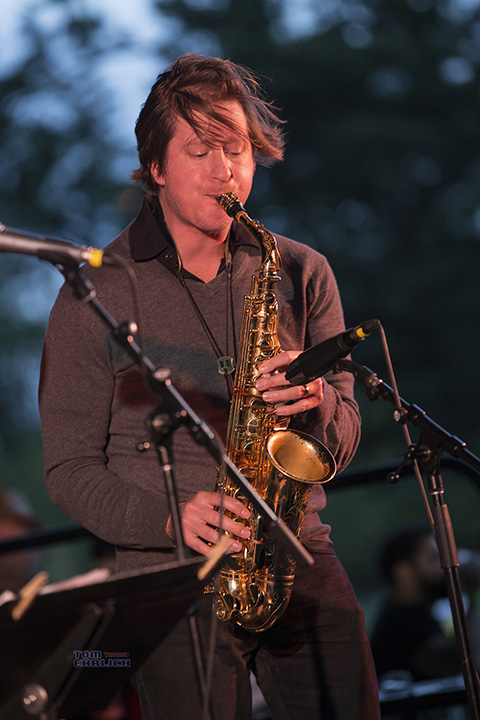 Rich Moore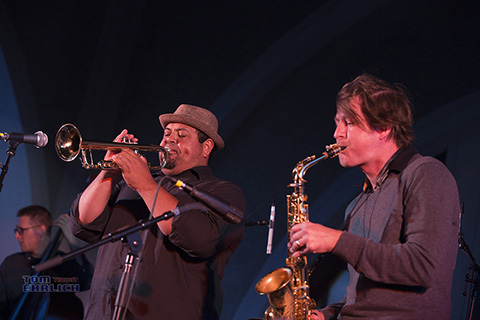 Tito Carrillo trumpet and Rick Moore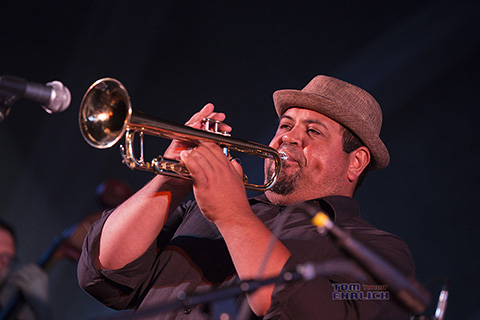 Tito Carrillo
Tito looked familiar to me and one of the musician's in John Santos Sextet reminded me that Tito toured with Maraca a number of years ago. Oustanding trumpeter.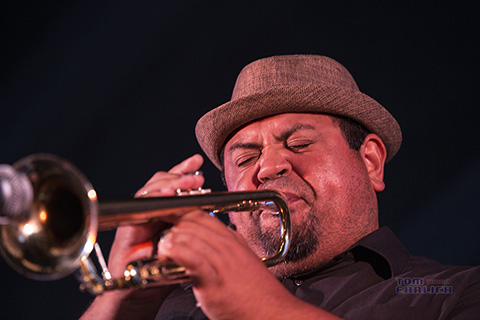 Tito Carrillo
THE FEATURED GROUP JOHN SANTOS SEXTET
Playing their unique style of Latin Jazz combining traditional forms with different styles of contemporary music, the John Santos Sextet played an inspired set of music.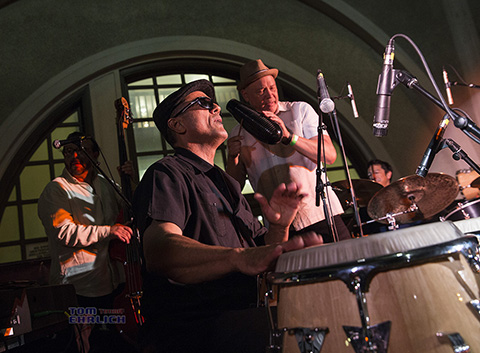 John Santos congas and John Calloway guiro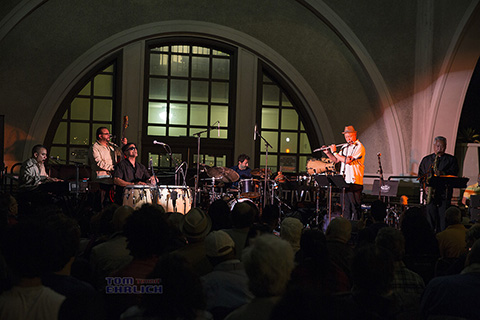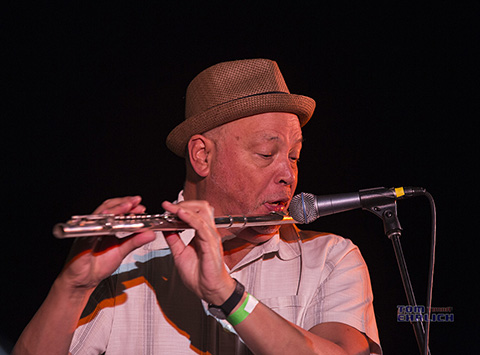 John Calloway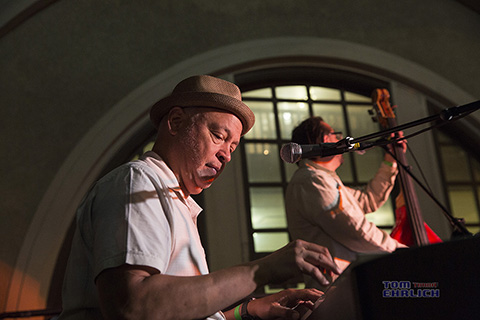 John Calloway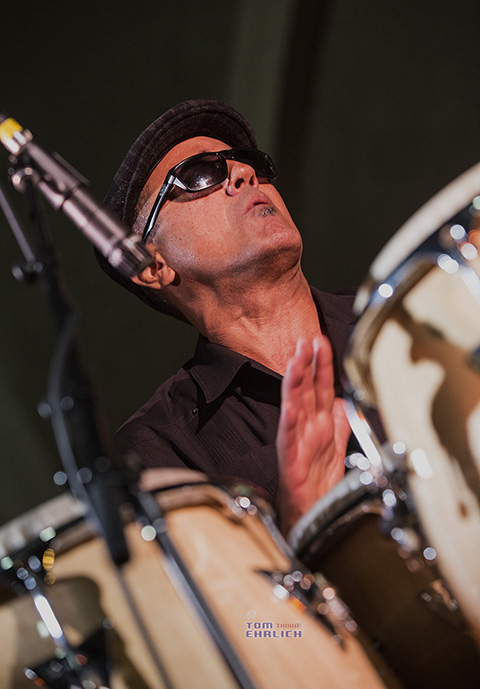 John Santos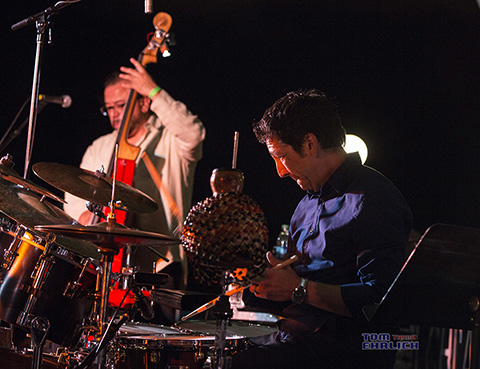 Dave Flores drums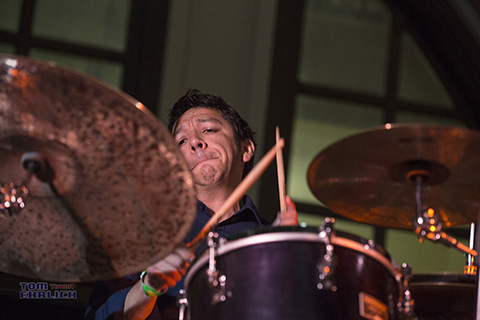 Dave Flores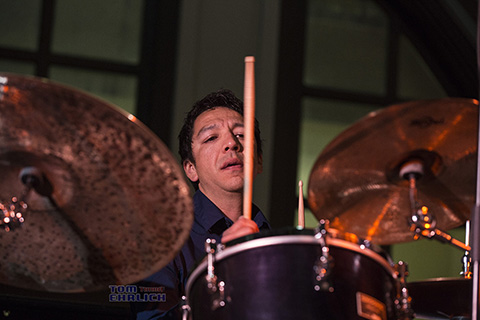 Dave Flores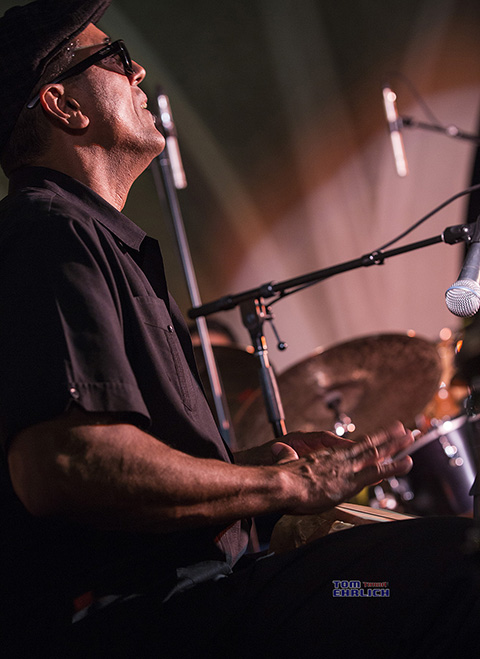 John Santos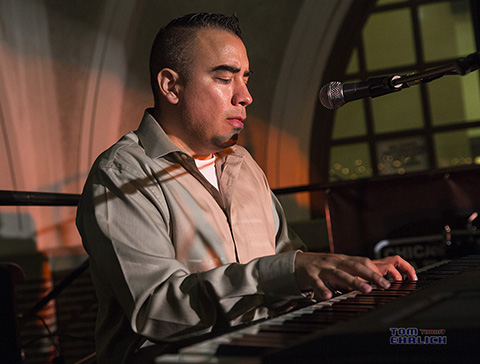 Marco Diaz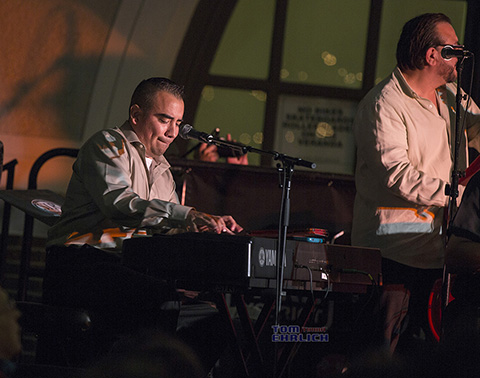 Marco Diaz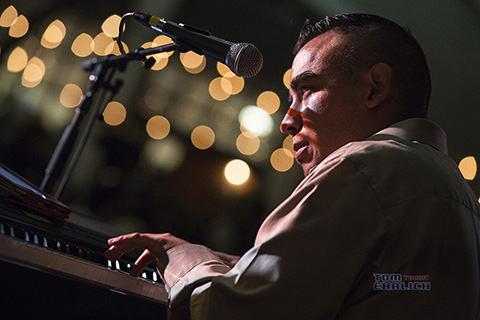 Marco Diaz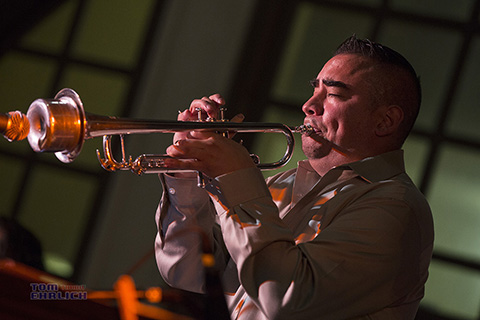 Marco Diaz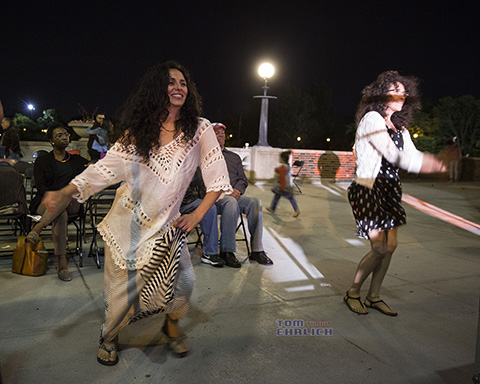 Aida Salazar (John Santos' wife) and her cousin Maria Martínez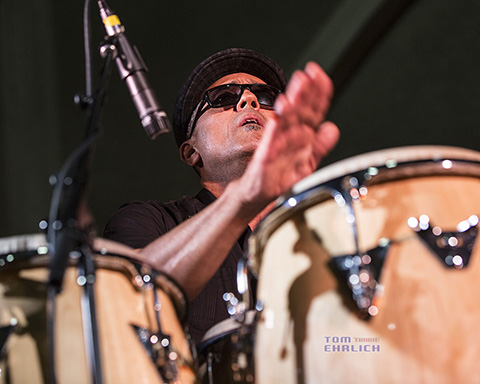 John Santos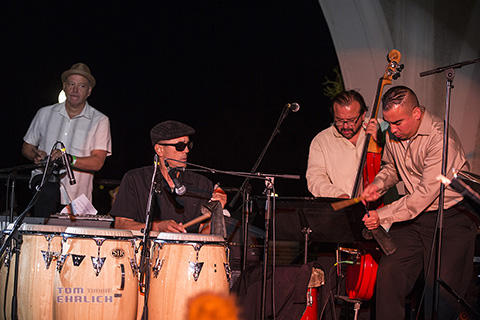 John Calloway, John Santos, Saul Sierra and Marco Diaz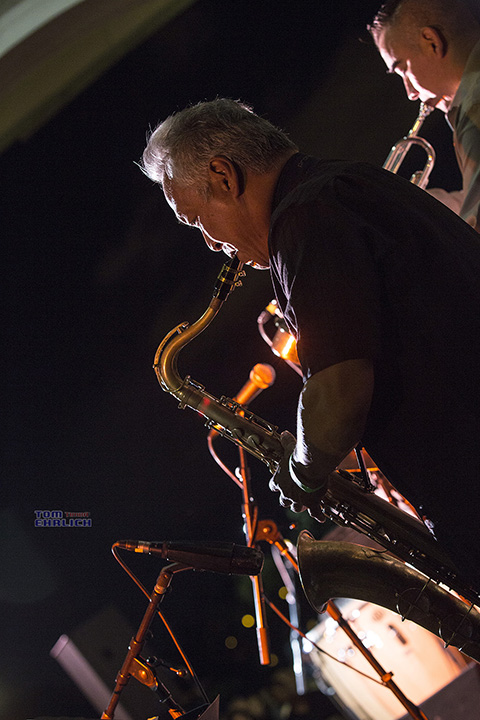 Melecio Magdaluyo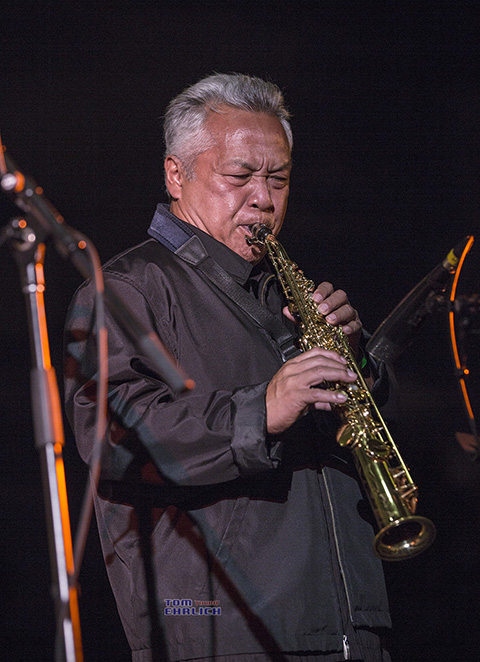 Melecio Magdaluyo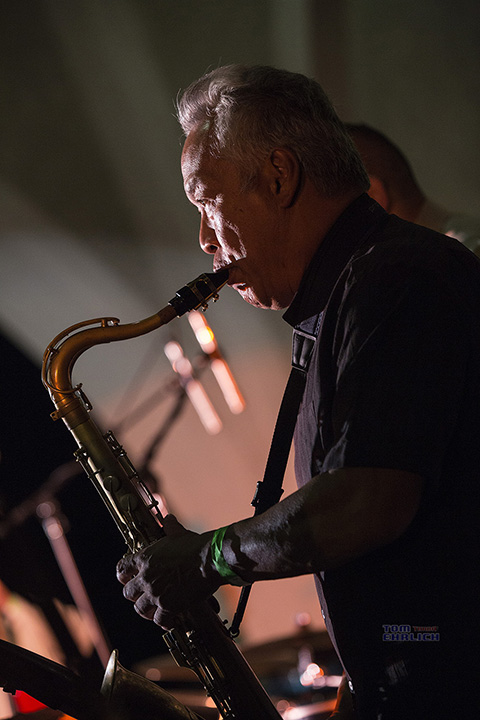 Melecio Magdaluyo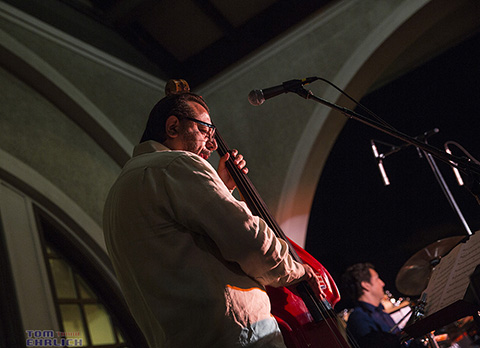 Saul Sierra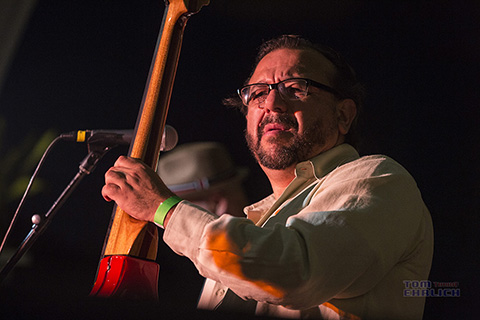 Saul Sierra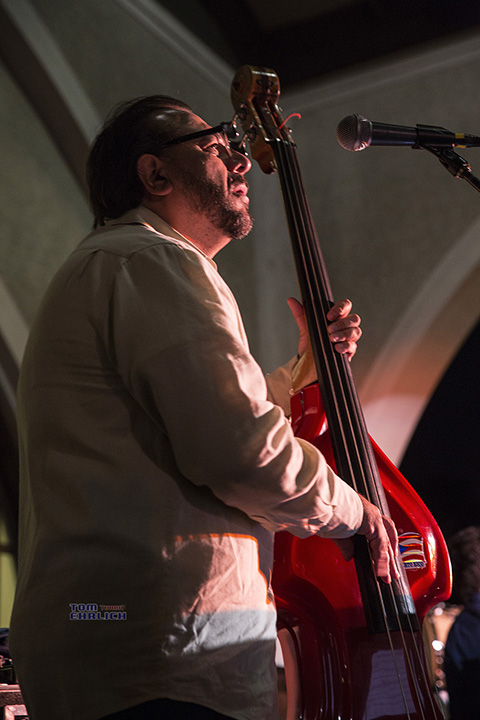 Saul Sierra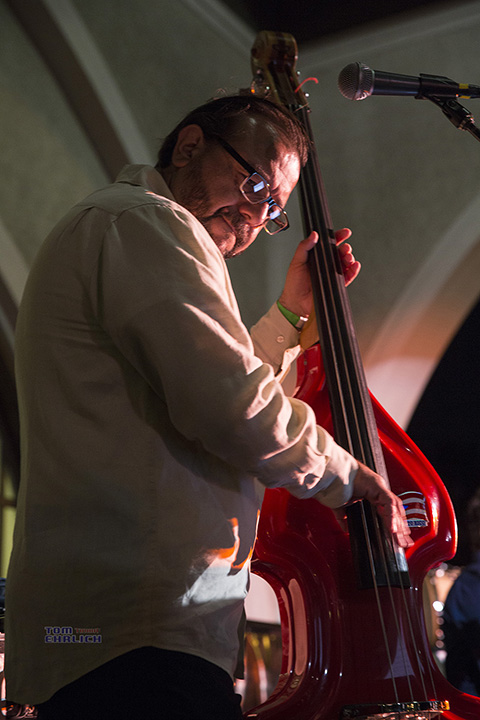 Saul Sierra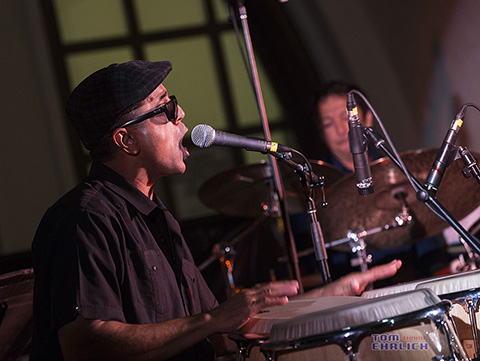 John Santos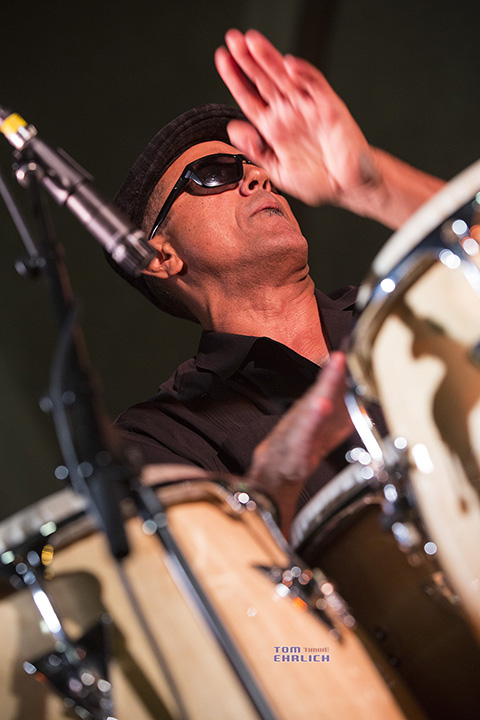 John Santos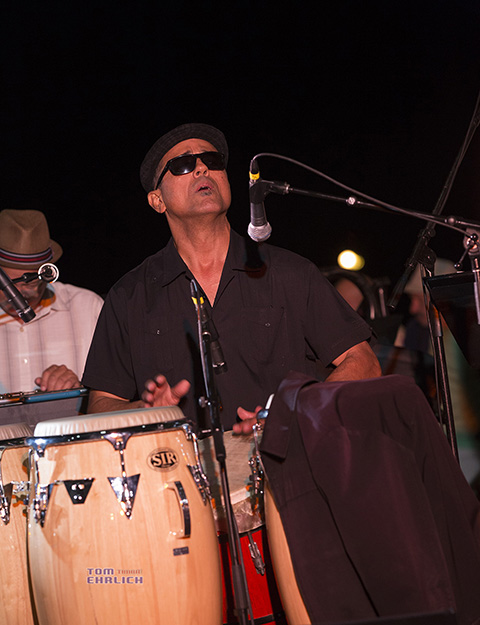 John Santos playing the barrill playing a Puerto Rican bomba influenced song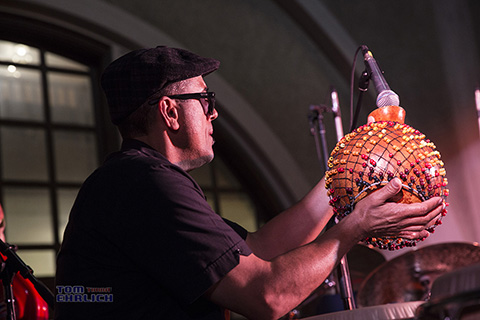 John Santos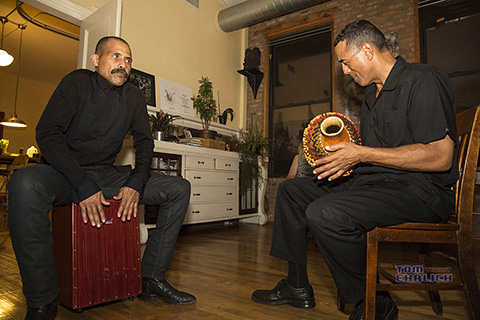 Kahil El Zabar, the grear jazz percussionist and John Santos jamming at a get together after the concert
Unfortunately I could not stay for the Sunday part of the festival.
Thursday, 05 September 2019, 11:50 PM