Indice - Table of contents
New Stuff
[hide]
Photos of the Day
[hide]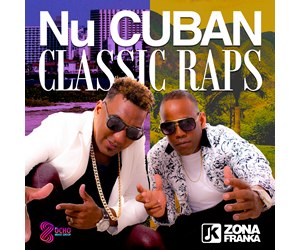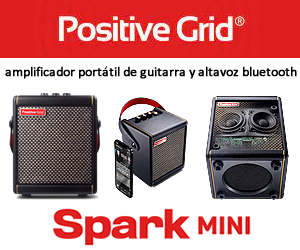 Tom Ehrlich - 2018 San Jose Jazz Festival Part 4
2018 SAN JOSE JAZZ SUMMERFEST
SUNDAY, AUGUST 12, 2018
TEXT AND PHOTOS BY TOM EHRLICH © 2018
Sunday, August 12, 2018 was the last day of San Jose Jazz Summerfest. My report will cover the following groups: Nachito Herrera Trio, John Santos Group, Vincent Herring's Story of Jazz - 100 Years, Kool and the Gang, Changüí Majadero, and Jemal Ramirez Group with Warren Wolf and Dayna Stephens.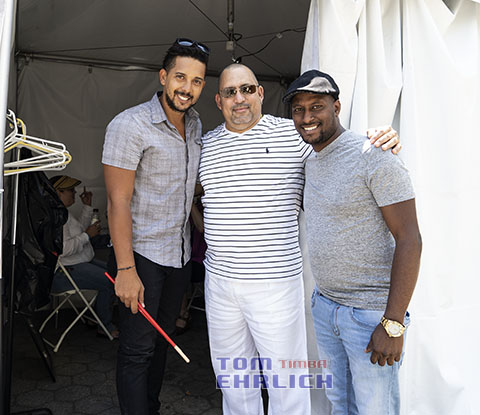 Left to right Edgar Martínez, Nachito Herrera and Daymar Calvario
Nachito Herrera Trio with Daymar Calvario on bass (formerly with Pupy y Que Son Son) and Edgar Martínez on percussion (formerly with Issac Delgado), gave two strong performances, one on the main stage and another at Cafe Stritch. For me the Cafe Stritch performance was the best performance I witnessed this year at the festival.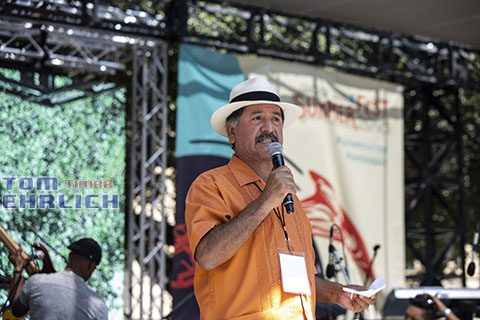 Beto Arco, World and Latin Music Coordinator introducing the group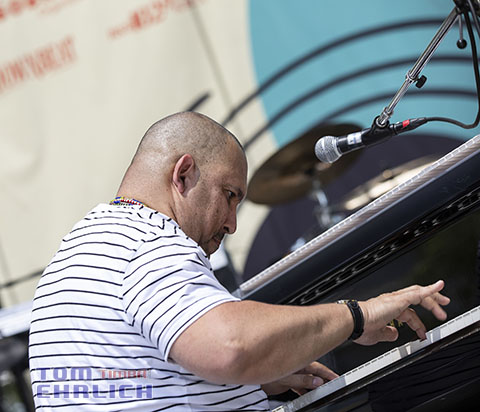 Nachito Herrera
Cuba has a wealth of virtuoso pianists who have become internationally known and respected. Ignacio "Nachito" Herrera, who currently resides in Minnesota, is one of these virtuosos. Nachito is a dynamic, exciting player as well as a composer and arranger. He has been the lead pianist, arranger and musical director of Cubanismo and also has played with the Afro-Cuban All Stars. Nachito has been involved in numerous projects including big bands, symphonies, smaller groups and solo piano. He is the leader of his own group and he teaches master classes at many schools and universities. Nachito can flawlessly play European classical music, mind blowing latin jazz, beautiful boleros and exciting dance music.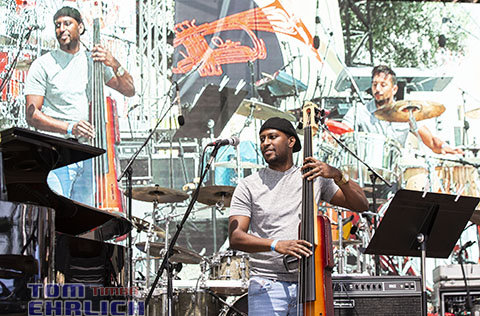 Daymar Calvario
Daymar Calvario, the former extraordinary bassist for Pupy y Que Son Son, resides in the New York City area and plays both dance music and jazz with equal proficiency. He plays great tumbaos and is a fantastic soloist.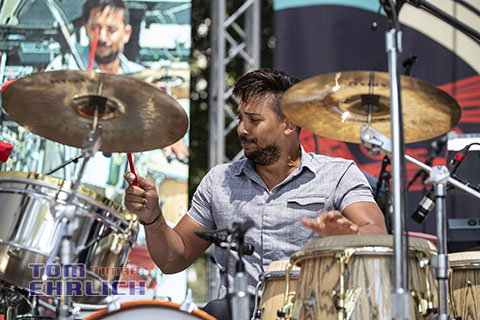 Edgar Martínez
Edgar Martínez is a one person percussion section. His set consists of congas, timbales, jazz drum set, blocks, bells and bongos that he plays simultaneously. In the past he has played with Issac Delgado's band and he lives in Havana. Edgar tastefully keeps the rhythm going and also is an excellent soloist.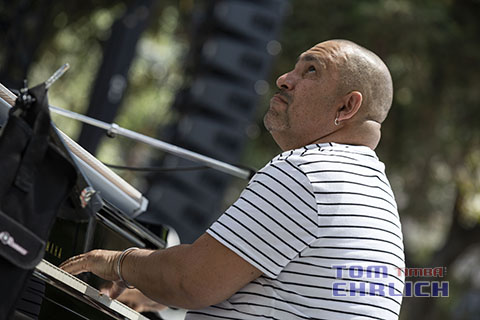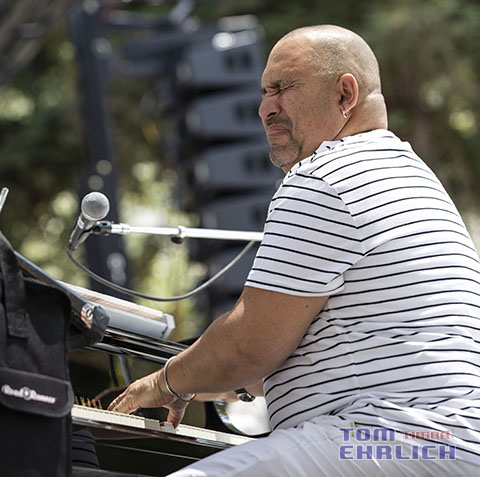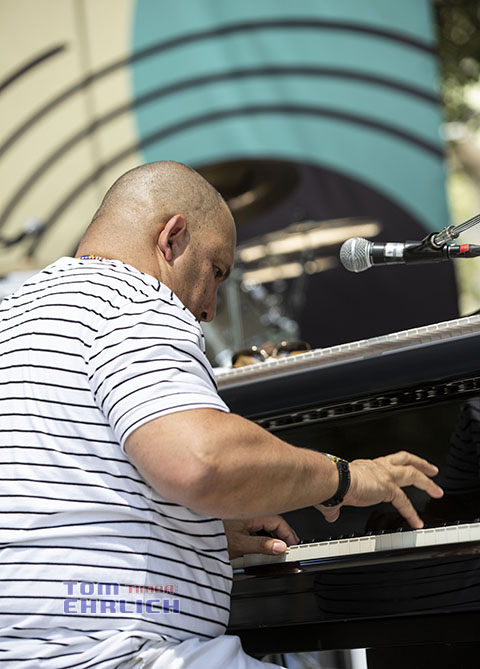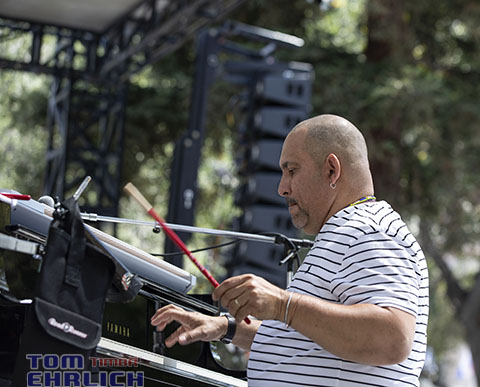 Nachito playing piano and bell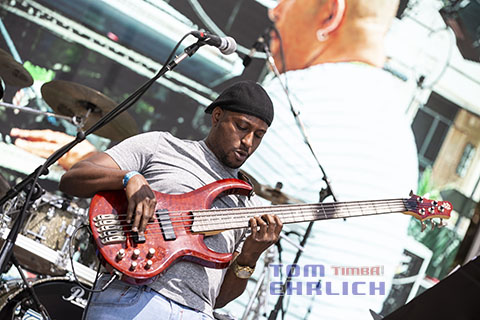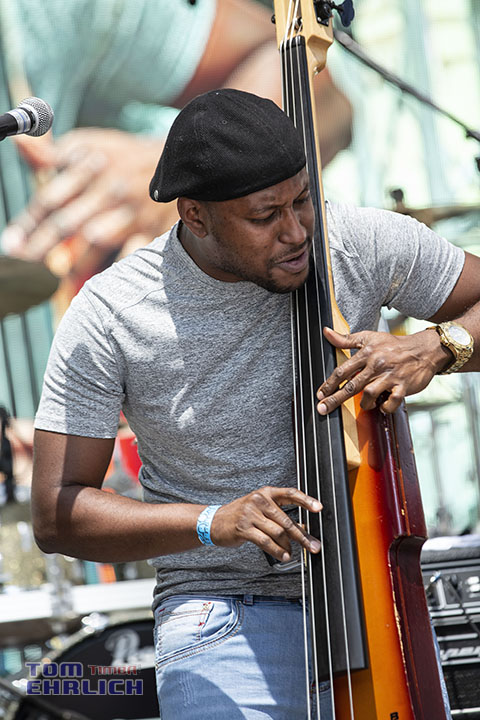 Daymar Calvario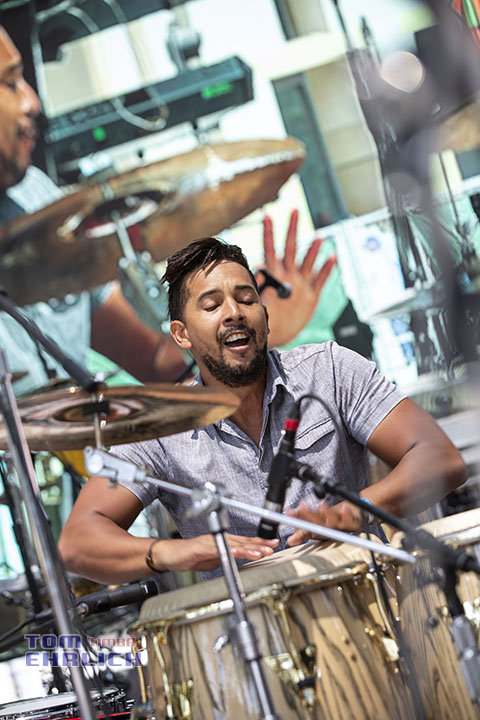 Edgar Martínez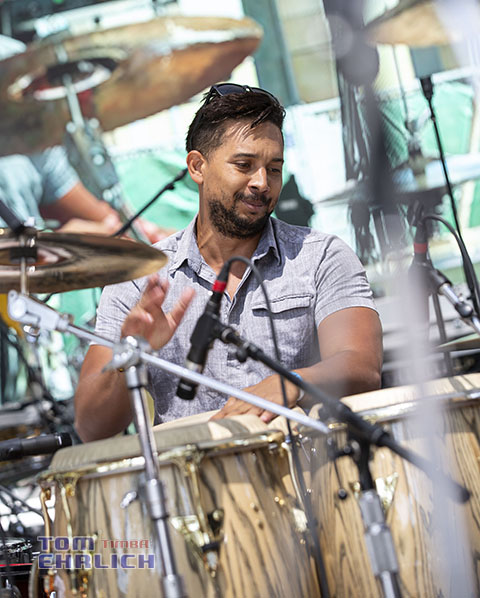 A great set of music got the day started right.
Next up on the main stage a star studded jazz big band lead by well known jazz sax player Vincent Herring, playing the history of jazz, displaying representative songs from the major styles for the last 100 years with spoken naratives and vocals. Beautiful project. Wish I could have stayed for the whole story, but had to keep moving.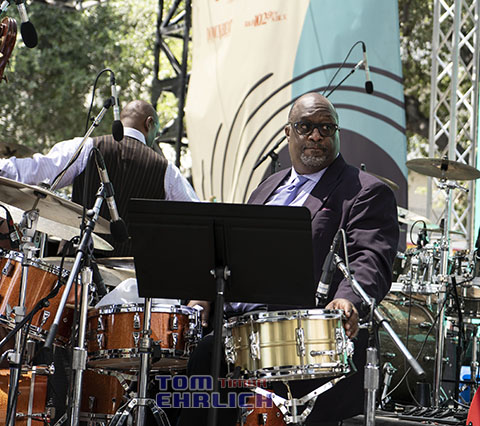 Drummer Carl Allen
Left to right Vincent Herring, Brian Lynch, Jon Faddis and Steve Turre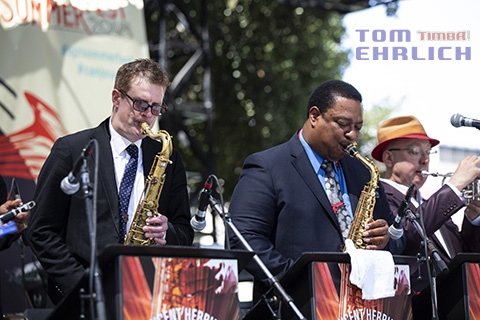 Eric Alexander, Vincent Herring and Brian Lynch
All these horn players are some of the best jazz musicians in the world and all are band leaders.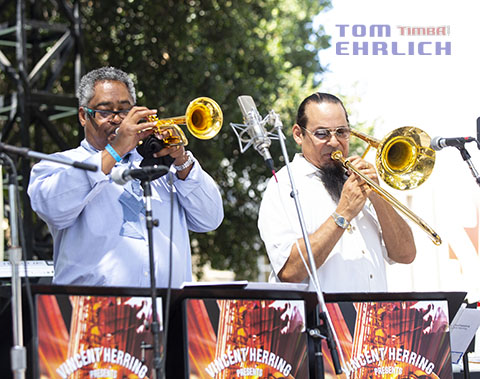 Jon Faddis and Steve Turre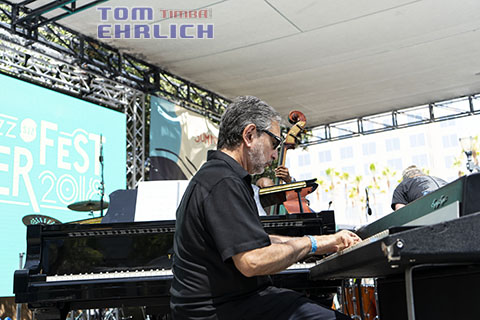 Michael LeDonne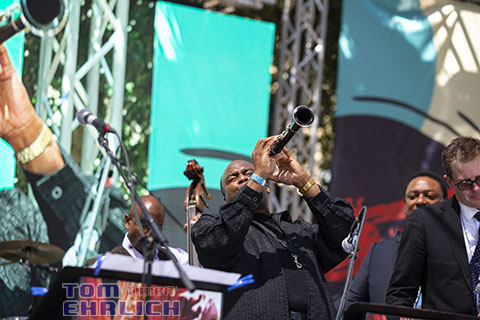 James Carter playing clarinet
James Carter also played alto sax.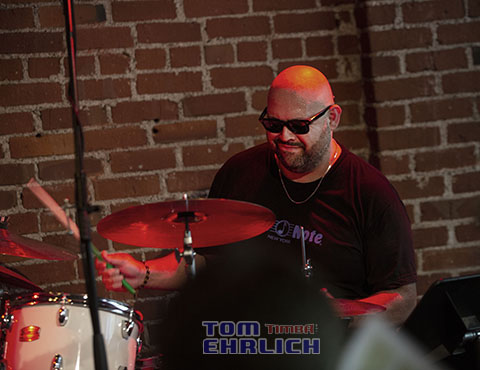 Jemal Ramírez
Next up, Jemal Ramírez Group performed at Cafe Stritch. Jemal is a local drummer and has recently released a excellent recording "African Skies" which was well received in the Bay Area. Jemal's band included Michael Clark on piano, Guilio Cetto on bass, Dayna Stephens on sax and Warren Wolf on vibes.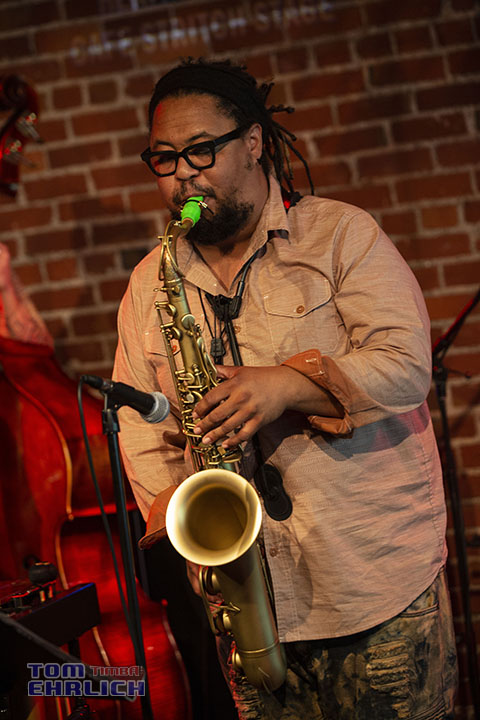 Dayna Stephens
Dayna Stephens originally from the Bay Area, now resides in New York City. He is an excellent player and compsoer.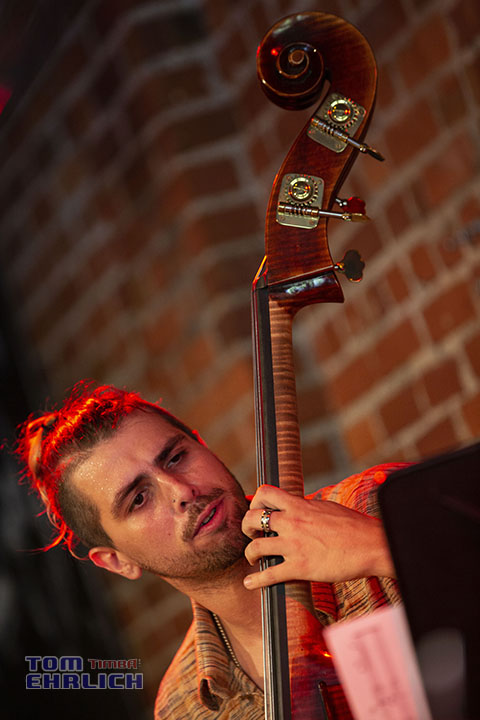 Guilio Cetto
Guilio Cetto is a good local bass player.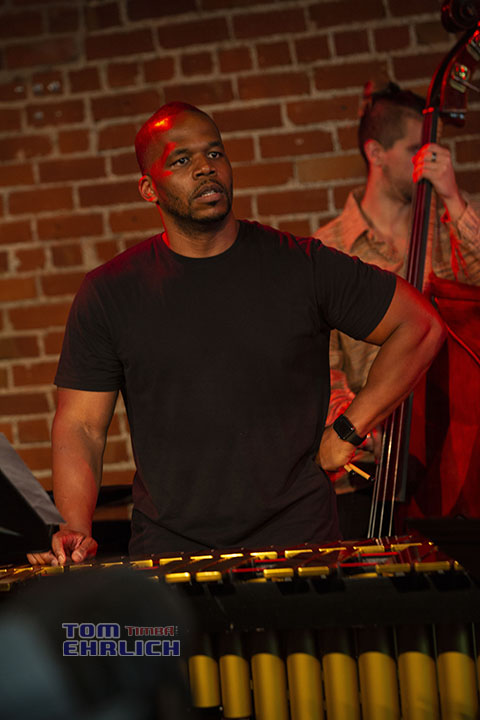 Warren Wolf
Warren Wolf is a rising star on the vibes, considered one of the best vibes player in the world today.
Guilio Cetto bass, Warrn Wolf vibes and Jemal Ramírez drums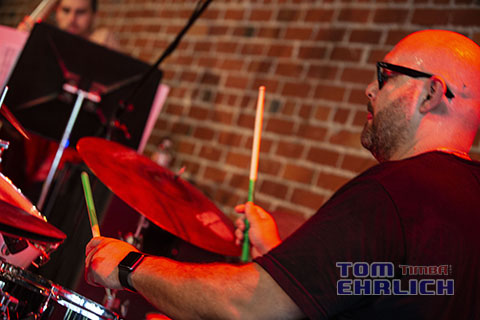 Jemal Ramírez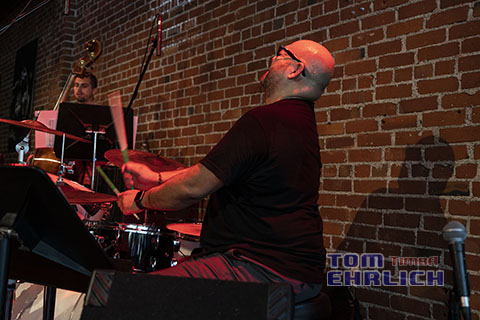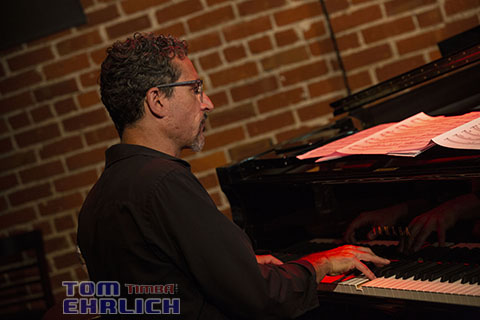 Mike Clark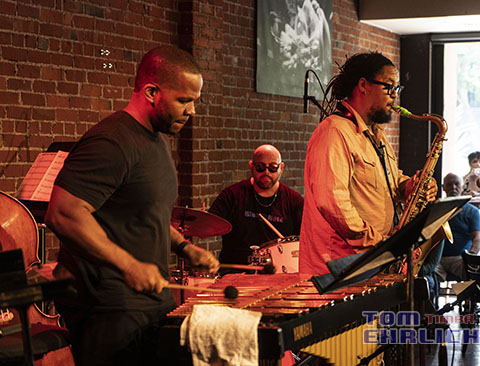 Warren Wolf vibes, Jemal Ramírez drums and Dayna Stephens sax
Guantanamo, Cuba is the birth place of a special style of music called Changüí. Many consider it the predecessor to the son which evolved to salsa. Changüí Majadero is one of the few (the only one I am aware of) Changüí groups outside of Cuba. They are based in Los Angeles and they performed at the Salsa Stage at the festival.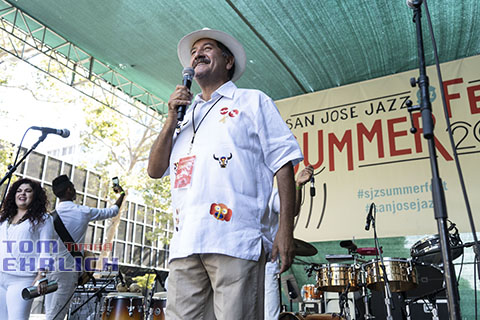 Beto Arco introducing the group.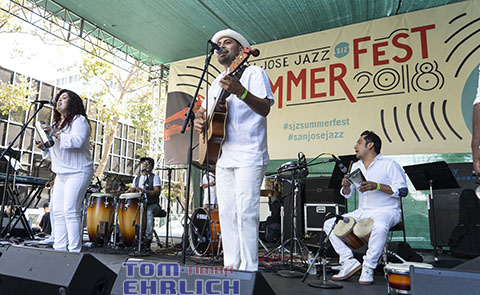 Left to right Norrell Thompson, Gabriel García (tres and leader) and George Ortiz (bongo and bell)
A traditional Changüí group consists of a tres, bongo, singers and a marimbula. Changüí Majadero modernized the instrumentation adding congas, electric bass (replacing the marimbula) and trumpet.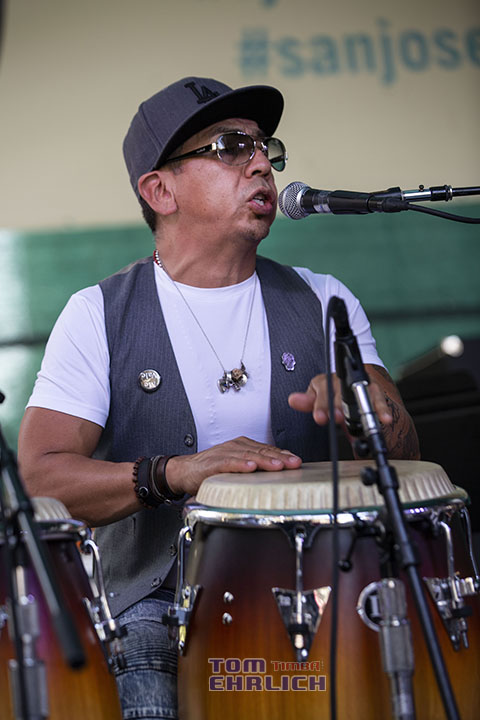 Alfred Ortiz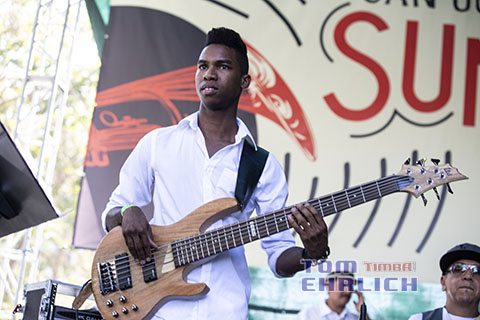 David Gomez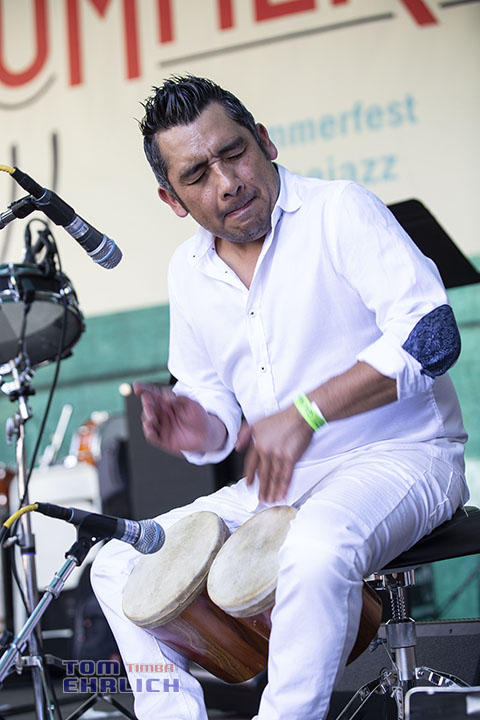 George Ortiz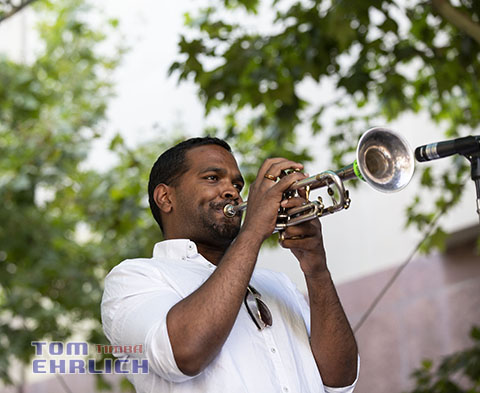 Leider Chapotín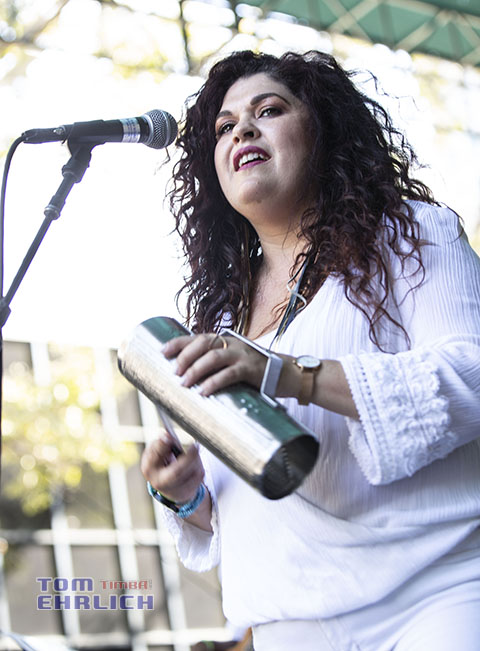 Norrell Thompson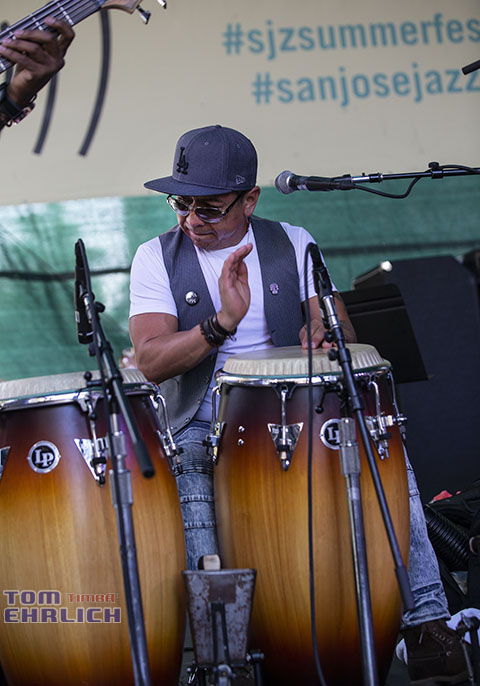 Alfred Ortiz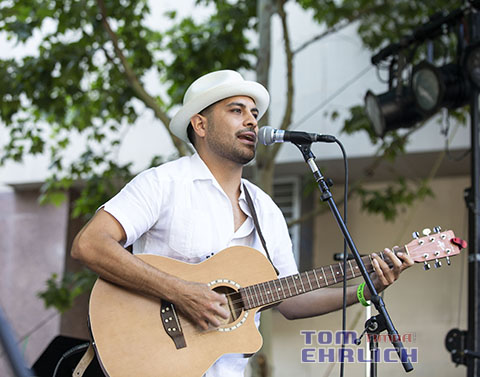 Gabriel García
Great set of danceable Changüí.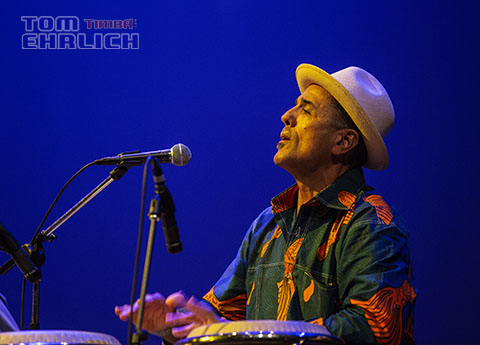 John Santos
John Santos, internationally respected percussionist, band leader, composer, educator and much more brought a septet to the festival this year and played to a completely full theater. The band included John on percussion, Orestes Vilató on timbales and bongo, Saul Sierra on bass, Dave Flores on drum set, Marco Díaz on piano and trumpet, José Roberto Hernández on guitar and vocals and amazing Bobi Céspedes on vocals.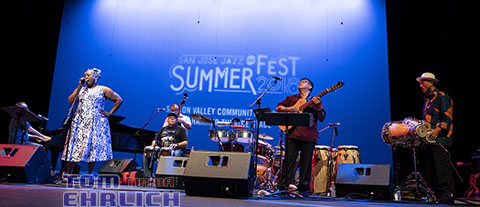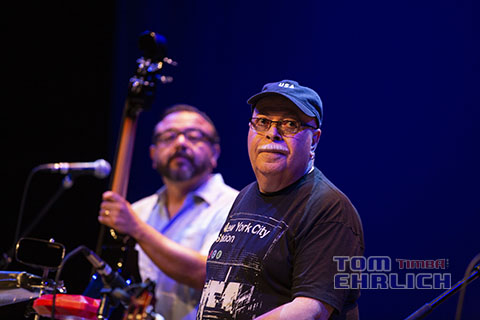 Orestes Vilató and Saul Sierra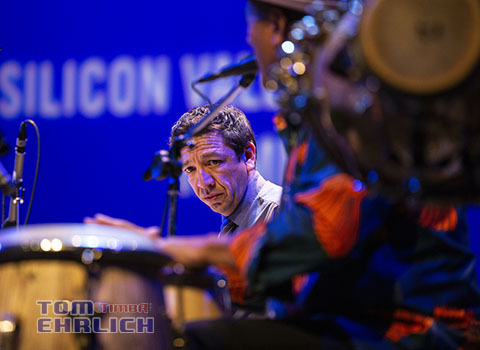 Dave Flores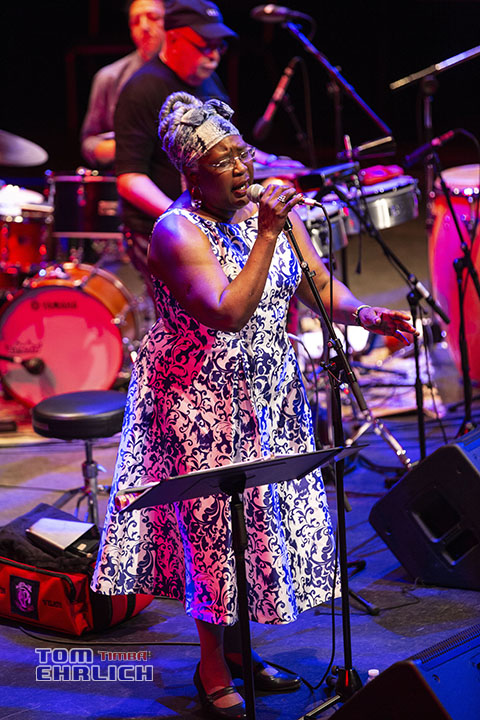 Bobi Céspedes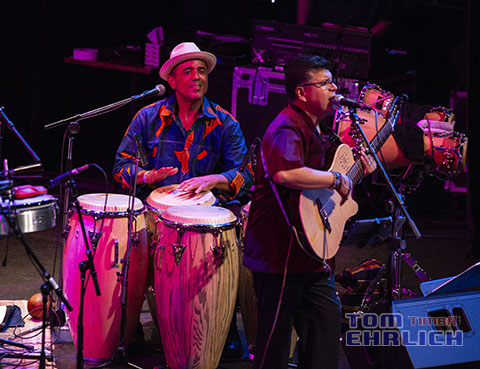 José Roberto Hernández - guitar and John Santos - congas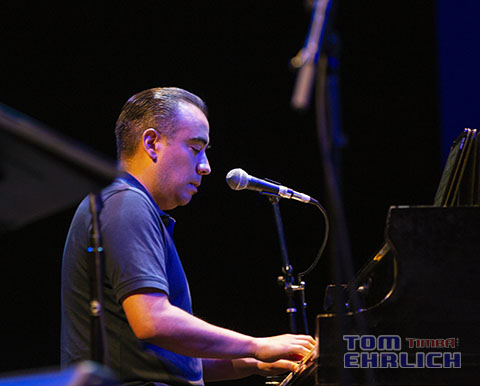 Marco Díaz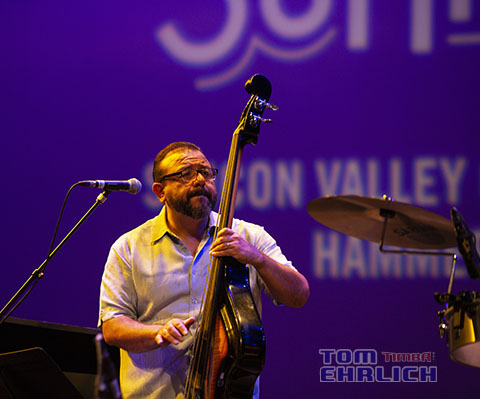 Saul Sierra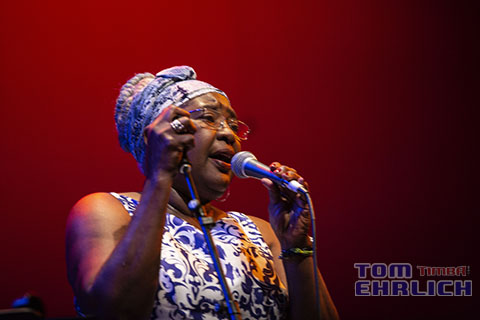 Bobi Céspedes
Bobi is a master singer and Afro-Cuban folkloric praticioner whose performances are always filled with soul, beauty and emotion.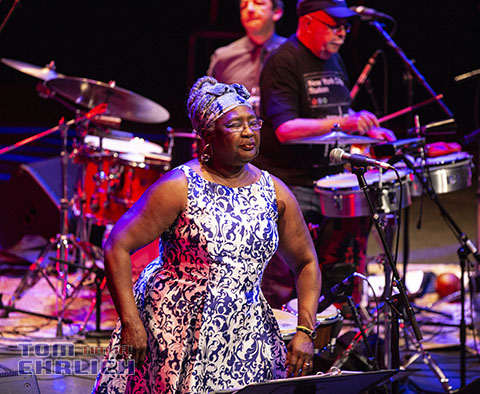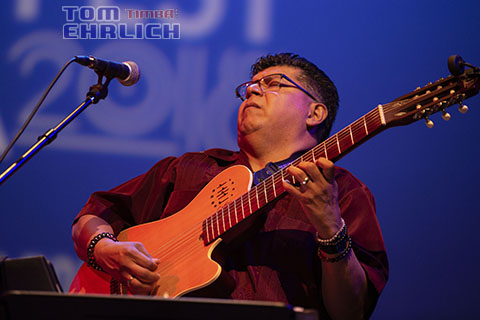 José Roberto Hernández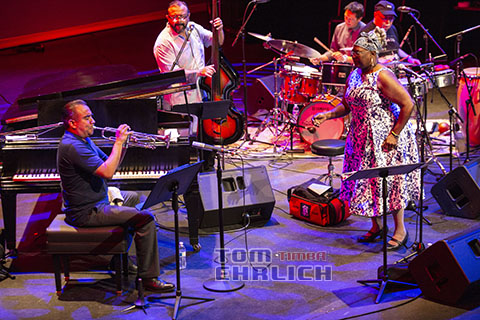 Marco Díaz - trumpet, Saul Sierra - bass, Bobi Céspedes, Dave Flores - drums and Orestes Vilató - timbales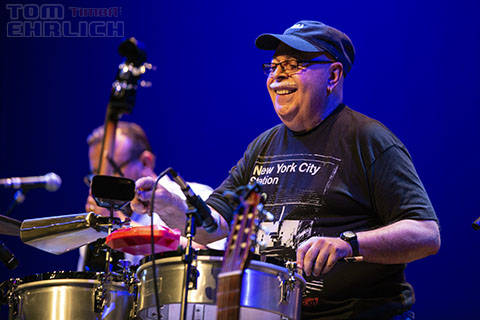 Orestes Vilató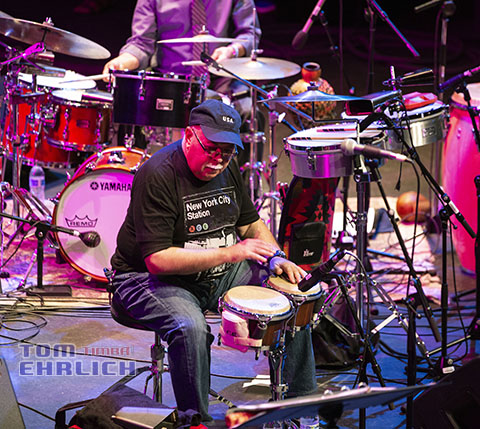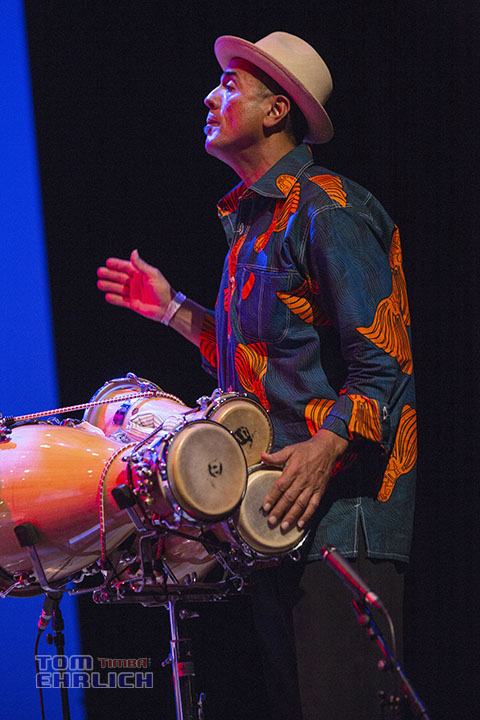 John Santos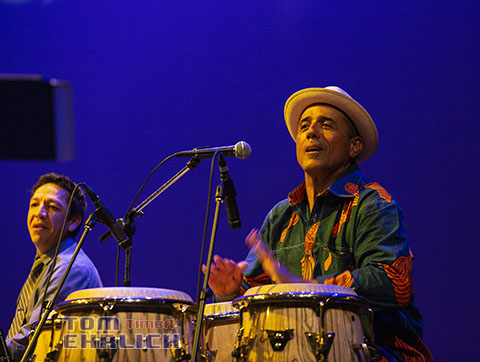 Dave Flores and John Santos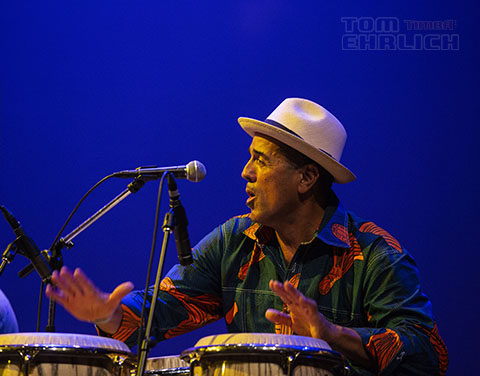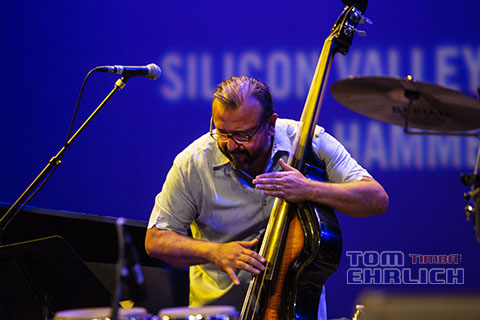 Saul Sierra
The band performed an inspired set and they were rewarded with a standing ovation. One of the best performances of the festival.
Next up for me was the performance by the legendary soul/funk group Kool and the Gang. They were on fire and had the crowd up dancing and singing.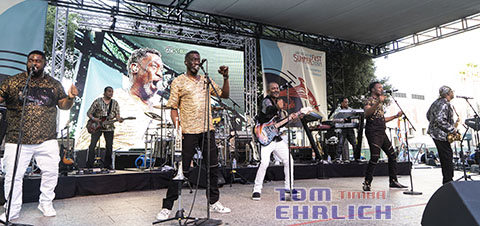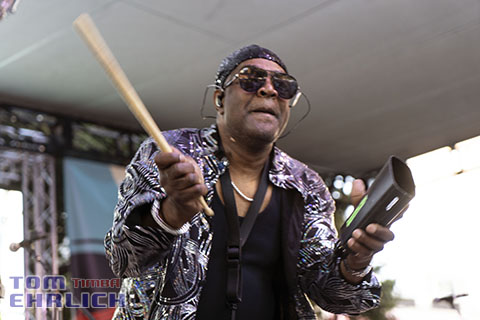 Ronald Bell, one of the original members and leaders of the group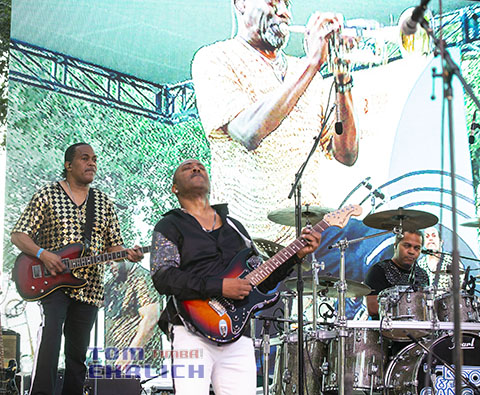 On the left is Robert "Kool" Bell original member and leader, Amir Bayyan guitar and Tim Horton drums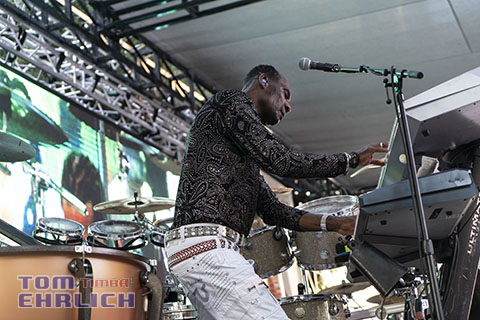 George Brown on keyboards and drums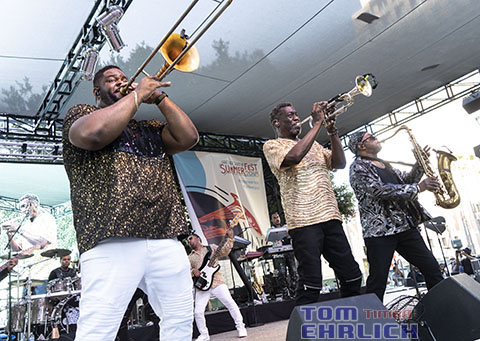 Left to right Jermaine Bryson, Michael Ray and Ronald Bell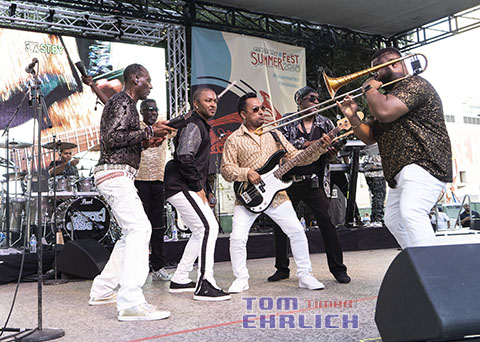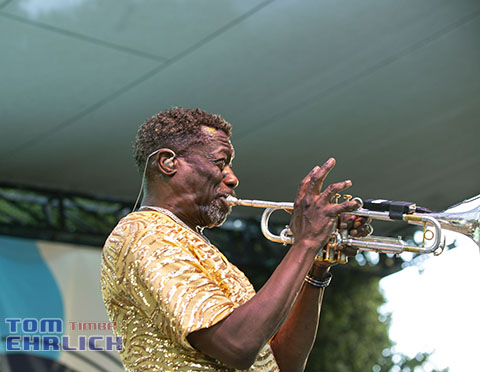 Michael Ray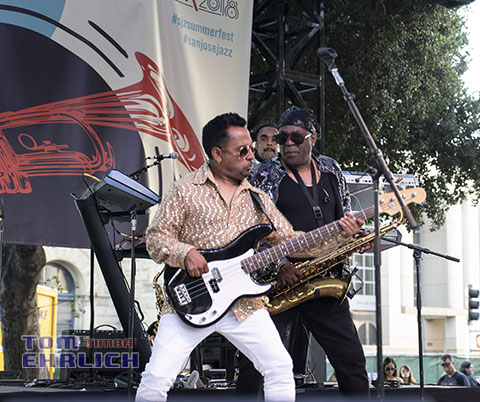 Walter Anderson vocalist
The Nachito Herrera Trio closed out the festival with an exciting, dynamic and inspired set of music which included guest appearances by Turre and Leider Chapotín.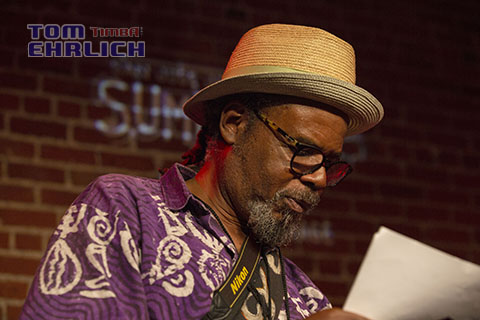 Greg Bridges introducing the group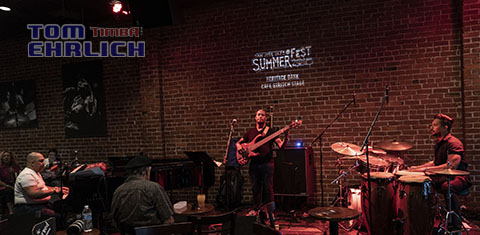 Nachito Herrera
Daymar Calvario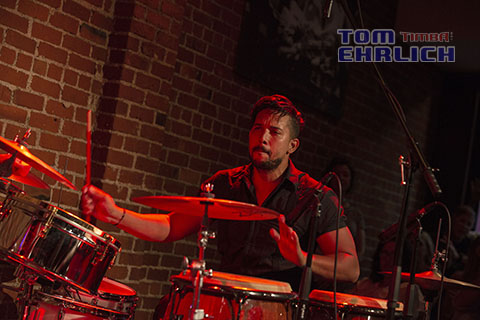 Edgar Martínez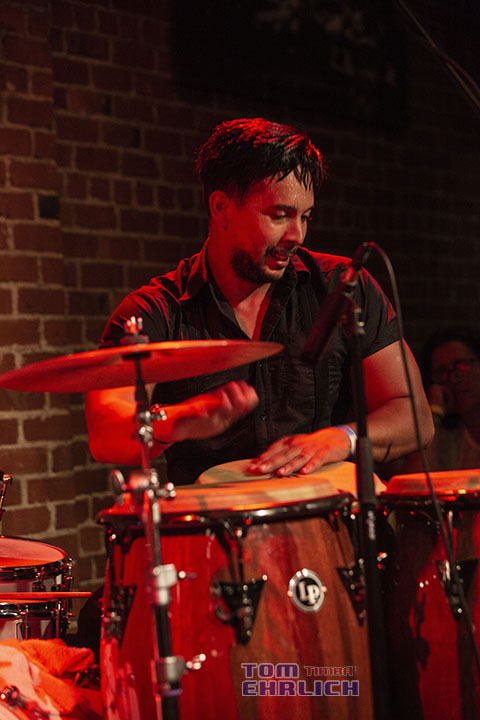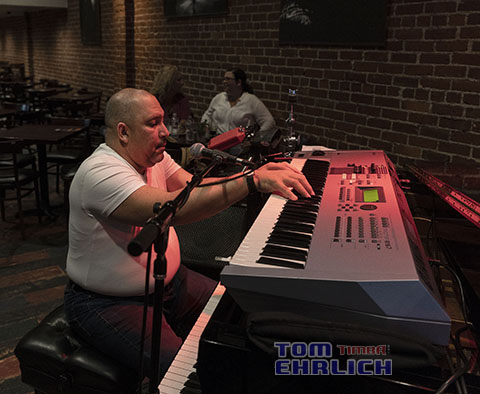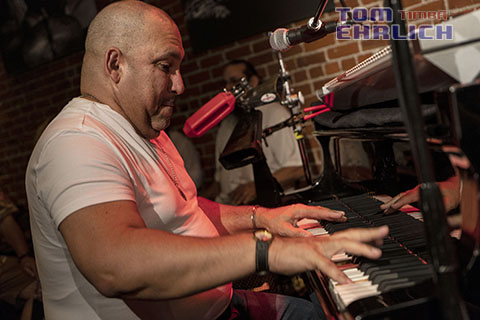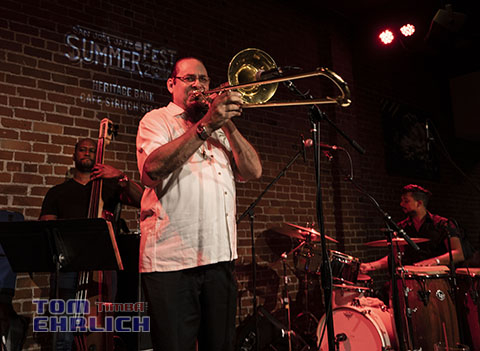 Steve Turre sits in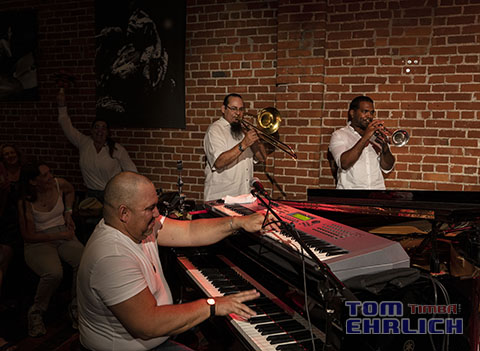 Nachito, Steve Turre and Leider Chapotín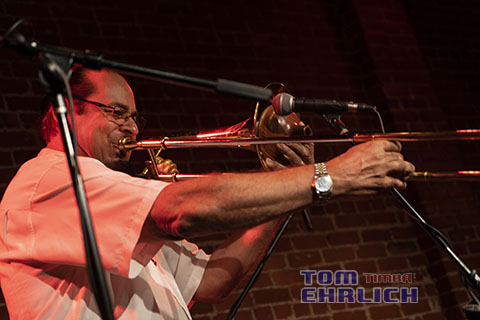 Steve Turre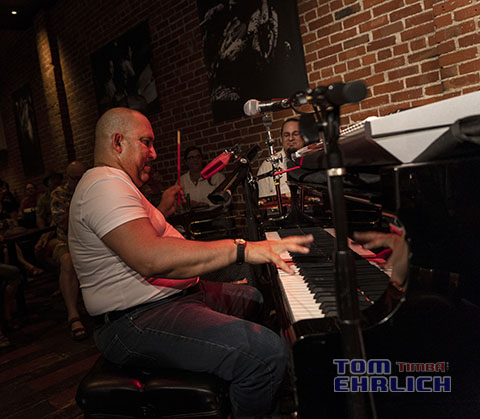 Nachito playing piano and bell
Nachito, his trio and friends gave the best performance that I witnessed at the festival this year.
Tuesday, 23 August 2022, 04:44 PM