Tom Ehrlich - 2018 Monterey Jazz Festival Part 3
61ST MONTEREY JAZZ FESTIVAL
SATURDAY SEPTEMBER 22, 2018 PART TWO
PHOTOS AND TEXT BY TOM EHRLICH © 2018
Part two of Saturday at the Monterey Jazz Festival will include Jamie Baum Septet, Ingrid & Christine Jensen: Infinitude, Tia Fuller's Diamond Cut, Fred Hersch Trio and Donny McCaslin Group.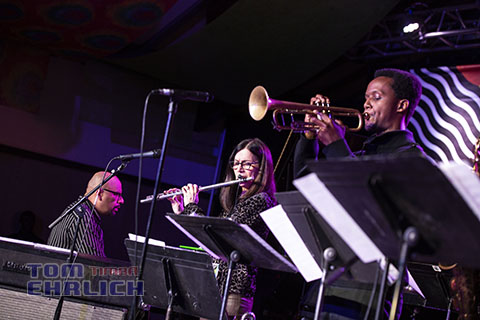 Luis Perdomo piano, Jamie Baum flute and Jason Palmer trumpet
Jmaie Baum's group had one of the most interesting instrumentation and musically that I saw at the festival. Her group included flute, trumpet, French horn, alto sax, bass clarinet,guitar, bass, piano,drums and tabla and other percussion from India.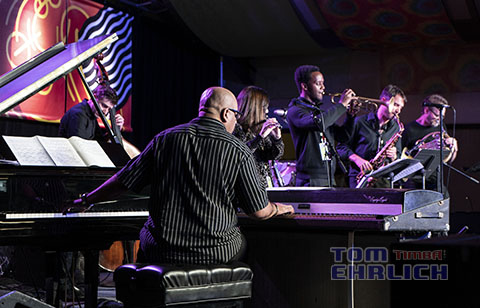 Luis Perdomo piano, Zack Lober bass, Jamie Baum flute, Jason Palmer trumpet, Sam Sadigurskey alto sax and Chris Komer French horn
Beautiful compositions and arrangements with great playing.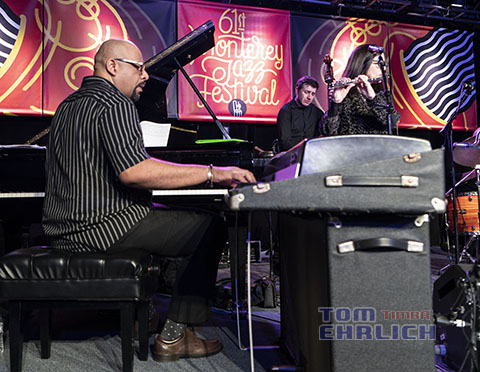 Luis Perdomo
Luis is my favorite living pianist. He plays with numerous groups, as well as leading his own groups. I first met and saw him perform with Ralph Irizarry's salsa group about 10 years ago. I later got to know him when I saw him play with Miguel Zenon, the great Puerto Rican sax player and band leader. He is the kind of pianist who always raises the level of the music every time he plays by his tasty comping and timbaos as well as his increidble solos.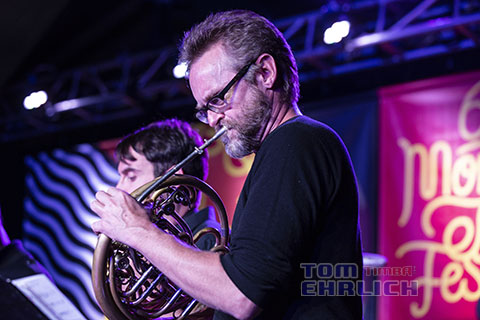 Chris Komer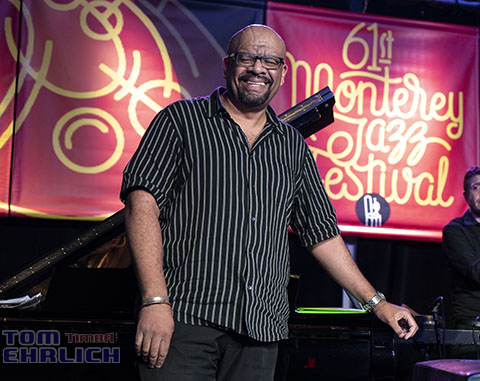 Luis Perdomo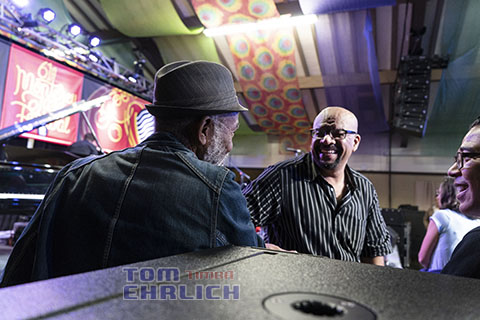 Luis Perdomo talking with legendary flutist Hubert Laws after the set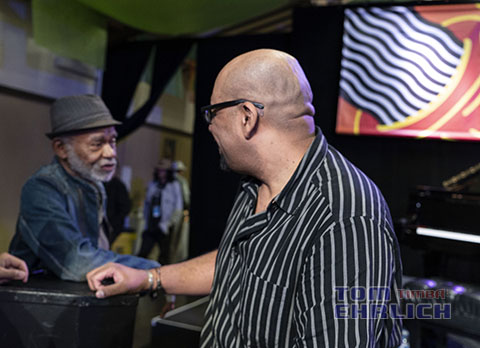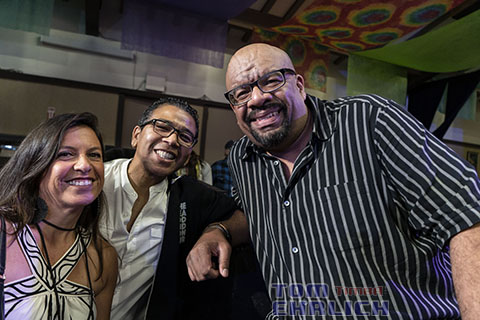 Luis Perdomo, Luisito Quintero and Carmen Crum
Luis and Luisito are both originally from Venezuela. Luistio was at the festival to play with the Spanish Harlem Orchestra.
Ingrid and Christine Jensen: Infinitude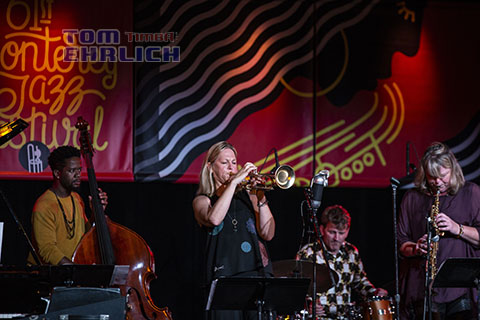 Left to right Ben Williams bass, Ingrid Jensen trumpet, Jon Wikan drums and Christine Jensen sax
An outstanding jazz group led by the Jensen sisters. I was not aware of Christine Jensen but her sister is a well respected trumpeter who play with many different groups.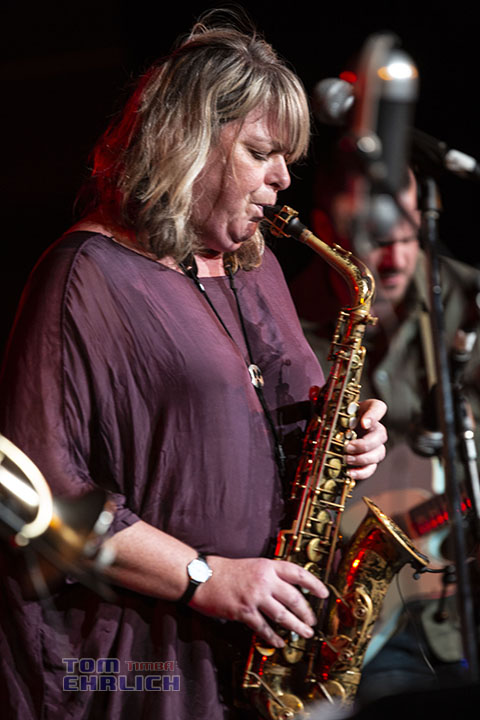 Christine Jensen
Christine is a well respected composer of music for small as well as large jazz groups. She is a professor at McGill University in Montreal, Canada.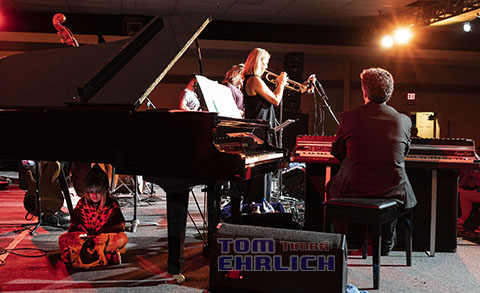 Nver found out who the girl underneath the piano belonged to, but she seamed at home under there and entertained herself during the performance.
Ingrid and Christine Jensen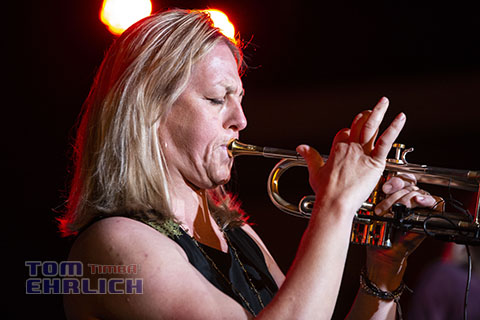 Ingrid Jensen
Ingrid is one of the Artists in Residence for this years festival.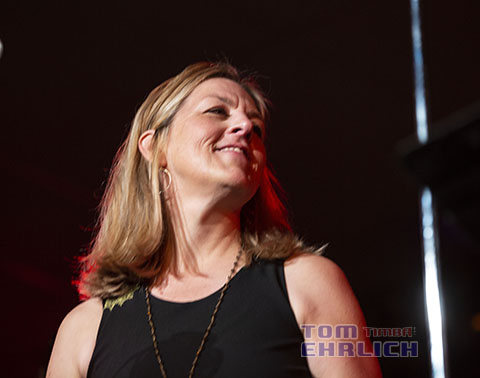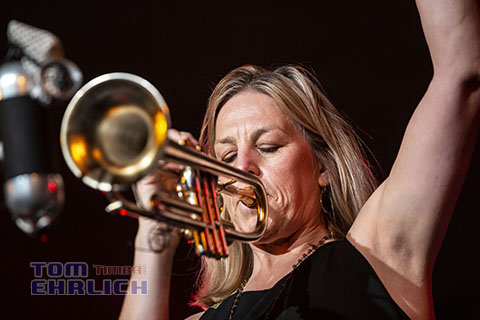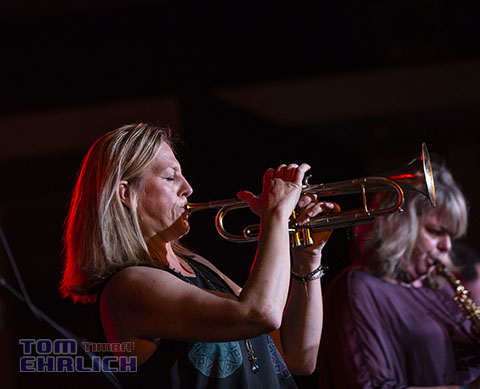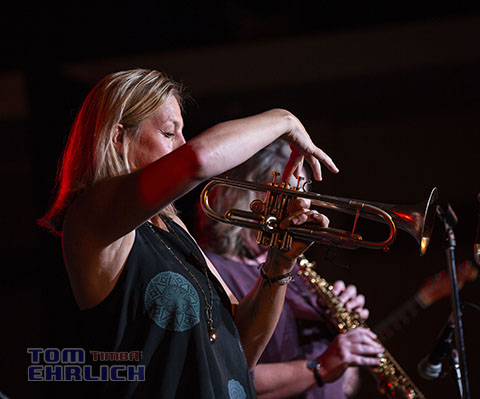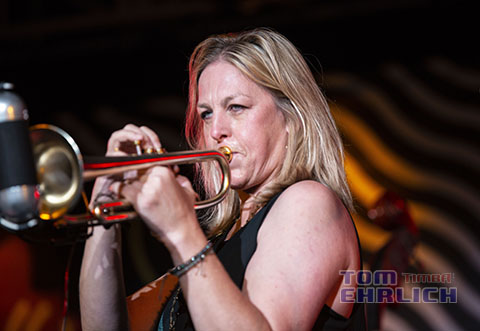 TIA FULLER'S DIAMOND CUT PROJECT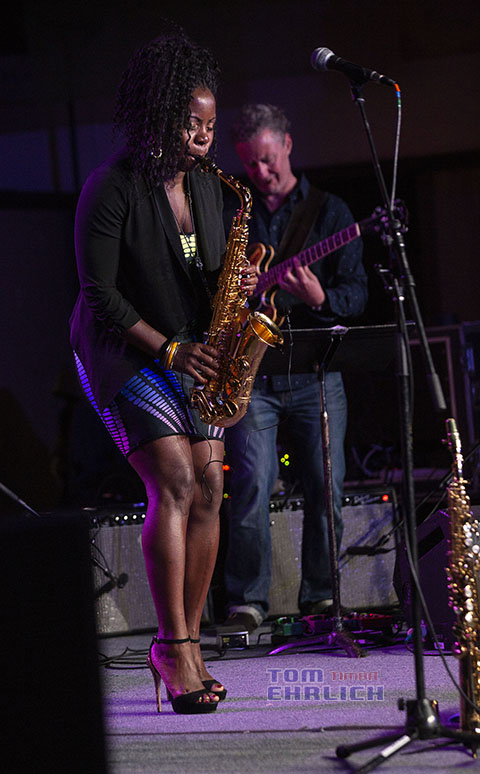 Tia Fuller and Adan Rogers
Tia Fuller is a composer, band leader, saxophonist and college professor at Berklee College of Music in Boston. Besides having her own band, she has performed with numerous high profile jazz groups as well as with Beyoncé.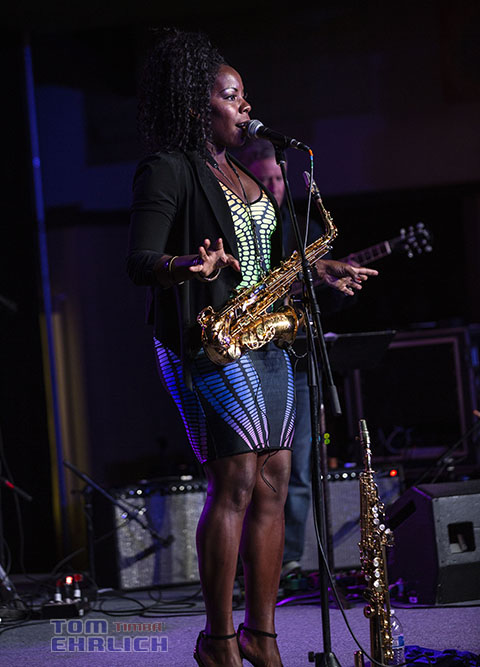 Tia Fuller is one of the Artist in Residence for this years festival. She has released 5 recridngs as a leader.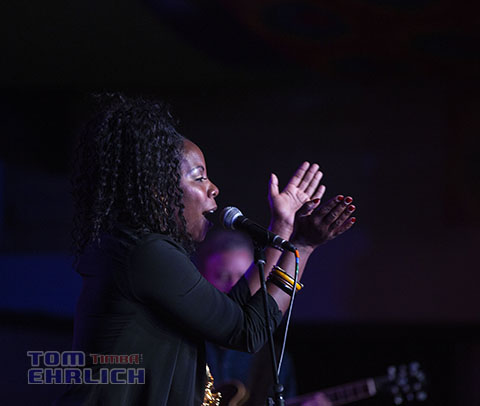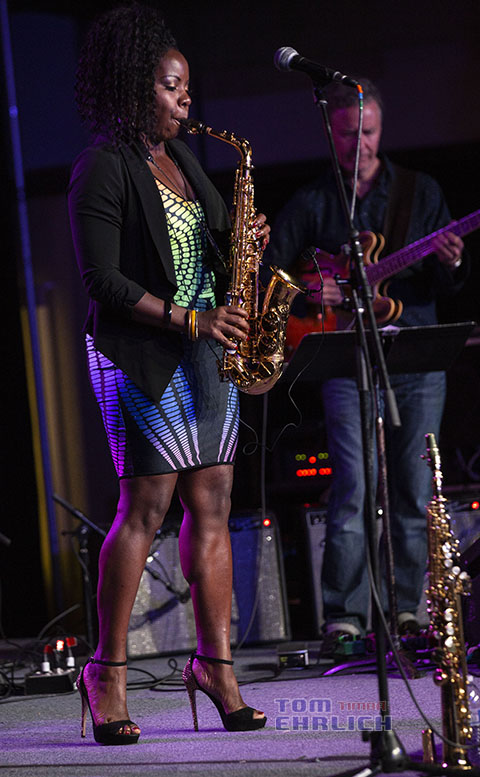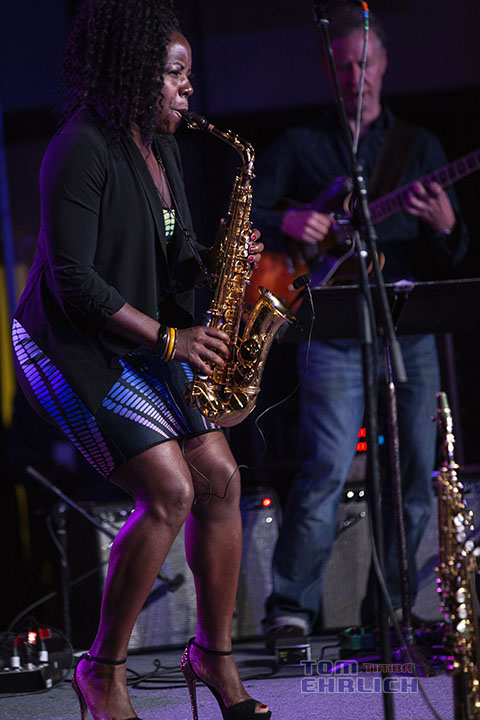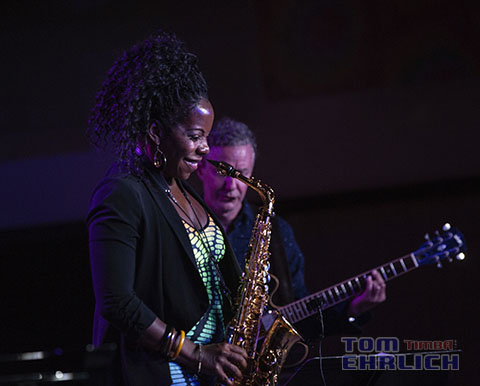 FRED HERSCH TRIO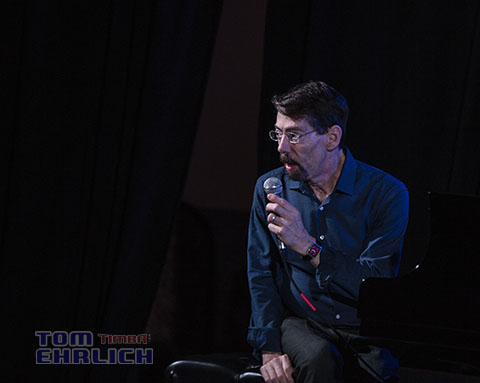 Fred Hersch
Fred is considered one of the best pianists ont he scene today especially for the way he plays ballads.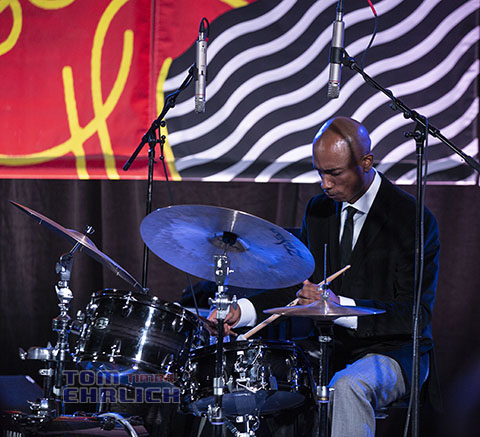 Eric McPhearson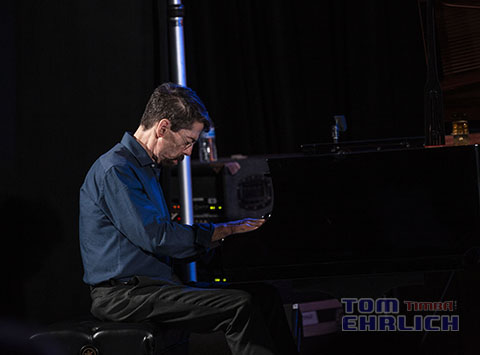 Fred Hersch
DONNY MCCASLIN GROUP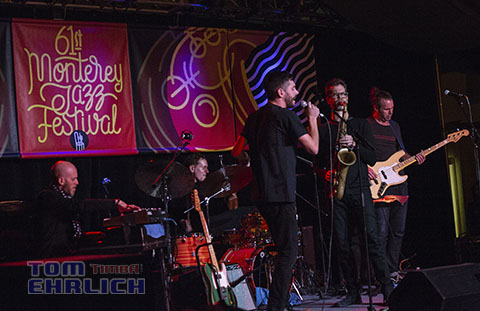 Left to right Jason Linder, Zack Danziger drums, Jeff Taylor, Donny McCaslin and Tim Lefebrve
Donny McCaslin is a talented saxophonist who usually played straight ahead jazz. At the end of David Bowie's life, Donny played with him and the last two of Donny's recordings I would characterize as David Bowie influenced music - with vocals, guitar, electronics and solos. This was the type of music he played at the festival. He was well received by the crowd, but I have to admit, I did not care that much for the music.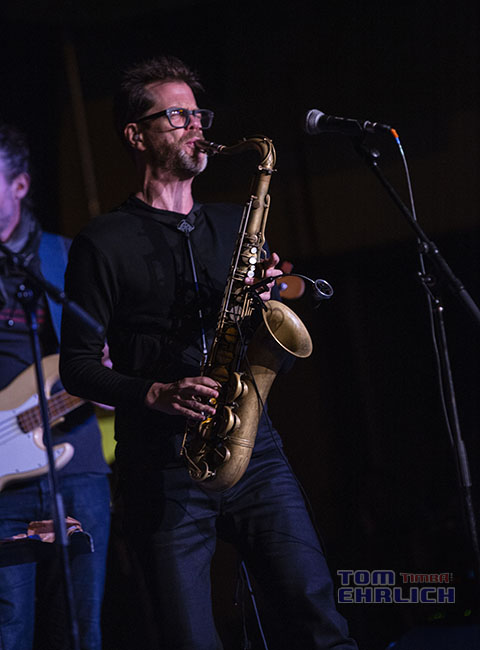 Donny McCaslin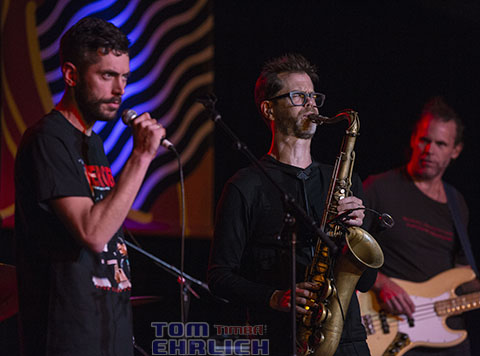 Jeff Taylor, Donny McCaslin and Tim Lefebrve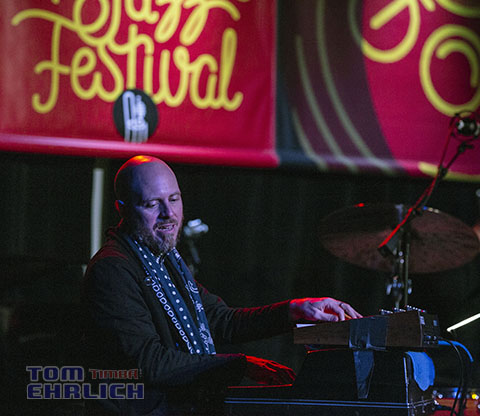 Jason Linder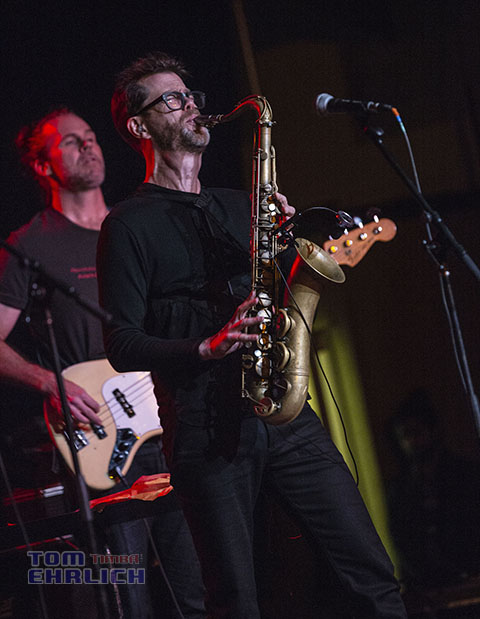 Donny McCaslin
Jason Linder
miércoles, 27 septiembre 2023, 07:35 pm