Indice - Table of contents
Lo Nuevo
[hide]
Fotos Del Día
[hide]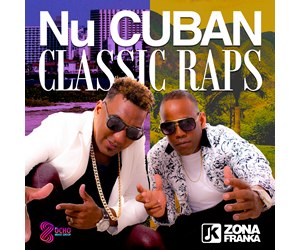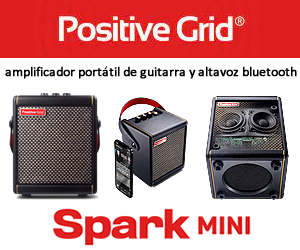 Tom Ehrlich - 8/11/2007 San José Jazz Festival
ILEANA SANTAMARÍA AT SAN JOSÉ JAZZ FESTIVAL
AUGUST 11, 2007
PHOTOS AND TEXT BY TOM EHRLICH © 2007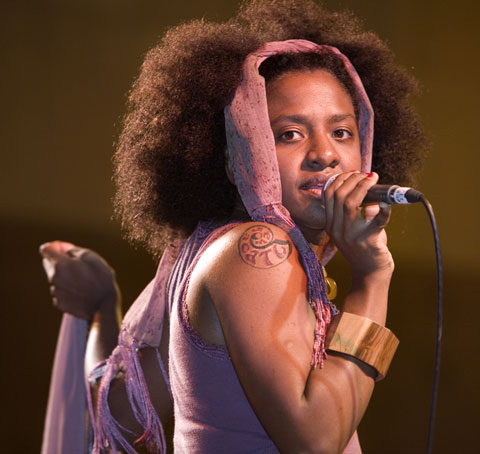 The Salsa Stage at the San Jose Jazz Festival was dominated by some of the best Bay Area salsa groups. But the band that created the most excitement was Ileana Santamaría and her group, the young daughter of the late great Cuban conguero Mongo Santamaria. The core of the group were musicians from New York City, including Ileana on vocals/dancing, Pedrito Martínez from Cuba on the drumset/timbales , Jorge Bringas also from Cuba on bass, John Stenger on piano and Jhar Sala on percussion. They were joined by a Bay Area horn session, Robbie Kwock on trumpet and Marty Wehner on trombone.
Ileana has an infectious, dynamic and joyful personality to complement her good voice and dance moves. She connected with the crowd during the soundcheck and created an excitement before the set even started and kept the crowd dancing and excited throughout the entire set. The music is a fusion of son, rumba and timba, with some songs having also Brazilian influences, which mirrors Ileana's varied influences and background. Pedrito Martínez is one of the great young Cuban percussionist, who is a first call percussionist and vocalist for many folkloric and jazz groups and also is the percussionist for Yerba Buena, the popular Cuban fusion group out of New York City. Pedrito is also a great singer and rumba dancer.
But the heart and soul of the group is singer/dancer, Cuban born, Ileana Santamaría. Ileana has the talent and enthusiasm to be a great vocalist and bandleader, in the vein of Haila Mompié and Vannia Borges.
Ileana has one CD called "What I Want". All you timberos should go straight to the 5th track, which is a timba version of the traditional Afro-Cuban song "Mayeya". Check out Ileana's website for more info.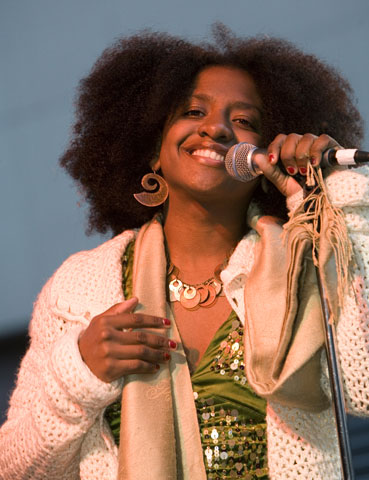 Ileana Santamaría during sound check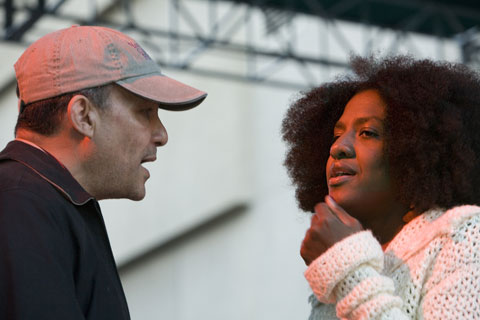 Ileana and Arturo Riera, MC and president of the Board of Directors for
San José Jazz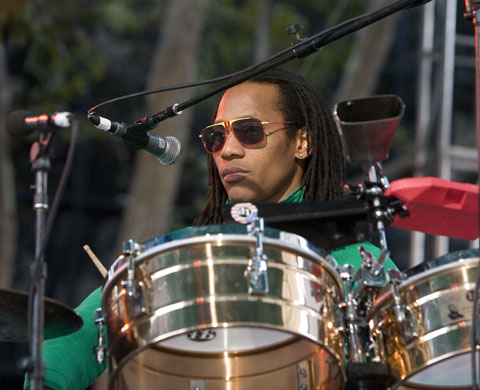 Pedrito Martínez getting the drums ready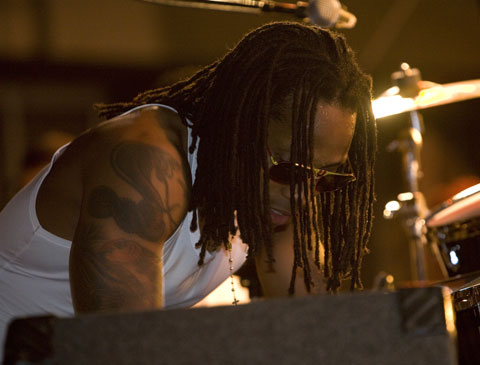 Pedrito Martínez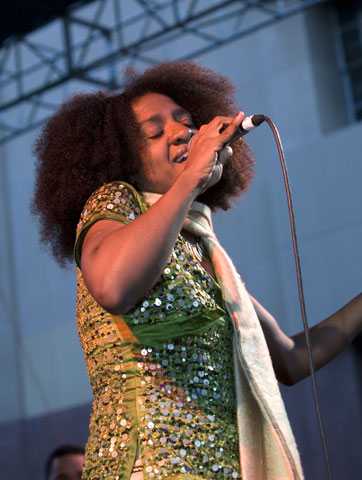 Ileana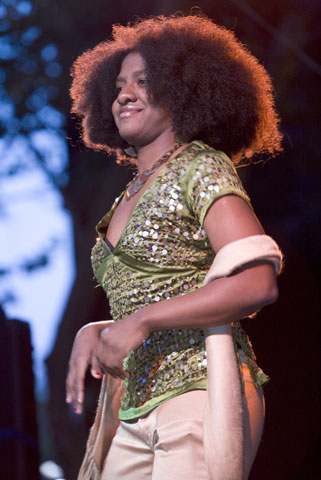 Ileana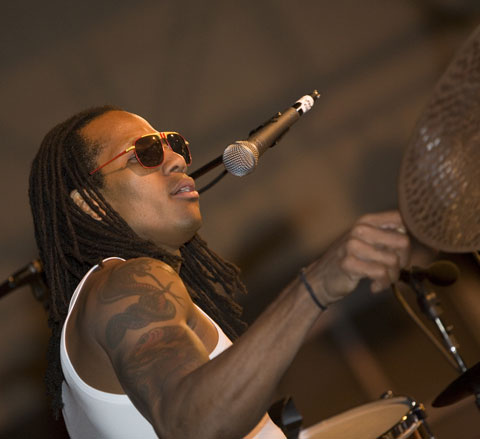 Pedrito Martínez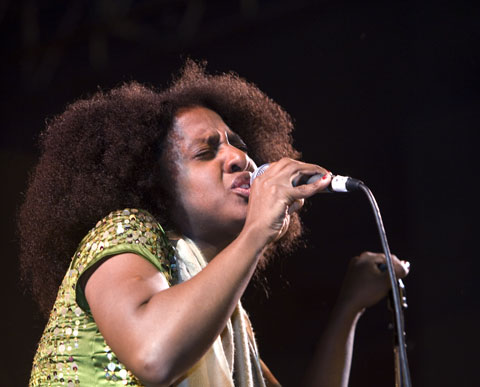 Ileana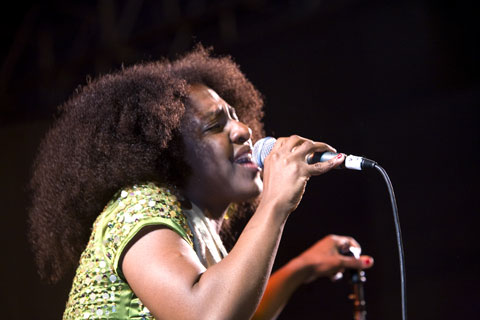 Ileana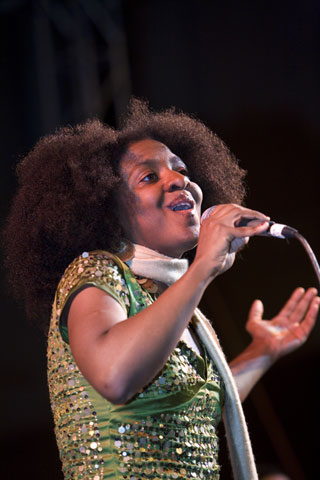 Ileana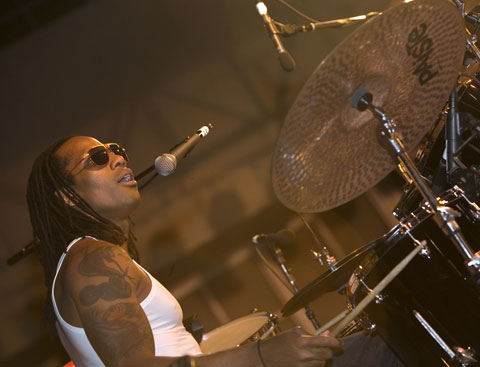 Pedrito

Ileana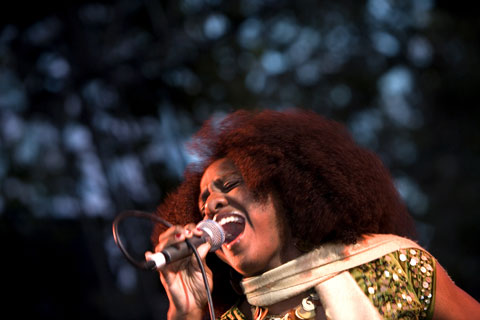 Ileana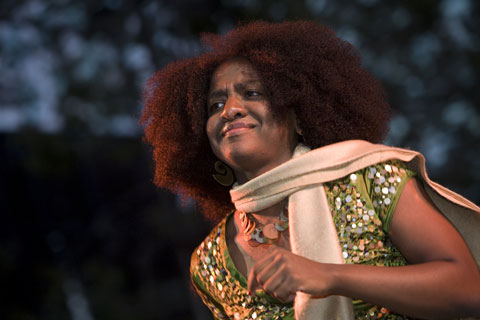 Ileana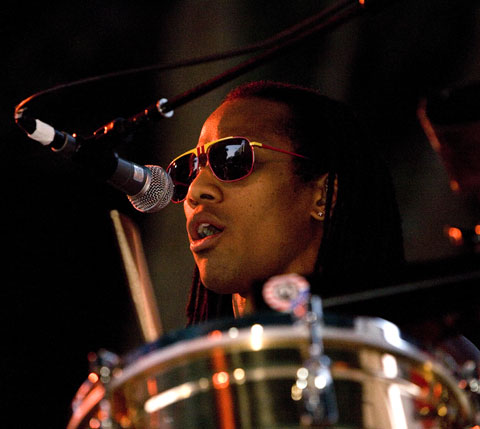 Pedrito on coros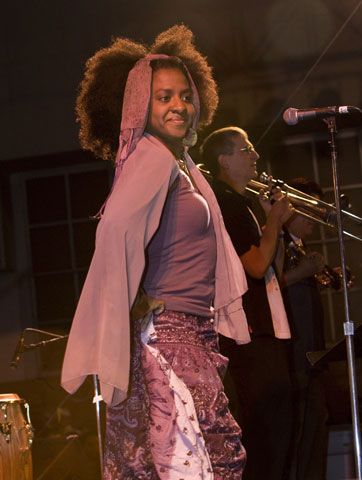 Half way thru the set, Ileana comes out with a new outfit
Marty Wehner on trombone in the background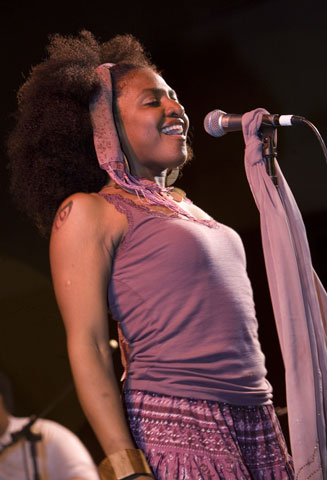 Ileana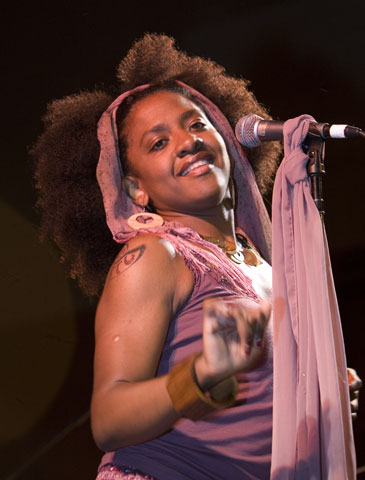 Ileana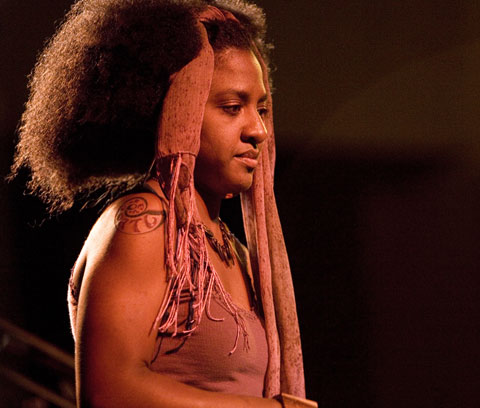 Ileana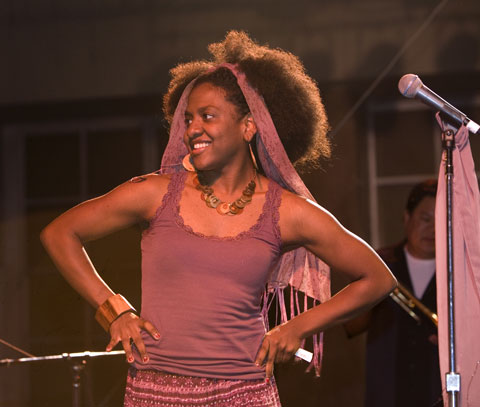 Ileana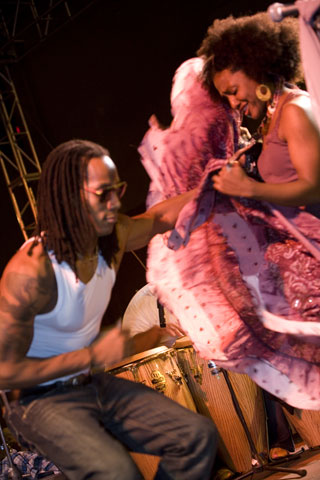 Pedrito Martínez and Ileana dancing rumba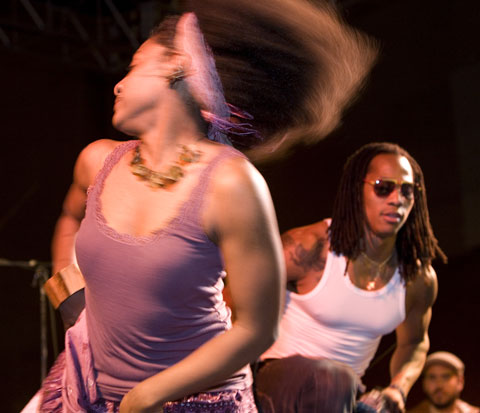 Pedrito and Ileana dancing rumba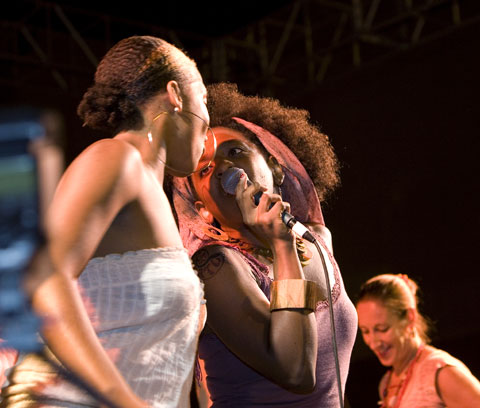 Ileana and women members of the crowd dancing samba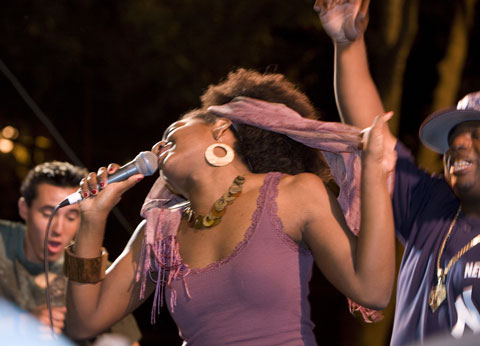 Ileana and male members of the crowd dancing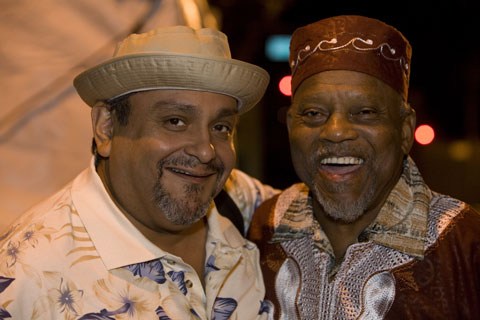 Two great jazz trumpet players back stage enjoying the set, Ray Vega on the left and Marcus Belgrave. Ray Vega played with all the great latin bands in New York City, including with Ileana's father Mongo Santamaría, Tito Puente, Ray Barretto and many others. Ray is also a band leader. Marcus Belgrave played in the Ray Charles orchestra and helped define the "Motown Sound".
Ray Vega had not seen Ileana since she was 8 years old (Ileana is now 27 years old) and was excited to see her perform and was even more exicted and honored to sit in with the band for a couple of numbers.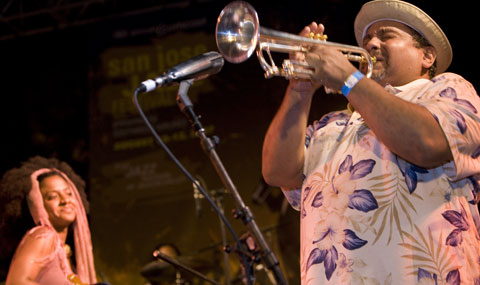 Ray Vega and Ileana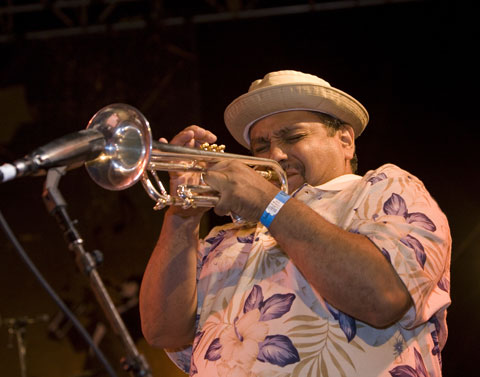 Ray Vega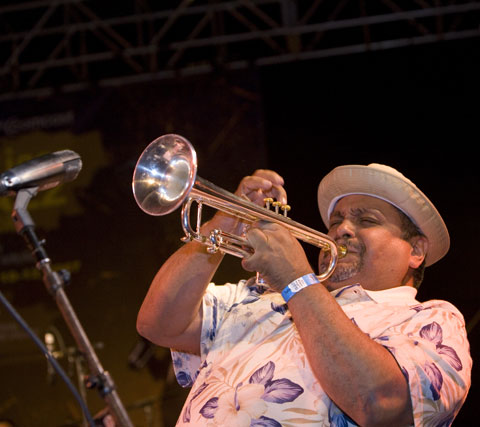 Ray Vega

Ileana
jueves, 11 julio 2013, 09:00 am