Indice - Table of contents
New Stuff
[hide]
Photos of the Day
[hide]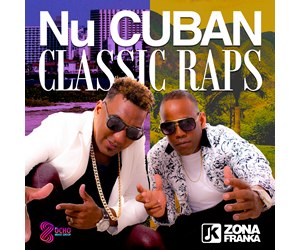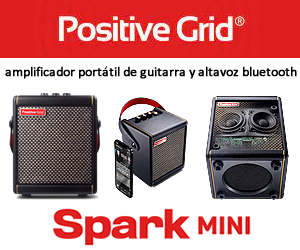 Tom Ehrlich - 2019 Monterey Jazz Festival Part 3
MONTEREY JAZZ FESTIVAL PART 3
SEPTEMBER 29, 2019 CONTINUED
PHOTOS BY TOM EHRLICH © 2019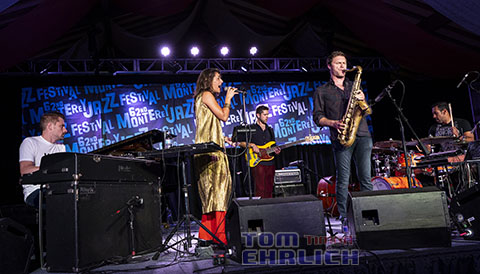 ANTONIO SANCHEZ & MIGRATION
There seems to be a growing number of drummer band leaders and composers in jazz and Antonio Sanchez is one of the elites of these drummers. He has a powerful, pattern changing style who also excells when playing softly. His band Migration is composed of top shelf players which includes his beautiful and talented wife vocalist Thana Alexa.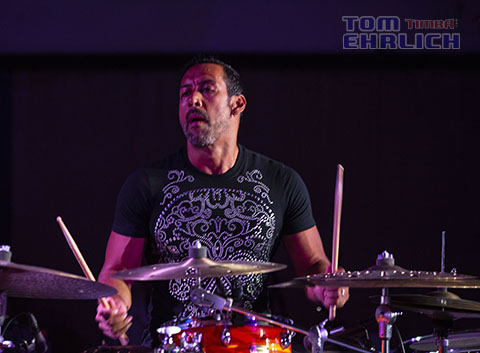 Antonio Sanchez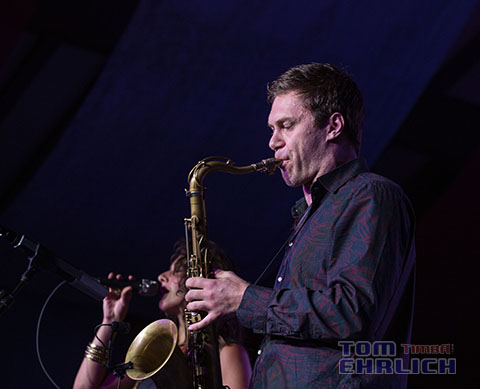 Chase Biard sax and Thana Alexa vocals
Chase Biard plays both tenor sax and EWI (Electric Wind Instrument). He is an excellent soloist.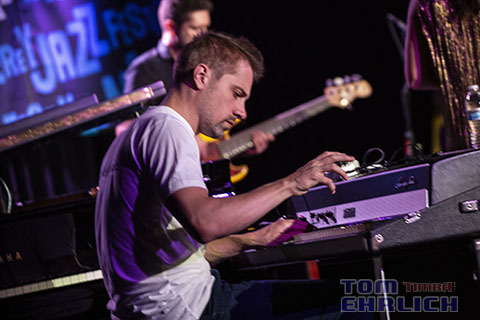 John Escreet
John Escreet is an exceptional keyboardist both as an accompanist and soloist. Originally from England, John now lives in Brooklyn and has extensive eperience both as a band leader and sideman. He is considered by many to be one of the best and most innovative pianists active today.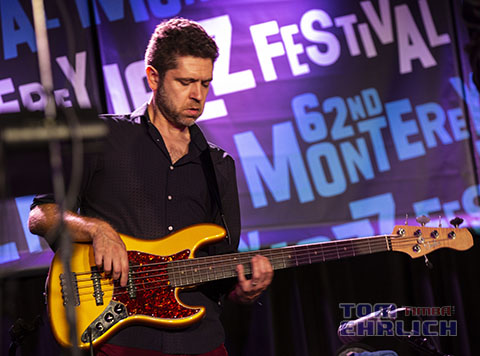 Orlando Le Fleming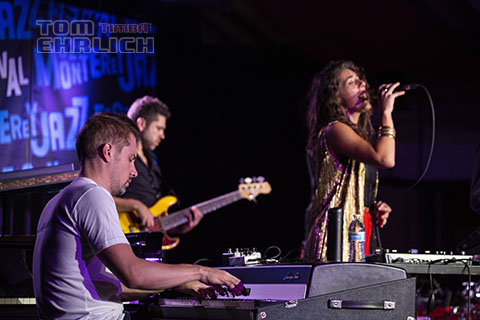 Thana Alexa voclas, John Escreet piano and Orlando Le Fleming bass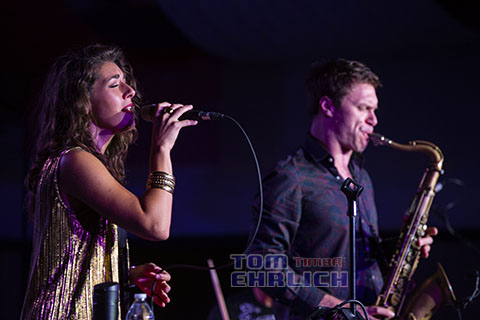 Thana Alexa and Chase Biard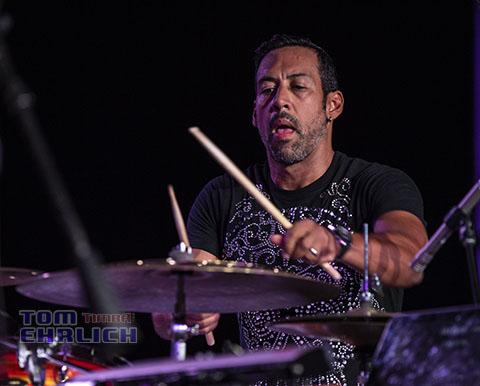 Antonio Sanchez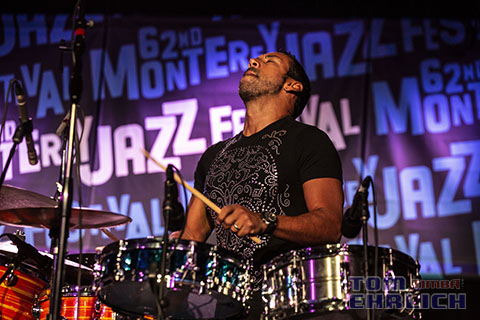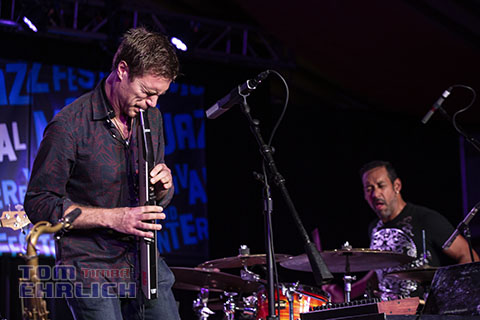 Chase Biard EWI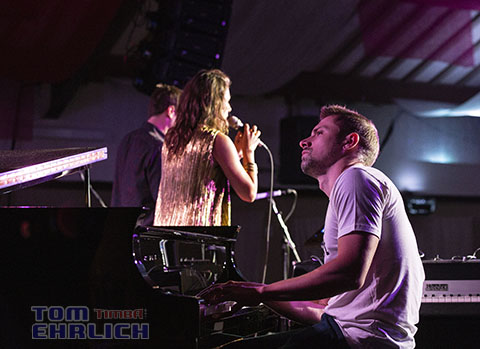 John Escreet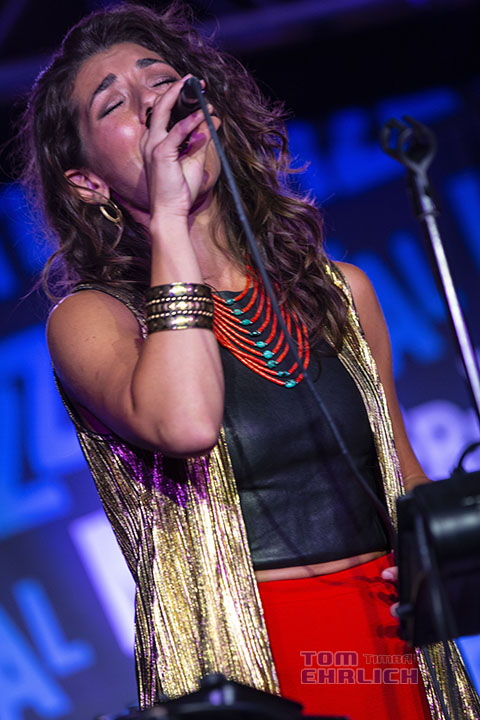 Thana Alexa
Thana Alexa is a wonderful vocalist whose style includes singing lyrics and sounds. She also manipulates her voice by using electronics and a beautiful and unique way.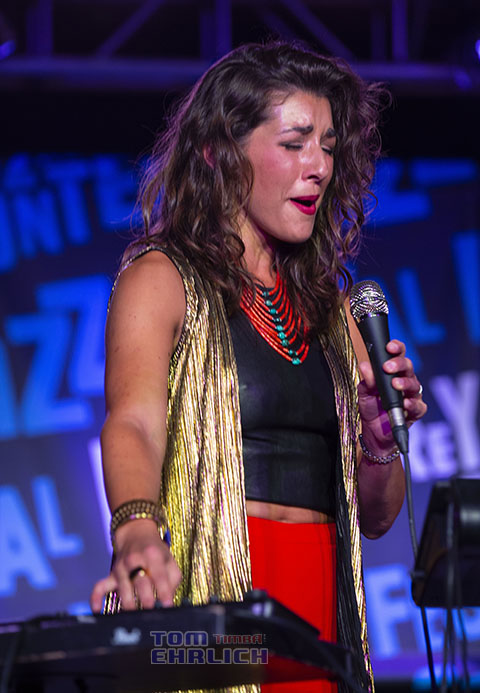 Thana Alexa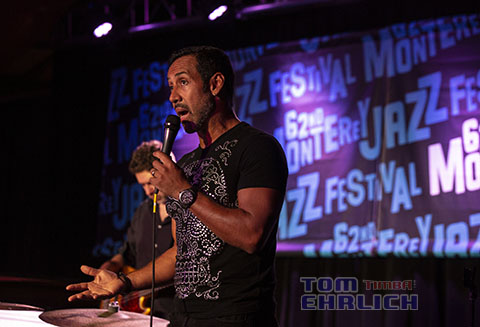 Antonio's current project includes songs and lyrics which speak to issues related to migration. He presented a moving talk on having compassion for those who feel the need to leave their country of origin for a better life.
Migration's performance was one of my favorites at this years festival.
DOUG CARN'S WEST COAST ORGAN BAND

Doug Carn had a few popular reocdings in the 1970s on the Black Jazz Recrods label including Infant Eyes, my favorite. Those recordings included his ex-wife Jean Carn. His West Coast Organ Band included Doug on organ, Dezron Claiborne on drums and two powerhouise saxophonists Stacey Dillard and Teodross Avery.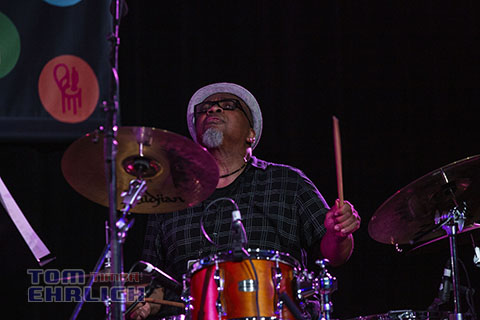 Dezron Claiborne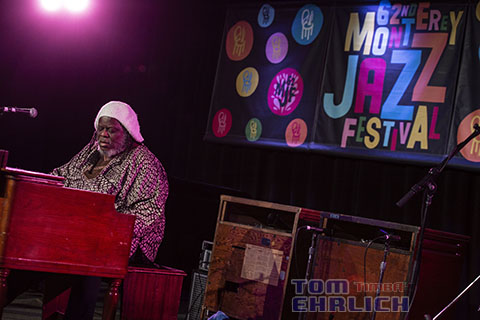 Doug Carn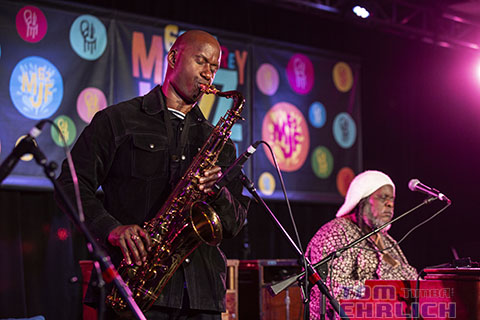 Teodross Avery tenor sax and Doug Carn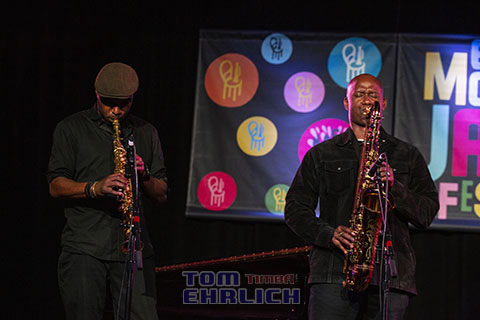 Stacey Dillard soprano sax and Teodross Avery tenor sax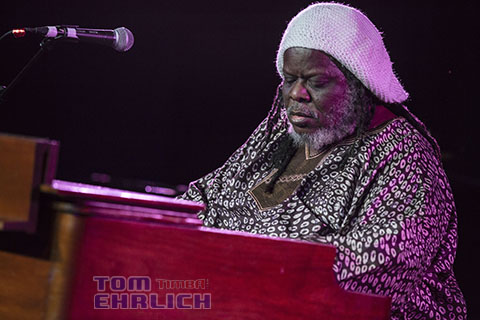 Doug Carn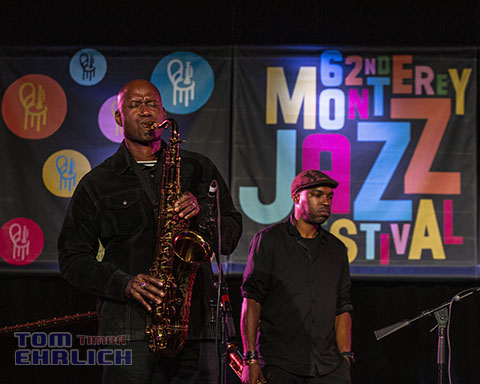 Teodross Avery tenor sax and Stacey Dillard
Ambrose Akinmusire - Origami Harvest
This latest project of Bay Area born and raised trumpeter, band leader and compser was defintely the most interesting music I witnessed at the Festival this year, It has been described as "the blending of jazz, classical, hip-hop and themes of social justice into a cohesive artistic statement."

Ambrose Akinmusire - Origami Harvest
The project includes a string quartet, piano, drums, trumpet and a spoken word artist. So I would describe the project as spoken word combined with the other elements.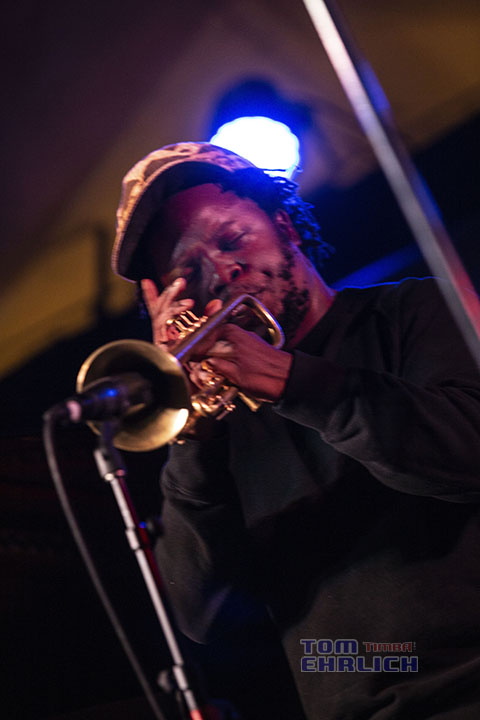 Ambrose, one of the bright young stars on the trumpet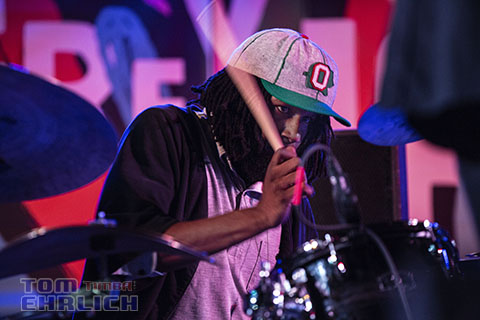 Justin Brown, also a Bay Area musician, who moved to the Big Apple where he has made a name for himself.
Spoken word artist Kokayi spits some mean poetry. He has also wokred with two Cuban musicians Omar Sosa and Dafnis Prieto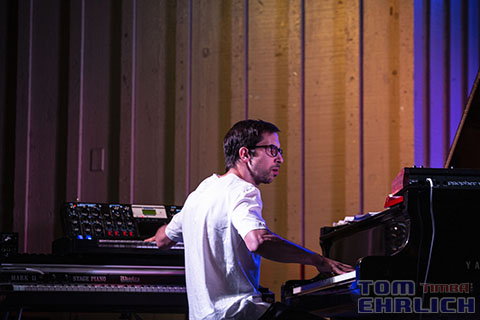 Sam Harris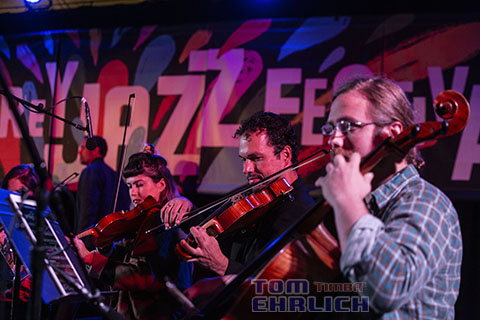 String Quartet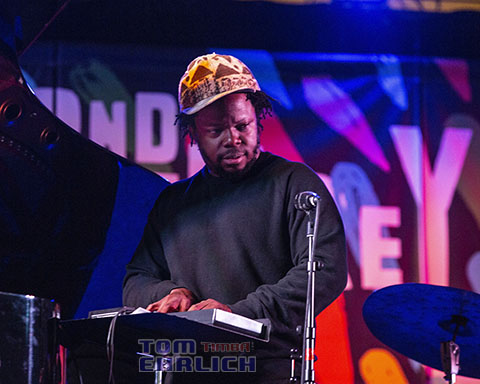 Ambrose Akinmusire
JAZZMEIA HORN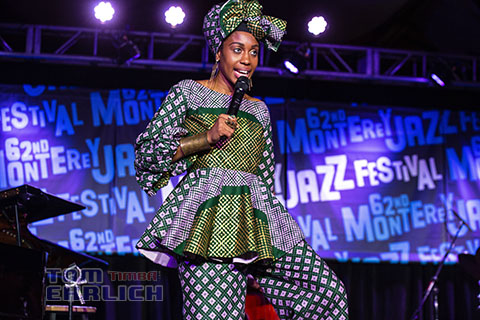 JAZZMEIA HORN
Jazzmeia Horn is one of the hottest new young vocalists on the scene. Ths was the second time I have seen her in person. She was better this time. Jazzmeia has a great stage prescence, very expressive actions and engages the crowd, but I believe she still has a way to go to be a great vocalist. This is a minority opinion thouigh, most people love her.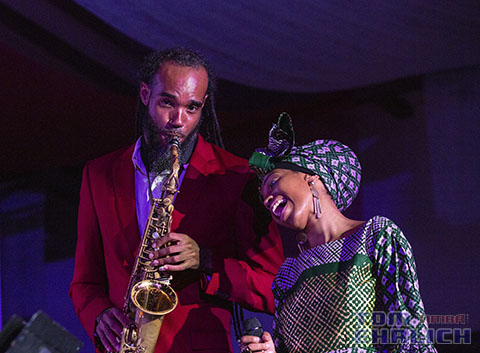 Marcus Miller and Jazzmeia Horn
Jazzmeia performed with a quartet.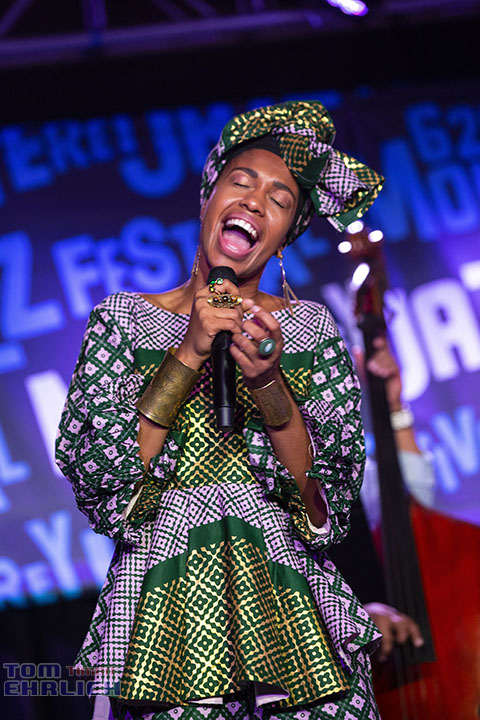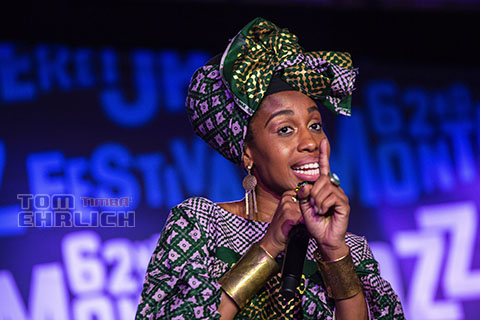 MIKE LEDONNE'S GROOVER QUARTET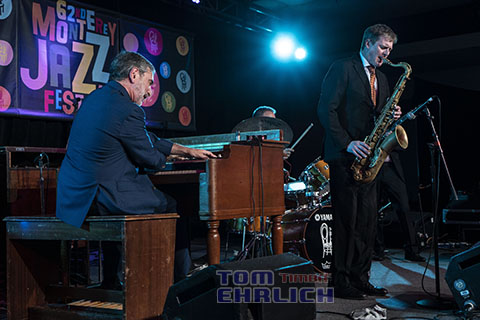 Mike LeDonne and Eric Alexander sax
Powerhouse group with Eric Alexander on sax ( He is considered one of the best sax players of his generation and is a band leader.) and Peter Burnstein on guitar one of the better guitar players for funky organ groups.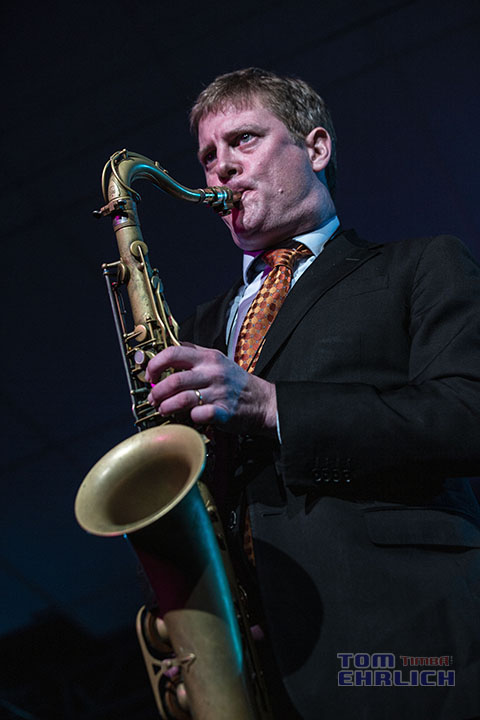 Eric Alexander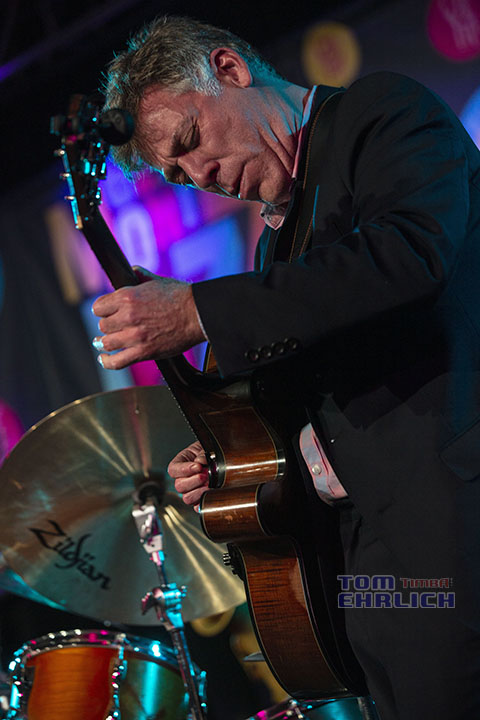 Peter Burnstein
Eric Alexander and Peter Burnstein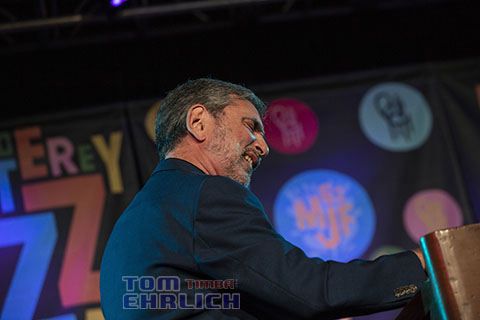 Mike LeDonne
Decent set of music, not great but enjoyable. This concludes my report of the 2019 Monterey Jazz Festival. Hopefully next year Afro-Caribbean music will be better represented.
Wednesday, 27 September 2023, 07:35 PM