Indice - Table of contents
New Stuff
[hide]
Photos of the Day
[hide]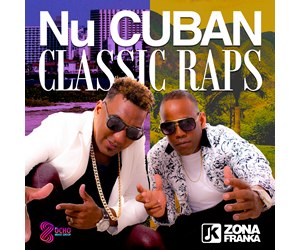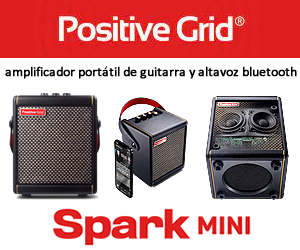 Tom Ehrlich - 2018 Monterey Jazz Festival Part 1
61ST MONTEREY JAZZ FESTIVAL
FRIDAY NIGHT SEPTEMBER 21, 2018
PHOTOS AND TEXT BY TOM EHRLICH © 2018
Monterey Jazz Festival is the world's longest-running jazz festival and this year there was an emphasis on women lead groups and women musicians, which was long overdue. Congratulations to Monterey Jazz Festival staff for taking this important step.
As usual for me it is difficult to choose which groups to cover. I attempted to at least cover most of the Afro-Caribbean music groups and woman dominated groups.
This report will include Jane Bunnett and Maqueque, Jane Ira Bloom Quartet, Spanish Harlem Orchestra rehearsal and the Jazz at Lincoln Center Orchestra.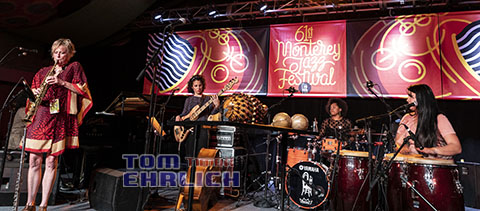 Jane Bunnett and Maqueque
Jane Bunnett, who resides in Canada, has been a trailblazing musician since the 1980s as a well respected flute and soprano sax player. Her earliest recordings were straight ahead jazz and included jazz legends Don Pullen, Dewey Redman, Billy Hart and other jazz heavy weights. In the 1980s, Jane and her trumpet playing husband Larry Cramer went to Cuba for a vacation, which has resulted in a life long musical love affair between Jane, Larry and Cuban music. Before Cuban music in North America was well known and popular, Jane formed projects with Cuban musicians and exposed North America to her special mix of jazz and various styles of Cuban music and Cuban musicians. Starting with her recording "Spirits of Havana", recorded in Havana in 1991 , she has released a number of outstanding Cuban music CDs. Some of the musicians included in her projects were Guillermo Barreto, Merceditas Valdés, Pedríto Martínez, Gonzalo Rubalcaba, Pancho Quinto, Hilario Durán, Frank Emilio Flynn,Yoruba Andabo,Yosvany Terry, Changüito, Los Muñequitos de Matanzas, Dafnis Prieto and Tata Güines to name a few.
About five years ago, Jane embarked on trying to mentor and create music with talented Cuban women musicians, believing that female Cuban musicians were not given the same opportunities to perform and develop as male musicians. The result was the forming of her current group Maqueque (which means spirit of a young girl in Yoruba). Maqueque has become one of the top North American jazz groups performing today.
Maqueque's current line-up is six virtuosos - Jane Bunnett - leader, flute and soprano sax, Yissy García from Havana - drum set and vocals, Melvis Santa from Havana, now living in New York City -vocals and small percussion, Dánae Olano from Havana, now living in Canada - piano and vocals, Mary Paz from Havana - percussion and vocals and Tailín Marrero from Güines, Cuba - bass and vocals.
It is surprsing that this was Jane Bunnett's first appearance at the Monterey Jazz Festival, given her illustrious career and her important contributions to the development of and exposing the world to Afro-Cuban music.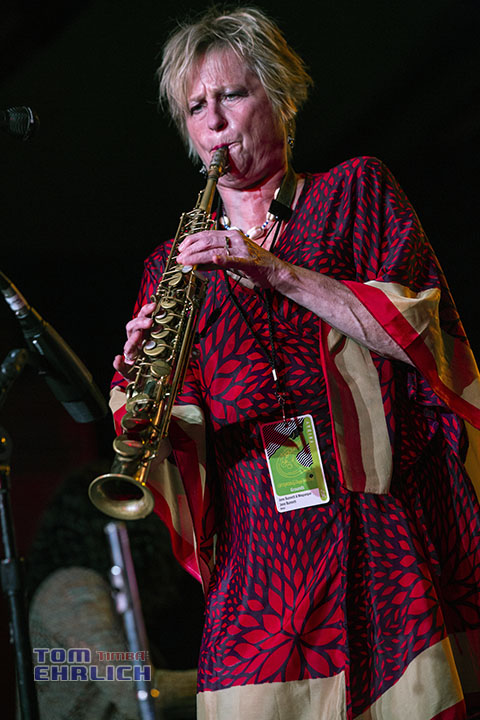 Jane Bunnett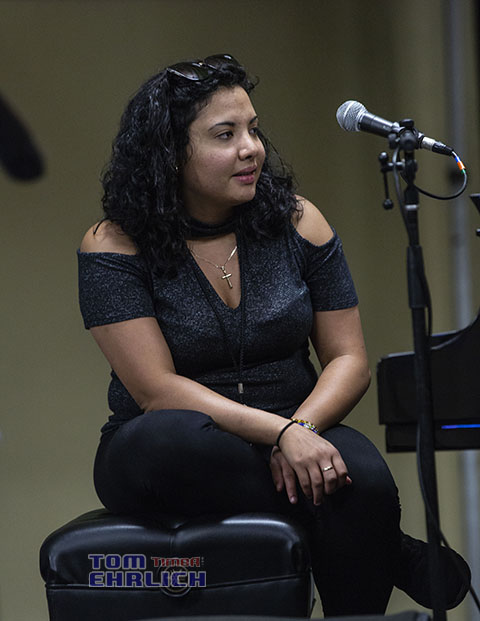 Dánae Olano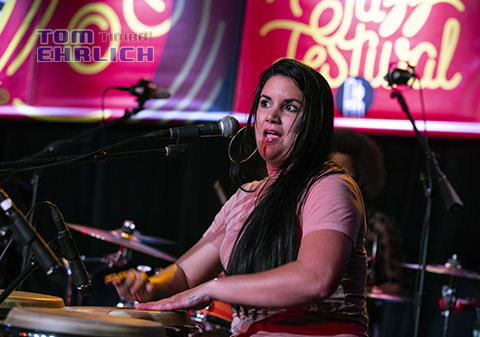 Mary Paz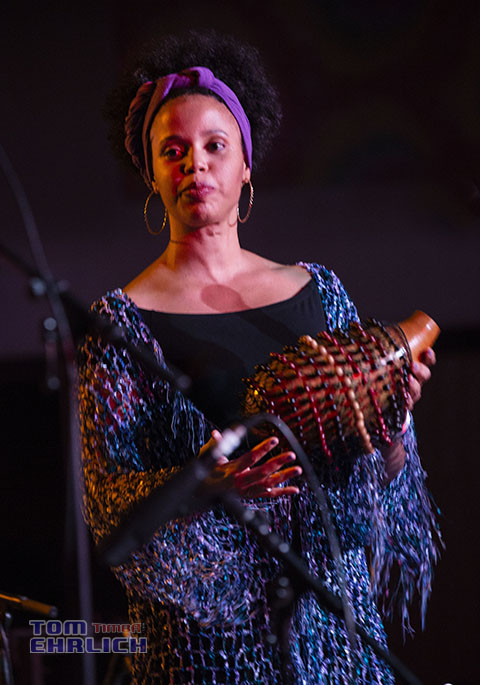 Melvis Santa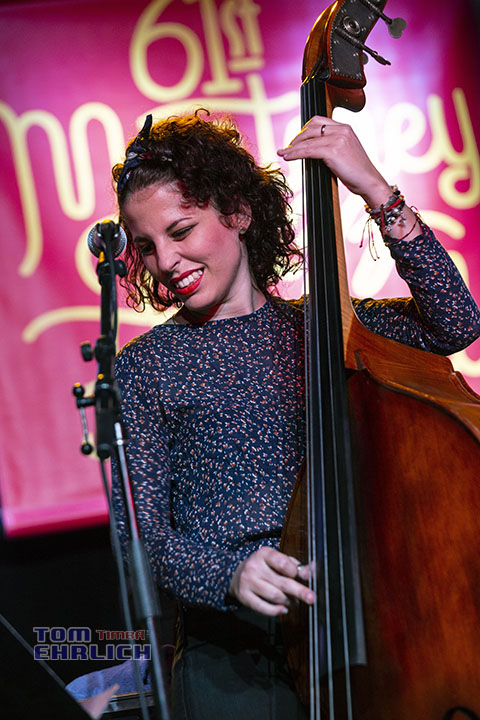 Tailín Marrero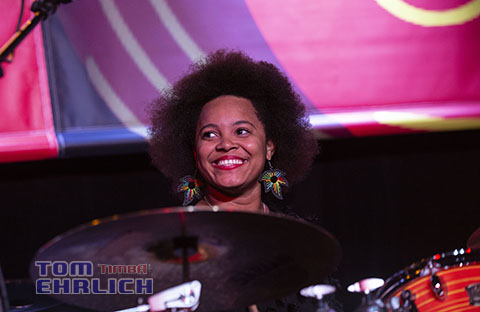 Yissy García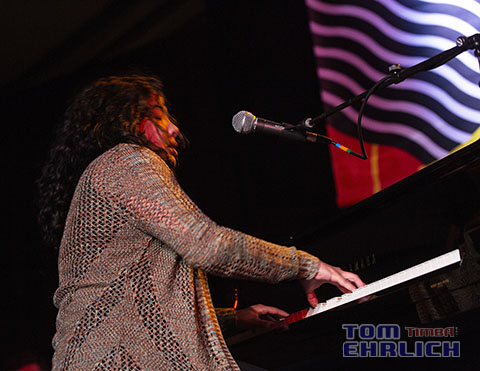 Dánae Olano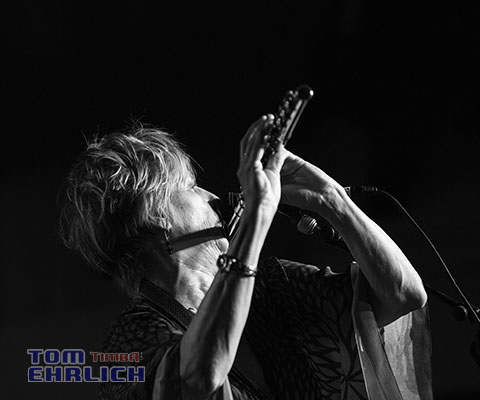 Jane Bunnett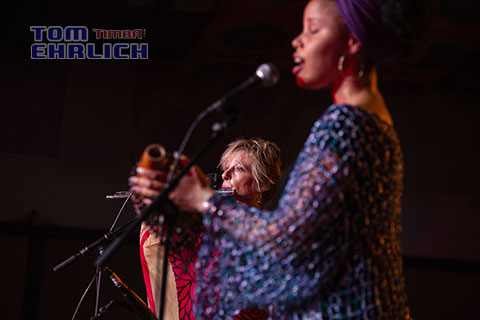 Jane Bunnett and Melvis Santa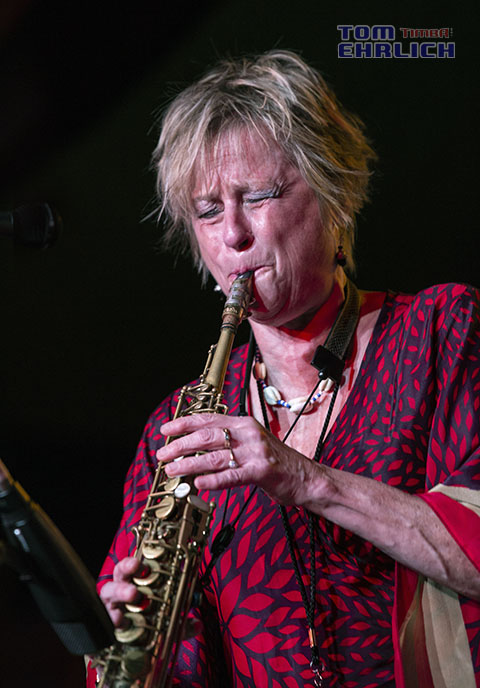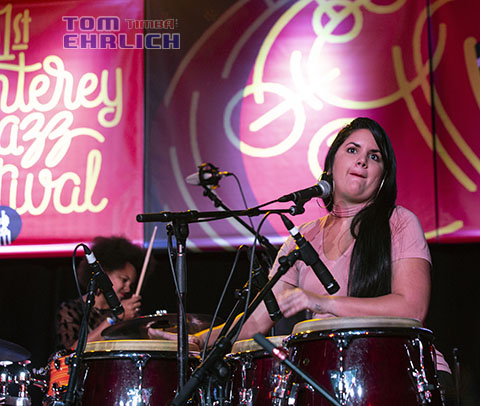 Mary Paz - congas and Yissy García drum set
Melvis Santa and Jane Bunnett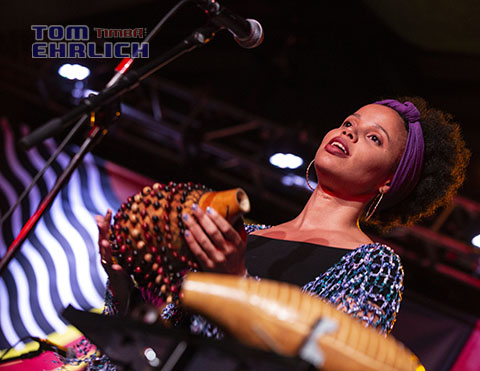 Melvis Santa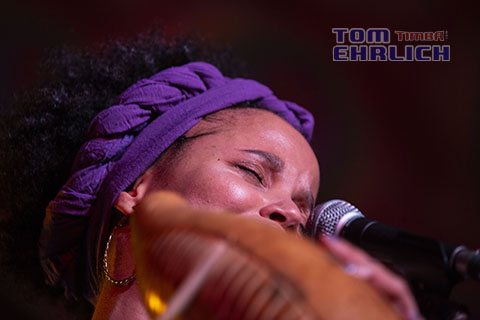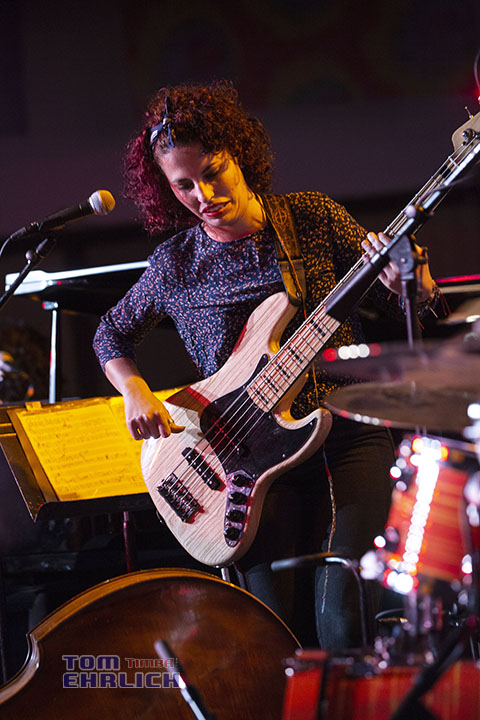 Tailín Marrero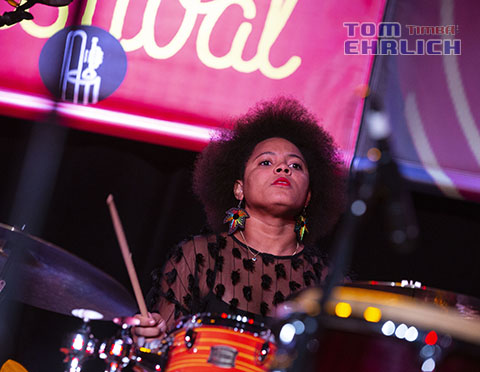 Yissy García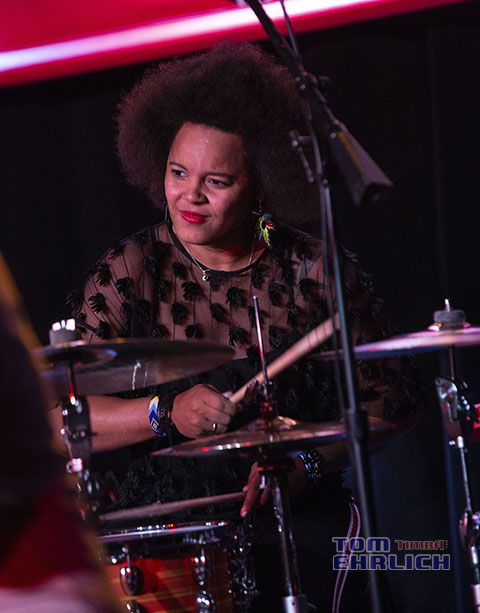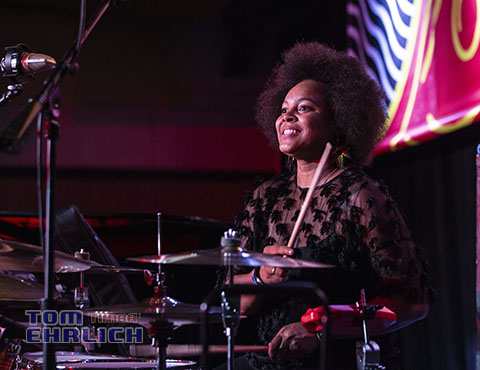 Maqueque was the only group I saw perform at this years festival that received numerous standing ovations after songs. A standing ovation at the end of a set is common but rarely have I seen standing ovations after numerous songs during the set. Maqueque generates excitement and displays amazing musical skills and they were rewarded with the standing ovations.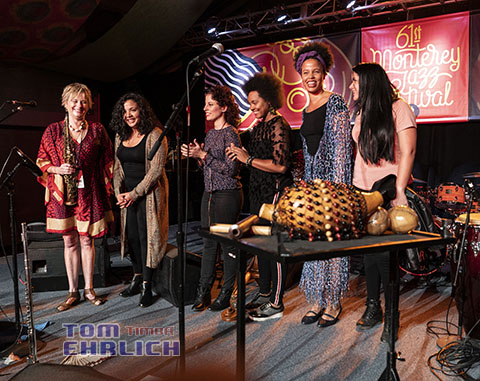 VIVA MAQUEQUE!!!!!!!!!!
Took a short break from Maqueque's performance to check out part of Spanish Harlem Orchestra's rehearsal of a commissioned work composed and arranged by Oscar Hernández, which included legendary flutist Hubert Laws. Here's some photos of the rehearsal.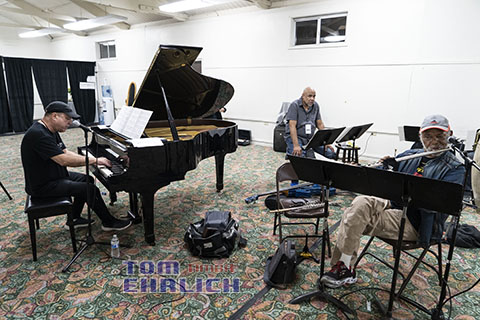 Oscar Hernández - piano and Hubert Laws - flute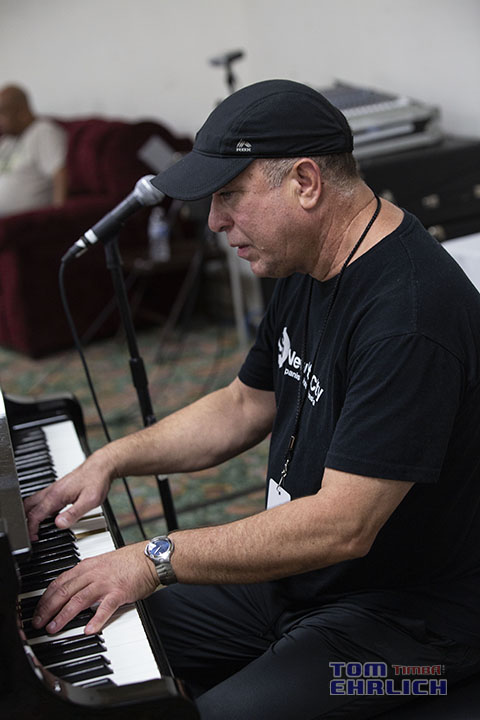 Oscar Hernández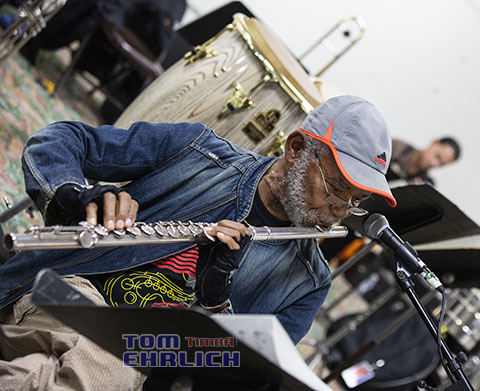 Hubert Laws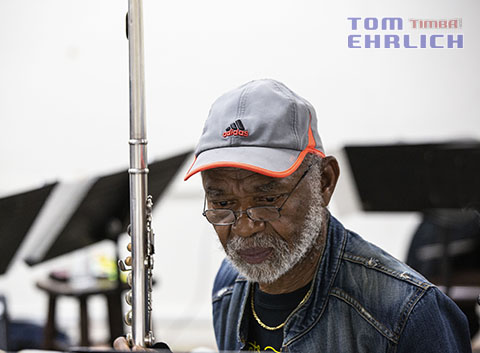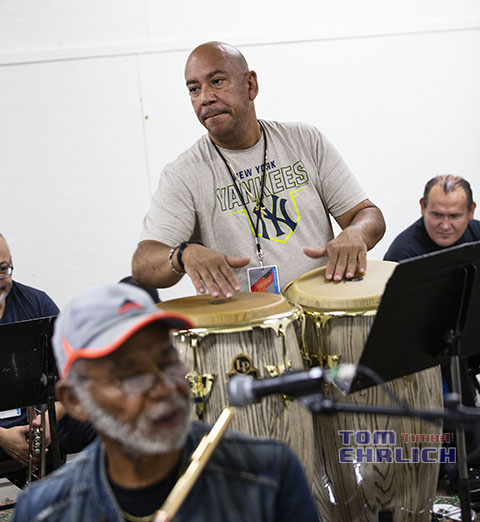 George Delgado - congas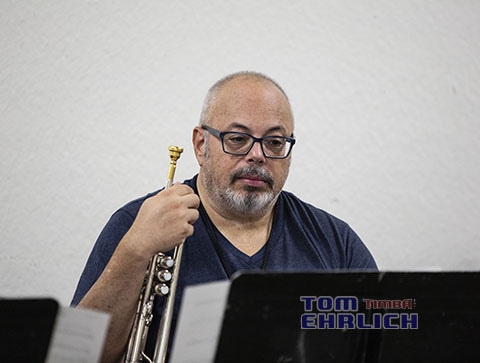 Hector Colón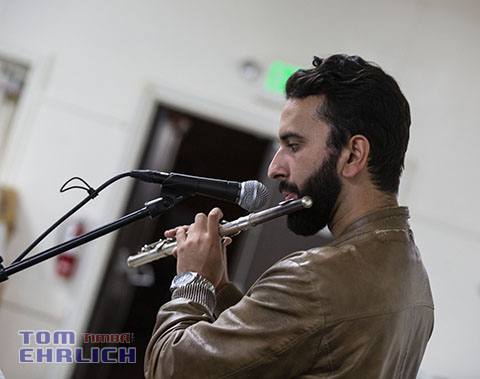 Jeremy Bosch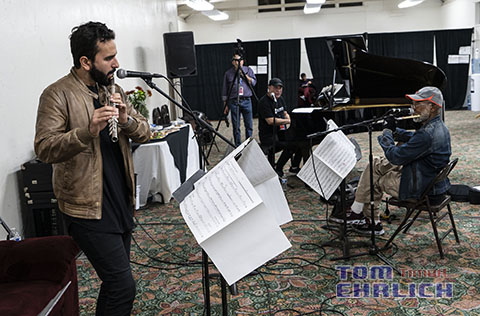 Jeremy Bosch and Hubert Laws both on flute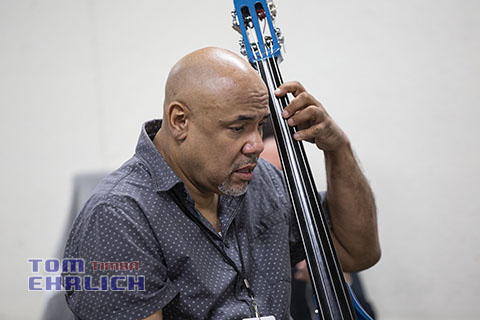 Jerry Madera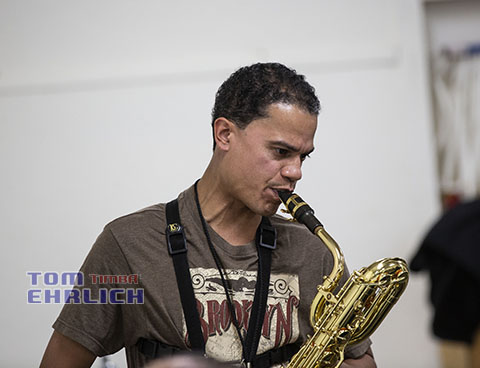 Jorge Castro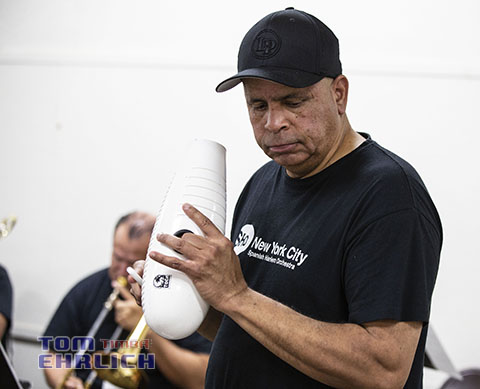 Jorge Gonzaléz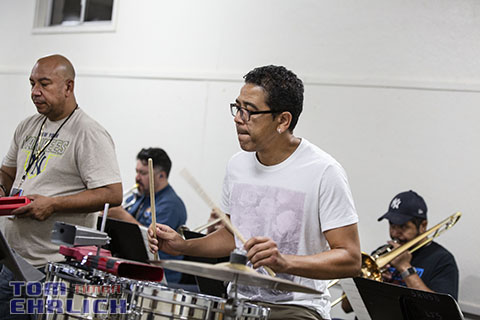 Luisto Quintero - timbales
Mike Olmos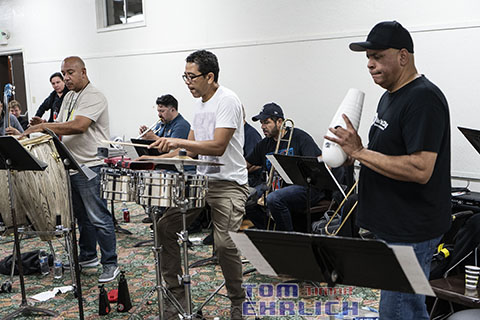 George Delgado - congas, Luisito Quintero - timbales and Jorege Gonzaléz - güiro
I'll be reporting on this group when I post the report for Saturday.
Next for me was the Jane Ira Bloom Quartet. Jane is a eclecltic soprano sax player who has released 17 recordings since 1977 including works for small groups, large ensembles and collaborations with international musicians from China, India, Korea and beyond.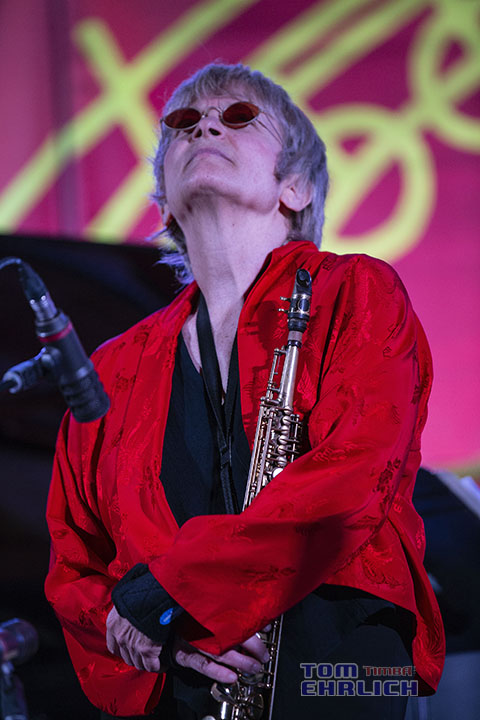 Jane Ira Bloom
Jane's performance consisted of material from her latest project called Wild Lines described as a jazz reimagining of Emily Dickinson poetry. Many of the songs started with the pianist Dawn Clement reciting parts of Dickinson's poems followed by beautiful music both from charts and improvising.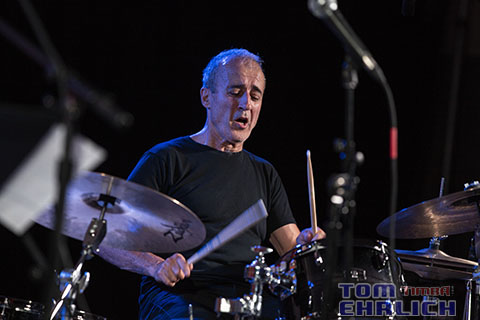 Bobby Previte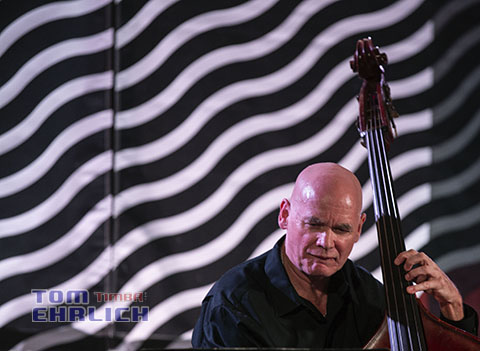 Mark Helias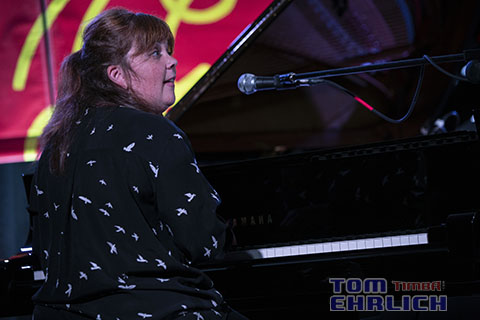 Dawn Clement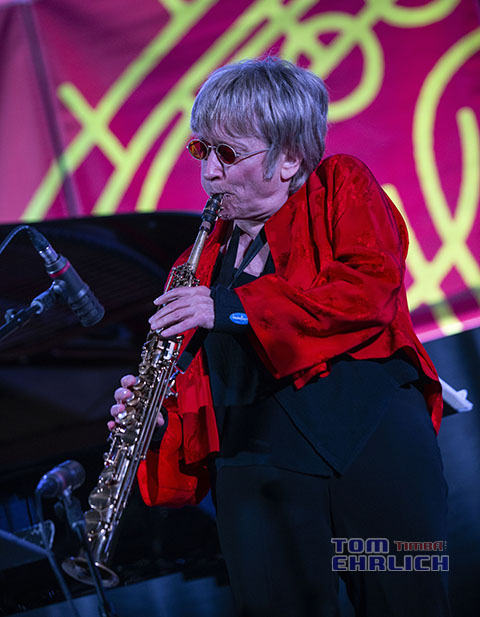 Jane is a very animated player moving her horn around raising her legs etc, rarely just standing in one spot and pointing her sax in one direction.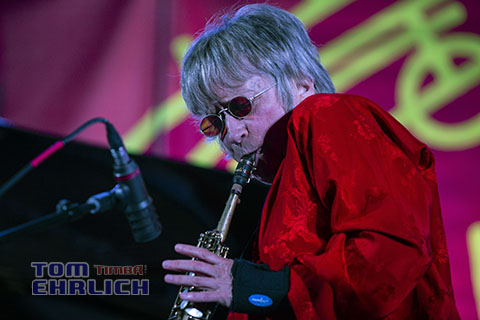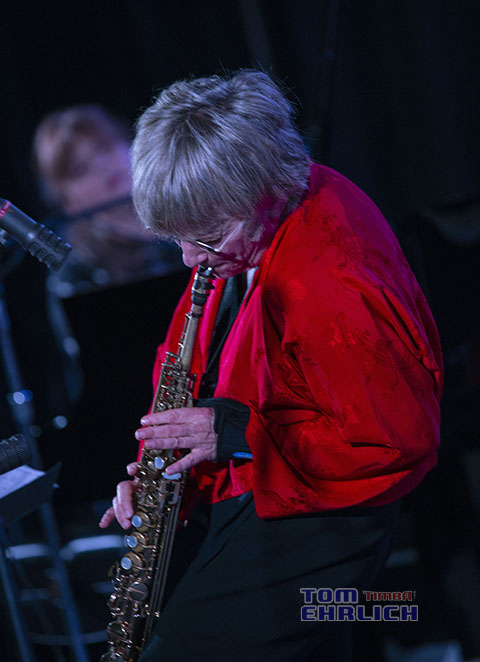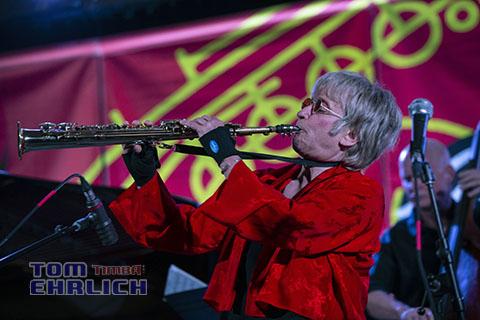 Jane's music is beautiful, inventive and engaging. Made me want to seek out more of her music.
The last perfromance of the evening for me was the Jazz at Lincoln Center Orchestra lead by Wynton Marsalis. Their program was called Spaces which included a narrative by Wynton Marsalis describing different animals followed by the orchestra playing music and three male dancers acting like the animals just described by the narrative. Interesting program with some great modern, hip hop and tap type dancing, but I lost interest after three or four different routines.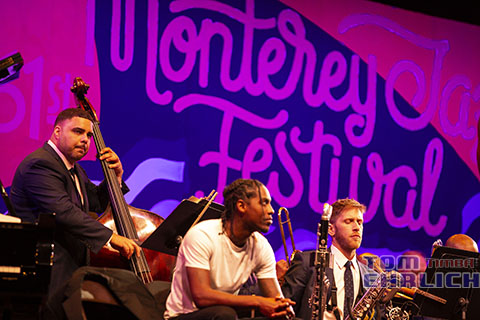 Carlos Henriquez on bass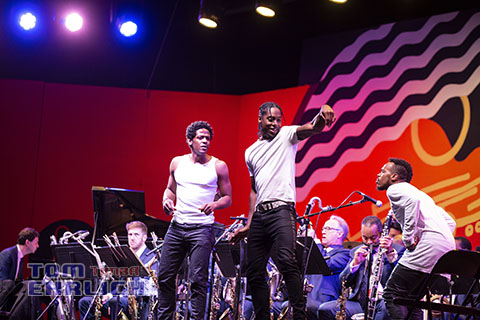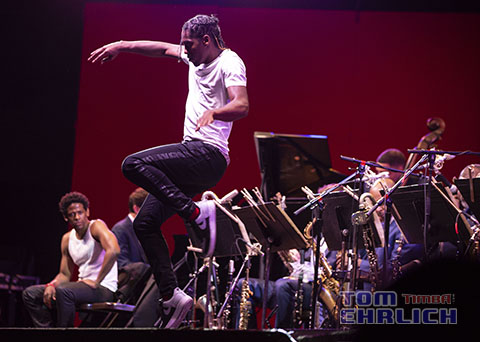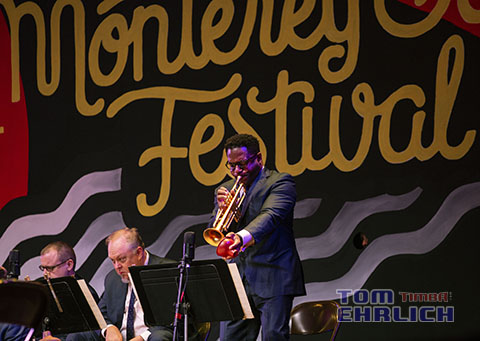 Marcus Printup taking a solo
The two Janes made it a great night.
Wednesday, 27 September 2023, 07:35 PM