Indice - Table of contents
Lo Nuevo
[hide]
Fotos Del Día
[hide]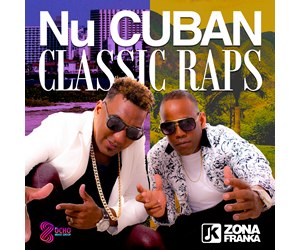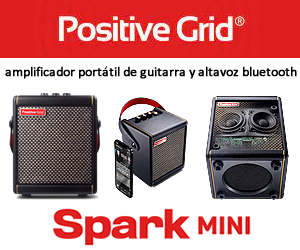 Tom Ehrlich - 2022 Monterey Jazz Festival Part 4
MONTEREY JAZZ FESTIVAL
SUNDAY SEPTEMBER 25, 2022
PHOTOS AND TEXT BY TOM EHRLICH © 2022
The last day of the Monterey Jazz Festival included many good performances. My report will include Kurt Elling's SuperBlue project, Flor de Toloache, Gerald Clayton Trio, Ravi Coltrane, Keyon Harrold, Kim Nalley featuring Houston Pearson and Gregory Porter.
Popular jazz vocalist, Kurt Elling brought his new project SuperBlue to the festival, which includes guitarist Charlie Hunter, drummer Corey Fontville (member of Butcher Brown), and DJ Harrison on keyboards/bass, which fuses funk, blues and hip hop forms with the traditional jazz concepts usually used by Elling. This new style of music should attract younger people to Kurt Elling's music.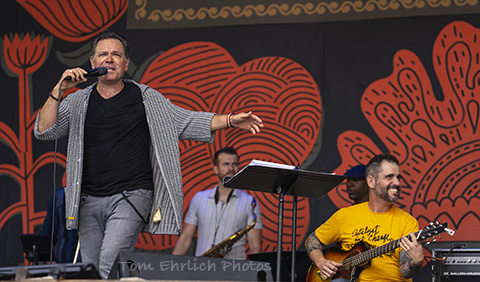 Kurt Elling and Charlie Hunter
Corey Fontville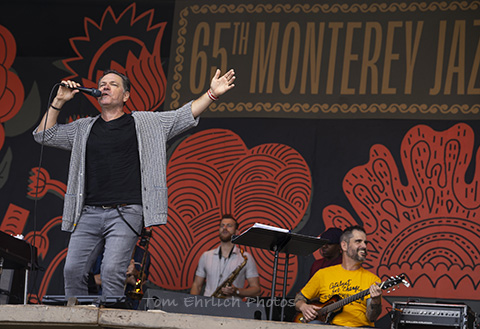 Kurt Elling and Charlie Hunter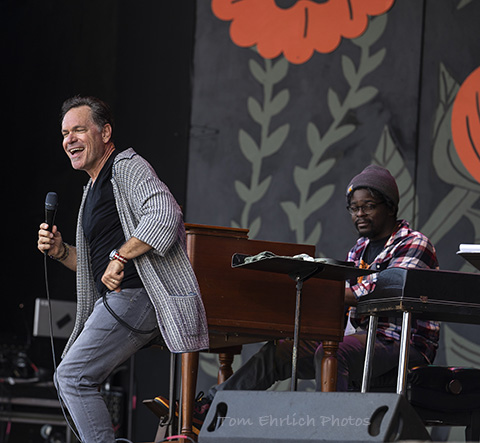 Kurt Elling and DJ Harrison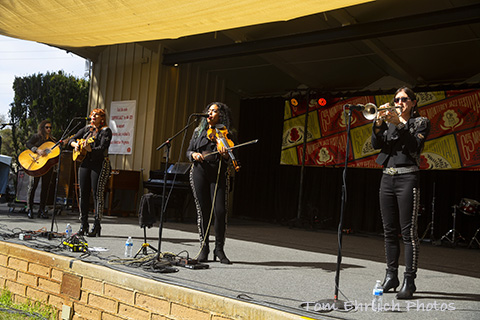 Right to left Anna García, Mireya Ramos, Shea Viol and Elena Lacayo
Flor de Toloache is an all woman mariachi group based in New York City. Although the group is a quartet, much smaller than traditional mariachi groups, these outstanding musicians have a huge and spiriited sound.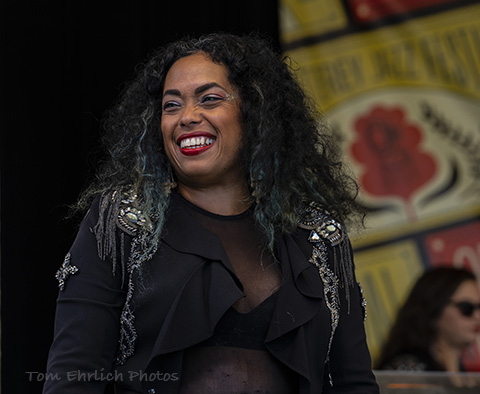 Mireya Ramos
Violinist and vocalist Mireya Ramos is a self declared Afro-Mexicano. One of the highlights of their set for me was their version of the famous Puerto Rican composer Tite Curet Alonso's song "Las Caras Lindas de Mi Gente Negras,"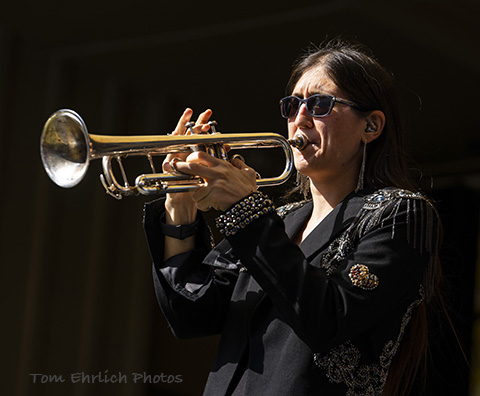 Anna García
Anna García is an excellent trumpeter.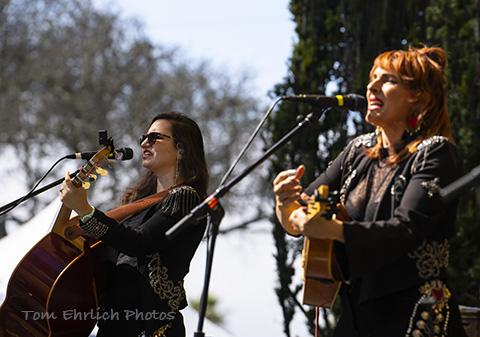 Elena Lacayo and Shea Fiol
Elena Lacayo guitarrón player and vocalist provides bass lines, while Shea Fiol also a vocalist and player of a vihuela (guitar like instrument).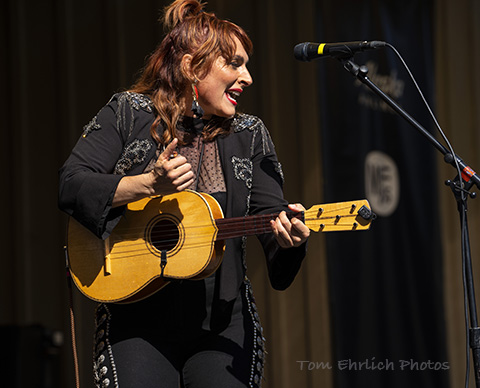 Shea Fiol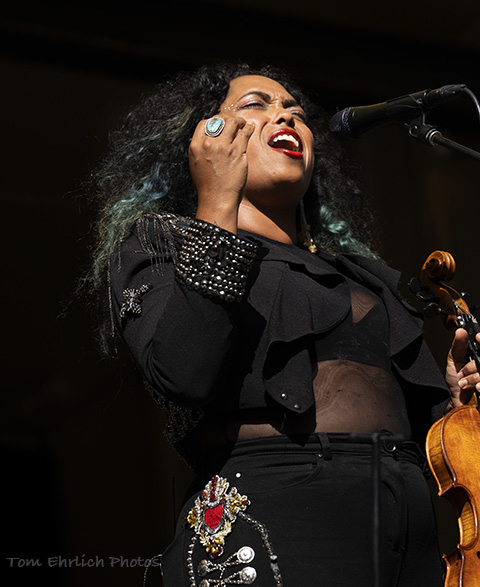 Mireya Ramos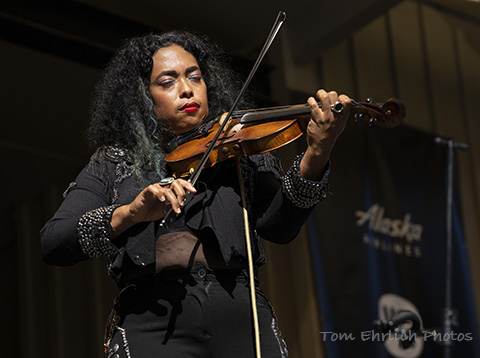 Mireya Ramos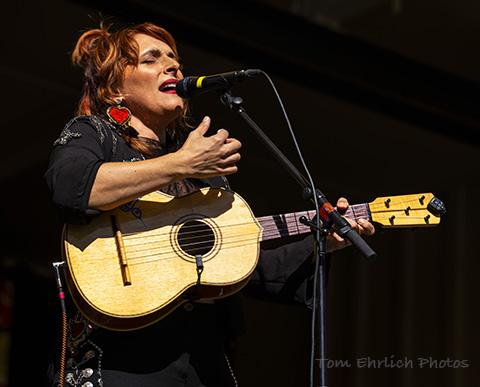 Shea Fiol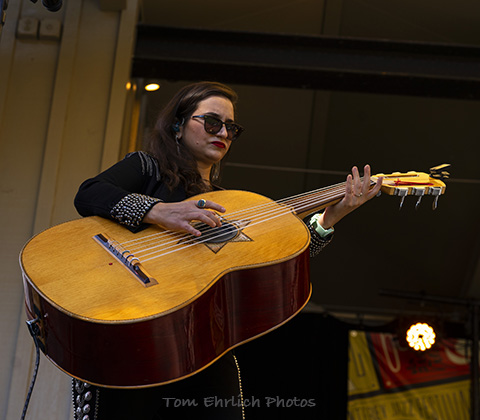 Elena Lacayo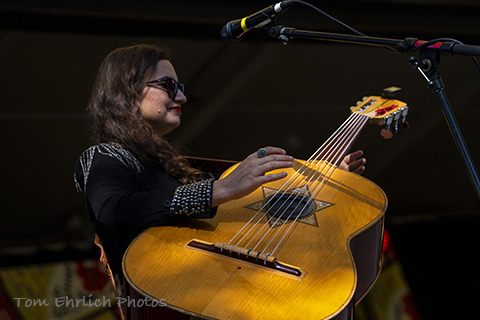 Elena Lacayo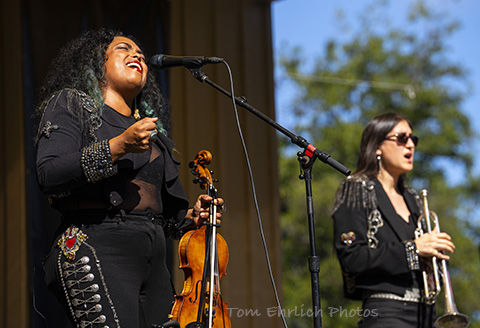 Mireya Ramos and Anna García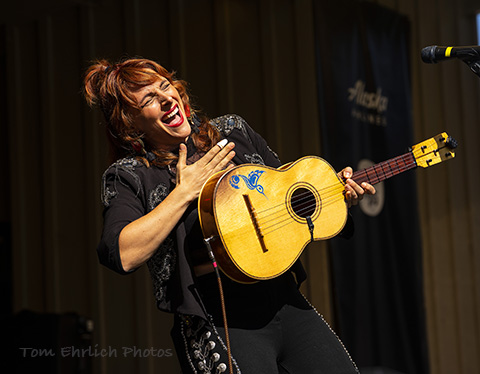 Shea Fiol
Flor de Tlooache performed different styles of modernized traditional Mexican music, which included music which got people to get up and dance.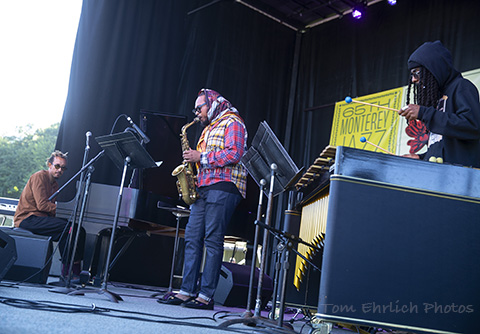 Gerald Clayton, Immanuel Wilkins and Joel Ross
I stopped by the West End Stage to check out Gerald Clayton Trio without knowing who Gerald's band mates would be. i was ecstatic that two of my favorite young jazz musicians Joel Ross (vibes) and Immanuel Wilkins (sax) were members of the trio.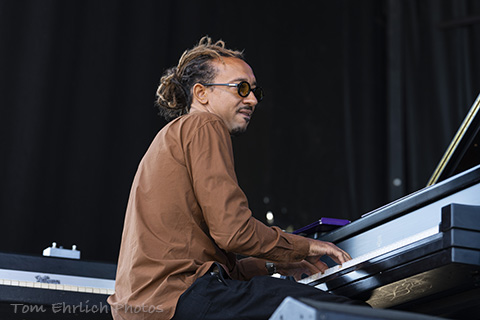 Gerald Clayton
Gerald Clayton is one of the better pianists, composers, arrangers and educators of his generation. Gerald is 38 years old. Joel Ross and Immanuel Wilkins are both in their 20's and band leaders in their own right.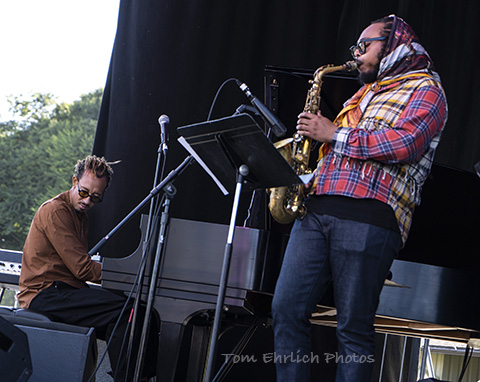 Gerald Clayton and Immanuel Wilkins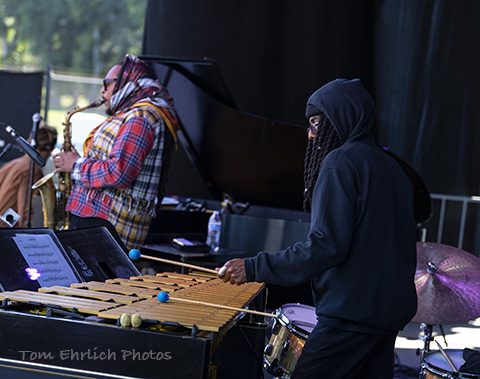 Joel Ross and Immanuel Wilkins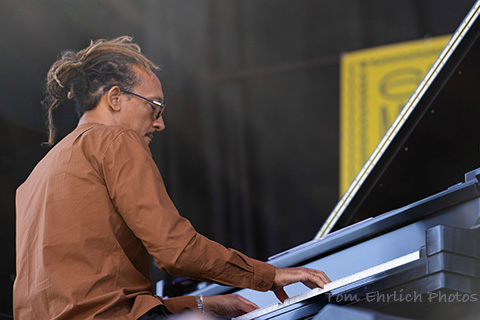 Gerald Clayton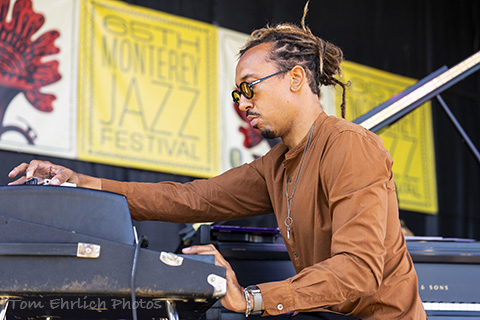 Gerald Clayton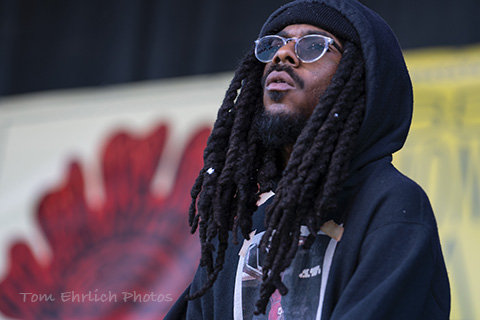 Joel Ross
Joel Ross is only 26 years old, but his playing, composing and arranging is on a scale of master musicians many years older than him. The future in Afro-American improvised music on vibes is in good hands.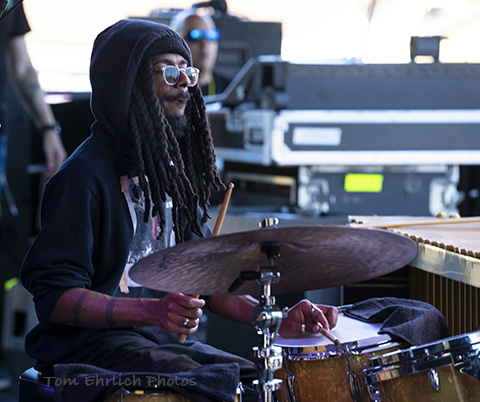 Joel Ross
I have seen Joel perform a number of times, but this is the first time I witnessed him playing drums, which he did on a few songs.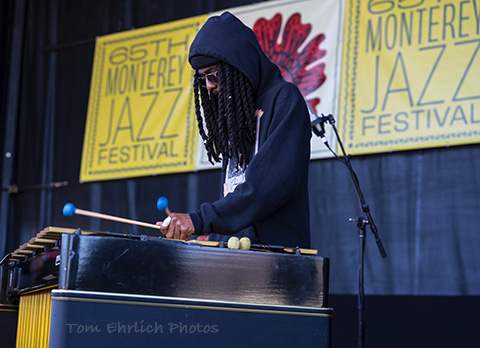 Joel Ross
Moving wonderful music.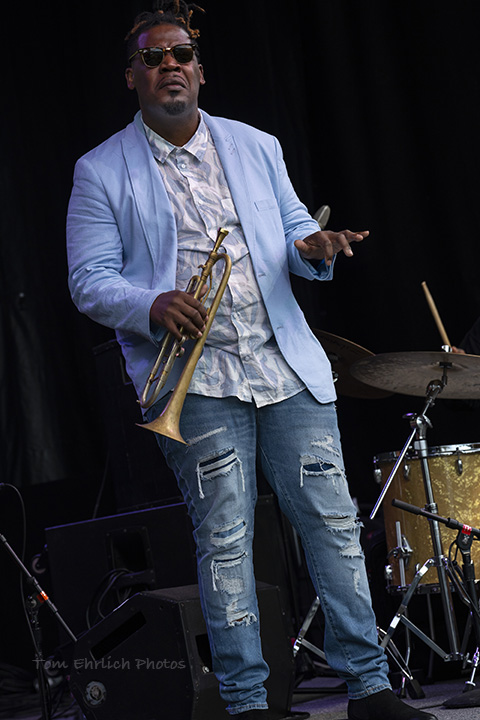 Keyon Harrold
Trumpeter Keyon Harrold has an interesting and extensive background. He has performed and recorded with a wide variety of musical group including hip hop stars Common, Snoop Dogg, Jay Z, Beyonce and Eminem, jazz groups Charles Tolliver, Gregory Porter, David Sanborn, Lonnie Smith, Billy Harper and many others.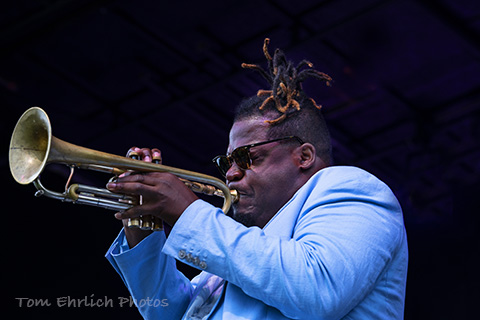 Keyon Harrold
Most of Keyon's music emphasized social justice issues.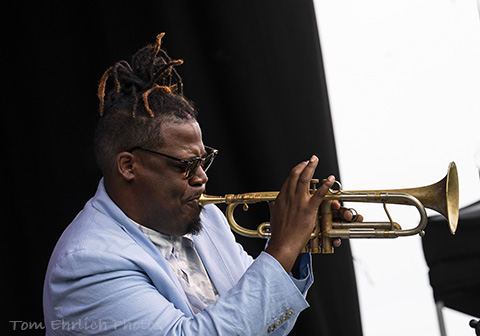 Keyon Harrold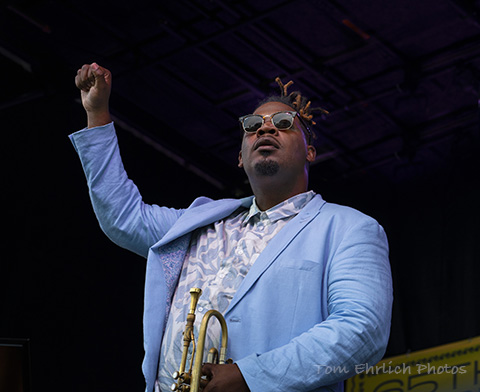 Keyon Harrold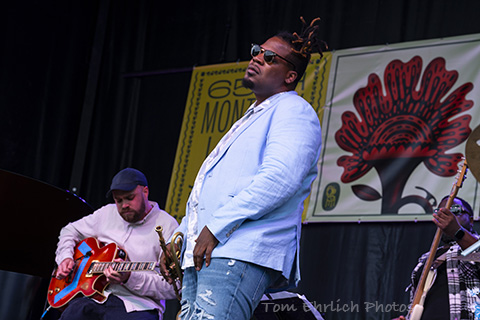 Keyon Harrold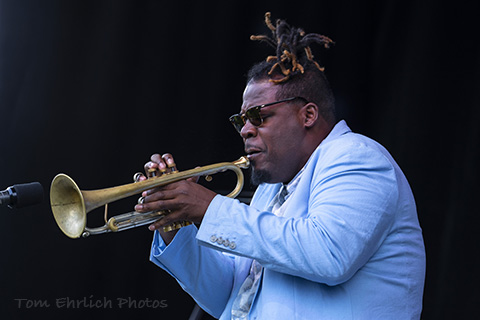 Keyon Harrold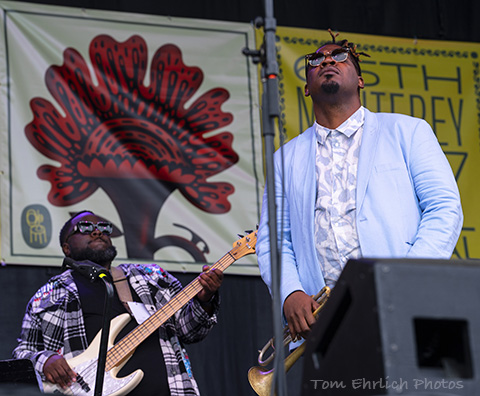 Keyon Harrold and Dominique Sanders
The set presented intense and moving music where the crowd seemed to respect the music and Keyon's social justice themes. I saw another side of Keyon after his set completed and I went back stage to ask him some questions and help a young college student get acces to him so she could get some questions answered. The college student and I waited for our turn while he was interviewed by a series of media people and young people. During this whole time Keyon was warm, respectful and made sure he responded to everyone's inquiries. Besides being a wonderful musician, composer and band leader, he is also a compasionate and caring individual who has gained my respect on all levels.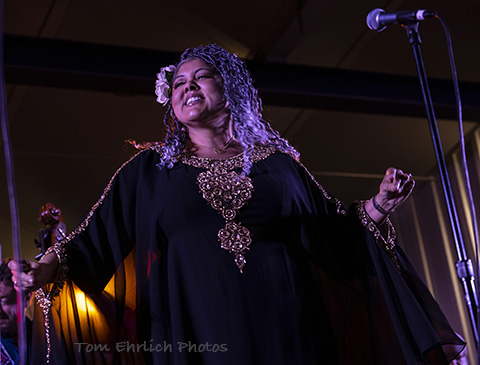 Kim Nalley
Back to the Garden Stage to see the wonderful, soulful Bay Area vocalist Kim Nalley with special guest legendary Houston Pearson - a real treat for me, since this was the first time I had the opportunity to photogaph him.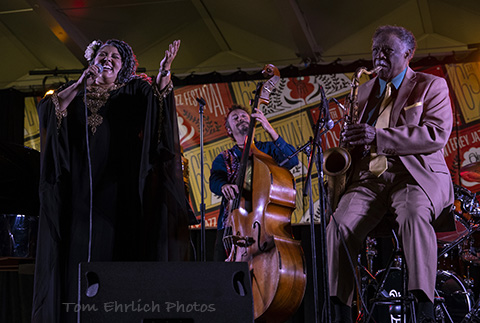 Kim Nalley, Michael Zisman and Houston Pearson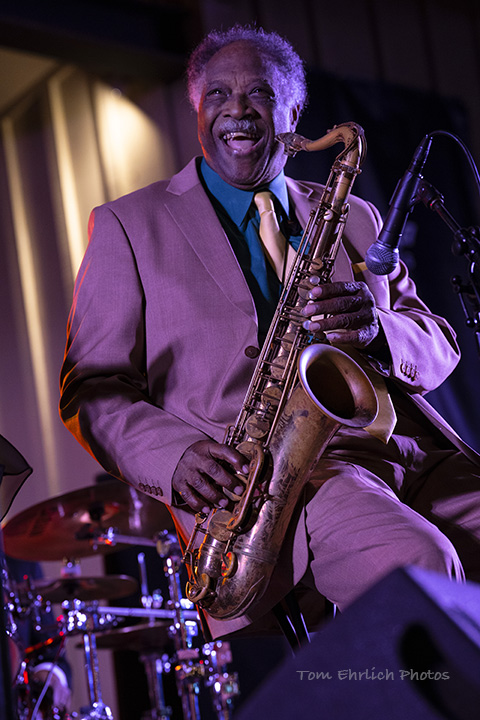 Houston Pearson
Kim Nalley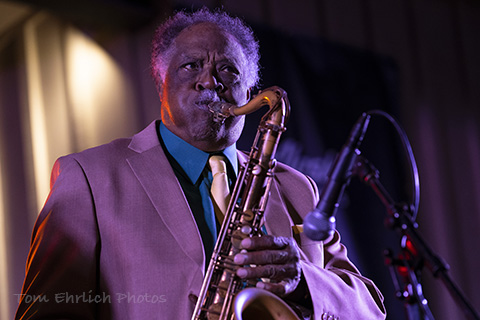 Houston Pearson
Well known Houston Pearson is a soul jazz legend who will turn 88 on November 0, 2022. His playing is still strong and soulful.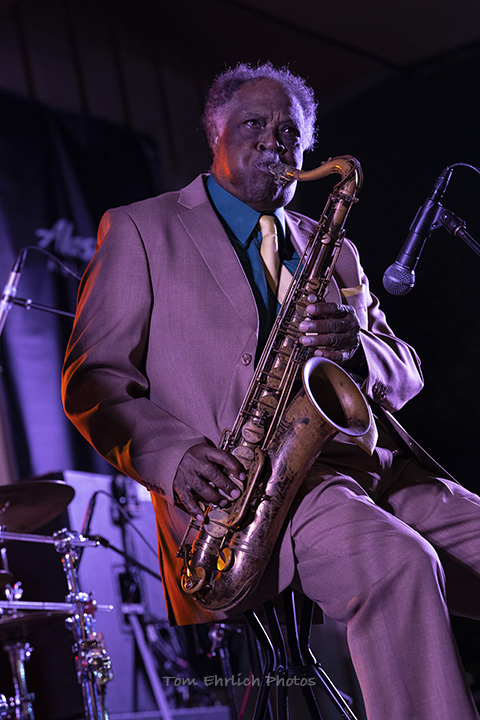 Houston Pearson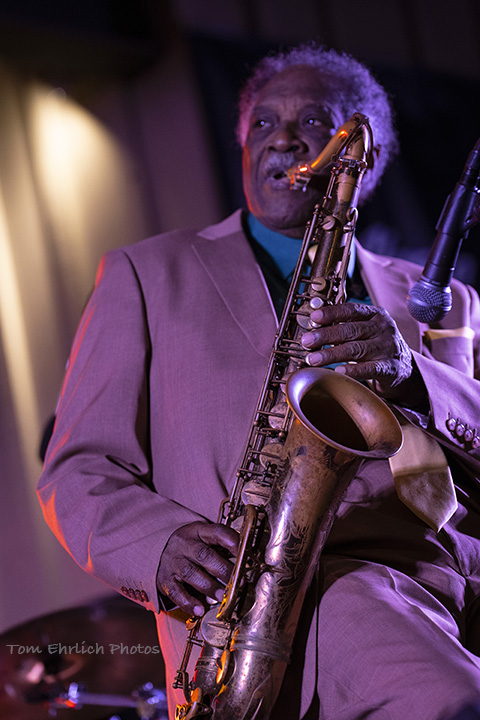 Houston Pearson
Really enjoyed this set. Vocalist Maria Malduar was also supposed to perform with the group, but I did not get to see her - had to move on to other bands.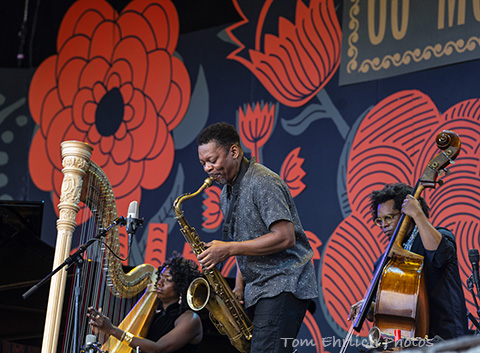 Brandee Younger, Ravi Coltrane and Lonnie Plaxico
Ravi Coltrane presented music dedicated to the music of his parents John and Alice Coltrane. He was joined by Brandee Younger on harp, Lonnie Plaxico on bass, Gadi Lehavi om keyboards and Elé Howell in drums.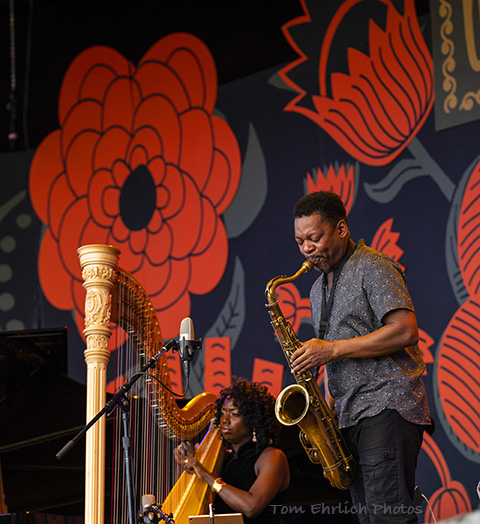 Brandee Younger and Ravi Coltrane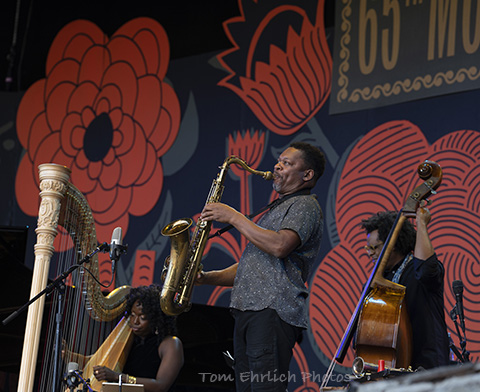 Brandee Younger, Ravi Coltrane and Lonnie Plaxico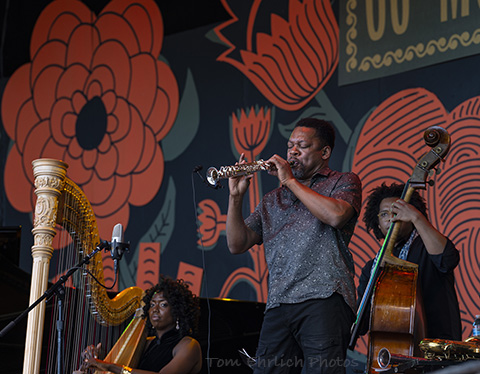 Brandee Younger, Ravi Coltrane and Lonnie Plaxico
As expected, the music was deep, spiritual and beautiful.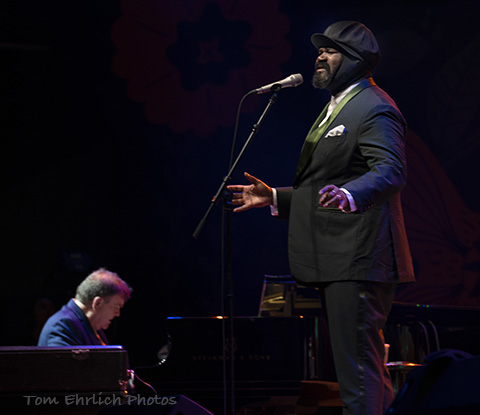 Gregory Porter and Chip Crawford
The last band of the festival was the great superstar vocalist Gergory Porter. I have seen him perform numerous times and he never disappoints. As usual his long time associate, musical director and pianist Chip Crawford enhanced the music.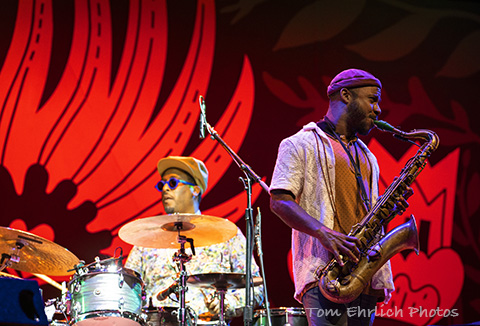 Tivon Pennicott sax and Emanuel Harrold drums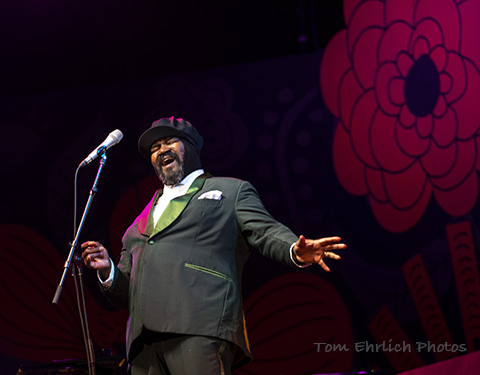 Gregory Porter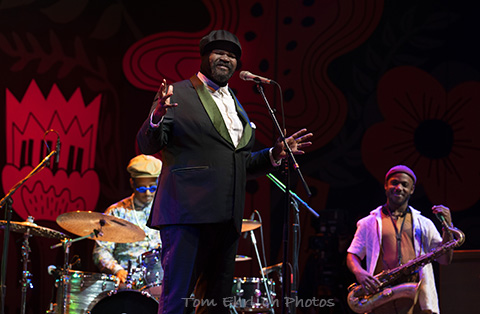 Gregory Porter, Emmanuel Harrold, and Tivon Pennicott
Gregory Porter, Tivon Pennicott and Ondrej Pivec
Gregory Porter, Tivon Pennicott and Ondrej Pivec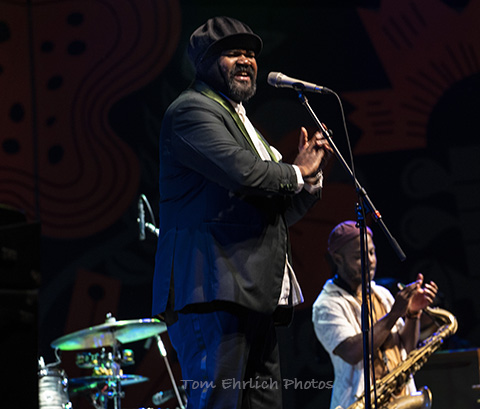 Gregory Porter and Tivon Pennicott
As always an extremely satisfying performance and Gregory responded to a standing ovation by doing an encore, which is unusual for the festival. The end of another great jazz festival.
viernes, 14 octubre 2022, 12:44 am