Indice - Table of contents
Lo Nuevo
[hide]
Fotos Del Día
[hide]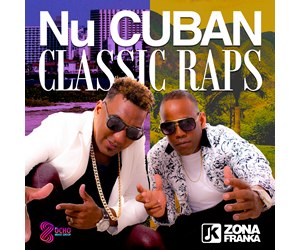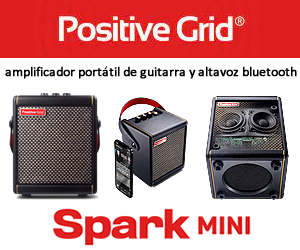 Tom Ehrlich - 2022 Monterey Jazz Festival Part 3
MONTEREY JAZZ FESTIVAL PART 3
SATURDAY, SEPTEMBER 24, 2022
PHOTOS AND TEXT BY TOM EHRLICH © 2022
Saturday's schedule was a challenge for me having to decide which groups to cover. This report will include the following groups: Las Cafeteras, Terri Odabi, Dave Stryker Quartet, Emmet Cohen Trio, The Cookers, Artemis, Matthew Whitaker and Joel Ross "Good Vibes".
Las Cafeteras is popular band from East Los Angeles who combine traditional Mexican music with rock and Hip Hop to ceate energetic music and dance with socially conscious lyrics.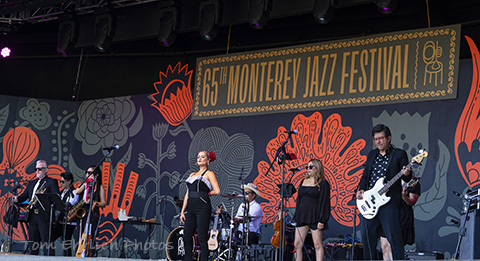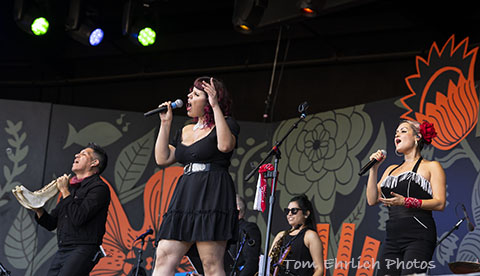 Hector Flores, Alih De La Peña, and Denise Carlos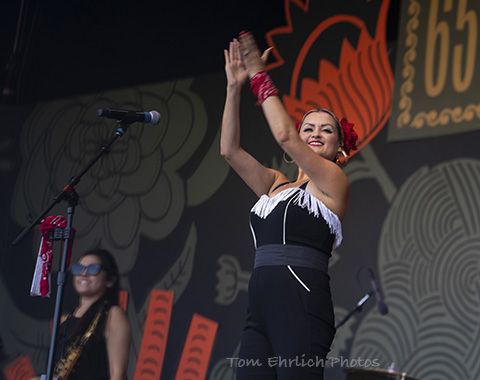 Denise Carlos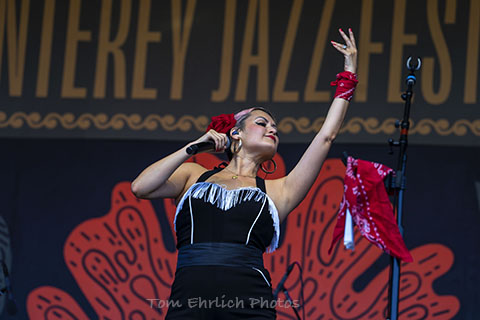 Denise Carlos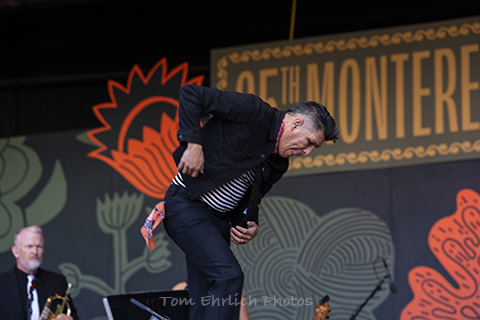 Hector Flores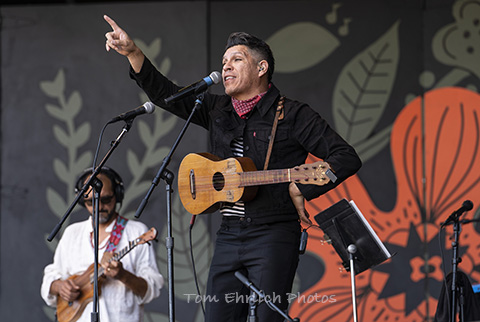 Hector Flores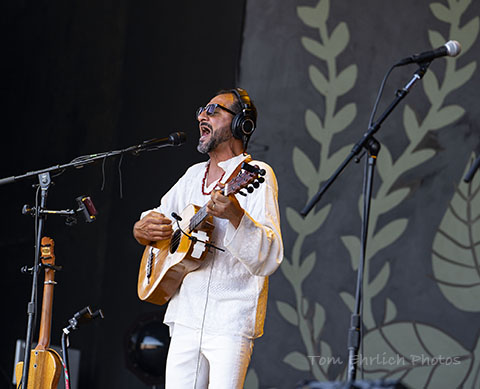 Jorge Mijangos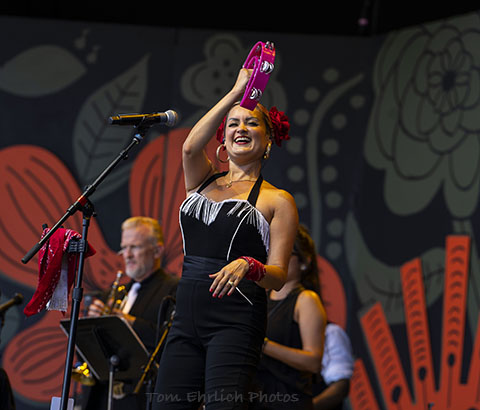 Denise Carlos
Alih De La Peña electric Guitar and Denise Carlos jarana primera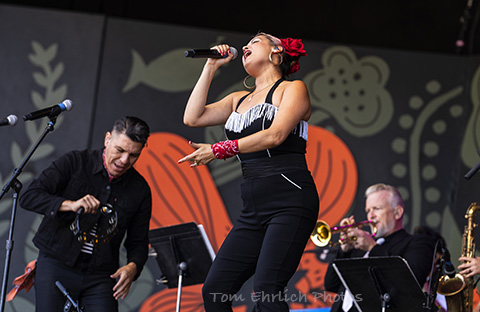 Hector Flores and Denise Carlos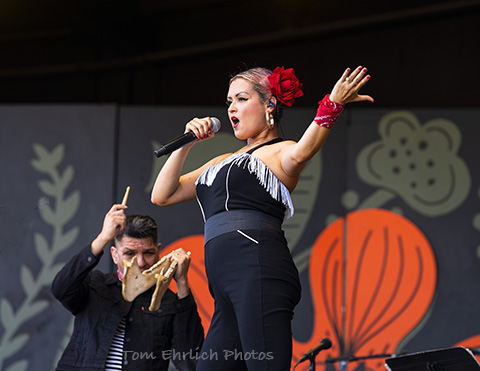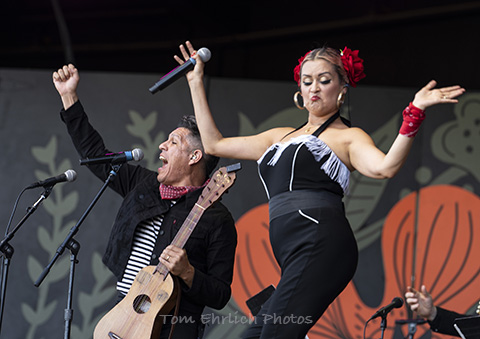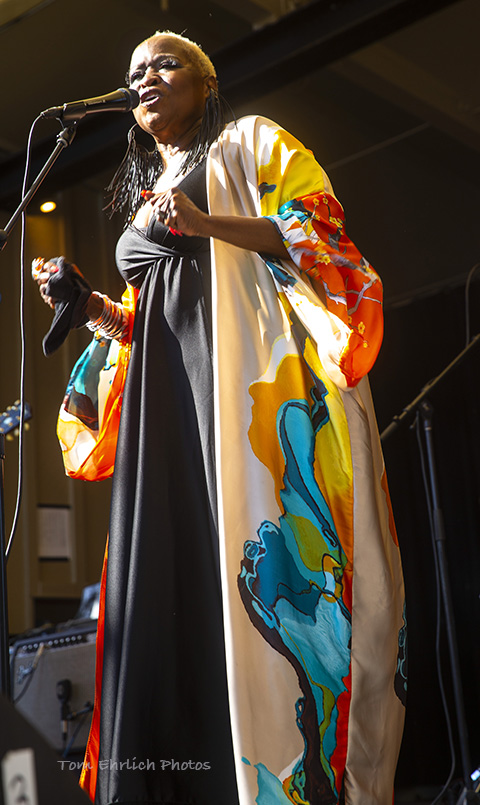 Terri Odabi
Bay Area jazz and blues vocalist and company gave a high energy performance of soulful blues. The Garden Stage area was packed and Terri eergized and excited the crowd.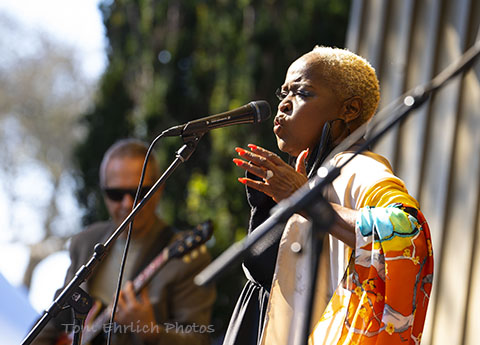 Terri Odabi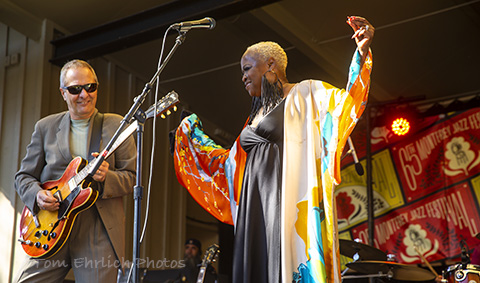 Terry Hiatt guitar and Terri Odabi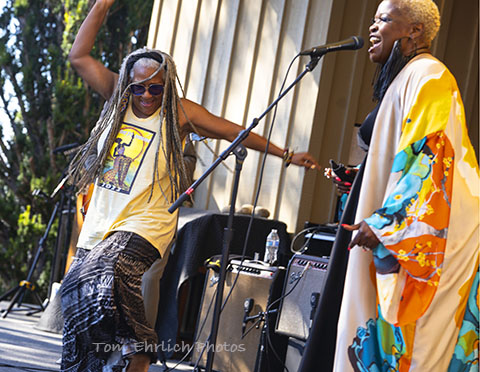 Terru Odabi and dancer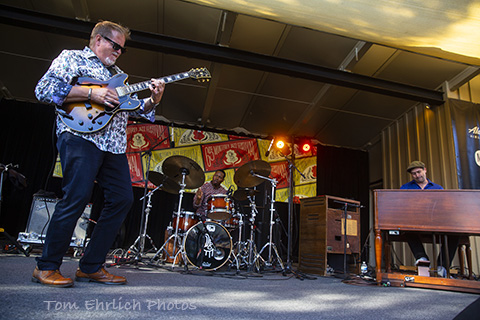 Dave Stryker guitar, Jared Godl organ and McClenty Hunter, Jr. holding down the drums.
Veteran guitarist Dave Stryker and his great band treated the crowd to some very soulful jazz.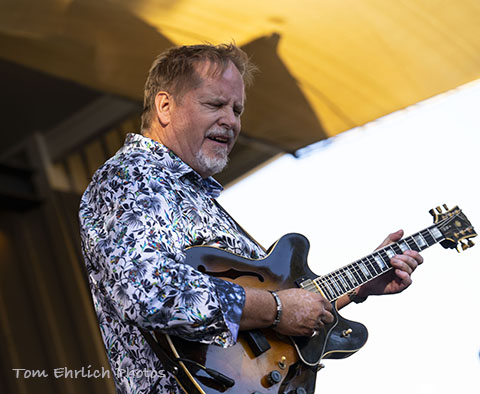 Dave Stryker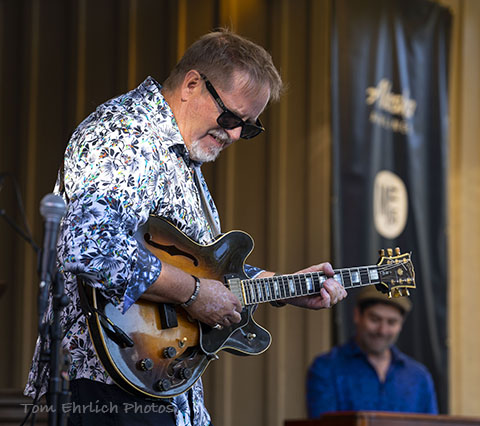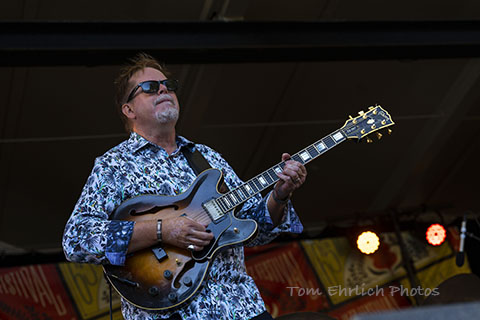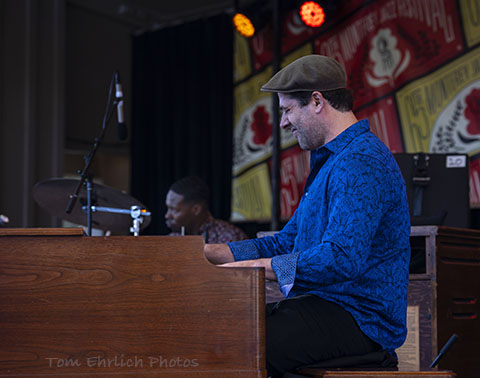 Jared Gold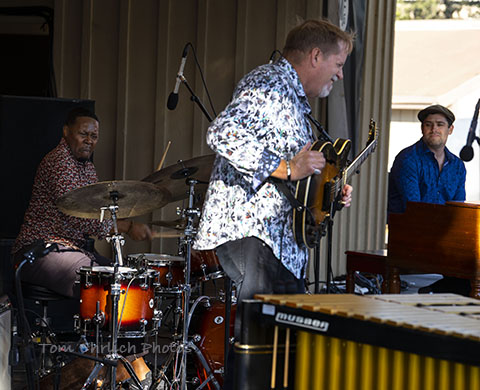 McClenty Hunter, Jr., Dave Stryker and Jared Gold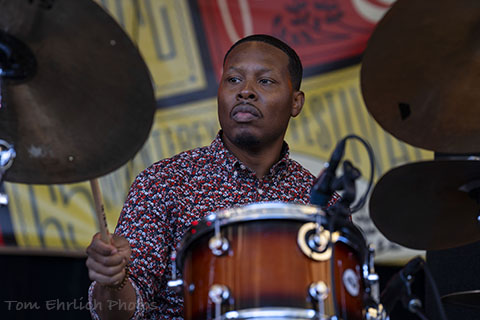 McClenty Hunter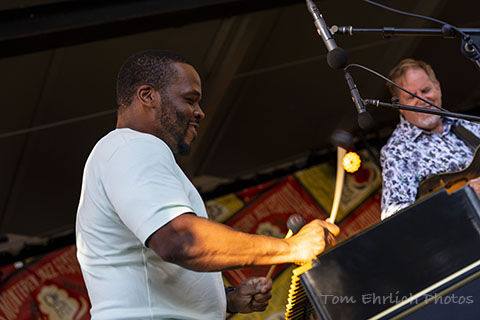 Warren Wolf vibes
Warren Wolf popular vibist put the icining on the cake for this outstanding organ trio. Extremely enjoyable set of music.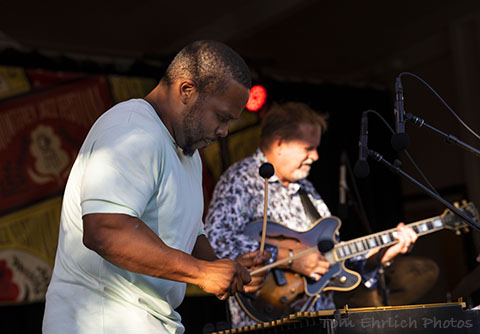 Warren Wolf vibes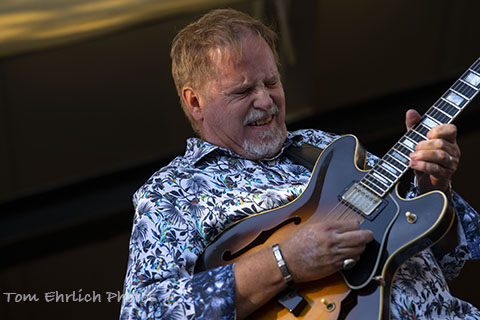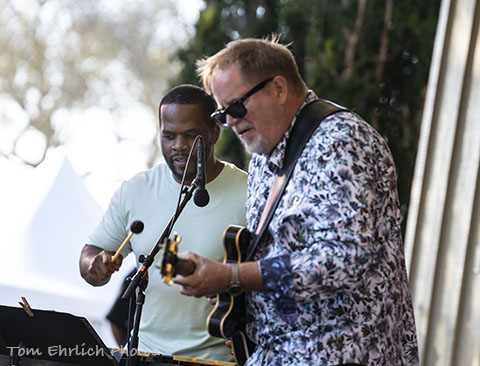 Dave Stryker and Warren Wolf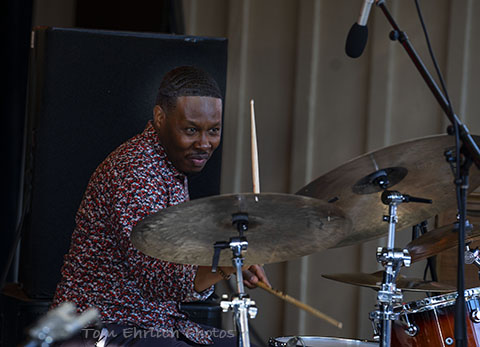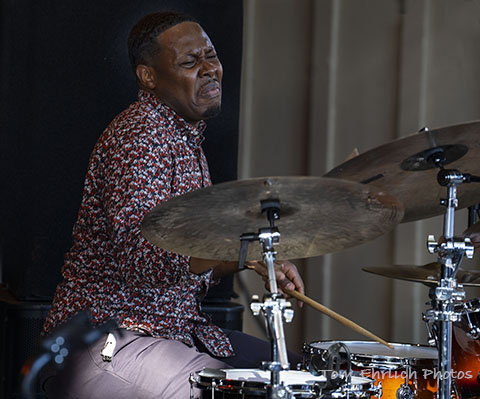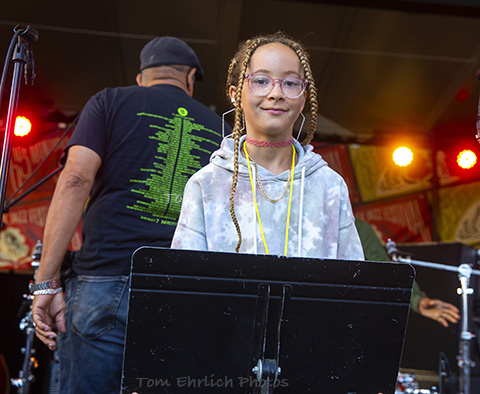 Young Stage hand preparing the stage for the band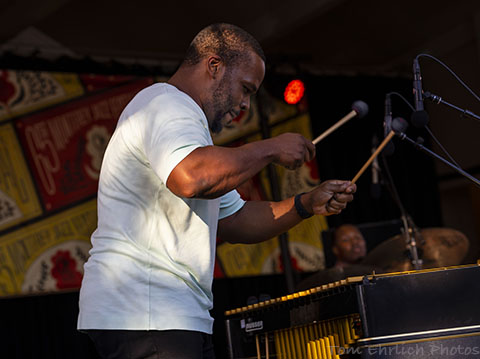 Warren Wolf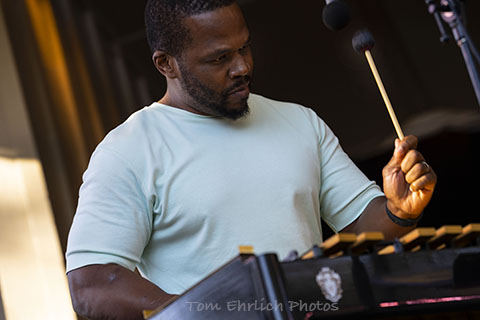 Warren Wolf
Next up was the popular Emmet Cohen and his trio. At 32 years of age, he is one of the better pianists of his generation. His performance was a definite crowd pleaser.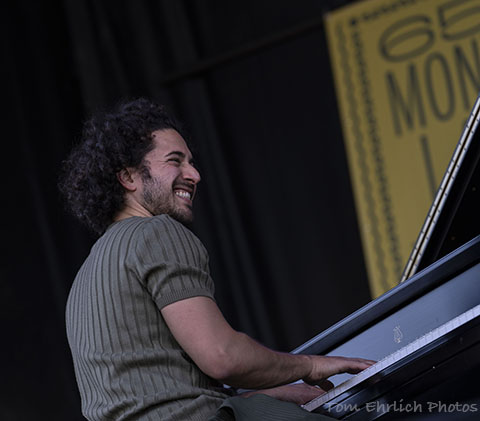 Emmet Cohen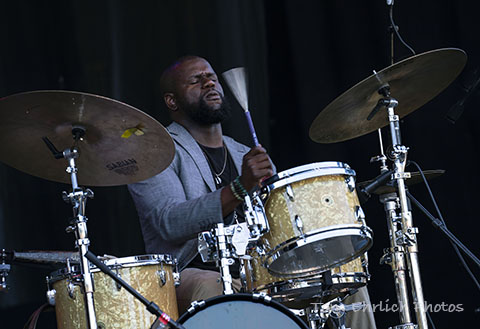 Evan Sherman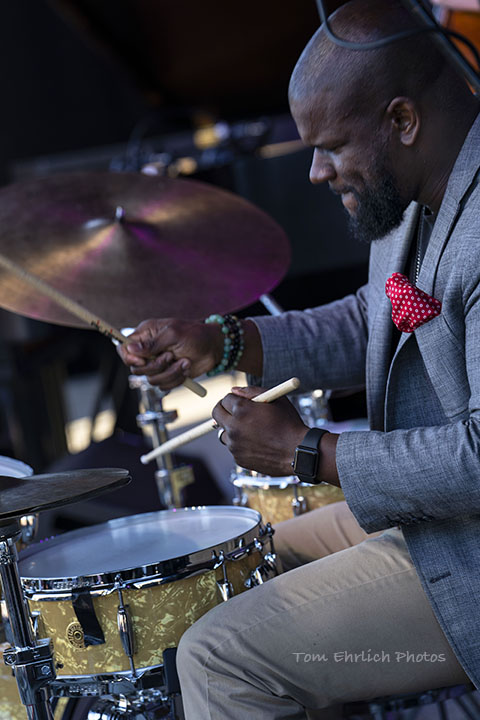 Evan Sherman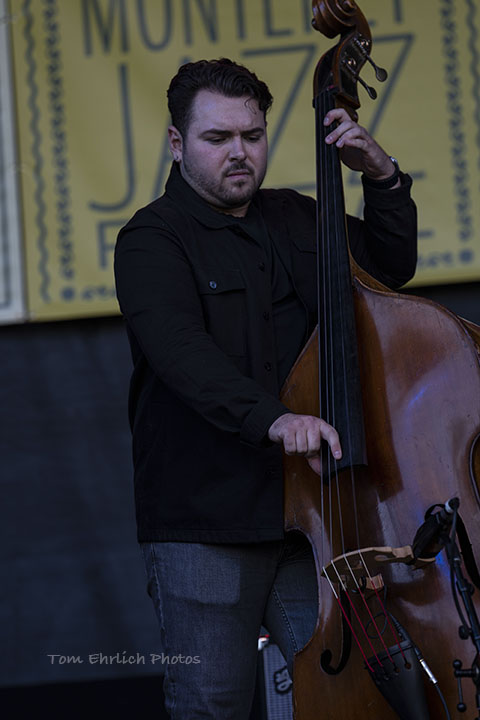 Phillip Norris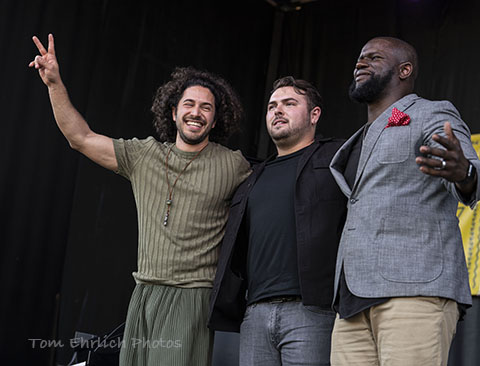 Emmet Cohen, Phillip NOrris and Evan Sherman
Back to the Garden Stage to catch The Cookers, a band of legendary jazz musicains.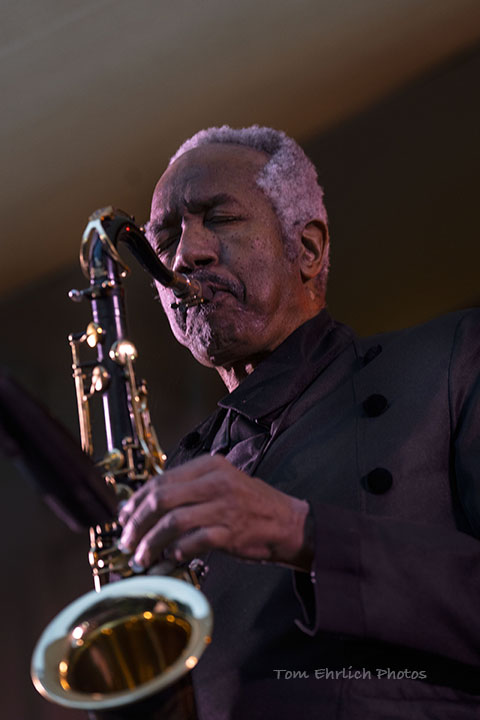 Billy Harper
Always look forward to hearing one of my favorite sax players, Billy Harper.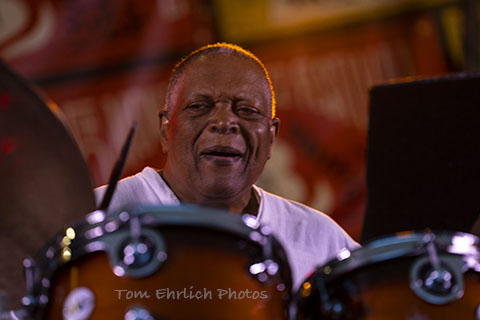 Billy Hart
Billy Hart has a resume a mile ong and has played with most of the best bands during his lifetime.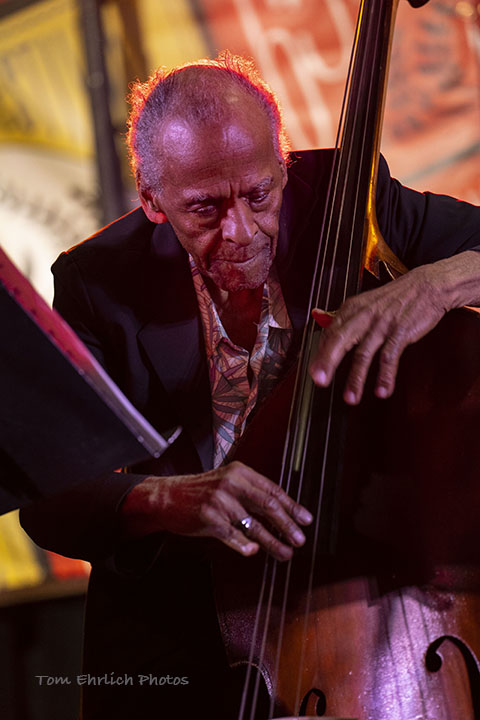 Cecil McBee
Cecil McBee one of the best musicians to ever play the bass.
Craig Handy
Craig Handy is one of the few American jazz musicians who can play straght ahead jazz and Afro-Caribbean music. I have seen him perform numerous times with some of the great Afro-Caribbean bands such as Conrad herwig's Latin Jazz band and Larry Harlow. He also has an extensive resume playing with many great jazz groups as aleader and side man.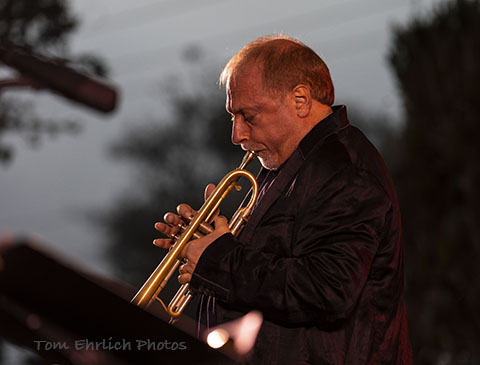 David Weiss
David Weiss trumperter, composer arranger and band leader has played with mnay of the best jazz groups also and he is responsible for putting together this amazing group of legendary players.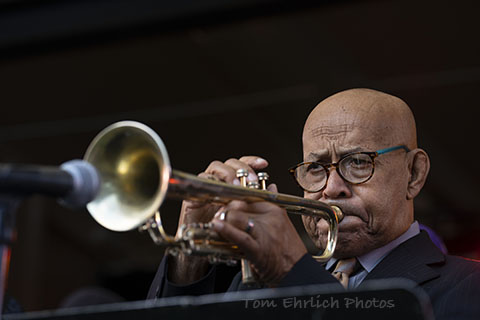 Eddie Henderson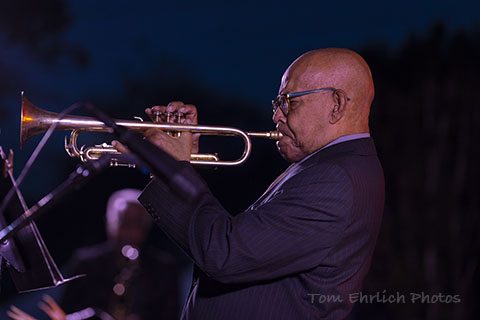 Eddie Henderson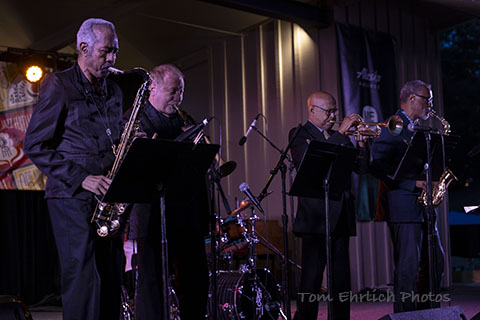 Billy Harper, David Weiss, Eddie Henderson and Craig Handy
This band played its usual great set of music.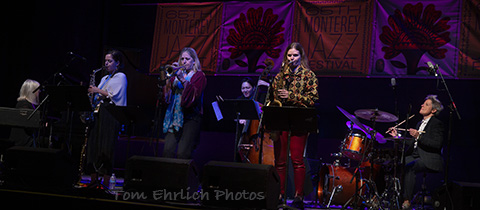 Renee Rosness piano, Alexa Tarantino alto sax, Ingrid Jensen trumpet, Norko Ueda bass, Nicole Glover tenor sax and Allison Miller drums
Artemis is an all woman jazz group of top of the line musicians.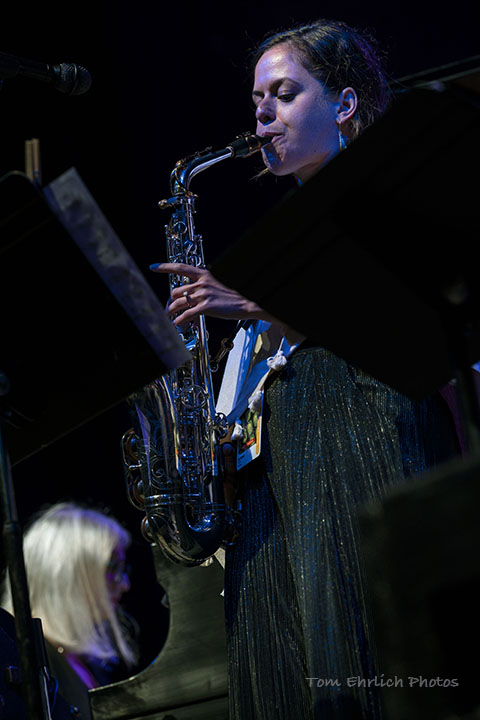 Alexa Tarantino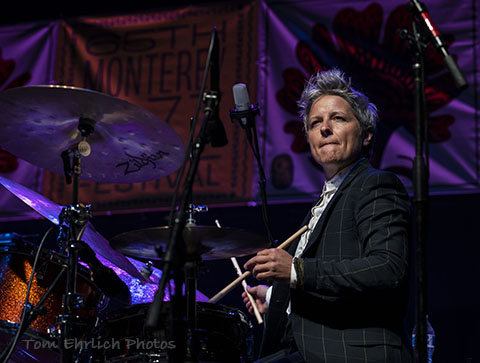 Allison Miller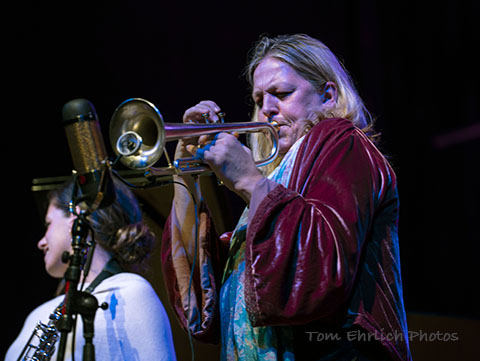 Ingrid Jenson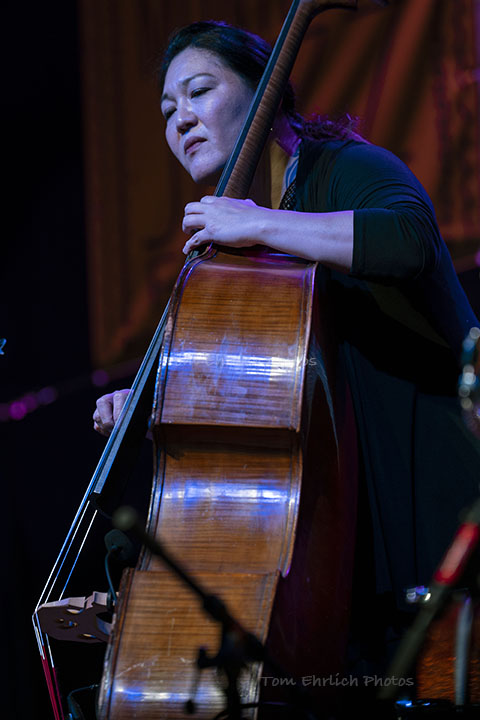 Noriko Ueda
Most of these musicians are band leaders and they played an inspired set of music.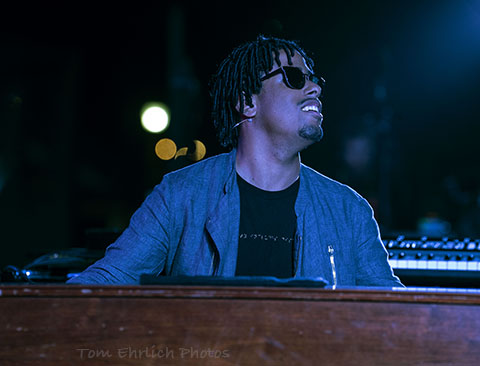 Matthew Whitaker
Matthew Whitaker keyboardist and organist is only 21 years old. He was a child prodigy and has performed with many big name musicians since he was 9 years old. His music and antics remind me of Ray Charles. He perfomred with a quintet including guitar, bass, drums and percussionist.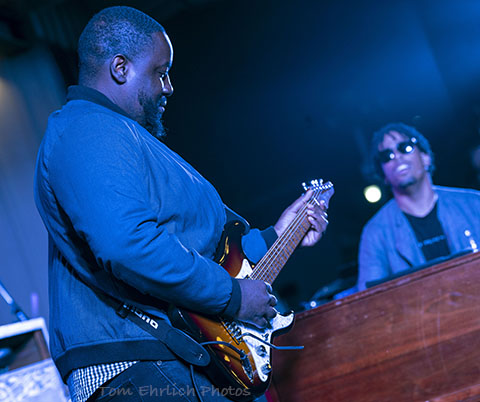 Marcos Robinson guitar and Matthew Whitaker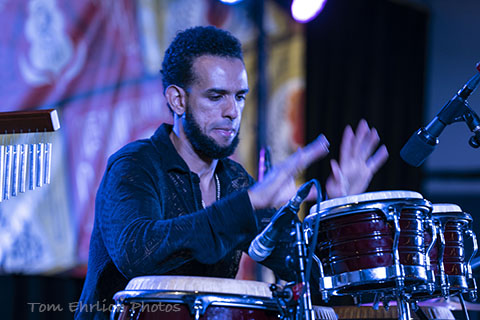 Ivan Llanes
The biggest surprise of the festival is seeing Ivan Llanes who I had not seen in 11 years. Ivan is Cuban and he came to the United States 11 years ago playing with the great Cuban flutist Maraca. We were both excited and surprised to see eachother.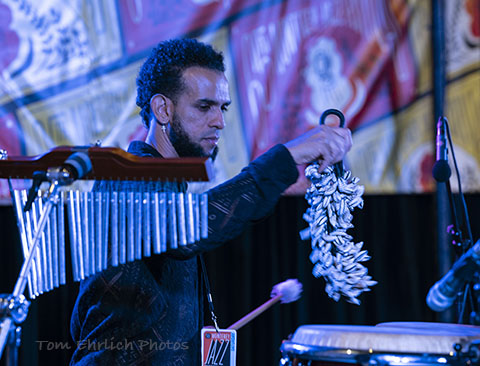 Ivan Llanes
Ivan has a complete pcercussion set up including congas, bongos, itmbales and an assortment of small percussion instruments.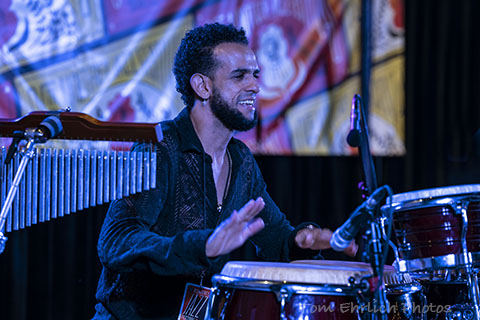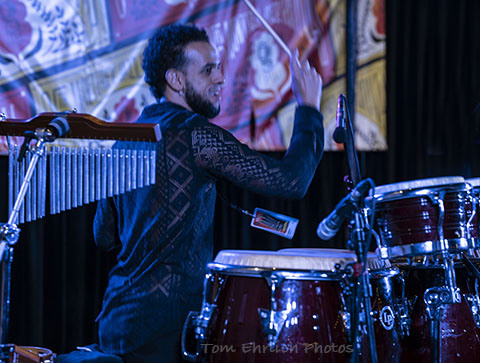 A great set of music and happy to reconnect with Ivan.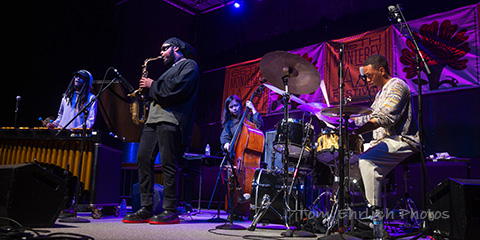 Joel Ross vibes, Immanuel Wilkins sax, Kanoa Mendenhall bass, Jeremy Hutton drums
The finl performance of the night was a group of young phenoms which is one of my favorite bands - Joel Ross Good Vibes. Leader Joel Ross is still in his 20s and is already master vibist with his own unique style. Immanuel Wilkins is a great saxophonist and he also is a band leader that has a big following.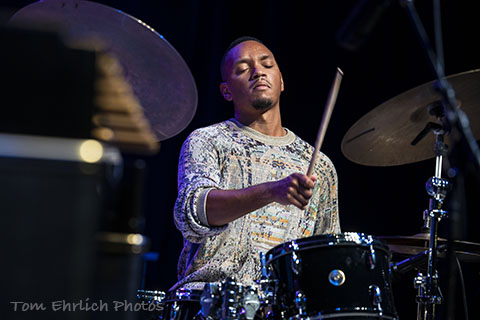 Jeremy Hutton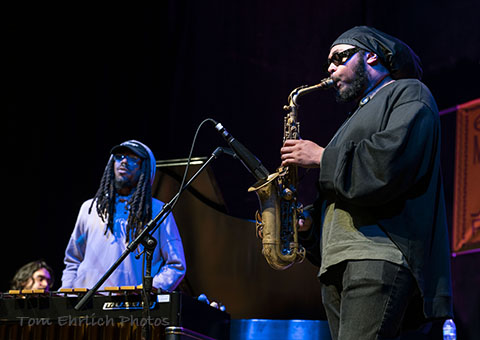 Joel Ross and Immanuel Wilkins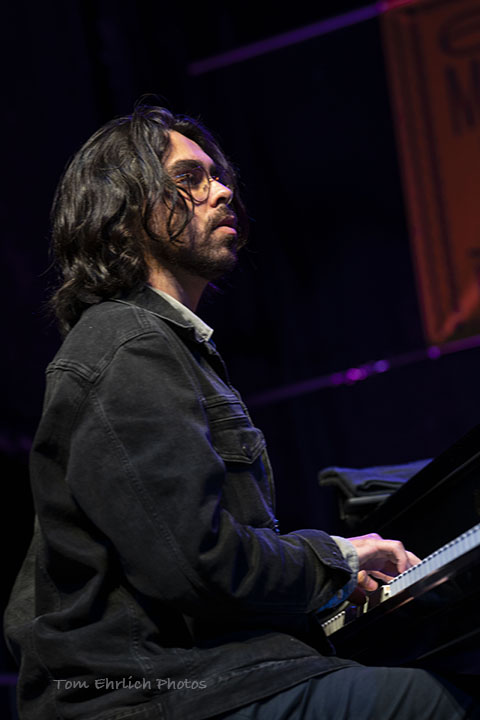 Jeremy Corren
Jeremy Corren is an excellent pianist.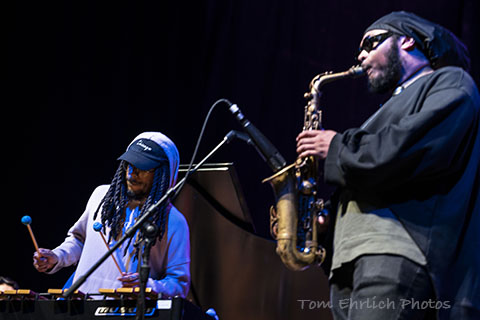 Joel Ross and Immanuel Wilkins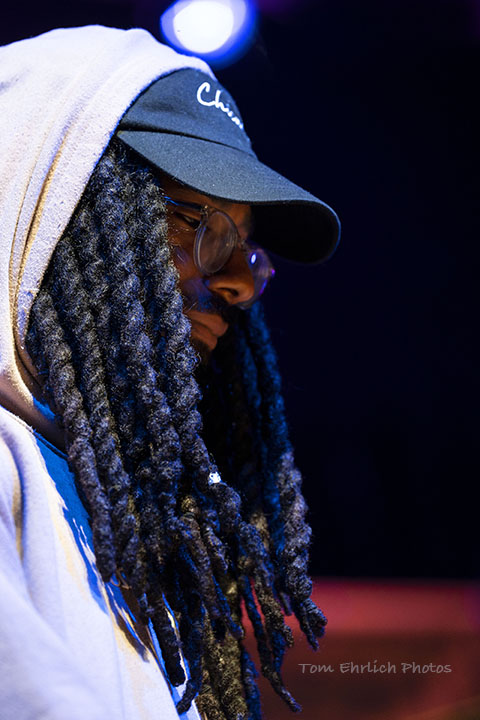 Joel Ross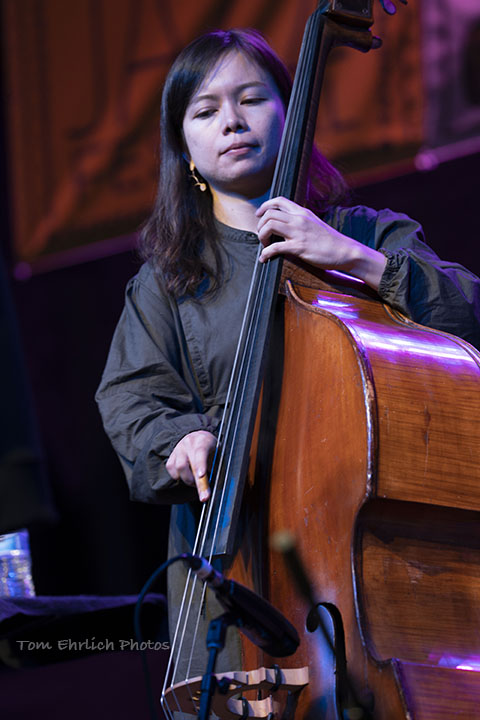 Kanoa Mendenhall
Kanoa excells in the bass.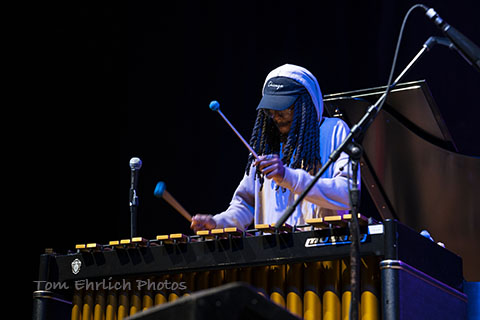 A great way to end a wonderful long day of outstanding music. Joel and the band kicked butt. Joel's group was one of the highlights of the festival for me.The future of improvised Afro-American music is in good hands.
lunes, 10 octubre 2022, 03:25 pm