Tom Ehrlich - 2018 San Jose Jazz Festival Part 2
SAN JOSÉ JAZZ SUMMERFEST 2018
SATURDAY, AUGUST 11, 2018, PART ONE
PHOTOS AND TEXT BY TOM EHRLICH © 2018
Day two at the 2018 San José Summerfest had non-stop music from 12:00 noon to past midnight. Had to make some tough choices about what to cover, but what I did cover were oustanding performances from a variety of different types of groups. Too many photos for one post, so will post Part One now and Part Two next.
My day started at Cafe Stritch, San José's great jazz club to see Sylvia Cuenca's Quartet. Sylvia is originally from San Jose, but now resides in New York City. She is a top notch drummer who has played with many of Jazz's finest groups too numerous to mention including Joe Henderson, Clark Terry, Eddie Henderson and Hilton Ruiz. Sylvia is also an educator.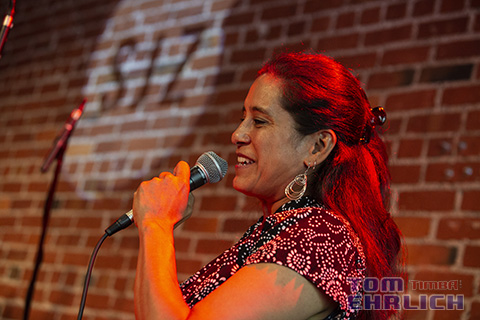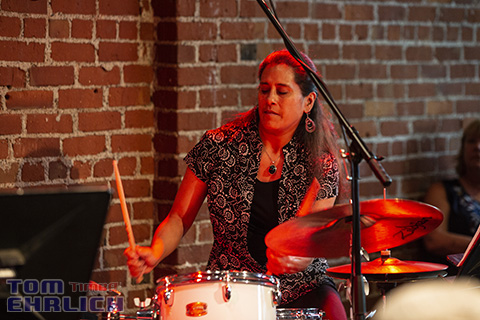 Sylvia's group consisted of great players including Peter Zak on piano, Essiet Akon Essiet on bass and Paul Hanson on bassoon and soprano sax. All four of these players are excellent accompanists and soloists.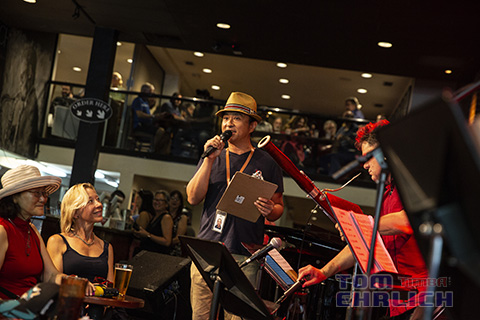 The band was introduced by Chris Cortez, DJ from KCSM, the Bay Area's jazz station.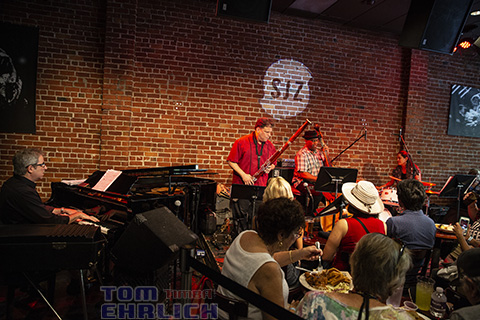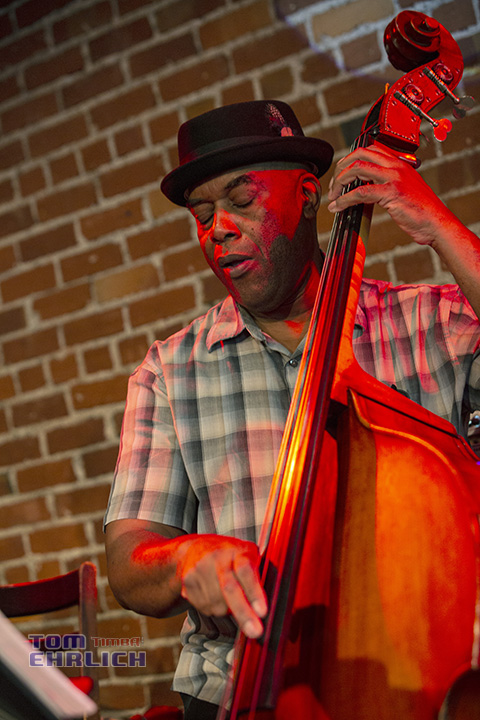 Essiet Akon Essiet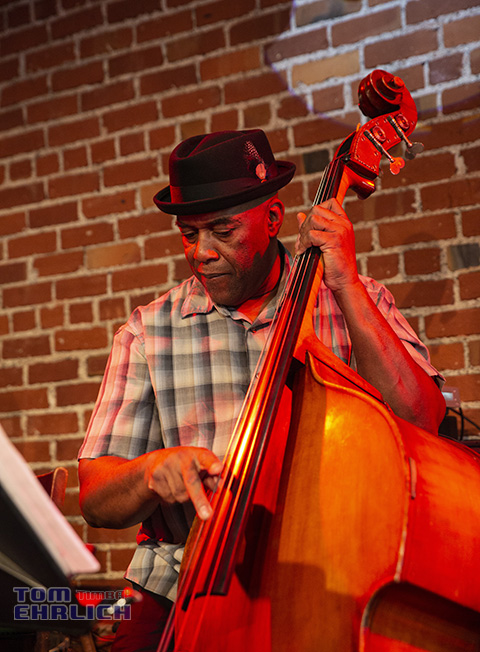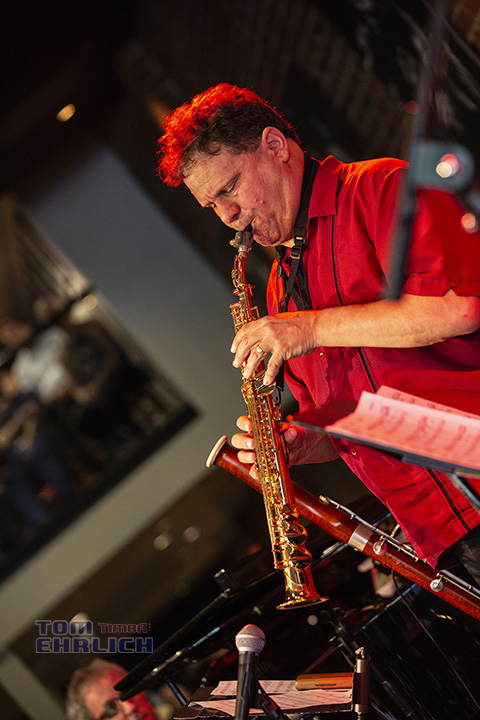 Paul Hanson - soprano sax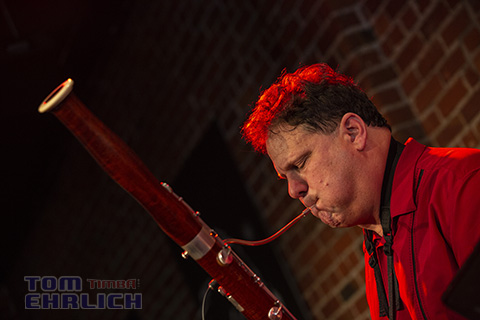 Paul Hanson - bassoon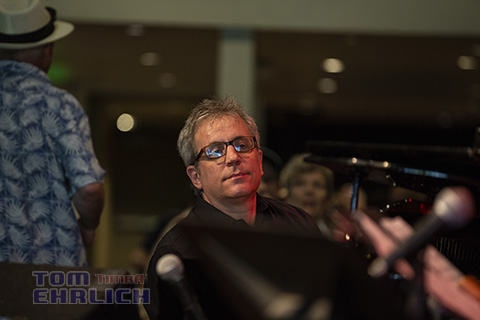 Peter Zak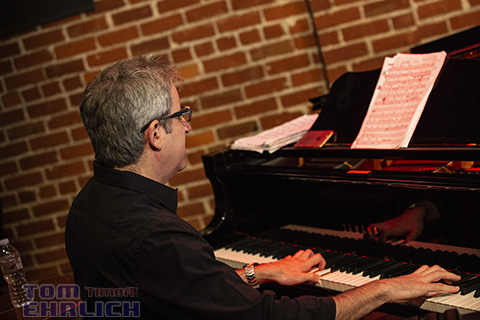 Peter Zak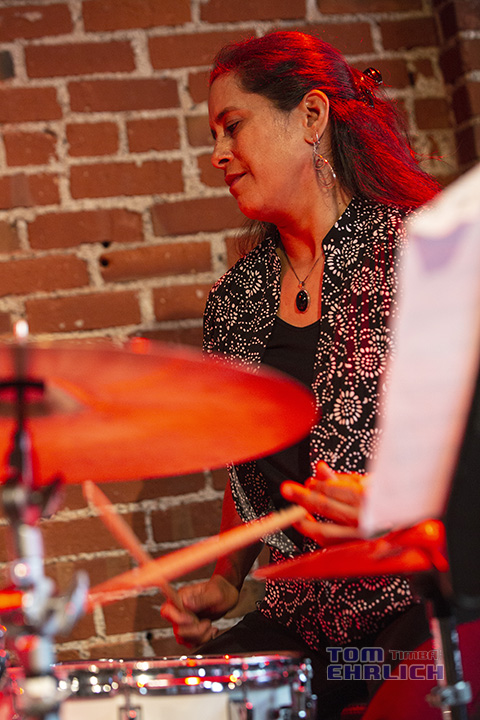 Sylvia Cuenca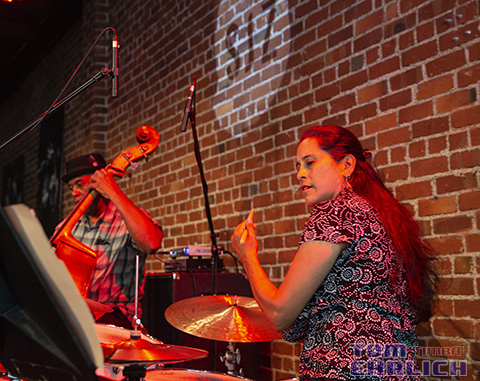 Sylvia Cuenca and Essiet Akon Essiet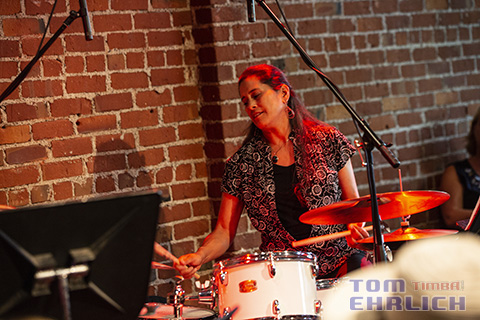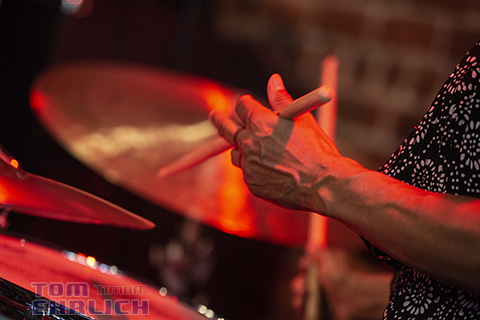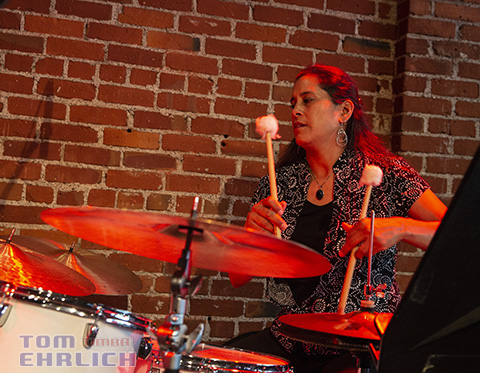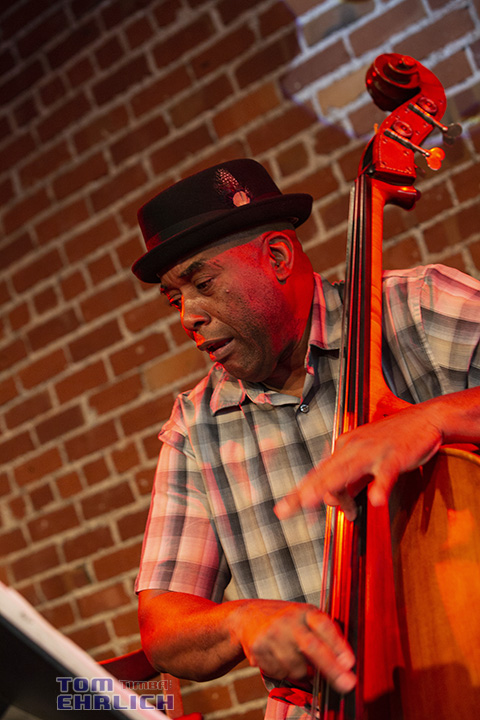 Essiet Akon Essiet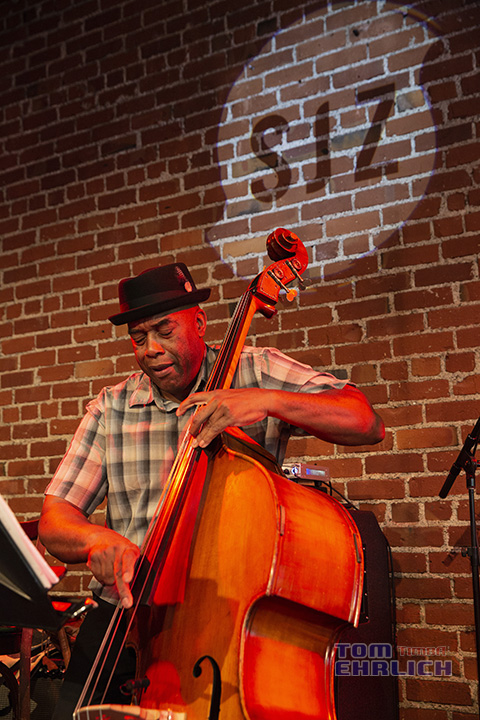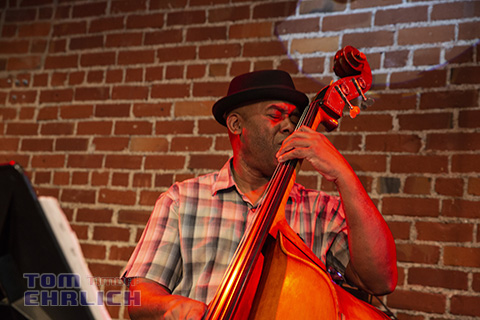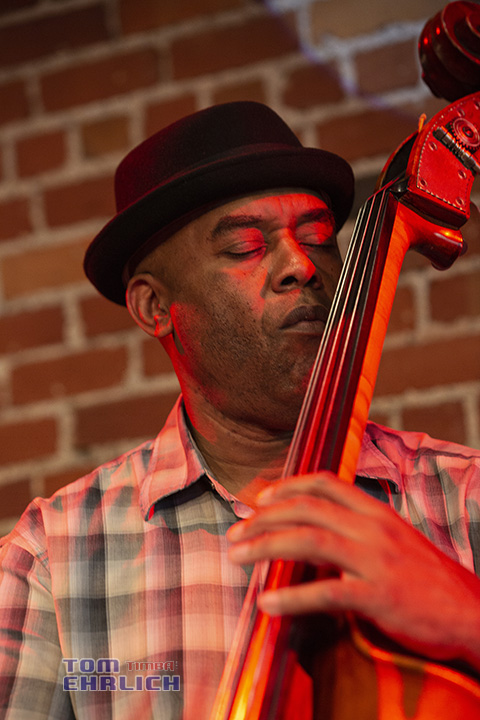 A great start for a wonderful day of music. I left thinking this group may be the best jazz group of the day.
Next up was SJZ Collective, a group of Bay Area seasoned musicians, including leader and drummer Wally Schnalle, Saul Sierra on bass, Brian Ho on keyboards, John Worley on trumpet, Oscar Pangilinan on sax and Hristo Vitchev on guitar. The group played their version of Thelonius Monk tunes.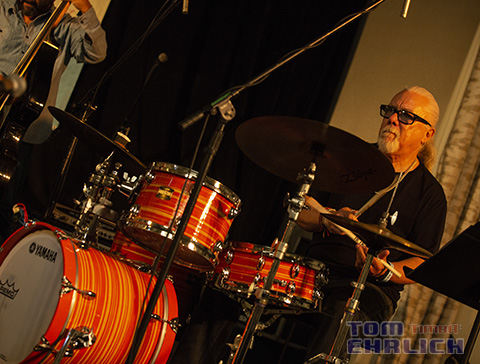 Wally Schnalle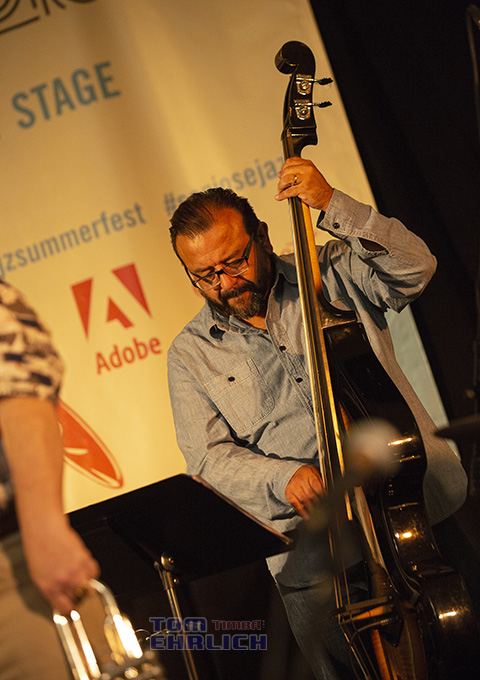 Saul Sierra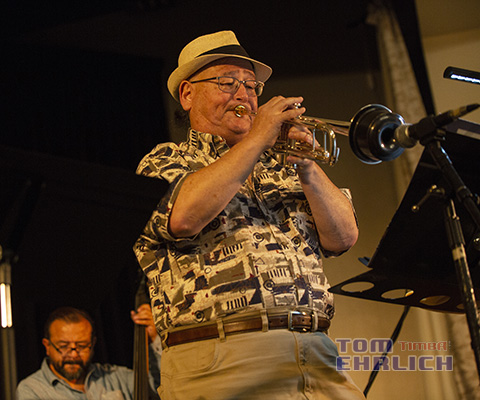 John Worley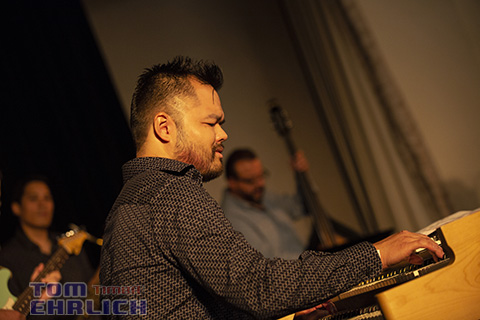 Brian Ho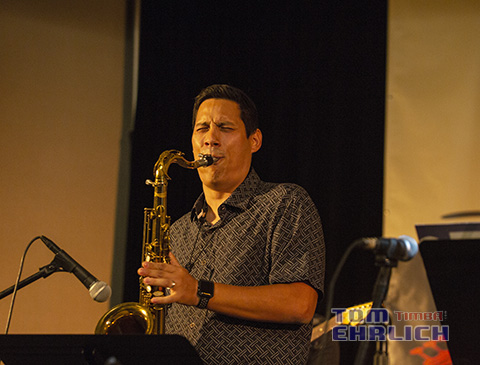 Oscar Pangilinan
Unfortunately I have no photo of Hristo Vitchev.
Next to see one of the most popular young Cuban musicians Yissy García and Bandancha who deservedly played on the main stage. Yissy and her group also played at the end of the night in one of the indoor venues. I will report on that performance separately.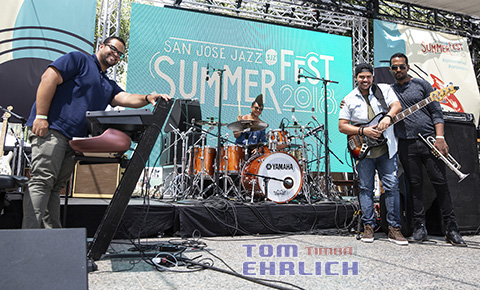 Left to right Jonathan Montes - keyboards, Yissy García - drums and leader, Yosmel Montejo - bass and Leider Chapotín trumpet and vocals. This is not Yissy's regular Havana based group. Due to visa problems, Yissy assembled a band of musicians from Los Angeles who were playing together for the first time. The band rocked like they have been playing together for years.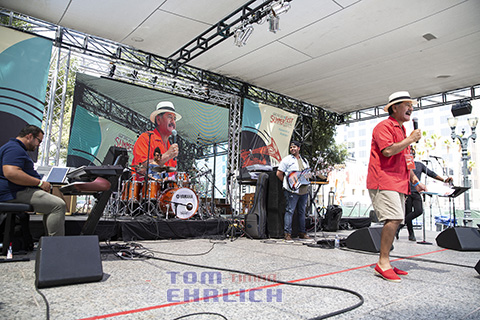 Beto Arcos, Latin and World Music Coordinator introduced the group
Yissy García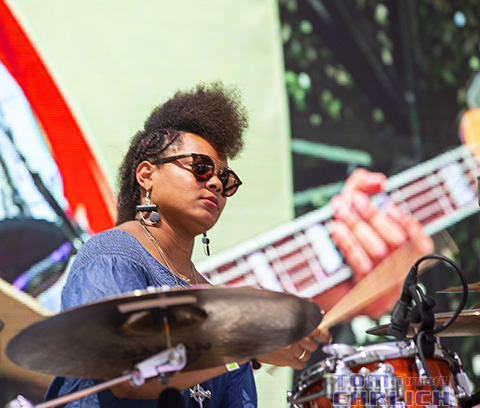 Yissy García is the daughter of Gerardo García, who was the drummer and one of the founders of the Cuban jazz supergroup Irakere and also with Arturo Sandoval's band. Like her father and Irakere, Yissy's group Bandancha, is firmly rooted in Afro-Cuban musical traditions, while fusing this tradition with latin jazz, funk, rhyrthm and blues and electronic music resulting in exciting, danceable jazz. Bandancha has been constantly touring the world and has become one of the most popular of the newer Cuban groups. Yissy is also a member of Jane Bunnett and Maqueque an all woman group consisting of Jane (well known Canadian sax and flute player) and Cuban women.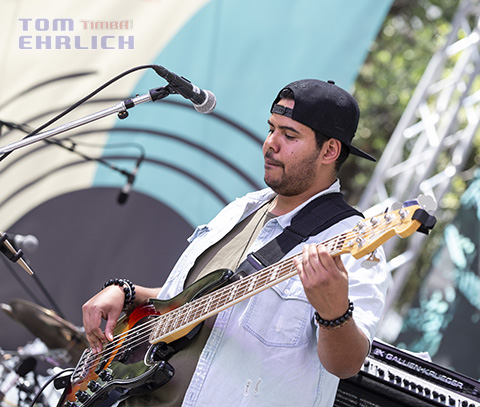 Yosmel Montejo
Yosmel Montejo is originally from Cuba, but now resides in Los Angeles. He was the former bass player with Orlando Valle "Maraca" and is adept at both dance music (including timba) and jazz. I first met Yosmel while he was touring the United States with Maraca in 2007 and at that time he was already a virtuoso. He excells at holding down the groove, tumbaos and playing beautiful melodic solos.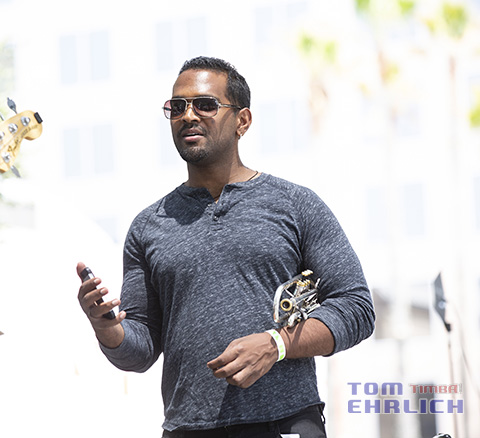 Leider Chapotín
Leider Chapotín also resides in Los Angeles and is originally from Cuba. Leider is a strong soloist on trumpet and also sings lead vocals and coros. Ledier plays with various groups in the Los Angeles area including Changüi Majadero and Son Mayor who were also at the jazz festival this year.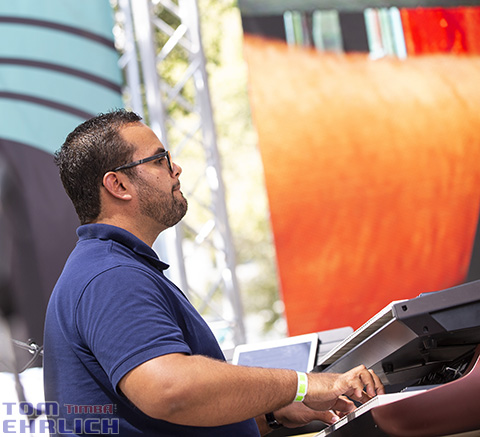 Jonathan Montes
Jonathan Montes a Los Angeles resident, originally from Mayaguez, Puerto Rico plays keyboards. He is extremely creative in his tumbaos, solos, introductions to songs (rubatos) and use of electronics.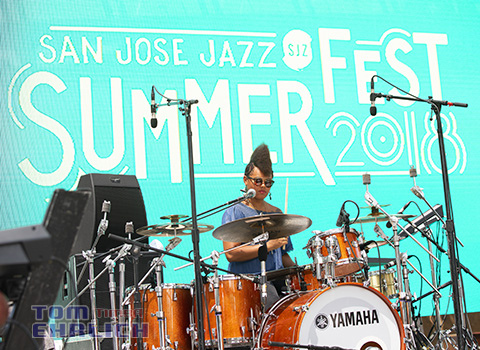 Yissy is a conservatory trained virtuoso drummer and composer. She was the drummer for the all woman Cuban popular band Anacoana for about 5 years and later joined Interactivo lead by Roberto Carcases and stayed with that group for about 10 years. In 2012 Yissy, as a leader of an "avant-garde" project of contemporary Cuban music had its debut concert which was the genesis of Bandancha. She has traveled the world performing with various other artists as well as teaching Afro-Cuban rhythms/drum set at many different schools and venues.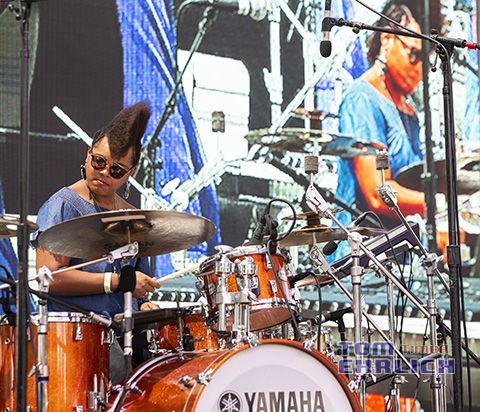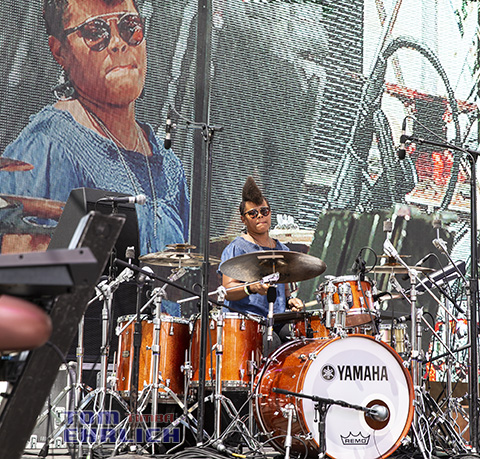 Yissy is a friendly, respectful, delightful person to all she interacts with and combines that with leadership qualities that had the band function at a high level.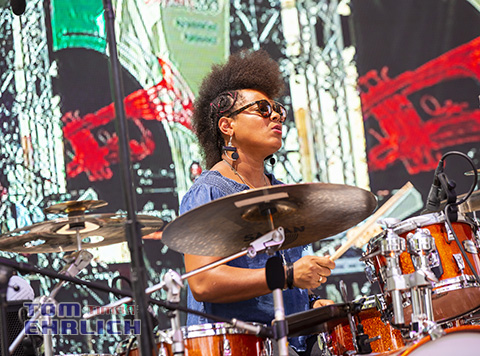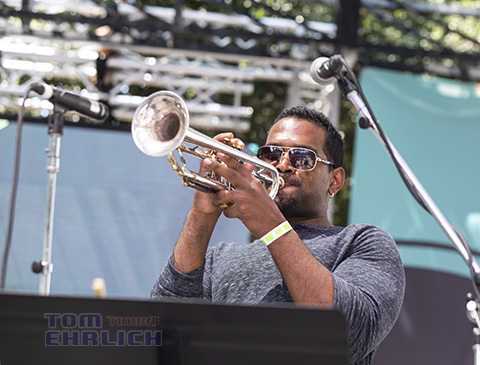 Leider Chapotín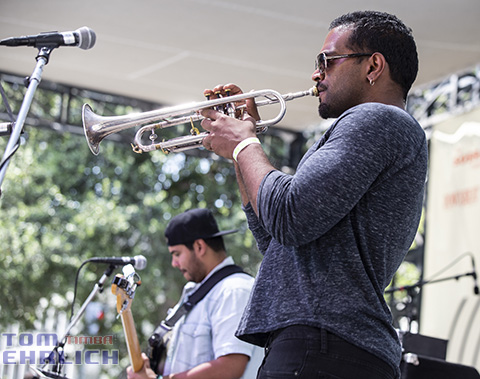 Leider Chapotín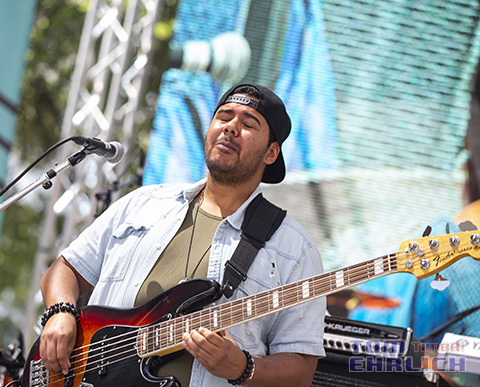 Yosmel Montejo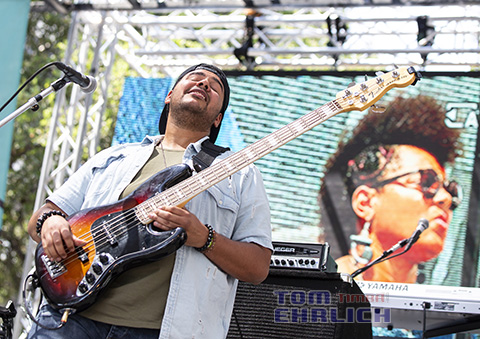 Yosmel Montejo taking one of his beautiful solos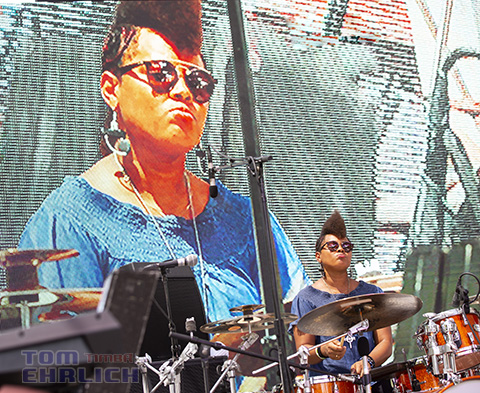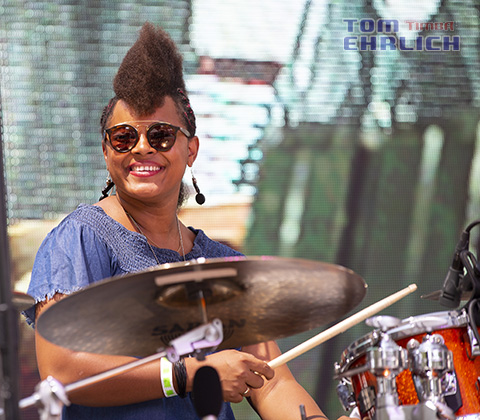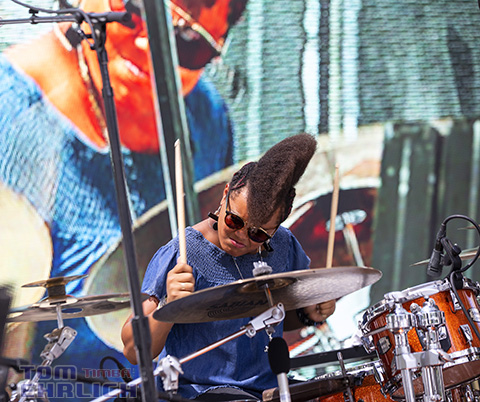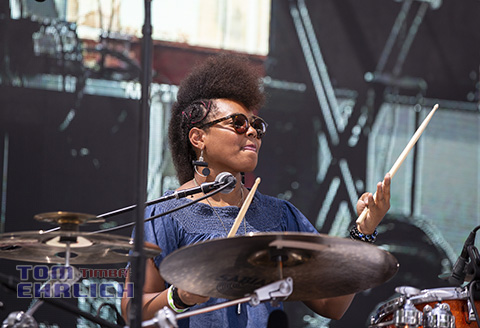 Yissy performing one of her signature twirls of her drum stick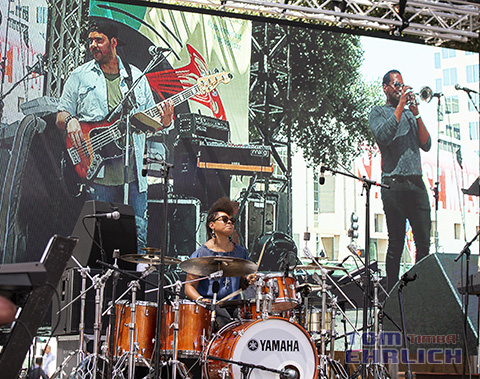 Yissy García and Bandancha was definitely one of the highlights of this years festival.
Next headed to the salsa stage for catch a couple of outstanding salsa groups. First Doug Beavers' Titanes del Trombón presenting a tribute to the late legendary Cheo Feliciano.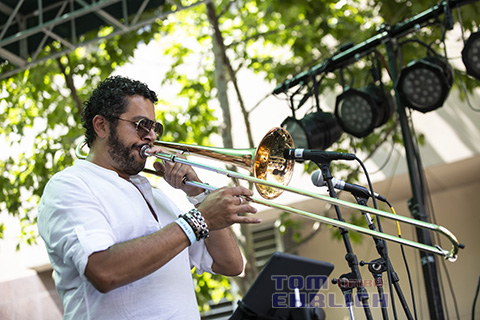 Doug Beavers
Doug Beavers originally from the Bay Area, resides mainly in the New York City area and is considered to be one of the best Salsa trombonists and arrangers in the world today. He leads his own groups as well as being part of many other groups, most notably Spanish Harlem Orchestra. He records, produces and engineers recordings for numerous world class acts as well as conducting master classes and workshops internationally.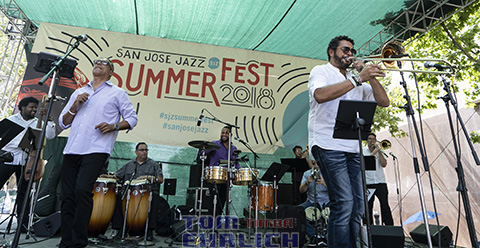 Doug put together his west coast band Titanes del Trombón to present a tribute to the late great Puerto Rican vocalist Cheo Feliciano.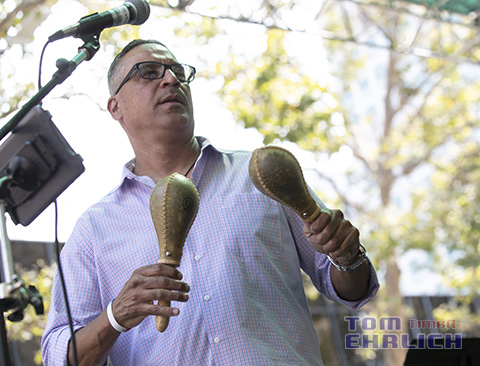 Carlos Rosario vocalist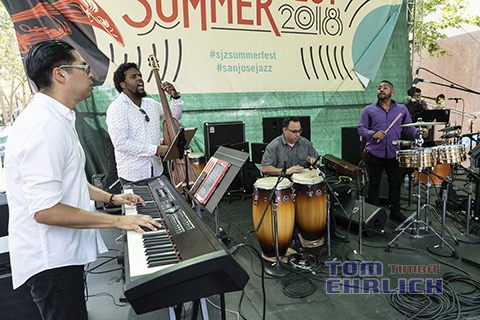 World class rhythm section Erick Peralta on piano, Ernesto Kindelán (the great timba bass player formerly with Charanga Habanera) on bass, Danilo Paiz on congas and Christain Pepin on timbales and vocals.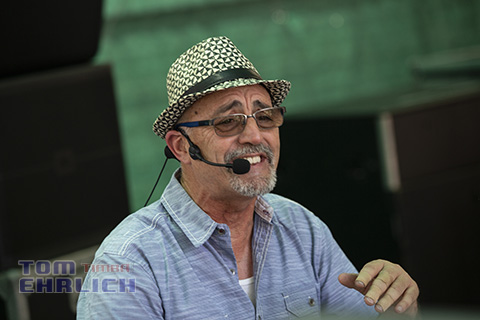 Edgardo Cambon on vocals and congas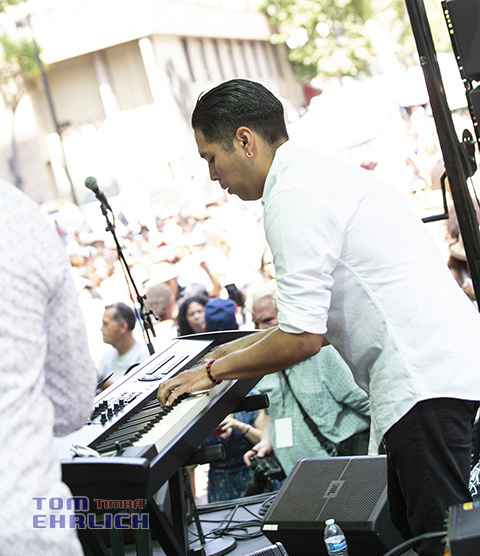 Erick Peralta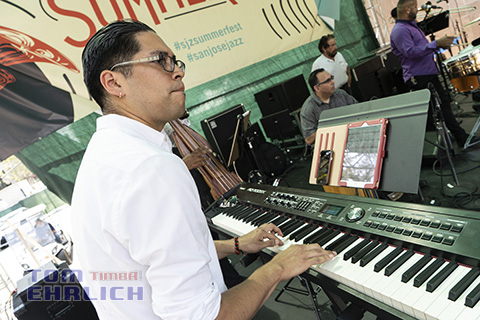 Erick Peralta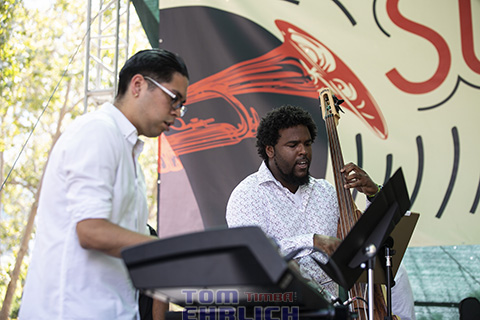 Ernesto Kindelán - bass, Erick piano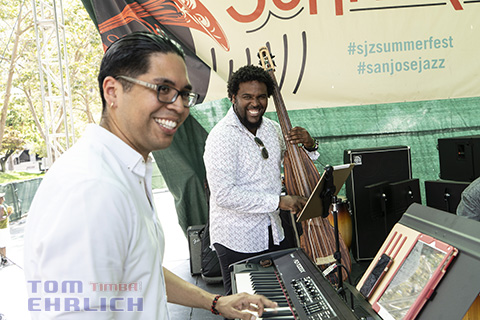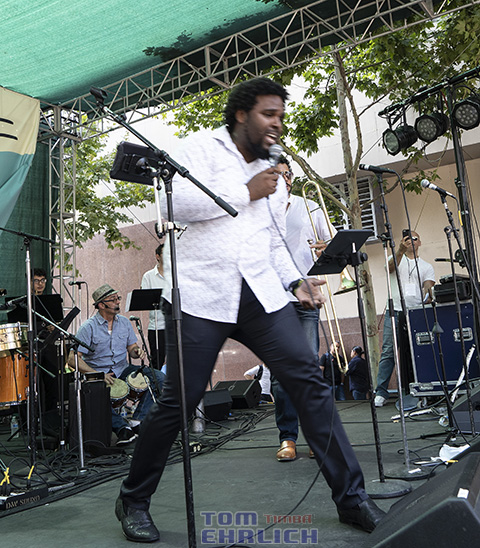 Ernesto Kindelán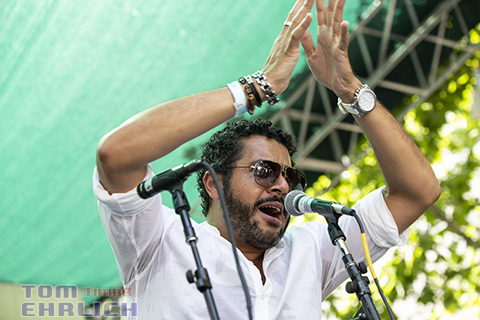 Doug Beavers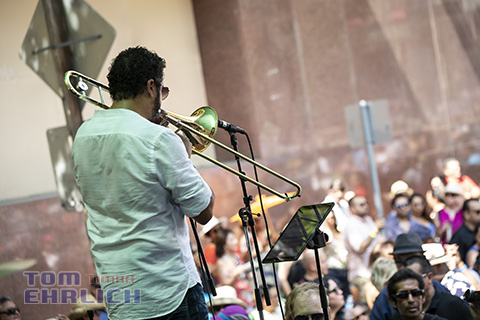 Doug Beavers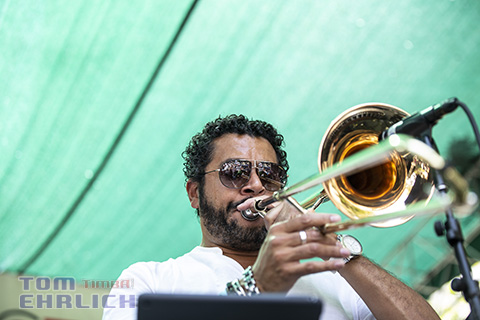 Doug Beavers
Christian Pepin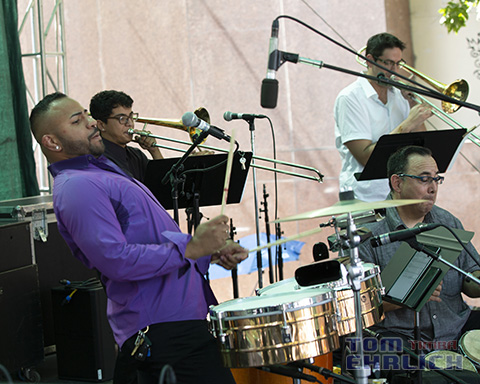 Christian Pepin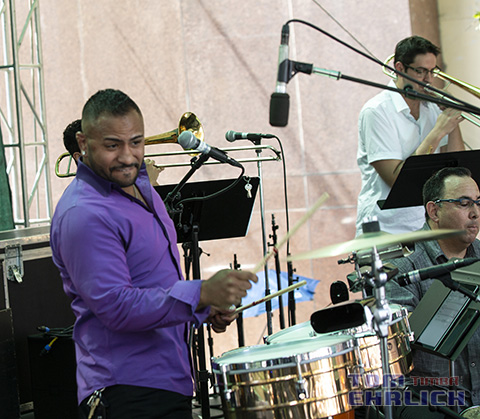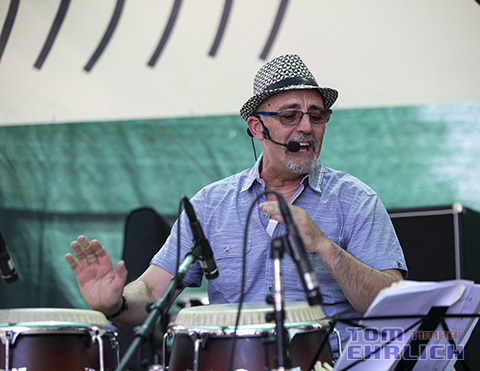 Edgardo Cambon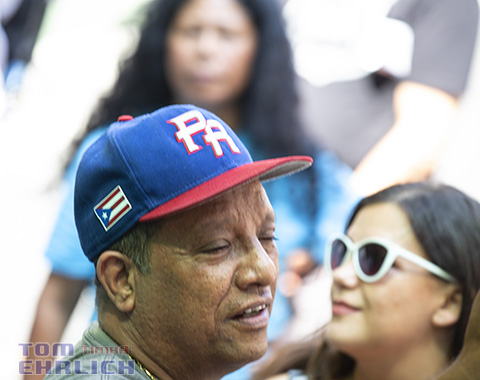 Puerto Rican pride in the crowd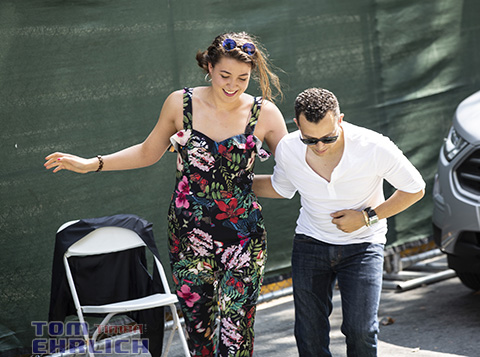 Musicians Pedro Pastrana and Mariana Panzetta dancing back stage. They perfromed with the next salsa group.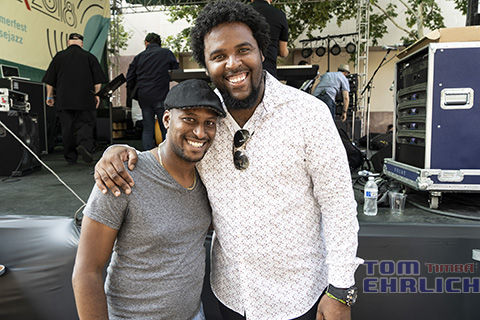 Ernesto Kindelán and Daymar Calverio two of the best bass players of their generation. Ernesto is the former bass player for Charanga Habanera and now resides in the Bay Area and Daymar was the former bass player for Pupy y Que Son Son and now resides in New York City. Daymar was at the jazz festival to perform with Nachito Herrera on Sunday. More on that when I get to Sunday.
Next group at the salsa stage was Edgardo Cambon y Candela which has been an important part of the Bay Area salsa scene for over 30 years.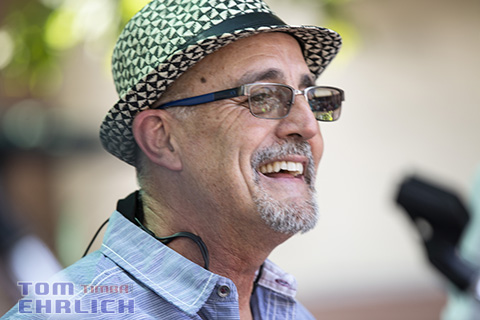 Edgardo Cambon
Edgardo is the leader, lead vocalist and conga player of his group. The group is an all star collection of Bay Area musicians plus Doug Beavers from NYC. The musicians in this group represent different countries of Latin America and the Caribbean, including Edgardo from Uruguay, Omar Ledezma from Venezuela, Pedro Pastrana from Puerto Rico, Miguelito Martínez from Mexico, Marco Diaz from Guatamala, Julio Areas from Nicaragua and Bay Area standouts Jeff Cressman (from Santana and many others), Dave Belove and Marina Panzetta.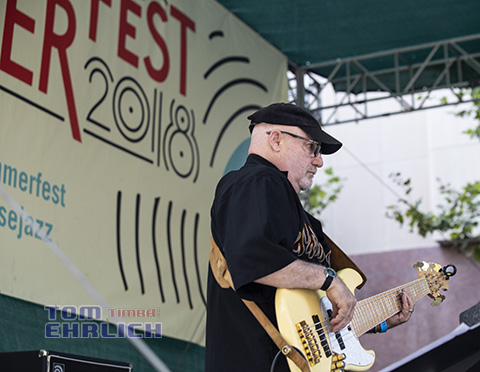 Dave Belove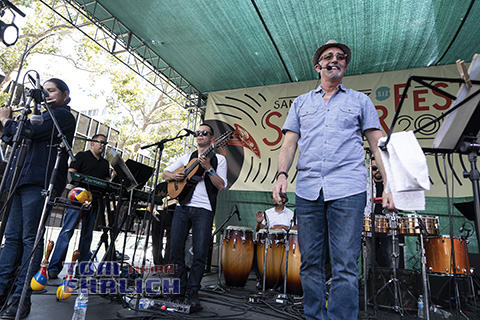 Edgardo Cambon and Pedro Pastrana on quatro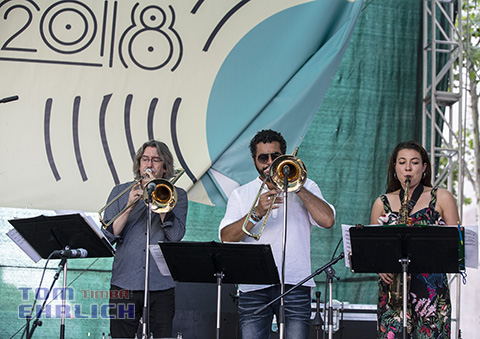 All Star hour section Jeff Cressman, Doug Beavers and Marina Panetta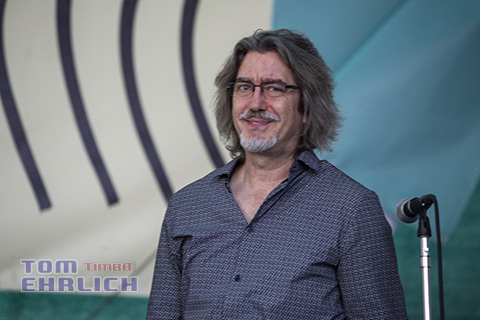 Jeff Cressman
Julio Areas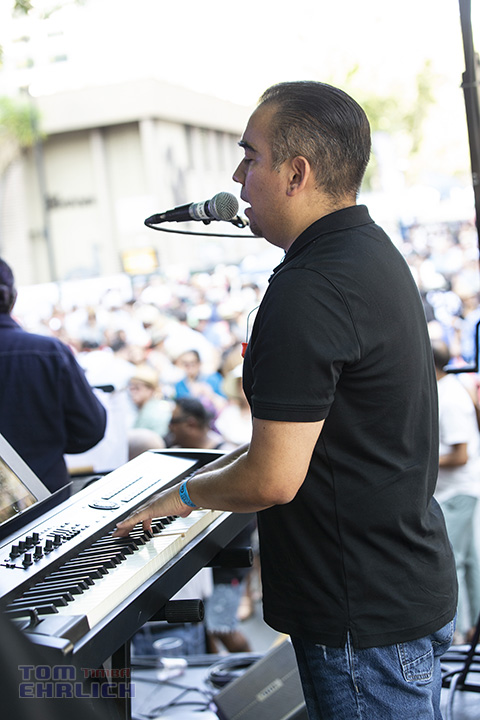 Marco Díaz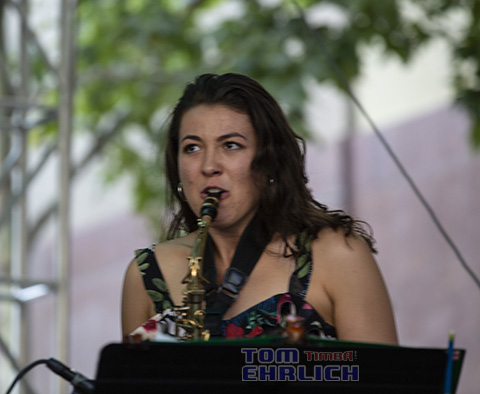 Marina Panzetta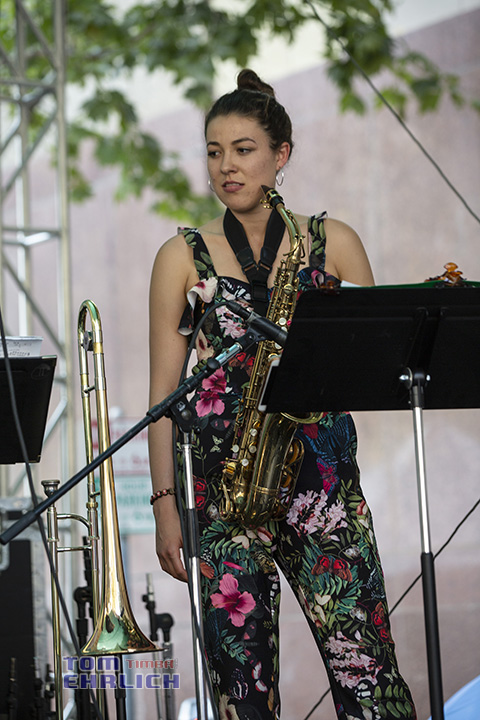 Marina Panzetta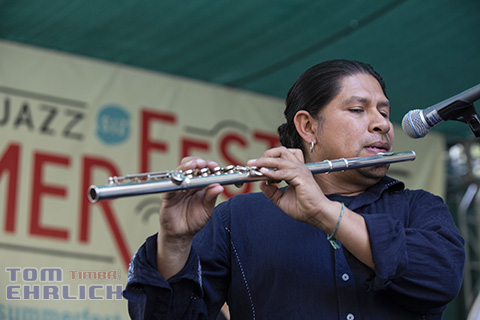 Miguelito Martínez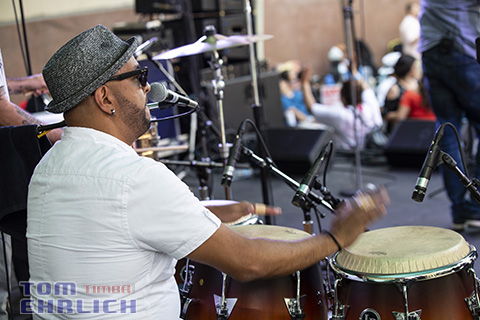 Omar Ledezma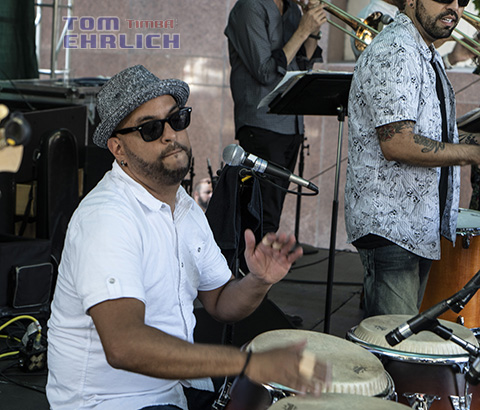 Omar Ledezma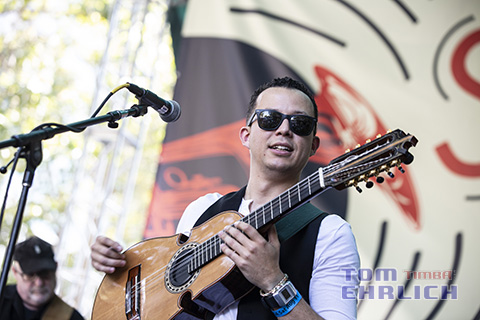 Pedro Pastrana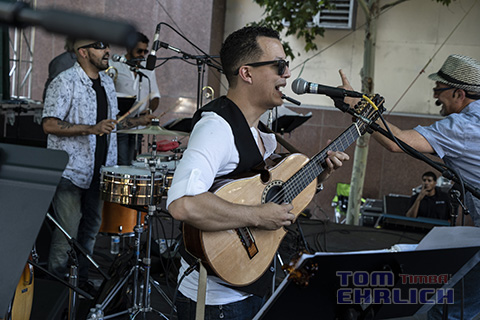 Pedro Pastrana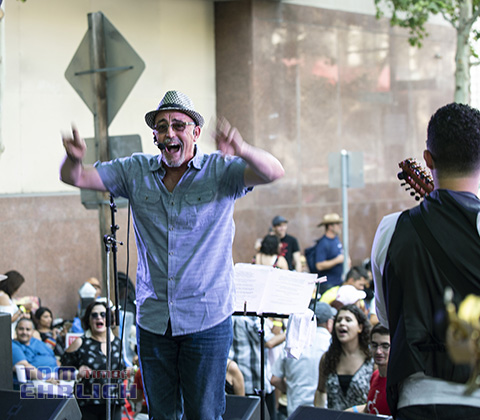 Edgardo Cambon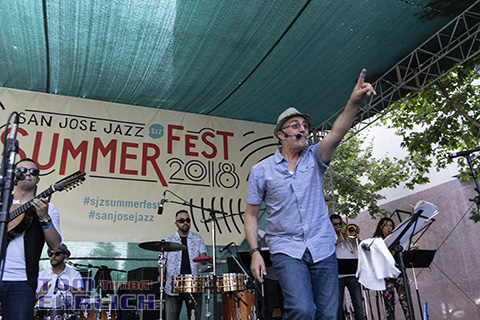 Edgardo Cambon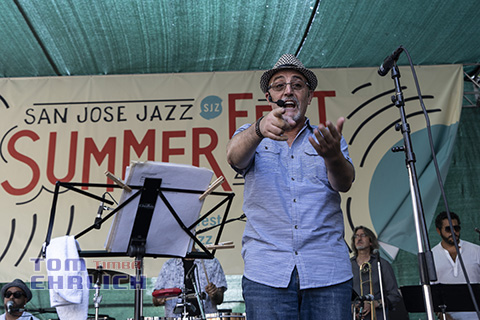 Edgardo Cambon
Part 2 of Saturday will include Erik Jekabson, Wayne Wallace Latin Jazz Septet, Rubankete and more Yissy García .
miércoles, 30 agosto 2023, 11:46 am