Indice - Table of contents
Lo Nuevo
[hide]
Fotos Del Día
[hide]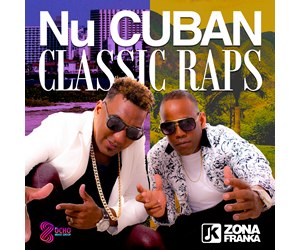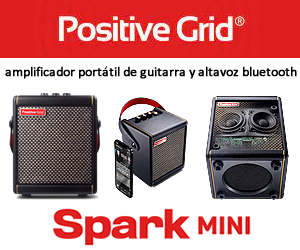 SpanishEnglishTom Ehrlich - 2019 San Jose Jazz Summerfest Saturday
SAN JOSÉ JAZZ SUMMERFEST
SATURDAY AUGUST 10, 2019
PHOTOS BY TOM EHRLICH © 2019
Saturday was packed many great groups. Did not get to all of them, but this report will include what I did manage to see, hear and photograph.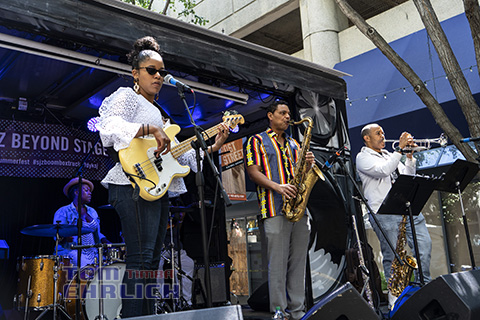 Aneesa Strings
First up was Aneesa Strings blues group. Aneesa is a very talented Bay Area based bassist, vocalist, composer and arranger. I have also seen her play an acoustic bass doing jazz based music similar to Esperanza Spaulding, but this performance was funky get down blues.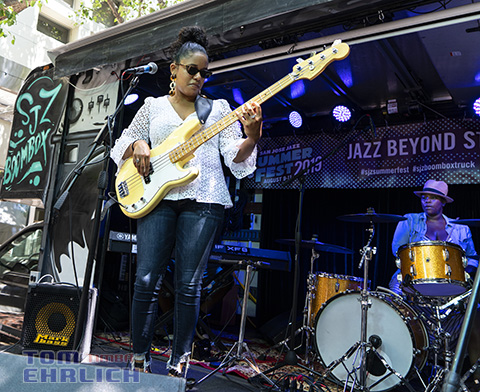 Aneesa Springs and Ruth Price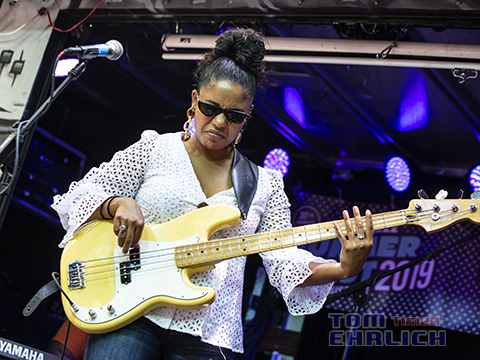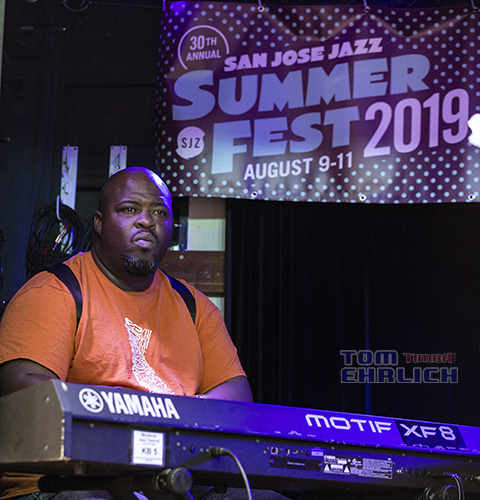 LJ Holoman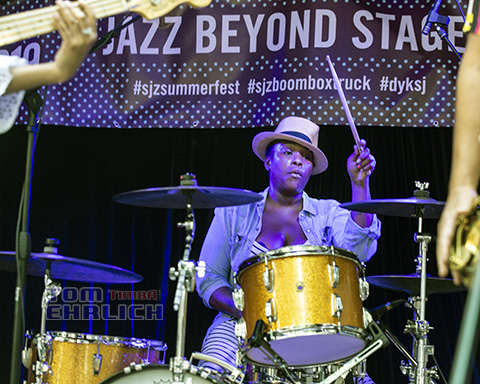 Ruth Price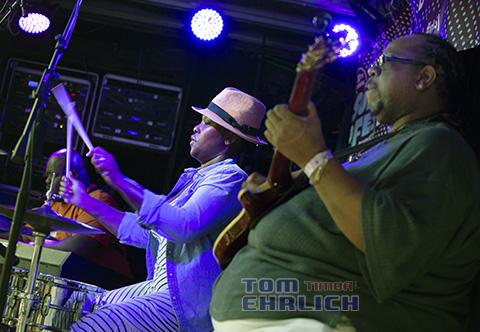 Ruth Price and Rodrick Munson
Off to the Salsa Stage to catch the Latin Jazz Youth Ensemble of San Francisco, directed by John Calloway.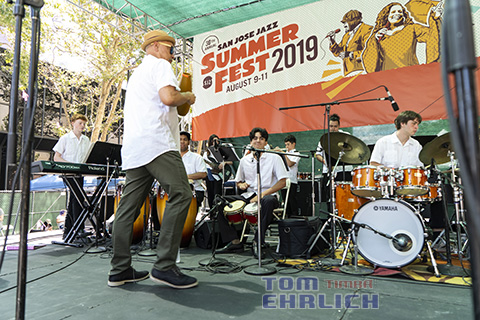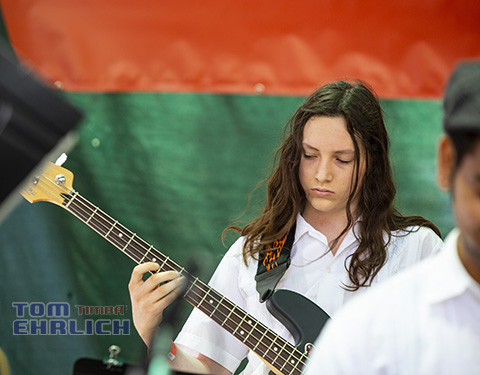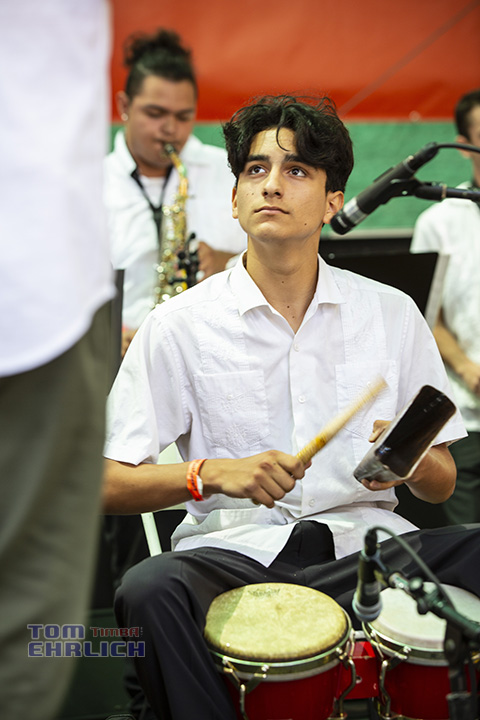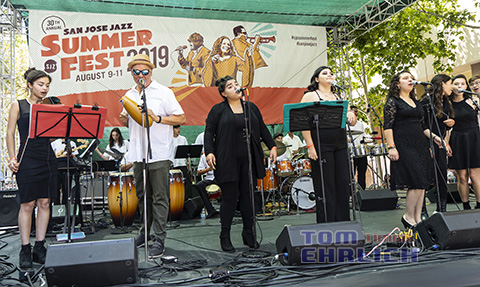 John Calloway and the vocalists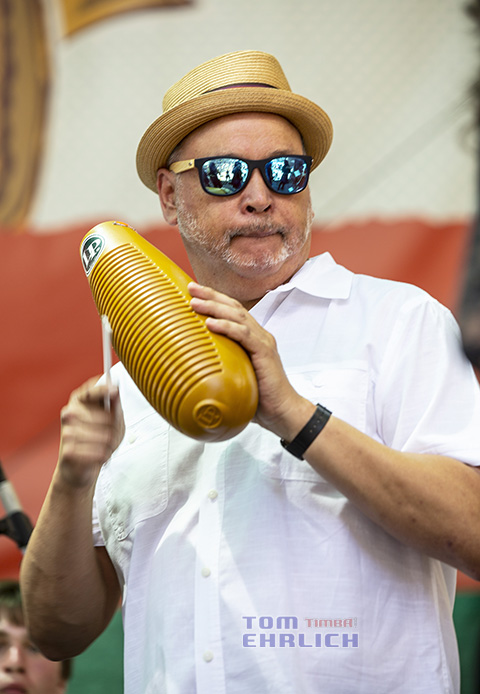 Multi-instrumentalist, brilliant composer and arranger, John Calloway had these young musicians sounding like true professionals with his ingenious arrangements and leadership.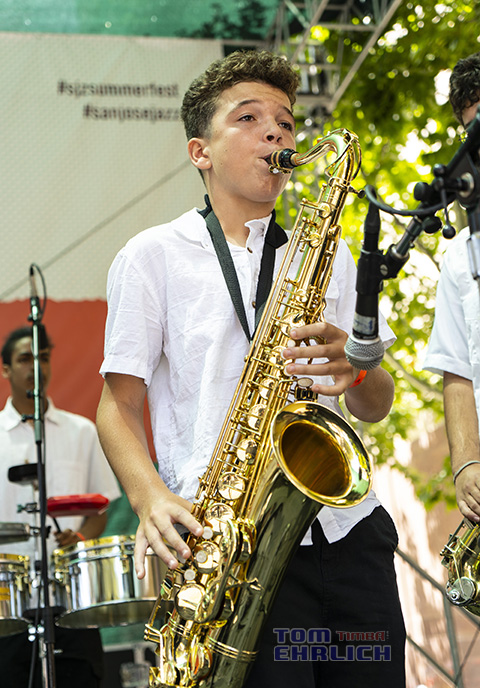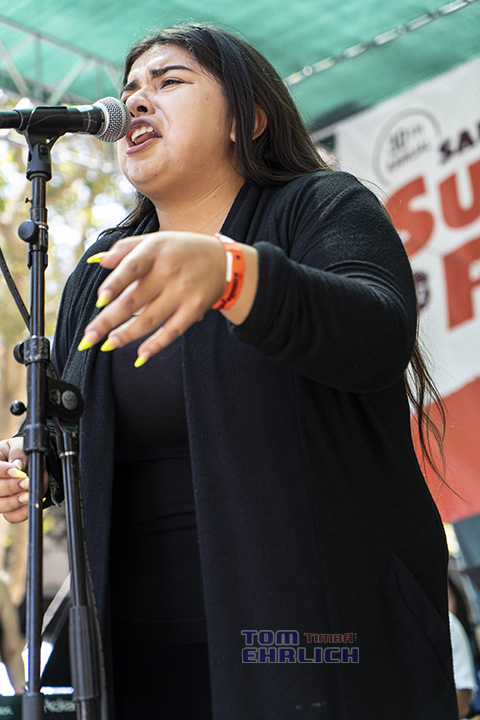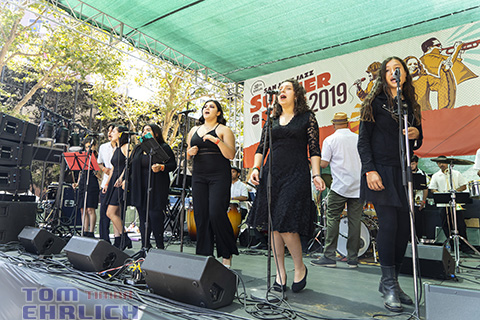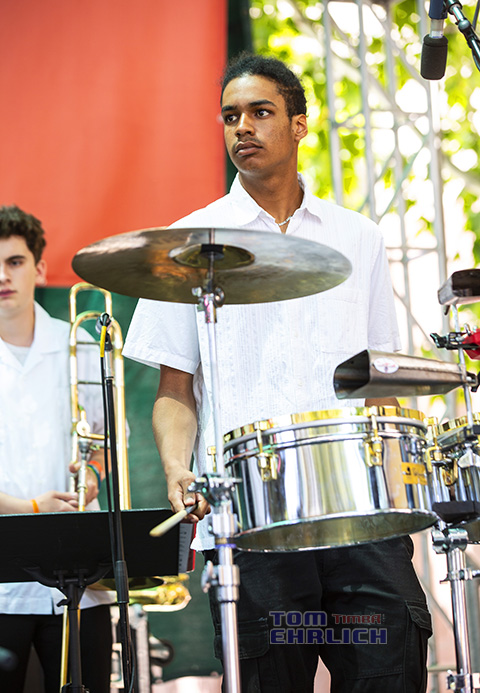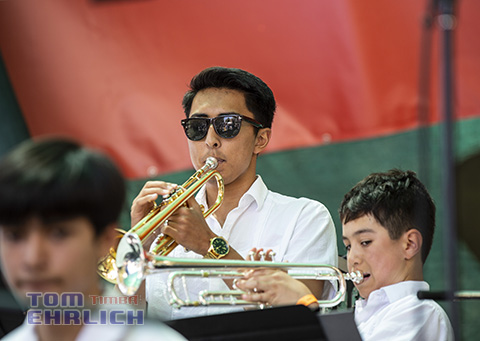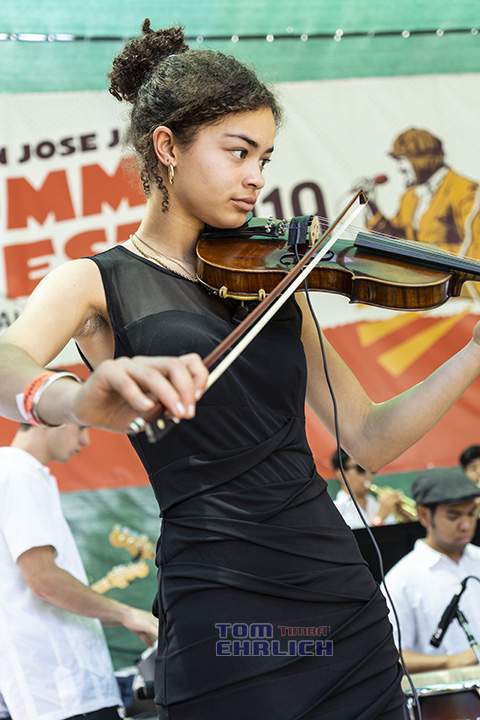 Great set of big band salsa/latin jazz.
Next up om the Salsa Stage is the fantastic Bay Area group Orquesta La Moderna Tradicion (Charanga orchestra) with some of the best musicians in the Bay Area.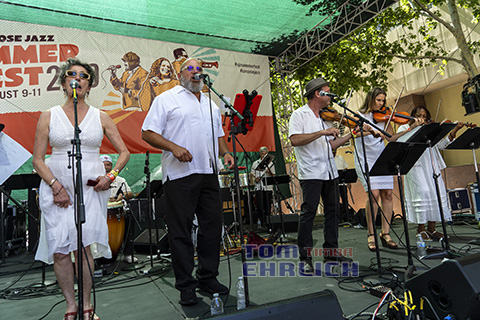 Maru Pérez Viana, Eduardo Herrera, Tregar Otton ,Sara Herrera and Sandra Poindexter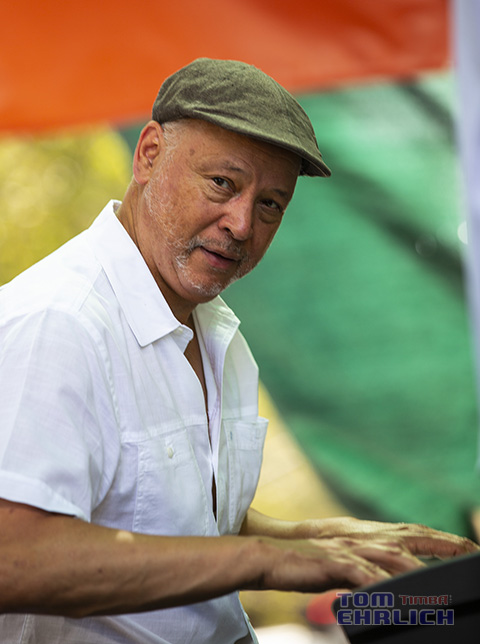 John Calloway
A great set of music, most memorable for me was John Calloway's paino solo on one tune.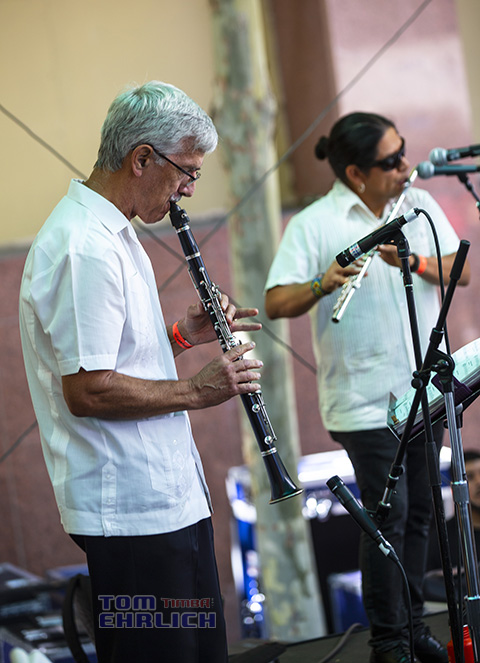 Don Gardner clarinet and Miguelito Martinez flute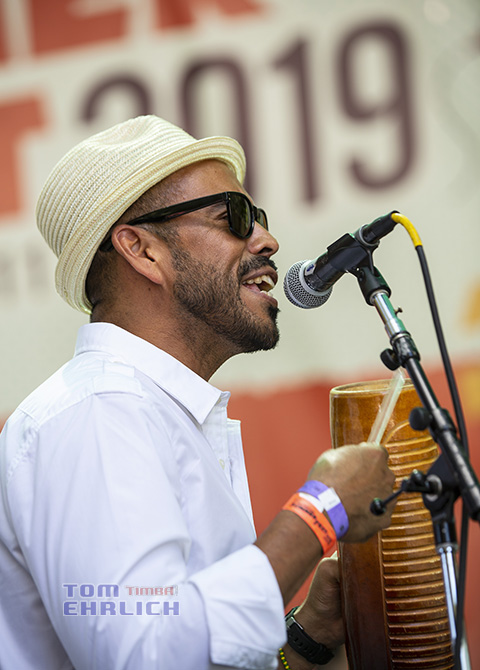 Javier Navarrette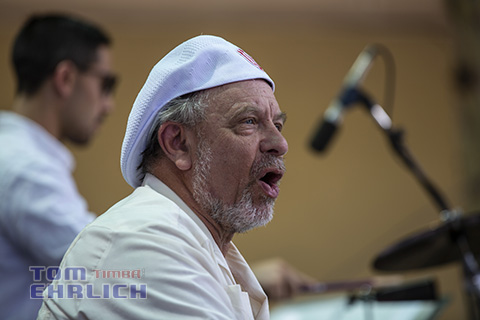 Michael Spiro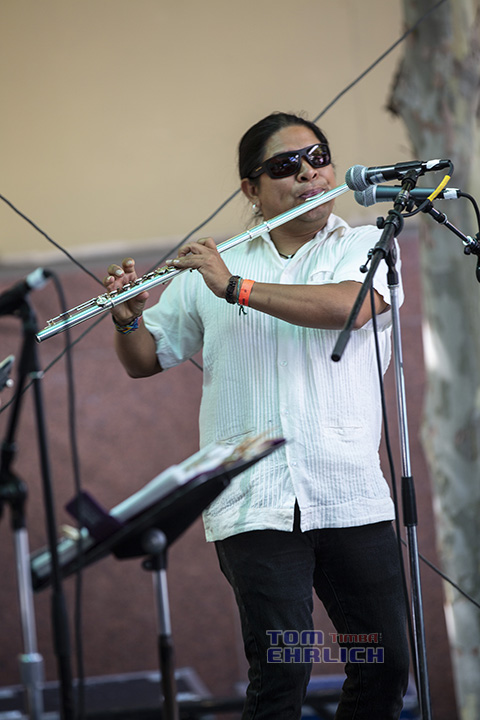 Miguelito Martínez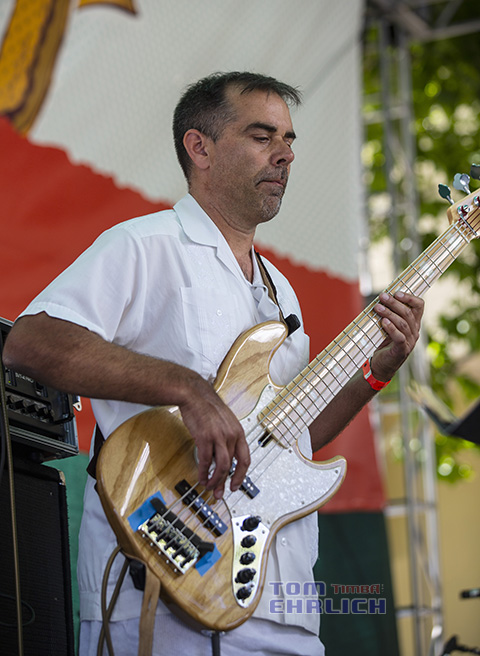 Steve Senft Herrera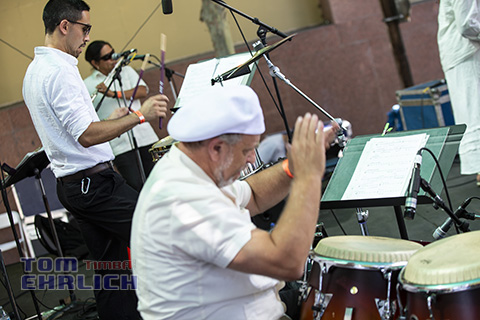 Remi and Michael Spiro (son and father)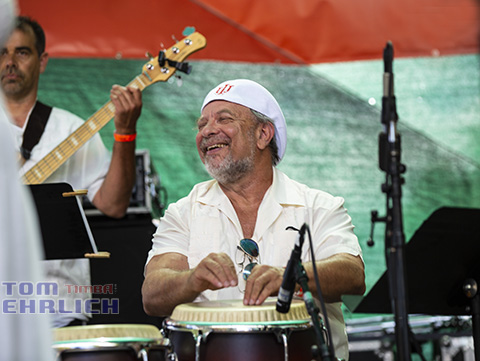 Michael Spiro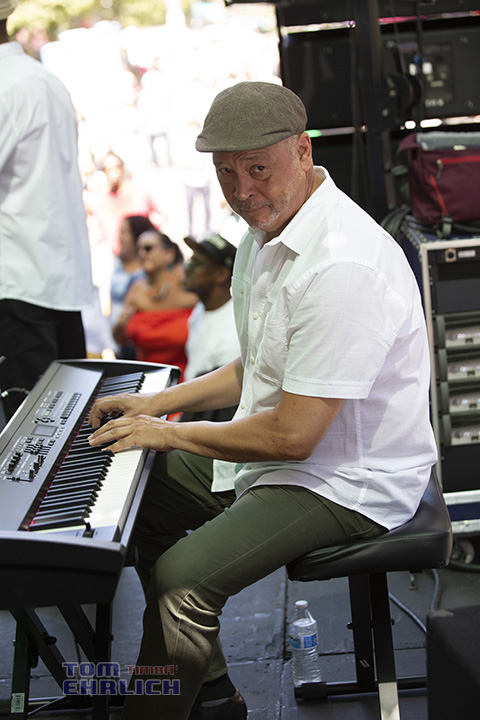 John Calloway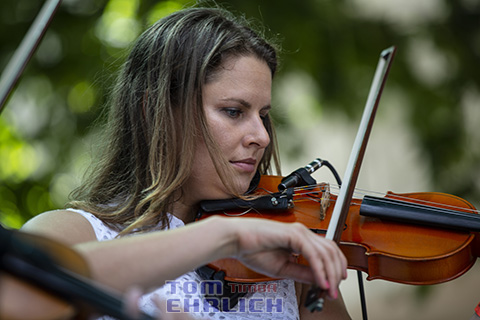 Sara Herrera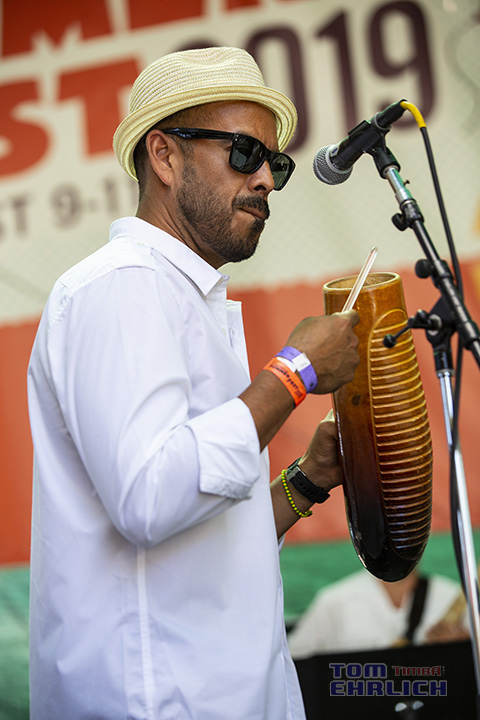 Over to the main stage to see Orquesta La-33 from Columbia. This set they played a jazzy set, later at night they performed at the Salsa Stage with some hot salsa.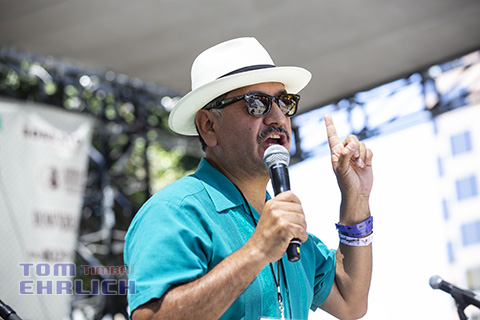 Beto Arce introduces the group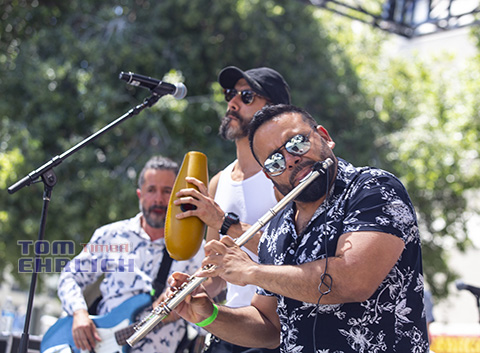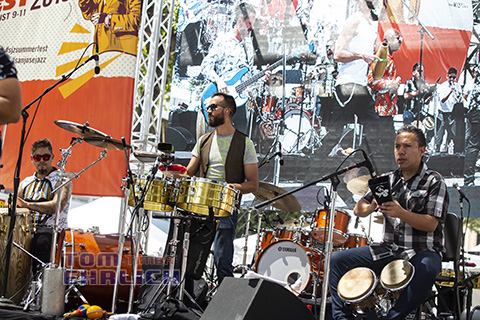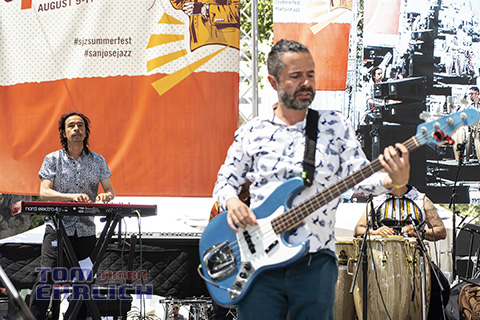 Musical director o Sergio Mejia on bass and co-director his brother Santiago Mejia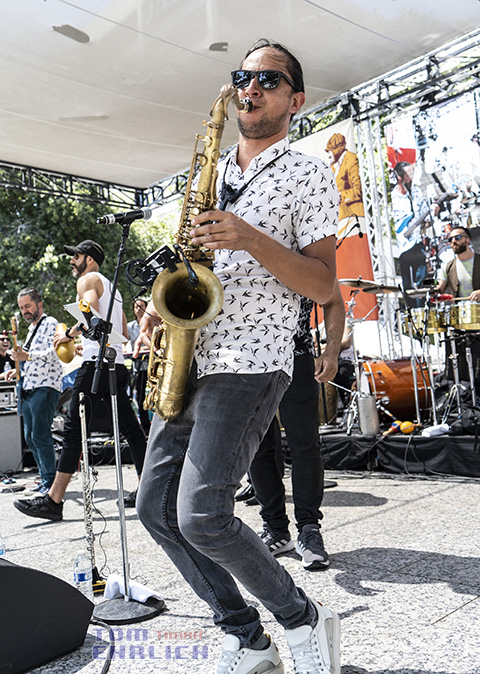 Santiago Mejia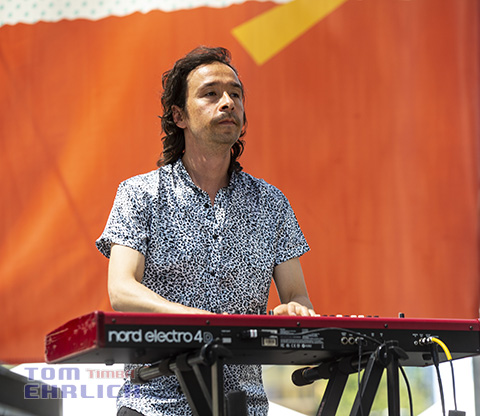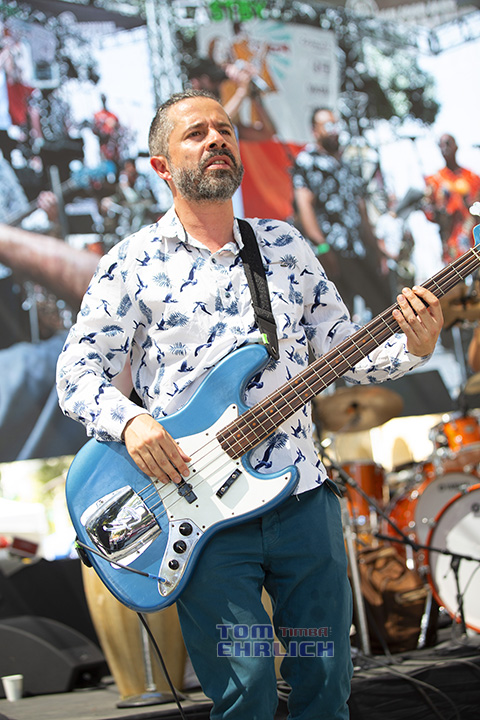 Sergio Mejia
Nice set of music, but their real strength is playing salsa which they did in the evening on the salsa stage.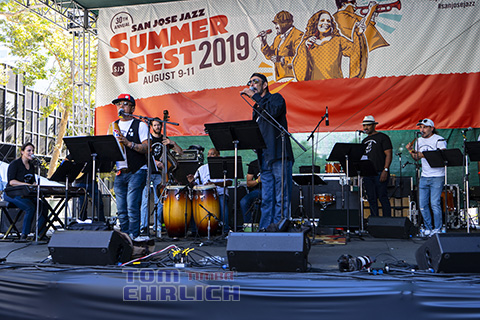 Back to the salsa stage for the Arseño Rodríguez Projject a great tribue band from Los Angeles playing the wonderful msuic of Arseno.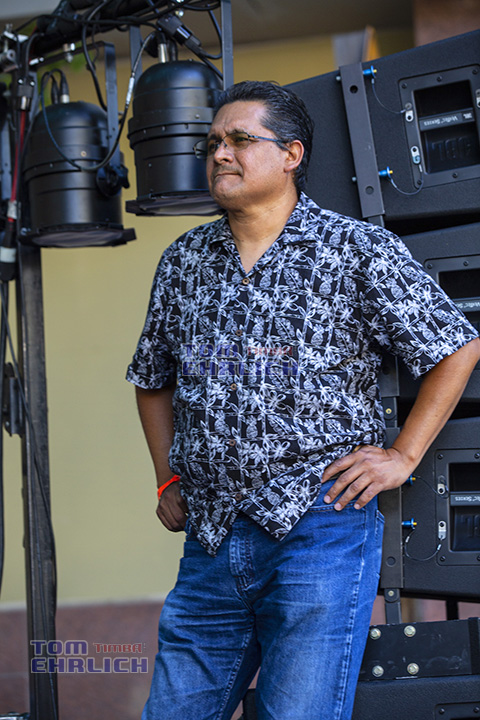 Guido Herrera
Guido Herrera leader of the band is also one of the outstanding DJs of Afro-Caribbean music in this country on KLXU. He also produces many musical events in the Los Angeles area.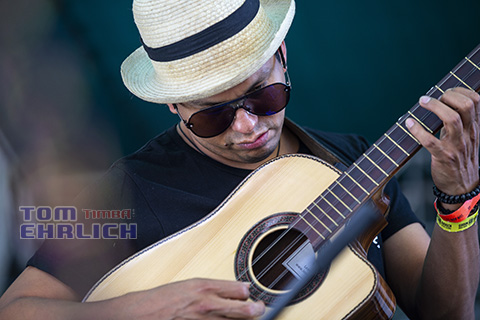 Angelo Salarzar on tres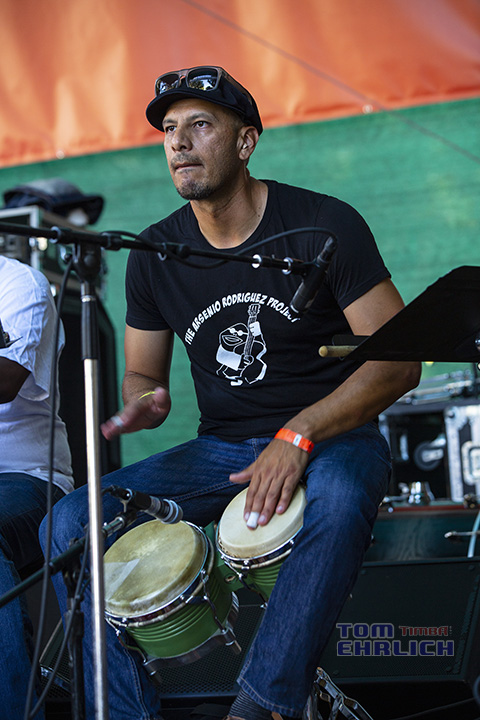 Cesar Ventura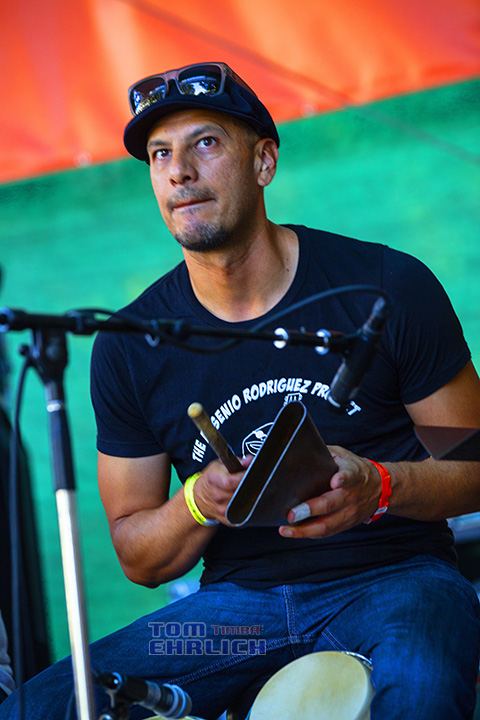 Cesar Ventura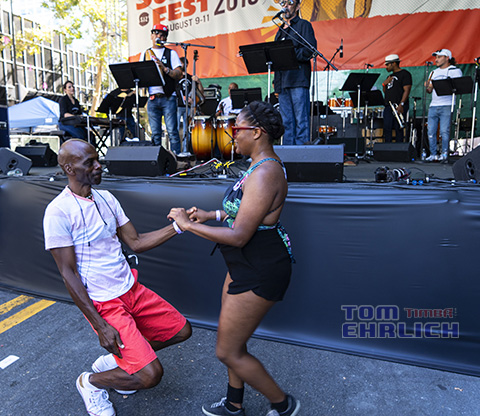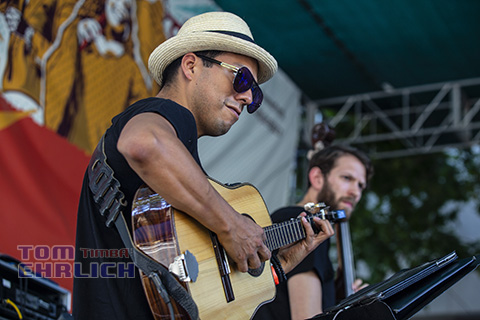 Angelo Salazar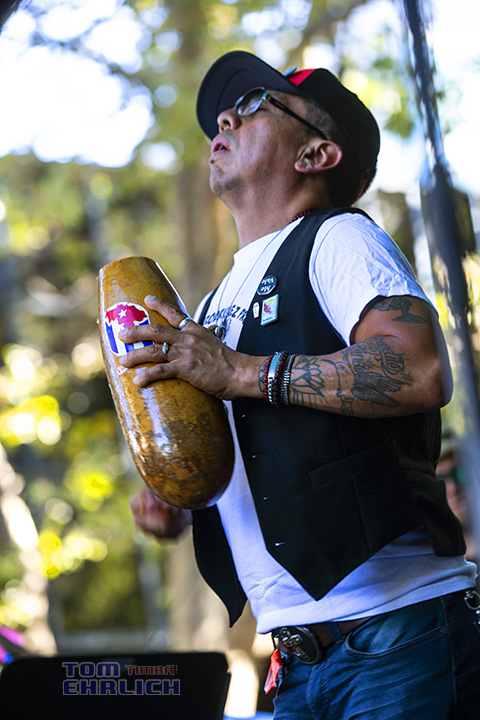 Alfred Ortiz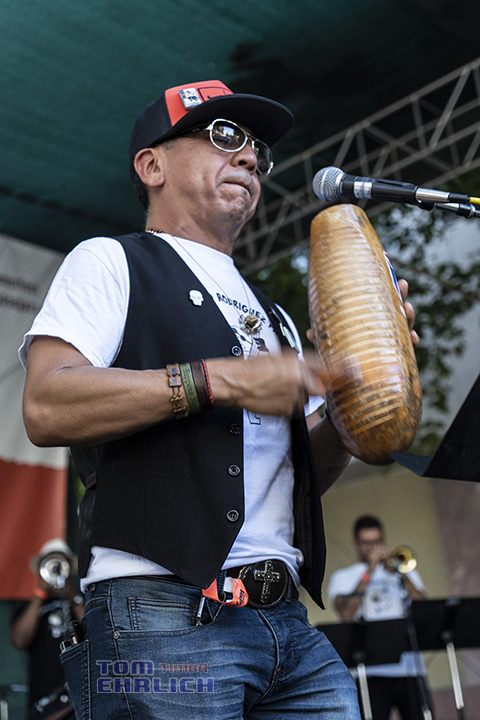 Alfred Ortiz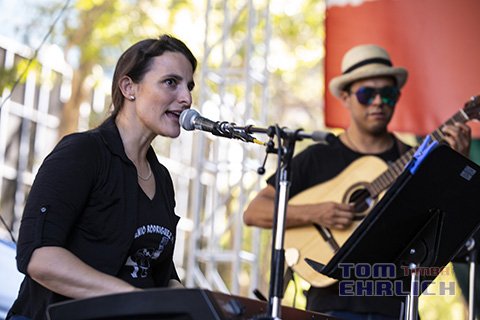 Illeana Rose musical director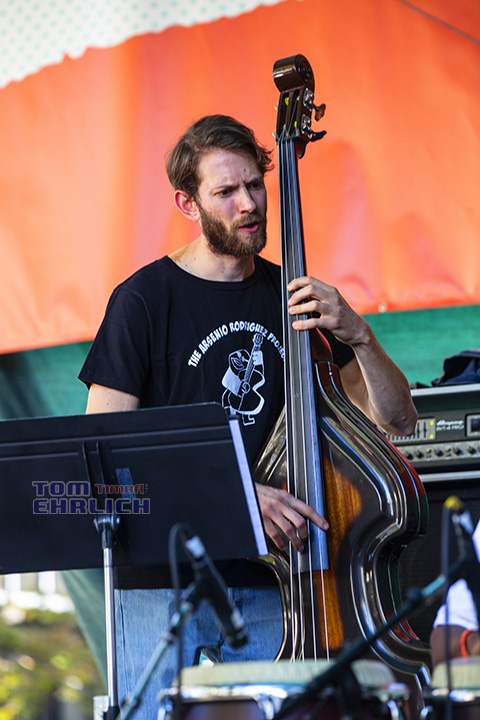 Julian Lampert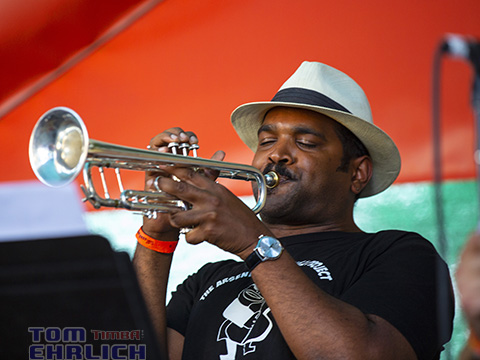 Leider Chappottín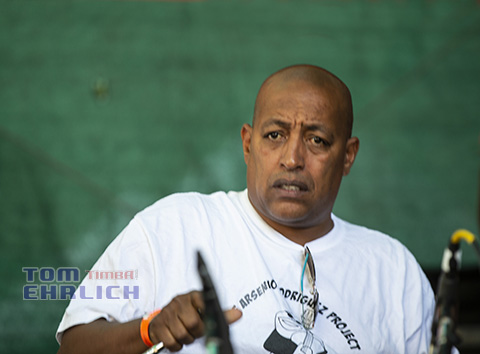 Santiago Santiaste on congas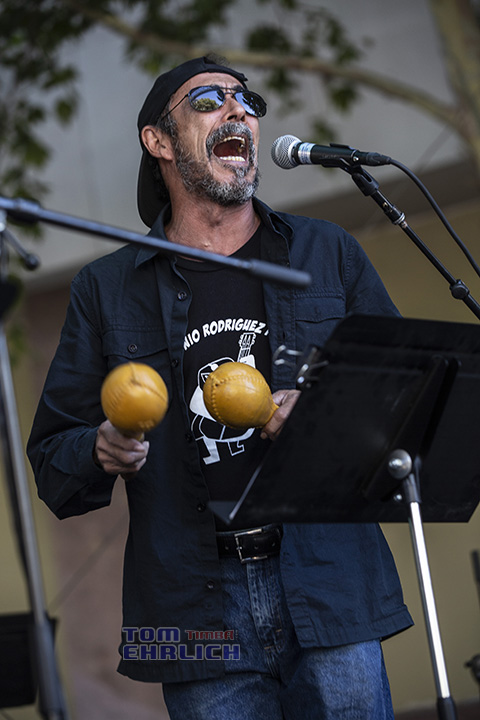 Saul Marambio
first time I heard Saul perform. For me he was the best salsa singer of the festival great voice, phrasing, imporvising and varying tempos.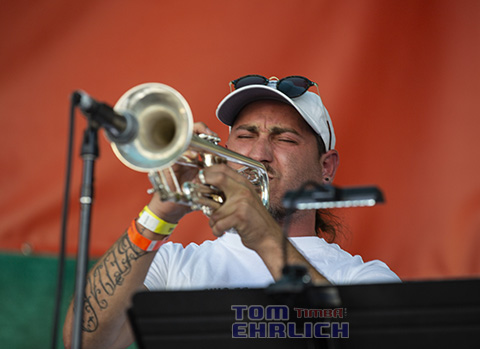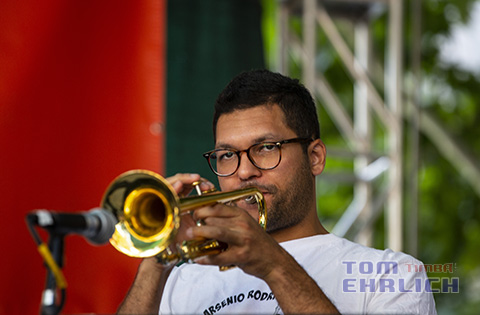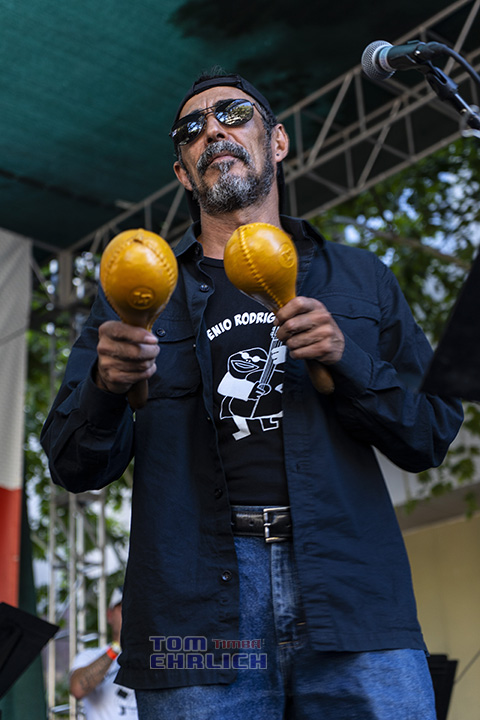 Saul Marambio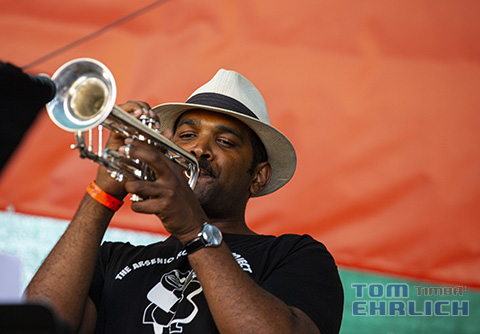 Leider Chappottín
Next up is the outstanding jazz vocalist Greroy Porter at the main stage.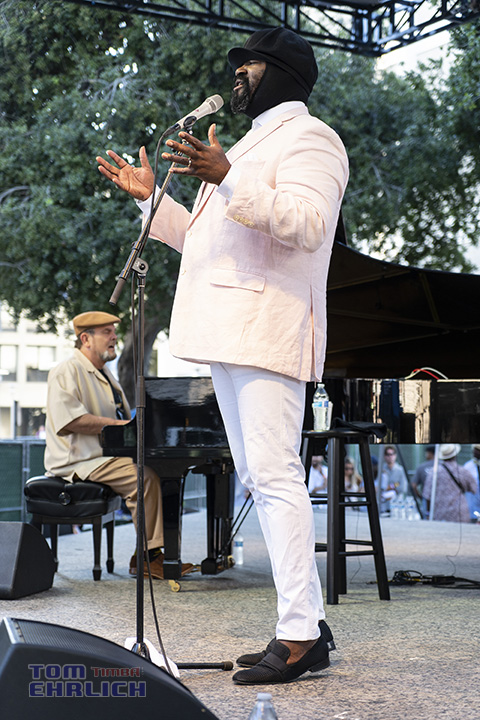 Gregory Porter and Chip Crawford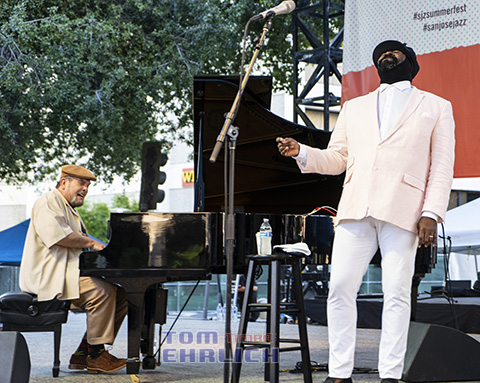 Long time associate Chip Craford on piano.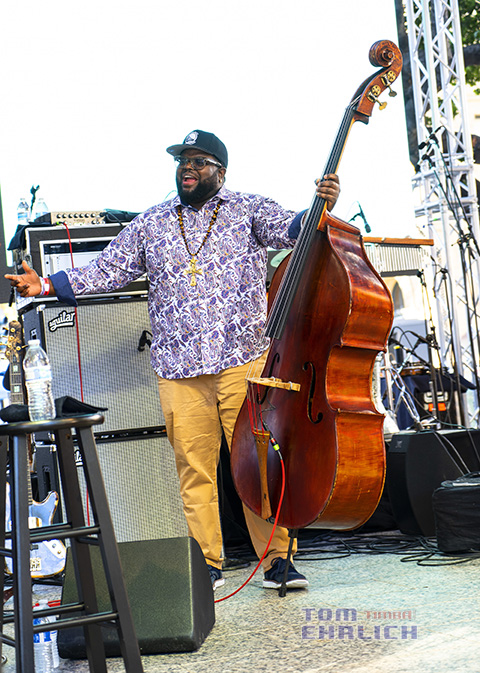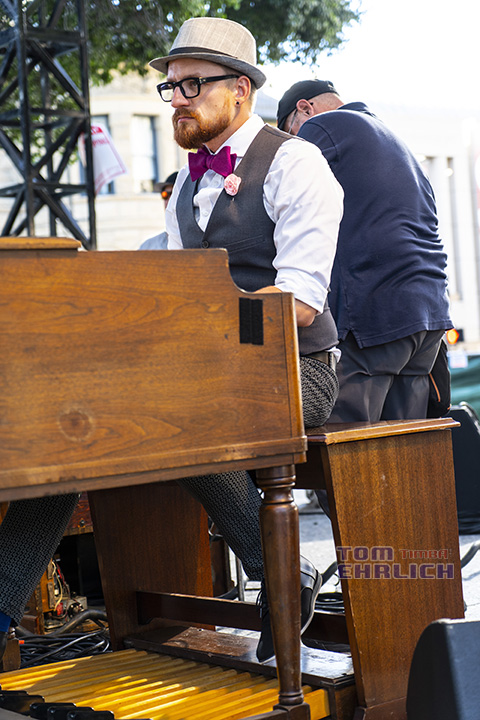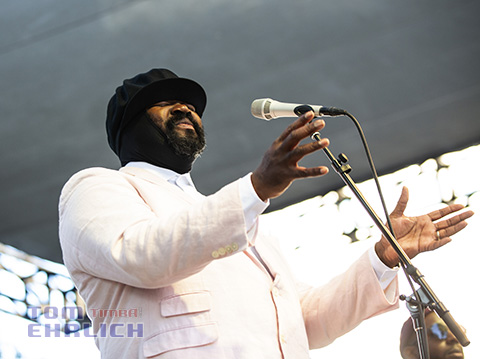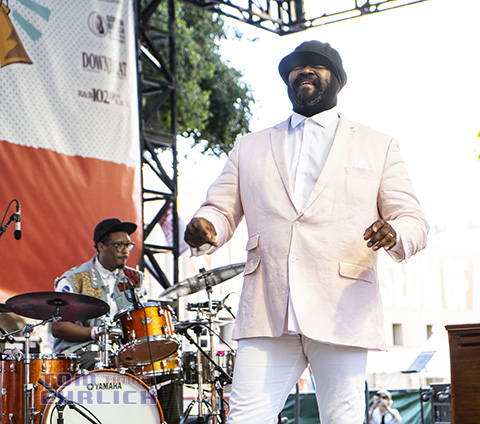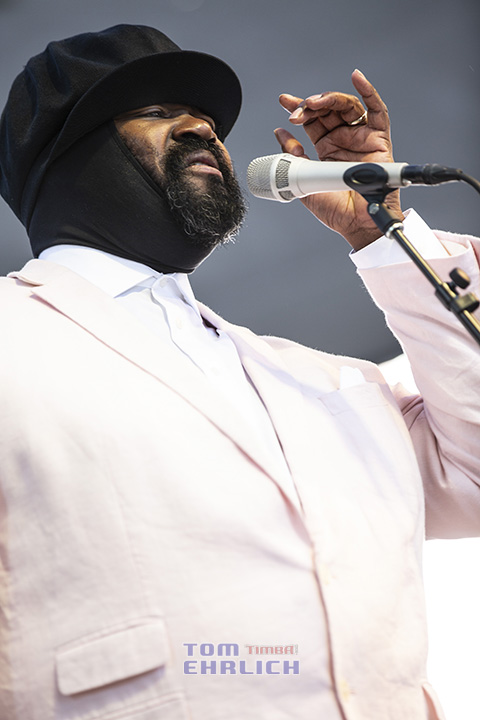 Gregory's performance did not disappoint with his beautiful voice and magnificant poetry.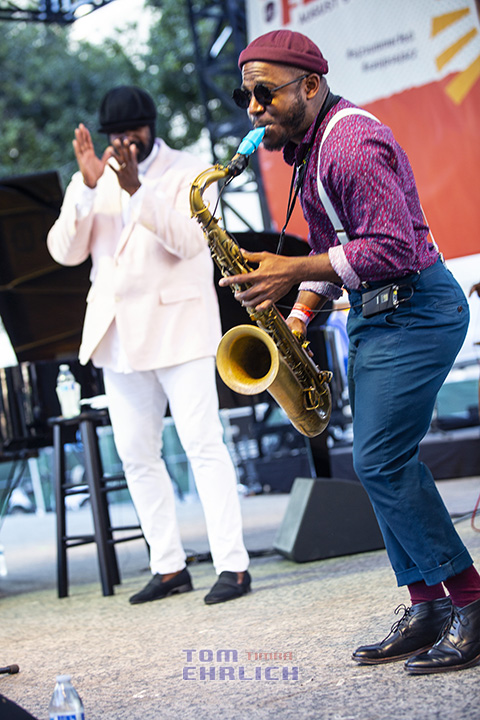 For a complete change of pace, i made my way to the Jazz and Beyond Stage to witness the intense and high energy performance of Sons of Kemet from London, England.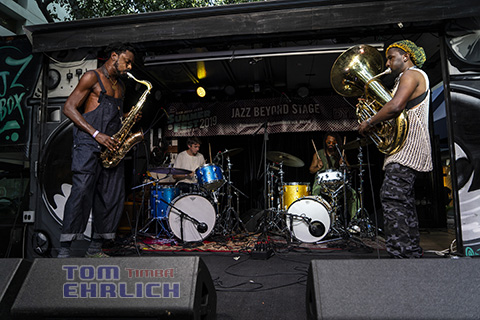 Shabaka Hutchins sax, Theon Cross tuba and two drummers
Hows that for unique instrumentation Sax, Tuba and two drums and they were the most intense group I have ever seen.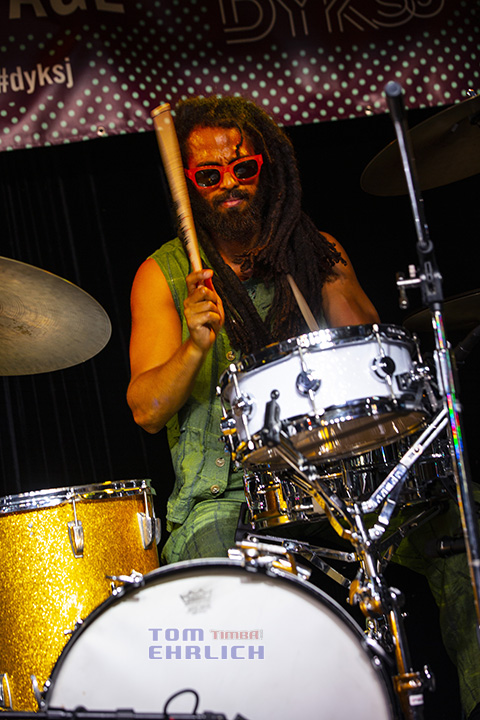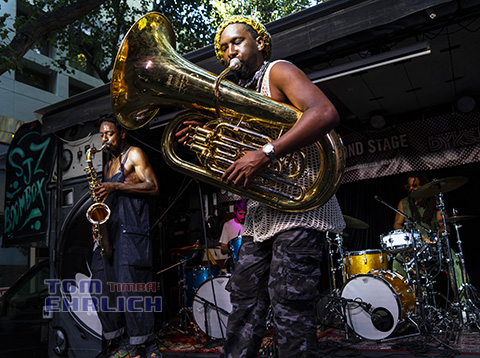 Theon Cross tuba and Shabaka Hutchins sax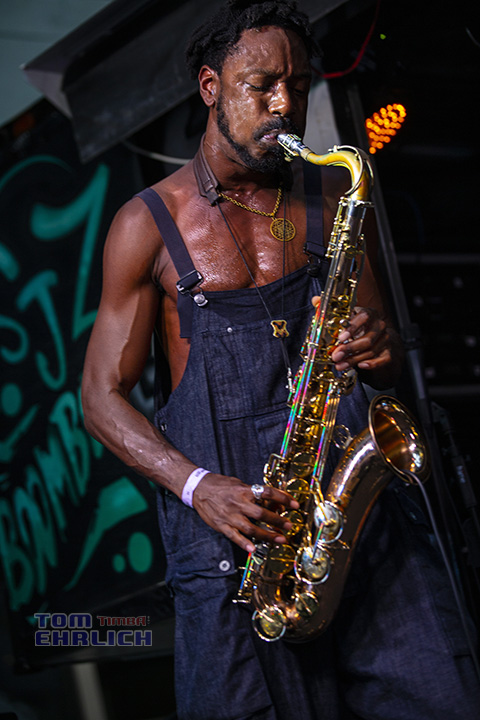 Shabaka Hutchins
Shabaka is the leader of the group.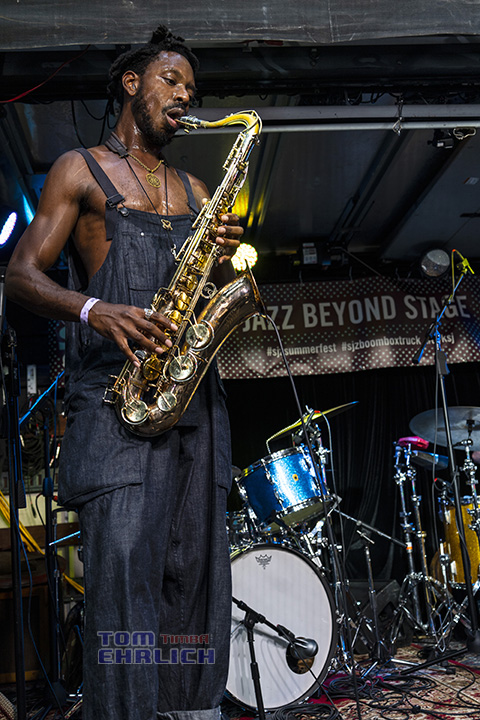 Shabaka Hutchins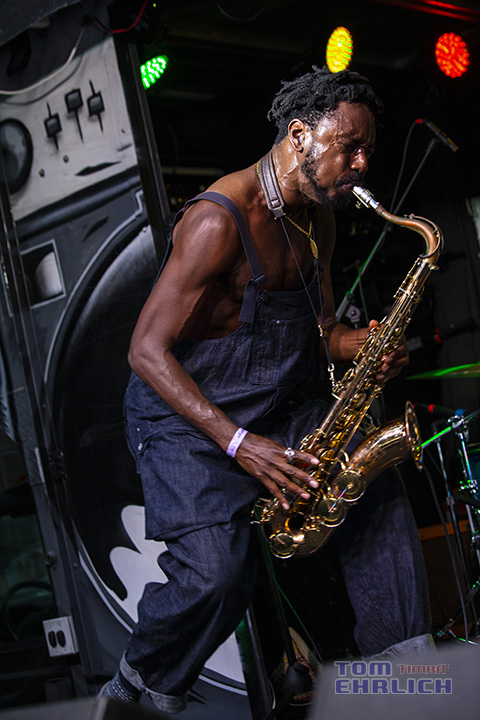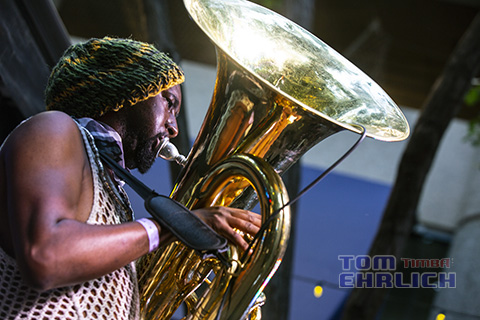 Theon Cross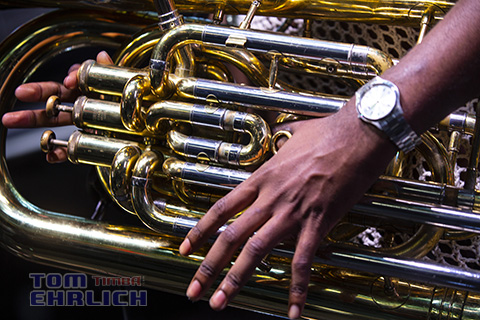 Theon Cross tuba and hands
From the most intense to the most mellow performance that I saw at the festival. Brazliian super star Ivan Lins peerformed at the Hammer Theater Stage.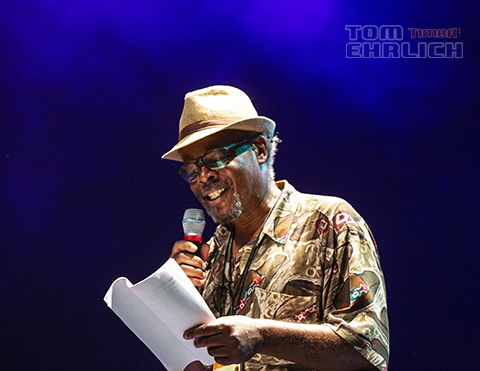 Greg Bridges
One of the top DJs and radio personality in the Bay Area, Greg Bridges introduced the group. Greg has radio shows on KCSM and KPFA and is very knowledgeable about jazz and Afro-Caribean music.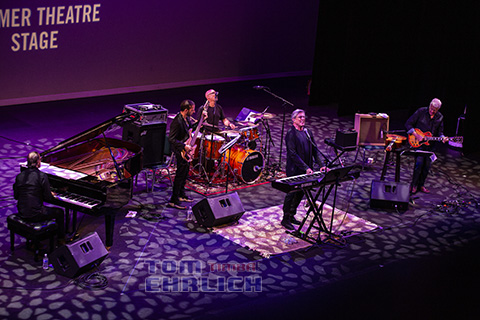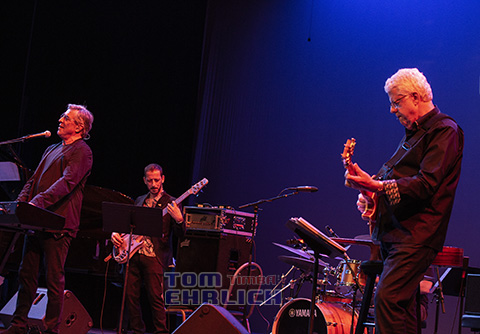 Ivan Lins, bass and Romero Lubambo guitar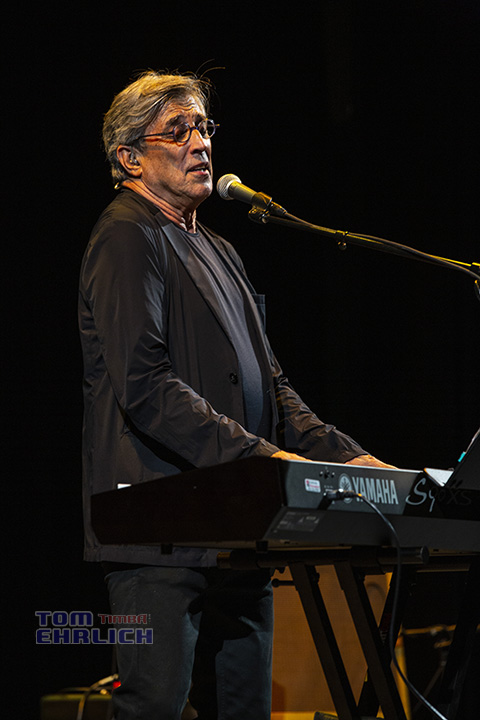 Ivan Lins
Ivan is a prolific and wonderful composer. Many of his songs have beocme jazz and Brazilian standards.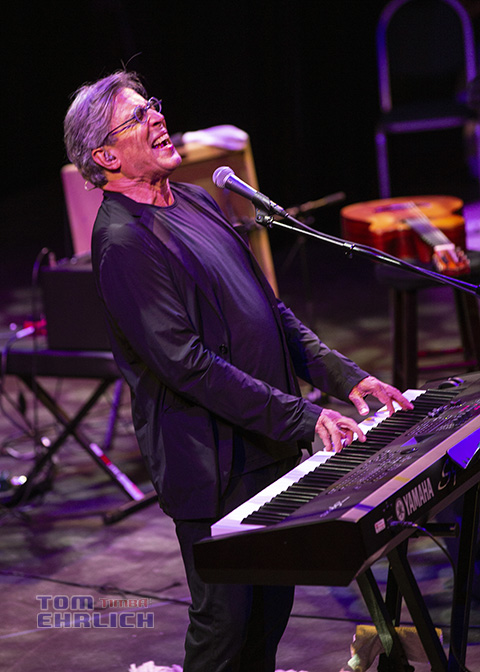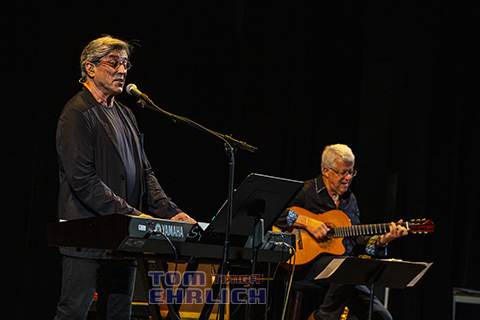 Ivan Lins and Romero Lubambo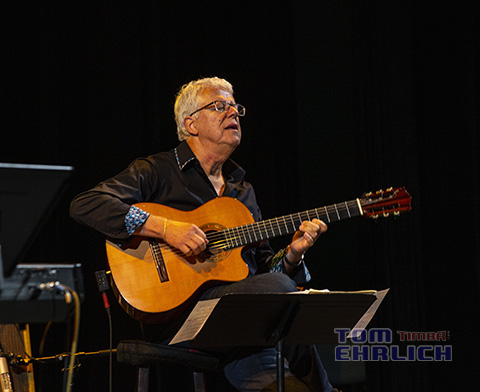 Romero Lubambo
Romero is one of the top guitarists in the world, in both Brazilian music and jazz.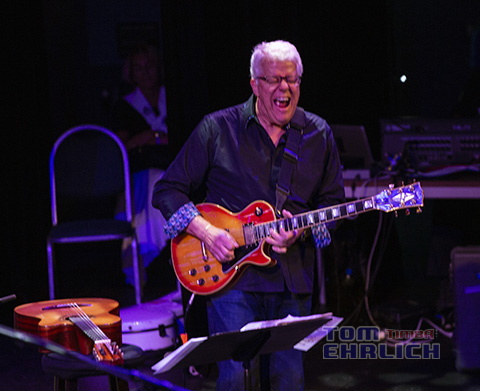 Back to the salsa stage for some great Columbian salsa by Orchesta La-33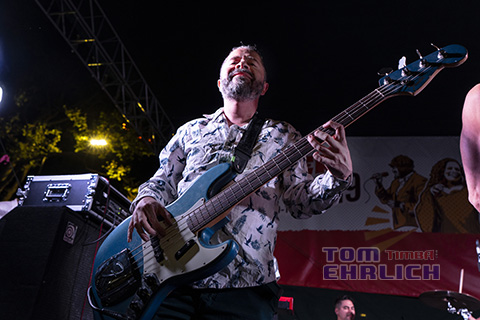 Sergio Mejia
Sergio is the musical director of the group.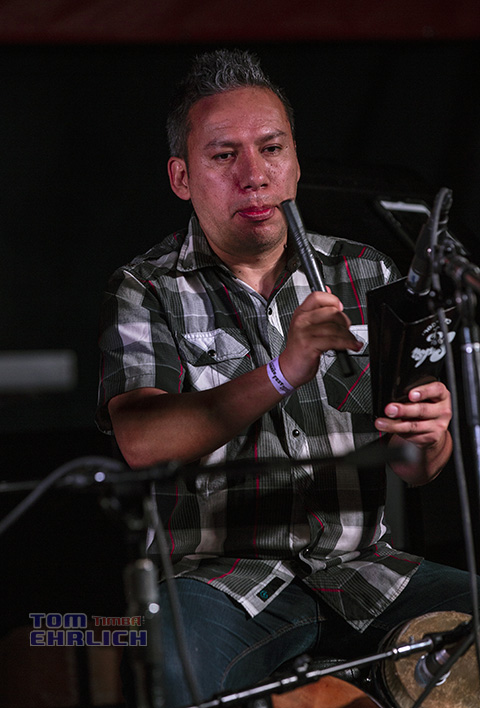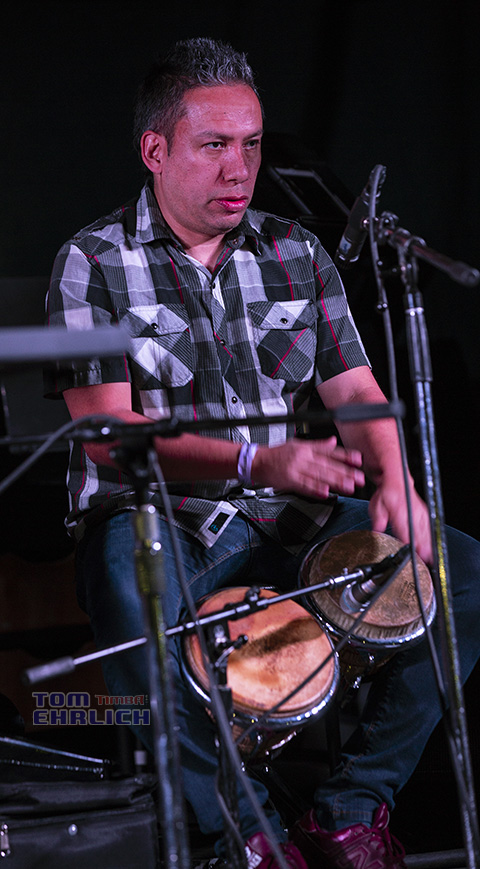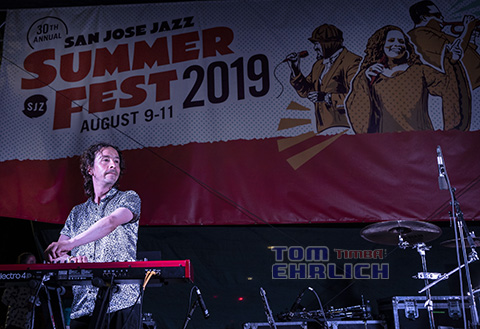 Santiago Mejia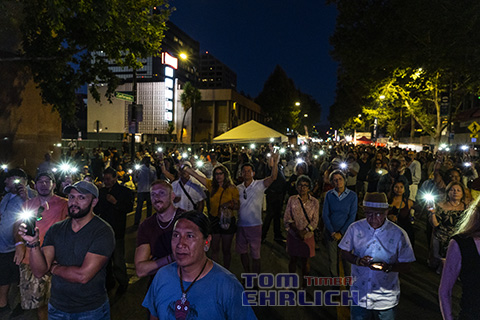 Lights for PEACE from the crowd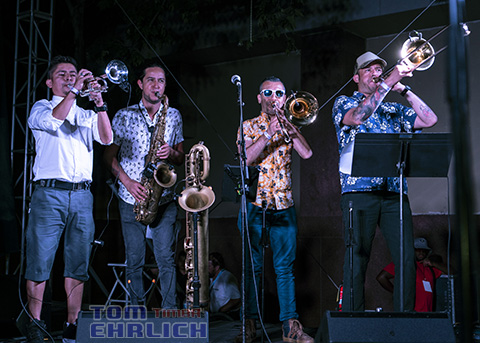 Santiago Mejia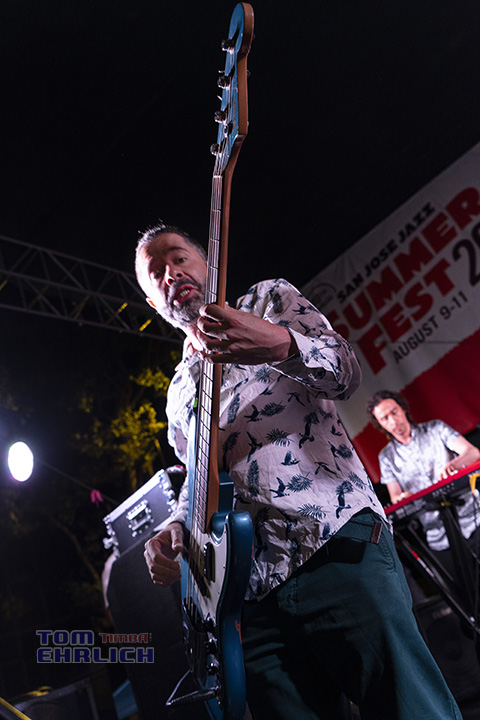 Sergio Mejia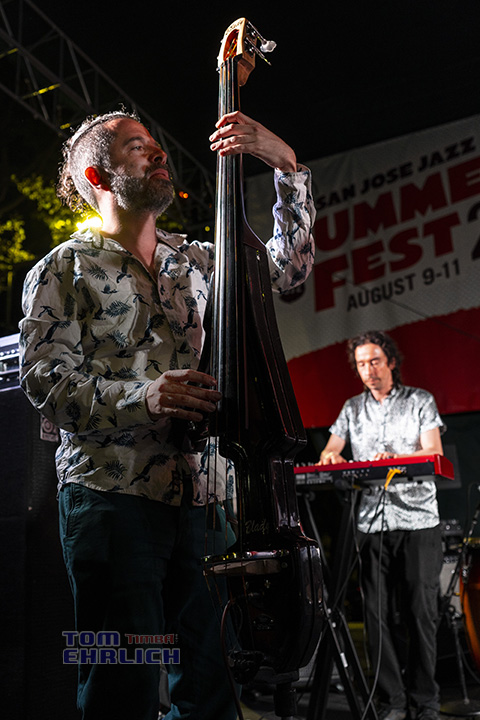 Sergio Mejia bass and brother Santiago Mejia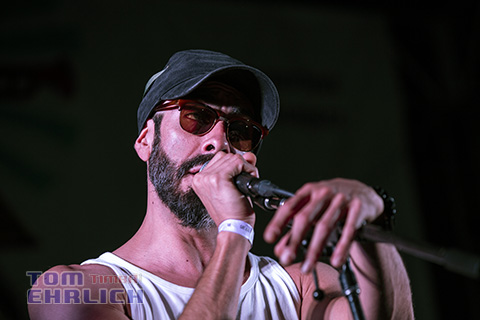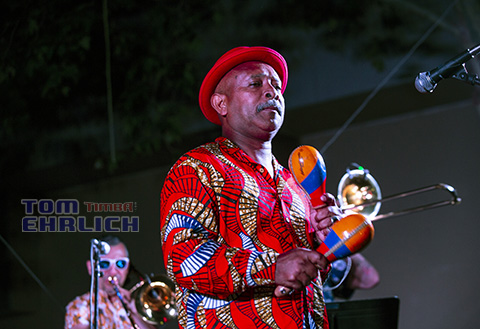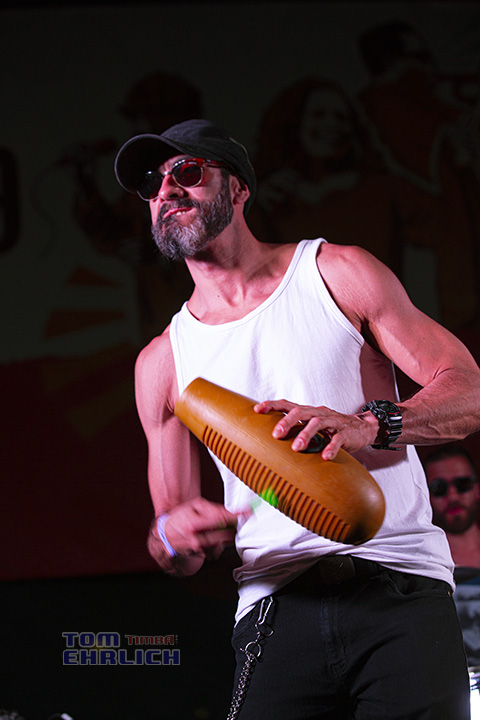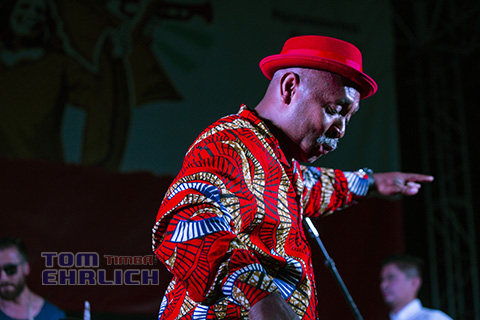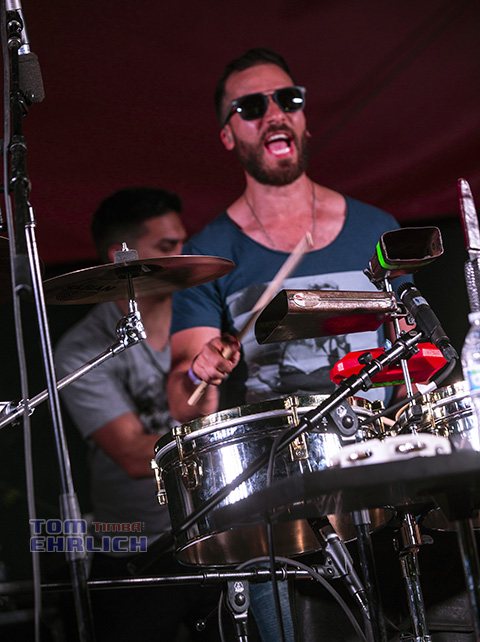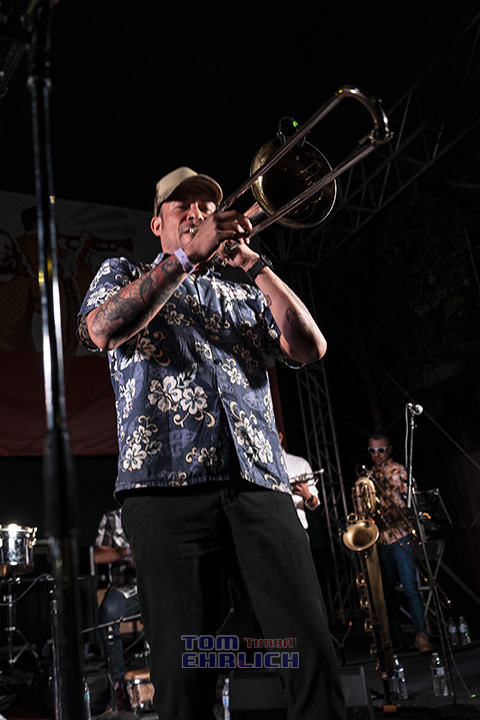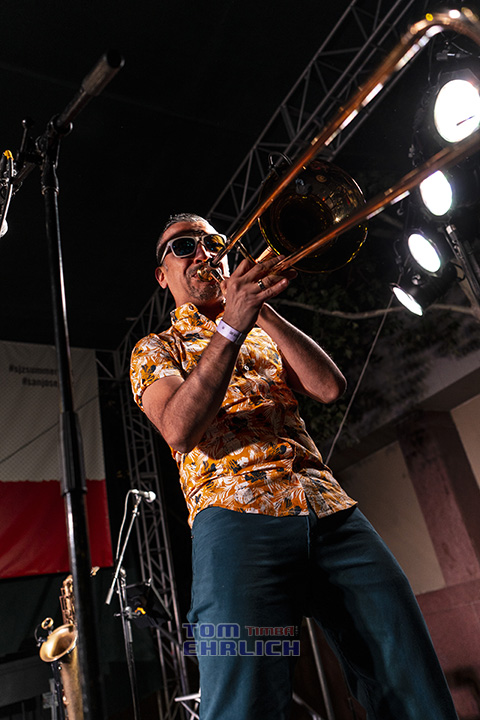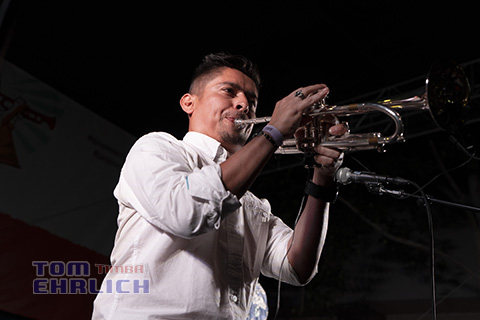 After hearing their salsa set, I unerstand why this band has an international following.
To close out this day, I made my way to the Adobe Silicon Valley Stage inside the Fairmont Hotel to catch the Ray Obiedo Group play some excellent Latin Jazz. Ray has one of the most popular Latin Jazz groups in the Bay Area.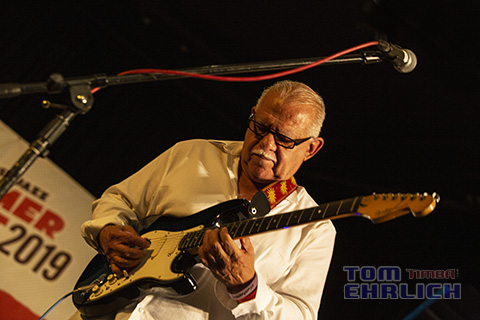 Ray Obiedo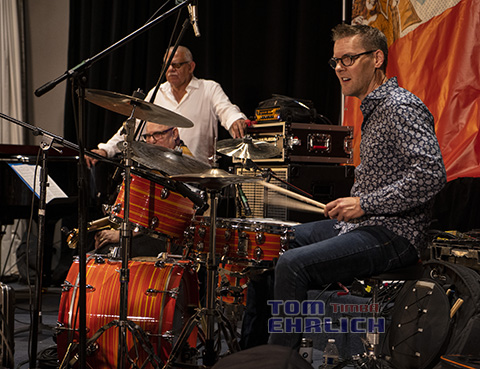 Phil Hawkins on Drums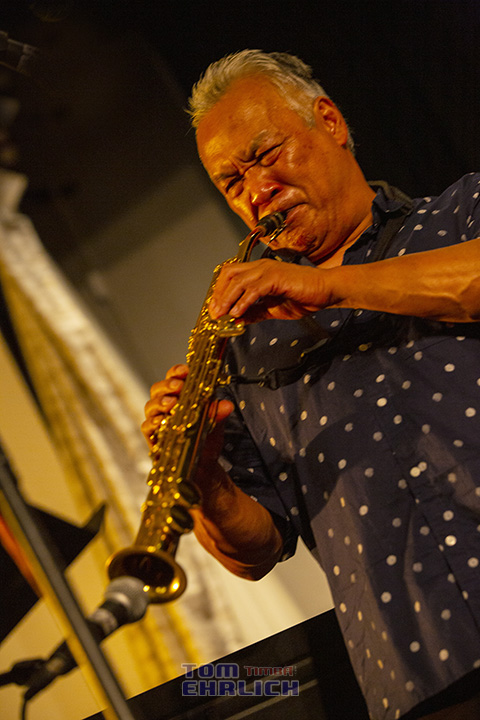 Melecio Magdaluyo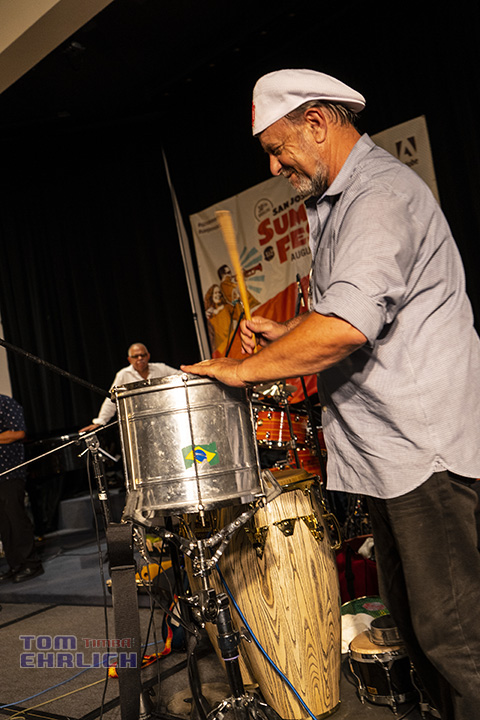 Michael Spiro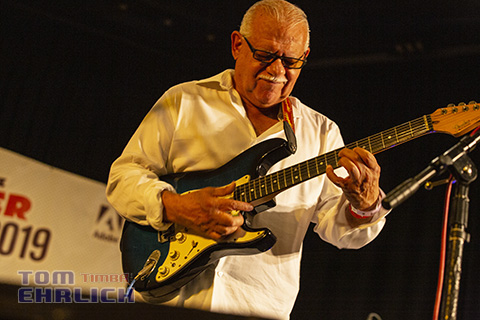 Ray Obiedo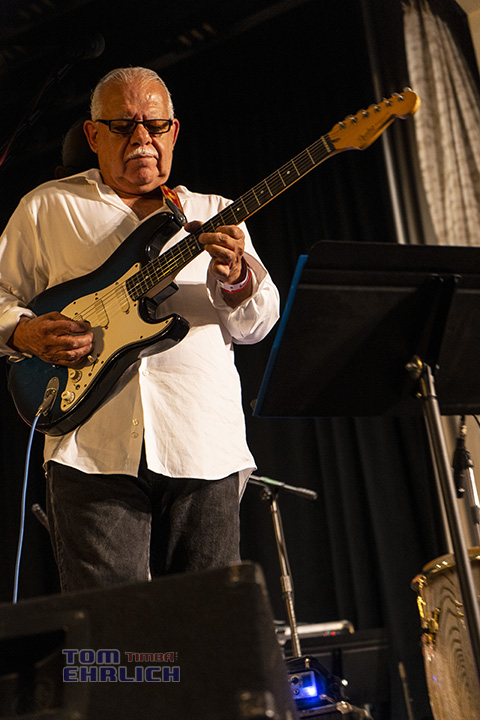 Ray Obiedo
An exciting, memorable and exhausting day at the festival. Next post will present the last day of the festival with some of the outstanding performances of the festival.
miércoles, 30 agosto 2023, 11:46 am