Tom Ehrlich - 2019 Monterey Jazz Festival Part 2
MONTEREY JAZZ FESTIVAL, PART 2
SUNDAY, SEPTEMBER 29, 2019
PHOTOS BY TOM EHRLICH © 2019
Christian Tumalan piano, Steffen Kuehn trumpet and Javier Cabanillas congas Pacific Mambo Orchestra
Sunday at Monterey Jazz Festival was challenging to cover all the bands I wanted. DId not quite make it.
First up was the Kenny Stahl Group. Kenny is a flutist who plays many styles of music. His piano player Murray Low is a veteran of many salsa and timba groups in the Bay Area.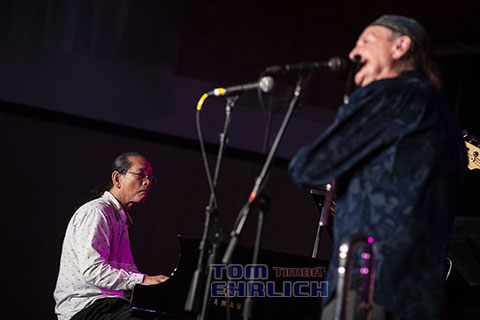 Murray Low piano and Kenny Stahl
Off to the main stage to catch the only Afro-Caribbean music group of the festival - The Pacific Mambo Orchestra. PMO is a Bay Area based Grammy Award winning big band salsa group.
Christian Tumalan and Steffen Kuehn are the co-leaders of this talent packed orchestra. Both play in a variety of projects.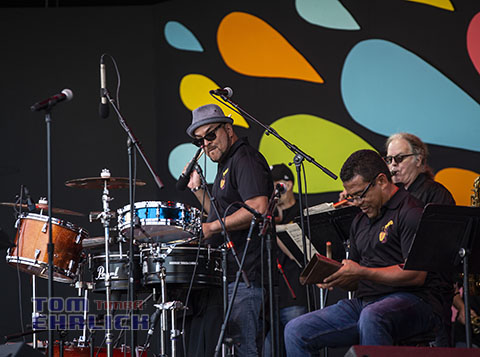 Omar Ledezma, Jr. Timbales and Braulio Barrera bell
Omar Ledezma, Jr. is one of the better percussionists in the Bay Area who can play all drums and is an excellent vocalist. Originally from Venezuela, he studied music in Cuba before settling in the US. Braulio Barrera is also a good percussionist and vocalist and leads his own salsa group.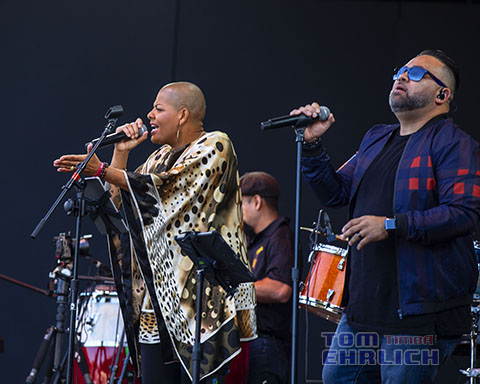 Christelle Durandy and Armando Cordoba
Christelle Durandy from French West Indies and Reunion Island ancestry and Armando Cordoba are PMO's lead vocalists. Both are in demand singers. Christelle is tri-lingual French, Spanish and English and Armando billingual Spanish and English.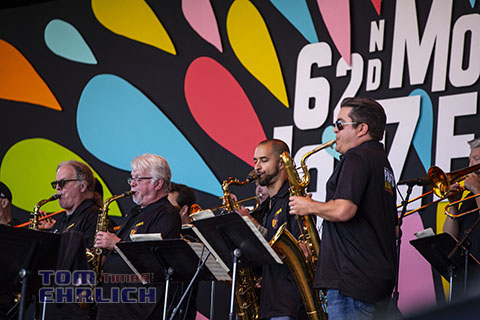 PMO sax section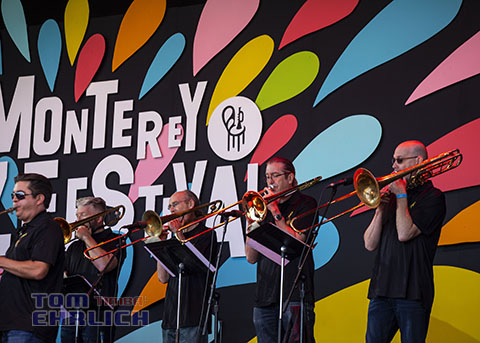 Trombone section includes Jeff Cressman (Santana and many others) and Jamie Dubberly (in demand trombonist)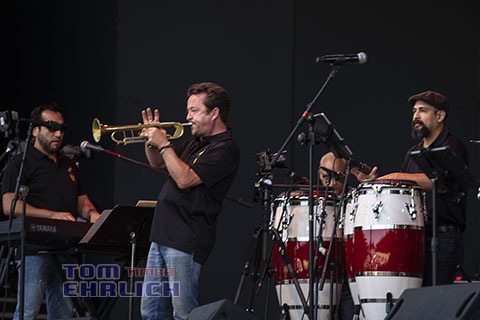 Steffen Kuehn trumpet solo and Javier Cabanillas congas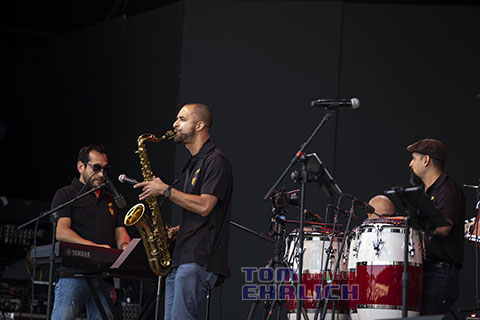 Christian Tumalan piano, Tony Peebles sax and Javier Cabanillas congas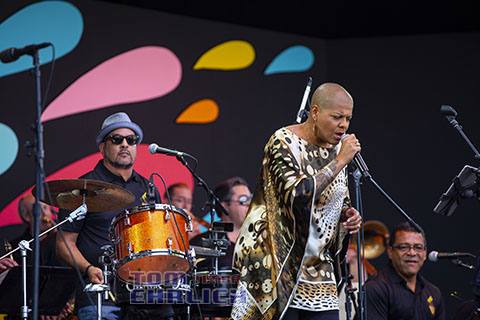 Omar Ledezma, Jr. timbales, Christelle Durandy vocals and Braulio Barrera bongo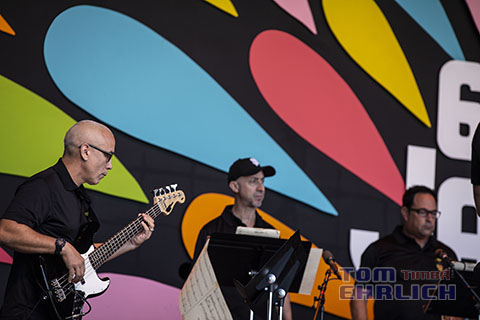 Julio De La Cruz bass
Julio De La Cruz from Cuba is a multi-instrumentalist who excels as a pianist as well as a bassist.
ABE RÁBADE TRIO
Group from Spain plays high energy, emotional, and innovative jazz.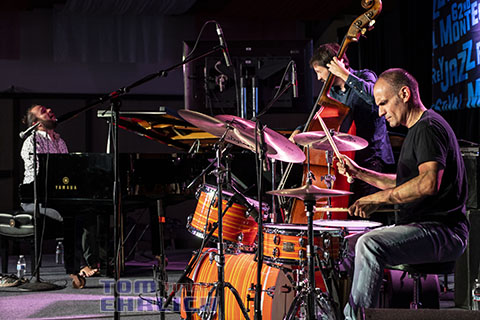 Abe Rábade piano, Pablo Martin Cabinero bass and Bruno Pedroso drums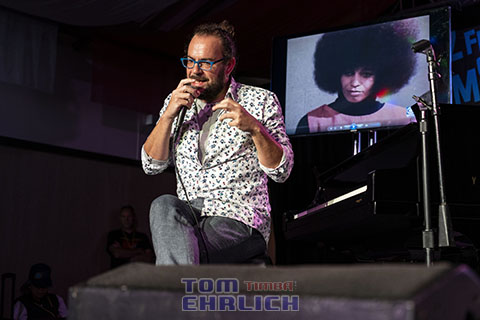 Abe Rábade and Angela Davis on the screen
Abe is explaining a song he wrote based on a a response to an interview question by revolutionary, activist, scholar Angela Davis. The name of the song is Revolutionary.which consists of Angela responding to the question What is a Revolutionary. Abe accompanies Angela's answer by mimicking her voice on the piano. Never heard anyting like that. Other songs were completely different styles. Angela Davis was in the audience. Abe met her for the first time at the festival. This set of music was definitely the most innovative of anything I witnessed at thsi years festival.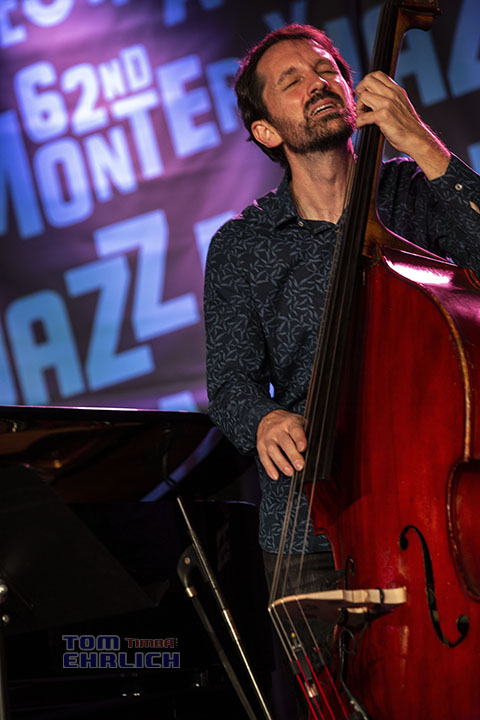 Pablo Martin Cabinero bass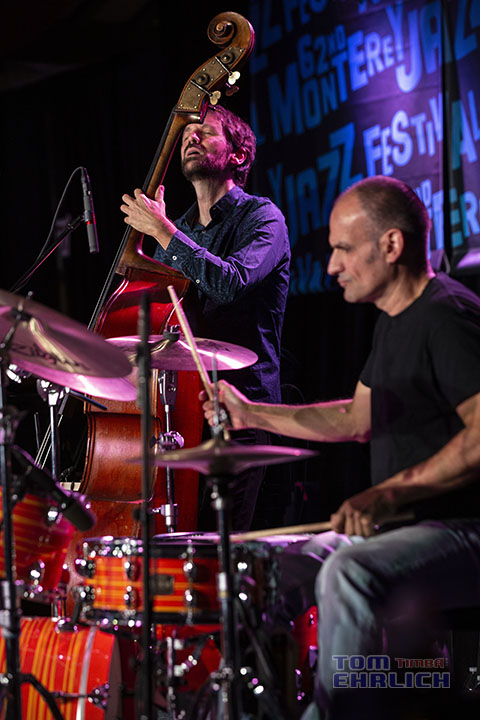 Pablo Martin Cabinero bass and Bruno Pedroso drums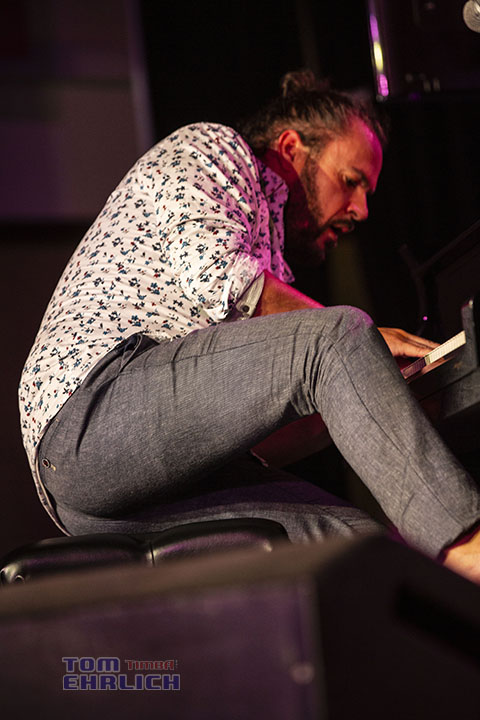 Abe Rábade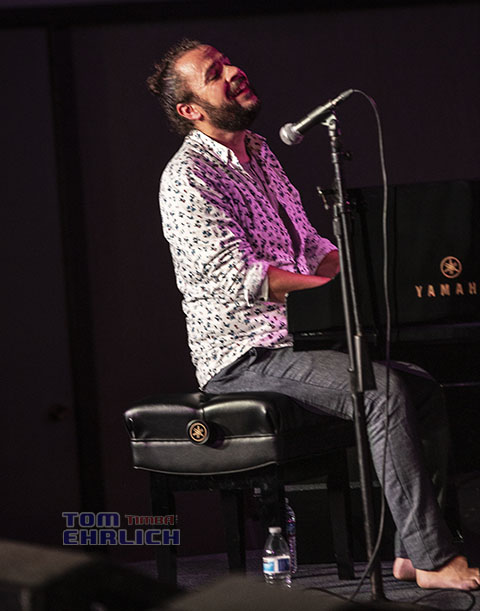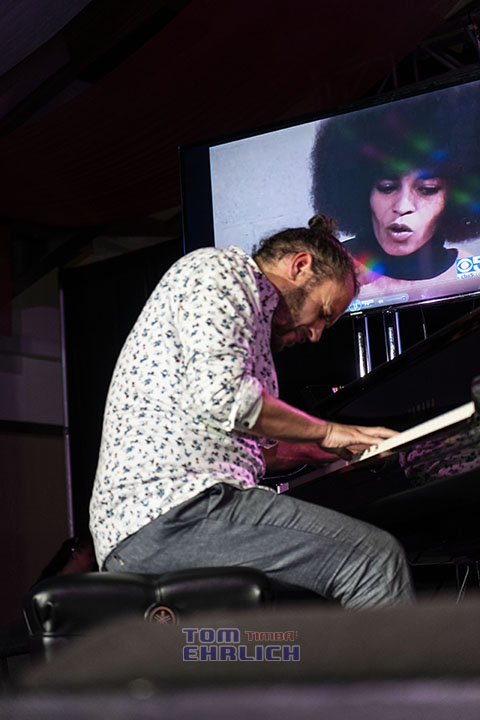 ELECTRIC SQUEEZEBOX ORCHESTRA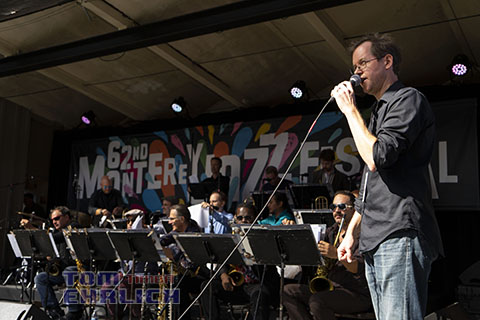 Erik Jekabson director of the Electric Squeezebox Orchestra
Electric Squeezebox Orchestra, the Bay Area's 17 piece big band perfroms a wide variety of music composed and arranged by the band members. Led by trumpeter/composer/arranger Erik Jekabson, the orchestrra has a regular residency Sunday nights at the California Jazz Conservatory in Berkeley, California. They have been performing since 2014.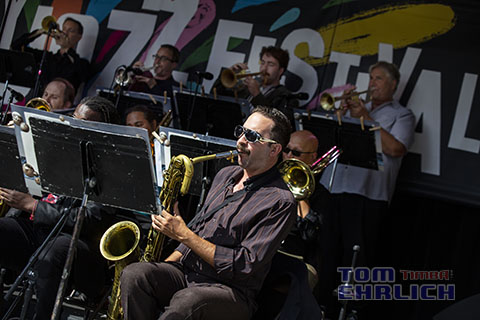 Charlie Gurke soloing on baritone saxophone
Charlie Gurke is a first call saxophonist in the Bay Area, playing with numerous jazz and salsa bands.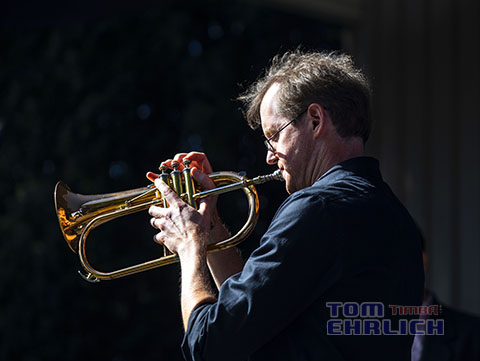 Erik Jekabson
Erik is an outstanding trumpeter, composer and arranger.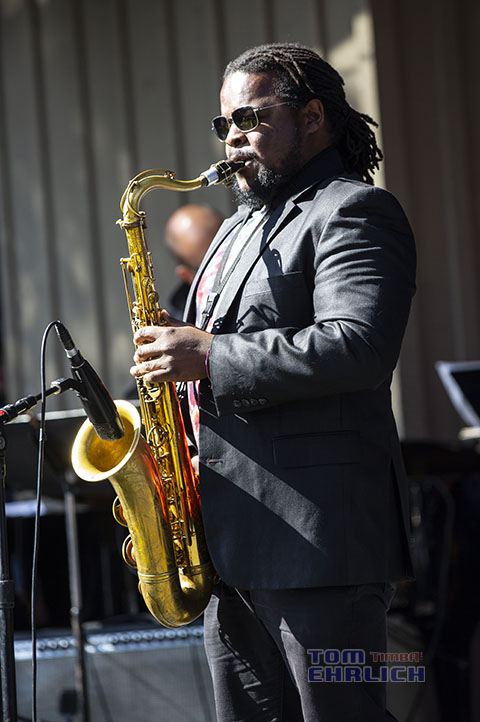 Marcus Stephens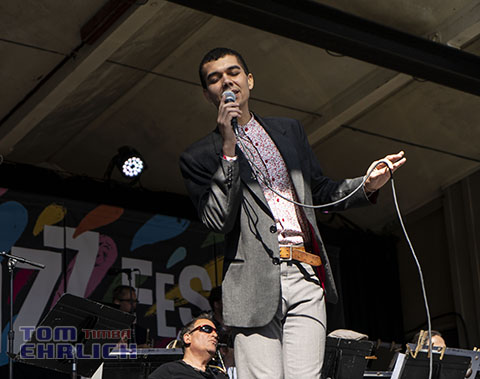 Kalil Wilson
Okalnd native Kalil Wilson is a powerful, soulful and versitile vocalist who has trained and performed in European classical music, opera, pop, R&B and jazz.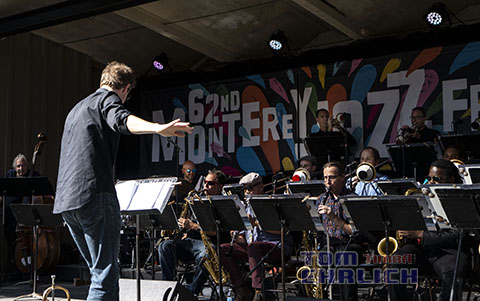 Erik Jekabson leading the orchestra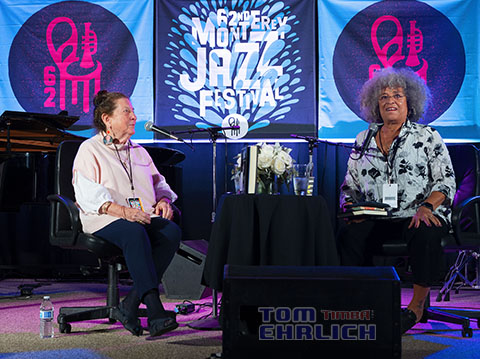 Maxine Gordon and Angela Davis
SOPHISTOCATED GIANT: THE LIFE AND LEGACY DEXTER GORDON with MAXINE GORDON AND ANGELA DAVIS
Very interesting discussion of the life of legendary jazz icon the late saxophonist Dexter Gordon with Dexter's widow and revolutionary acitivist, author and scholar Angela Davis. It was difficult for me to leave this discusssion. Subjects discussed were jazz history, Dexter's relocating to Europe helping to create a fan base for US jazz musicians, who to this day tour extensively in Europe, Dexter's history of incarceration, racism in the music industry and many others.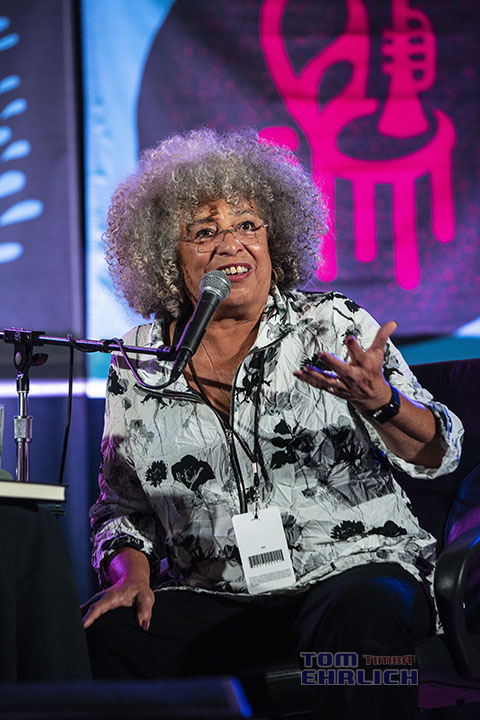 Angela Davis
Angela Davis is extremely knowledgable about jazz and Afro-Caribbean music. I see her often at concerts of the Cuban musicians who visit the Bay Area and usually she attends the Monterey Jazz Festival.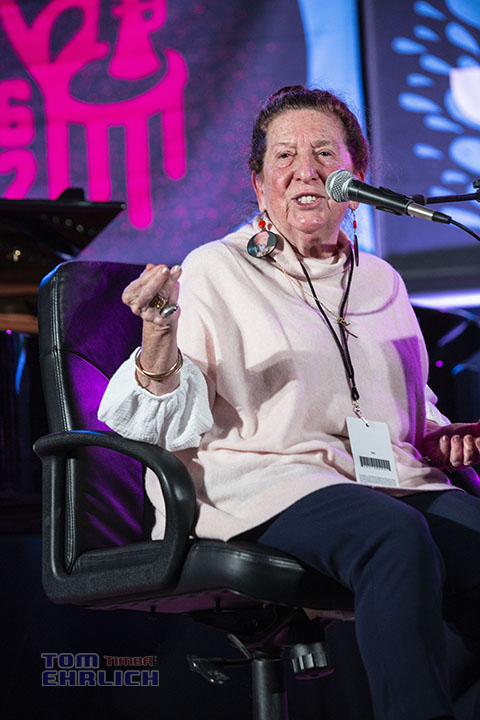 Maxine Gordon
Maxine has a long history of being invovled with jazz as a fan, advocate, manager and producer. She was married to trumpeter Woody Shaw, another legendary jazz musician and later separated and ended being the wife of Dexter Gordon. Dexter started writing his autobiography, but he died in 1990 before finishing it. Maxine completed the biography and published and released the book, "Sophistocated Giant - The Life and Legacy of Dexter Gordon" in November, 2018. Maxine travels the world giving lectures on jazz including the influence of Afro-Cuban religious music and Chano Pozo on jazz. if you are a jazz fan, her biography of Dexter Gordon is a must read.
BARRIO MANOUCHE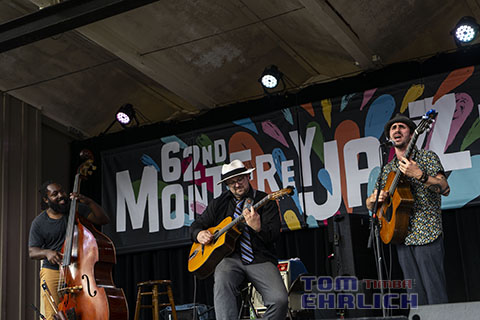 Gary Johnson bass, Alex Zelnick, and Javi Jiménez
Barrio Manouche, a Bay Area based band combine a unique fusion of cultures, dance and music, with its members from Spain, France, Brazil, Canada and the United States. Joining them for their Monterey performance was Mario Salomon, Cuban percussionist, who has extensive experience playing timba and salsa.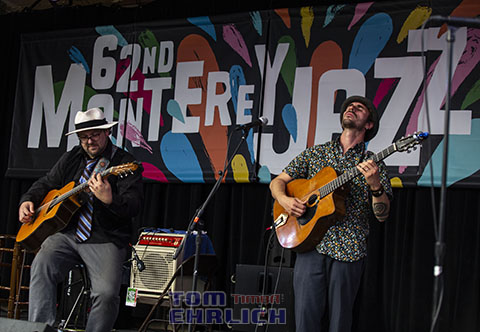 Alex Zelnick and Javi Jiménez
Spanish flamenco guitarist and vocalist Javi Jiménez is the leader of the band.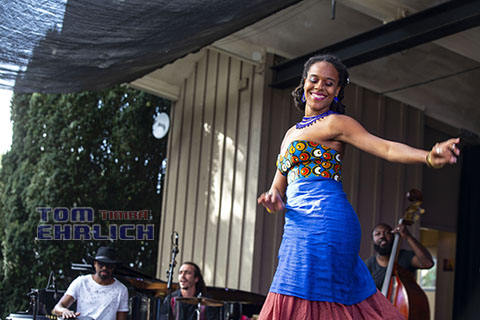 Emaye Ama Mizani Afro-Brazilian dancer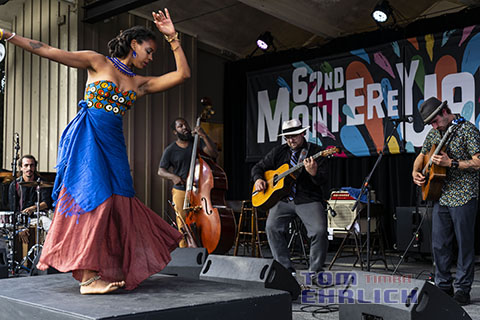 Emaye Ama Mizani, Gary Johnson bass, Alex Zelnick guitar and Javi Jiménez guitar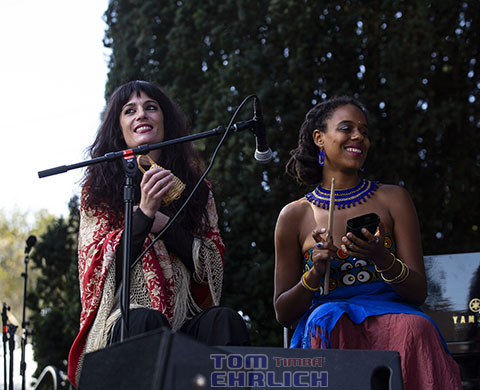 Fanny Ara and Emaye Ama Mizani
Fanny Ara is a French flamenco dancer, who also plays small percussion.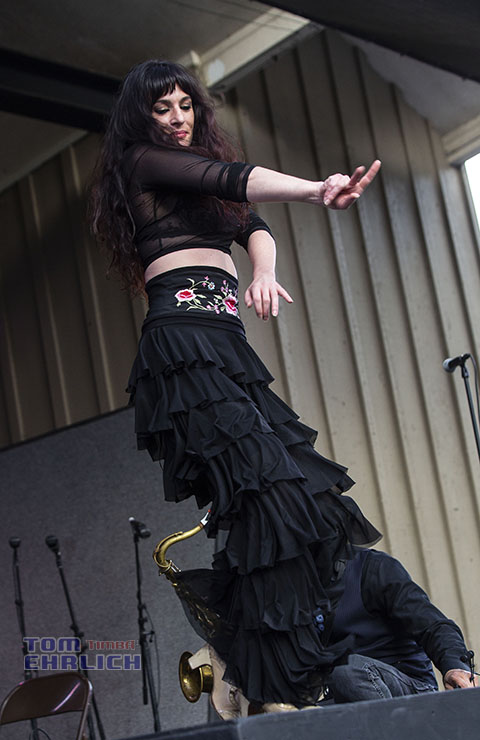 Fanny Ara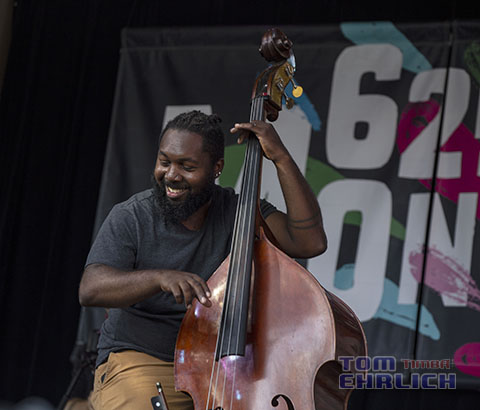 Bay Area native Gary Johnson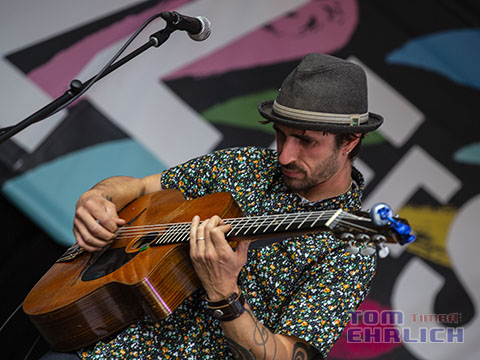 Javi Jiménez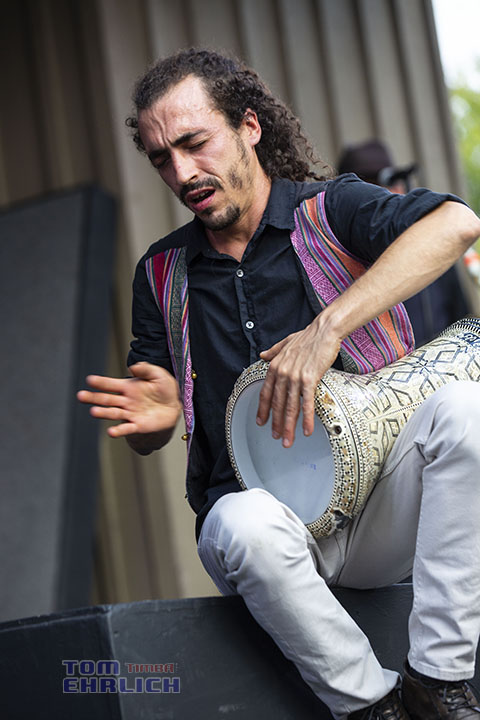 Luis Jiménez from Spain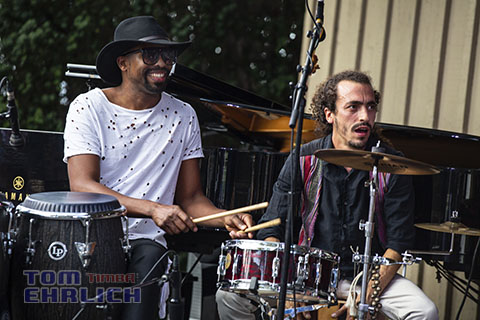 Mario Salomon and Luis Jiménez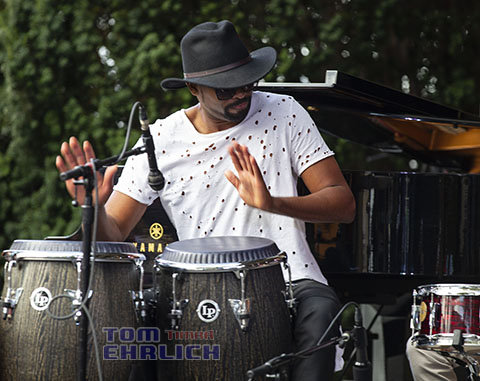 Mario Salomon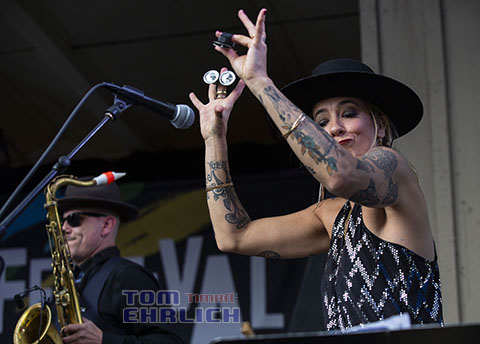 Cyril Guiraud and Magali Sanscartier
Saxophonist Cyril and Magali are both from Canada. Magali plays violin, small percussion and vocals.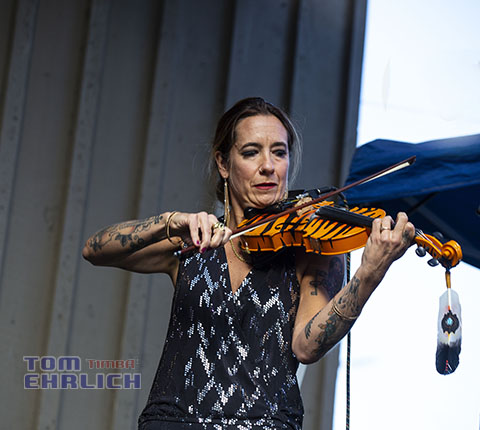 Magali Sanscartier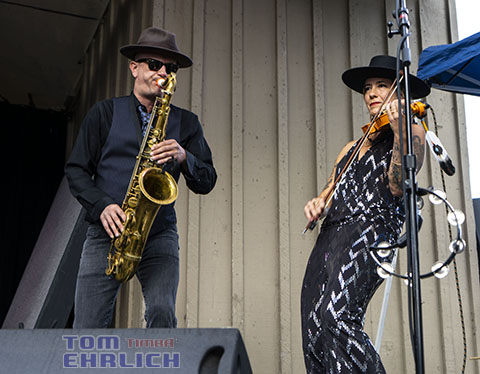 Cyril Guiraud and Magali Sanscartier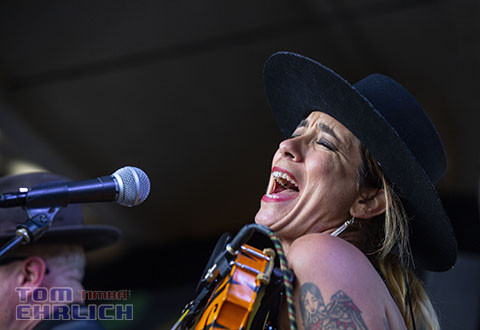 Magali Sanscartier
Barrio Manouche was a crowd pleaser with their high energy world fusion music and dance.
miércoles, 27 septiembre 2023, 07:35 pm