Tom Ehrlich - 2023 Monterey Jazz Festival, Part 1
66TH MONTEREY JAZZ FESTIVAL PART 1
FRIDAY SEPTEMBER 22, 2023
PHOTOS AND TEXT BY TOM EHRLICH ©
This years Monterey Jazz Festival was special in that it was the last festival with Tim Jackson as Artistic Director. Tim started as Artistic Director in 1992 and has lead the festival from being a great festival to an exceptionally great festival. Under his leadership together with the Board of Directors and other staff, the festival staff and leadership have become more diverse to where the new Artistic Director is an Afro American and their youth programs also include a significant number of young people of color. Since jazz is Afro-American music, this is a welcome development since historically the "jazz industry" has been run and controlled by Anglo-Americans.
This report includes a Terence Blanchard Retrospective, the Latin Jazz Collective with John Nava, Tony Lindsey and the Soul Soldiers, Gretchen Parlato and Lionel Loueke, Gerald Clayton, John Clayton and Jeff Hamilton Trio, Scary Goldings festuring John Scoffield, , Lucia Micarelli and Leo Amuedo, Benny Green Solo Piano and Herbie Hancock Group.. I unfortunately did not get to cover other good groups who performed.
LATIN JAZZ COLLECTIVE WITH JOHN NAVA

Kevin McCullough piano, Ric Feliciano and Felix Diaz trombones, Stu Reynolds sax, Martin Binder drums, Brian Stock trumpet, Steve Uccello bass and John Nava percussion and leader
I have been photographing Afro-Caribbean music groups in the Bay Area for over 20 years and I never heard of this group, except for Ric Feliciano who I have seen play trombone with various groups. Everyone of these musicains were excellent players. They plaed a comination of covers and original material.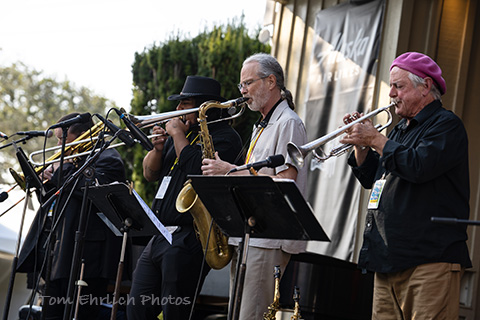 Brian Stock trumpet, Stu Reynolds sax, Felix Diaz and Ric Feliciano trombones
The horn section excelled especially Stu Reynolds and Brian Stock offering great solos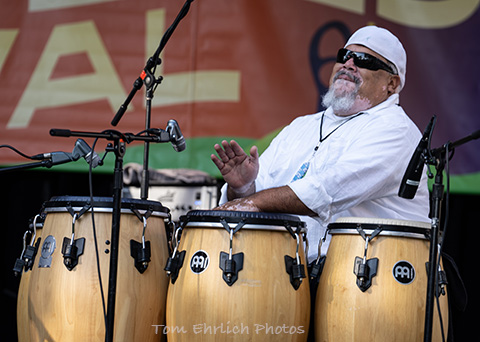 John Nava
John Nava is an outstanding conguero. The groups style reminded me of Poncho Sanhez's group.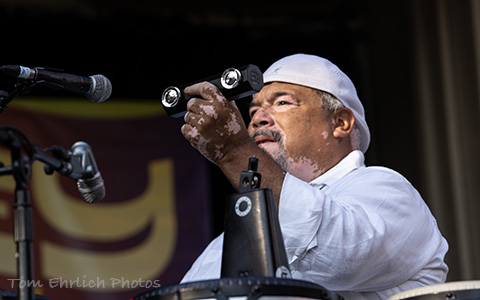 John Nava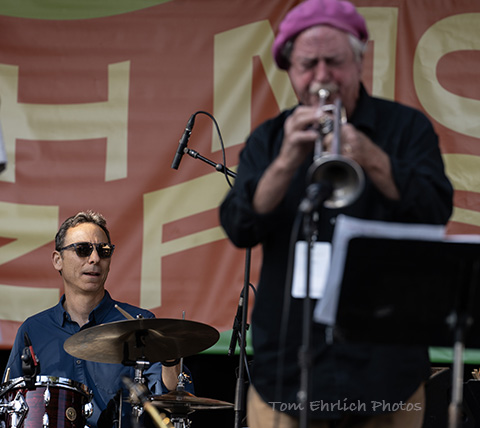 Martin Binder drums and Brian Stock trumpet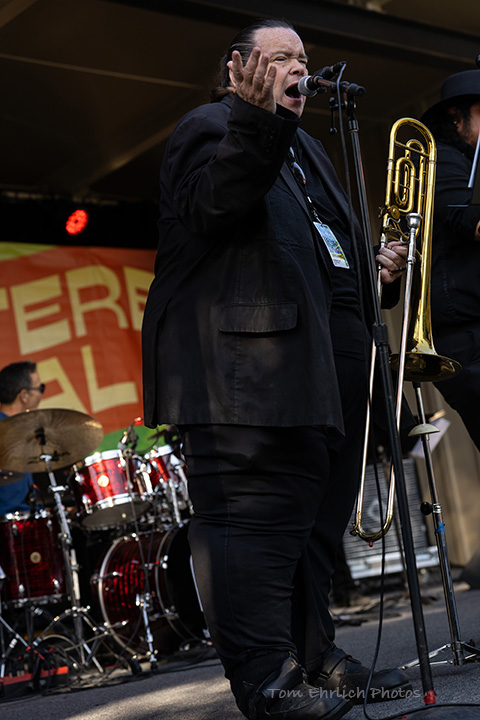 Ric "mightybone" Feliciano trombone and vocals
I have seen Ric perform numerous times with other groups and I was not aware he was also a vocalist. He sang a Hector Lavoe song which blew me away - his voice was amazing, the highlight of this band's set.
Very enjoyable set of music - great way to get the party started.
TERENCE BLANCHARD RETROSPECTIVE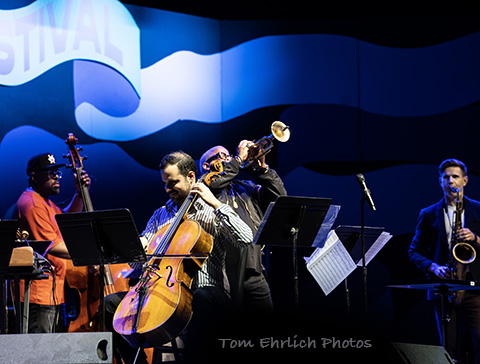 Christian McBride bass, Naseem Alatrash cello, Terence Blanchard trumppet, and Ben Wendel sax
Terence Blanchard did a retrospective of his illusgtrious career with numerous guest artists incluidngLakecia Benjamin, Benny Green, Lionel Loueke, Diane Reeves and Kendrick Scott. Terence jsut became Artistic Director of San Francisco Jazz.
GRETCHEN PARLATO AND LIONEL LOUEKE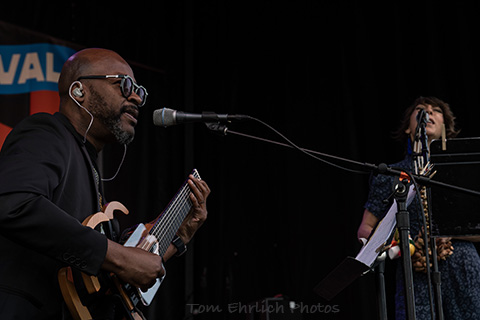 Lionel Loueke and Gretchen Parlota
Lionel Loueke and Gretchen Parlota have been collarboating for a long time and recently relased a duo project that was well received. Both Lionel and Gretchen are in high demand. Lionel performed with three different groups at the festival this year.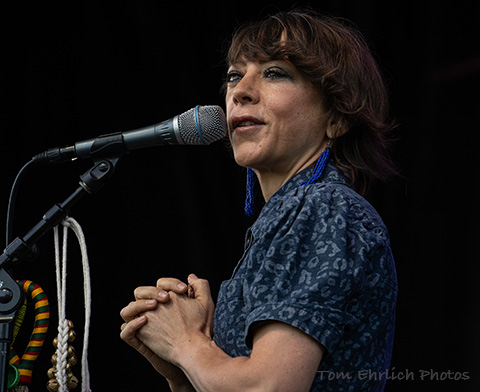 Gretchen Parlota
Gretchen and Lionel have been collaborating musically for over 20 years. Gretchen is a well respected vocalist and arranger who won first place in the 2004 Thelonious Monk International Jazz Vocals Competition.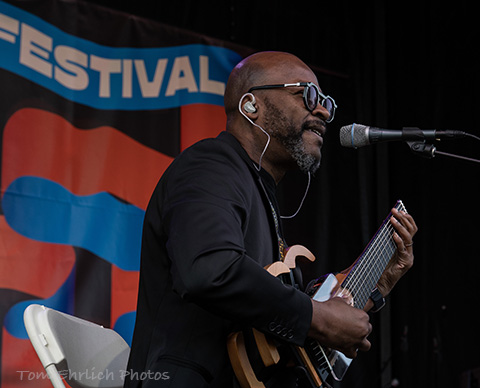 Lionel Loueke
Lionel is originally from Benin West Africa. He is one of the most sought after guitarists today. He is a regualr member of Herbie Hancock's band. He has recorded and performed with dozens of musicians too many to mention and has over 10 recordings as a leader. I first met Lionel when I was photographing the recording of Cuban Pianist Omar Sosa's album "Eggun" which Lionel recorded guitar and vocals on a few tracks.
Lionel started playing percussion at the age of about 9 years and started playing guitar when he as 17. After studying music in the Ivory coast and Paris he moved to the United States. His music has been described as being melotic combing traditional african sources with Jim Hall and George Benson like jazz lines. His vocal style is strongly ingluenced by his cultural roots of Benin, where he sings lyrics simultaneously with a clicking sound which many vocalists from the African continent use.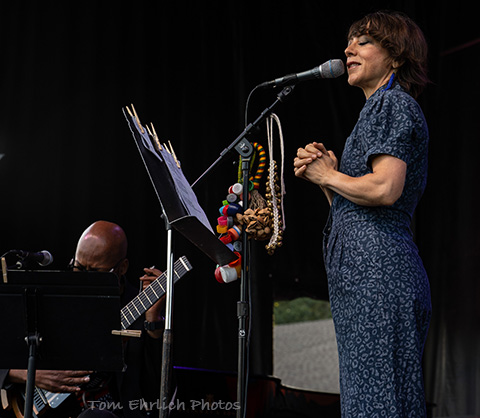 Gretchen Parlota and Lionel Loueke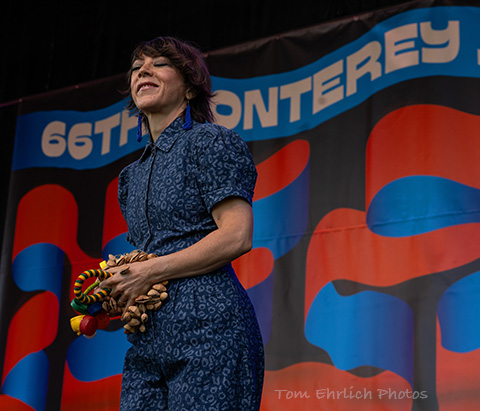 Gretchen Parloat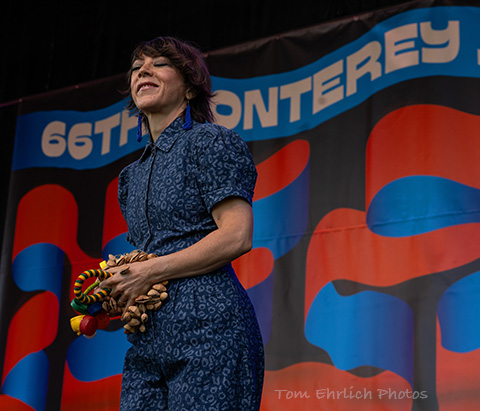 Gretchen Parlota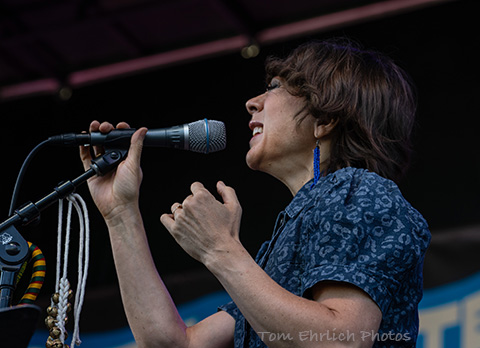 Gretchen Parlota
TONY LINDSEY & THE SOUL SOLDIERS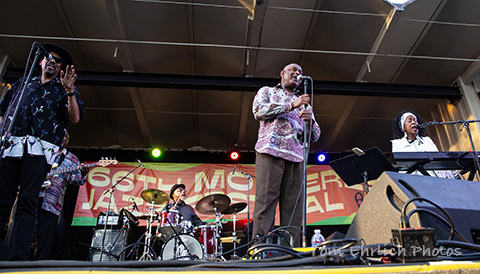 Tony Lindsey well known for his lead vocals with Santana for 25 years. He is also a composer of many soul music songs. Tony has seven recordings as a leader.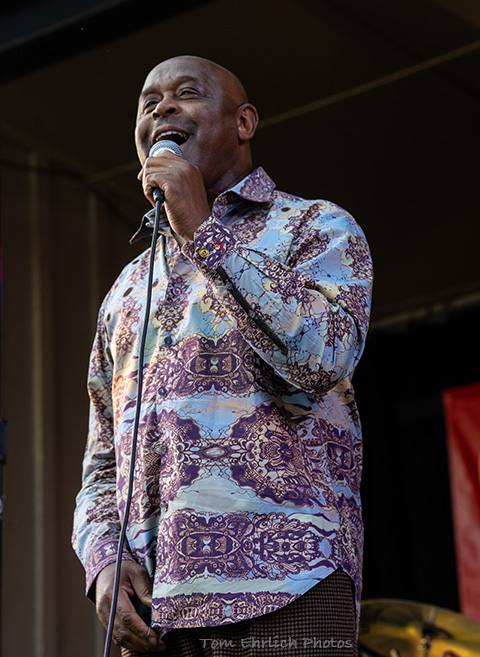 Tony Lindsey
Tony resdies in the Bay Area and current group The Soul Soldiers performs well known soul music classics and some originals.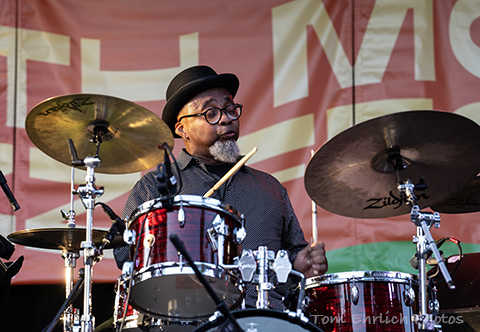 Deszon Claiborne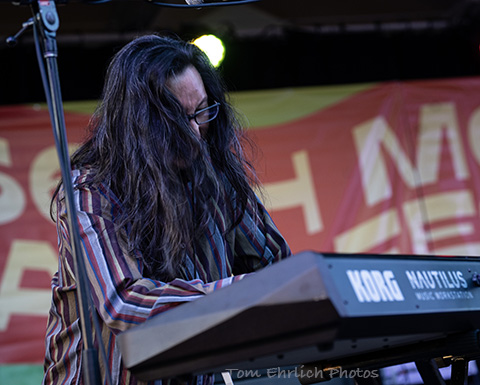 Allen Leong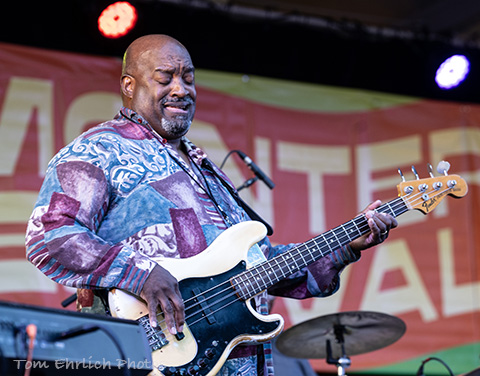 David Jones bass
Maxie Reid keyboards and vocals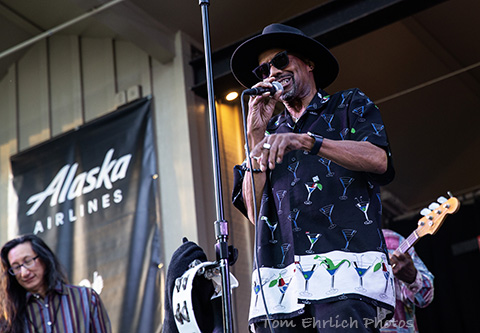 Fred Ross vocals and Allen Leong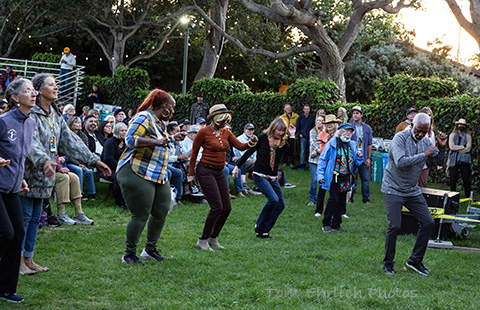 Tony and the Soul Soldiers had the crowd dancing and sigining along all through their spirited high energy set.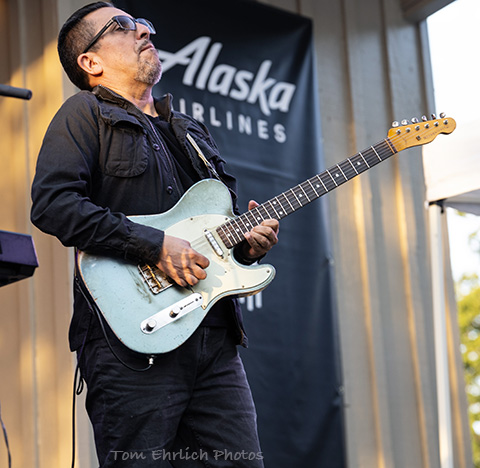 David Shiut guitar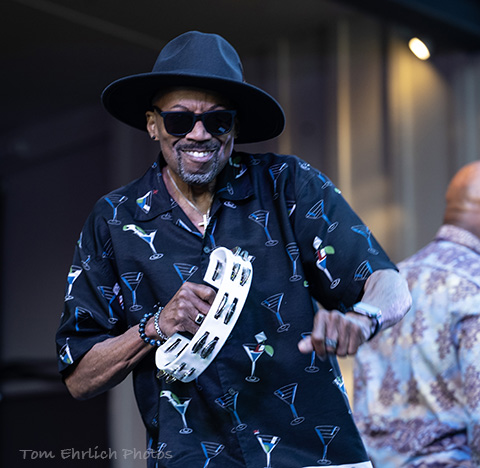 Fred Ross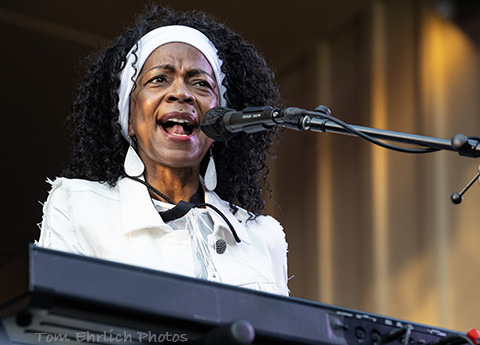 Maxie Reid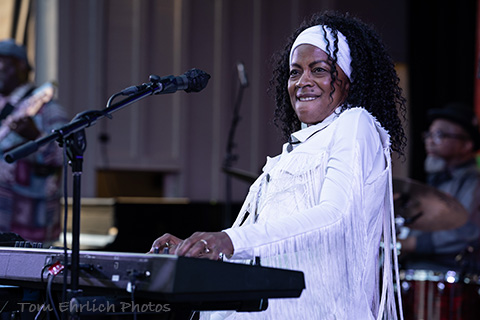 Maxie Reid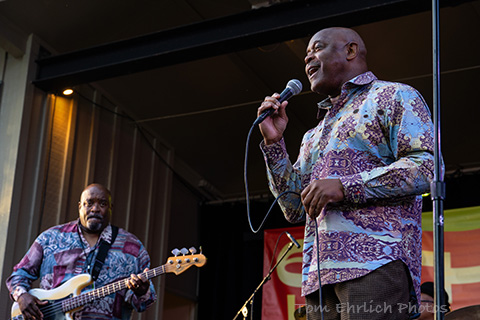 Tony Lindsey vocals and David Joes bass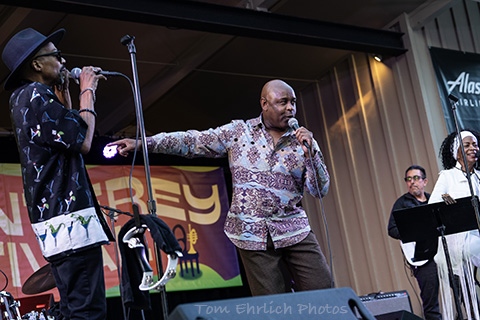 Fred Ross and Tony Lindsey vocals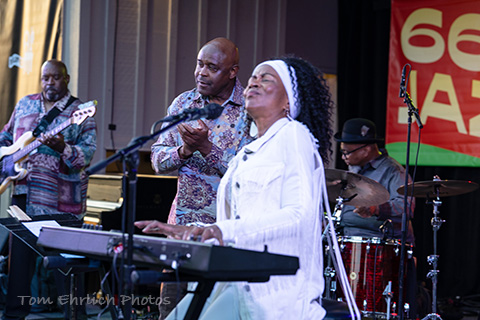 Maxie Reid keyboard, Tony Lindsey vocals and David Jones bass
THE TRIO WITH GERALD CLAYTON, JOHN CLAYTON AND JEFF HAMILTON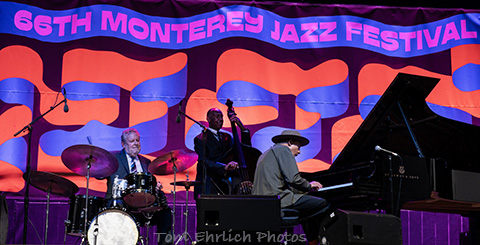 Jeff Hamilton drums, John Clayton bass and Gerald Clayton piano
The Trio is composed of three virtuosos John Clayton bassist/composer/arranger and band leader and his son well known Gerald Claytonn pianist, composer and arranger and Jeff Hamilton on drums.
John Clauyton bass and Gerald Clayton
both John and Gerald are active music educators.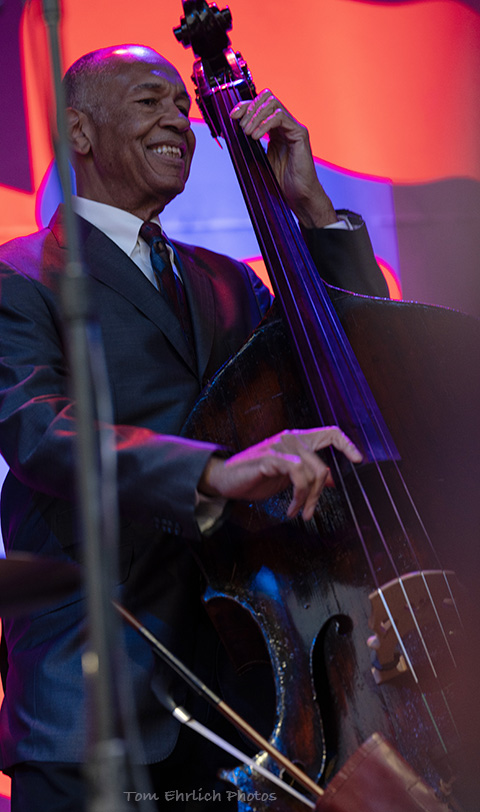 John Clayton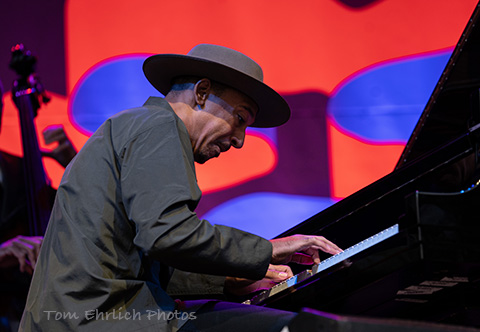 Gerald Clayton
Gerald also directed the Monterey Jazz Festival's Next Generation Orchestra.
SCARY GOLDINGS FEATURING JOHN SCOFIELD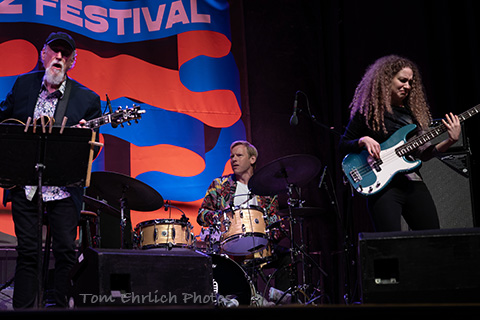 John Scofield guitar, Ted Poor drums and Tal Wilkenfeld bass
Scary Goldings was in my opinion a rock band with two very good jazz musicians John Scofield and Larry Goldings.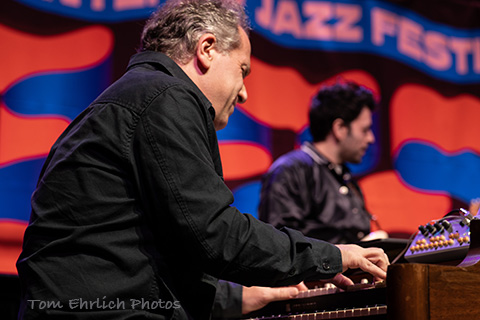 Larry Goldings organ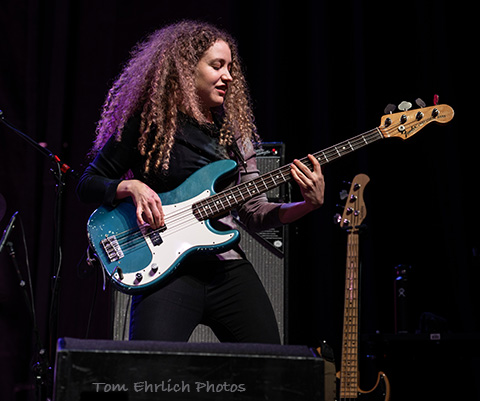 Tal Wilkenfeld bass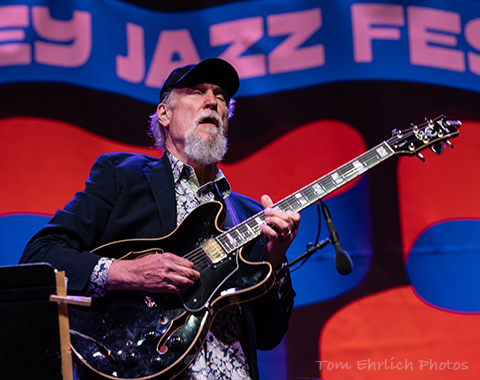 John Scofield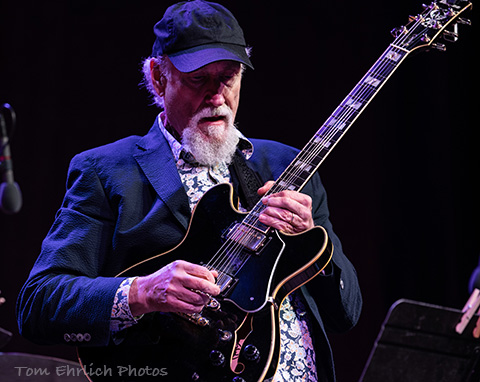 John Scofield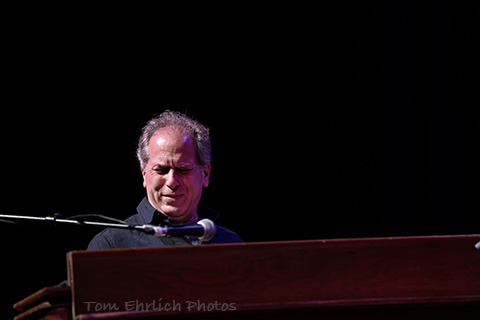 Larry Goldens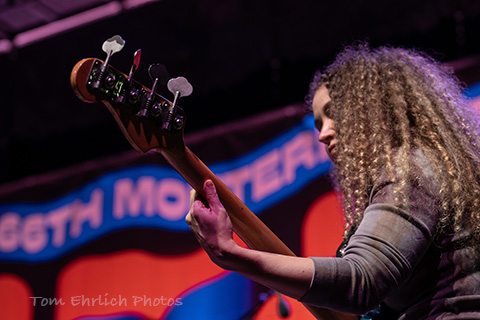 Tal Wilkenfeld
BENNY GREEN SOLO PIANO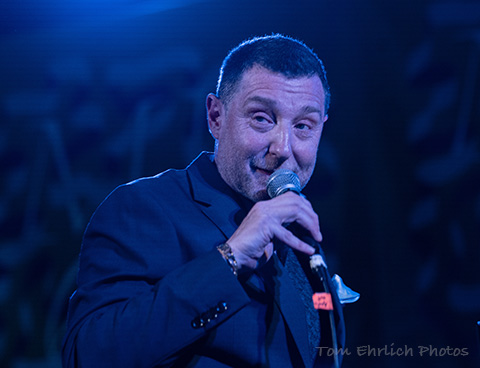 Benny Green
Benny Green is a master pianist and composer who was born in New York City and grew up in Berkeley, California. He has been playing professionally since his teens, has recorded approximatley 20 albums as a leader and has played with many of the best jazz musicians in the United States, including Art Balkey, Ray Brown, Freddie Hubbard and Houston Pearson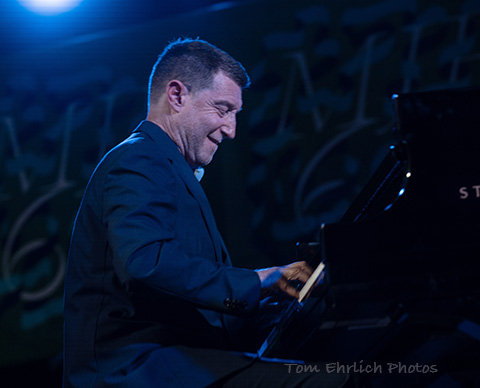 Benny Green
Benny performed solo. To be honest I am not a big fan of solo piano, but Benny's concert kept my interest and his playiong was exquisite.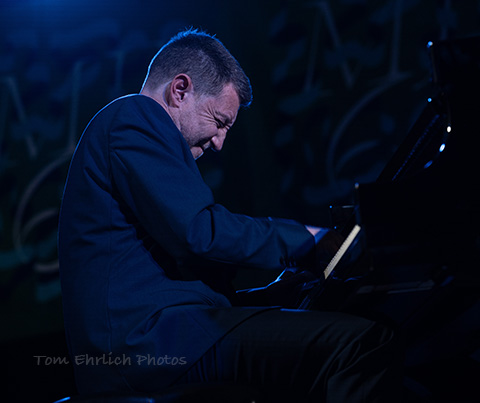 Benny Green
HERBIE HANCOCK GROUP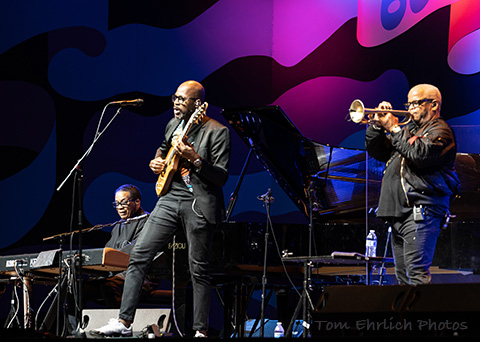 Herbie Hancockn Lionel Loueke, Terence Blanchard
The final group of the night was the legendary Herbie Hancock and his group consisting of Herbie on keyboards/piano, Lionel Loueke on guitar, James Genus on bass, Terence Blanchard on trumpet and Jaylen Petinaud on drums. This unit was smaller than his usual but they gave the usual great performance, led by my choice as the best living musician.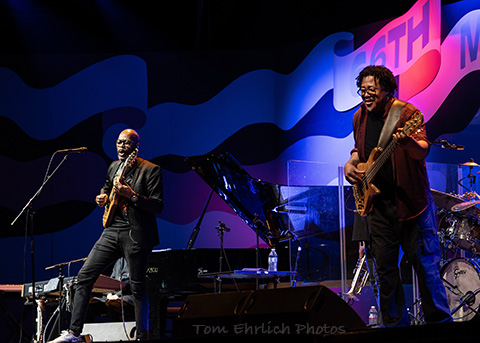 Lionel Loueke and James Genus
Nice way to ned the evening. Next up Santurday.
Thursday, 28 September 2023, 08:03 PM