Indice - Table of contents
Lo Nuevo
[hide]
Fotos Del Día
[hide]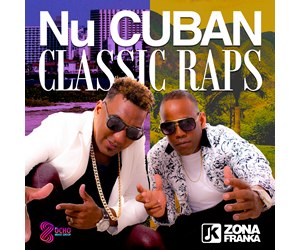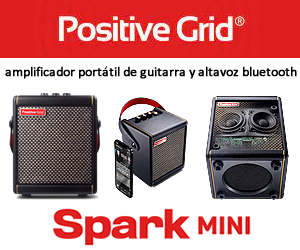 Tom Ehrlich - 2016 San Jose Jazz Fest
SAN JOSÉ JAZZ SUMMERFEST
SAN JOSE, CALIFORNIA
AUGUST 14, 2016
PHOTOS BY TOM EHRLICH © 2016
The San José Jazz Fest took place on August 12 through August 14, 2016. Due to other commitments, I only was able to attend Sunday August 14. As usual the Summer Fest had an amazing line-up, with an empahsis this year on music from Puerto Rico. What follows are photos from the following groups: Alfredo Rodríquez Trio with Ganavya Doraiswamy, La Mixta Criolla, Miguel Zenón Quartet, Cécile McLorin Salvant, Pirulo y La Tribu, Jane Bunnett & Maqueque and Tootie Heath Trio.
LA MIXTA CRIOLLA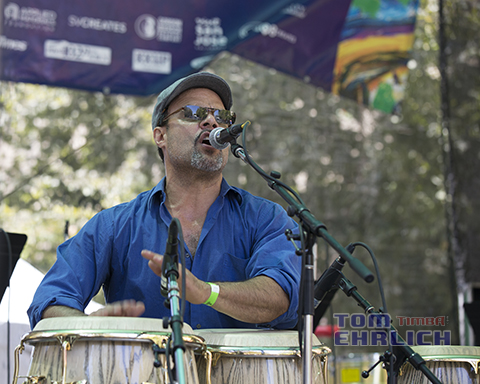 Hector Lugo
La Mixta Criolla, lead by Hector Lugo, plays Afro-Caribbean music predominantly from Puerto Rico.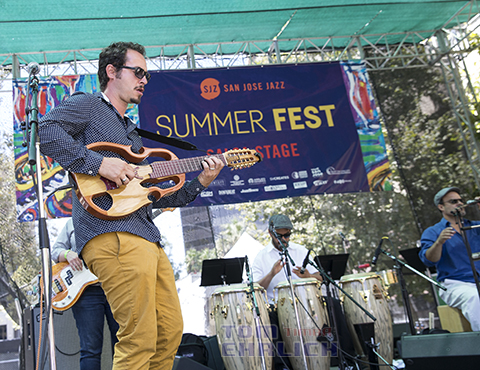 Camilo Landau on electric cuatro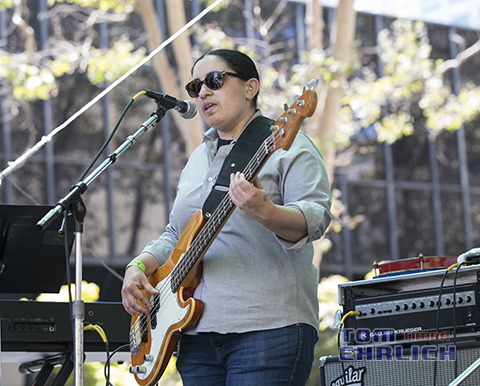 Ayla Davila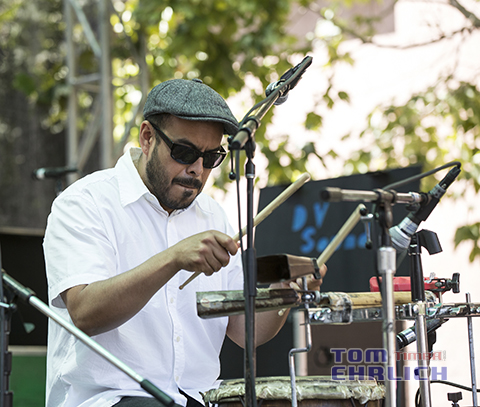 Javier Navarrette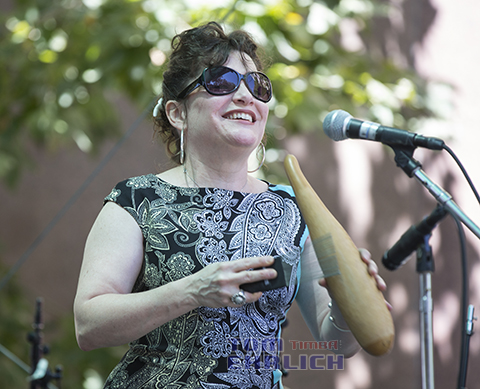 Sandra García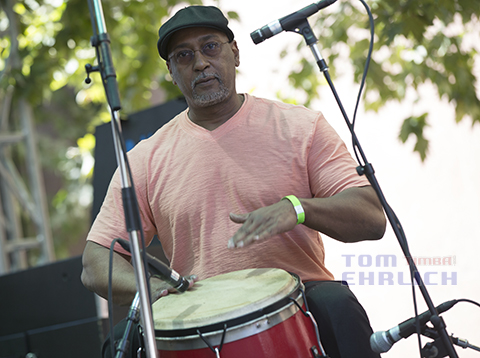 Román Carrillo
MIGUEL ZENÓN QUARTET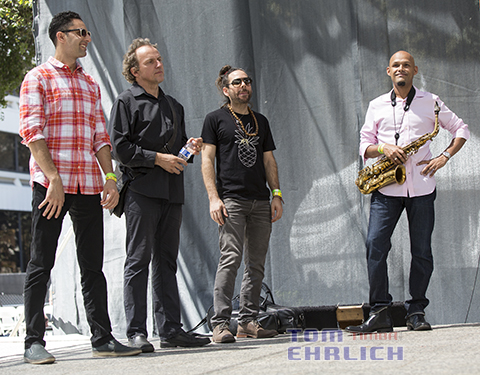 Band ready to perform - left to right Alex Brown, Hans Glawischnig, Henry Cole and Miguel Zenón
The Miguel Zenón Quartet is one of the best quartets performing in jazz today. Much of the music they play is rooted in Puerto Rican rhythms and melodies. The quartet's usual pianist Luis Perdomo was uanble to make it, so the execellent young pianist Alex Brown replaced him. Alex has been Paquito d'Rivera's pianist for a number of years. Although everyone in this band is younger than 40, they are all some of the best players in the world on their instruments and all have released recordings as leaders.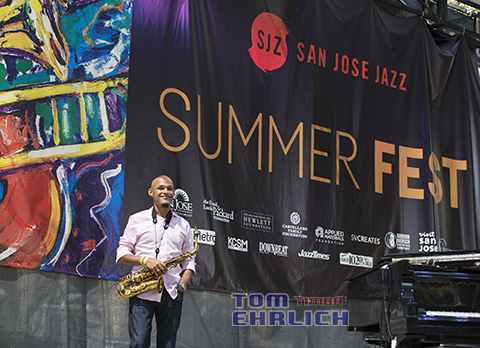 Miguel Zenón
Leader Miguel Zenón is an outstanding player, composer and arranger, who was born and raised in Puerto Rico and currently resides in New York City. He has been the recipient of some high profile awards and numerous Grammy nominations. In spite of all his success and notariety, he humble and friendly. Miguel is committed to music education and to exposing young people to jazz. In 2011, he started Caravana Cultural, where he presents free concerts to rural areas of Puerto Rico, giving people in these areas the opportunity to experience live jazz. He has 9 excellent recordings and is scheduled to release a new recording early in 2017 called Típico.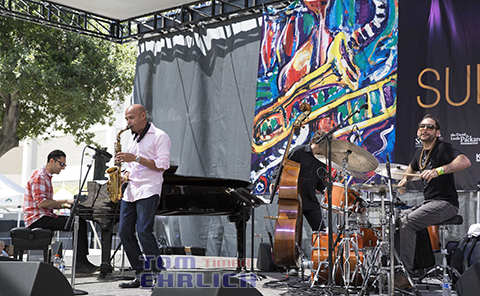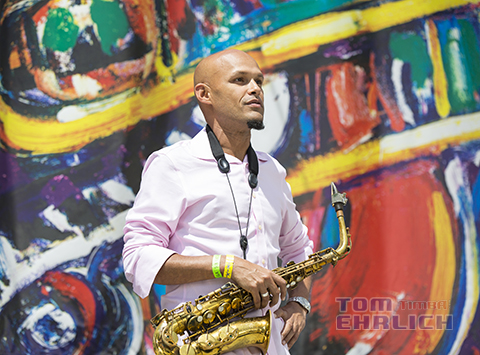 Miguel Zenon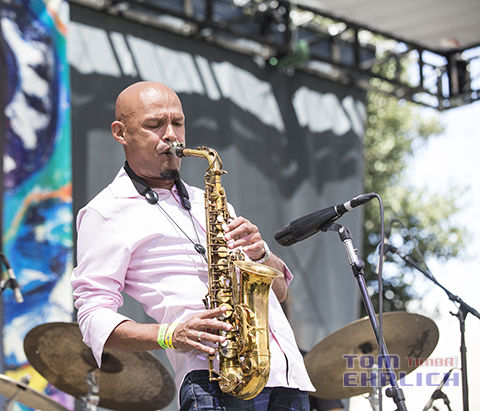 Henry Cole
In demand drummer Henry Cole also hails from Puerto Rico. He has a melodic and tastey style and is a strong soloist. Henry released a recording a few years ago entitled Roots Before Branches with his Afro-Beat Collective and is scheduled to release a new recording soon with his new project Villa Locura, which includes many great players including saxophonists Ricardo Pons and Mario Castro, trumpeters Piro Rodríguez and Jonathan Powell and percussionist Obnilu Iré Allende and others.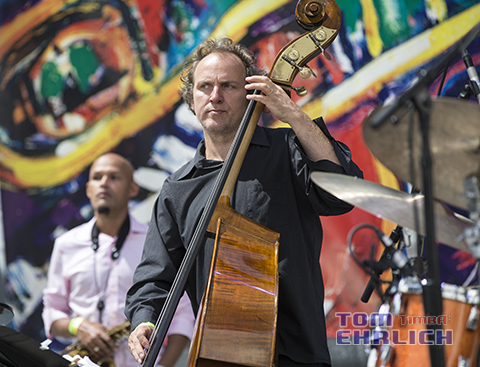 Hans Glawischnig
Hans Glawischnig was born and raised in Austria and moved to the US after high school. Hans is also a top shelf player in high demand. He has released two good recordings as a leader.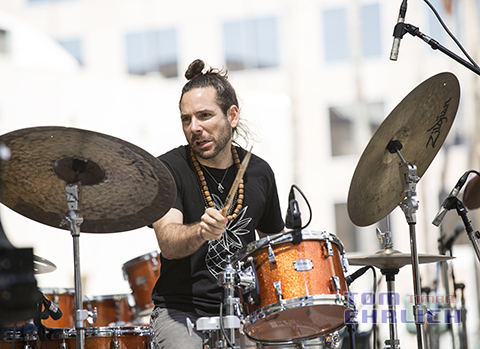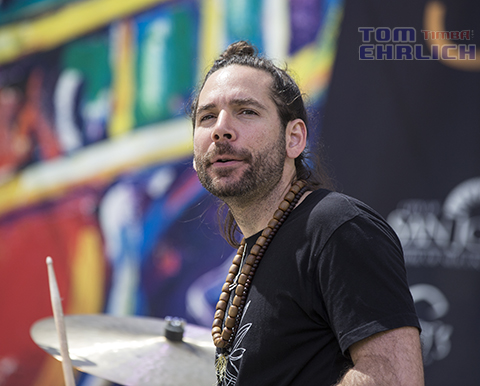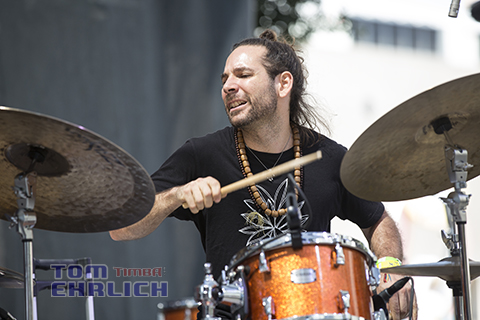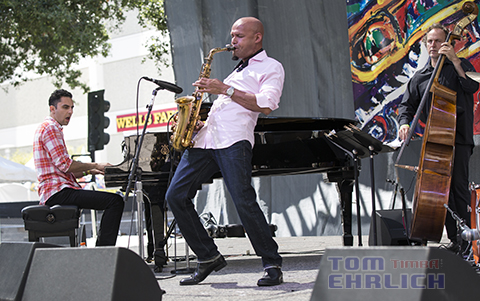 Alex Brown piano, Miguel Zenon sax, Hans Glawischwig bass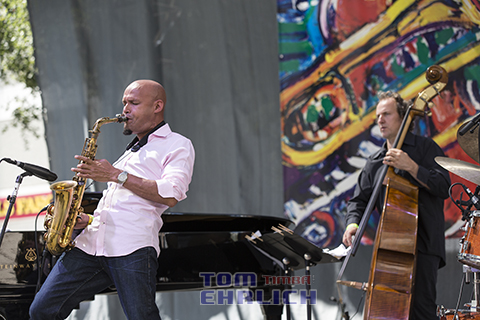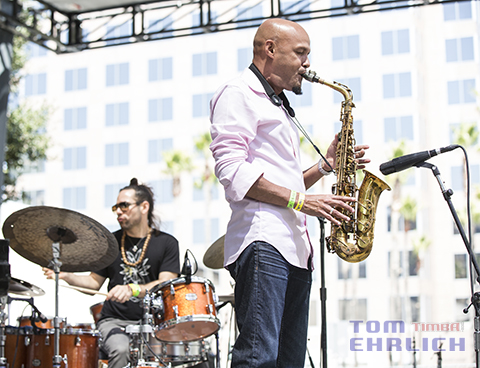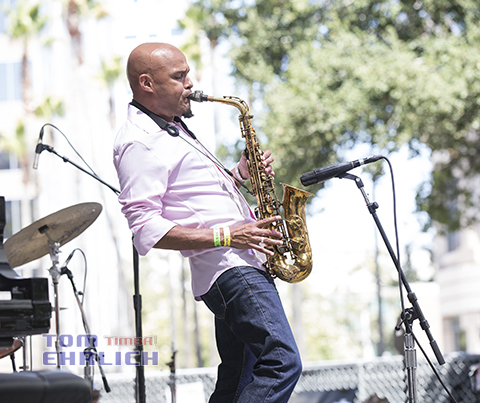 CÉCILE MCLORIN SALVANT WITH AARON DIEHL TRIO
At 27 years, Cécile McLorin Salvant is already a superstar. Her mother is French and her father Haitian. Born and raised in Miami, Florida but she studied music and voice both in the United States and France. Cécile was awarded the prestigeous Thelonius Monk Competition for voice in 2010. She has three recordings, the last, For One to Love, won a Grammy for the Best Jazz Vocal Album.
Cécile's voice is one of a mature vocalist twice her age and she produces some amazing sounds that are unique and beautiful. Cécile carefully chooses her repertoire and often uses discoveries of rarely recorded, forgotten songs with strong stories.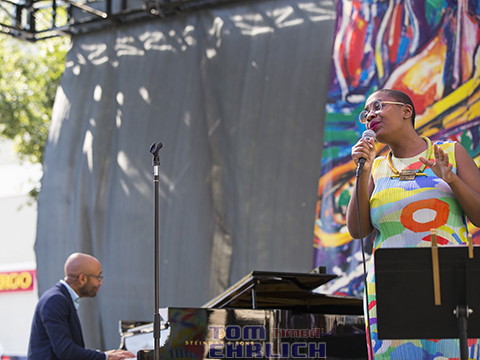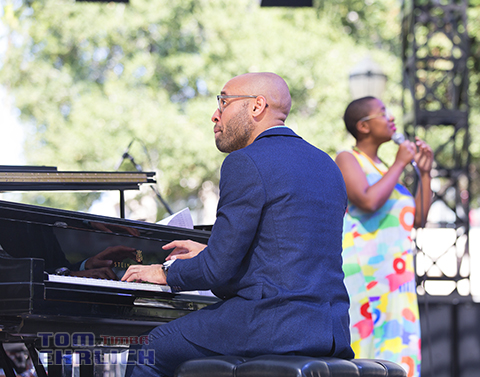 Aaron Diehl
Aaron Diehl is a world class jazz pianist known for his playing and compositional skills. He has four recordings as a leader and has won numerous awards during his 31 years.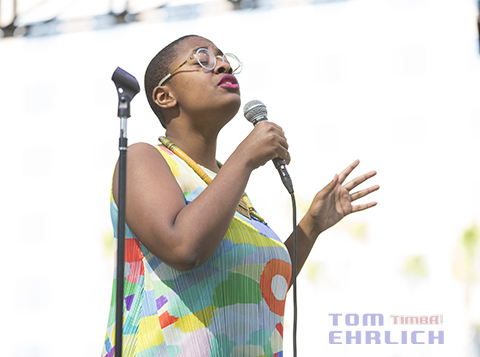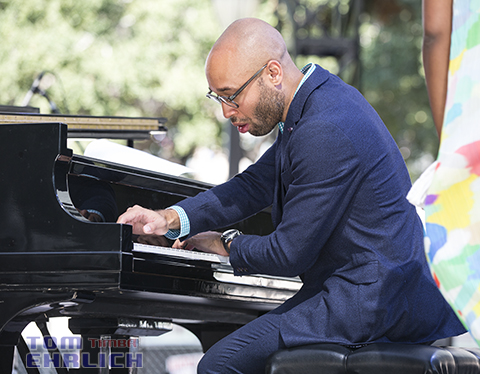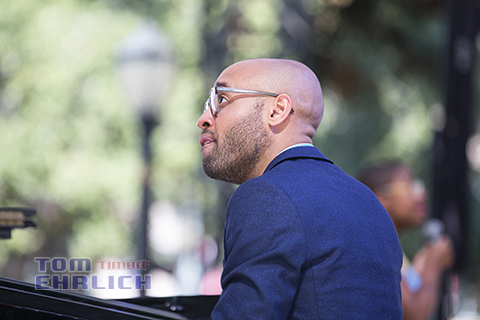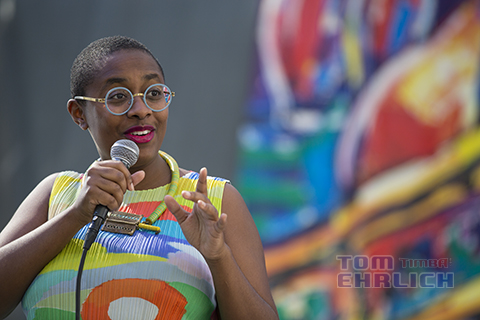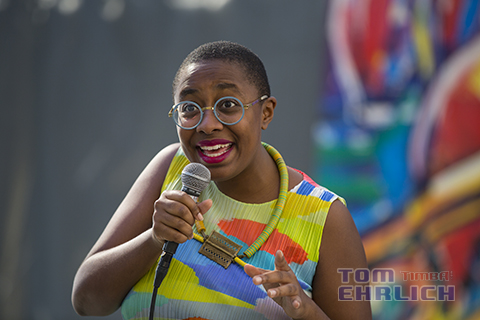 ALFREDO RODRÍGUEZ TRIO FEATURING VOCALIST GANAVYA DORAISWAMY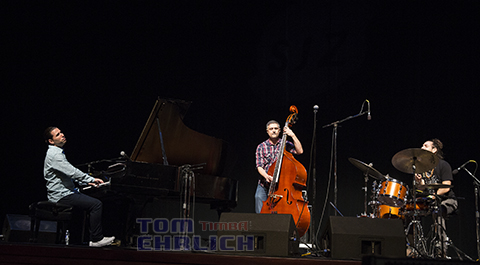 After hearing Alfredo Rodríguez at the Montreux Jazz Festival, legendary entertainment icon Quincy Jones started encouraging Alfredo to move to the United States, so Quincy and his production company could work with Alfredo. In 2009, Alfredo did move to Los Angeles from Havana, Cuba and commenced working the Quincy Jones. Quincy described Alfredo as one of the most talented musicians he had ever heard. I therefore was excited about the opportunity to see, hear and photograph Alfredo and to see what all the hype was about.
In September, 2009, I got my chance to see Alfredo perform at the Monterey Jazz Festival and was completely blown away with his performance. Since then I have witnessed Alfredo perform a few dozen times and have gotten to know him and some of the members of his different bands.
Alfredo is one of those musicians I never get tired of seeing. He always moves and excites the audience with his emotional, virtuoso style. Most of his performance is improvisational interaction with members of his group, taking his group and the audience on an incredible musical journey.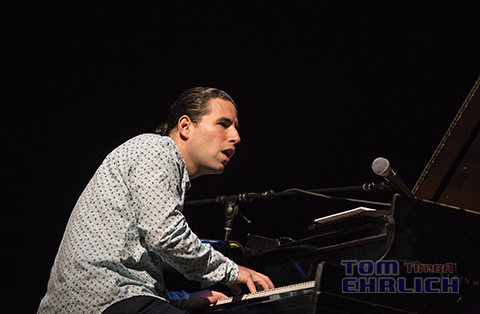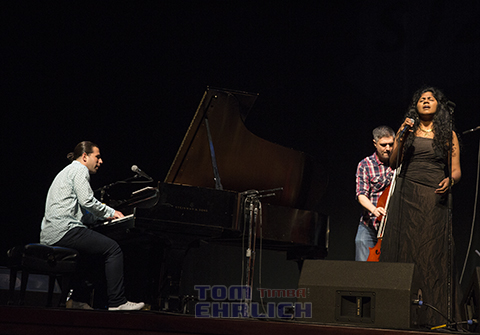 Alfredo Rodríguez piano, Peter Slavov bass, Ganavyna Doraiswamy vocals
Alfredo has three recordings and the most recent project Tocororo (national bird of Cuba) includes vocals by Indian vocalist Ganavyna Doraiswamy, whose voice is beautifully emotionally charge in a truly unique way, mostly singing non-word sounds.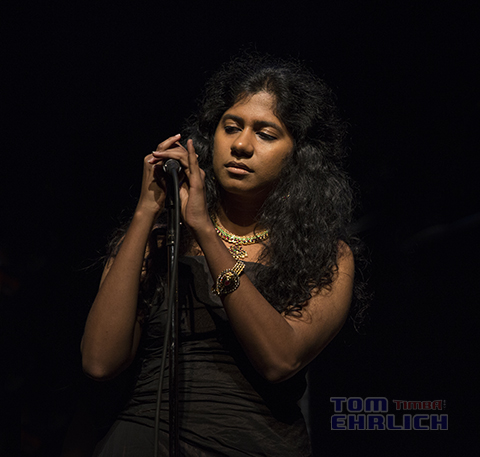 Ganavya Doraiswamy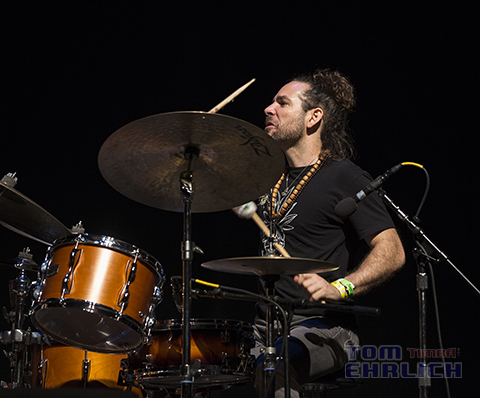 Henry Cole
I wrote about Henry as Miguel Zenón's drummer, but briefly he is from Puerto Rico and has played with Alfredo for a number of years. Henry's playing is a perfect match for Alfredo's music and they react to eachother with seamless ease.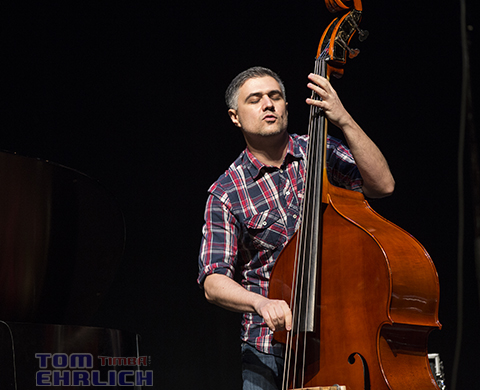 Peter Salvov
Peter is originally from Bulgaria, has extensive experience playing with many of the top jazz musicians in the United States. He is also known for his composing and arranging skills. Like Henry, he is adept at reacting to where Alfredo takes the music.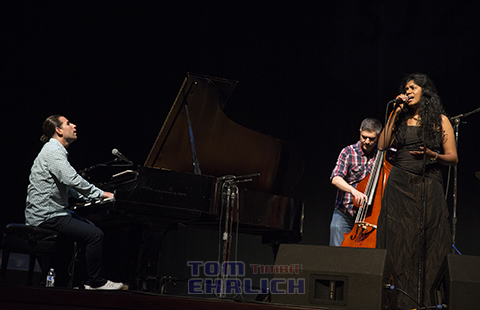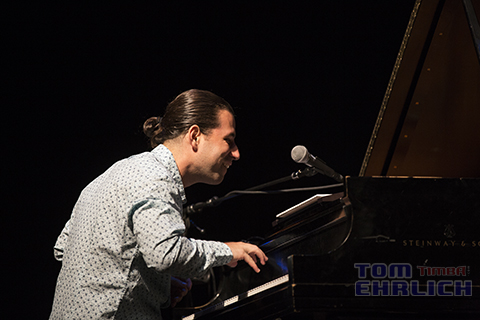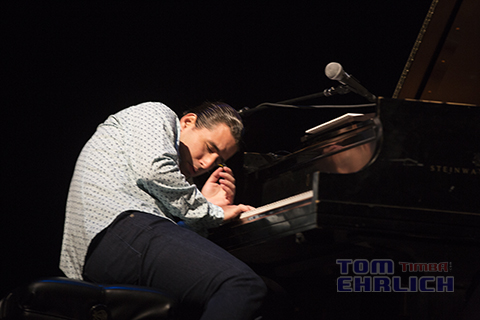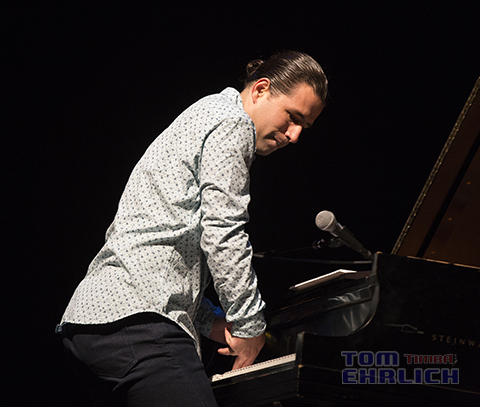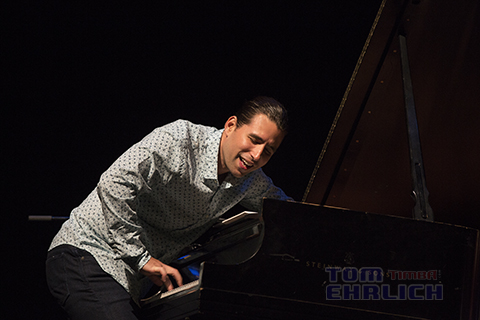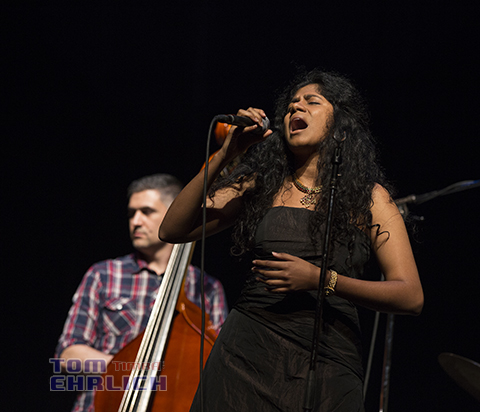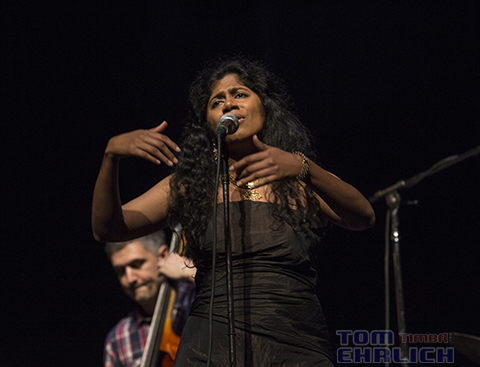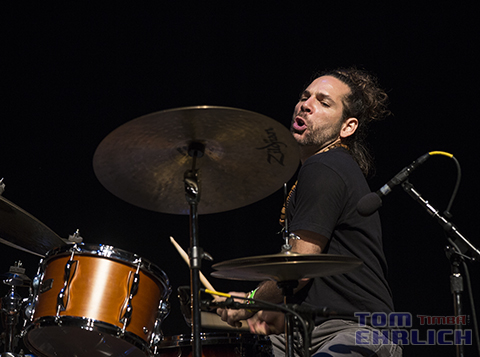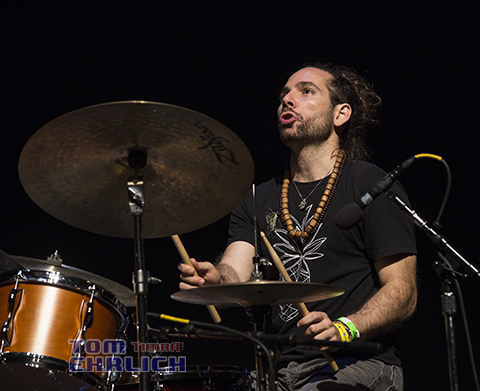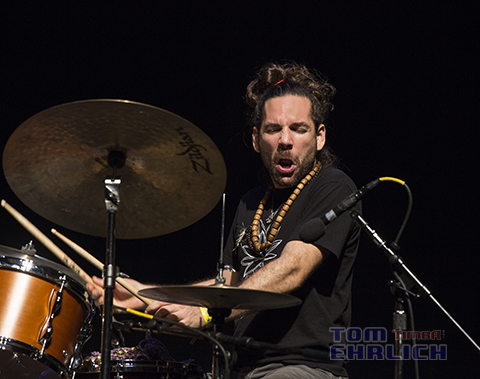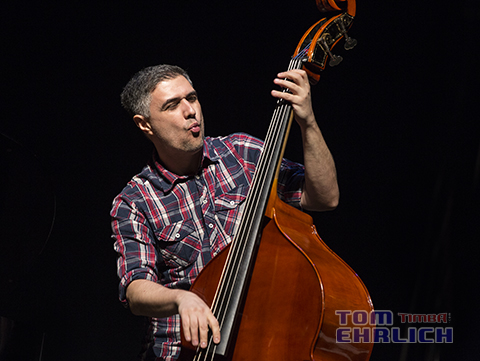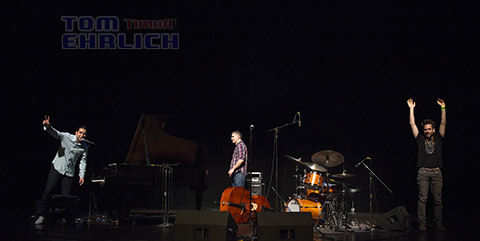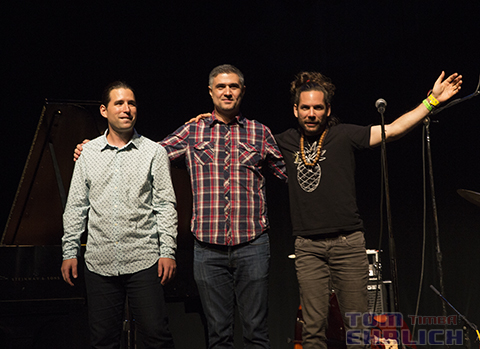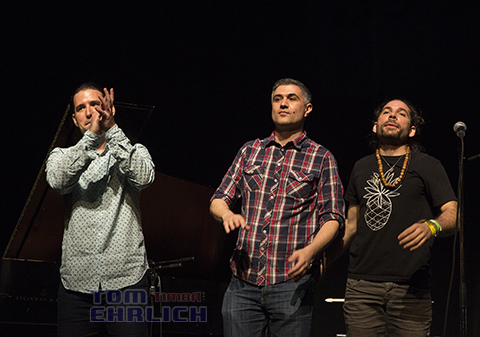 JANE BUNNETT AND MAQUEQUE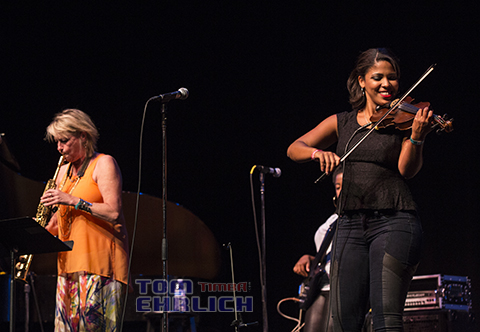 Jane Bunnett and Elizabeth Rodríguez
Canadian Jane Bunnett is one of the pioneers who has been collaborating with Cuban musicians for many years before it was the thing to do Her first recording project with Cuban musicians took place over 25 years ago and she has not stopped.
Jane's latest project is an all Cuban women band called Maqueque. These ladies can play and are all virtuosos on their respective instruments. The group who performed at the Summerfest included Jane Bunnett on sax and flute, Elizabth Rodríguez on violin, Yissy García on drum set, Celia Jimenez on bass, Magdelys Savigne on percussion and Danae Olan on piano (no photos of Danae, but have some from another gig that I will post soon). All the women contribute vocals. Maqueque has released one self titled recording and are very close to releasing their second one called Oddara (October 14, 2016). These young women inject timba concepts into some of their songs. Great musicians, great performers.
What follows are a few photos from the Summerfest. i will be posting two other concerts of Maqueque (one in San Francisco, one in Santa Cruz) soon with many more images.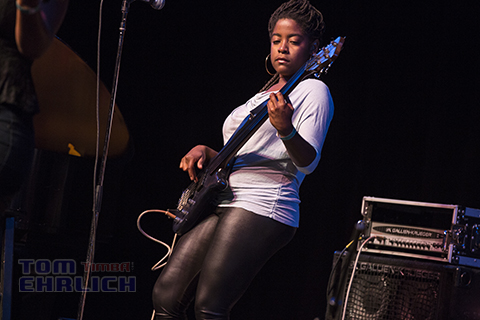 Celia Jimenez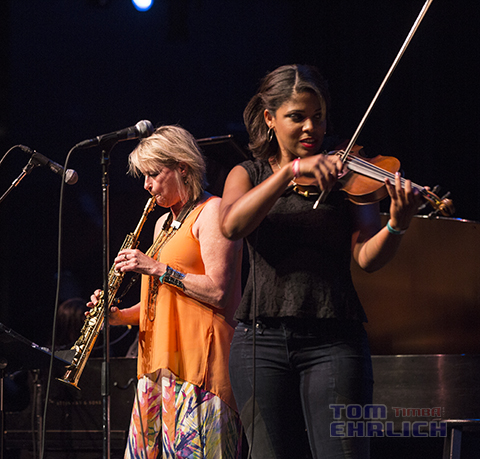 Jane Bunnett and Elizabeth Rodríguez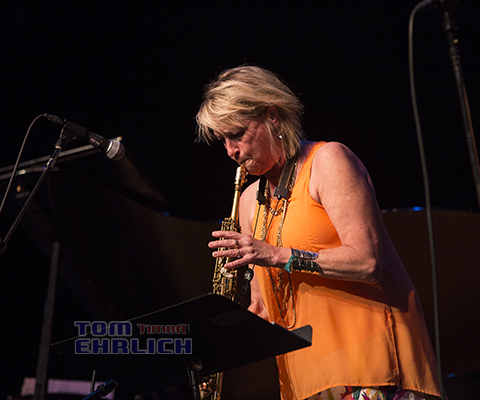 Jane Bunnett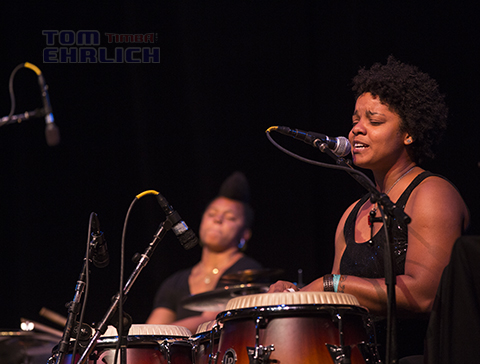 Magdelys Savigne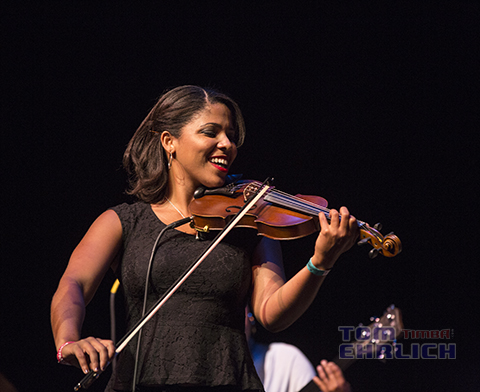 Elizabeth Rodríguez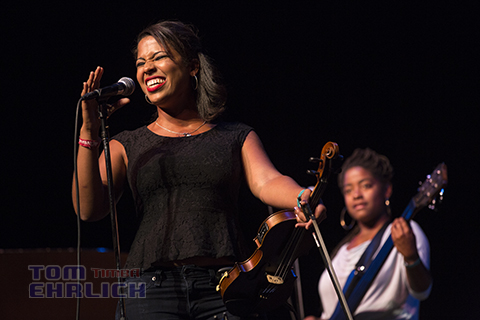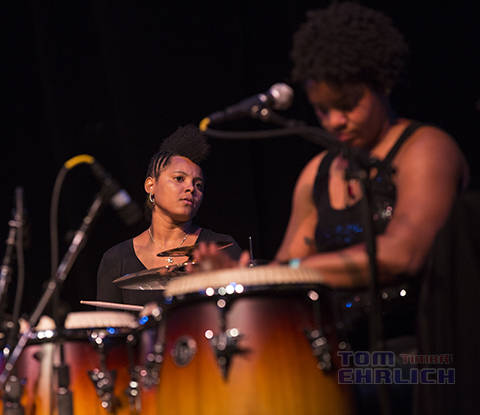 Yissy García in the back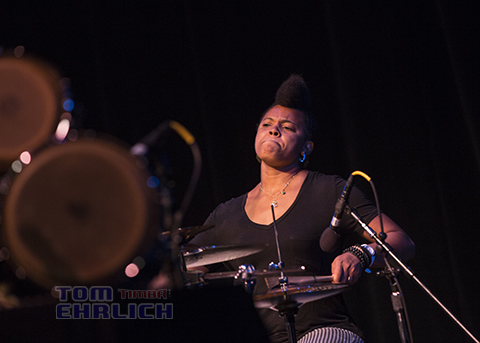 Yissy García
PIRULO Y LA TRIBU
Pirulo y La Tribu are from the island of Puerto Rico and they play lively, uptempo dance music blending salsa and timba. These brothers are a party band that keeps the dancers active throughout their set. The band is lead by Francisco "Pirulo" Rosado, who is the son of flautist Francisco Rosado who played with bands during the salsa explosion in New York City during the 1970s. Unfortunately, I did not get the names of the band members.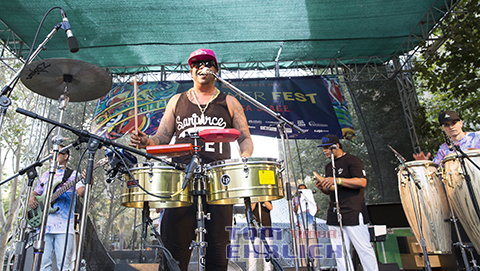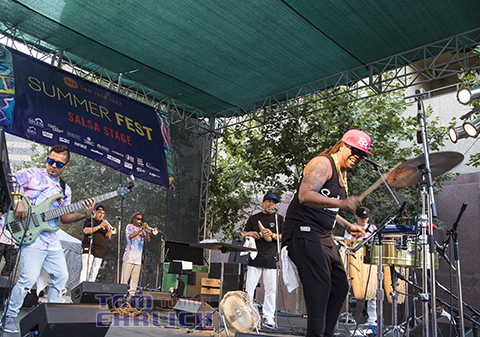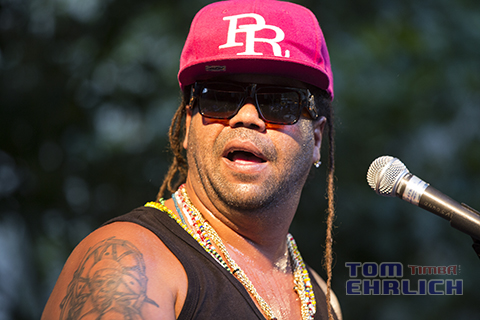 Pirulo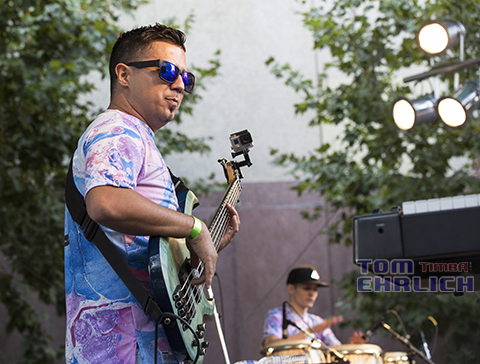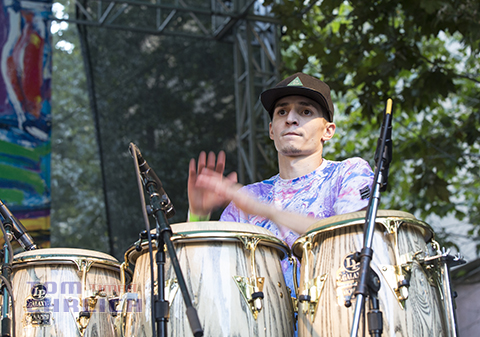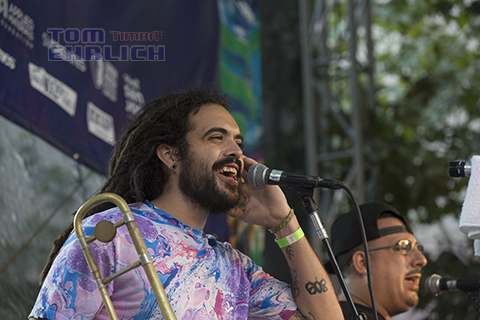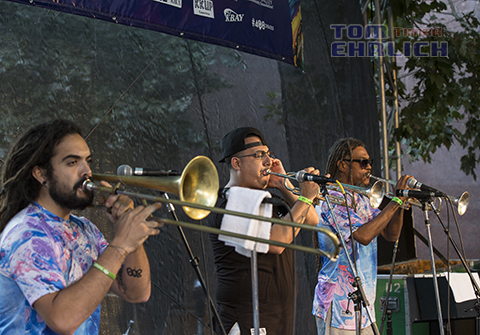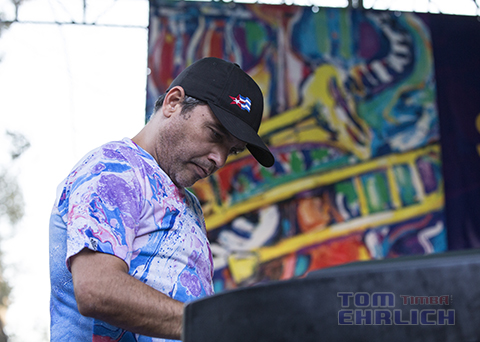 Cuban pianist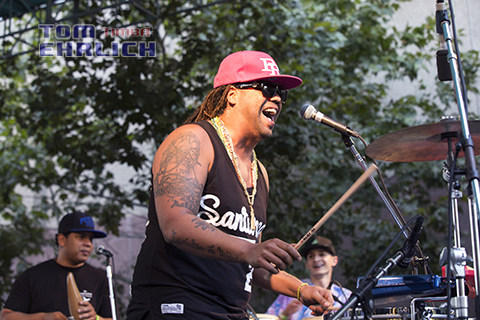 Pirulo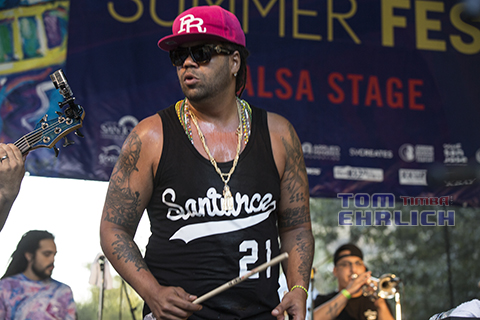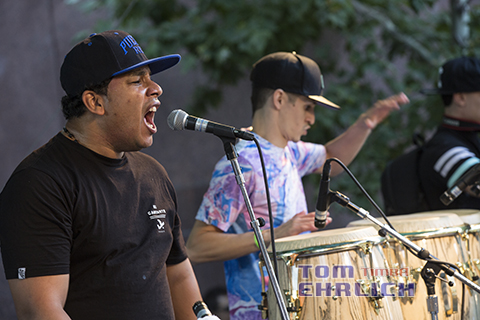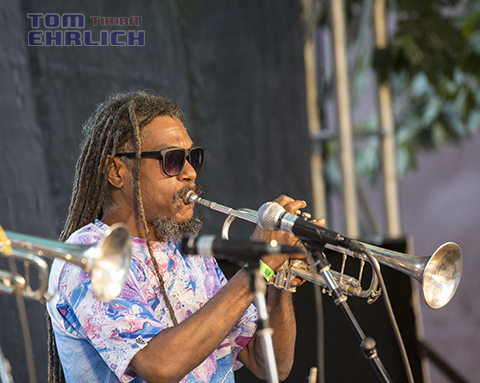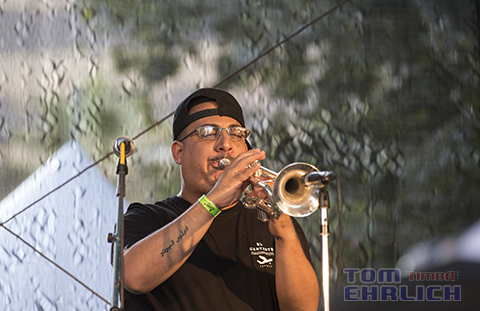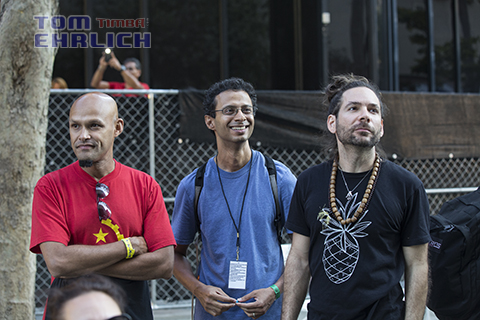 Miguel Zenon and Henry Cole came to check out the band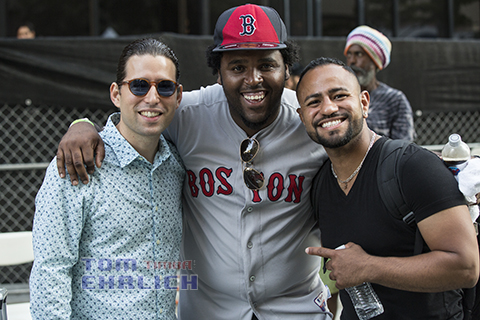 Alfredo Rodríguez, Ernesto Mazar Kindelán (formerly with Charanga Habanera, now living in San Frnacisco) and Christian Pepin (percussionist and bandleader in the Bay Area)also checking out the band. Alfredo and Ernesto went to music school together in Cuba.
TOOTIE HEATH TRIO
Closing out the festival was a group centered around the legendary jazz drummer Albert Tootie Heath. Joining the group was Cuban sax player Roman Filiu, who played with Issac Delgado in his younger years.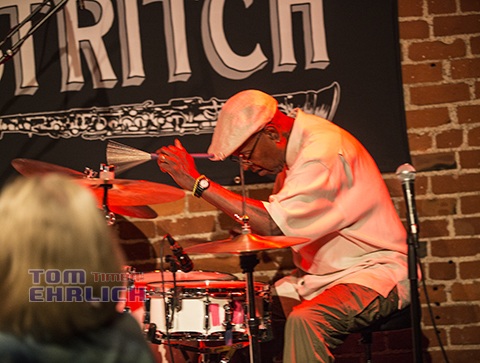 Tootie Heath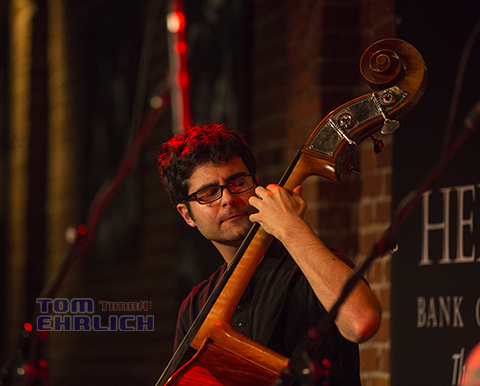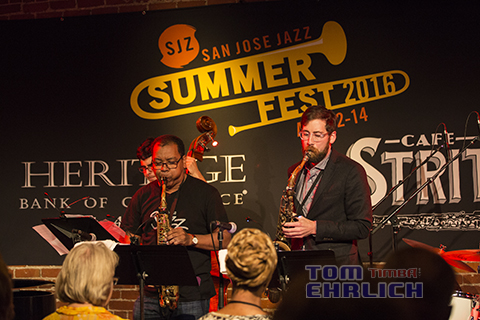 On left Roman Filiu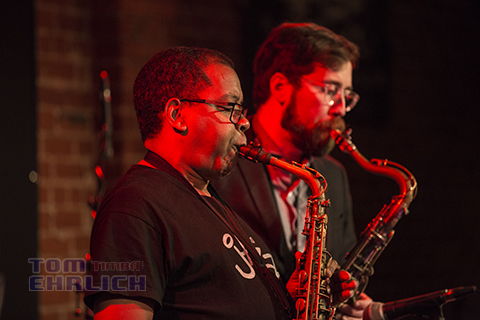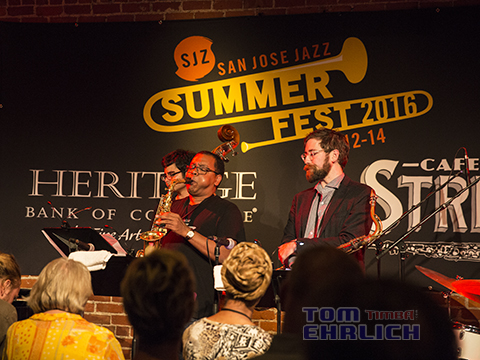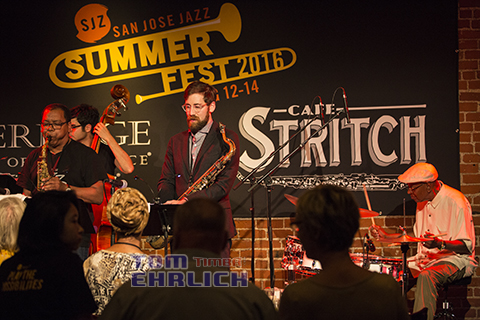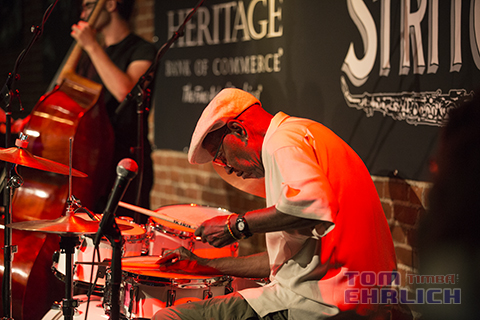 miércoles, 30 agosto 2023, 11:46 am